SISTRIX is your all-in-one SEO software
1.
Improve your visibility
Raise organic traffic
2.
Analyse your competitors
Expose secrets of success
3.
Improve your website
Resolve on-page issues
4.
Create perfect content
Impress and convince your visitors
5.
Amazon, Instagram & Co.
Search is more than just Google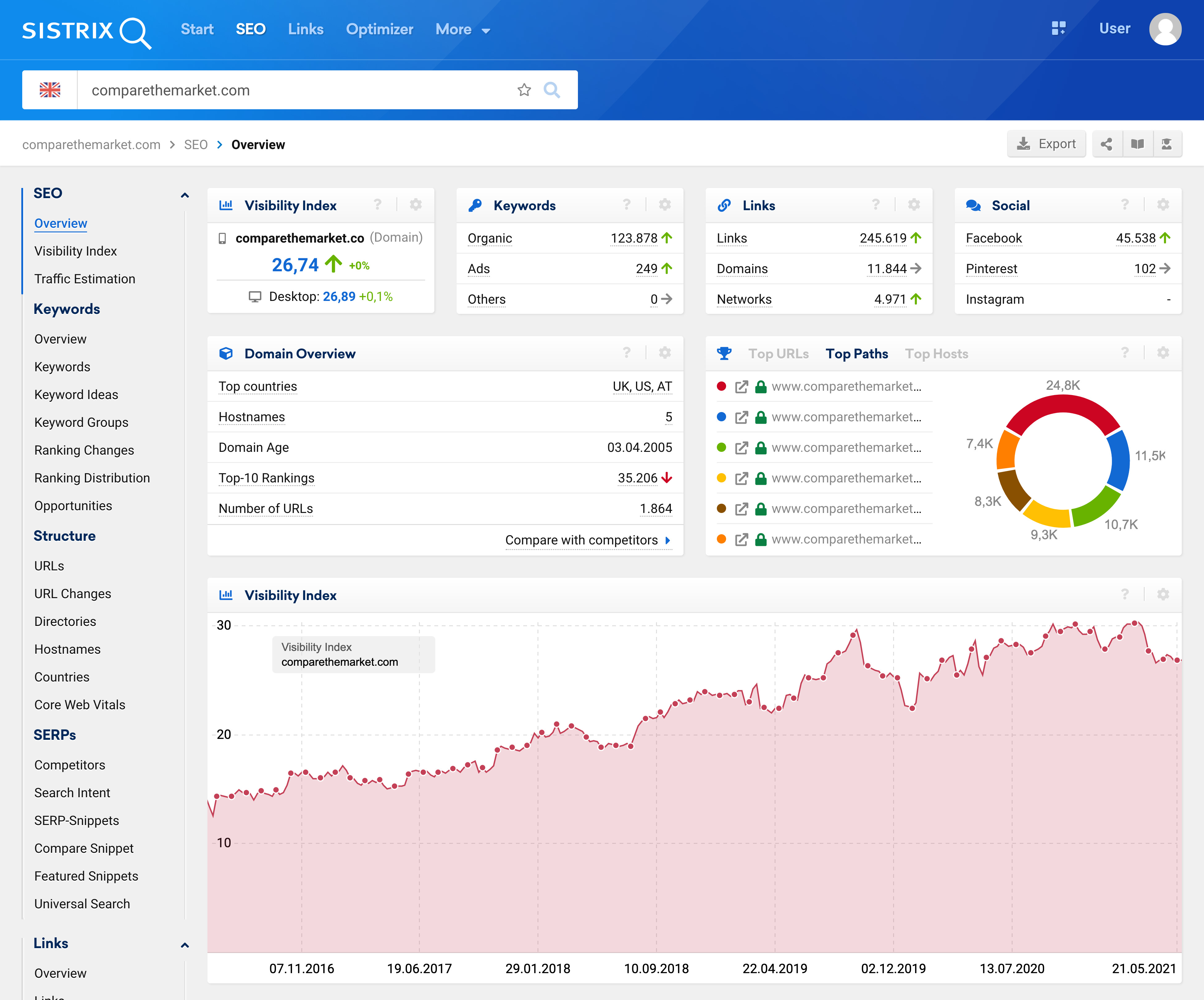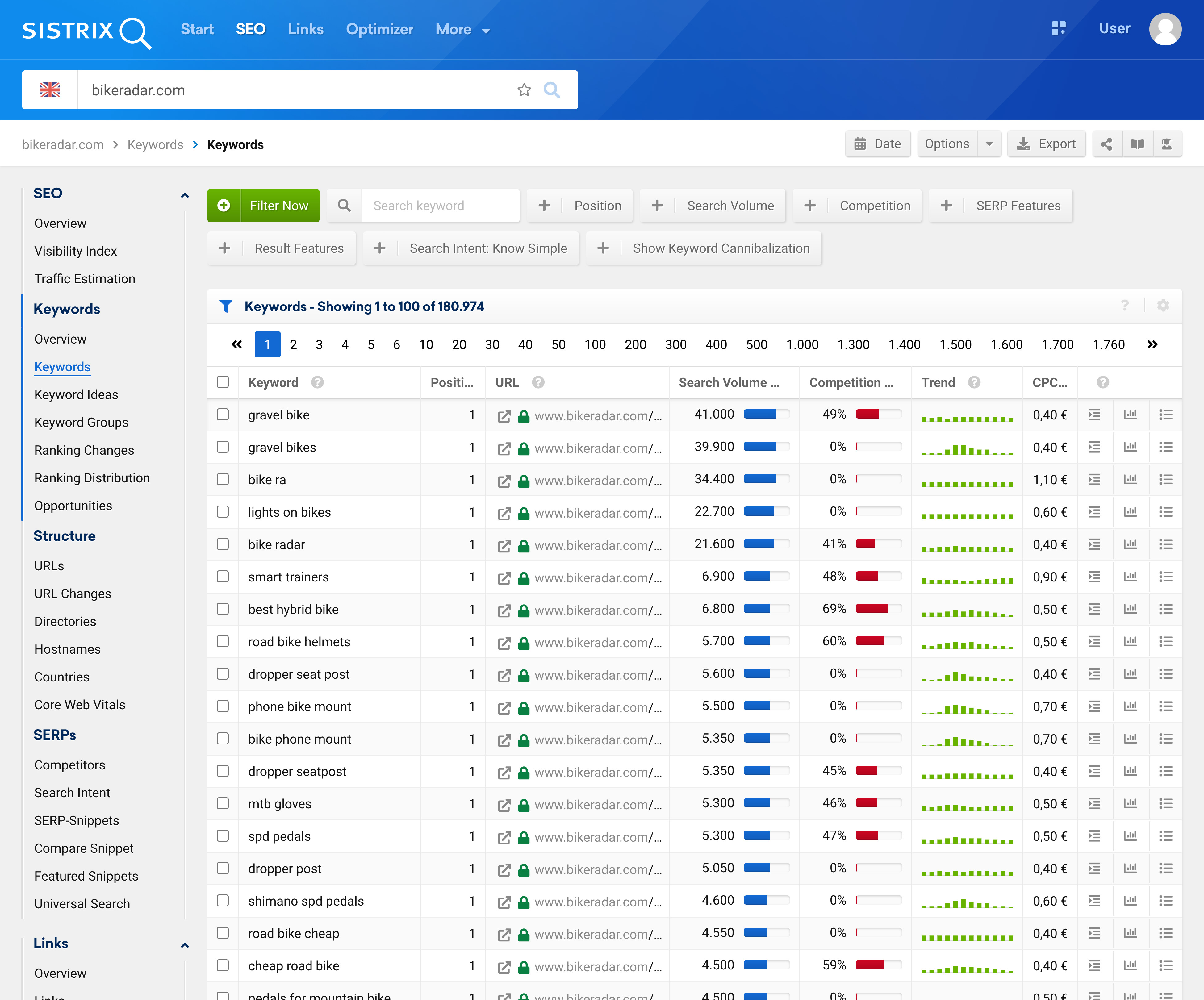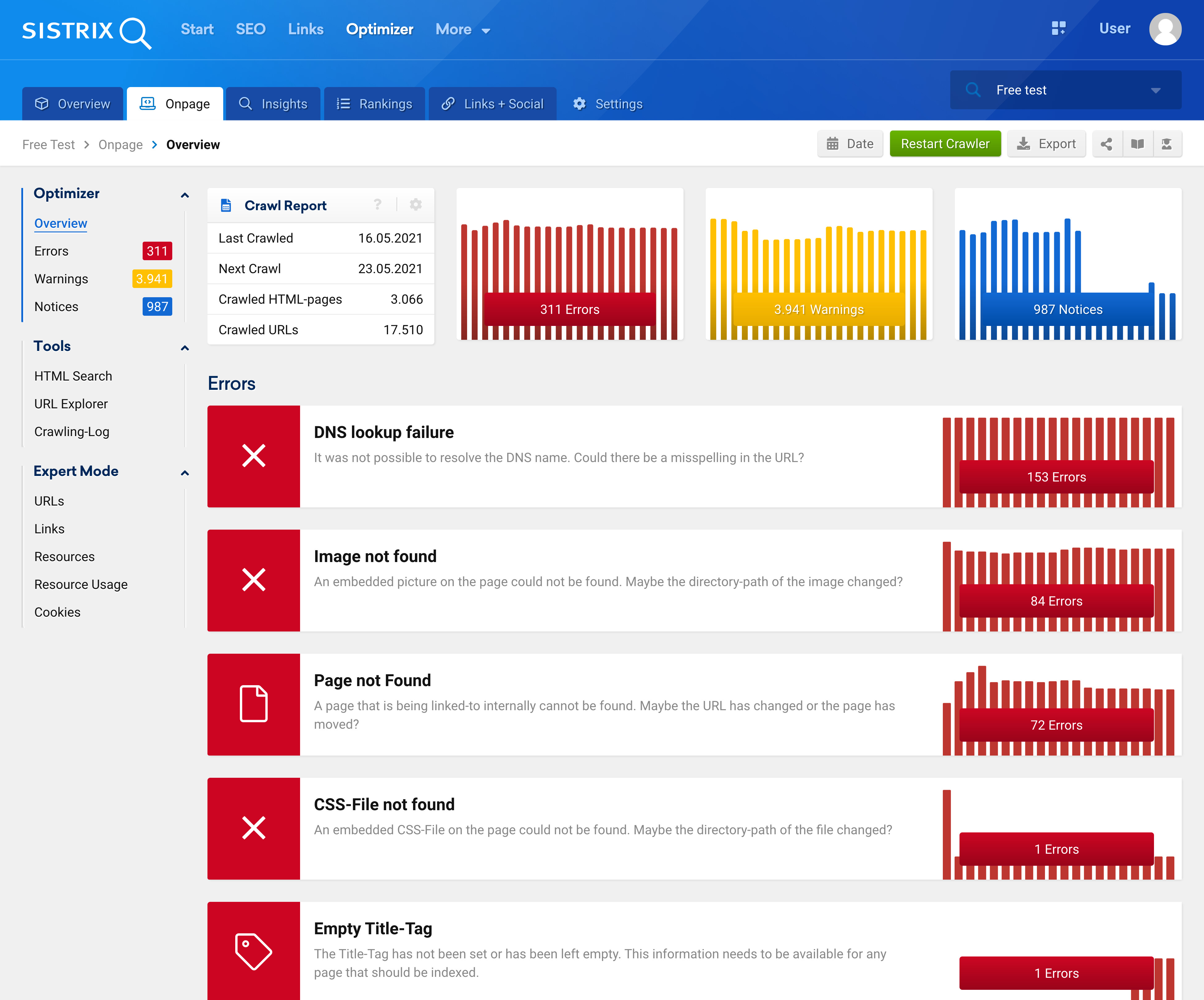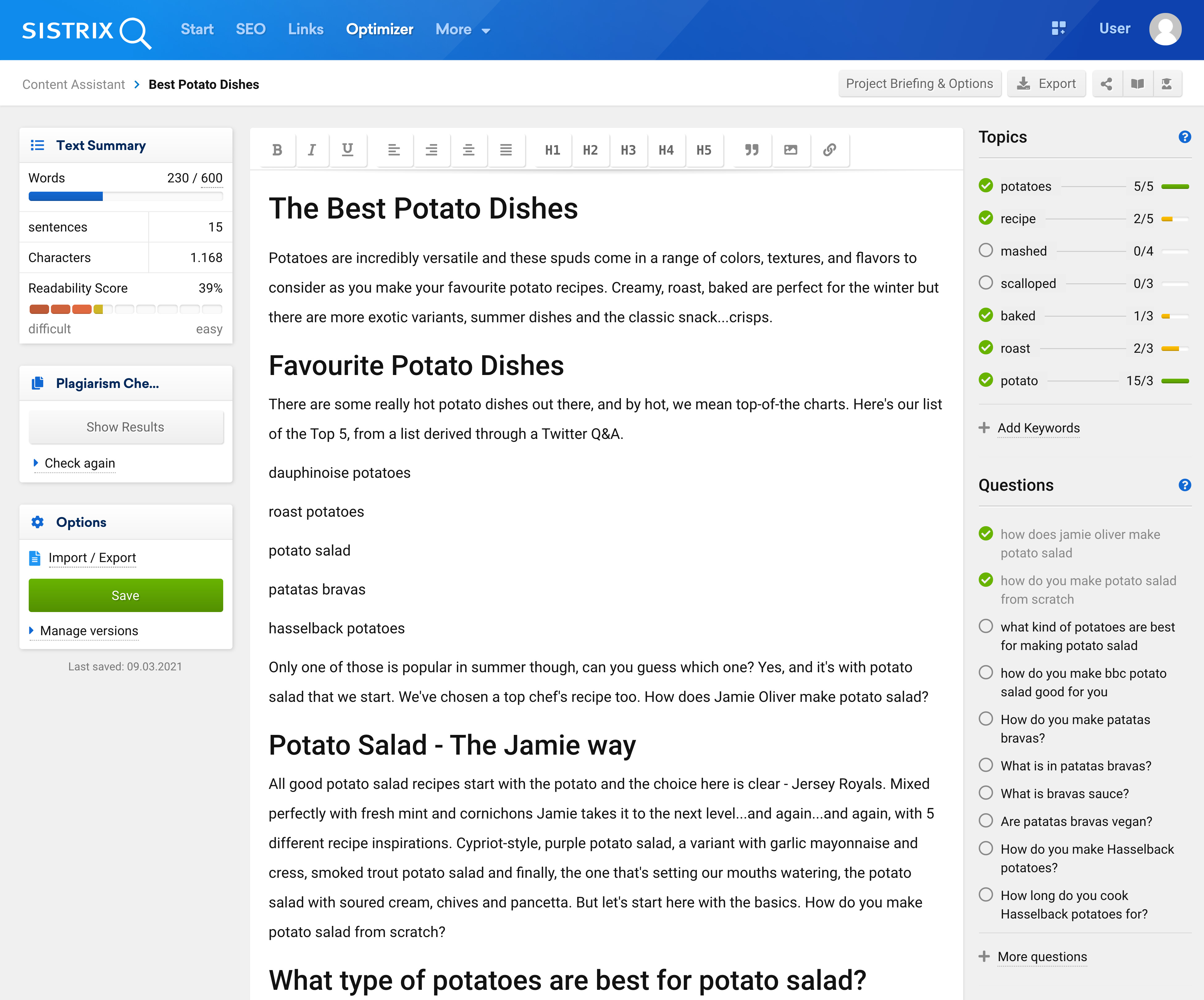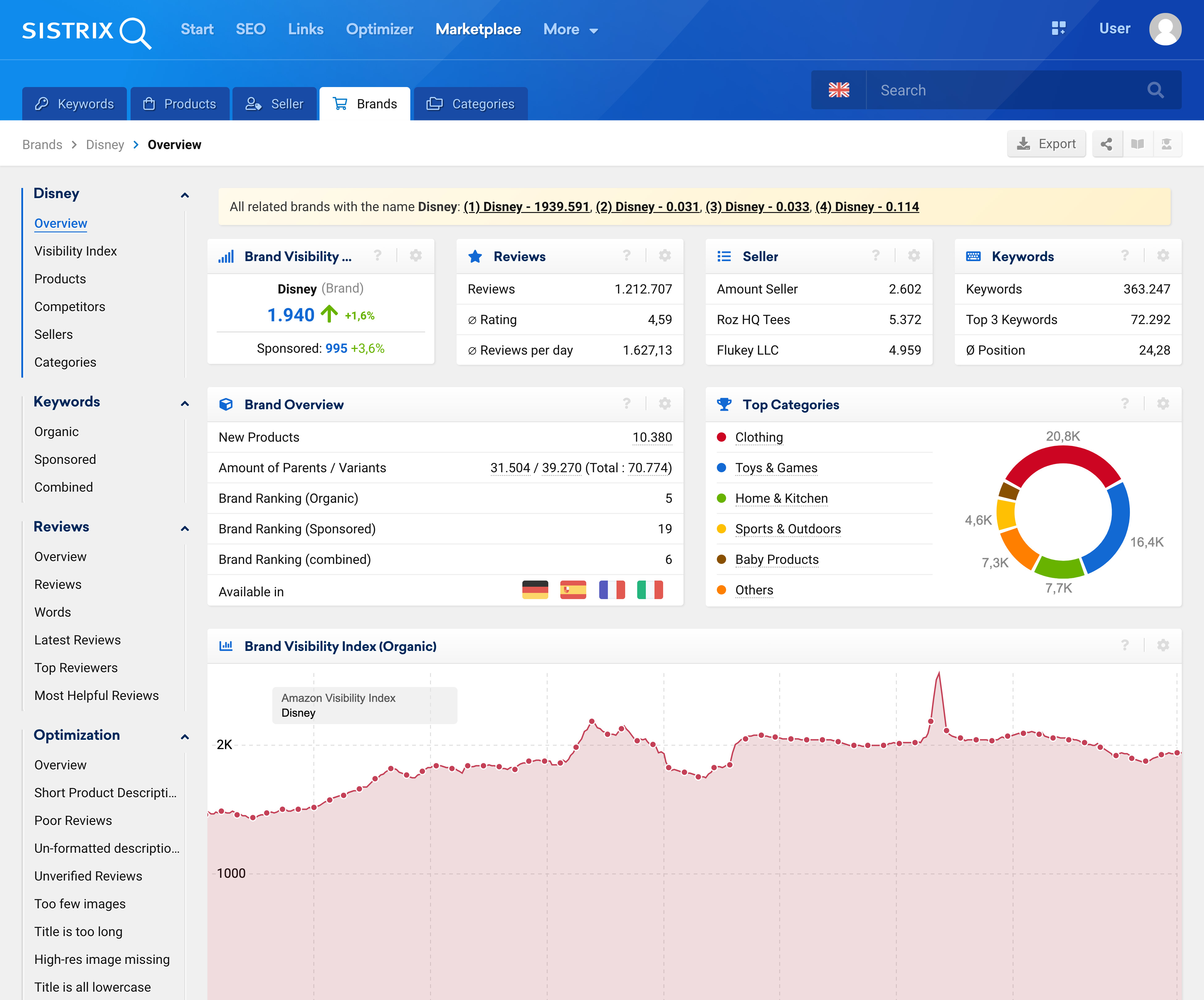 CHANGELOG
New features and more data
We've been developing SISTRIX continuously for over ten years. You can find the most recent feature updates in our changelog.
"The SISTRIX Visibility Index has established itself as the standard for measuring the success of search machine optimisation."

Adviser Digital Marketing & Organic Growth
More than just data: a reliable partner at your side
Since over 12 years we've strived to achieve transparency, quality, reliability and fairness. We are a trustworthy partner, working alongside you.
Quality from the market leader
For us it's about more than just the software. Since our founding we've placed the highest demands on our performance. Because of that, our customers have made us market leaders.
From professionals to professionals
We speak the same language: Complex analyses, helpful workflows and the ability to stay one step ahead.
Data protection from Europe
No compromises with data protection: based in Germany, we hold all data exclusively within Europe, for the best data protection.
Personal support
Real people given personal help: When you've got questions you won't reach a chat-bot, just SISTRIX experts.
SEO KNOWLEDGE & EDUCATION
Current analyses and in-depth knowledge, free of charge
We offer more: the latest analyses in the blog, well-founded SEO basics at Ask SISTRIX, informative seminars and much more.
From freelancer to multinational companies – with SISTRIX to success
Carina Parry-Stevens
Asssistant SEO Manager at Prettylittlething
SISTRIX has quickly become an everyday essential. If I had to pick one thing I love most about the tool, it has got to be the Visibility Index report-hands down. For me, it's unrivalled- I can get an instant view of how our visibility stacks up to competitor's day-to-day, month-to-month and even over the last few years – which is so important when you're working in a saturated space
Ayla Grzegowski
Senior SEO & Content Manager at moebel.de
Intuitive SEO tool suitable for juniors & seniors. With SISTRIX you have many SEO key figures at a glance. From the overall website index to keyword positions and the development of individual URLs. You can also watch your competitors well with SISTRIX.
Julian Altenrath
Online Marketing Manager at MeinAuto GmbH
Clearly laid-out, fast software with a lot of features and information. Very good overview of your own SEO along with the competition. The individual dashboards give a quick overview every morning. In the optimizer tool, a crawler finds (almost) every error on the website.
Holger Kurtz
Online Marketing Manager at MünchenMusik
Without SISTRIX, SEO is a blind flight. SISTRIX shows you for which keywords your website is or could be ranked. The Visibility Index acts as a navigation device that shows you whether your SEO measures are going in the right direction
Daniel Frerichmann
Website & Online Sales at Santander Consumer Group
The Visibility Index has also become a standard outside of the SEO industry. The tool can be used to quickly evaluate your own websites and those of the competition. It shows strengths and potentials, but also weaknesses and recommendations for action in a simple way.

Lily Ray
Senior Director, Amsive Digital, USA
Between studying the Visibility Index and monitoring keyword rank performance across various dates, SISTRIX gives me the tools I need to get a better understanding of the SEO landscape.
twitter
Gerry White
SEO Consultant at Rise at Seven, UK
Amazing value, makes others seem over priced
James Welch
Director – Embryo Digital, UK
Having SISTRIX on board at an agency like Embryo is like employing a research team that helps us to produce a better narrative when prospecting for new business.
Barry Adams
SEO Specialist, Polemic Digital, UK
I've been using @sistrix for years and it still manages to surprise me with what it's capable of doing. Truly awesome suite of tools.
twitter
Julian Dziki
Managing Director – Seokratie GmbH, Germany
Loyal customer since the beta, thank you very much for the constant quality of your tool!
Sven Giese
Head of SEO at SMART LEMON GmbH & Co KG, Germany
SISTRIX, or rather, the Visibility Index, is a standard in the SEO industry. SISTRIX is an important part of monthly reporting. Above all, the tool helps to carry out analyses of historical developments or competitive comparisons "on the fly ".