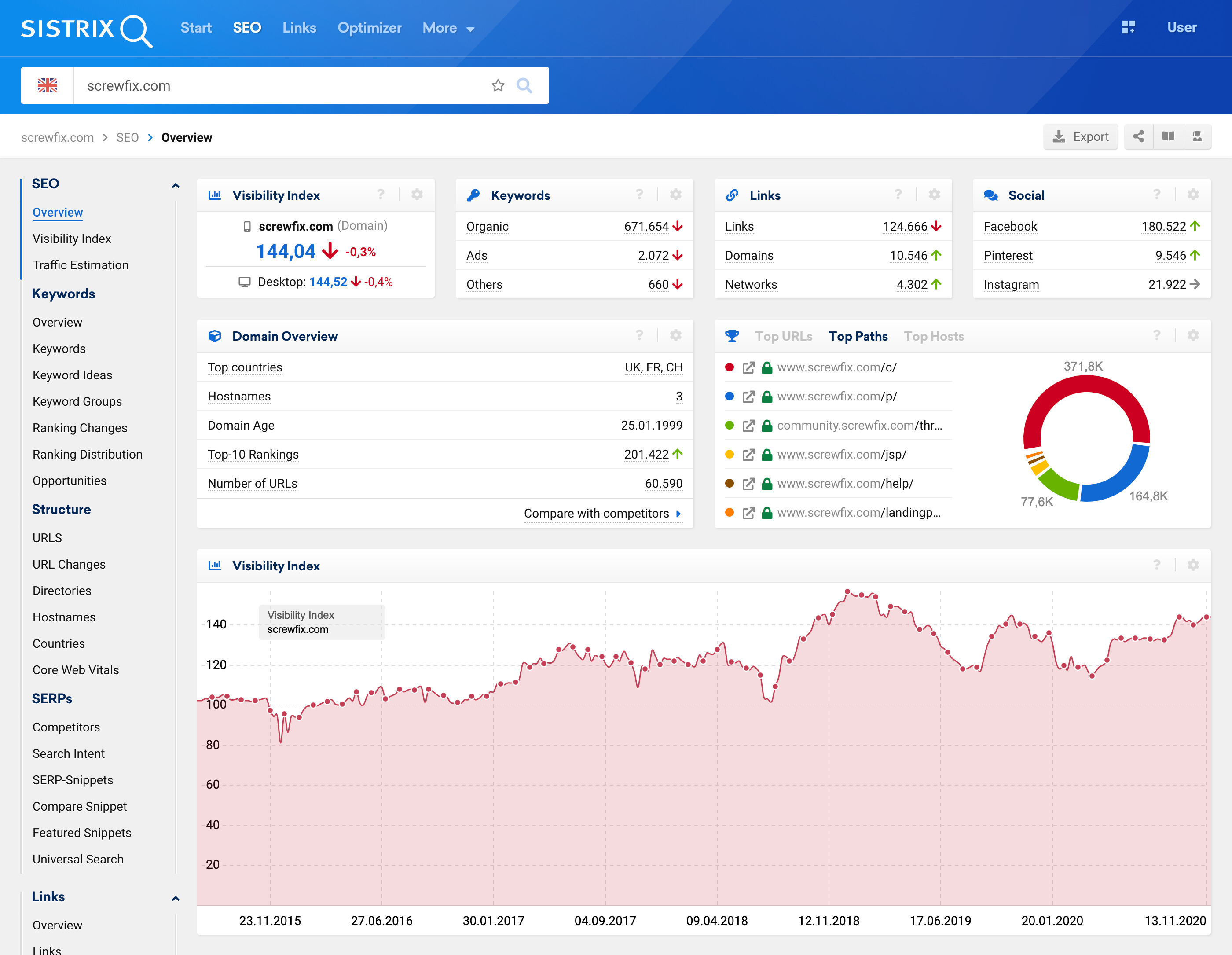 Unique data tracking all your digital market movements
More than the Visibility Index: 5 focused toolbox modules deliver the best data for the right decisions. Immediately available for every website.
SEO Module
Visibility is the most important SEO performance indicator. That's why we brought the Visibility Index to life in 2008. Based on an extensive and continuous analysis of Google search results we make it easy to understand.
Instant mobile and desktop SEO data for over 140 million domains
Find and analyse visibility history for all competitor domains, directories and URLs
Extensive analysis, indicators and graphics to help you achieve online success
For Professionals, From Professionals
Since we invented the Visibility Index 10 years ago our mission has been to make Google Rankings transparent and easy to understand. With the SISTRIX Toolbox you have everything you need to bring your website on the path to success.

Barry Adams
There's no other tool out there that can do competitive analysis as well as SISTRIX. It's like doing SEO with cheat codes on.

Lily Ray
Between studying the Visibility Index and monitoring keyword rank performance across various dates, SISTRIX gives me the tools I need to get a better understanding of the SEO landscape.

Gerry White
SISTRIX gives us the ability to turn back the clock to see what happened when for any client (or competitor).

Chris Green
SISTRIX is my secret sauce, it is the only SEO tool I use every day and I'd be lost without it.
Start your success story now
14-day test account expires automatically. No cancellation neccesary!
Your Source for Professional SEO Wisdom