Equal footing with Google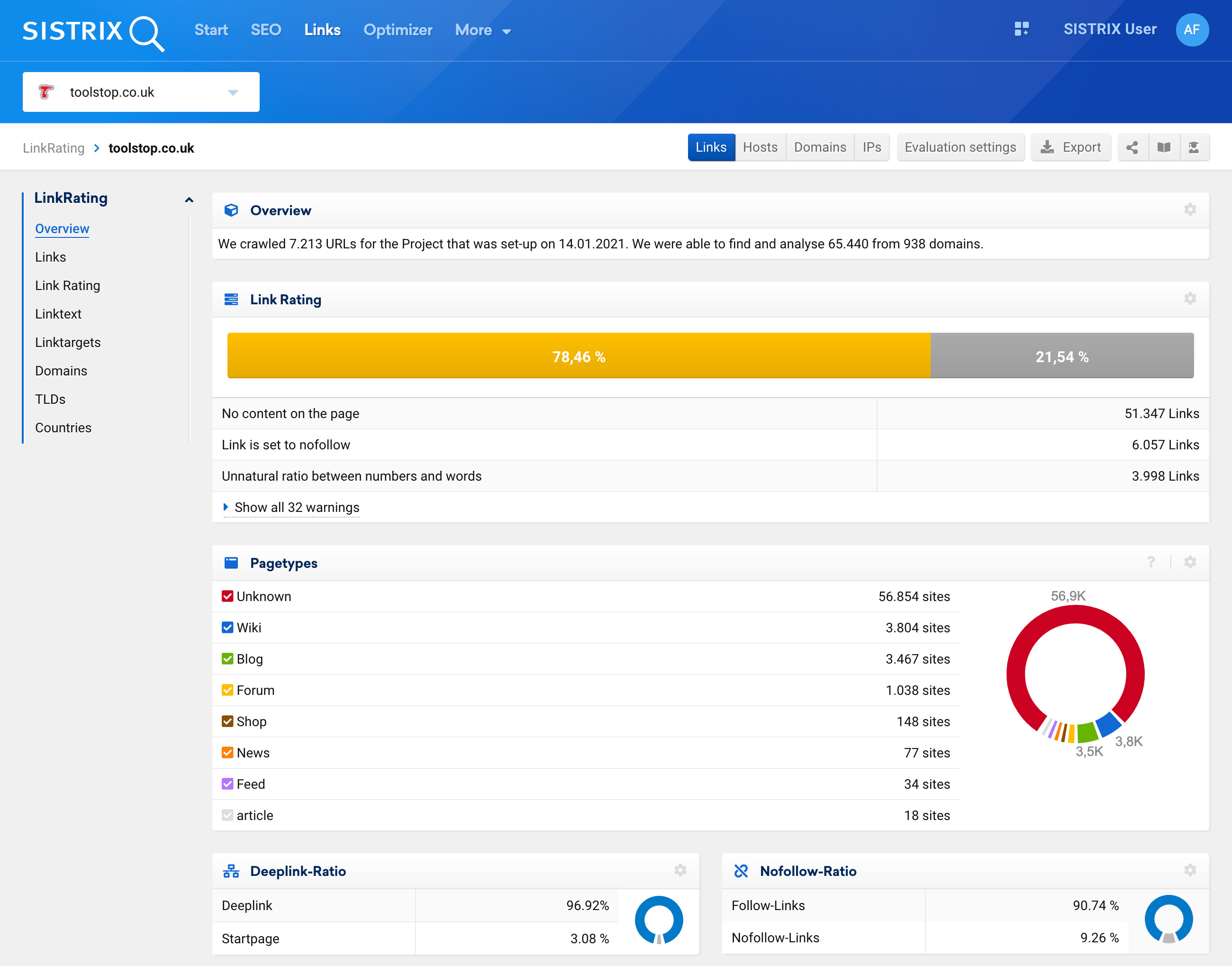 1
Analyze as many keywords, domains, hosts, directories or URLs as you like. And that in over 25 countries.
2
Analyse the visibility of your domain, a subdomain, a directory or a URL and compare it with the competition.
Google actions against purchased links are a daily occurrence. At the same time, links are still one of the most important factors for good rankings. SISTRIX LinkRating will help you keep an eye on things.
Free test account for 14 days
Non-binding, no cancellation necessary
Personal onboarding by experts
Lots of data, one interface
When it comes to chosing the data sources for your evaluation, we have the flexibility you need for your link audits: you can add all the data you have to the audit, either through direct API-integrations or through data uploads. Be it our own link data, as well as those from Seokicks, Ahrefs.com, Moz OpenSiteExplorer, Majestic SEO or the Google Search Console links and individual formats. You are free to use any text format you have.
Daily link data
Link profiles are dynamic and always changing. New links are added, moved or deleted on a daily basis. For you to base your decisions on the best sources possible, we crawl each link anew, so you will get the freshest data possible. During the evaluation, our SISTRIX crawlers will fetch additional, interesting information and analyse it for you, too.
Ratings for every link
With this collection of links and current link data as a foundation, we will run each and every link through an individual assessment. There, we look at more than 50 key values and 30 rulesets. The problems we find are then clearly structured and presented as easy to comprehend evaluations. By working through the links in this way we can ensure that you don't get any surprises in your Search Console.
LinkRating is part of the Link-Module
As part of your Link module subscription, you can create one LinkRating Projekt per week, at no additional cost.
Try SISTRIX for free
Start improving your rankings with SISTRIX today.
Free test account for 14 days
Non-binding, no cancellation necessary
Personal onboarding by experts
Free workshops for customers and trialists
A full-day SISTRIX training workshop with case study examples for all customers and trialists.