In the Overview page of the Ads module you'll find a summary of all the most important KPIs related to Google Ad details for the domain, hostname, directory or URL you're evaluating. Video walk-through below.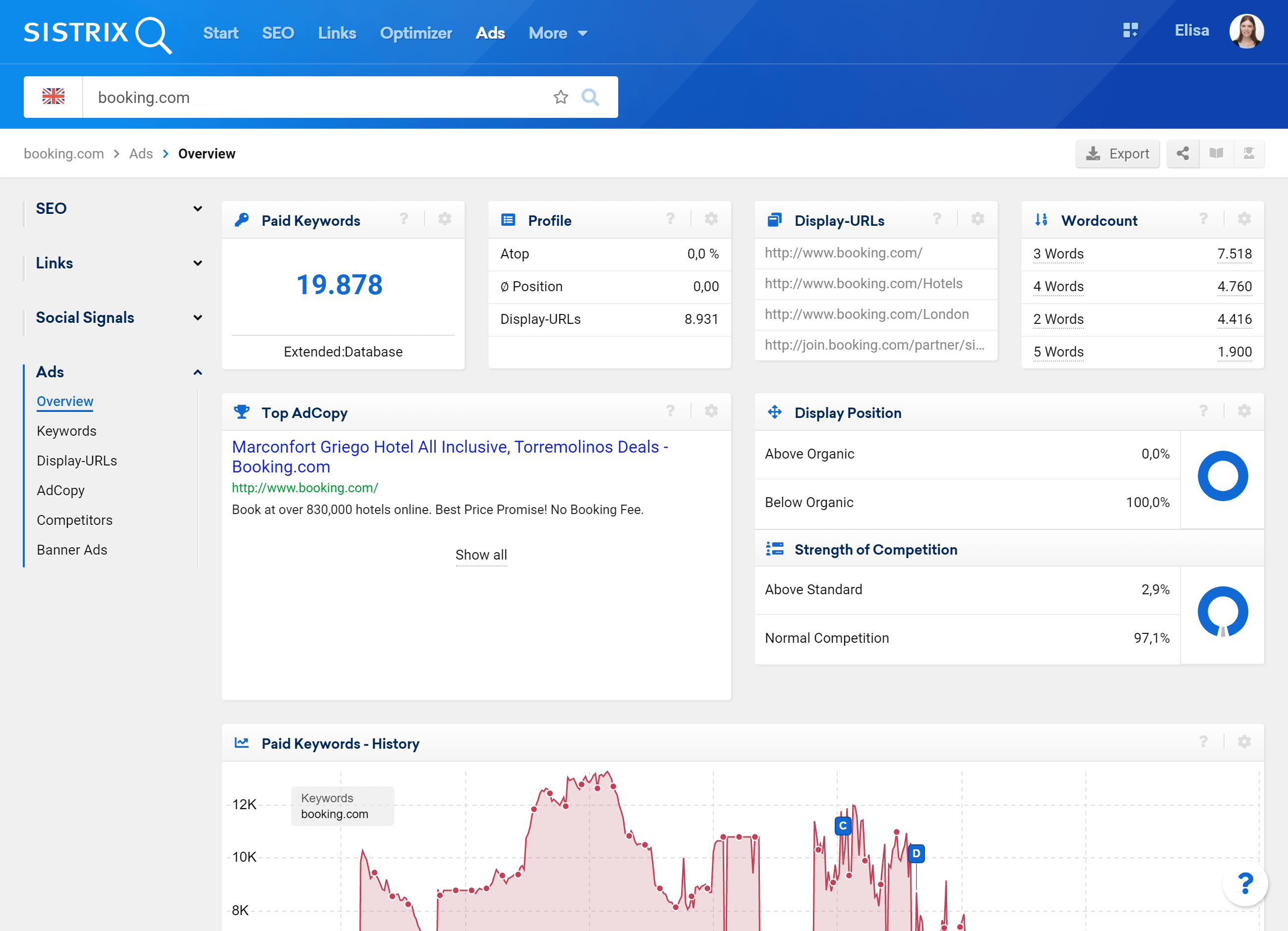 Paid Keywords
This box shows the total number of keywords which have been targeted by ads, above or below search results, for the evaluated domain.
Profile
The Profile box summarises the following Ads information:
Atop: Number of Ads shown above the search results for your domain in percent.
Avg. Position: Average position of all your domain's Ads.
Display-URLs: Number of Display-URLs for the domain (Display-URLs are the URLs shown in the Ad inside the SERPs).
Display-URLs
Display URLs give people an idea of where they'll arrive after they click an ad, so they are shown inside the Snippet.
Here you'll find the mostly used Display-URLs listed according to their frequency.
Wordcount
This box indicates from how many words are the paid keywords made of. Click on the numbers to reach the corresponding table.
Top AdCopy
Here you'll see an example of an AdCopy from the evaluated domain.
Display Position and Strength of Competition
Display Position
It indicates whether the domain's Ads are shown above or below the organic search results.
Strength of Competition

How strong is the competition for your Google Ads? Here we'll check the paid keywords for your domain and evaluate whether they are particularly competitive. The strength of the competition will be then split into Above Standard and Normal Competition.
A keyword with above-average competition exceeds 25 points out of 100. This value derives from SISTRIX own metric "Competition", which takes into account traffic and competitors for the evaluated keywords.
Paid Keywords – History
This chart shows the historic development of the number of paid keywords for the evaluated domain.
Hover the mouse on the chart to see the value for a specific date. You can also zoom into a specific date-range by holding the mouse button down and selecting the range you would like to focus on, or click on "Fullscreen" to let the graph fit your entire screen.
Note that the cogwheel icon will give you more options to make the Visibility Index useful in your analyses. For example, you can use it to add your own pin into the chart.
Best Keywords
The table shows the top paid keywords for the domain. To determine the results we take into consideration the Ad position, the competition level and the traffic of the keyword.
For every keyword the Toolbox shows the Ad position, the Display-URL and other important KPIs related to the keyword, like traffic, competition level, trend and Cost-per-Click.
Video walk-through with closed-captions