The third Core Update of 2023 joined the first Spam Update of 2023 at the beginning of October for a two-week roll-out. Overlapping updates make it almost impossible to separate the effects of each update but by using the analysis and list of winners and losers here, you will get a better idea of how Google is boosting and reducing rankings. The data here applies to Google Search UK.
The Spam Update was the first to be announced, on the 4th October. It was completed on the 20th October 2023
The Core update followed a day later, the 5th October, and was completed on the 19th October.
Our data shows that the bulk of the SERP movements were seen in data from the 12th to the 18th of October. Pins in SISTRIX have been set accordingly.

In comparison with the September Helpful Content update the effects seen were not as big as the Core and Spam updated. The Google Update Radar, shown above, can always be found in our free SEO tools area, along with more information.
Winning domains – Core and Spam Update October 2023
There are less prominent winners to be found than losers, and that could be due to the Spam Upddate's focus on penalising content. In that case, the 'winners' are even distributed as the SERPs fill the holes left by the removals. Some larger examples can be found though, and there's evidence of directory-level targeting.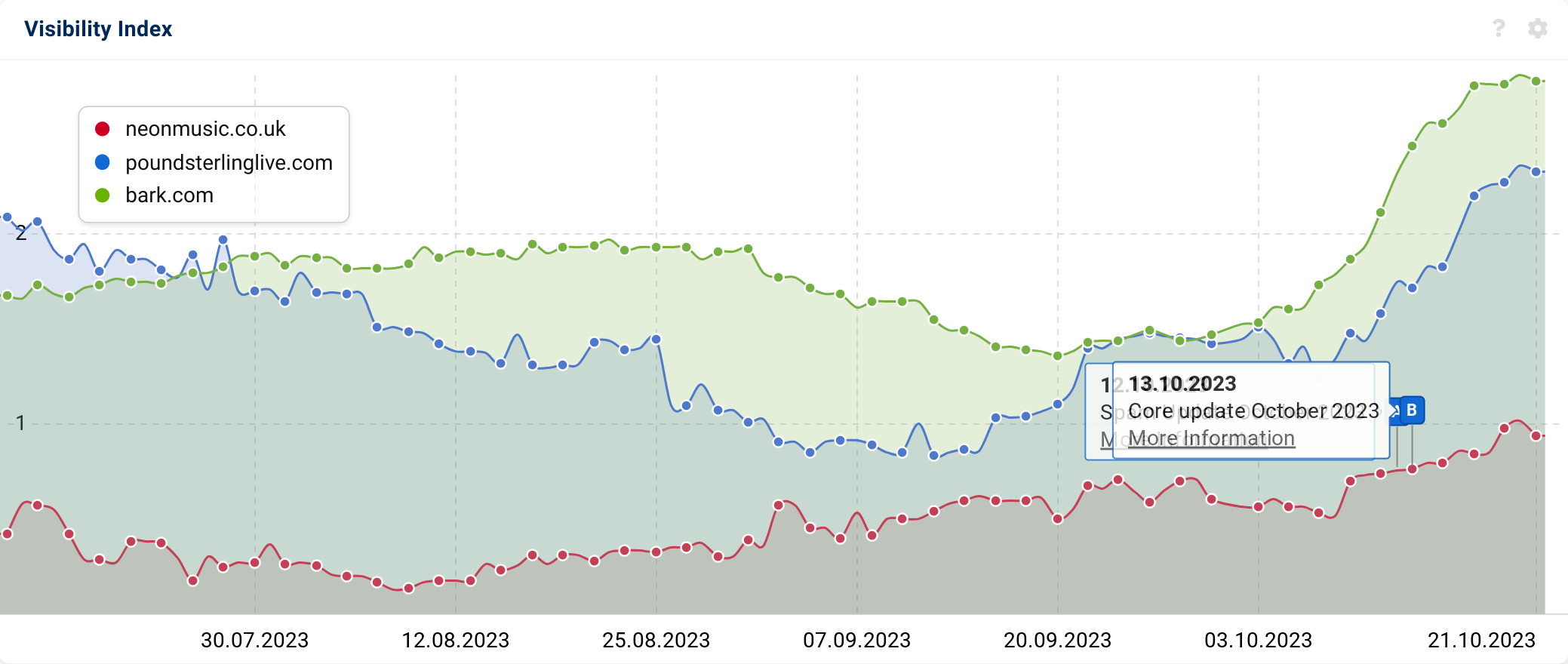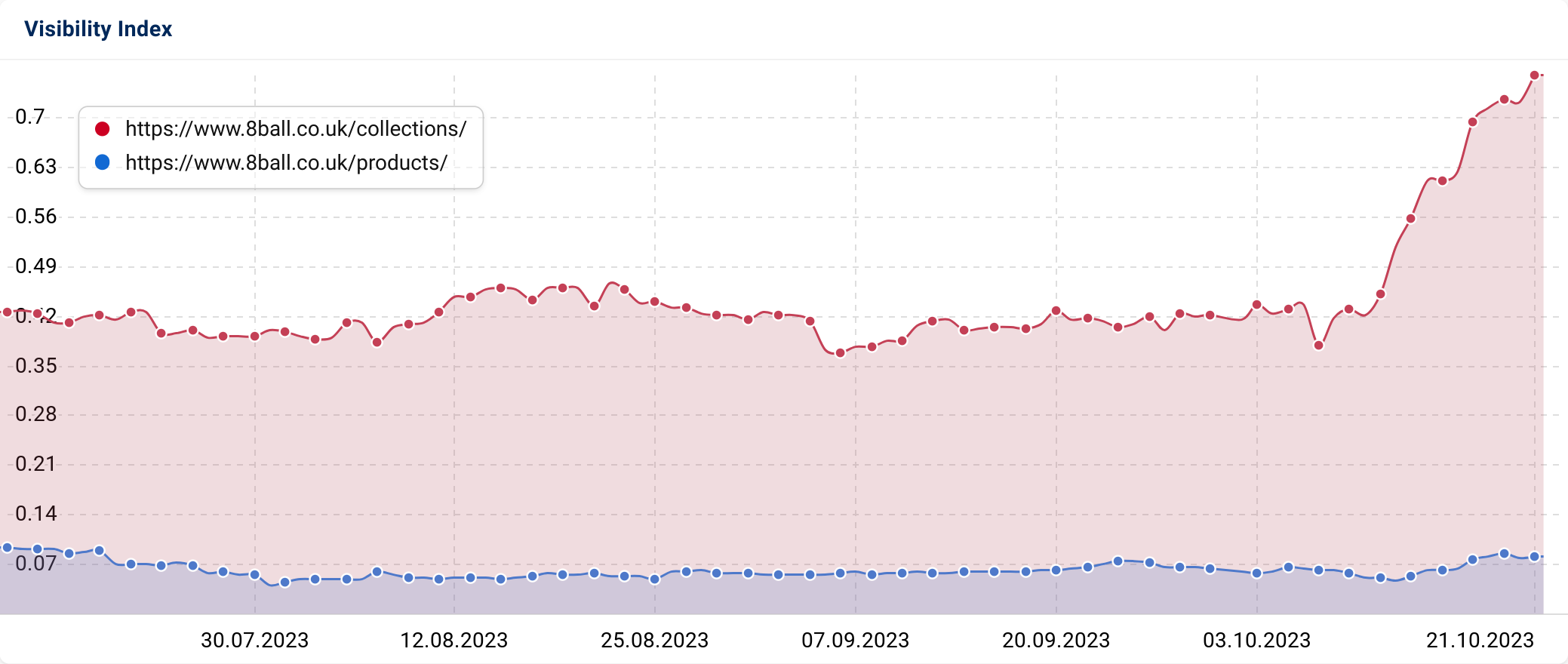 Some domains are showing strong directory-level changes.
Top 50 winning domains
Looking at established domains, (VI at start of updates => 1.0) in the absolute risers list we see many of the usual suspects.
Spam and Core Update Oct 2023 Winners (Absolute SISTRIX Visibility Index changes.)
Reference sites are often seen moving during core updates, along with social media sites and stock image and lyrics sites. The levels of change here among the big sites don't represent high percentage changes.
In the list of percentage changes we see domains and business models of different types appearing.
Spam and Core Update Oct 2023 Winners (Absolute SISTRIX Visibility Index changes.)
Informational, ecommerce and reference sites are included. Temu.com which keeps surfacing in our search trend data across US, UK and DE, has, once again, gained.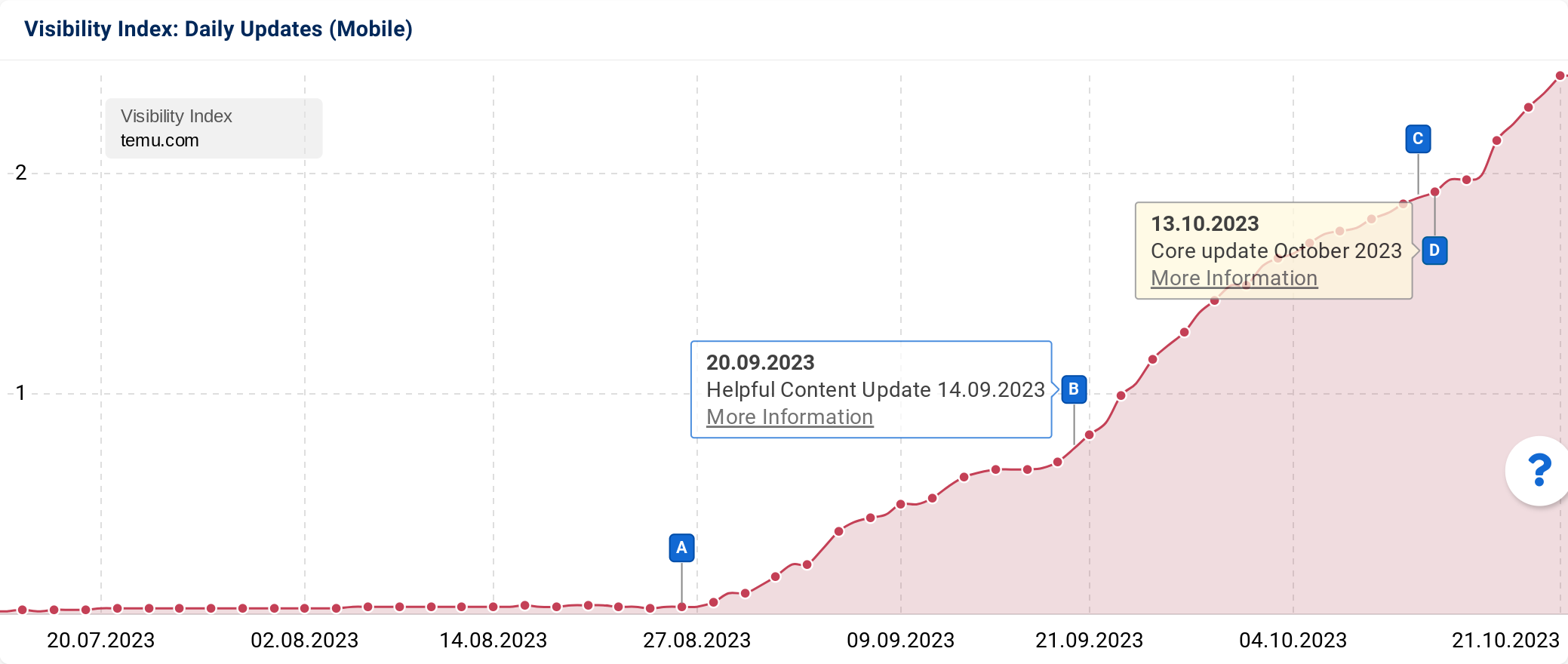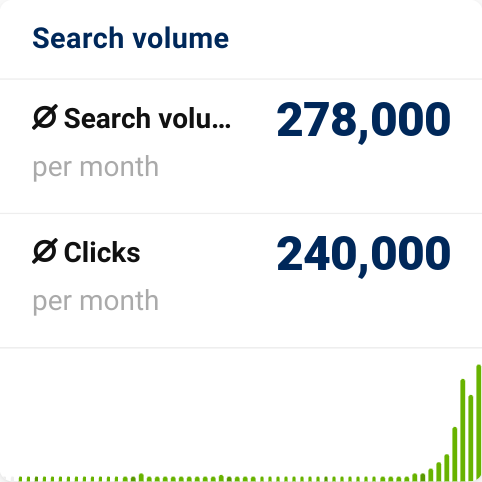 Top 50 Losing domains
Here's a list of the biggest losing domains over the period of the Spam and Core Update. (Starting Visibility Index => 1.0.)
Spam and Core Update Oct 2023 Losers (Absolute SISTRIX Visibility Index changes.)
Among the largest of absolute VI losses are the lyrics websites.
Like dictionaries, they are often seen moving around as they compete for, effectively, the exact same content. A handful of UK large UK retail and news media brands can be seen in the list but the values are not high enough to cause any major concern.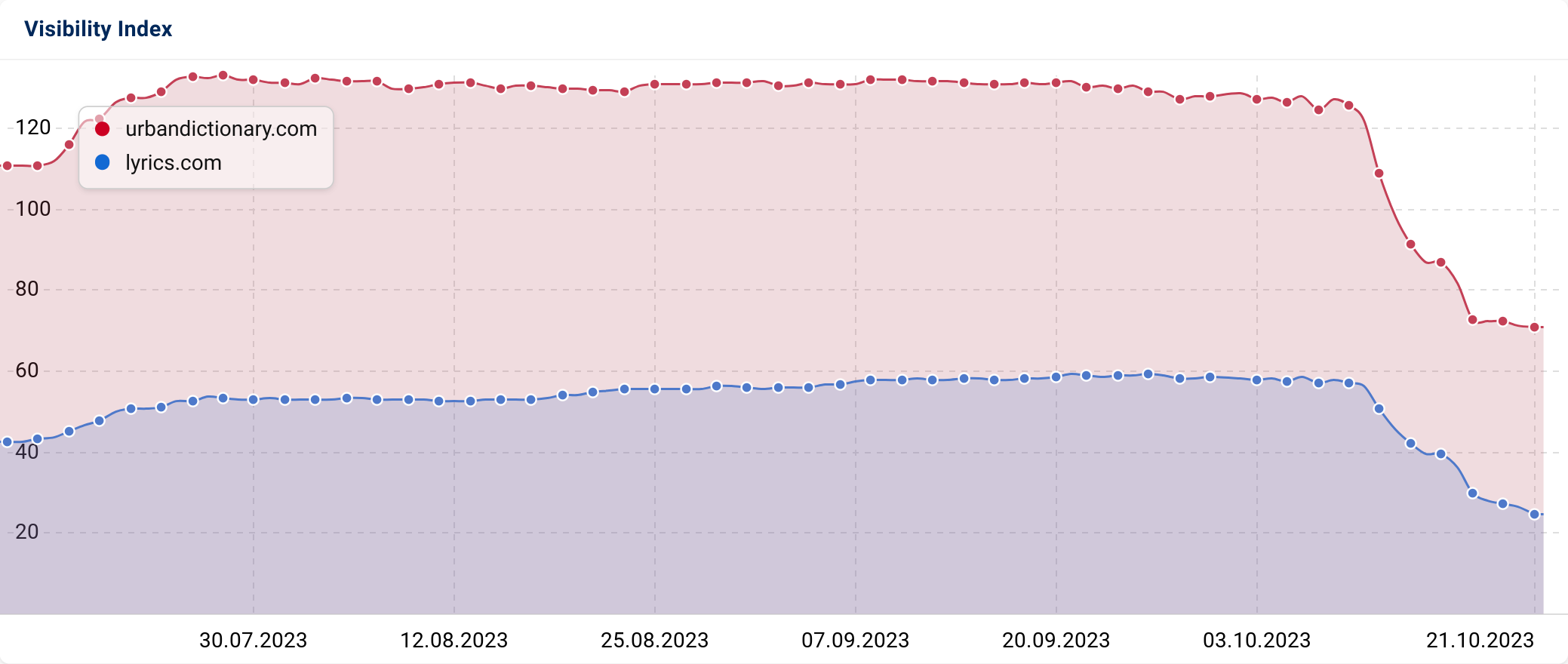 Spam and Core Update Oct 2023 Losers (Percentage SISTRIX Visibility Index changes.)
As always, the percentage losses list is where we see the changes that could affect business models. There are few major brands to be found in the list though. Note: RSPB have undertaken a content move.
Again, a few news media brands appear here but among 70 news media domains there's an equal amount of losses and gains, and no identifiable trend.
Summary
Two concurrent updates have made it almost impossible to determine any underlying trends. The usual suspects appear in the list of largest movers – lyrics and dictionaries, for example.
Established domains haven't been affected during the period but looking at percentage changes reveals changes that can affect business. We hope the lists of domains above helps you to do your own analysis of content and data.