Just days after the Core Update had finished, Google followed up with a new Helpful Content update. Announced on the 14th of September the roll-out is said to take two weeks. It's been a while since the last Helpful Content update in December 2022. Analysis and lists are shown in this article.
The Helpful Content Update, September 2023 was announced on 14th September. Major changes were seen in the data starting on the 19th of September.
More information, and a complete list of Google Updates
Latest SERPs update radar
25th September. The update activity in the UK search results is now having more effect than the previous Core Update. The latest radar can be found here.

Helpful Content Features
It's important to be aware of the following points when considering the helpful content update:
AI content is no longer inherently bad
Before this update, the Google Guidelines explicitly stated that good content should be created by people, but this limitation has now been removed. Google has apparently realised that they cannot win the battle against AI content and is now focusing on the quality of the content, regardless of its origin.
Rental of subdomains or subdirectories
Renting parts of an (often trustworthy and high-reach) website to third parties who provide their own content on a subdomain or in their own subdirectory is almost as old as SEO itself. Google is now explicitly warning against this again in this update because Domain-wide signals can therefore also have a negative impact on the remaining content of the domain. The viability of discount codes, gaming and gambling hosts is now in question. Will the sales departments of major publishers be interested in this?
Do not adjust last-update date without major changes
Google also wants the date of the last update of the content to be adjusted only if major changes have been made to the content. Google has apparently discovered that some website operators adjust the update date and then leave it at that.
Due to the closeness of the Core and Helpful updates, it's important to be using a low-lag metric such as the daily or live Visibility Index, shown on the graphic above. We will continue to monitor this and we will update this report when we see interesting cases.
Domains affected by the Helpful Content Update September 2023
As with the previous Helpful Content Update the focus is on removing content rather than promoting content which is why we're seeing few domain-specific gains. It's easy to find many domain loss examples though, especially in the smaller, established websites with a Visibility Index of between 0.2 and 1.0. A list of 150 examples is given in the table below.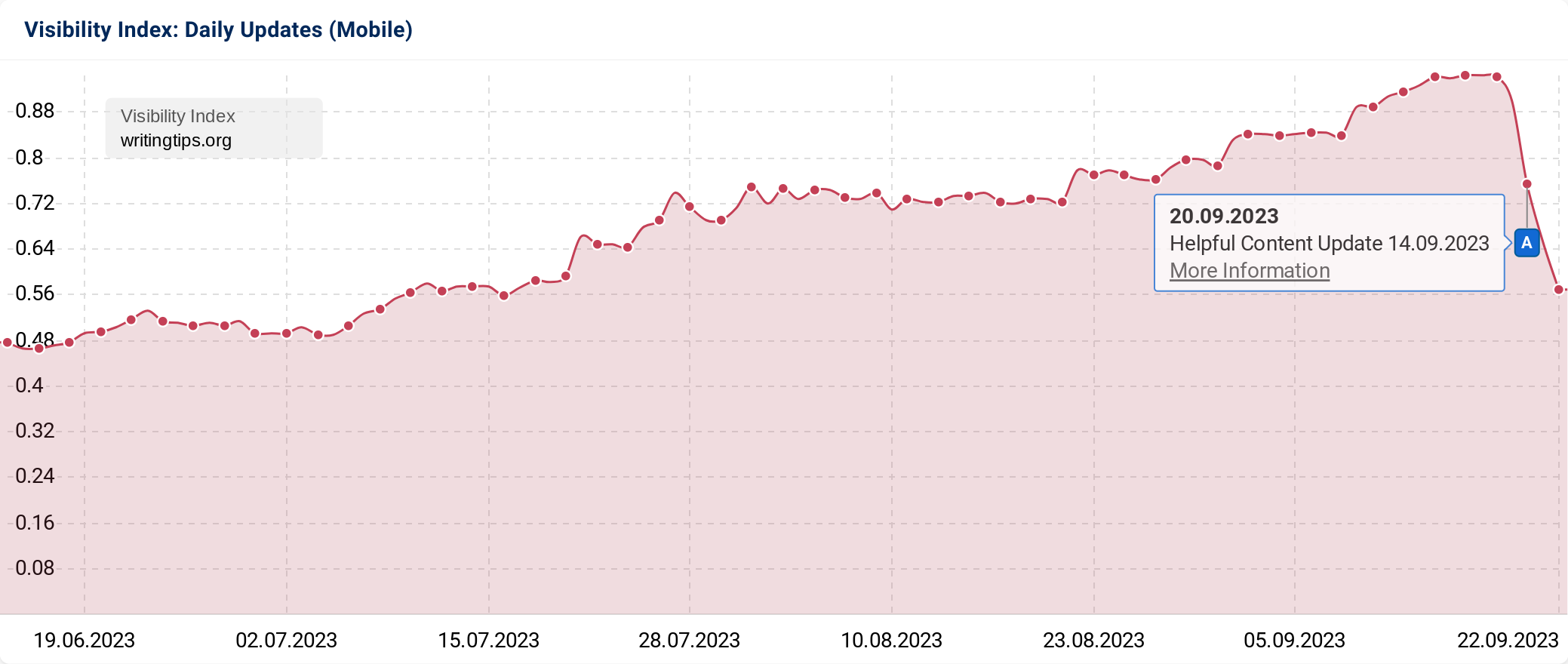 By looking at some of the domain names we can see there's a large proportion of informational websites here. The links in the table will take you to more detailed data for each domain, including the visibility history graphics.


List of domains losing in the Helpful Content Update, September 2023
Here's a selection of 200+ domains that have lost during the update. (Source: SISTRIX UK data.) We've removed obvious domain moves. Click the domain to access the SISTRIX data. (Account required.)
We'll update this post regularly until the roll-out is complete.
If you would like to view your domain data, SISTRIX is available with a 7-day no-payment trial. Data is available for all domains, with a Google Search UK archive going back over 13 years.
Winners in The Helpful Content Update
Where there are losers, there must be winners. The issue here is that the update appears to be focused on removing poor content rather than boosting good content. As a result, when the poor content is removed from SERPS there's a simple back-fill as existing URLs rise to fill the gap.
Some examples of gains can be found but these are more difficult to accredit to the helpful content update. A few exampels are shown below:


News Media Sector
We have checked 70 news media domains and, apart from theweek.co.uk which is migrating to theweek.com, there are no significant changes to be seen.
Retail B2C Sector
We have checked 220 established consumer retail websites and there are no obvious Helpful Content Update-related losers or winners in this category. In the notes above we highlighted the large percentage of informational (know intent) sites amongst the losers. In this retail list the focus is on the 'Do' intent and this might be the reason why the sector has not been affected.