Search Engine Optimisation
Search Engine Optimisation
Move up with SISTRIX – Better Rankings and More Visitors from Google.
Optimise your website with the most used SEO-Software, discover the secrets of success by the competition and get more users from Google.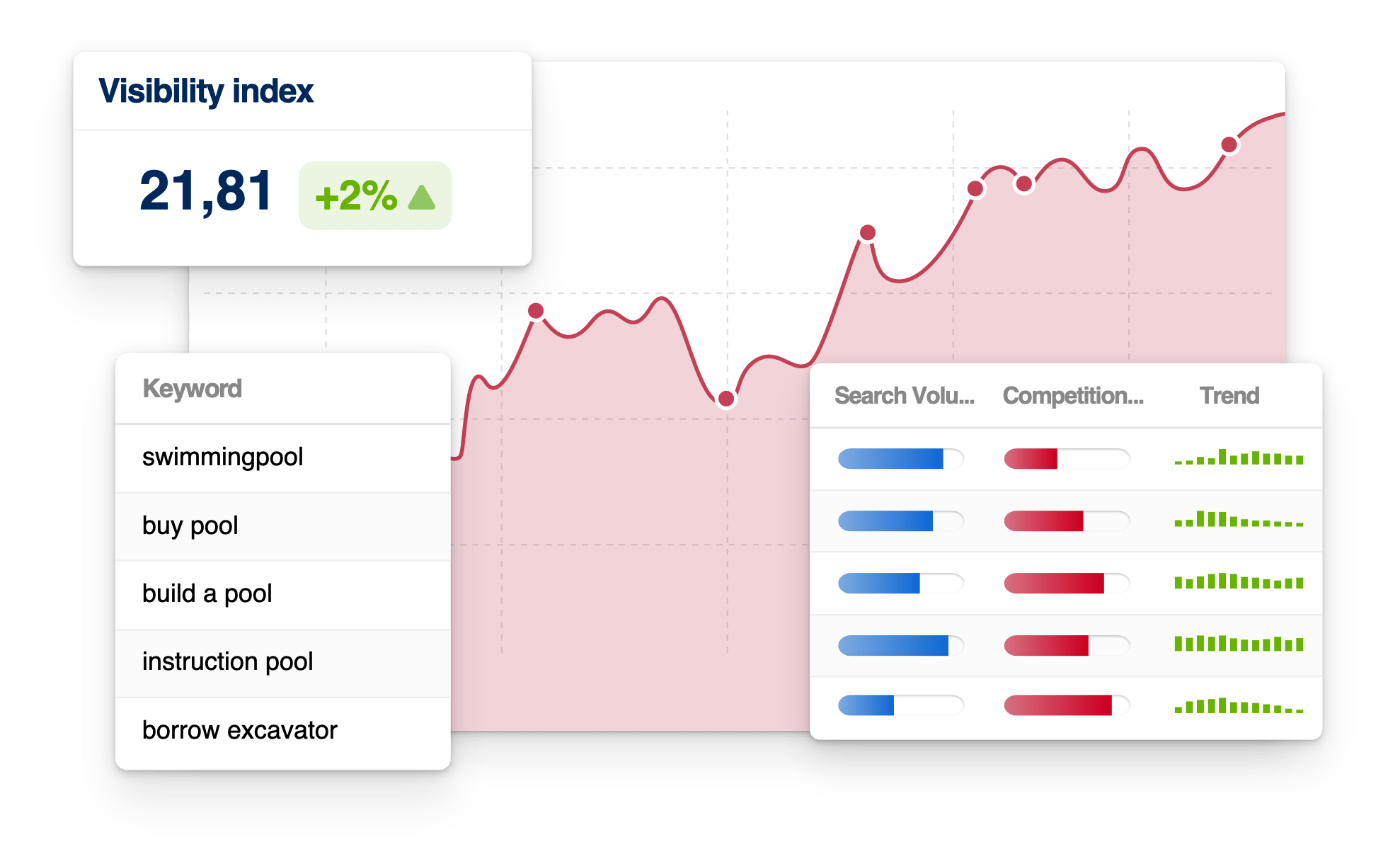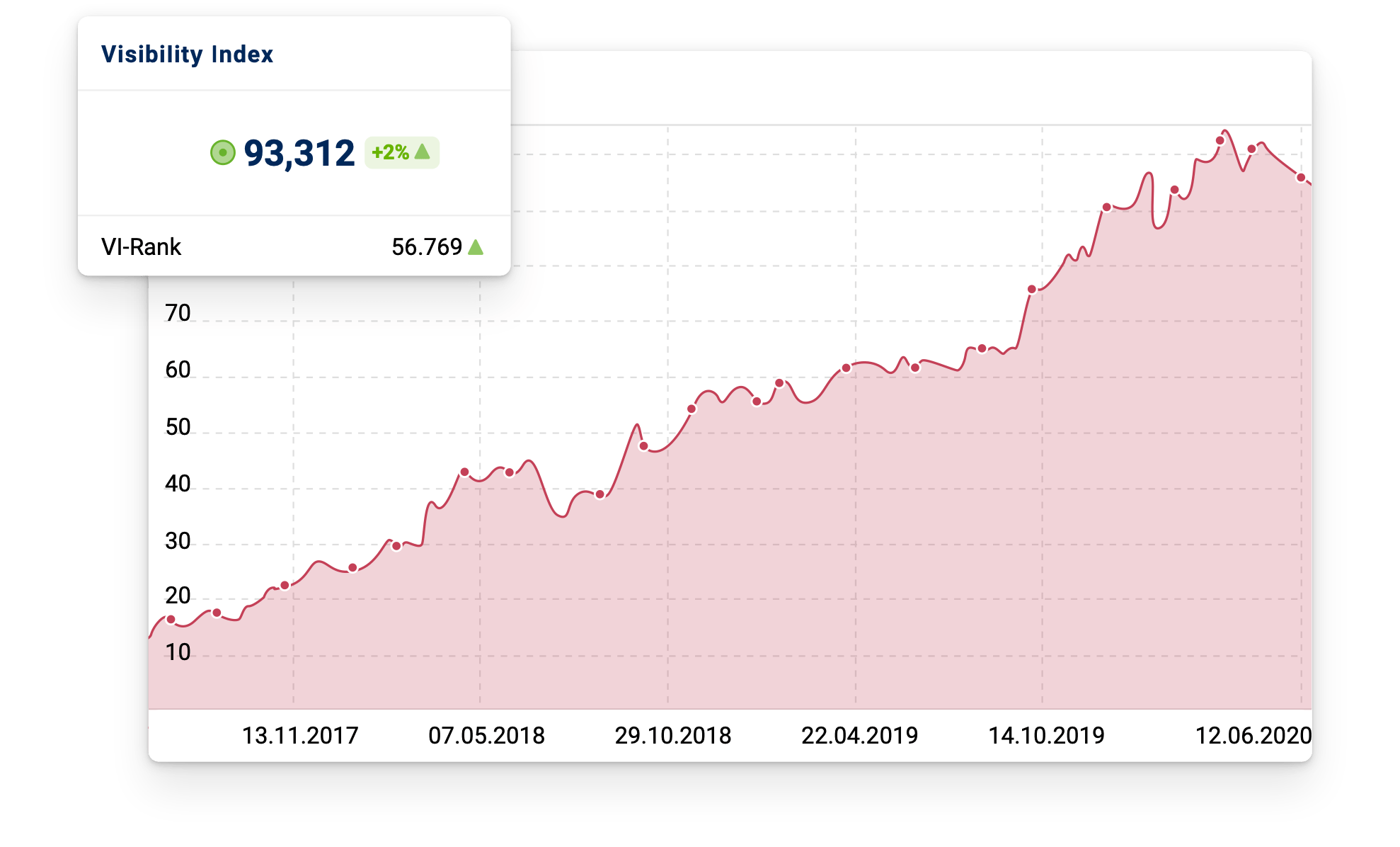 SISTRIX Visibility Index
The Gold Standard for measuring SEO Success
The SISTRIX Visibility Index has been the benchmark for SEO success since 2008. To this end, we analyse many millions of Google search results every day and prepare the data in an easily understandable manner to create the largest database in Europe.
Rate your website and any number of competitor sites at the push of a button.
Historical data from over 100 million domains will help you understand Google.
Build your own keyword sets and determine a separate project Visibility Index.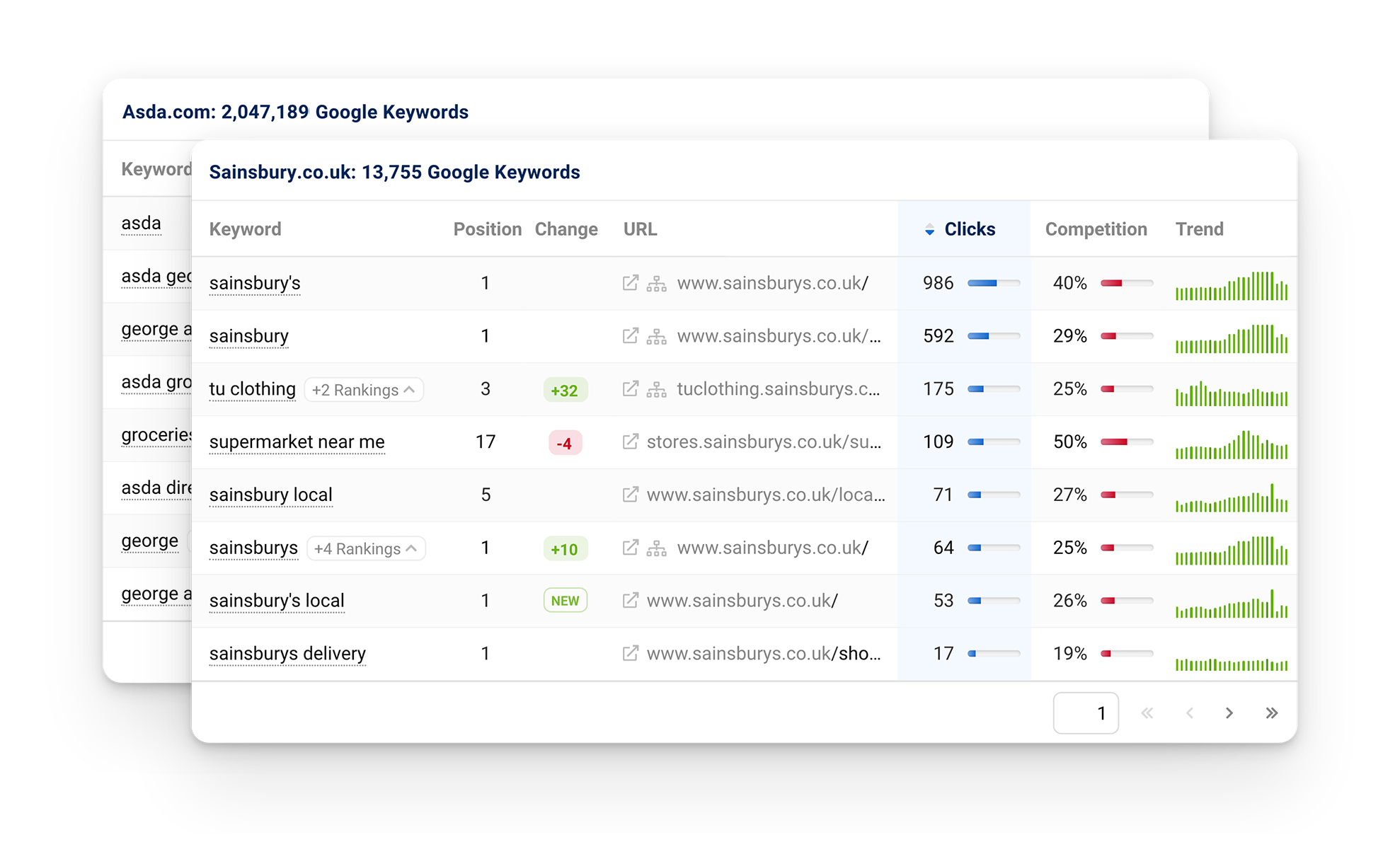 Competitor Analysis
Your Competitors' Success Secrets Revealed
Find out more about the competitors who stand in front of you on Google. Use this knowledge to overtake them: examine their keyword strategy, identify successful content formats and analyse traffic sources.
Discover new keywords that will increase your competitive success.
Analyse which content and content formats work best.
Find the strongest link sources and the most successful ads from your competitors.
Much of my job involves analyzing the performance of sites that I do not actively work on for competitive research, business development, and understanding Google algorithm updates. The SISTRIX Visibility Index has become an indispensable part of this process.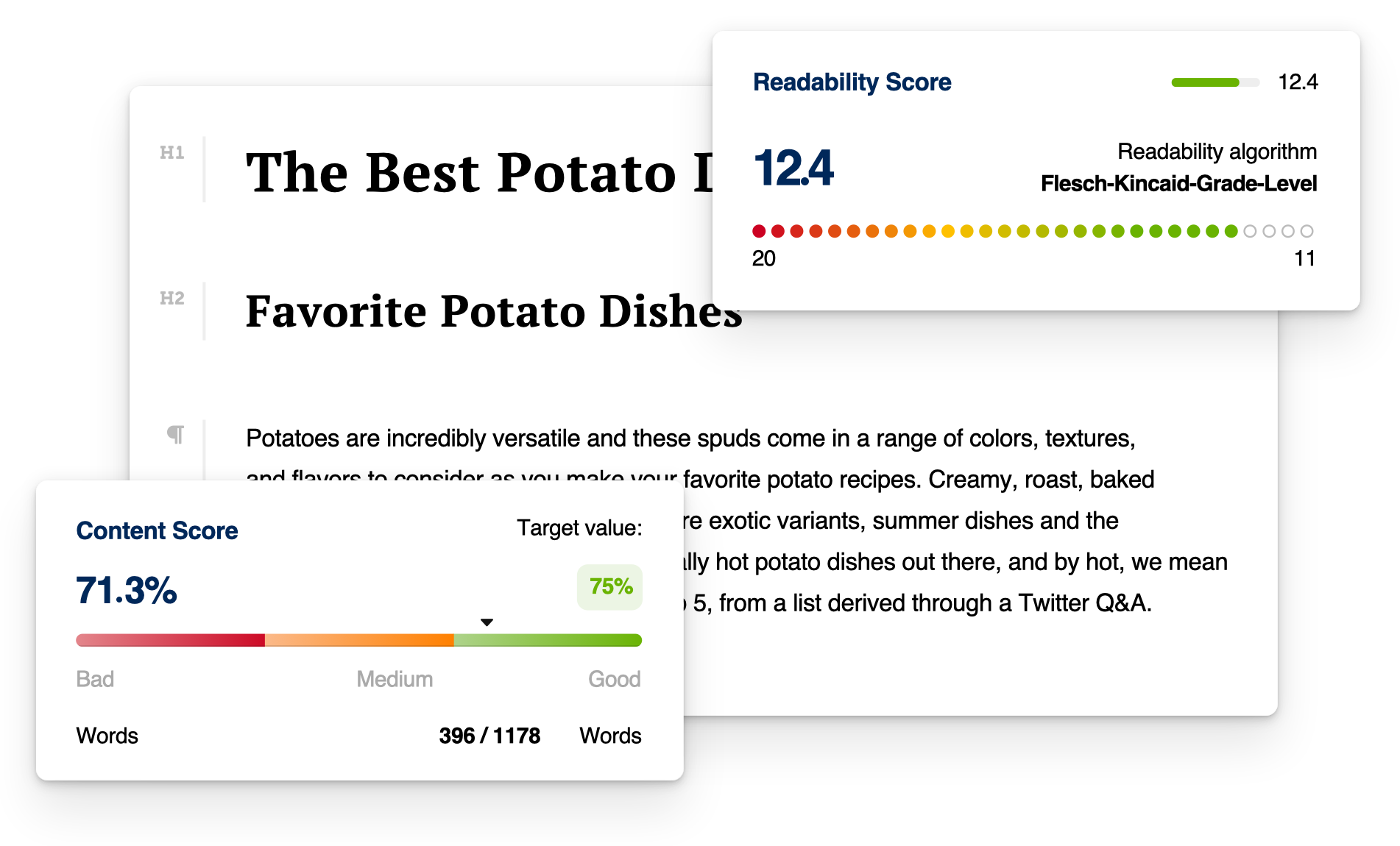 SISTRIX Content Assistant
Perfect Content that Makes it to The Top
Create optimised content that users and Google love. The content assistant helps you to understand the search intent of your topics and to create perfect content on this basis.
Ensure you cover all relevant keywords and topics.
Integrate user questions and consider search intentions.
Check the uniqueness of your content and discover plagiarism on the web.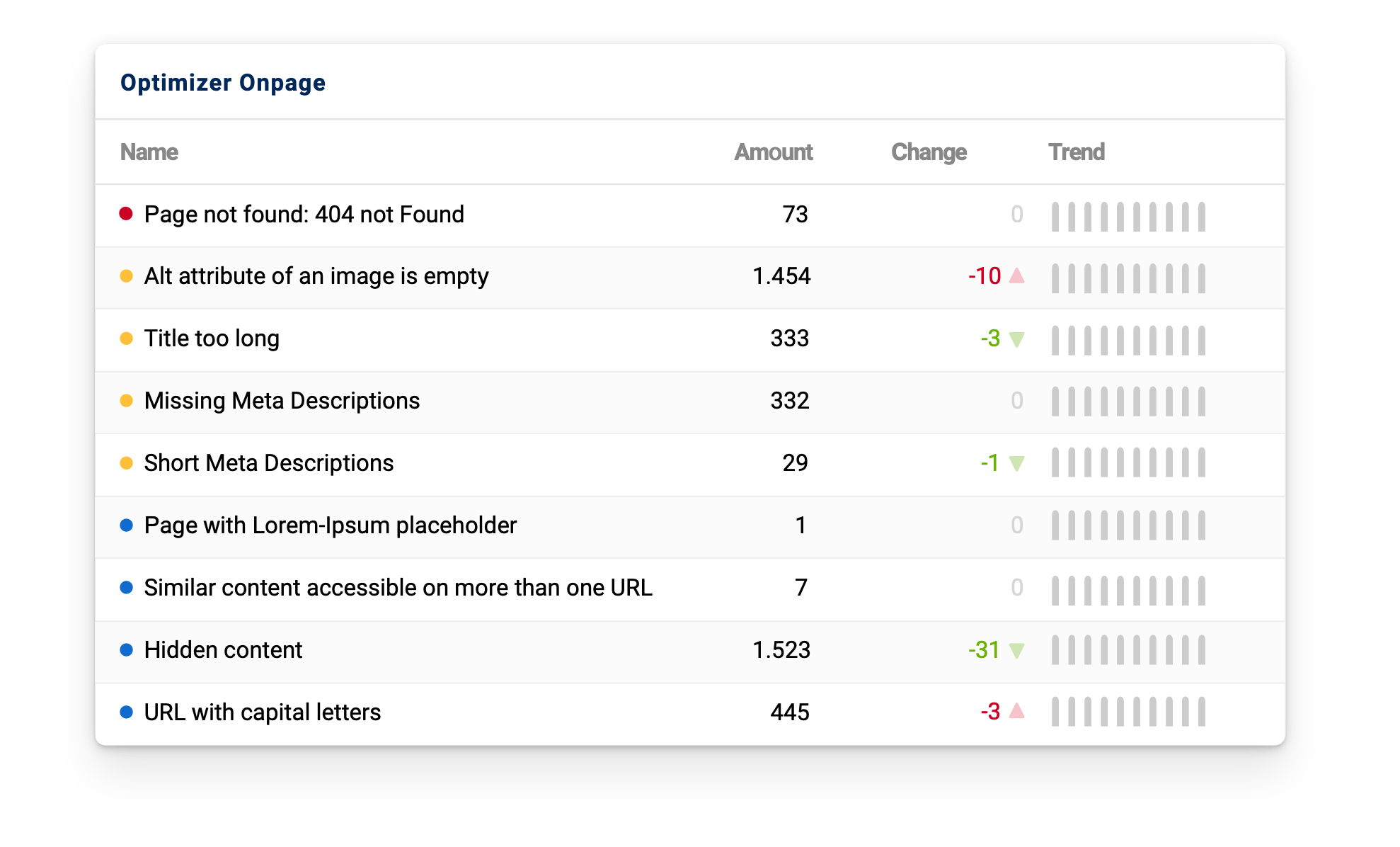 SISTRIX Optimizer
For a Technically Error-Free Website
Technical defects in a website prevent success. The SISTRIX Optimizer recognises weak points in on-page optimisation and provides solutions. These are sorted by importance, for quick success.
Automatic on-page audit with comprehensible explanations and improvement tips.
Checks and monitoring of the loading speed of your website.
Mobile first and JavaScript crawling at no additional cost.
Test SISTRIX For Free
Start with SISTRIX today and improve your rankings and visibility.
Free test account for 7 days
Quality from the Market Leader
Personal on-boarding by professionals
Rank Tracking
Monitor the ranking of your selected search terms. More than 200 countries and languages, many search engines and daily updates.
Reports
Automatically generate extensive and individualised reports with your corporate design – for yourself, for use in your company or for your customers.
Google Ads
Discover your competitors' Google ads, learn from their ad copy and analyse display banners
Backlink Check
Discover your competitors' link sources and monitor your own backlinks. Including Majestic data.
Content Discovery
Find leading texts from over 500 million successful pieces of content. With social shares and SEO metrics.
Technology Analysis
Find out which web technologies are used: more than 1,000 technologies, from the web server to the CMS to the payment provider.
Keyword Discovery
Find thousands of new keyword ideas, analyse their search volume and competition levels. Discover champions in your keyword cluster.
API Interface
Use the SISTRIX data in your own processes and tools. Setup in no time for quick results.
And much more
In SISTRIX you will find numerous other features. These are regularly revised and expanded – without any additional costs.
The SISTRIX Toolbox is my first point of contact when I want to assess a market or a company – especially their developments in search, content marketing and beyond. I like the clear presentation of information in SISTRIX. In terms of the depth and variety of data, the toolbox is by far the leader in my opinion.
In-house SEOs
SISTRIX is the perfect solution for your daily SEO work: the largest European database, daily updates.
Agencies
Show your clients how you work for their SEO success. Historical data for over 100 million domains at the push of a button.
Large Companies
Big companies need big solutions: SISTRIX Enterprise is the individual solution for your needs.
Worldwide customers of SISTRIX
The SISTRIX Advantage
SISTRIX is more than an SEO tool: these features are always available with every SISTRIX account and at no additional cost.
World-Class Support
If there are any outstanding questions, we will find a solution for you. Professional and fast – our average response time is less than 10 minutes.
Helpful Workshops
For beginners, advanced users and professionals: Our specialists share in-depth knowledge with you in free workshops on many topics relating to SEO.
SISTRIX Visibility Index
The Gold Standard of SEO Success indexes. Measure your visibility on Google and reveal the secrets of your competitors.
Full and Complete Data History
Only available from SISTRIX: the complete data history since 2008 – no ifs or buts.
Unlimited Anaysis
Examine all domains that interest you without restrictions – not just your own. Access to over 100 million domains.
Data protection from Europe
No compromises with data protection: based in Germany, we hold all data exclusively within Europe, for the best data protection.