SISTRIX is your all-in-one SEO software
1.
Improve your visibility
Raise organic traffic
2.
Analyse your competitors
Expose secrets of success
3.
Improve your website
Resolve on-page issues
4.
Create perfect content
Impress and convince your visitors
5.
Amazon, Instagram & Co.
Search is more than just Google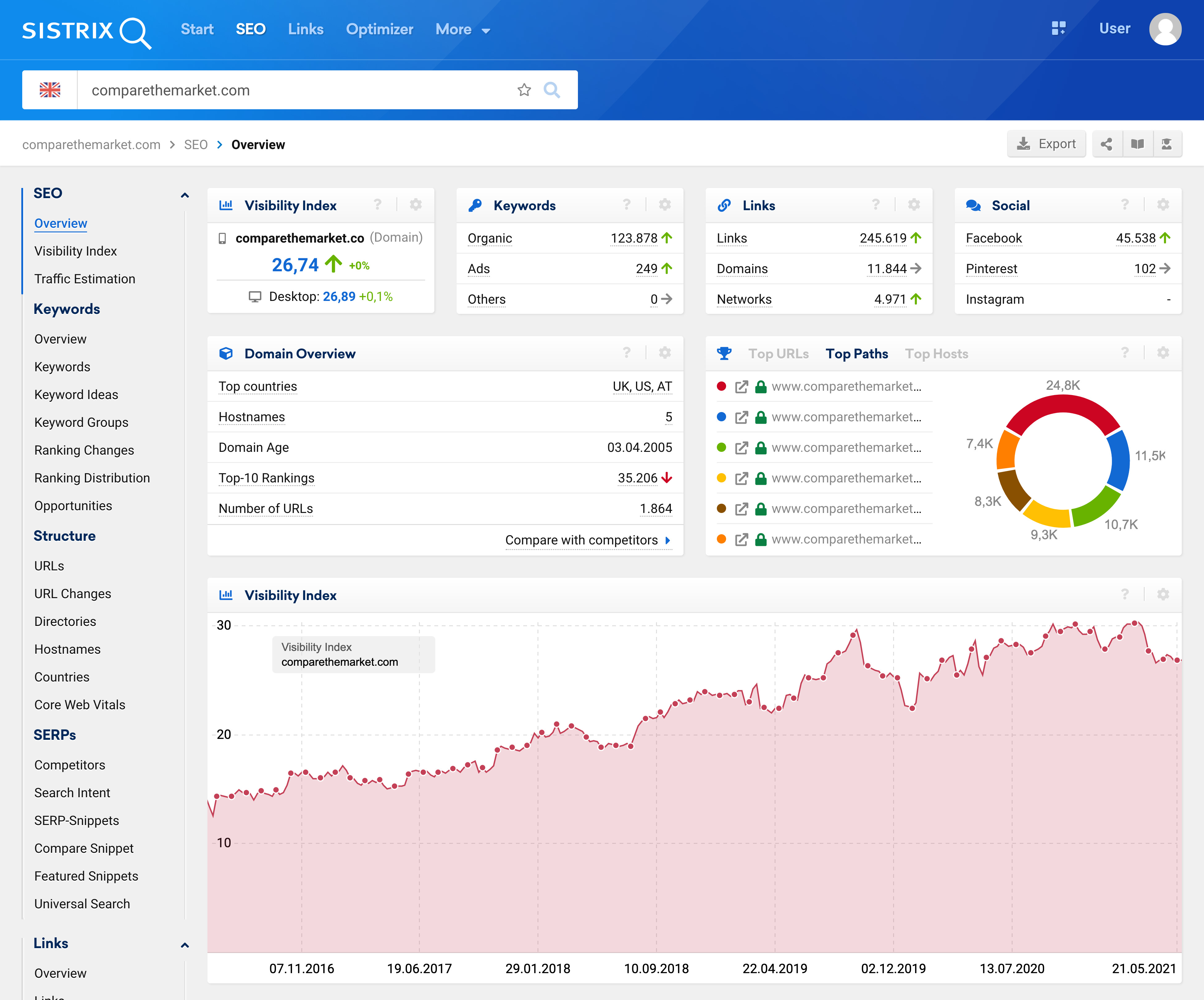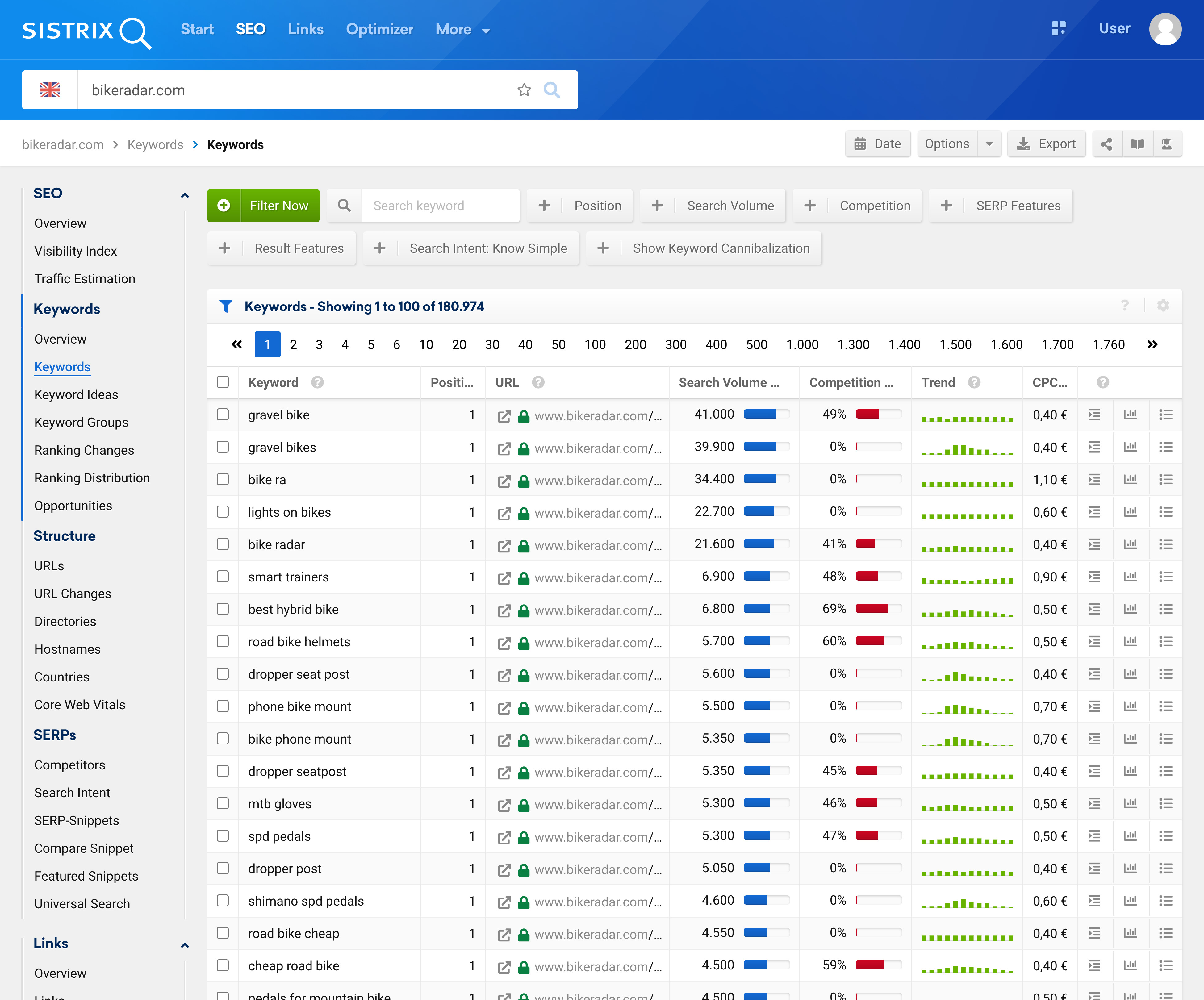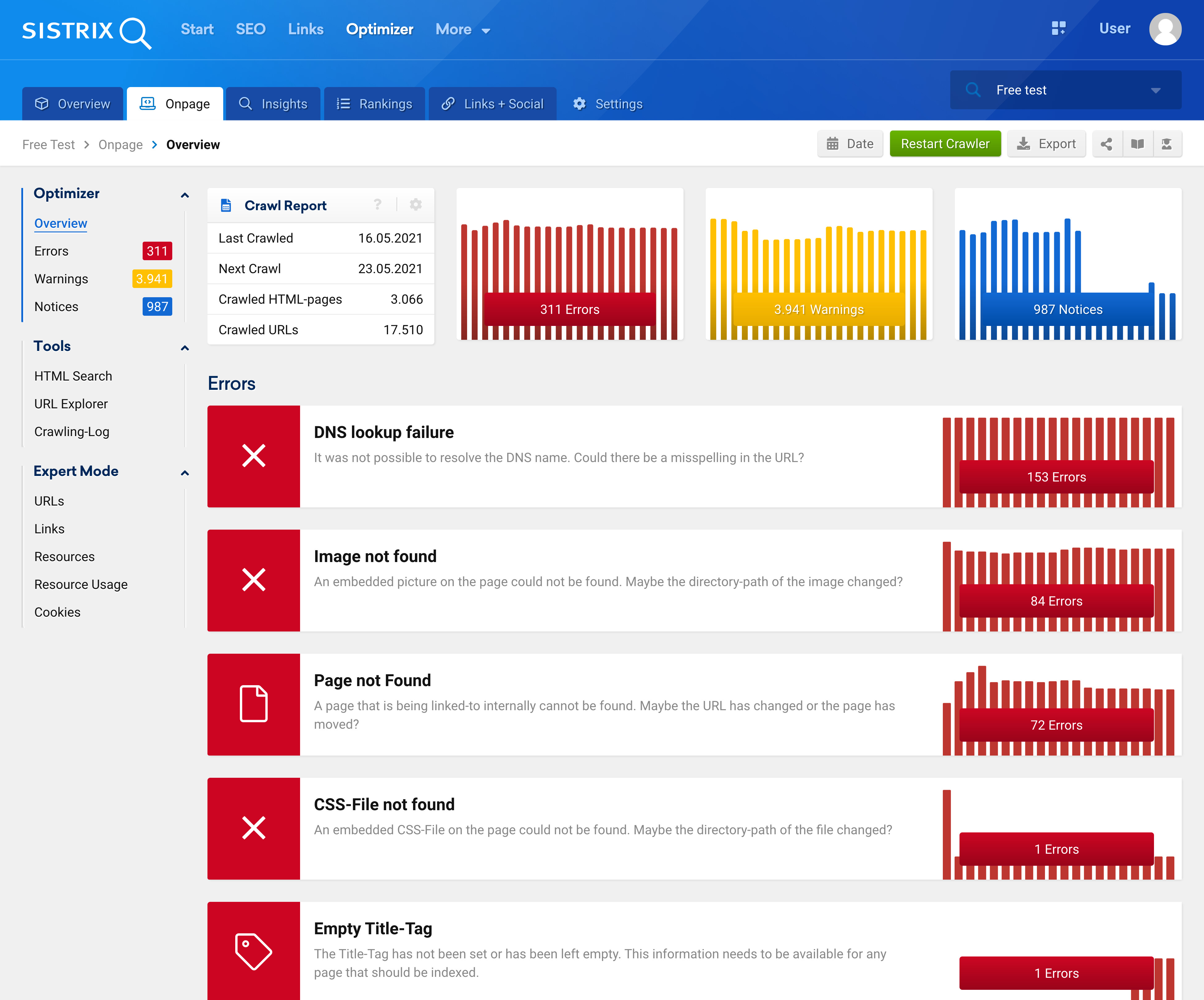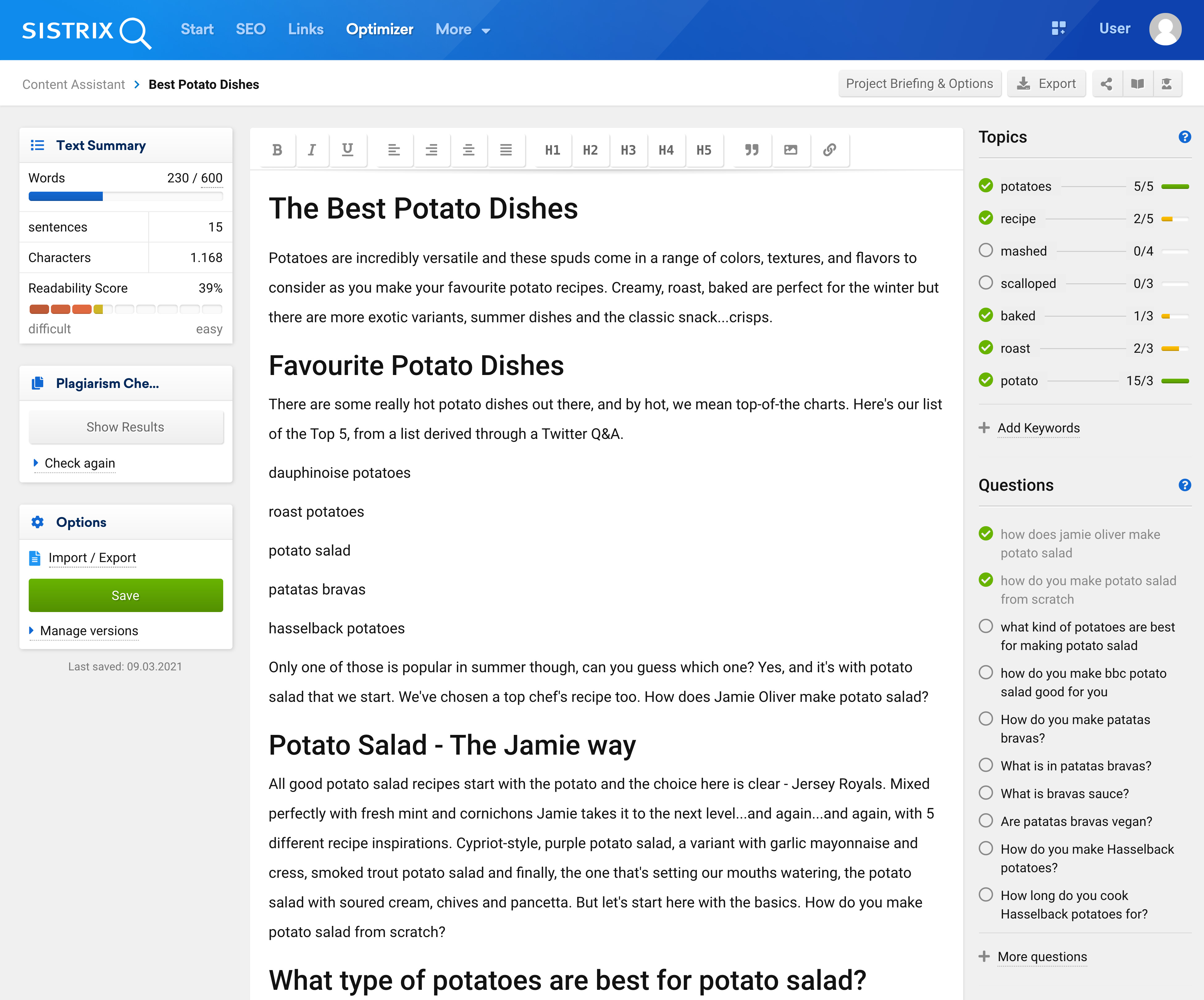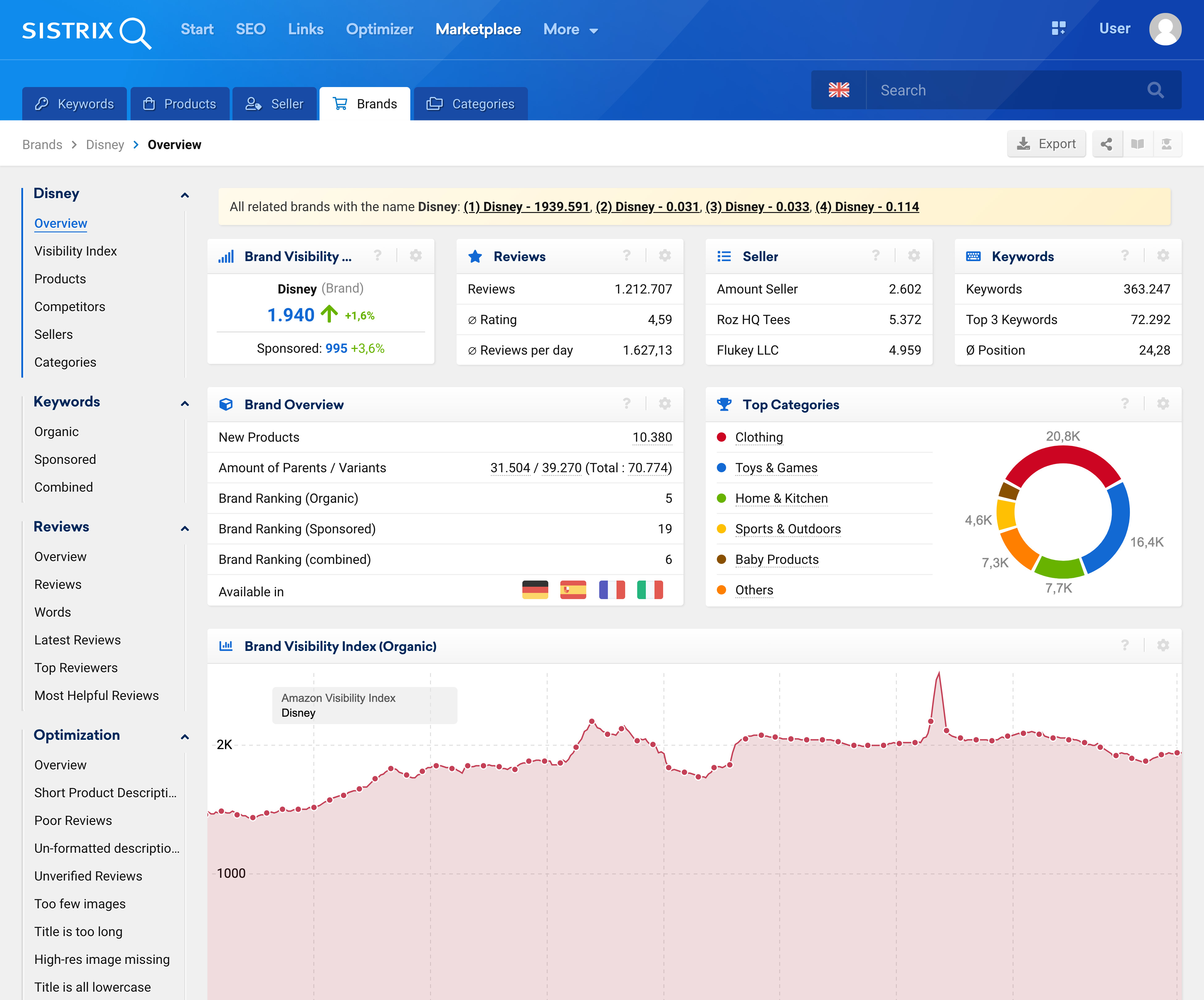 CHANGELOG
New features and more data
We've been developing SISTRIX continuously for over ten years. You can find the most recent feature updates in our changelog.
"Der SISTRIX Sichtbarkeitsindex hat sich als Standard für die Erfolgsmessung der Suchmaschinenoptimierung durchgesetzt."
Advisor Digitales Marketing & Organic Growth
More than just data: a reliable partner at your side
Since over 12 years we've strived to achieve transparency, quality, reliability and fairness. We are a trustworthy partner, working alongside you.
Quality from the market leader
For us it's about more than just the software. Since our founding we've placed the highest demands on our performance. Because of that, our customers have made us market leaders.
From professionals to professionals
We speak the same language: Complex analyses, helpful workflows and the ability to stay one step ahead.
Data protection from Europe
No compromises with data protection: based in Germany, we hold all data exclusively within Europe, for the best data protection.
Personal support
Real people given personal help: When you've got questions you won't reach a chat-bot, just SISTRIX experts.
SEO KNOWLEDGE & EDUCATION
Current analyses and in-depth knowledge, free of charge
We offer more: the latest analyses in the blog, well-founded SEO basics at Ask SISTRIX, informative seminars and much more.
Vom Freelancer bis zu großen Konzernen: mit SISTRIX zu mehr SEO-Erfolg.
Ayla Grzegowski
Senior SEO & Content Manager bei moebel.de
Intuituves SEO-Tool für Junior & Senior geeignet. Mit Sistrix hat man viele SEO-Kennzahlen auf einen Blick. Vom Gesamt-Website Index über Keyword-Positionen bis zur Entwicklung einzelner URLs. Auch die Marktbegleiter kann man mit Sistrix gut beobachten.
Julian Altenrath
Online Marketing Manager bei MeinAuto GmbH
Übersichtliche, schnelle Software mit einer Menge Features und Hinweisen. Sehr guter Überblick über das eigene SEO und die Konkurrenz. Mit den individuellen Dashboards bekommt man jeden morgen einen schnellen Überblick. Im Optimizer Tool findet ein Crawler (fast) jeden Fehler auf der Website.
Jan Meyer
Online Marketing D2C bei Ahlers AG
Sistrix ist ein Pflicht-Tool für jede/n SEO. Der Sichtbarkeitsindex hat sich in der Branche als eine wichtige und vergleichbare KPI etabliert. Und auch das Keyword-Tool bietet einen hohen Mehrwert, da Rankingverläufe (auch historisch) gut analysiert und ausgewertet werden können. Weiterhin bietet das Tool auch gute Optimierungsansätze, bspw. bei kanalisierenden Keywords.
Holger Kurtz
Online Marketing Manager bei MünchenMusik
Ohne Sistrix bleibt SEO ein Blindflug. Sistrix zeigt dir, für welche Keywords deine Webseite rankt bzw. ranken könnte. Der Sichtbarkeitsindex agiert als Navigationsgerät, das dir anzeigt, ob deine SEO Maßnahmen in die richtige Richtung gehen.
Daniel Frerichmann
Abteilungsleiter | Website & Online Sales bei Santander Consumer Group
Der Sichtbarkeitsindex ist zum Standard auch ausserhalb der SEO Branche geworden. Das Tool dient zur schnellen Bewertung von eigenen Webseiten und denen des Wettbewerbs. Es zeigt Stärken und Potenziale, aber auch Schwächen und Handlungsempfehlungen auf einfache Weise.
Wiebke Unger
SEO Consultant bei LEAP
Gutes Preis-Leistungs-Verhältnis & Userfreundlich, Top Kundenservice. Sistrix ist sehr übersichtlich und leicht zu bedienen. Das Design ermöglicht eine gute Navigation, man weiß immer wo man sich befindet. Die Funktion sind hilreich und werden ständig weiterentwickelt.
Torsten Materna
Geschäftsführung/Digitales Marketing bei Numero2
Muss was loswerden… ich nutze ja eine Menge Tools. Im letzten Jahr hat sich für mich ein Anbieter beim Support sehr hervorgetan. Dafür möchte ich einfach "DANKE" sagen. Auch wenn jemand Geld bekommt, ist es der Support der Spreu von Weizen trennt.Danke @sistrixDE #sistrix
@sistrixDE
Eren Kozik
Inhaber bei SEOPT e.K.
Für mich weiterhin die beste SEO-Software am Markt, die mein Team und mich bei der täglichen Arbeit effektiv und zielführend unterstützt. Sowohl auf die Technik, als auch auf die Daten und die Weiterentwicklung des Tools mit sinnvollen Erweiterungen bzw. Erneuerungen ist Verlass. Vielen Dank für die konstant gute Qualität und den unermüdlichen Einsatz, die Branche zu bereichern.
Christoph Burseg
CEO bei BCDC GmbH
Bestes Tool für Strategie und actionable Todos gleichzeitig. Ich verstehe die Keyword-Strategie und finde "blinde Flecken" in meiner eigenen Keyword-Strategie.
Julian Dziki
Geschäftsführer von Seokratie GmbH
Seit der Beta damals treuer Kunde, vielen Dank für die konstante Qualität Eures Tools!
Sven Giese
Head of SEO bei SMART LEMON GmbH & Co KG
SISTRIX bzw. der Sichtbarkeitsindex ist ein Standard in der SEO-Branche. Sistrix ist wichtiger Bestandteil des monatlichen Reportings. Vor allem hilft das Tool aber dabei, auch historische Entwicklungen bzw. Wettbewerbsvergleiche "on the fly" durchzuführen.