The SISTRIX Toolbox is a leading SEO data and analytics tool. We track Google SERPs and URLs, billions of data points per week, and allow you to see what keywords and URLs are ranking on almost every domain out there, in many different countries. Our Visibility Index is one of the easiest ways to compare SERPs rankings between domains.
In order to help you get started with SISTRIX we have put together this quick guide. In just a few minutes you'll get an overview of the key features and options and we'll help you with your first steps using the toolbox.
Toolbox Search
The Toolbox search, in the top right corner of the Toolbox, is the starting point for your analysis: just type in the domain, or page you would like to evaluate and off you go. In front of the search box you can determine which country-index should be used. The SISTRIX Toolbox provides data for over 100 million domains.

The search function supports multiple different input methods: if you type in a domain ("sistrix.com"), we will evaluate the entire domain for you. If you enter a subdomain/host ("www.sistrix.com") then the analysis refers only to this subdomain. If you enter a directory/path ("http://www.sistrix.com/blog/"), we analyze this single directory. The entry of a specific URL ("http://www.sistrix.com/blog/page.html") is possible as well.
Another tip: if you want to compare domains, you can type them into the search bar, separated by a comma and you will immediately receive an overview of the most important performance indicators for these domains. For example: "volkswagen.de,audi.de,bmw.de".
The most important data: the domain overview
If you search for a domain using the Toolbox search you will end up in the domain overview. There you will receive all the important performance indicators for the domain (or host, path, URL) at a glance. Here, you can see a domain overview for apple.com: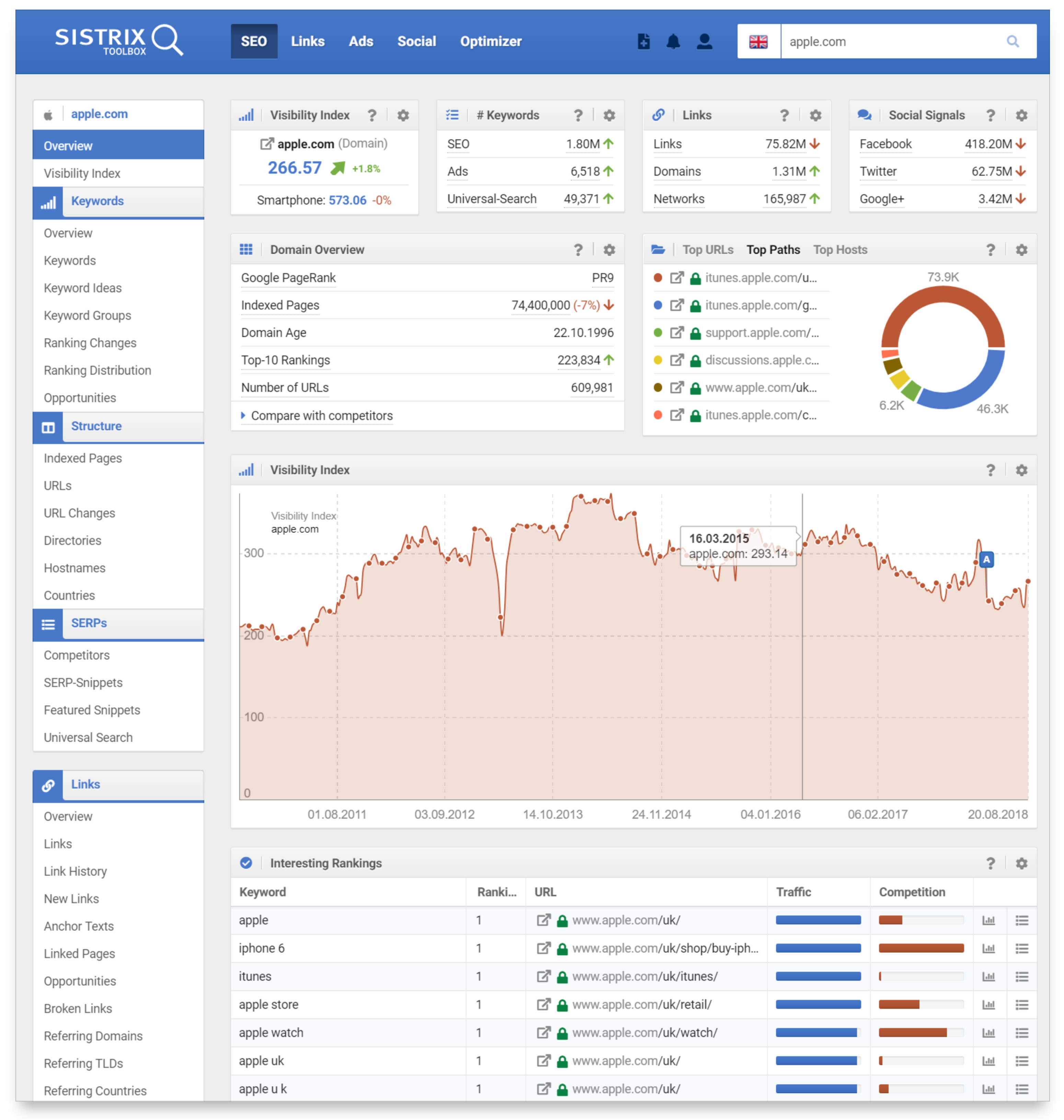 On the left side you have the domain navigation. It displays all the evaluation methods we offer. Your selected evaluation is highlighted in blue so you always know where you are. On the right side, in the content section, you will find important figures, performance indicators, for a quick overview of online marketing activities and the development of the domain: the SISTRIX Visibility Index shows you how well this domain is represented on Google. The link and social media numbers show you whether the contents are being shared and distributed. In the last box you can see interesting search terms for which this domain is currently ranked.
Online help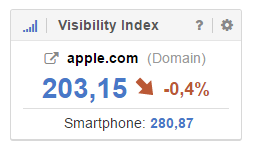 Most content-boxes in the Toolbox have an online help that refers to the data and evaluations in this box. To access this help, just click on the question mark icon in the top right corner of the box. Here we will explain what data is displayed and analysed, what time-period the evaluations refer to and how often the data is updated. In many cases you can also find additional help links.
Toolbox profiles & account settings
In order to standardise the use of the Toolbox account within a company we created toolbox profiles. This allows each user to select their own profile after login, being able to work with their own history and settings. Up to six profiles can be created per Toolbox account. To create a new profile, just click "create new profile" on the profile selection page, after your login.
In the account settings you can set up your Toolbox to suit your personal preferences: language, time zone, formatting and other options can be adjusted to your liking. This is also where the password for the entire account can be changed.
How to proceed? Your next steps with SISTRIX.
You have just glimpsed a small part of the functions of our SISTRIX Toolbox. To go even further into exploring the possibilities that the Toolbox has to offer, we recommend our Toolbox Tutorials, where we show specific use-cases for the Toolbox. We have a series of SISTRIX introduction videos and we've collected our most frequently asked questions and answers in the FAQ. If you want to integrate the Toolbox data into your own processes, then the API might be of interest to you. For the latest updates to the toolkit, take a look at the list of recent updates. Finally, if you have any questions and suggestions, our Support is standing by – simply get in touch!
For advanced research, take a look at our Ask Sistrix articles written by experienced professionals in the SEO industry.