Many of the analysis available in the Toolbox are based on search results from Google. In this article we answer all the questions about SERP data in the Toolbox and give you some interesting background information.
The Toolbox gives you access to the biggest, and most up-to-date database for SERP and keyword analysis in Europe, and extends out to worldwide data. With this information, not only can you optimise your own website, but you can easily analyse what your competitors are doing better and find best practice examples from your sector.
In the following table you'll find the total number of keywords for which we regularly retrieve the latest search results. These form the foundation for evaluations in the Toolbox.
Database Sizes: Number of keywords regularly retrieved
| Country | Keywords | Country | Keywords |
| --- | --- | --- | --- |
| Germany | 100,000,000 | USA | 22,300,000 |
| Switzerland | 17,000,000 | The Netherlands | 10,000,000 |
| Austria | 17,000,000 | Poland | 9,500,000 |
| Italy | 51,000,000 | Sweden | 6,600,000 |
| Spain | 51,000,000 | Brasil | 8,400,000 |
| France | 51,000,000 | Turkey | 7,800,000 |
| United Kingdom | 51,000,000 | Greece | 1,000,000 |
| Ireland | 1,000,000 | Australia | 1,000,000 |
| Portugal | 1,000,000 | Mexico | 1,000,000 |
| Denmark | 1,000,000 | South Africa | 1,000,000 |
| Norway | 1,000,000 | India | 1,000,000 |
| Finland | 1,000,000 | Japan | 1,000,000 |
| Belgium | 1,000,000 | Russia | 1,000,000 |
| Slovakia | 1,000,000 | Canada | 1,000,000 |
| Czech Republic | 1,000,000 | Hungary | 1,000,000 |
Keyword research with the Keyword Discovery tool, and other tools in the Toolbox are based on a much larger database with many billions of keywords. We don't, however, regularly collect SERPs for these.
Recency: Daily, weekly and monthly updates
On the one hand, we want to provide the most current data possible in the toolbox. On the other, collecting SERPs costs money and we want to continue to be able to offer the Toolbox at the best possible price. Therefore, keywords are updated monthly, weekly or even daily, depending on their relevance.
All keywords in the toolbox are updated at least once a month – you'll never work with data that is older than that. In addition, we update all keywords that have a significant search volume every week. The most important keywords are also updated every day.

By default, the functions of the toolbox access the complete database of the respective country, i.e. a combination of the monthly, weekly and daily updated keywords. You can select a date for many functions. If a date is selected, we only use the keywords that are updated daily and weekly. Although there are fewer keywords, the keywords are more up-to-date. With Google updates, relaunches and major changes, you can more quickly identify relevant changes in the search results.
Device: Mobile and Desktop SERPs
In all relevant countries there are now more searches on mobile than on the desktop. Since Google follows a strict mobile-first approach (News: Google Switching Fully to Mobile-First Indexing), we also use the mobile search results in the toolbox as standard. All keywords that are updated monthly are mobile search results.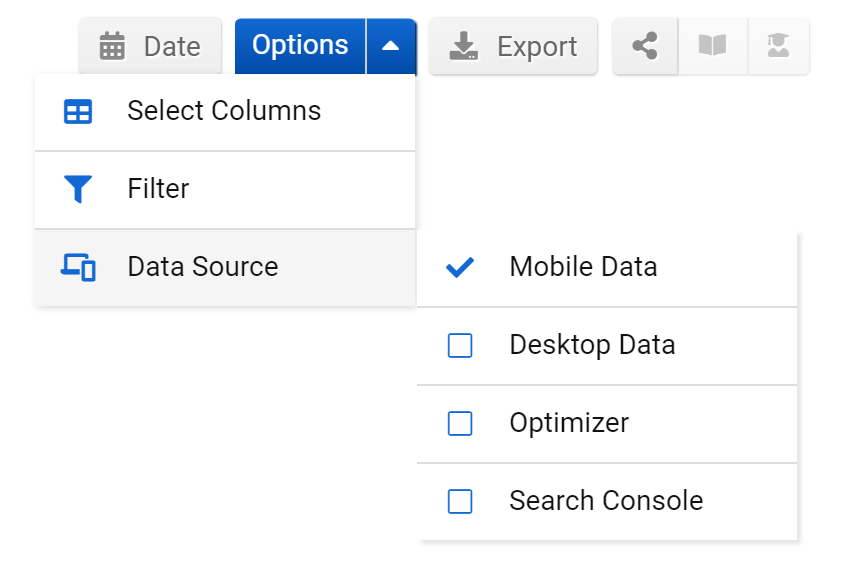 In addition, and parallel to the daily and weekly-updated mobile keywords, we collect them in their desktop variant. You can use the options menu in the table to switch between the two devices (mobile and desktop). Some tables can also display data from the Optimizer or the Google Search Console. The keyword numbers are not comparable between the different data sources.
Frequently asked questions
To help our customers best understand the Toolbox we offer informative Toolbox workshops. Find out more.
Why do I see other results in Google?
When two users look at Google search results on different computers, they often get a different SERP order. There are a variety of reasons for this, such as localisation, personalisation and other reasons. More about this topic is available in this article.
We now have over 12 years of experience in the neutral measurement of Google rankings and apply high quality standards to our data-set. It allows us to succeed in collecting the most neutral and comparable search results, so that the results measured for the toolbox come closer to reality for most users than the rankings you observe in your browser.
Can I add new keywords?
The evaluations in the SEO module of the Toolbox are based on a keyword base that we maintain centrally. This keyword-set is the same for all users of the SEO module. We update the keyword database regularly and add new, relevant keywords. However, users cannot add their own keywords there.
If you would like to monitor keywords that are not yet covered by our SEO module, the Optimizer is the perfect solution for you. There you can add your desired keywords and see your own personal visibility index based on these keywords. We also support search via other search engines (such as Bing) and many additional countries.