There are different ways to research new keywords. You can, for example, use the ranking data with filters for your research. Or find new keywords via your competitors data. In this tutorial you are going to learn how you can use a single keyword or search term for your research.
Keyword Research with the Toolbox
First, enter the desired keyword into the Toolbox search-bar. For this tutorial, we are going to use the term "front door" to research similar and related keywords.

The initial view shows the overview of all SERPs (Google Search Engine Results Pages) for this term. The "More Information" box on the right is what we are looking for – especially the button "Similar and Related Keywords". Please click on this button.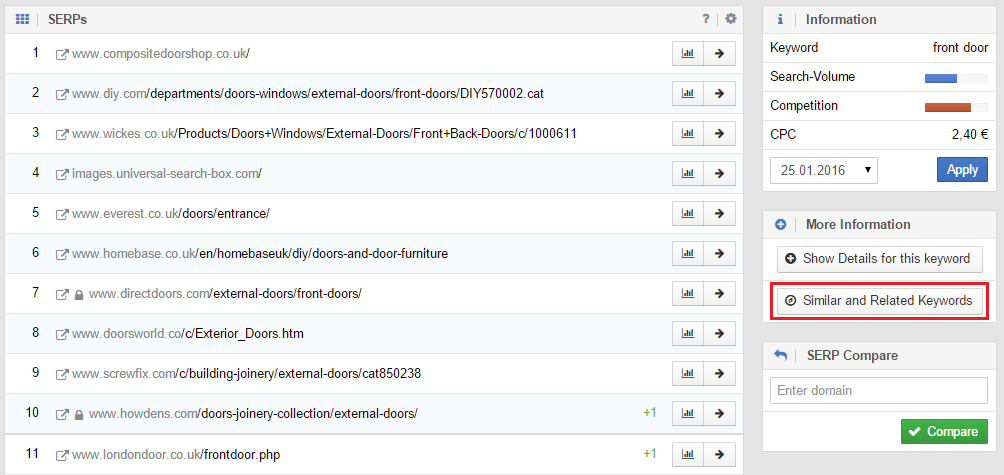 Now you can see two smaller lists, one for the similar keywords and another for the related keywords for the keyword "front door". The lists are sorted with the most important (based on competition and traffic levels) first.
Let us take a closer look at both of these keyword lists.
Similar Keywords
Similar keywords are those that contain the original search term but in combination with other words. In relation to "front door" it will show, for example, "front door locks", "new front door" and "front door mats". When you plan new content or sub-pages for your domain and are in need of additional, important keywords for your topic, the SISTRIX Toolbox can help you decide.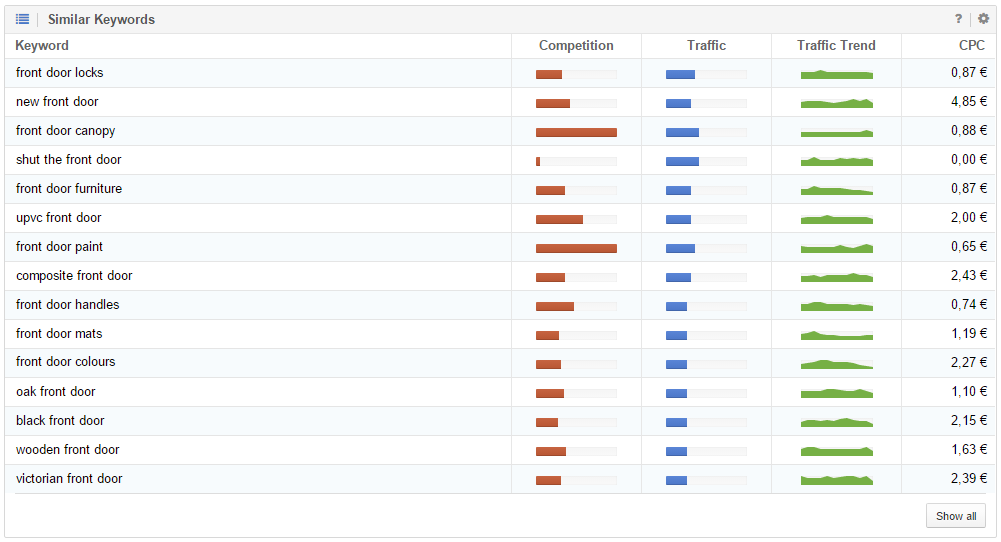 Extended List of Similar Keywords.
On this page you see only a short set of keywords. You can, however, click on the button "Show all" below the table, which will take you to an extensive list with similar keywords for "front door".
Related Keywords
Related terms do not necessarily have to contain the keyword itself. Here you will get suggestions for other terms that are closely related to the term you have been searching for. If you are currently writing an article about front doors, for example, you can find important terms like "composite door styles" on this list. You can also find known brands that sell front doors within the "Related Keywords" list.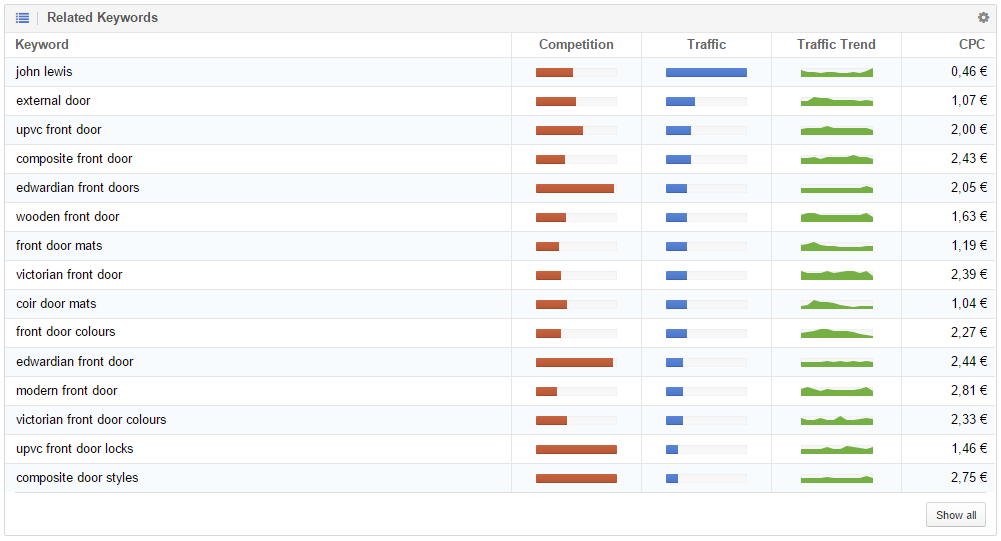 Here, too, you can use the button "Show all" to open the entire list of all related terms.
The tables may also show you some additional information about the keyword, like the CPC (Cost Per Click) or information on the traffic volume and traffic-trends where we have that data stored. Note that we only show the monthly traffic trends when our data is mature enough to be reliable. In general, that can take three years for a new search term. Example: brexit.
Keyword research is not only important for new content. You can also do general keyword research for your site to see which other terms your page should rank for which will help you plan future research or site structure.
Tip: You can add keywords directly into lists. See our tutorial for lists to learn more.

Tip: You can save the list into a dashboard or a report for later distribution. Lists can also be exported as CSV files for use in other tools.
Conclusion
Keyword research can help to expose the breadth of a topic and ensure that you don't miss keyword opportunities. The SISTRIX Toolbox helps you to get quick and well-sorted lists with only a few clicks.