Keyword and URL cannibalisation describes the often negative effects when two or more pieces of content from the same domain rank on the same Google results page.
By fixing this, you can improve domain visibility. In this tutorial, we show you ways to find cannibalisation issues, and how to solve them in order to improve rankings.
Step-By-Step Example: E-Commerce Website Cannibalisation
Later in this article we'll go into more detail about the different types of cannibalisation and the different ways they can be assessed and resolved. But first let's look at a common example where an online shop competes with its own category and product pages. This illustrates well what exactly cannibalisation actually means and why it is a problem.
Select domain and view cannibalisation list
We start by entering the domain asos.com into the SISTRIX search bar.
In the navigation on the left-hand side, we select the sub-item "Keywords" 1.
In the list of results, we start by clicking on the predefined filter "Show Keyword Cannibalisation" at 2. This will pick out all keywords for which at least two results from the domain rank in the search results.
In rare cases with larger domains with a lot of keywords, such as our example with asos.com, this filter is not displayed because the amount of data is too large. In this case, as we did with the directory https://www.asos.com/women/ in our example, try to pick out a specific area of the domain – e.g., a specific directory or host – and examine it for keyword cannibalisation.
Click on the column heading "Search Volume" at 3 to sort the list in descending order according to the highest search volume.
Once you have selected the filter and sorted the list, you can expand the additional rankings next to the keyword 4. In the column on the right 5, you can see which URLs of the domain rank for this keyword.
Refine the cannibalisation list
In most cases, we advise you to ignore your own brand keywords in the evaluation. You can assume that the domain appears several times in the SERPs with these website searches.
To exclude the brand keywords, click on the green "Filter Now" button 1, select the "Keyword" filter, then select the setting "Does not contain the text" 2 and enter the brand name there.
In our case, we specify that the text "asos" should not be included in the keywords.
We also advise you to limit the keyword cannibalisation analysis to the top 10 positions. With a position filter 3, for example, the results can be reduced to the positions between 6 and 10 4.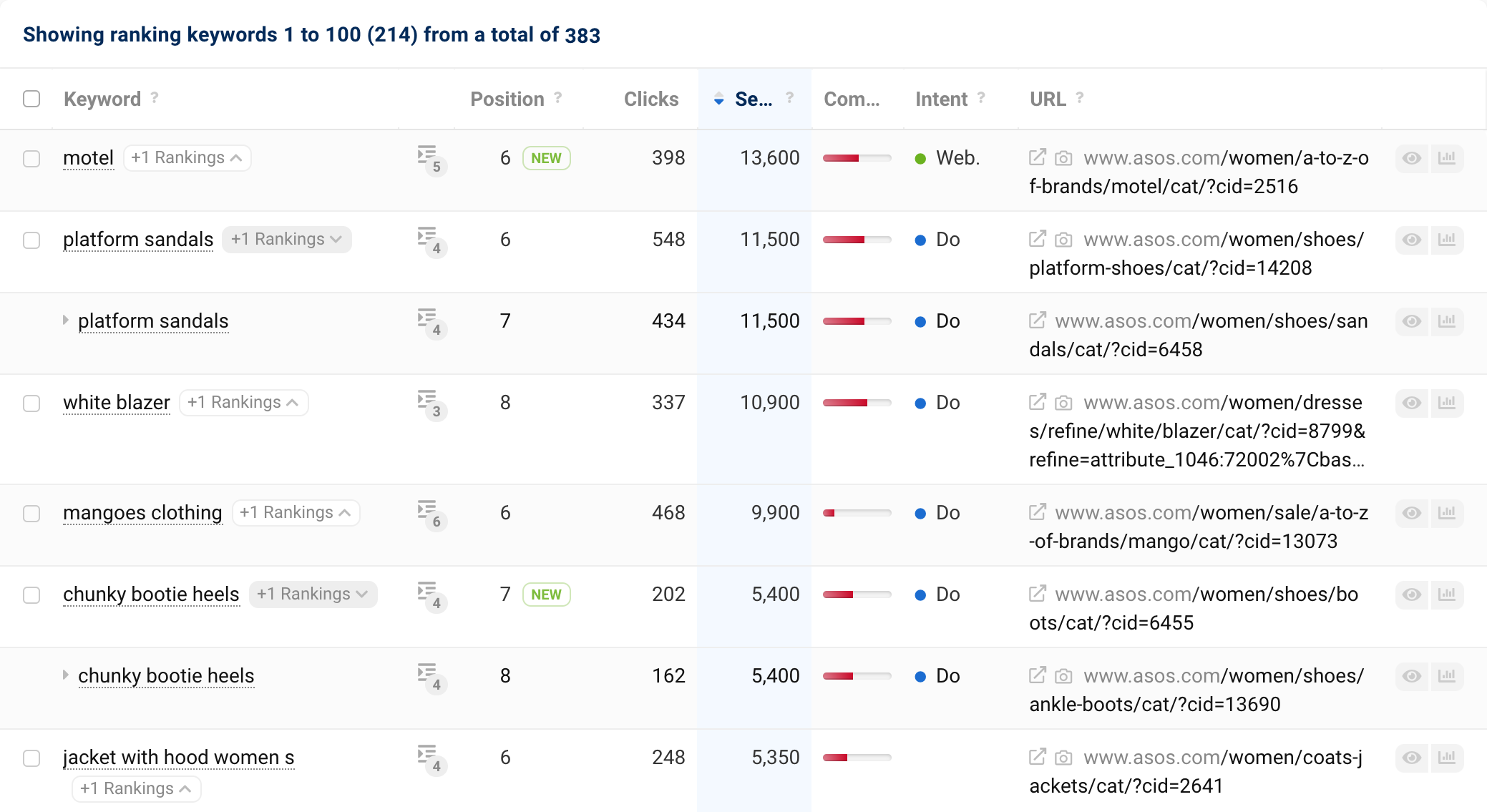 When analysing a domain, you would now find URLs from various directories such as (apart from /en/) /women/, /men/ but also from directories of brand names or the /discover/ directory in the table. In our case, we find URLs from the directory /women/ here. What we are looking for are high-volume, unambiguous search terms for which a sub-category or direct product page ranks.
In many cases, the site structure of the analysed domain will allow you to evaluate the directories individually. For asos.com, for example, we can look only at the results of the /women/ directory or even only at the results of /women/shoes/.
One example from the list above is the keyword "white blazer" 1. This keyword is well-defined, and one of the two ranking URLs leads to the corresponding category page for blazers, while the other leads to a more refined category page for white blazer dresses 2. However, the latter URL may be too specific for a general search query.
In this article, we will cover various scenarios in detail. In this case, adjusting the internal linking for the ranking URLs would be the first optimisation attempt. The continuous use of the anchor text "white blazer" to link to the main category may already be sufficient.
What Does "Cannibalisation" Mean in SEO Terms?
So what exactly is cannibalisation: Keyword cannibalisation is a common phenomenon where different subpages of your domain compete with each other. This competition in the search results can then lead to problems with the following concepts:
Your organic CTR
Internal links
External links
Content
Traffic
Conversions
Cannibalisation sometimes happens due to lack of planning. It can also occur as a result of different projects having an undefined structure, or when the content strategy was not thoroughly planned, and instead is just being improvised. In all these cases, content may be created that is very similar and that targets the same keywords.
It can also happen with large websites that generate a lot of information and content, that topics may be repeated from time to time or published on different URLs.
It is also possible for a website to have a high authority on a topic and for search engines to put forward several pages from the same domain in the results to accommodate ambiguous search intents.
There are certainly situations where such multiple rankings in Google's Top 10 are undoubtedly "positive" for the domain. This is the case when the domain ranks more than once, and the results in combination achieve a higher click-through rate (CTR).
Pages that, on the one hand, are very deep in the site architecture and, on the other hand, receive other, strong signals can be another source of cannibalisation. This sends mixed signals to Google and the ranking algorithms. This can lead to a different URL of the domain ranking for the same keyword every week, for example.
Types of Cannibalisation
The reasons for cannibalisation cases can vary greatly. We've grouped them together into the following categories:
Several URLs ranking for one unique keyword

URLs have the same goal
URLs have a different goal
Two URLs experience a ranking "flip" for the same keyword

It could be due to the site's page structure
It could be due to search intent issues
Duplicate titles or meta descriptions that contain the same keyword
As we've mentioned earlier, there are definitely cases where a multi-ranking is positive. This allows for a higher "utilisation of search results" (search engine saturation), which in turn is achieved through the deliberate use of different content for different search intents within a search results page.
On the other hand, negative cannibalisation can occur:
When there isn't a correspondence between a ranking URL and the associated search intent. For example, when a blog post gets ranked instead of a product page.
When URLs with duplicate content alternate in the ranking. This structural deficiency occurs, for example, on pages where filtered subpage rank instead of the actual product page.
Cannibalisation Impact
Cannibalisation can affect any SEO project. Let's take a look at the most important (negative) effects that arise from this:
Authority decline: When there is more than one URL ranking for the same keyword, the trust criteria are often split between the different URLs. These include CTR, traffic and general authority criteria. In the best case, all these should congregate in one URL.
Internal and external links as ranking factors are diluted: It's not possible to strengthen ranking signals stemming from various links – either internal or external – for a specific keyword. When choosing the anchor text for the different URLs, you should ask yourself which anchor text makes sense for which topic.
Crawl budget split: Keeping several pages focused on the same keyword will unnecessarily get all versions crawled and indexed. This is already noticeable with medium-sized websites and quickly becomes a problem with very large websites.
Conversion rate can break up or decrease: If there are several pages on the same topic, or responding to the same search intent, it's very likely one of them is better suited than the other one(s). The fact that there may be other pages ranking could make the "suitable page" lose traction, and thus, sales.
Reduced visibility: Imagine two URLs of a domain that rank at position 9 and 12. Focusing on only one URL could lead to it being displayed further up on the first page.
How to Fix Keyword Cannibalisation Issues
Now, onto the most exciting part: what can you do to solve cannibalisation issues? First of all, you need to find cannibalisation. We have already done this above as an example. Below, we explain different ways again in more detail.
Once you have found cannibalisation, there are a number of ways to resolve it. Which option is the right one will depend on what aspect of cannibalisation you are dealing with and what resources you have available to fix it.
For example, you may need the help of the editorial team to change content or adjust internal links, whereas redirection may require the website administration to take action.
Internal linking structure
Links that pass between different pages within the same domain have often grown organically and without a prior plan. This makes internal links very often a powerful tool in an SEO's arsenal. Internal links from the appropriate content and with clearly understandable anchor texts on important pages enable Google and users to recognise a meaningful connection of the site structure, even if there are not many links otherwise.
It is often possible to make it clear to Google which URL is most appropriate for which keyword through stringent internal linking without having to adjust the content of the URLs.
In our SEO basics tutorial "Internal link optimisation" you will learn everything you need to know about internal linking and what you can learn from Wikipedia in regard to this.
Merging content
If there are several pages on the same topic that all pursue the same goal – for example, different travel reports for one holiday destination – ideally, all signals and efforts should be concentrated in a single URL. This avoids having several different subpages on the same topic that compete with each other. There will then be only one page that bundles all the trust signals. To do this, you can proceed as follows:
Canonical: The "canonical" rule tells Google which URL should be considered the original source. The use of canonicals is not an optimal solution, as they are only suggestions that Google can choose to ignore. It's not possible to know for sure if Google's algorithm is going to follow the instruction. However, this method can be helpful in cases where there are several similar or identical posts on different URLs that should still be accessed individually (for example, as a landing page for different campaigns such as email marketing, social media, etc.).
Redirection: If two posts are merged into one, the URL that is no longer needed is redirected to the other. At this point, you should check the following:

– Which page has achieved better ranking or success metrics?
– Which page responds to the desired search intent more accurately?

This focuses all trust signal on one unique URL. In addition, all internal links should now only point to the target URL of the redirect.
Deleting content
Another way to avoid cannibalisation is to clean up duplicate or chaotically created content. We can delete content if it is identical or almost identical. Provided that the individual posts do not have any success metrics (such as visitors, rankings or own backlinks). If this were the case, the point "Merging content" applies again.
However, if the content is really to be removed, there are various possibilities:
Noindex: If the content is to be used for other channels other than SEO, we can use "noindex" to at least keep this URL out of Google's index. We must be cautious in using "noindex" extensively, though, to avoid problems concerning internal authority distribution and crawl budget.
404 or 410: There's also the option of erasing the content entirely. This is feasible for pages, which haven't generated any results and are therefore simply superfluous. This way, you can avoid possible cannibalisation and having too many pages unnecessarily indexed. Read more about this in our Ask SISTRIX article on 404 and 410 status codes.
How to Detect Keyword Cannibalisation
At the beginning of this tutorial, we already identified an example of cannibalisation with SISTRIX. However, there are several methods to identify URLs and keywords that are currently cannibalised within your project:
Manual search with search operators
First, we use the well-known "site" operator in the Google search to check how much content from a domain can be found on Google for a specific search query.
The search can be refined with additional search operators:
intitle: To filter keywords contained within the title tag of the URL.
inurl: To filter keywords contained within the URL itself.
Let's look at a few examples where we can keep an eye on the "about" number of results found in the Google index:
site:bbc.co.uk flapjacks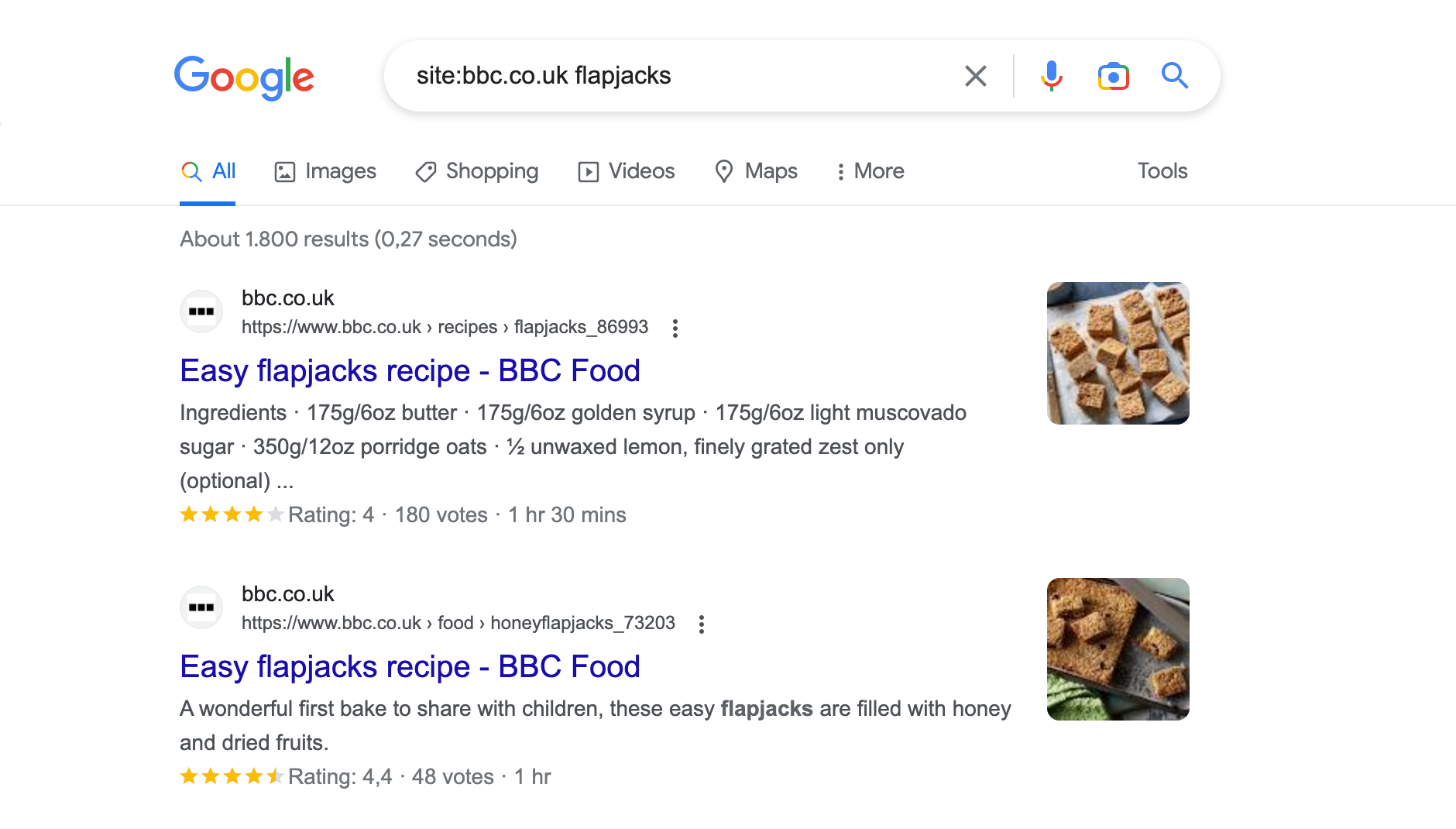 site:bbc.co.uk inurl:flapjacks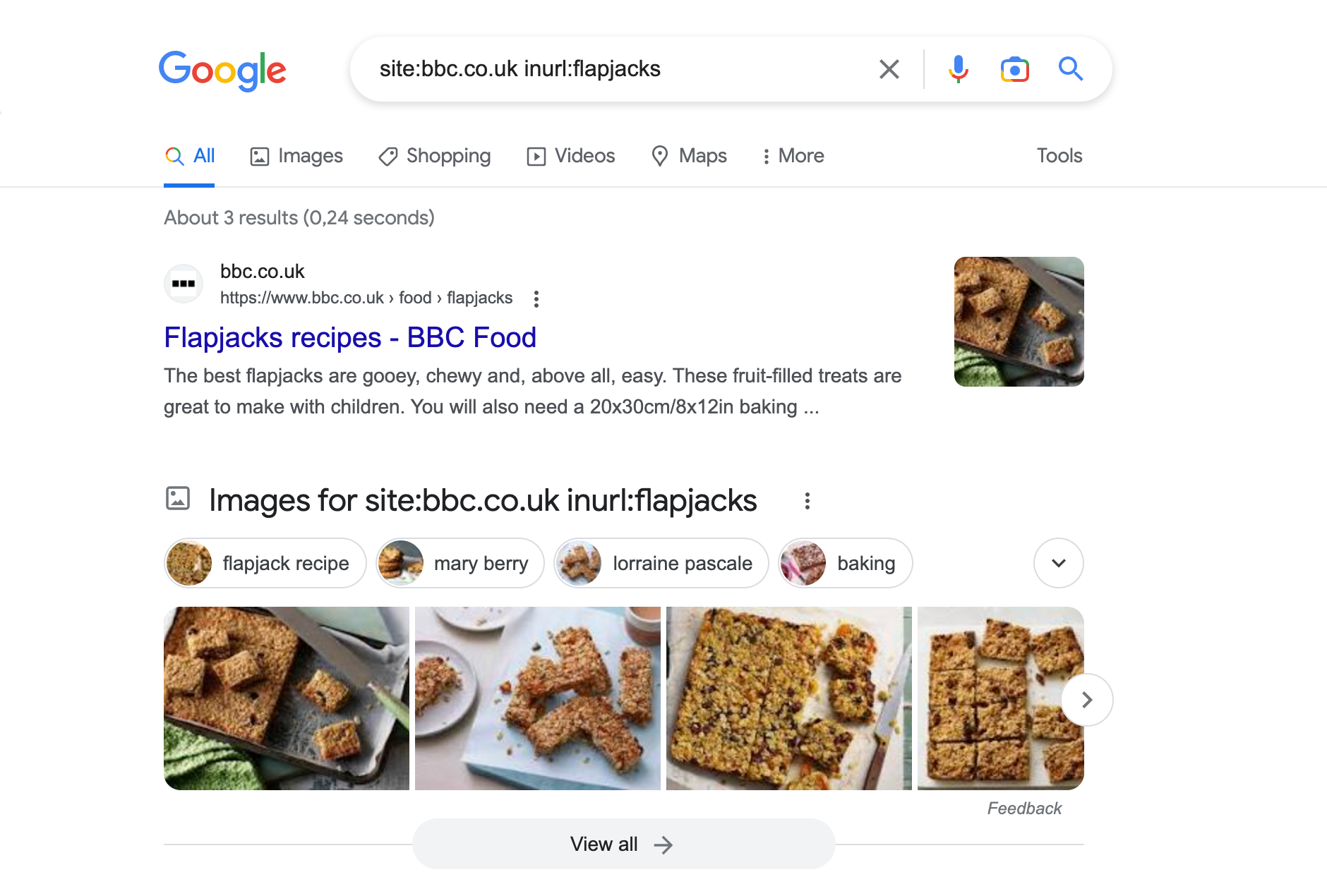 site:bbc.co.uk intitle:flapjacks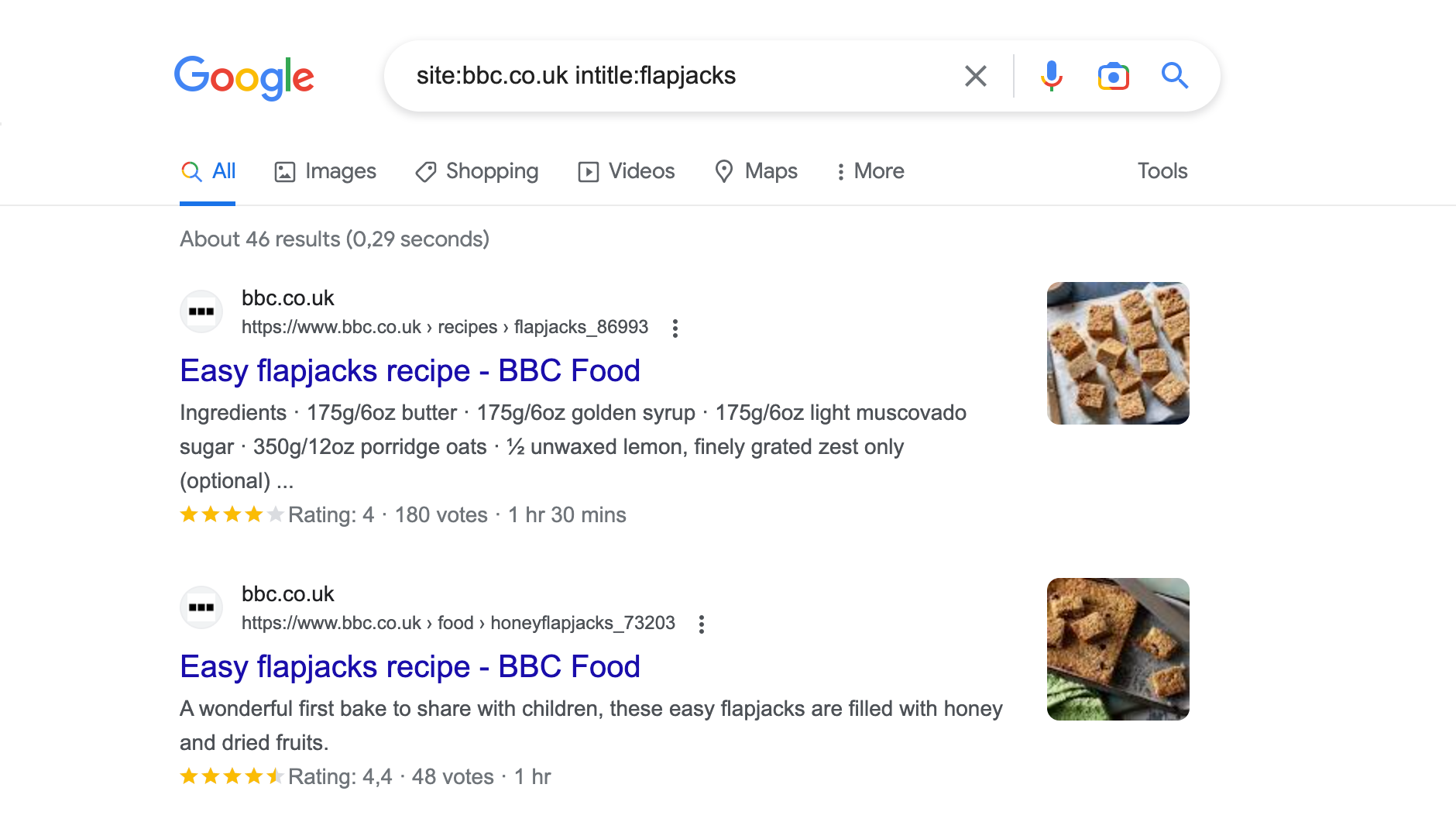 Google Search Console
You can also search for cannibalisation with the Google Search Console. In the navigation item "Performance", enter the keyword as a "Query" and click on the "Pages" tab. There you will find the URLs that receive enough impressions and clicks for this search query, to be displayed there.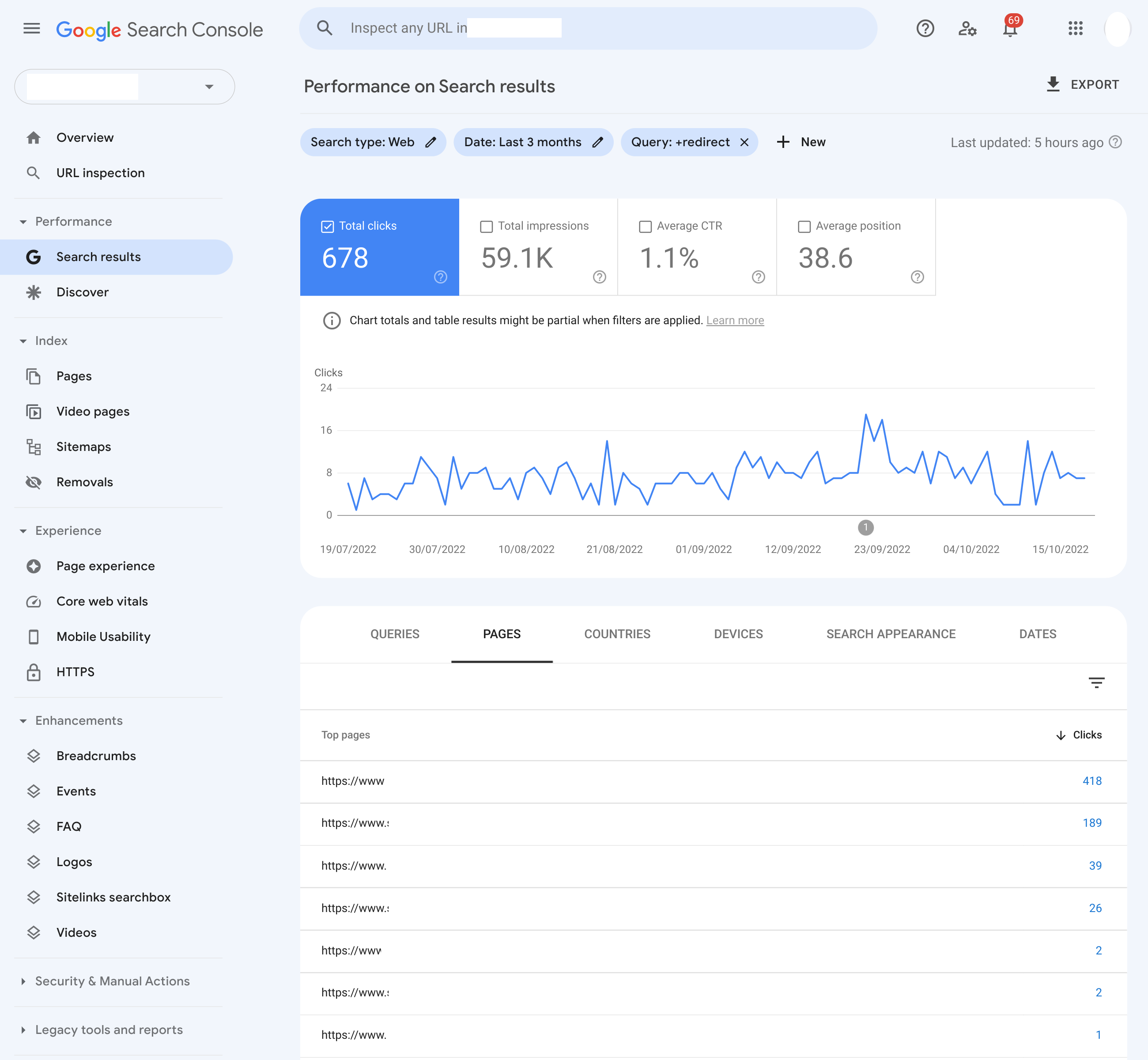 Here, you can find the URLs that rank for the search query and have a very low CTR. This may be because the snippet is not optimised or because the URLs are competing with each other.
Also check whether any changes have been made to the content or the website structure in the evaluated time period, such as the addition of multiple country directories for the same language.
Internal search
Occasionally, information from the internal search of a website can help us detect similar or duplicate content for a search query. It is important to check how the internal search is configured to return results: type match, query match, uppercase / lowercase match, whether relevance is taken into account and whether certain attributes have been assigned etc.
For example: There are 1,451 results for "cupboards" in IKEA UK's internal search: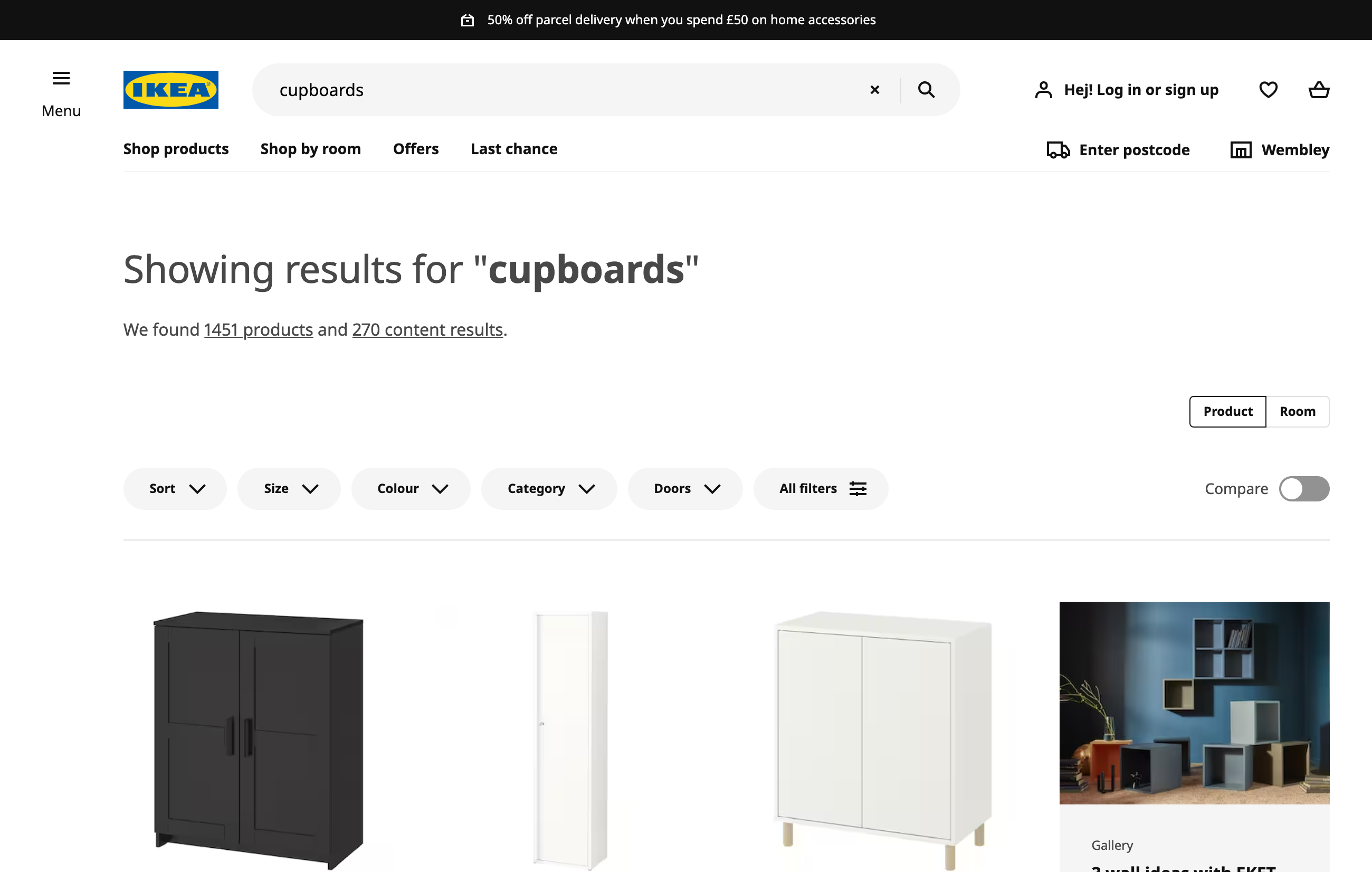 With such a wide range of products, it might be worth including one or even more categories with this attribute in the page navigation. This makes it easier to focus the search intent.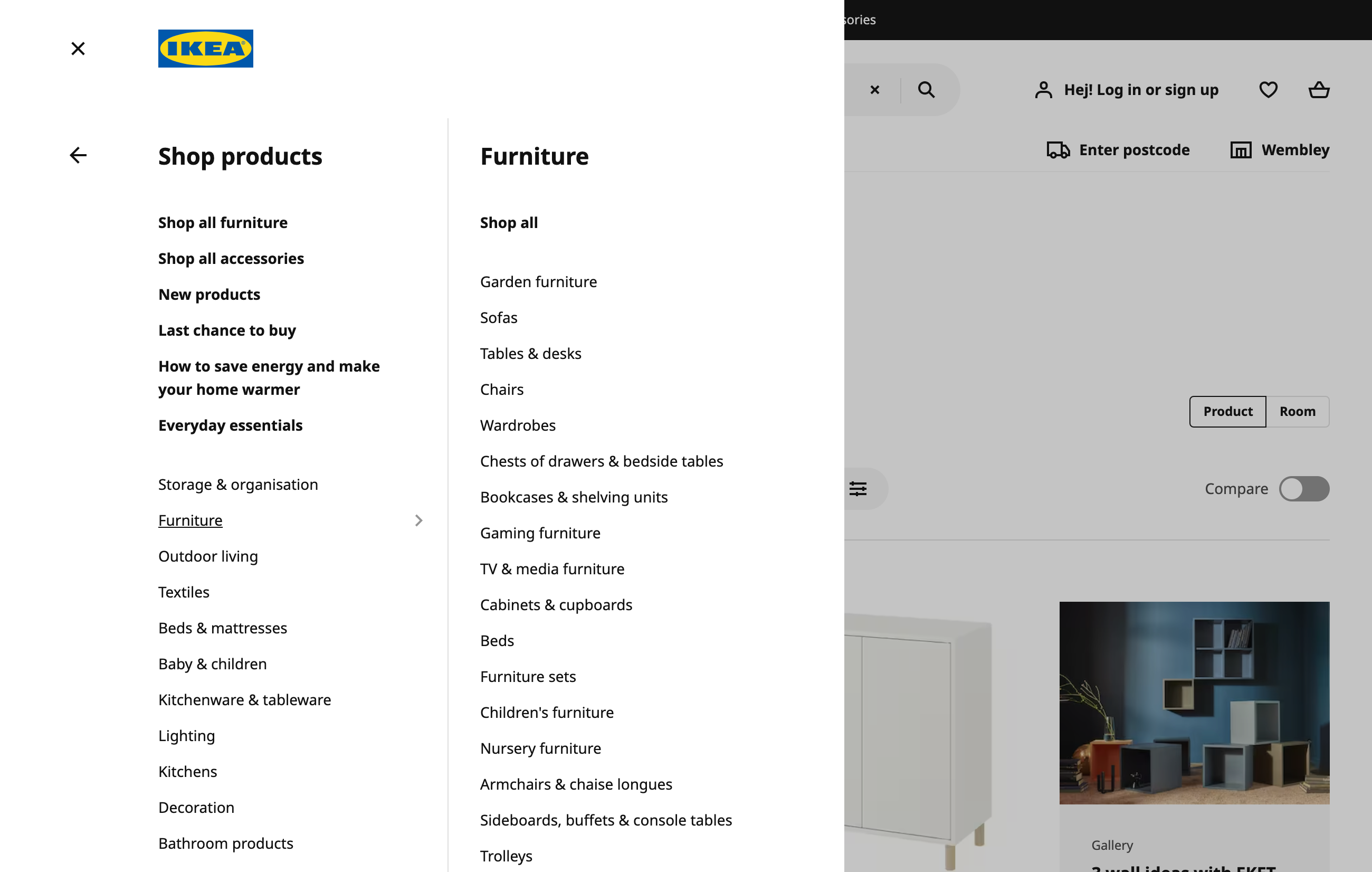 SISTRIX
As shown above, it is also possible to detect cannibalisation on your website with SISTRIX. The SISTRIX Toolbox provides different ways to find potentially cannibalising pages. Here, we will show you three ways.
1 – Use the keyword history to identify the points in time when the ranking URL changed for a specific keyword.

In the table of ranking URLs, you can quickly see that the URLs change almost every week and take up completely different positions.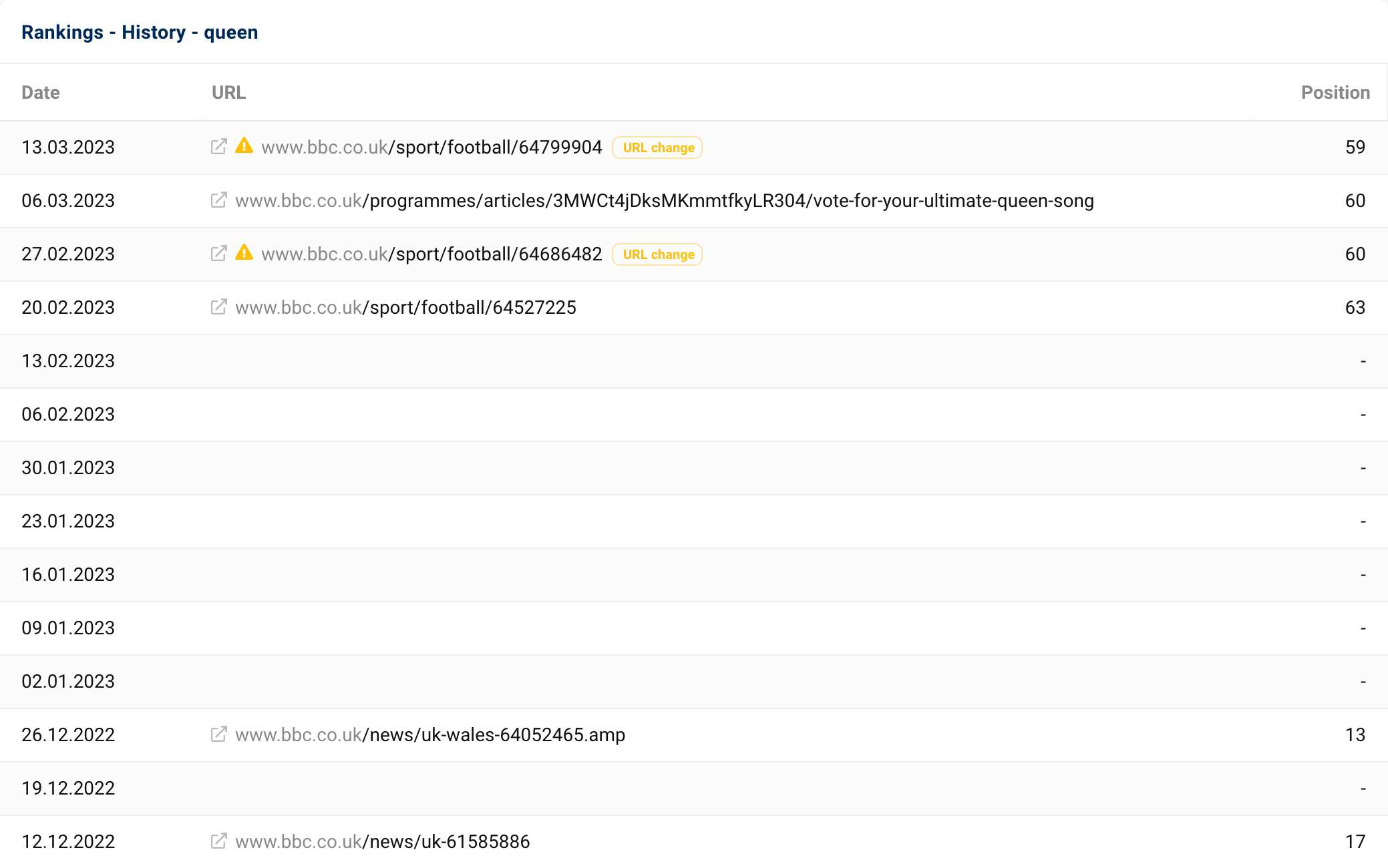 Google seems unable to find a single page on bbc.co.uk that is the best result for a search query about the late Queen.
2 – Use the URL Changes data
The second possible way is the evaluation using the "URL Changes" feature. You can find it in the navigation on the left-hand side.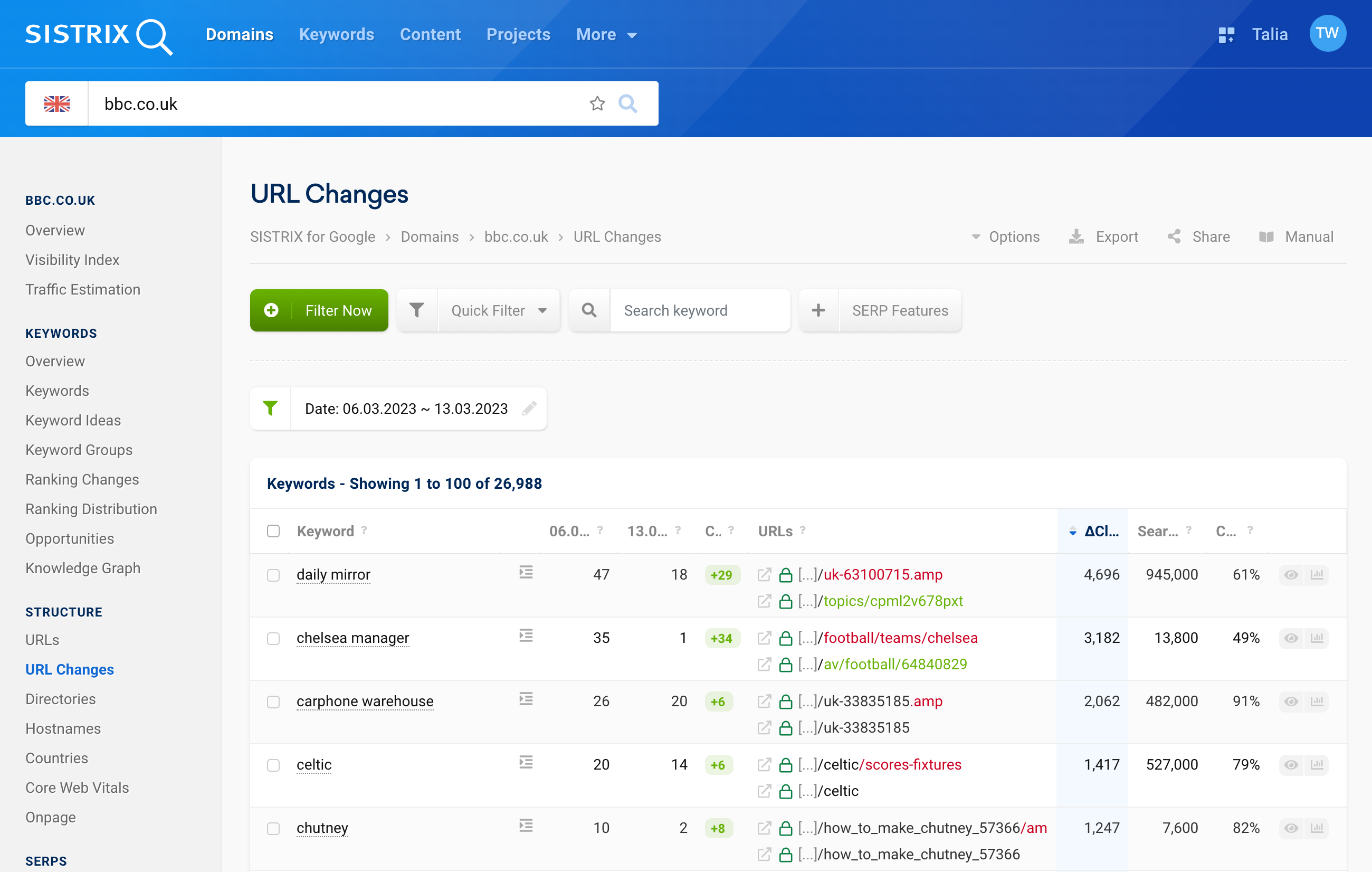 Here, you can quickly identify the keywords for which a URL has changed between two dates of your choice.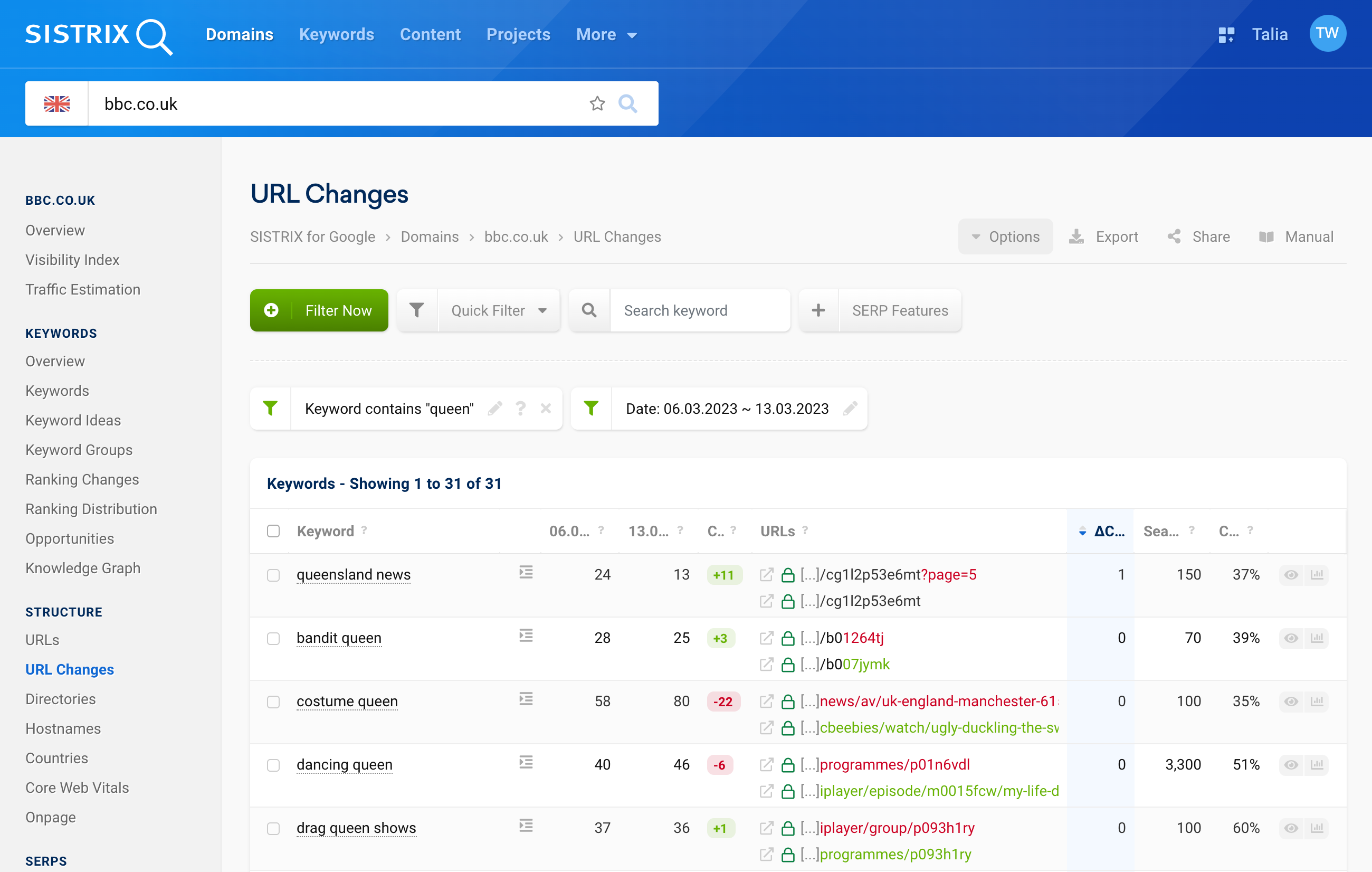 With the help of the filter feature, you can narrow the results down to certain keyword or URL characteristics. For example, you can choose to only display those keywords that contain the word "queen" in the search query.
3 – Use the predefined filter Show Keyword Cannibalisation
We have already used this option above in our example with asos.com.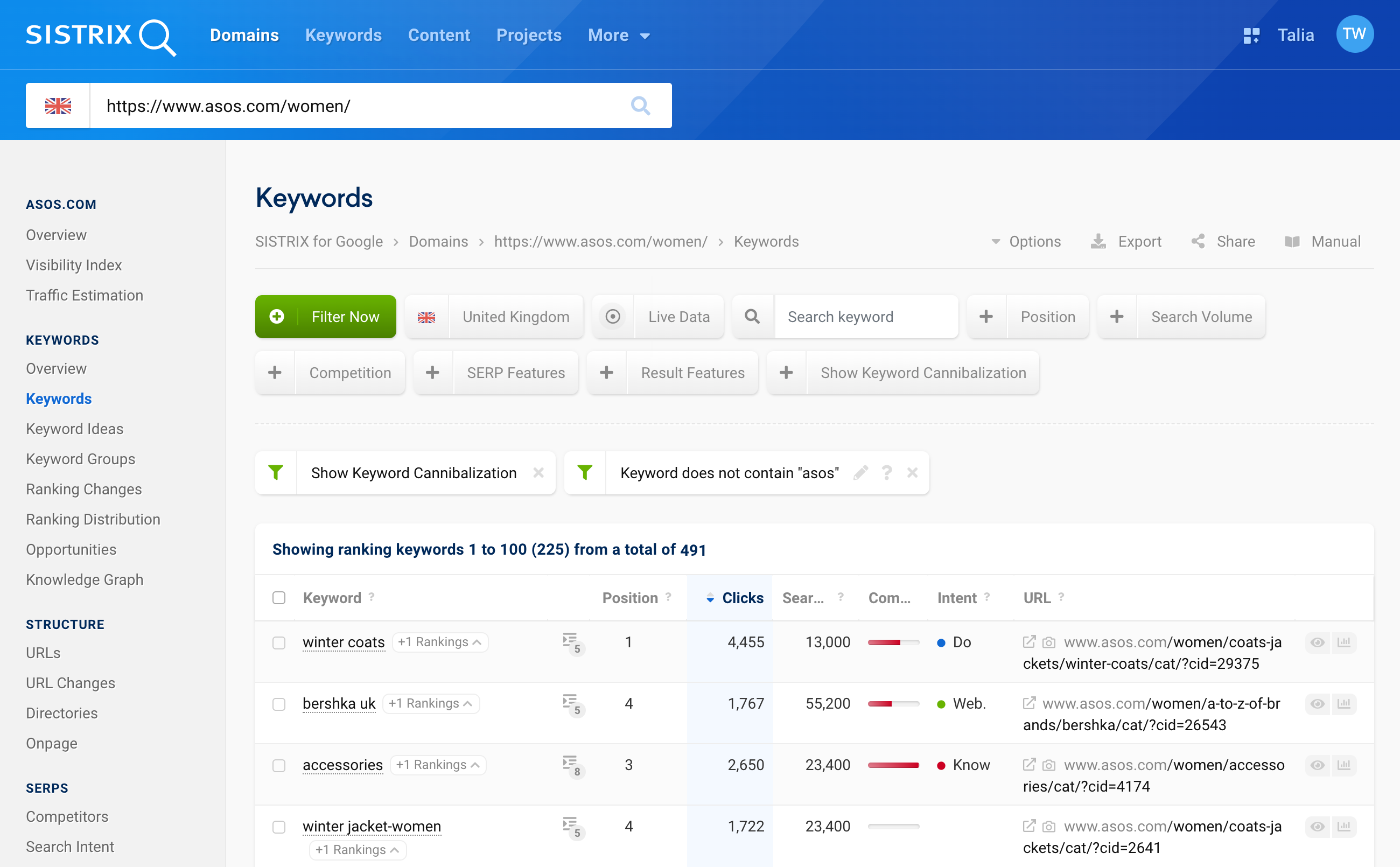 To do this, click on "Keywords" in the navigation on the left after entering the domain into the search bar, and select the predefined filter "Show Keyword Cannibalisation" there. Now, all keywords of the domain will be displayed for which there is more than one ranking URL.
If you cannot see the filter, the amount of data behind the domain you want to analyse is too large. In this case, select a host or a specific directory of your domain and analyse this area in particular.
The results of this analysis can then be examined to see if the following applies:
The search intent is ambiguous, and several URLs cater to this search intent.
The website has enough authority so that Google displays several suitable results.
The website has cannibalisation or structure issues.
How to Reduce the Chance of Cannibalisation
You should not only resolve cannibalisation, but also take preventive measures to avoid cannibalisation issues in the first place. One way of reducing the chance of cannibalisation, which is particularly useful for new sites or those where an optimisation strategy is being developed, is to adjust the strategy for creating content, and thus URLs.
Redesign your keyword plan
If there is no specific focus on a search query for new pages, it can happen that different articles are created that each cover partial aspects of one topic area. These pages then end up competing with each other.
For example: If you are planning an article for a rather generic search term, you should consider writing a detailed guide or putting effort into optimising a category page that gathers all articles on the topic area. The articles themselves can then cover the individual sub-areas of the topic.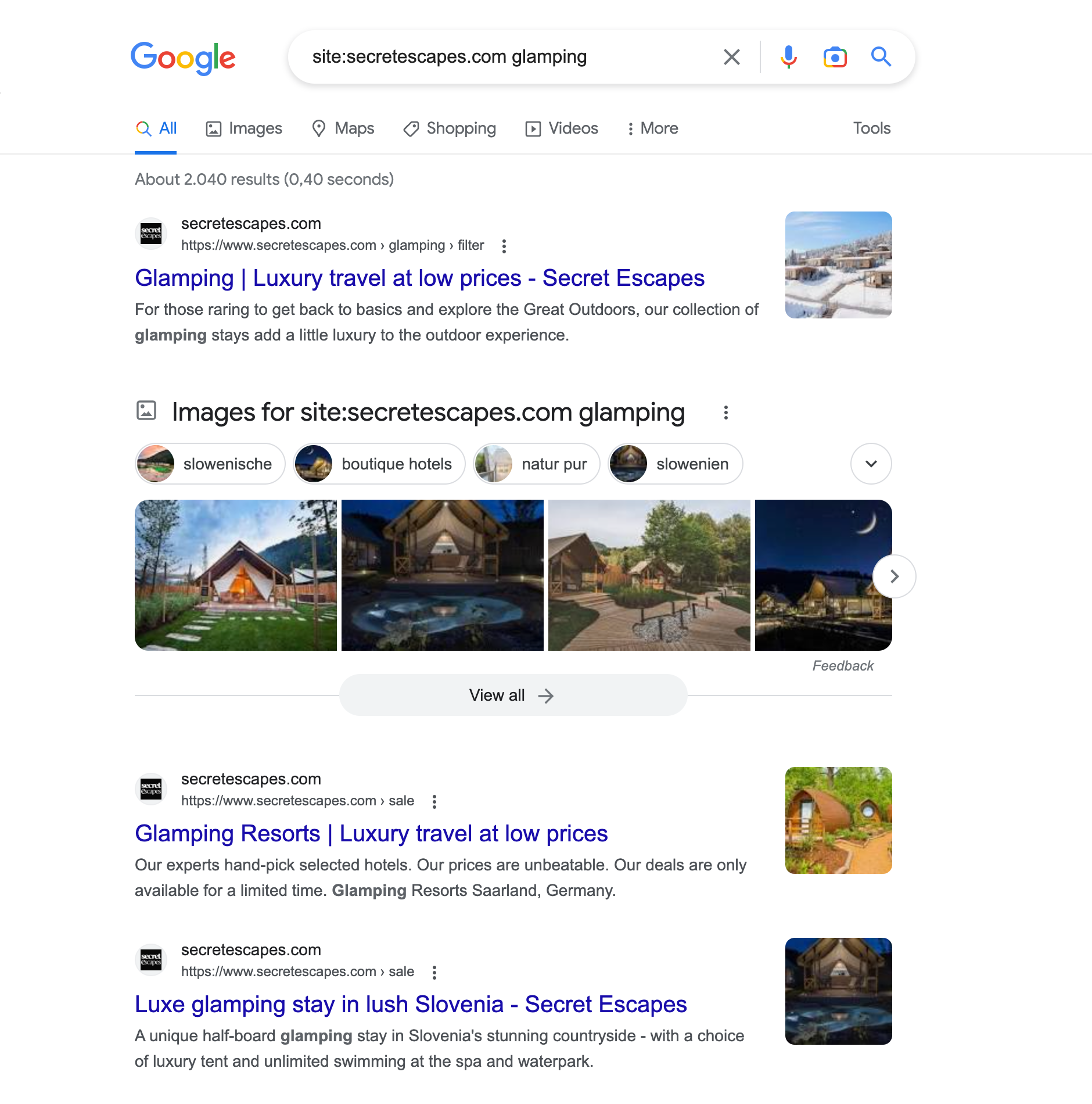 Here, it is also important to keep in mind the demand for content. This is especially relevant if you're focusing on long-tail keywords, but most searchers make more generic searches. In the case above, we can see on the search results page that the search intent is a mix of "Do" and "Know" intent.
Adjust key SEO elements
Once you have considered and implemented the previous point, each piece of content should be conveniently optimised. The "Keyword Discovery" feature in SISTRIX helps with this. You can quickly find the search queries that are asked more frequently. With this knowledge, you can then optimise existing content or create new pieces, if there is no content yet for the topic.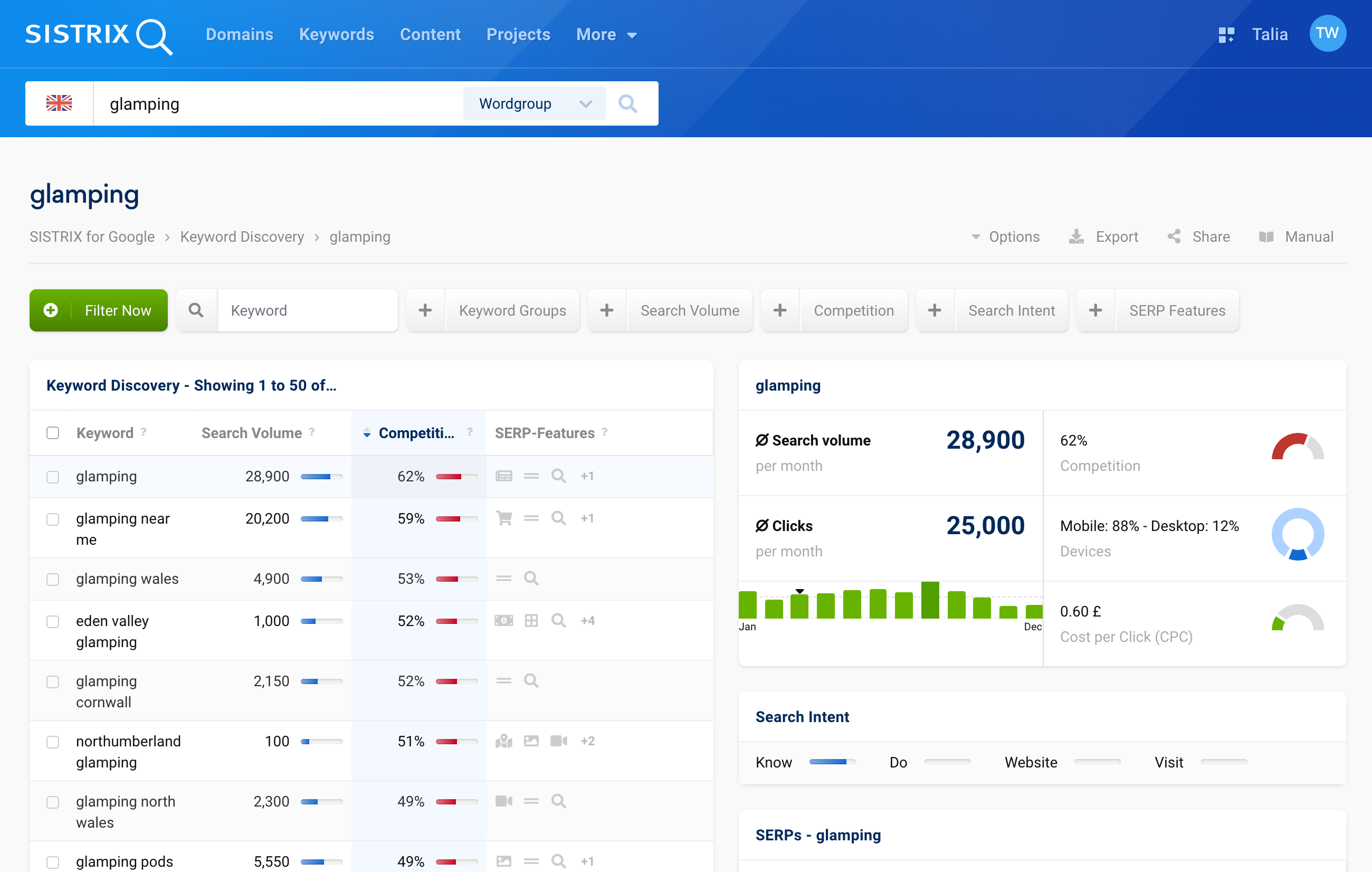 As soon as the selected keywords have been transferred to a list, the market environment can be easily observed there.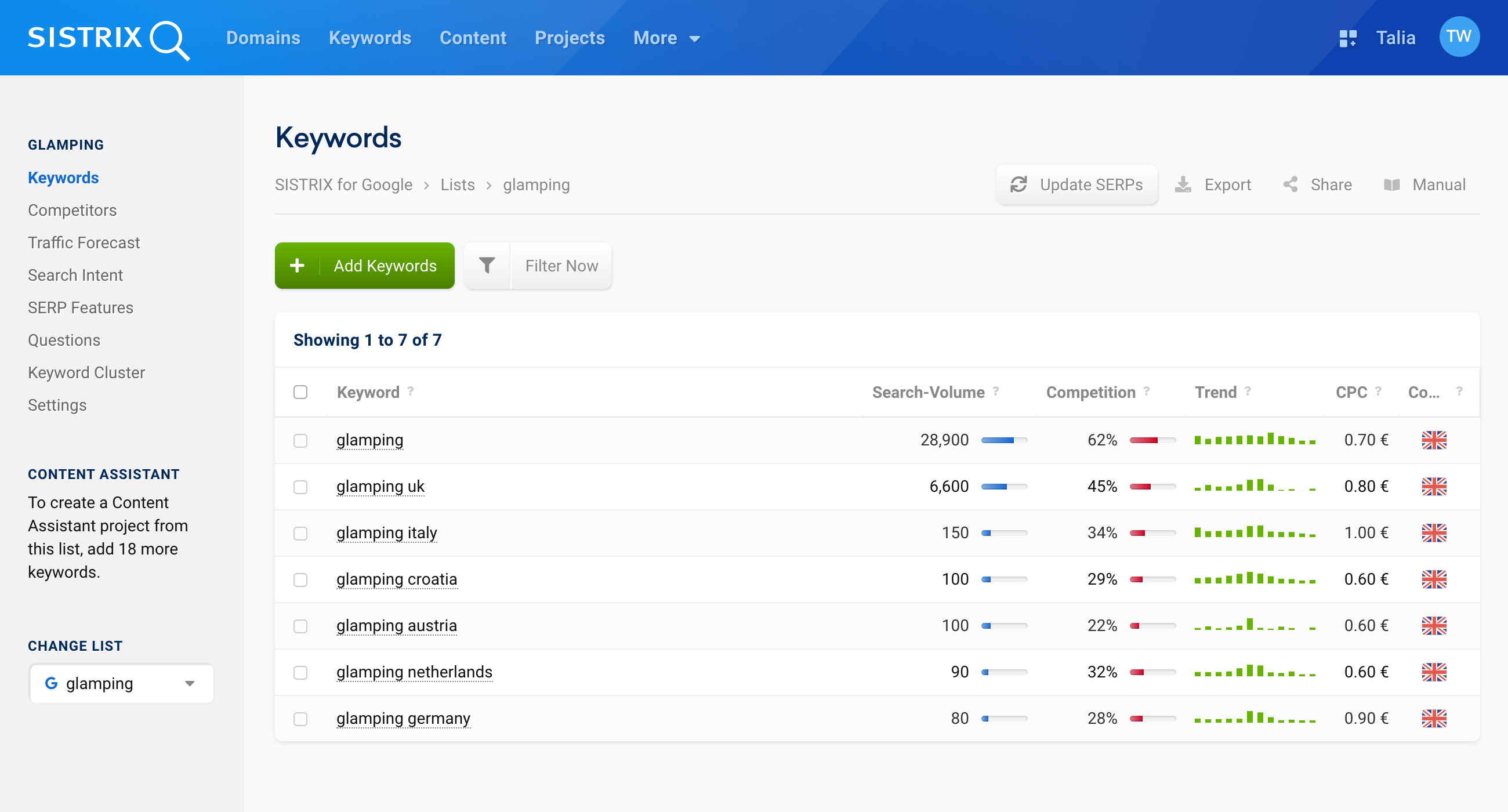 You will see a table with important information on the respective keyword. In the navigation bar on the left-hand side, you will find various additional menu items.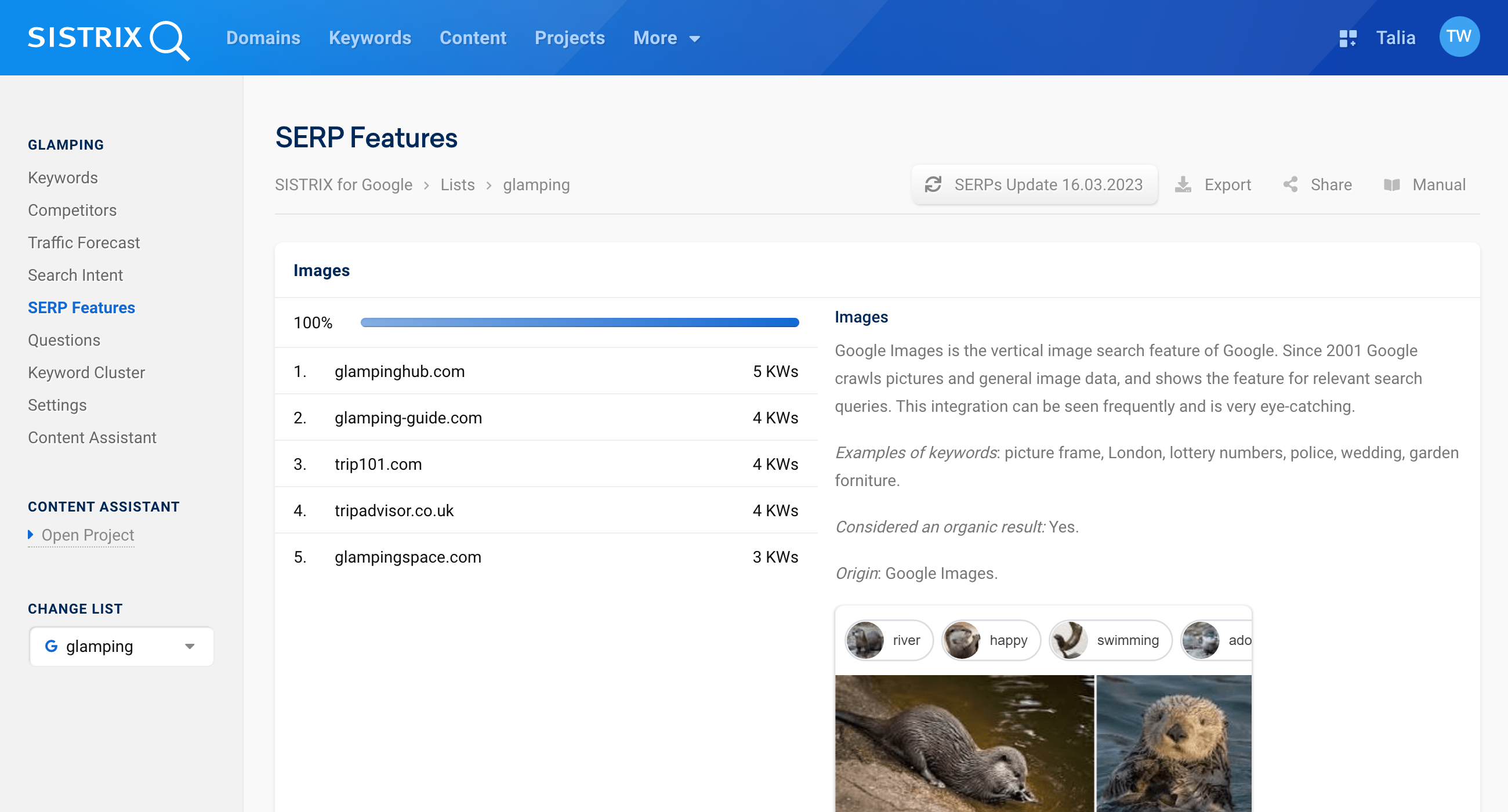 For example, you can see which SERP features are often displayed next to the organic results. These should be taken into consideration when creating content.
You can find more information on working with lists in our tutorial SISTRIX Toolbox Lists: Possibilities, Ideas and Examples.
With this knowledge, the results page can then be evaluated according to the various key figures, and a suitable optimisation table can be created:
Example Table Keyword Planning
| Type | Target keyword | Intent | Working Title |
| --- | --- | --- | --- |
| Category | glamping | Mixed | All you need to know about glamping |
| Post | glamping with hot tub | KNOW | Where are the best glamping sites with hot tubs? |
| Post | glamping tents | DO | The glamping tent buyers guide |
| Post | glamping pods | DO | Find a Glamping Pod that Suits You |
| Post | glamping scotland | DO | Glamping in Scotland - The best of the best. |
The table could, for example, be expanded with columns for the meta description, URL and H1. When the table is complete, a strategy for internal linking – including the use of appropriate anchor texts – can be set up. The integration of breadcrumbs also helps strengthen the first topic level, for example, the category page.
With these measures, you should be well-prepared for cannibalisation.