A casual approach to keyword research can lead to the wrong content. Content needs to be developed from a well-researched and filtered keyword set, and combined in a way that leads to trust from Google. Here's an overview of the SISTRIX process, data and tools.
SISTRIX toolbox features are built to help SEOs save time and get more accurate and better performing results. The process below shows how are tools fit together to create a smooth and accurate workflow that saves SEOs time. We'll give you an overview of each step and if you want to perform further research or use the relevant tools, we've linked to further information and handbooks.
Define content audience and content strategy
Before you start, you need to define the goals. What do you want to achieve with the website. Do you want to sell a product, reach new users, distribute a study, collect email addresses?
Only when you've clearly defined your goals, can you measure your progress towards them because without setting them, you'll never be able to measure successs.
Understand the target customer, create buyer personas and decide how you would like to use a content project to boost visibility in search. Do you want to attract people that are ready to buy, or to provide them with helpful content on their journey? These decisions will need to be made before looking at any keywords.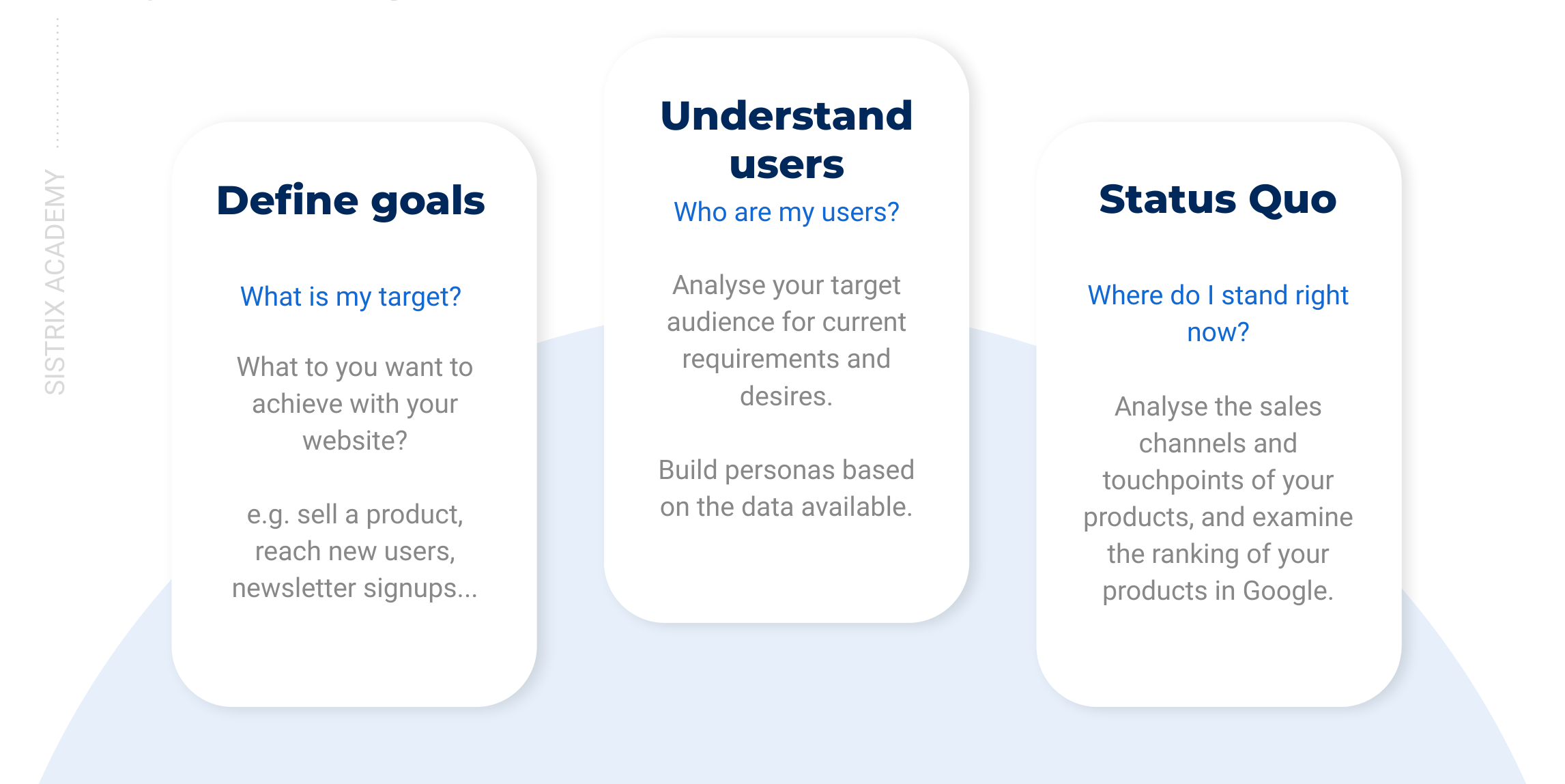 You can learn more about this in our keyword research Academy.
Build a core keyword list
Now that you have a rough idea of where you are and what you want to achieve, you can start collecting a list of keyword ideas. This list should contain the following items:
Keywords that describe what your potential customers would be looking for.
Keywords that describe your business
The SISTRIX Keyword Discovery Tool and the Keyword List features are your starting point for gathering your initial set of keywords.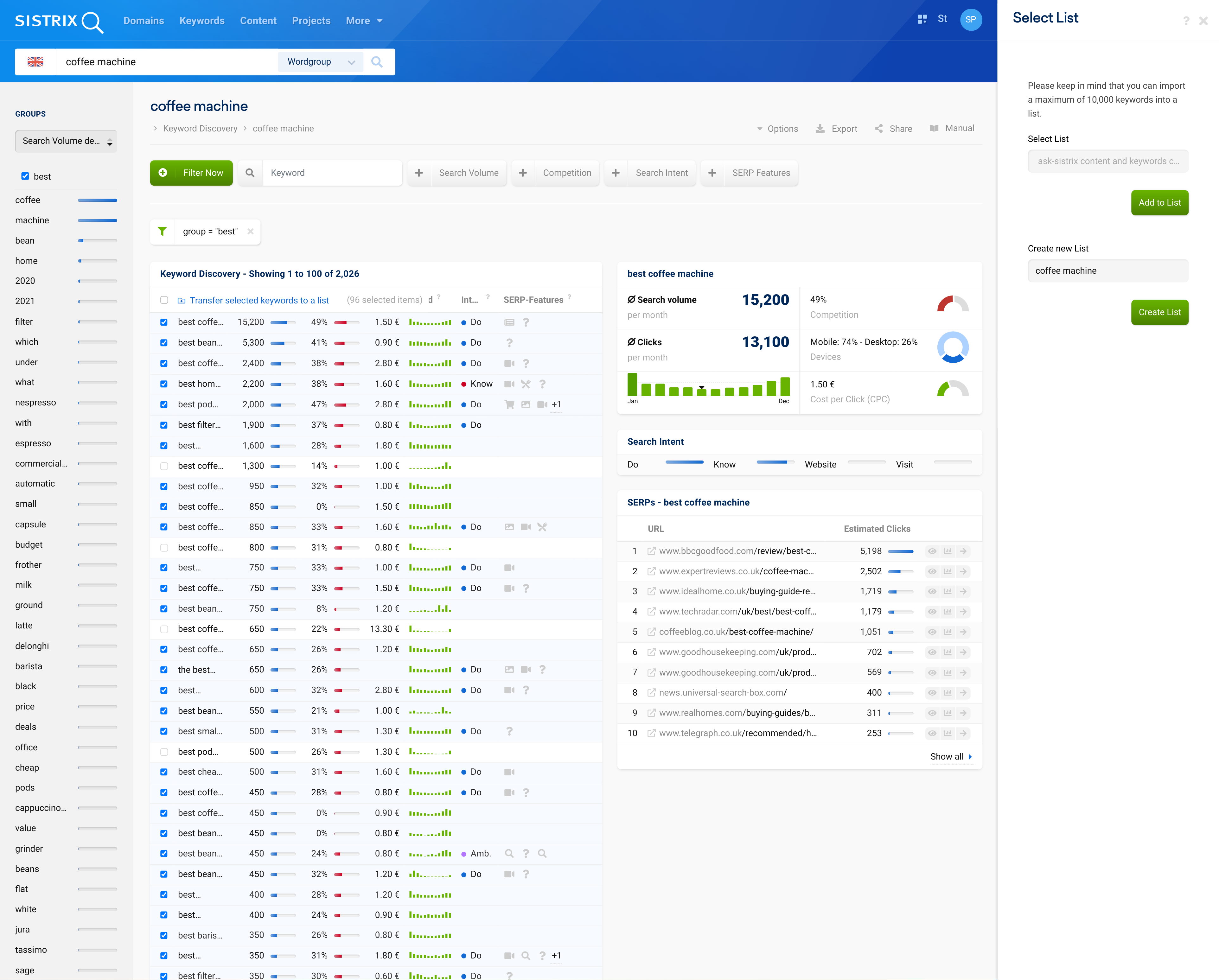 Enter keyword 1 then select a group or groups you are interested in 2, select the keywords 3 and then add them to a list 4
Competitor keyword insights and harvesting
This initial list is just your seed. From here you can find out which domains are successful for this keyword set and then analyse their content for interesting content areas. If the content matches your content targets then find out which keywords are successful and use the competition to learn about why the content is successful.

Learn more about lists and list processing.
Evaluate, refine and group
One of the most complex parts of the process is made easier, and more successful, using filters, automatic clustering and the Content Planner tool which sensibly groups keywords for content hubs, based on SERPs data – 'what google says' – at the touch of a button

Briefs and content writing
Authoring the right content can only be done with the right briefing and guidelines. List the right keywords, the relevant questions and present the features that are found in the SERPs, which can help the author structure the content to take advantage of video, image and other SERP features. Set the working title and add details such as target length and style of voice. Monitor progress, set targets and, before you publish, run a plagiarism check.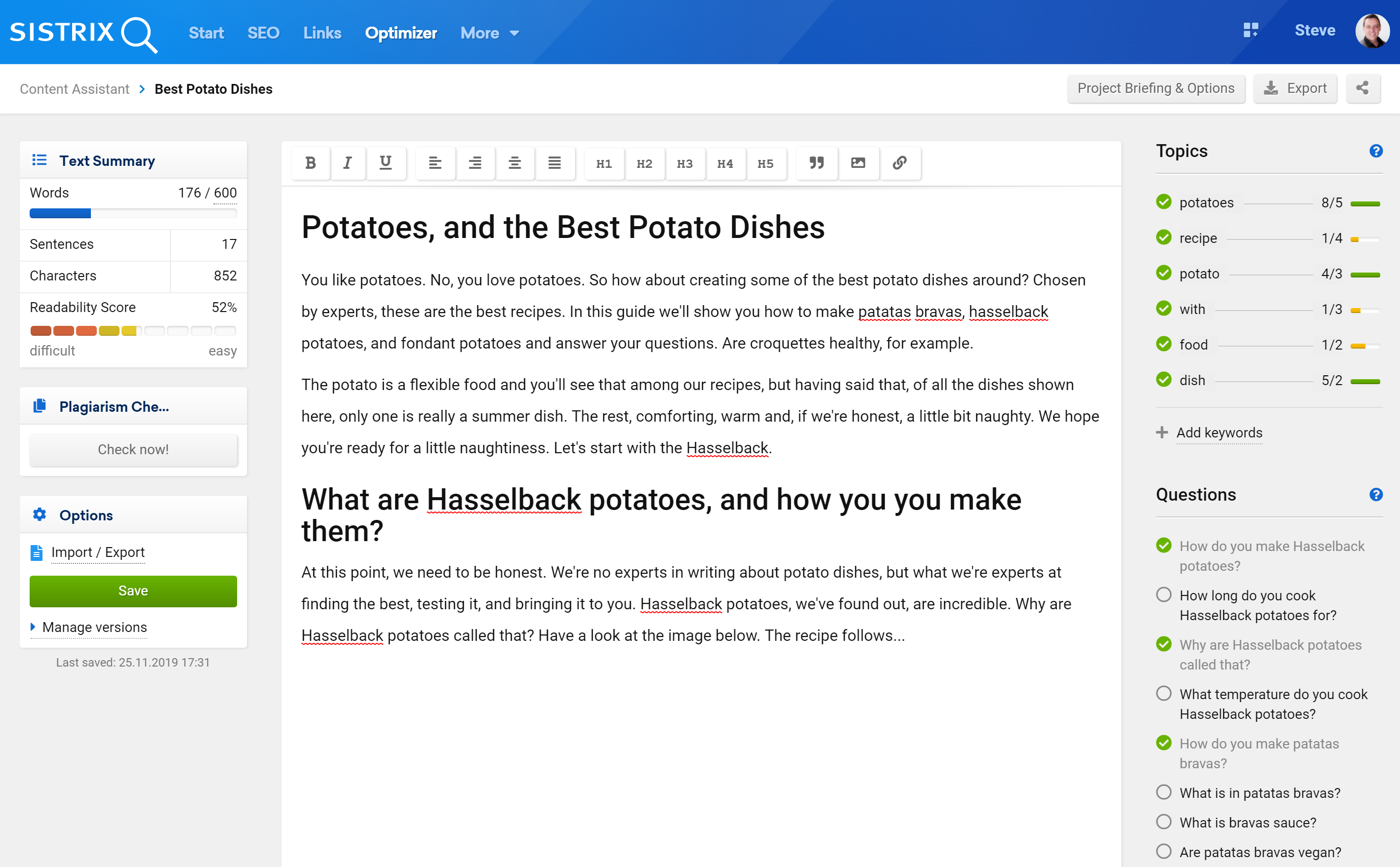 Learn more about the content assistant.
Monitoring results
Well done, you've published content. But is it working? Is it performing? Once the content is published, the hub keywords can be tagged and added to a performance monitoring tool, the SISTRIX Optimizer will keep an eye on page speed, uptime and over 150 on-page seo checks.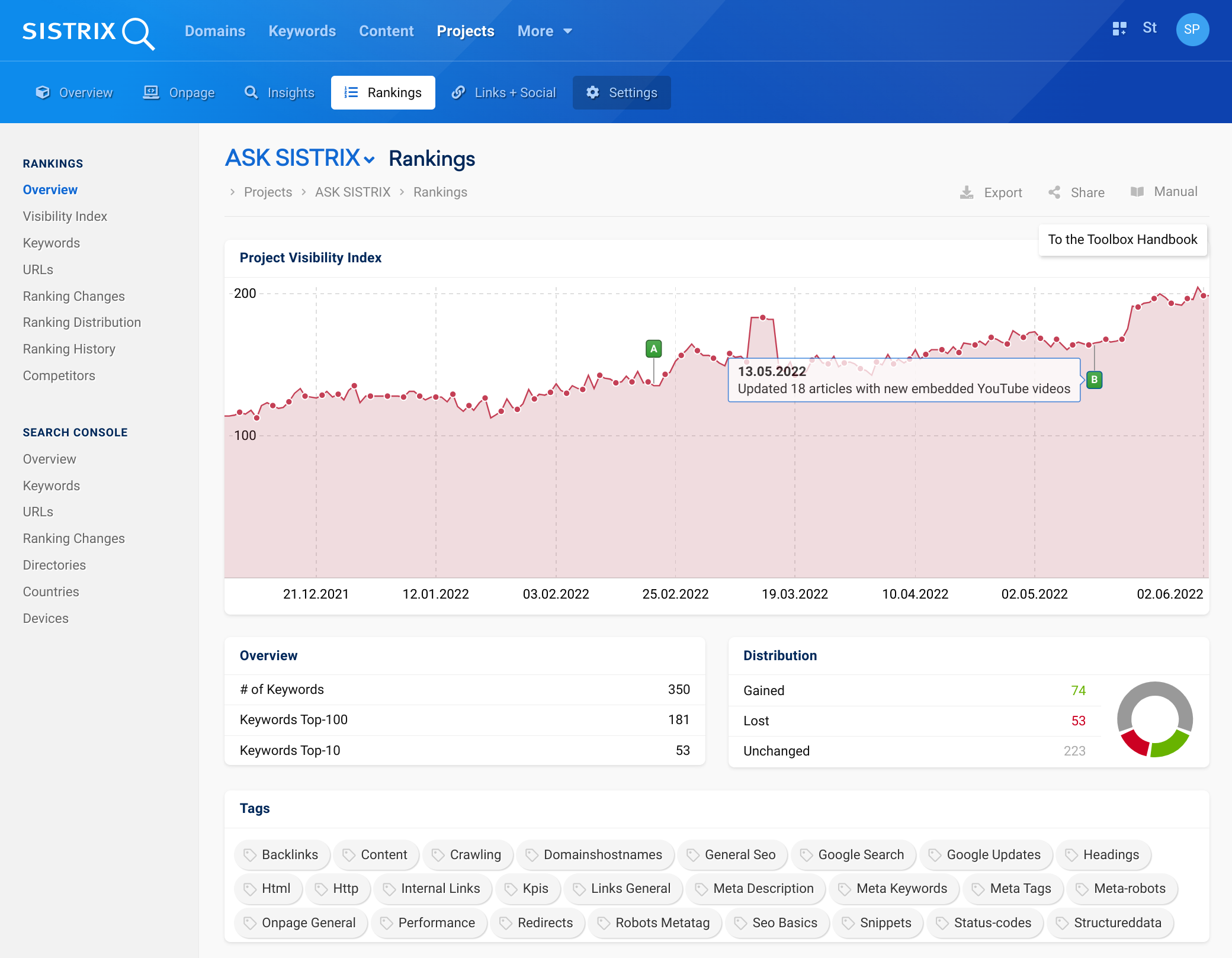 On-page errors are detailed and content is available for each of them, helping you to improve over time. The project Visibility Index is a distriaction-free way to monitor content-project performance and track the effects of changes made, without having to worry about overall domain performance.
Further training: Content Strategy Workshop
If you would like to learn this process, in detail, with an expert, check for an up-coming content strategy workshop. The 4 hour, small group sessions are held by an expert, and you'll come out with a refined process that will save time and get you better results.
The workshops are customer focused, and open to free trial users.