The data for ranking keywords is made available in the Toolbox without restriction, for all domains and all dates. This includes attributes such as snippet, SERP features, trend and volume data, and SISTRIX evaluations such as user intent and historical ranking. To help you, the Toolbox provides a series of quick results, along with advanced filtering features.
Work through this tutorial to find out what keyword-related data we offer, and to understand how to quickly filter keyword lists. At the end of the tutorial you should be able to personalise columns and advanced filters for an even faster analysis of keyword data, for any domain.
Navigation bar
When you type in a domain into the searchbar and go to Keywords > Keywords in the left hand navigation you will see the above navigation up top.

Date 1: when you click on the date button, you are shown a selection of possible dates you can pick from. By default, you are looking at all available data for that country. This is especially useful for keyword research tasks.
Once you choose the date you want to see the keywords for, we will show you all the keywords for which the domain ranked on that day. This is imperative for a solid controlling mechanism of your campaigns.
Options 2: The options give you a number of settings you can use for the keyword table or filters (more details below).
Export 3: The export function will download the current keywords shown on the page as a CSV file. This is extremely useful when you want to use the data from the Toolbox in Excel or your Business Intelligence tools.
Everything you need to know about exports and the credits they cost can be found on our Exports and Credits in the SISTRIX Toolbox page.
Shortlink 4 : share the table on Social Media.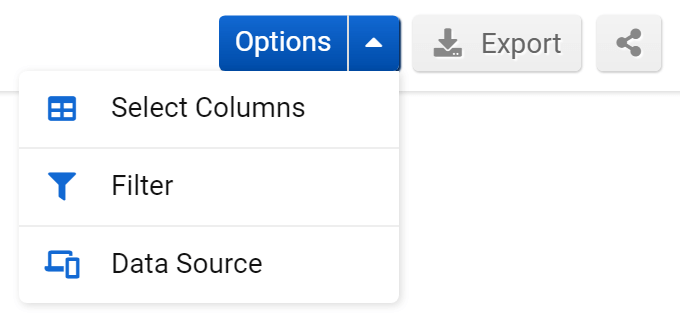 By clicking on the option menu, you'll be able to change some settings of the URLs table or to personalize some filters:
With Select Columns you are able to choose which data-columns you want to show in the keyword table below. This lets you show only the information that you need at the moment. More on this below at individual view.
The Expert Filter switches your default filter management to the expert setting, which lets you freely define the boolean connections each filter item should have. With the default settings, filters of different types will be connected by OR and filters of the same type will be connected by AND.
With Save filter you can save the exact filter combination you have currently set-up and, later, recall the same filters with Load filter.
Data Source: Here you can choose if you want to see the mobile or desktop data, or other data views.
We show the mobile data by default as most searches are now on mobile devices according to Google. You can easily access the desktop data by clicking on desktop.
Besides the mobile and desktop toggle, you can click on the small downward arrow to show the Optimizer (the Optimizer module enables you to track your own keywords) and Search Console views (the Search Console integration lets you connect your Google Search Console account with the toolbox).
Keyword Table
The keyword table is the heart of the page. Here you will see all the keywords for the domain you are checking. Here you will find the answers to your questions, where filters are the means to get those answers.
The keyword table has a default view, with a specific set of columns and you are also able to freely choose which columns you want to see, to fit your needs.
Default view
The rows start with the keyword that we checked on Google, followed by the best position that a URL for the domain you are checking has – including the change to the previous week as a positive or negative change if there are any. If you click on parts of the keyword, you can go to the SERP (Search Engine Results Page) for that part of the keyword or you can click behind the keyword, which will highlight all parts of a multi-part keyword.
Next comes the actual URL at that ranking position, where you can click on the to go straight to the URL in a new browser tab.
The Search Volume shows you a range of how many monthly searchers can be expected for the entire keyword. This value is great for pre filtering your keywords according to your traffic needs. We use multiple sources for the search volume ranges, which gives us more accurate results than we would get with just one source.
The Competition is an index value between 0 and 100 which we calculate to give you an idea of how hard it can be to rank for a specific keyword and whether you should expect more, strong competitors on your road to the top spots.
The Trend uses the search volume values to show a graphical visualisation of possible seasonality for the keyword. This helps you figure out when you can expect the majority of visitors, given a good ranking.
The CPC value is a Cost-per-Click value that we got from Google Ads for that keyword. While your own CPC for a campaign can deviate, it is a good indicator of whether the keyword will be rather expensive or not.
The last three buttons are as follows:
If you move your mouse over the a popup will show the snippet that Google showed in their results for the domain. Additionally you can see if specific SERP features – like Ads, featured snippets or others – were present.
The button opens the keyword history for that keyword and domain. This feature is especially useful whenever you want to check how a specific keyword has been ranking for that domain over time. It also plays a prominent role in evaluating losses within the Visibility Index.
Lastly, the button will take you straight to the keyword SERPs for that specific keyword. This is the same as typing the keyword into the search bar.
Individual view
Aside from the default view, you can use the "Select Columns" options to freely define which data you wish to see. This makes it possible for you to only show the information that pertains to your current question or use-case.
Predefined Filters
The filters above the results are a compilation of answers to common questions:
Search Keyword
The first entry field besides the green "Filter Now" button lets you type in a word which should be contained within each shown keywords. You can use this to quickly search for brand keywords, for example: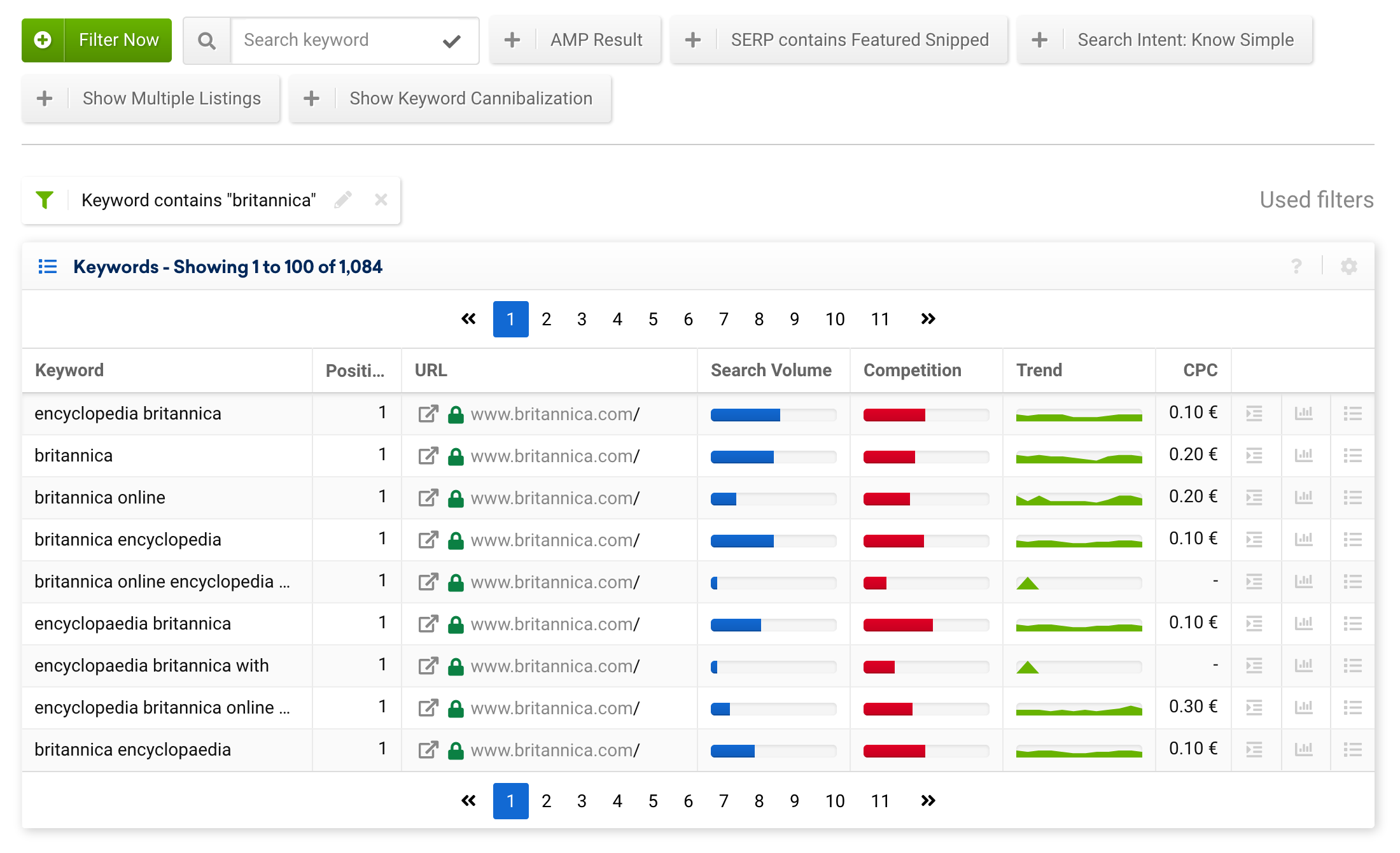 Here I typed britannica into the "Search Keyword" field at 5 and hit enter. The result is a filtered list with all keywords that include "britannica" as part of the search query. I could also click the pencil mark at 6 and change the filter to only show keywords that do not have the word britannica included in them. Or I can delete the filter through the mark.
AMP Result
This filter will show all rankings for the domain, where an AMP URL was shown in the search results. If you are working with AMP, this is a great controlling mechanism to double check, if you are actually ranking with the URL that you want.
Featured Snippets
This filter automatically sorts the results for keywords, where a featured snippet was shown. This filter does not check whether the result was from the domain you are evaluating, just that there was a position 0 for the keyword.
This filter helps you find those keywords where Google has decided to show a short answer to a user question from one of the pages on the search results (not necessarily the first one). This knowledge enables you to evaluate these featured snippets and try to claim them for your website. Or, in case the featured snippet is already from your website, defend it against competitors.
Search Intent: Know Simple
The Search Intent: Know Simple filter takes into account all results where the main search intent for the page is Know Simple. Google defines this intent as "… queries that seek a very specific answer, like a fact, diagram, etc. This answer has to be correct and complete, and can be displayed in a relatively small amount of space: the size of a mobile phone screen."
Keywords with this intent are usually easily answered and Google will take more and more of these queries and answer them right inside the search results. If you notice a decrease in visitors from search engines, check how many of your keywords are know simple. This lets you check what kind of answer Google is showing for the keywords.
Show Multiple Listings
The predefined filter Show Multiple Listings will unfurl all ranking positions for all keywords where more than one URL has a ranking for a specific keyword.
You should use this filter when you plan on exporting the keyword rankings to work with them in excel. With the multiple listings shown, you can then evaluate things like like which keywords have more than one rankings for multiple URLs?
When you are working in the Toolbox itself, you do not have to export the data for this question. All you need to do is use the following predefined filter.
Show Keyword Cannibalization
The Show Keyword Cannibalization filter shows you a list of keywords, where more than one URL for the domain has a top-100 ranking. It is a good idea to take care of cannibalization, as you have more than one document which is not only competing with the other results on Google but also with another page on your own domain.

When you add the filter, the table will get another row, with the number of different URLs that rank for the keyword 7.
When you click on the number, an overlay will open which shows you exactly which URLs rank on which position.
Please see our tutorial "How to Analyse and Fix Keyword Cannibalisation" for a full workflow of such an evaluation.
General Filters
Aside from the predefined filters, you can also use the green "Filter Now" button to set up your own filters and filter combinations. Please remember, the filters are a way for you to get answers to your questions from the data. They are here to help make even large keyword sets manageable and gain insights from them.

Each filter has its own help text, giving you an idea of what can be filtered and what can be added.
Following we want to give you a few ideas for useful filters.
Example Filter 1: low hanging fruits
You can add a "position" filter for positions 11 – 20 to your keyword table. These show the first result on page 2 of the search results to the last result on page 2.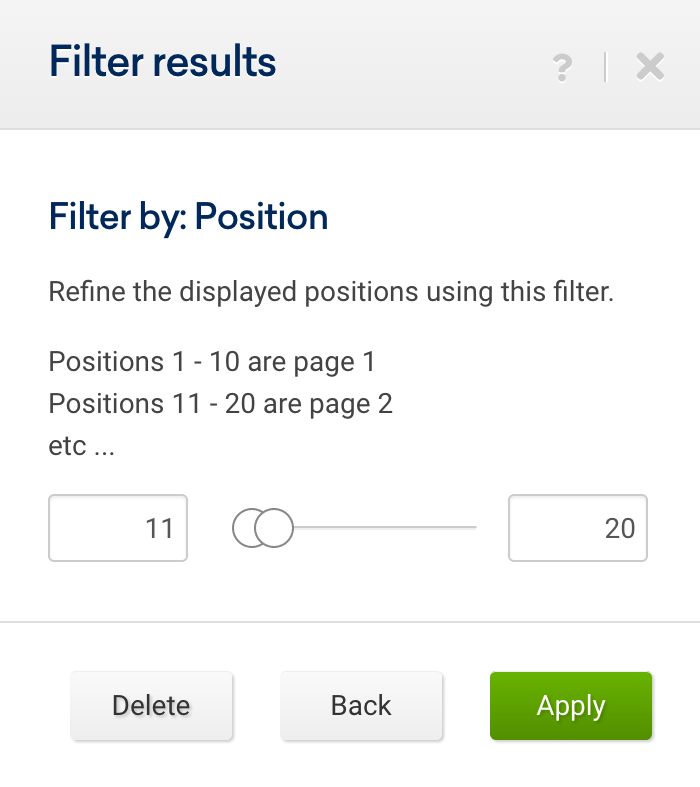 For these keywords Google has generally not only noticed a connection between the keyword and the page but also deemed the content of the page nearly good enough for the first result page, not not quite there yet.
Seeing how over 98% of users stay within the first result page on Google, a small investment into URLs that rank on page 2 can actually yield visitors to that page, if it manages to break through to the first page.
Example Filter 2: Search Intent Do
When you want to figure out which keywords are deemed by Google to be something that a user wishes to do something on, this "do" is purchase something, most of the time. This makes these keywords commercially interesting.
Such commercially interesting keywords are also great for Google as they can show Ads. This is what we can use, by adding a filter for a column that is not shown be default, but which can still be filtered: SERP has AdWords.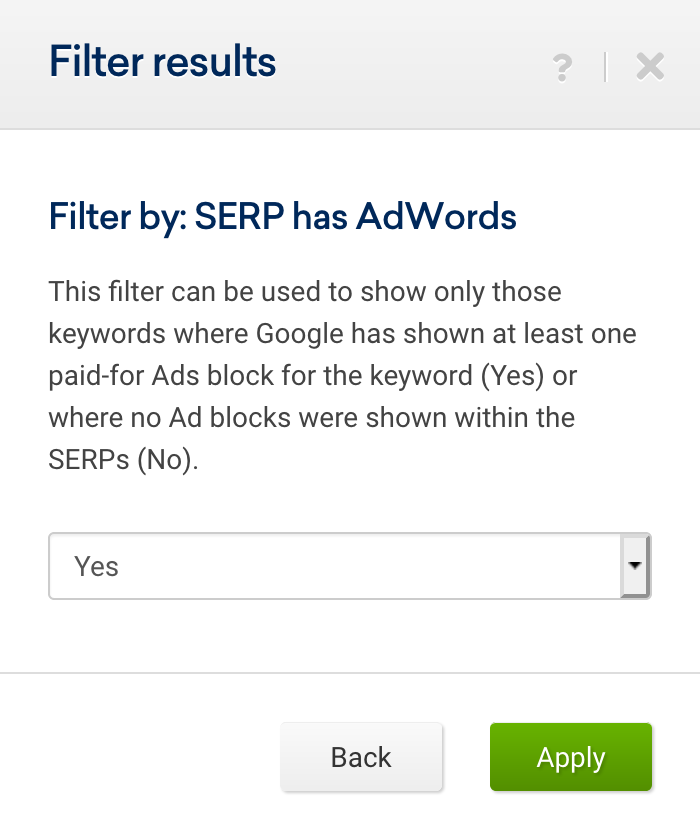 Now you know for which keywords – where the domain you are analysing is ranking – Google decided to show Ads.
How are the keywords chosen?
The keywords are chosen in a way to have the most frequently searched-for keywords for each country included as well as a multitude of long-tail queries.
This gives you a large pool of potential search requests to evaluate whether they can be a good target for your site, as well as see what your competitors are already doing to rank for these keywords.
For the following countries you are able to query both Mobile and Desktop data for the top-100 search results:
Germany
Austria
Switzerland
the United Kingdom
USA
the Netherlands
France
Italy
Spain
Poland
Sweden
Brazil
Turkey
For the following countries you have access to Mobile data for the top-10 searchresults:
Belgium
Ireland
Portugal
Denmark
Norway
Finland
Greece
Hungary
Slovakia
the Czech Republic
Canada
Australia
Mexico
Russia
Japan