For most use-cases, the web-interface of the SISTRIX Toolbox is the optimal workspace. Filters, tables and settings are adjusted to the best workflow. If you need to export and process the data externally however, read the information in this guide.
Exports
Most of the data that appears in graphs and tables within the Toolbox can be exported directly from the web interface.
To export table data just click on the cog-wheel at the top-right of the box and select the "Export Table" option.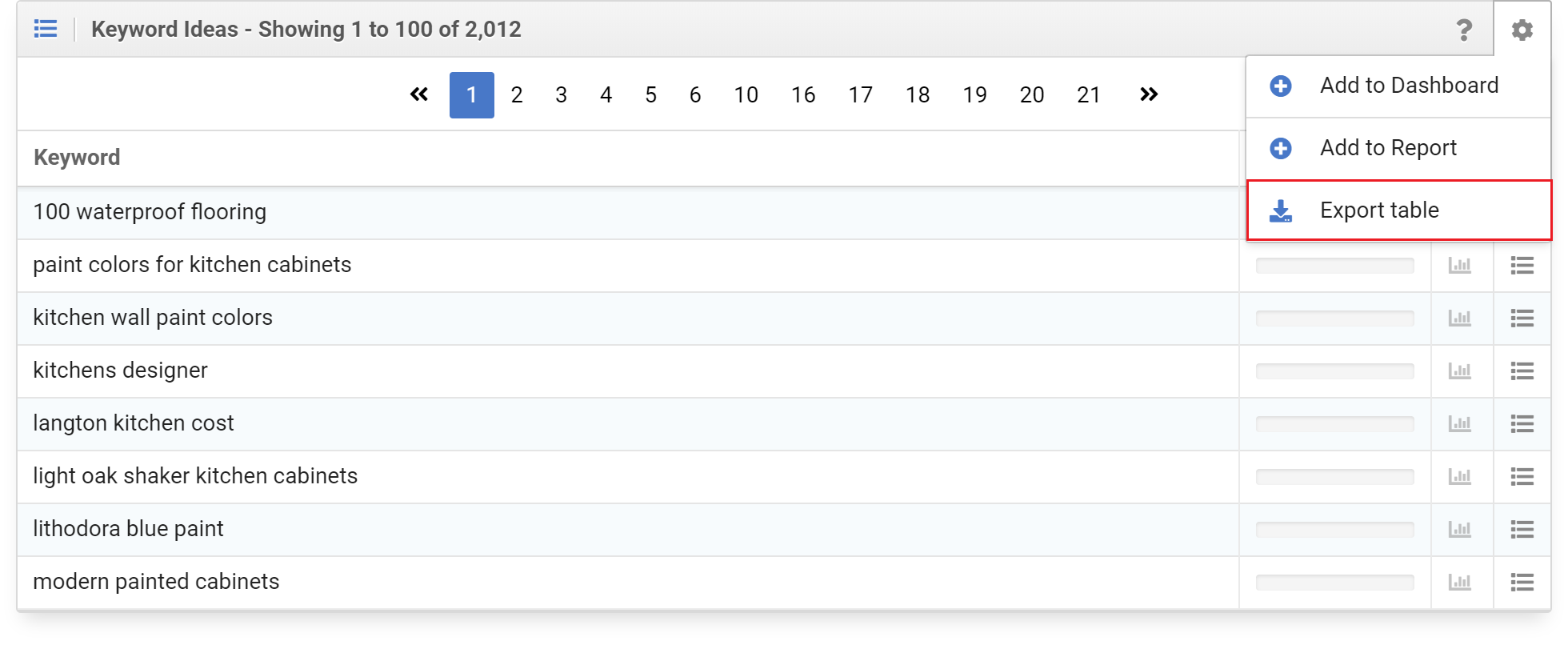 You can also export diagrams in various formats. Click on the cog-wheel at the top-right of the frame around the image and select "Download Chart." You will find various formats such as PDF and PNG available as export options. The CSV export option will give you a data export that can be used in spreadsheets and databases.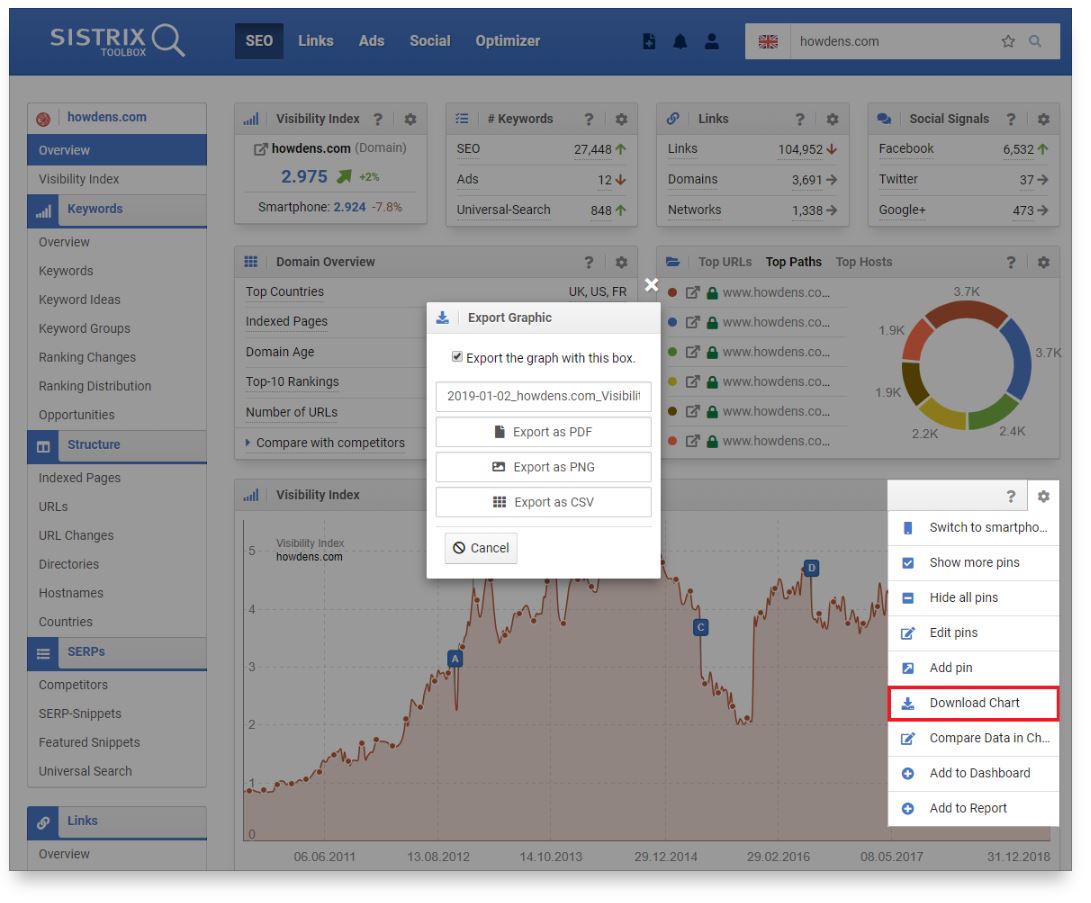 CSV: A universal export format
Data that is exported via the CSV format is UTF-8 formatted. We use the semi-colon character as the separator.
Since CSV files can be opened universally in all common spreadsheet programs, you have the opportunity to use your tool of choice.
Automation via the API
If you would like to automate the data export from the toolbox or export in a machine-readable format, you can use our API interface.
The API usage is included in every Toolbox account and does not require special packages or options. You only have access to the data of the Toolbox modules you have booked.
The possible queries are summarised in our API documentation .
Export Credits
For each module of the SISTRIX Toolbox booked, you have 10,000 export credits available, up to a maximum value of 75,000 credits, when you book the complete toolbox.
The number of credits will be reset to your maximum each Monday. These export credits are used on all exports from the toolbox, as well as in the creation of short links and queries via our API interface.
You can see how many credits you have left in the Toolbox at " Toolbox API "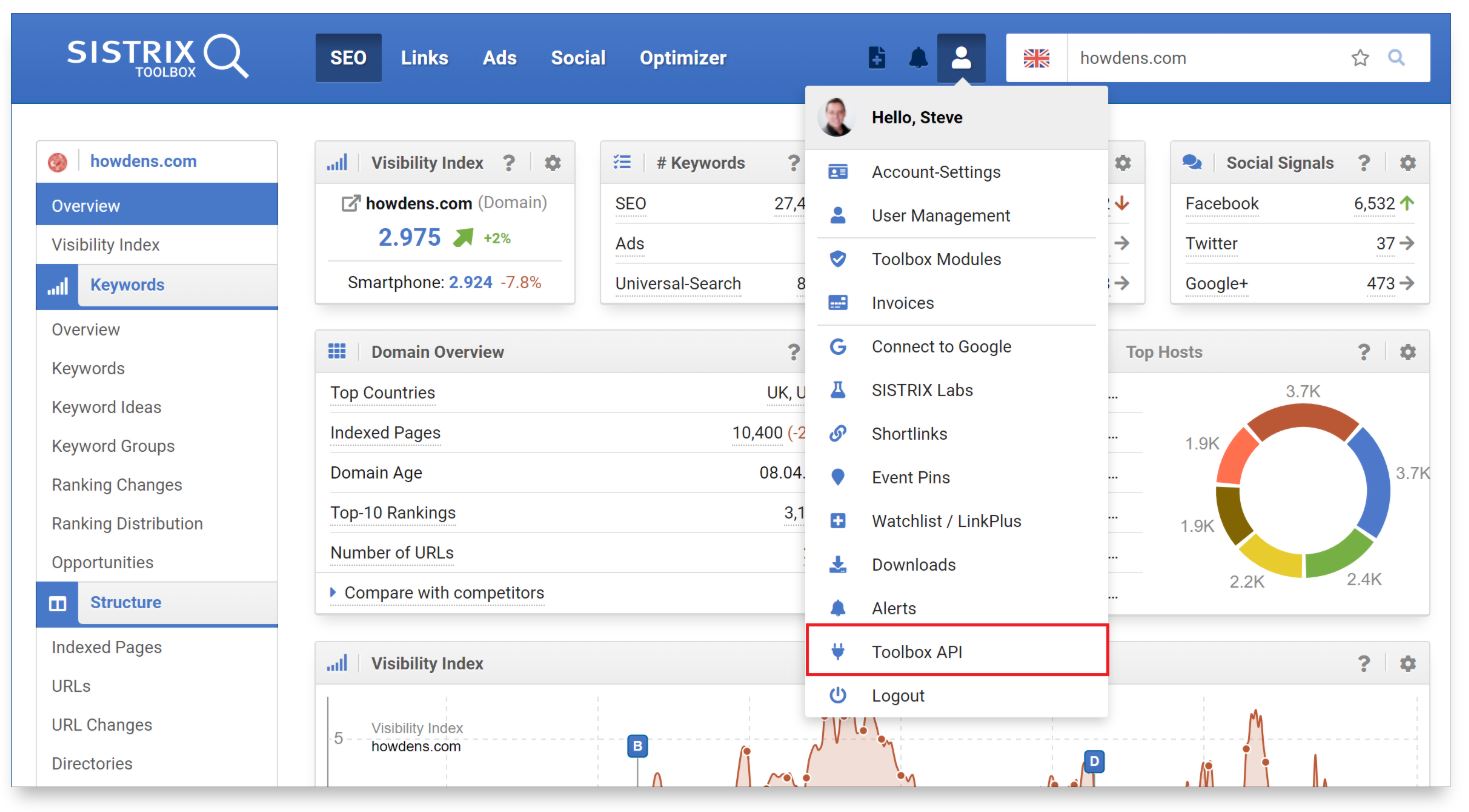 Booking additional credits
We aim to cover all reasonable needs with the default amount of credits but should you require more, you can book them to your account on a monthly basis.
For 10,000 additional credits per week, we charge 75 euros per month. The additional credits will be credited to you along with your regular credits, every Monday.
These and other add-ons, such as Optimizer upgrades, can be found in the Toolbox-Modules under "Extensions".