Lists in the toolbox help you to group, manage and analyse sets of domains or keywords. This can be important for project work such as keyword cluster analysis, regular CSV exports, or as a place to note a domain or keywords for later use. In this tutorial we'll show you the features and give you some ideas that will help you save time and improve workflow.
List features
There are two types of lists that are available in the Toolbox. Each has its own features.
Domain, path, host and URL lists will allow you to sort, filter and export. This can be useful for downloading weekly CSV exports that can be imported into a spreadsheet for later analysis. Data for these lists is updated weekly.
Keyword lists allow you to sort, filter and export as with the domain lists. You'll also find important analysis features too. These keyword lists may also be used in the Content Assistant found in the Optimizer.
Lists created by any account profile are always available to all other profiles in an account. This will help with collaboration on regular tasks and projects.

All lists are available through the URL https://app.sistrix.com/lists and the option box shown above. To created a list, use one of the options shown later in the tutorial.
List Ideas
Before we show you a few detailed examples of how to create, manage and use lists, consider these ideas for using lists. They may help you save time in your daily SEO work.
Use a keyword list in the Content Assistant tool.
Analyse SERPs features that appear in a keyword cluster. This can be useful for learning about the 'intent' of a keyword set.
Content ideas: When using the Opportunities tool, it's possible to select keywords that a domain is not currently ranking for. Add these to a list called 'content ideas.'
Top 20 URLs project: When viewing your domain keywords, filter the high-volume keywords positioned at 11-20 and select keywords that you would like to check and improve. By using Toolbox profiles, other team members will be able to view and work with these lists.
Break out of a keyword bubble: Using a list of keywords, analyse the top-ranking domains and then view the important ranking keywords for these domains. You'll discover new ideas and ranking URLs to analyse.
Record top-ranking URLs. Keep regular checks on these lists by clicking on the URLs to quickly view the VI graphs.
Interesting domain lists. E.g. 'best practice', 'competitor URLs to watch'.
Create a list of sector domains, e.g. Travel, Retail and export the CSV weekly into a spreadsheet.
Create lists of keywords across multiple different countries and view (and export) average search volumes in one list. Can also be used to see differences in seasonal trends.
Potential client lists. When viewing competitor domains, or the weekly Movers and Shakers' list, you might find potential clients. Add these to a list that can be used by a sales team.
Creating and using keywords in lists
There are three ways to save keywords in lists
Keyword lists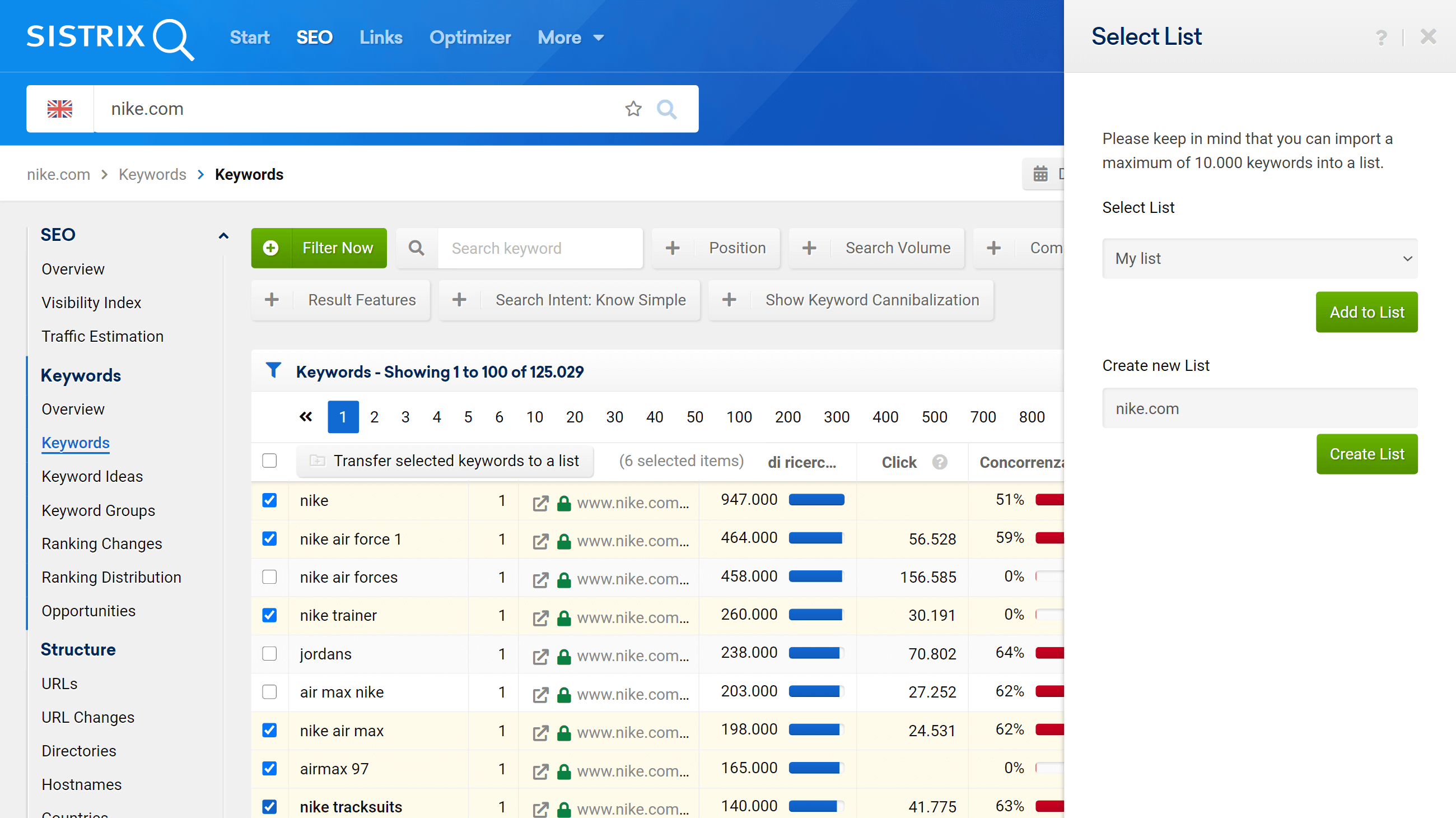 You can add keywords and domains to lists from almost all areas of the Toolbox. All keyword tables in the Toolbox have a small checkbox on the left. Tick one or more keywords (or all of them) to add it to a list with one simple click.
Add keywords manually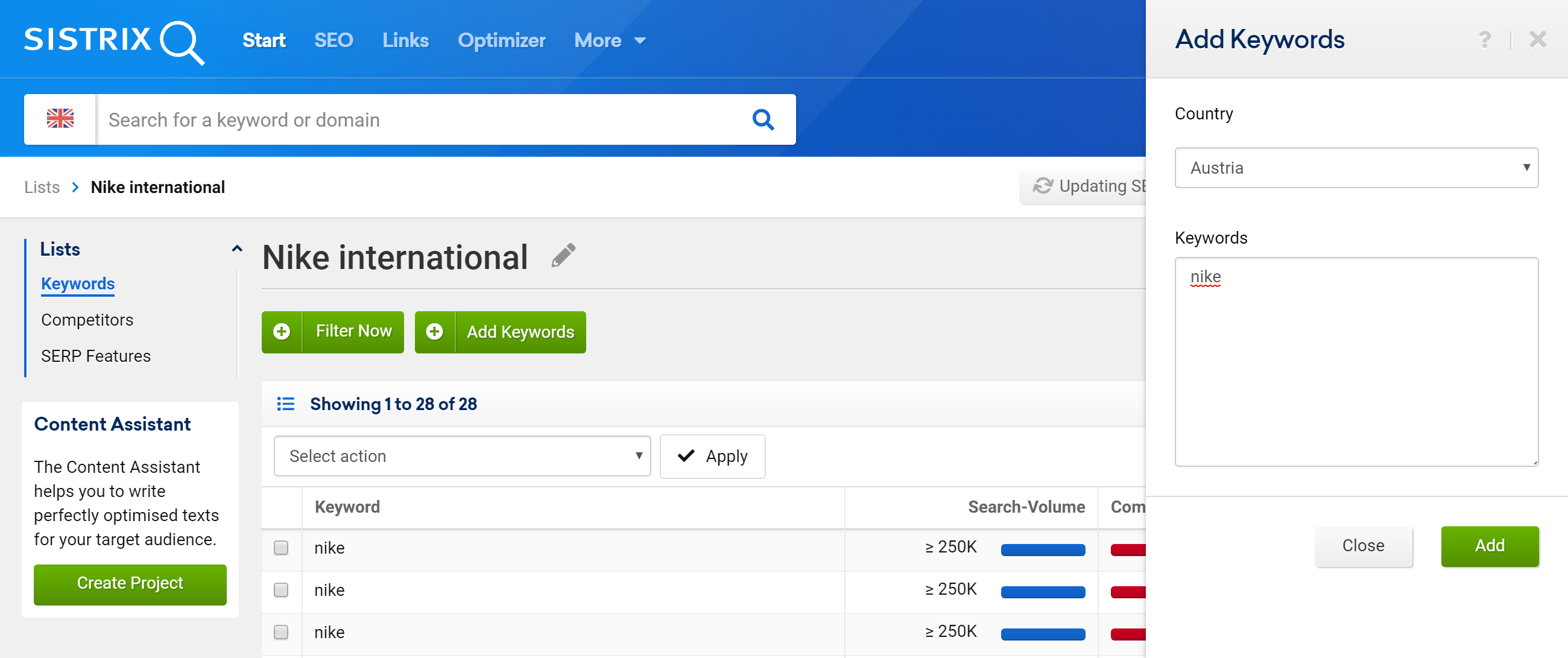 With the "Add keyword" button from within the list feature you can add any keywords to a list. You can also enter multiple keywords by entering (or pasting a set of them) into the text field.
Keyword discovery
Keyword research using the Keyword Discovery tool offers the option to include either the entire set of results, individual keyword groups, or individual keywords in lists.

For more, see our tutorial on keyword discovery.
Using keyword lists
Once you have created your keyword list, you can access it through the lists menu item.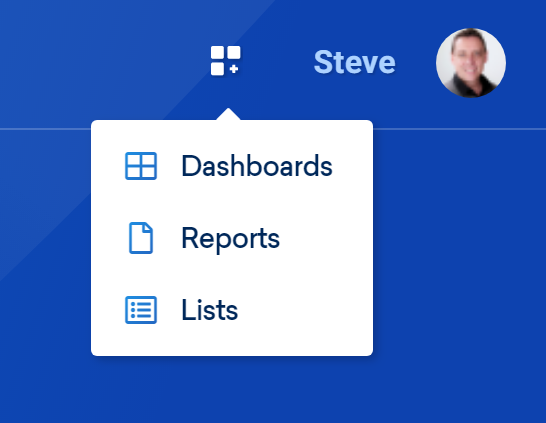 For this example we've created a list using Keyword Discovery that contains 4,496 related search terms in the UK.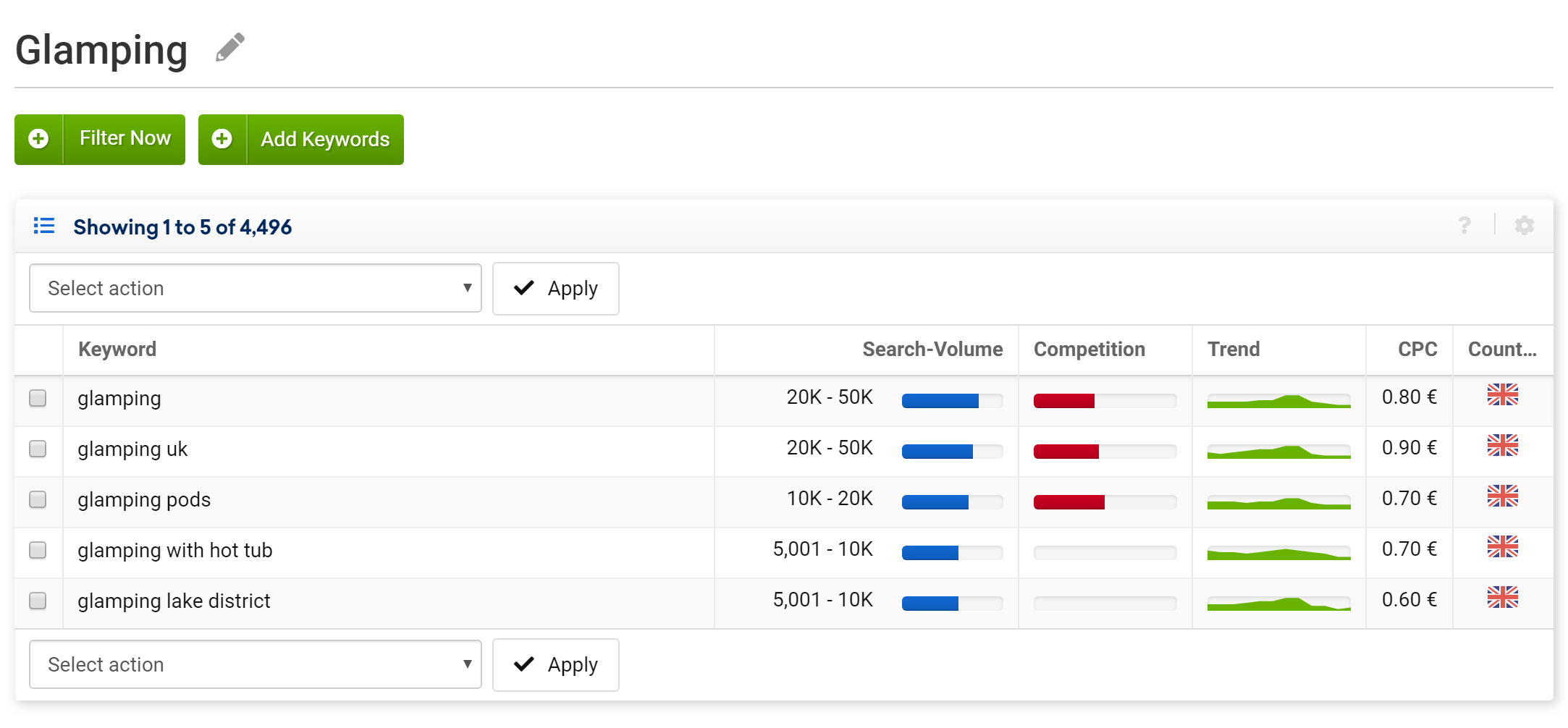 To order the list by any column (A-Z, or Z-A) except Trend, click on the title at the top of each column. 1 (Above)

To filter the list, you can use one of three filters. Keywords, Search Volume and Country. Select Filter Now A and select the filter type B. You can, for example, search for all keywords with a search volume of greater than 1000, or search terms containing the word "what".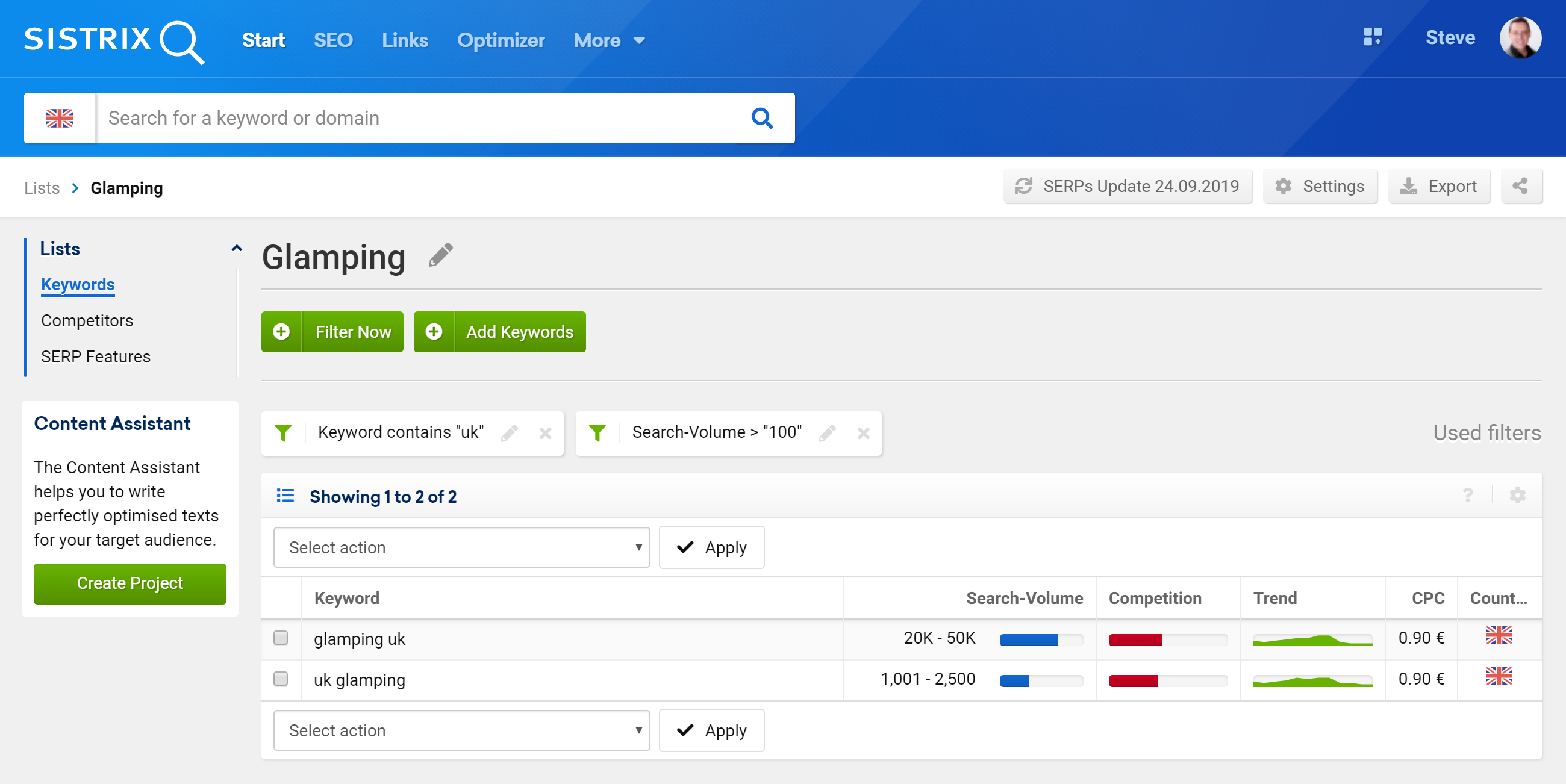 You can combine filters as in the example above where we have used a keyword filter 1 and a search volume filter. 2 (Above.)
Filtered lists can be exported through the cogwheel menu ( 3) into a CSV file (semi-colon separated.)
Analysing keywords SERPs
Keyword lists contain an additional analysis feature. After updating the SERP data we'll show you which domains are ranking for the keyword set and what SERPs features are present in the SERPs for the keyword set. For more information, go to this full keyword competitor analysis article.
Creating and using domains in lists
Aside from keywords you can also organise URLs in lists. For example,. if you find a URL to an important competitor domain, path or URL, you can save it to a list.
Saving a domain to a list is a similar process to adding keywords using existing tables in the Toolbox.

For example, the results in the Competitor analysis can be added with a 1 simple click to the right of the keyword. New lists are also created through this method.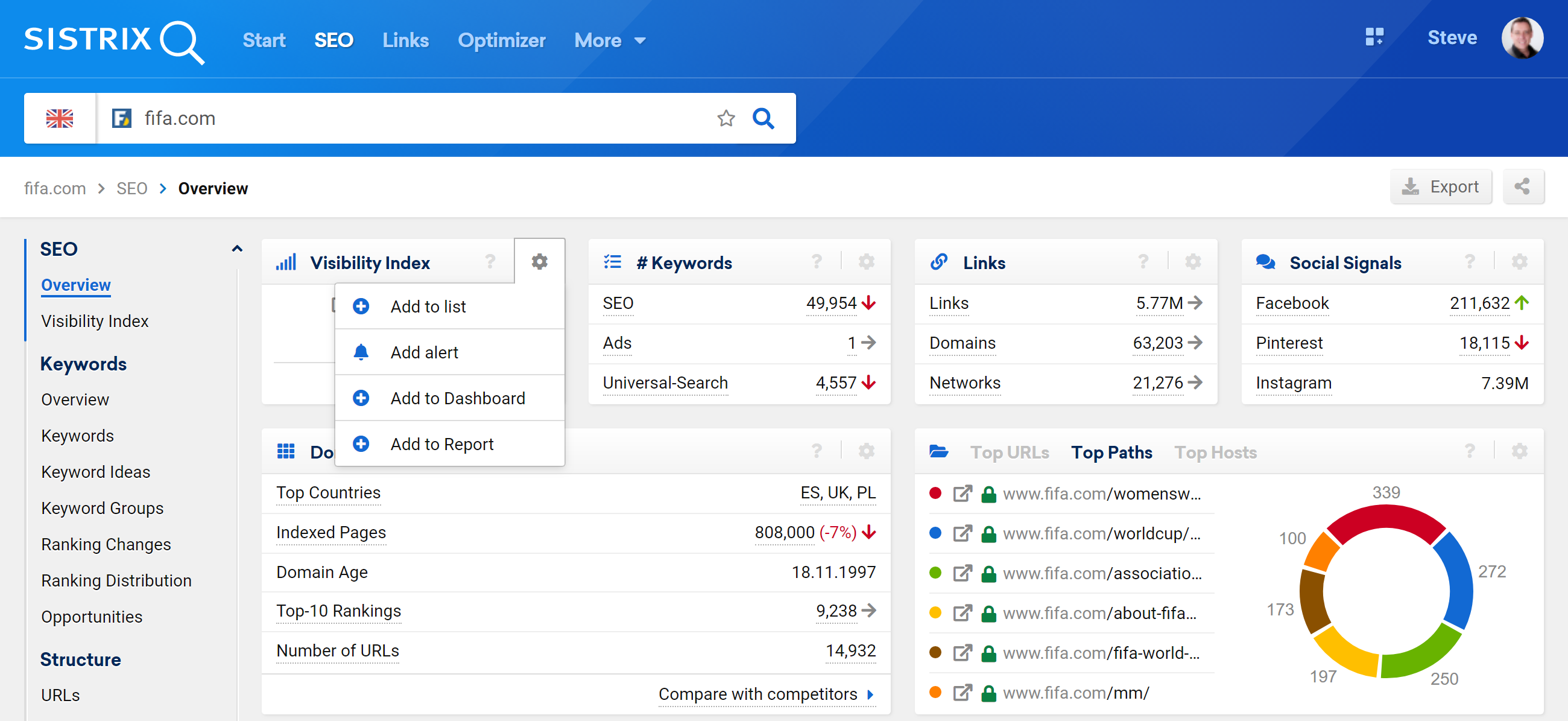 If you want to add a specific domain to a list, simply type it into the search box A and use the cogwheel in the Visibility Index box to add it to a list B.
Using the domain lists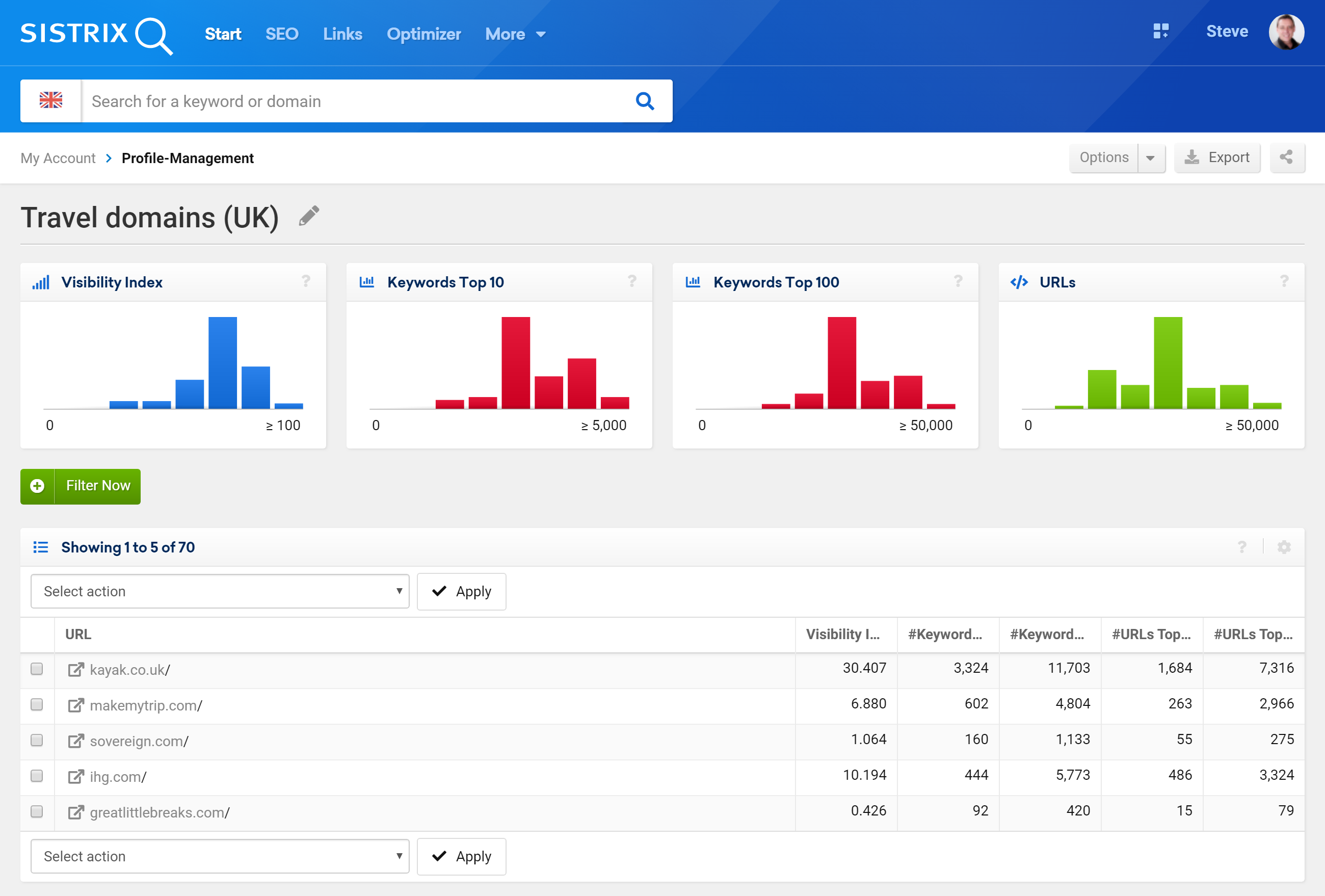 Within the domain list view you'll see a set of distribution graphs at the top of the page. These show distribution of VI 1, Keywords in the Top 10 2, Keywords in the Top 100 3, and Number of URLs 4, so that you can get a feel for min, median and max values.
You can export the list as a CSV using the cogwheel menu 5, and this can be useful to keep weekly records of the VI of a large number of domains. The visibility index changes can be analysed and plotted easily in Google Sheets, for example.
As with the keyword lists, there is a filter function which allows you to shorten and analyse lists.
Summary
Lists are very flexible and are available for collecting and analysing keywords, paths, and URLs. How you use these lists is up to you but the ideas at the top of this article will give you some inspiration that could improve workflow, save time and give you more information about your SEO activities.