Account Settings gives you access to many useful settings. If you want to integrate Google Analytics or Search Console, you can start here. You can also generate API keys, change languages, manage your sub-accounts and event pins, and more. See below for details on all the options.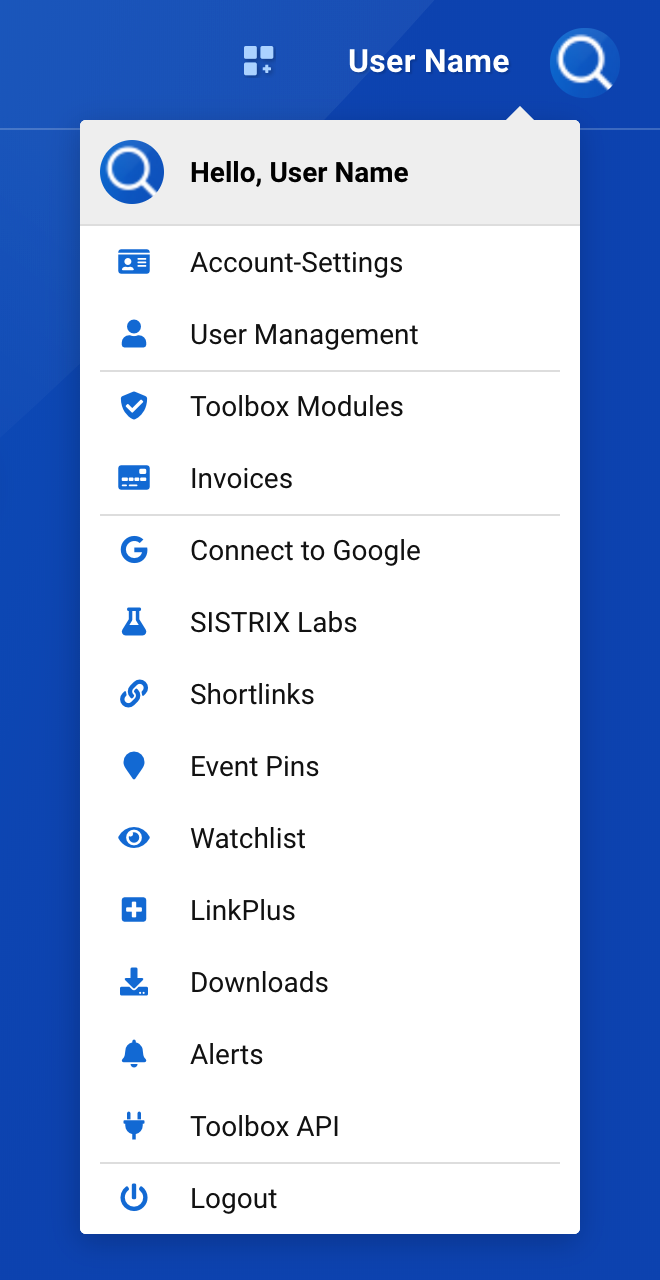 When you move your mouse over your profile user name, in the top right corner of the Toolbox header at 1, you will see the above list of options for your account.
In this tutorial we give you a quick overview of these options and what you can do with them, in order to help you make the Toolbox an even better fit for your needs.
Account-Settings
Within the account settings you are able to change the language settings for your profile, which is very nice as every profile for your account can have its own settings.
Additionally you can switch the date formats between having the day first DD.MM.YYYY (as is used in Germany for example), the more American way of leading with the month, MM/DD/YYYY, or keeping with ISO 8601, which starts with the year, YYYY-MM-DD.
The time format lets you switch between a 12 hour and 24 hour setting and the number format lets you define whether you want the decimal separator to be the comma or period. All so you can work the way you are used to.
The setting Primary Index lets you choose whether you want to see the desktop or mobile data by default, for all the charts and tables in the Toolbox. You will always be able to switch between both views on the individual pages.
On the accounts settings page, you are also able to reset your account password – only if you are logged into the main user account – and add an image for your profile, which will be shown at the top right hand side of your profile.
User Management
You can use your Toolbox account with up to six team members within your company without any extra cost. This enables multiple employees for your company to use the SISTRIX Toolbox at the same time. As the main user for your account, you can add new profiles in the user management or edit and delete current ones.
You can find more information on our profiles support page.
Toolbox Modules
The modular nature of the SISTRIX Toolbox gives you the ability to subscribe only to the data you need at the moment. On the Toolbox Modules page you can quickly subscribe a new module – which can then be used right away and you will only be billed for the remaining days of the month – or unsubscribe from a module – which will take effect at the end of the month.
On the same page, you are able upgrade your account, if you need more Optimizer modules, reports, profiles, LinkRating slots or additional export and API credits.
Invoices
On the invoices page, you are able to download a PDF-copy of each and every invoice that has ever been created for your account. Additionally you can set up an accounting email address, which will automatically receive only your monthly bill, with no other toolbox emails going to the address.
Connect to Google
You can connect both your Google Analytics and Google Search Console data to the Toolbox and access advanced evaluations. Adding the account is easy. Click on "Create New API-Connection" and log in with the email address that has "Read & Analyse" rights for the properties you want to add.
From now on, you will see an additional option in the left hand navigation for the domains which have the connection enabled.
Google Analytics makes it possible to view Analytics as well as Toolbox KPIs within one chart, which can also be added to a report. You can find a detailed description in our tutorial "Google Analytics Data in the SISTRIX Toolbox".
The Search Console data is processed on a directory level, which is very useful for benchmarking tasks – which directory has an above average CTR for example – which Google Search Console does not show automatically.
SISTRIX Labs
The SISTRIX Labs option shows you if there are any beta tests for Toolbox features available. You can freely try out new features, design changes or other enhancements before they go live.
Shortlinks
Shortlinks are an easy-to-use method of sharing what you are seeing in the Toolbox with others, even if they do not have an account.
You can quickly create shortlinks and they will stay active for 7 days before expiring. For more information please see our tutorial "Use Shortlinks to easily present Data".
Event Pins
It is important to see noteworthy events on your timeline. For this reason you can use event pins within the Toolbox charts. There are two types of pins. Blue pins are set by us, any time that Google confirms an update on their part. This is a great way for you to see if a drop or increase in visibility might have something to do with Google.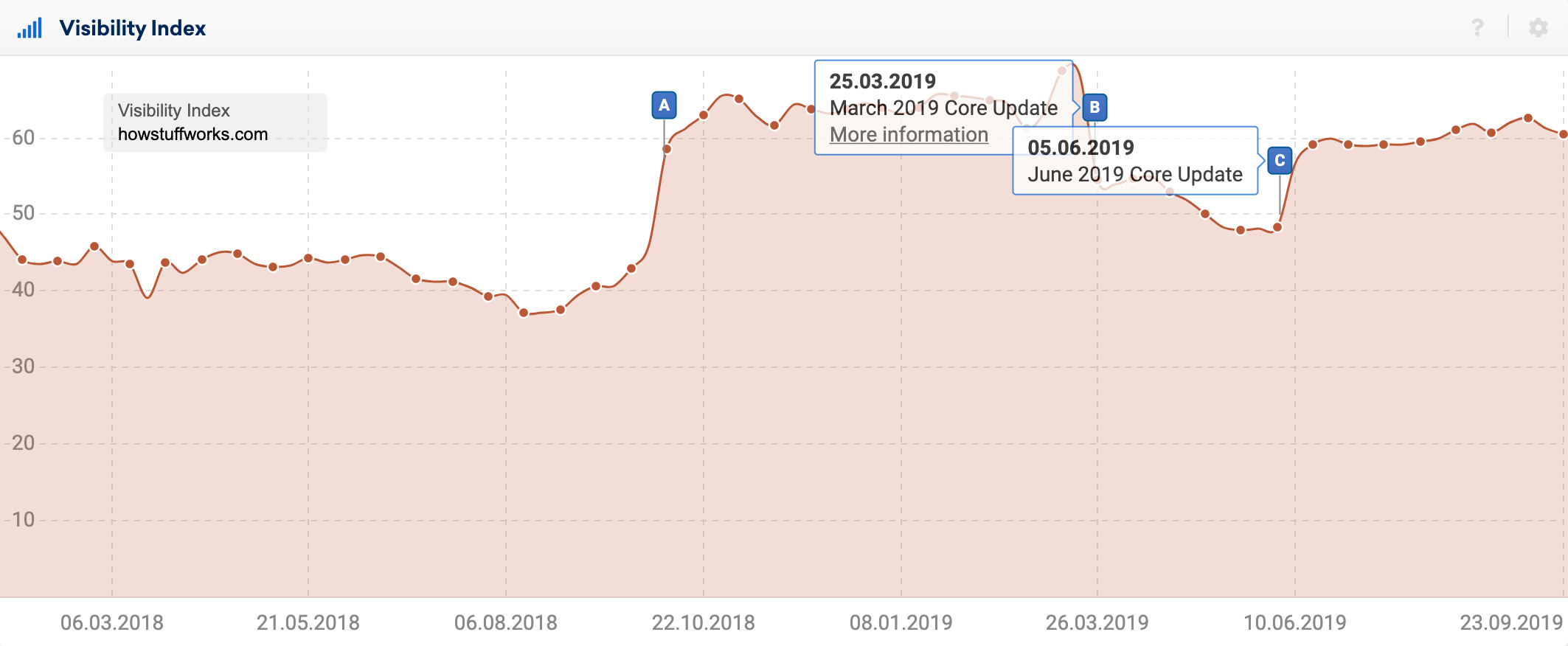 And then there are green pins, which you can set and which are only visible to you on your account. Please check out our tutorial "Document Developments with Event-Pins" to find out more.
Watchlist
When it comes to indexed pages and social signals, we already update these values regularly for all domains. With the Watchlist, you can increase these crawls to once a week. Simply go to the indexed pages evaluation for a domain or the social signals overview and click on the "Add to Watchlist" button.

LinkPlus
Using the Toolbox Link module, you gain access to our own link data as well as link information from partners such as Majestic.
When you evaluate smaller domains, you might notice that the Toolbox will fetch the necessary link data from our data storage.

If you see this notice, the domain will be added to your LinkPlus list and kept up to date so, next time you check the link data, you do not need to wait again.
In the LinkPlus list, you can see all the domains for your account where this is the case, and if you ever reach the limit of 250 domains on your LinkPlus list, you can also delete domains, you are not interested in anymore.
Deleting a domain does not mean the link data will be lost, it just means that we will have to gather it, the next time you want to look at the domain again.
Downloads
Most of the downloads in the Toolbox are ready immediately. However, some exports may be so large – for example keyword exports with 50.000 rows or link exports with 7.000.000 links – that our system has to first process the file.
If this is the case, the Toolbox will let you know, that your download will be ready as soon as possible on the downloads page at https://app.sistrix.com/download/downloadlist
Alerts
The alerts in the Toolbox enable you to get notifications if specific things happen. For example, you can set up a Visibility Index alert for you competitor, which only activates if the competitors visibility changes by, for example, 50% between one week and the next, a sign that something large happened to them, either good or bad.

You will get a great overview of all the alerts in our tutorial "Using Alerts in the SISTRIX Toolbox".
Toolbox API
Anytime you notice that you are repeatedly exporting data from the Toolbox to use in your data warehouse, evaluations or BI tools it is time to take a closer look at the Toolbox API.
The API is available at no extra cost at any subscription level!
Check out the API documentation or watch our webinar "The SISTRIX API".