It is important to quickly get to all the data you need for your evaluations. This is why, in this tutorial, we want to show you how the SISTRIX interface and start page are set-up and how you can use it to speed up your SEO work.
Once you are successfully logged-in, you are greeted by a search bar 1, which lets you type-in a keyword, a domain or parts of a domain.
There is also an auto-complete feature, so you do not need to type out long domain names.
The flag lets you choose between the 30 different country indexes for which we gather data and which are available in the Toolbox.
Below the search box you are shown the three most-viewed domains for your profile2, complete with the current Visibility Index values and a screenshot of their start pages. You can click on the "show more" button to see more recent and frequently used domains.
This is followed by your most recent support tickets at 3 and system messages at 4. These will let you know, for example, if your Optimizer projects have completed crawling or if your support ticket has been answered.
Scroll down to see your dashboards, reports and lists 5
Next, we will show you if there are any free workshops available for your account for the current year. View this at 6.
This is followed by useful tutorials and webinars at 7 which will help you get more out of your Toolbox evaluations.
Below those, you will find the changelog at 8, which will let you know the new functions added to the toolbox, so you can try them out.
After those, we have our recent blogposts at 9, which shine a light on interesting developments and assessments on topics centering around search engine optimisation.
You will find an important button at 10. On every page within the Toolbox there is a question mark button at the bottom right of the screen.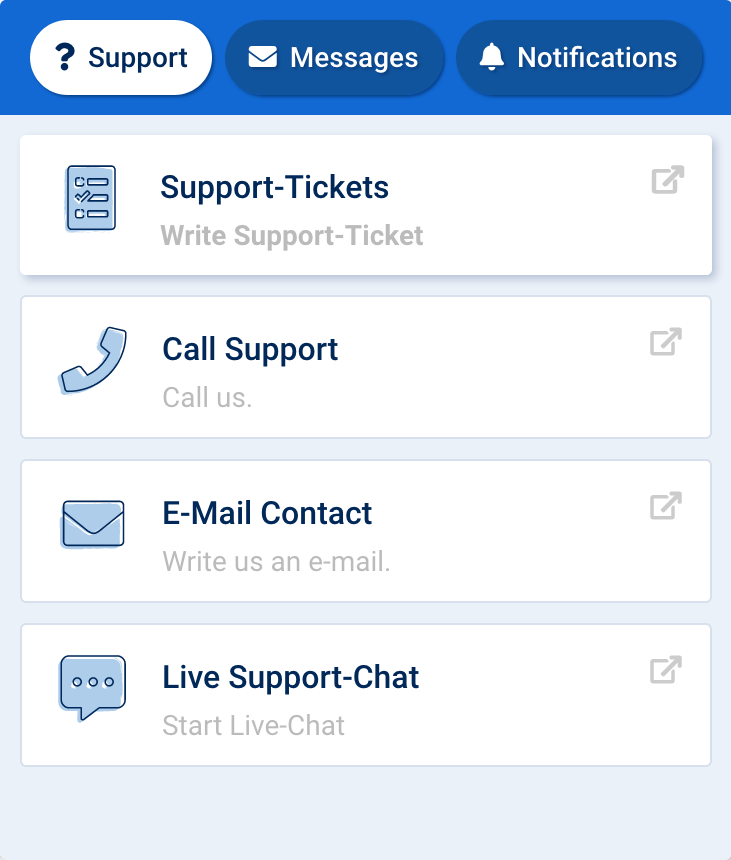 Here, you will find the quick access to all the different methods of getting in touch with us, if you have any questions about the Toolbox.
Modules bar
SEO
In the header, at 11, you will find links to the start page as well as the module overview pages for all the Toolbox modules you are subscribed to.
On the overview page for the SEO module you will find a number of shortcuts, at 12, which will quickly bring you to the most important features of the SEO module.
Below, at 13, you can see all the Keyword Discovery projects you have already set-up. This is also where you can start a new keyword research project.
Next is the list of winners and losers within the Visibility Index for the current country. You are shown the Top-10 domains whose mobile Visibility Index has changed noticeably between the previous and current week.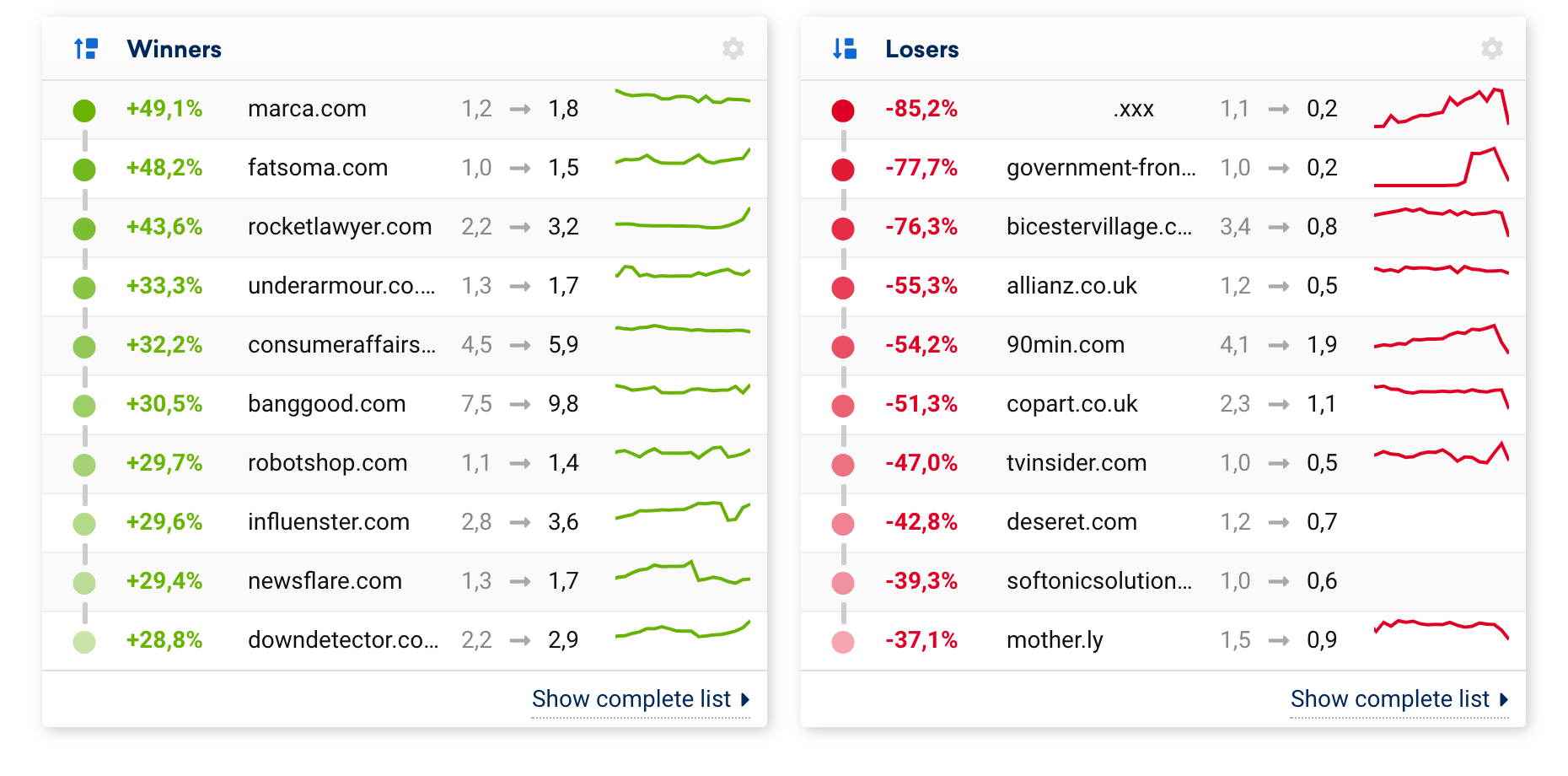 When you click on "show complete list" you can see the Top-100 domains for both the desktop and mobile Visibility Index. This list can be a great starting point in finding domains to study more closely, either to see how they got better or to find the flaws that made them lose visibility. The country depends on the flag you choose in the top search bar.
This is followed by the Top-25 most mobile visible domains for that country.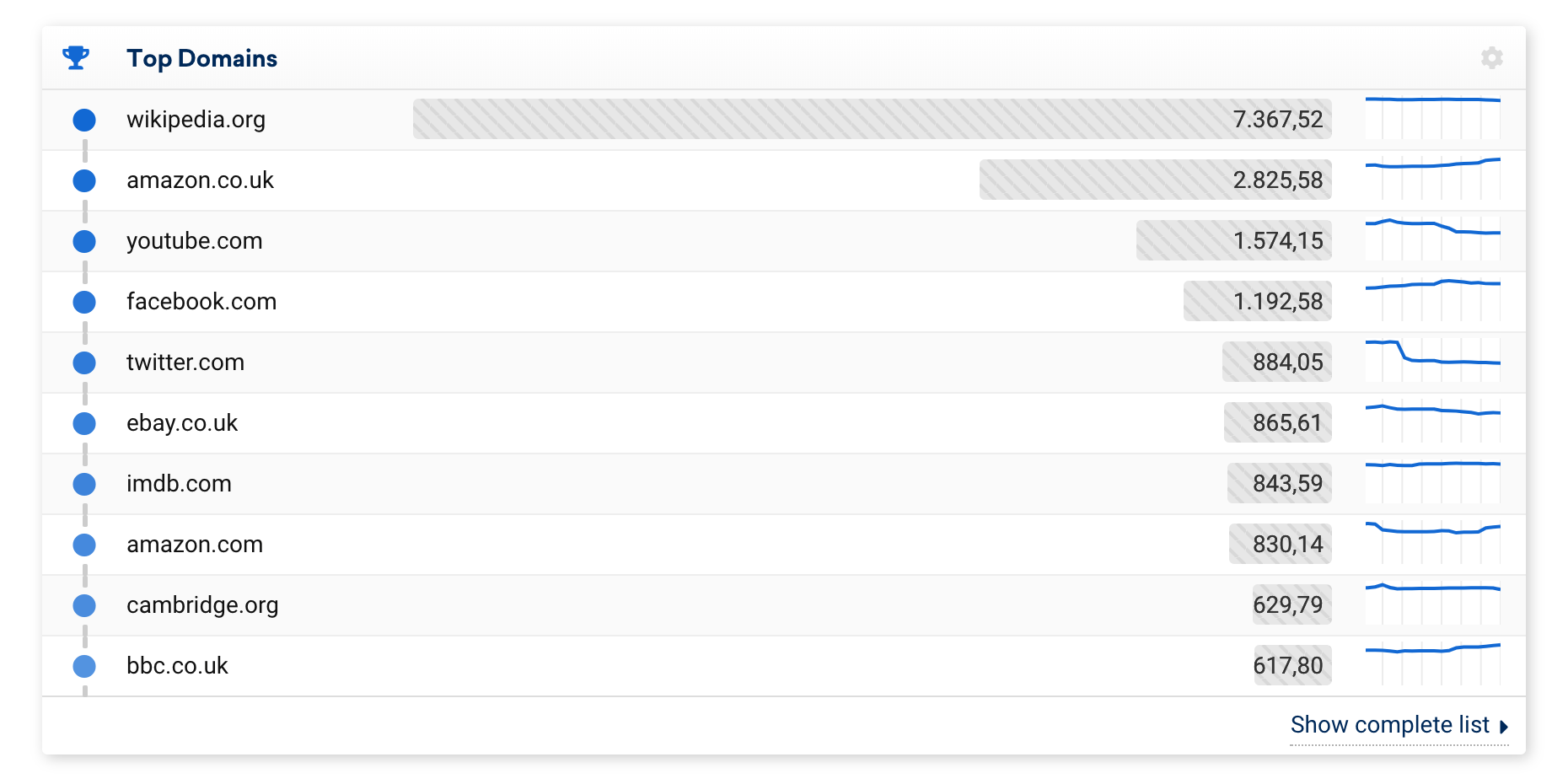 You can, again, click on the "show complete list" to see the Top-100 results for both desktop and mobile. This list is extremely useful to check if you want to look for direct competitors. The domains on these lists are already doing well and can provide best-practice examples from which you can learn.
Links
The link overview starts with a number of tutorials and webinars.
It also holds two very useful features of the link module: LinkRating and the LinkManager.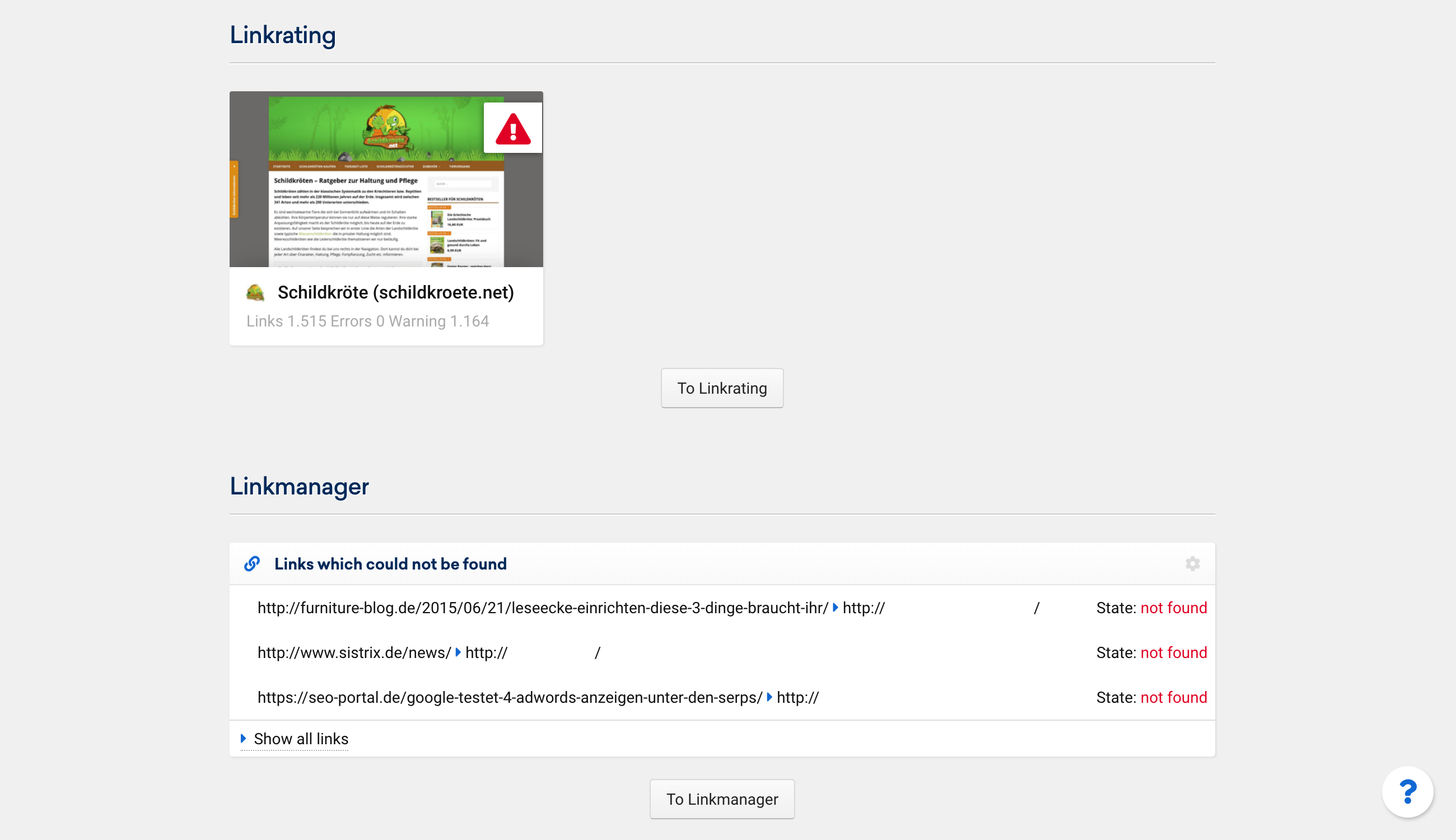 LinkRating – 14 – helps you to, very quickly, and in real-time, evaluate your backlink profile for quality.
LinkManager – 15 – allows you to monitor important links to make sure they are still where you expect them to be.
Optimizer
The Optimizer overview page lets you create new Optimizer projects or jump right into one of your projects.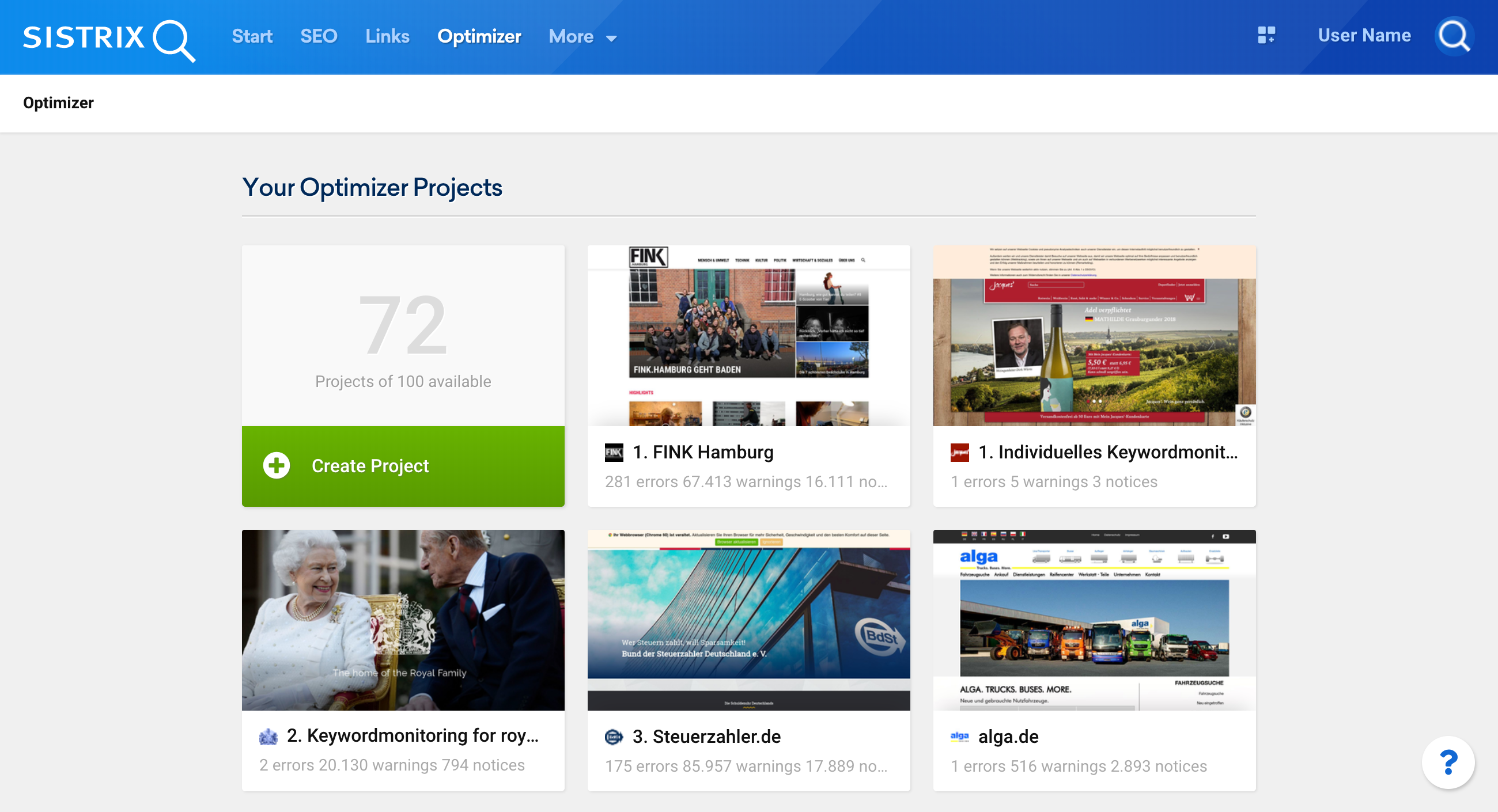 Below your regular Optimizer projects you will find the One-Time Onpage Checks. These are great when you just want to crawl a domain once. For example when you are preparing for a pitch, where you do not yet know if the prospect will turn into a customer.
You can only run a single one-time onpage evaluation at any point, but there is no limit to the number of one-time projects you can create. Each crawl will be saved for 14 days.
If you are only subscribed to the Optimizer then this will be your start page when you log into the Toolbox, so you can save the extra click.
Next, you will find the Content Assistant with all the text-projects you already set-up. You can also start a new Content Assistant project. In case you have not yet set up a list of keywords, you can also use the quick-start, though using Keyword Discovery in the SEO module is more advantageous, as you have much more options available and should be preferred.
The Content Assistant helps you with the creation of your texts by using recommendations from Googles result pages for the keywords you defined in your keyword set.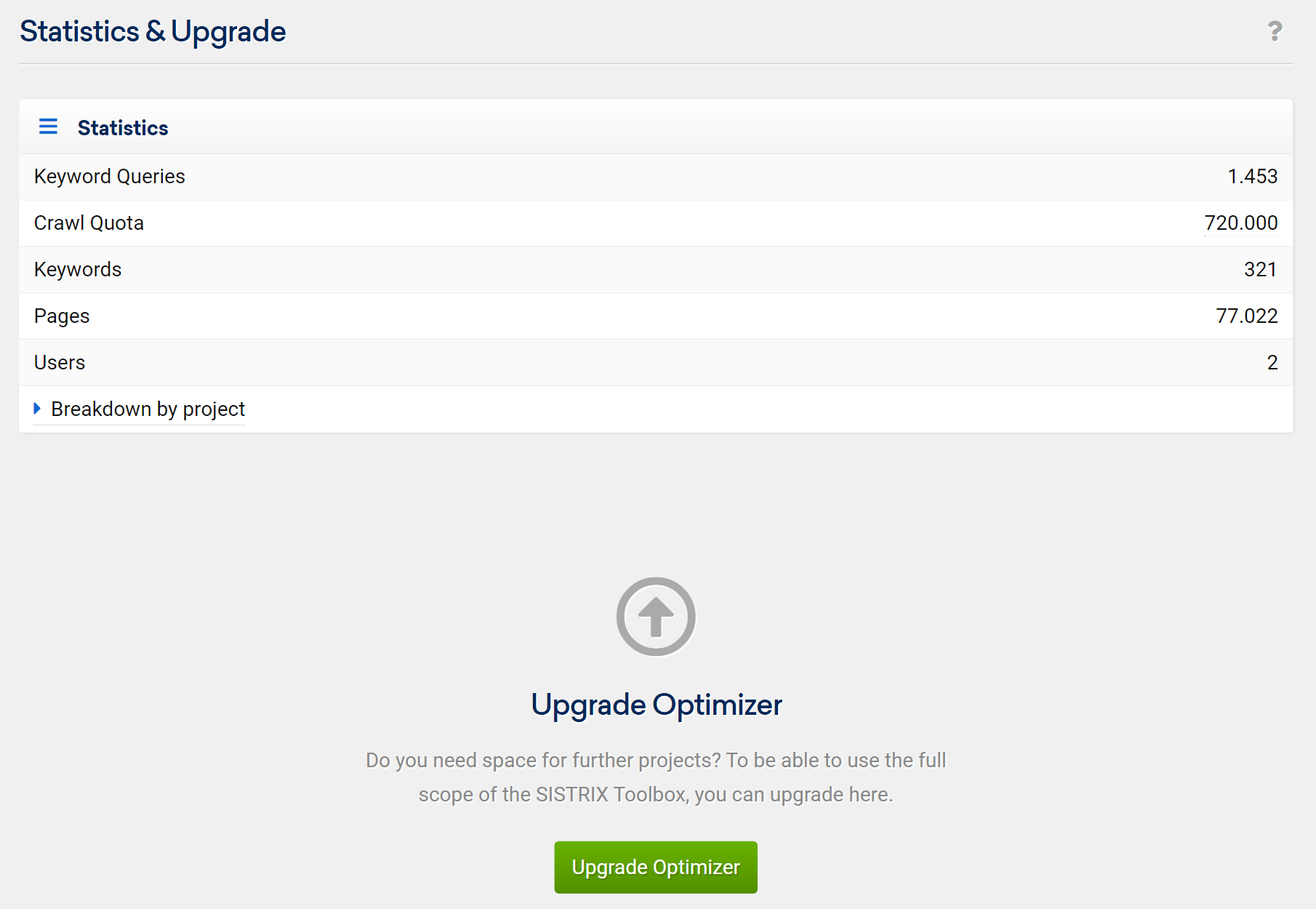 At the bottom of this page, you will find the Statistics and Upgrade Information. If you need more Optimizer projects or keywords you can easily upgrade your account. The statistics let you know how many keyword-queries you are already using, how much crawl-budget you still have left and how many Optimizer users have been created.
Ads
The Ads module overview includes a number of detailed tutorials, as well as a selection of the most recently found display banners from Googles display ad network.
Social
Aside from the tutorials and important FAQs, you can find the starting point for Content Discovery right here.
This tool makes it possible to type in any keyword and we will show you pages that have attracted social interactions for the topic. This can help you to figure out what kind of content works on social networks for a given search term.
Marketplace
The Marketplace module makes all the data from our Amazon tool available.

The navigation changes slightly, in that you now have a second level of options. At 16 you can choose from the different data sources we have for Amazon. Or you can use the search bar 17, where you can type-in a keyword – regardless of wether it is a product, a seller, a vendor etc. – and we will show you results from all databases in a dropdown-menu.
Reports and Settings

On the right hand side of the top navigation, at 18, you will find links to the overview pages for reports, dashboards and lists.
Additionally, if you hover over your user name you can click on any of the account settings and options. You can find a closer explanation of all of these options in our tutorial: The SISTRIX Account Settings – What are they For?