In the continually evolving realm of organic search, the last quarter has emerged as a wild one – many of us have been grappling with the implications of both the Helpful Content & August Core Updates. In this Google visibility report you'll learn about some of the wildest movements – 8 domains that have experienced notable fluctuations in visibility.
For an extensive list of winning and losing domains, scroll down to the list.
Winning domains Q3 2023
Temu
One of the biggest organic winners was temu.com. Temu's organic visibility increased by >1000% during the quarter.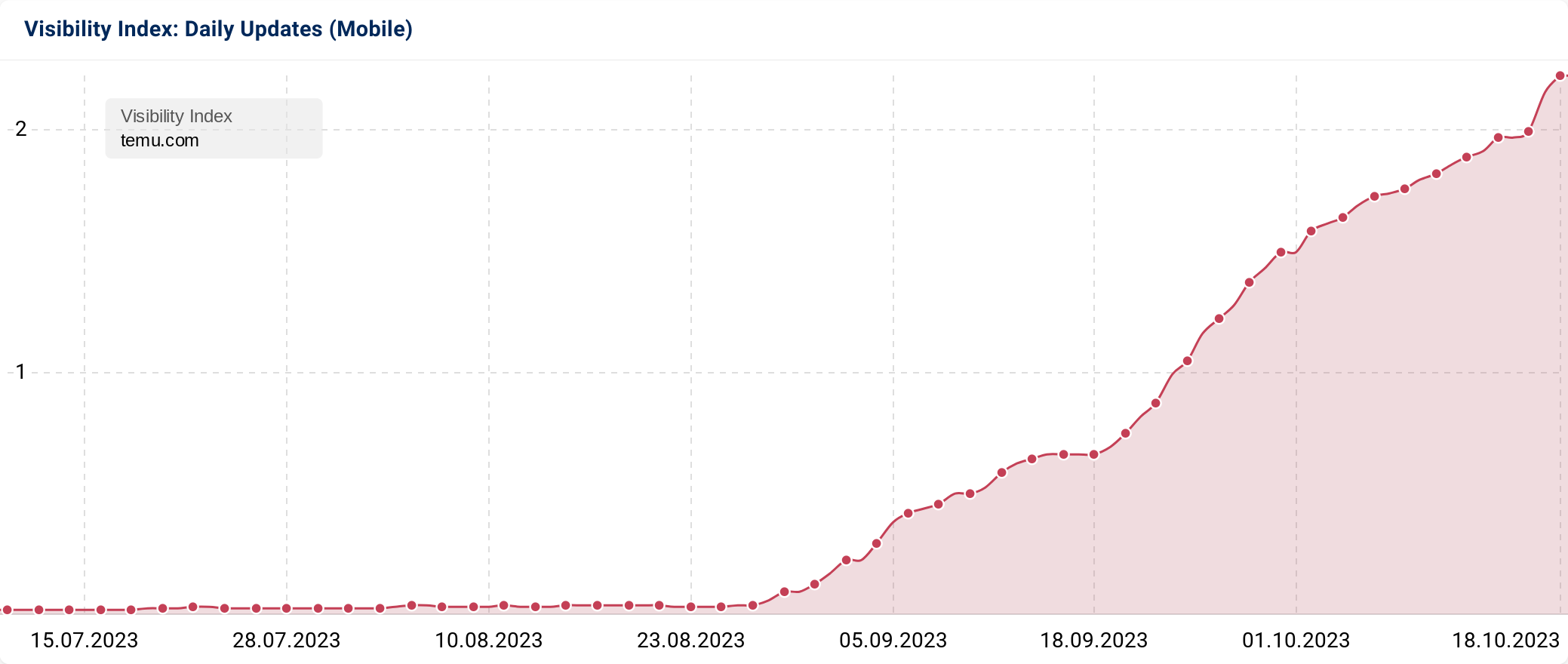 Temu is an online marketplace offering a wide range of products at heavily discounted prices, spanning from essential kitchen items to unique finds you didn't know you needed, including cat-themed desktop vacuum cleaners and solar lights shaped like watering cans.

Temu is a young business that started trading in July 2022. But they've become well-known in a short time, mainly because of their paid marketing & influencer-centric social media approach. SEO success doesn't happen overnight. However, Google Trends data indicates that their marketing focuses have influenced organic brand searches, clicks & traffic since mid-April. Given the recent confirmation from ex-Googler Eric Lehman about clicks being accounted for in the ranking process, this activity is likely to have been advantageous too.

Since its launch, Temu's legitimacy and safety has also come under considerable debate. This, along with the user-generated content from online influencers, will also result in backlinks and citations from authoritative publications, contributing to its organic authority.
Over the course of the 3 months analysed, the VI score for its UK subfolder rose by 161,45%. Almost all ranking URLs are unorganised within this directory.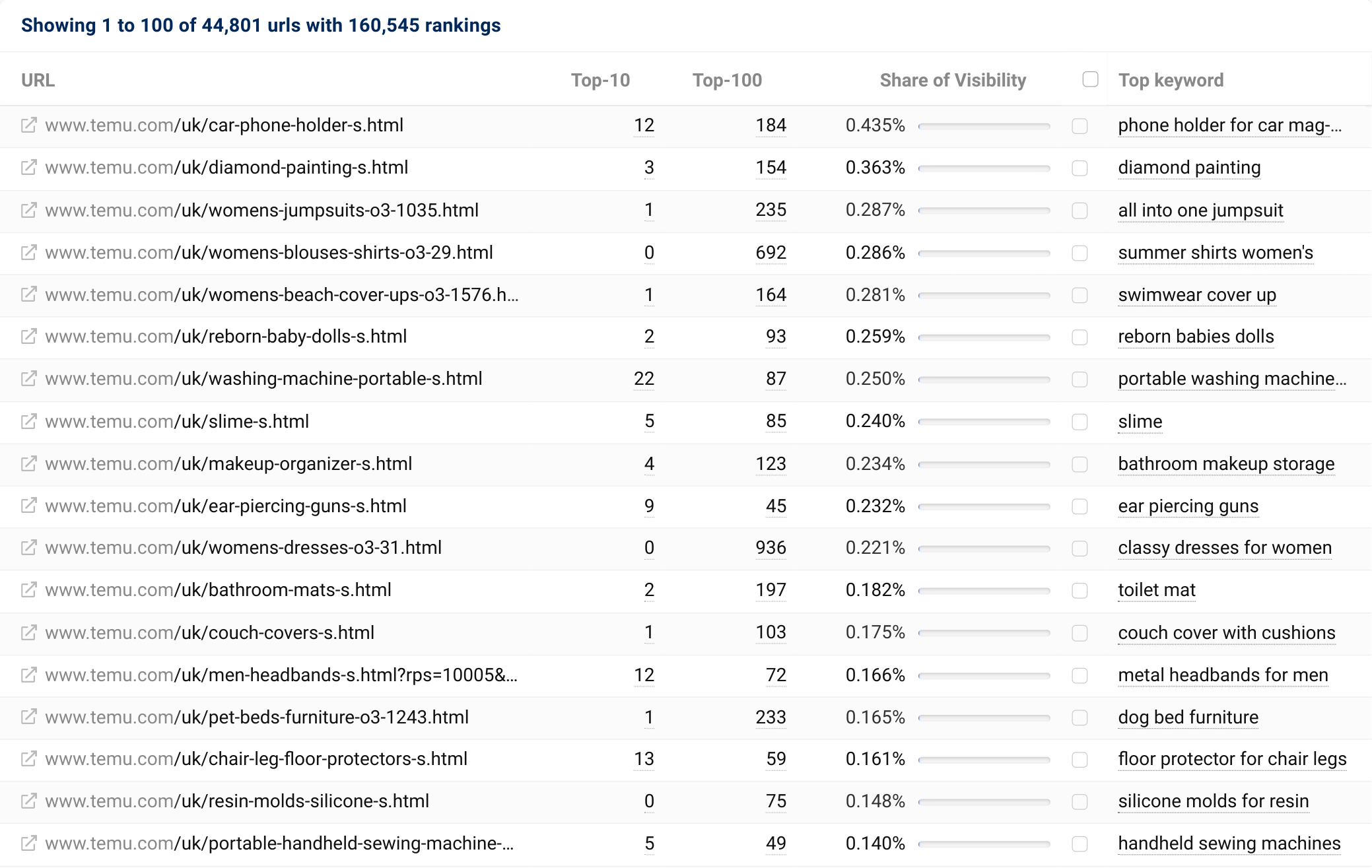 Since 26th July, temu.com has obtained rankings for 18,130 keywords, with positions improving for a further 394.
West Northamptonshire Council
Westnorthhants.gov.uk experienced a substantial visibility improvement before the August Core Update, with its Visibility Index score increasing by 978.5% from late July to October.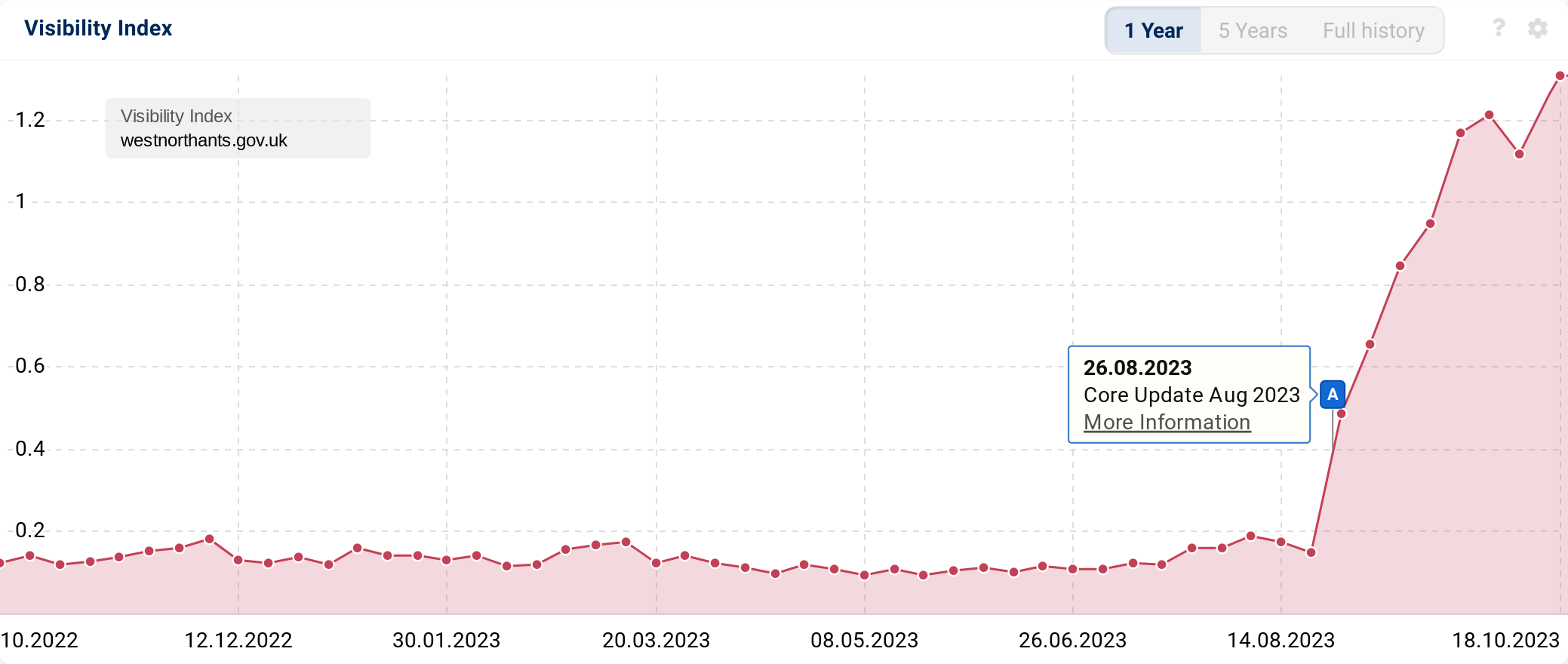 West Northamptonshire Council is a new unitary council that merges 3 pre-existing councils – Daventry District, Northampton & South Northants. Westnorthants.gov.uk launched with a holding page in March 2021 and officially launched on 1st April.
Reviewing the daventrydistricy.gov.uk, northampton.gov.uk & southhants.gov.uk domains confirms that although these sites are still live, they prominently feature a banner instructing users to visit westnorthants.gov.uk. Additionally, all the internal links to various information sections, such as Council Tax, Rubbish & Recycling and Business, have been revised to redirect users to the corresponding sections on the new unitary council website.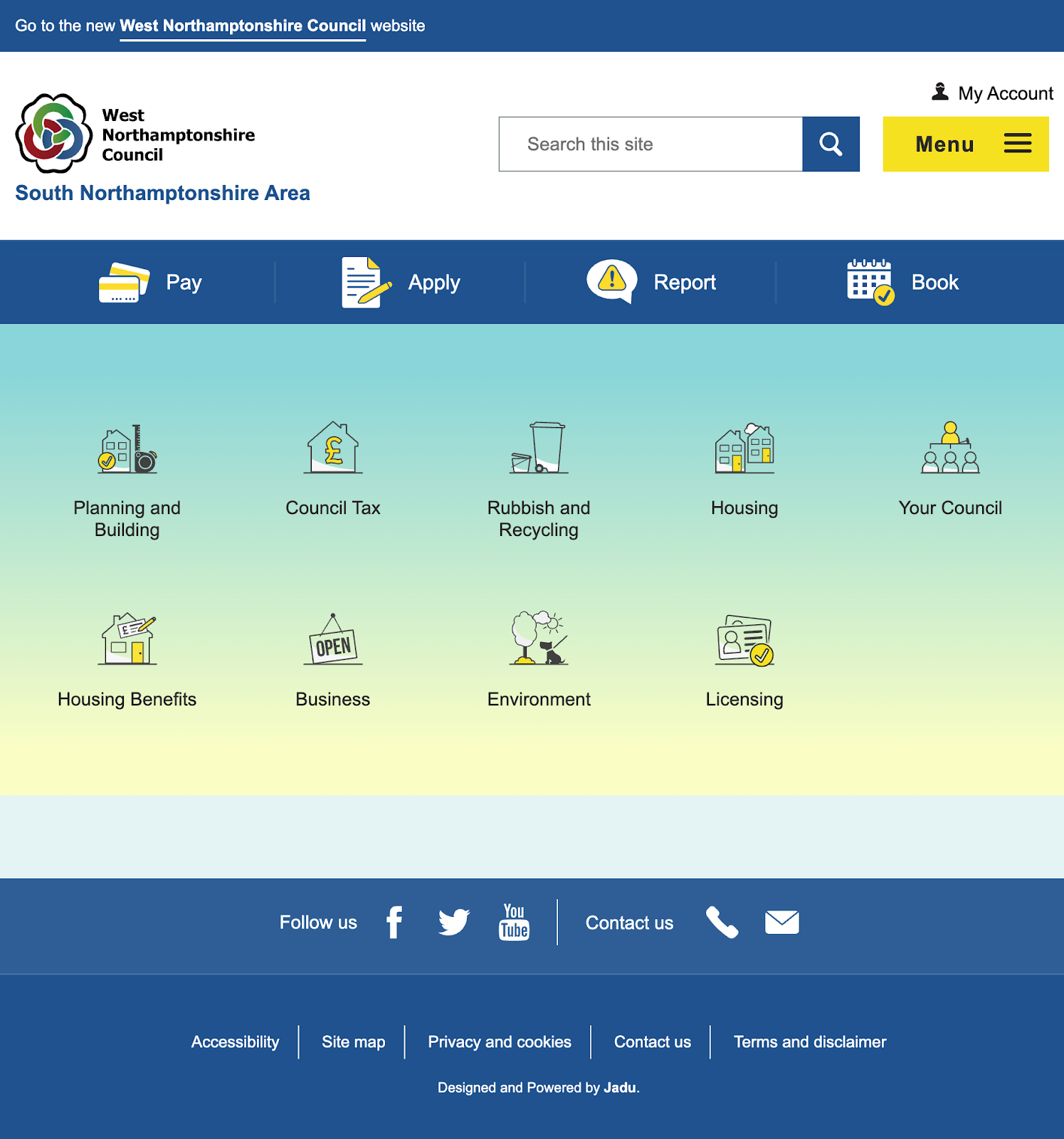 Wayback Machine archives also confirm that the 3 council websites transitioned to this new format shortly after the launch of the new site. However, initially, users were still directed to resources internally hosted by each one. This suggests that the content on the new site may not have been fully developed before going live. As a result, each pre-existing council site continued to refer to its respective resources until its content was consolidated and migrated. The internal resource links were only updated to external links on West Northants once this process was completed.
A domain comparison also indicates that these redirects were either only recently implemented or identified by Google, as the organic visibility of the Daventry District, Northampton & South Northants dropped in parallel with West Northamptonshire's surge. It is also possible that the Core Update assisted with the domain's SERP prominence.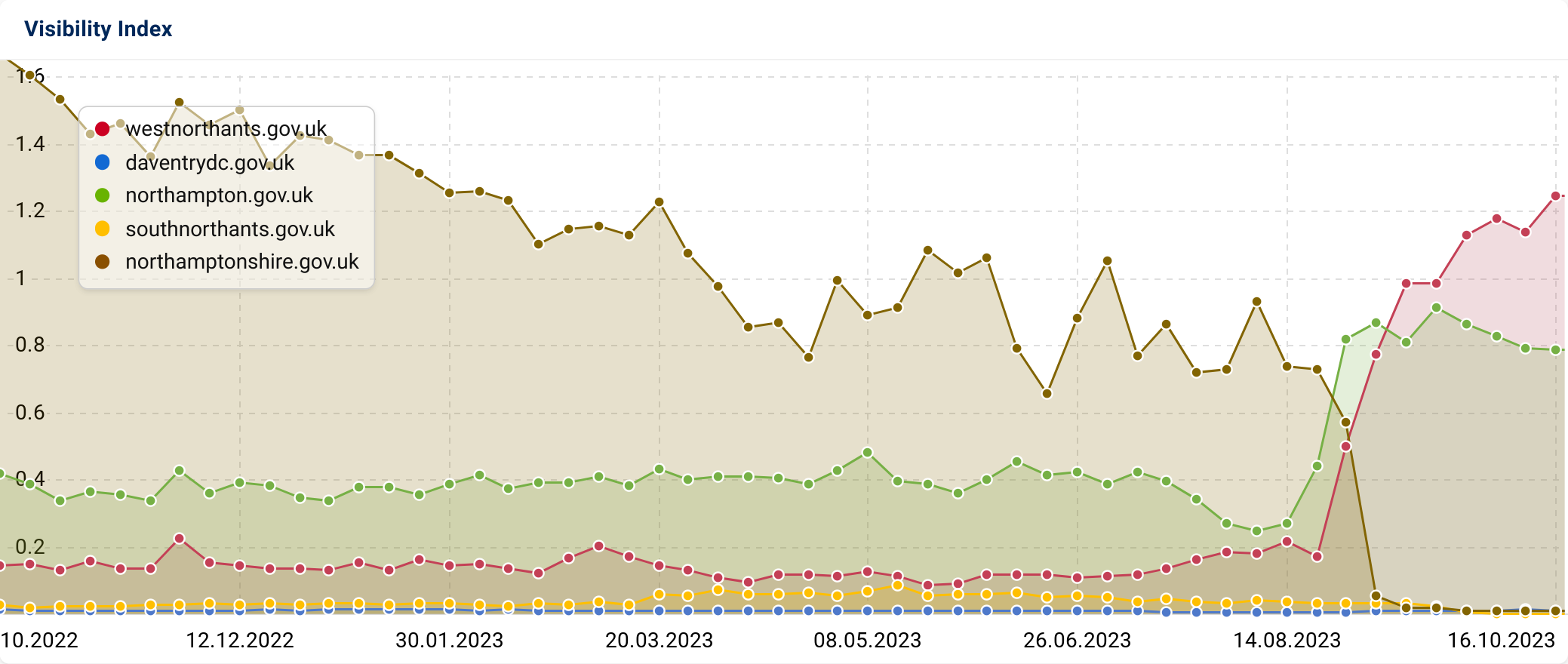 Greene King
Greene King is a leading UK pub retailer & brewer founded in Suffolk in 1799. The company's website, greeneking.co.uk, has seen an approx. 3.83 increase in Visibility Index points (+712.2%).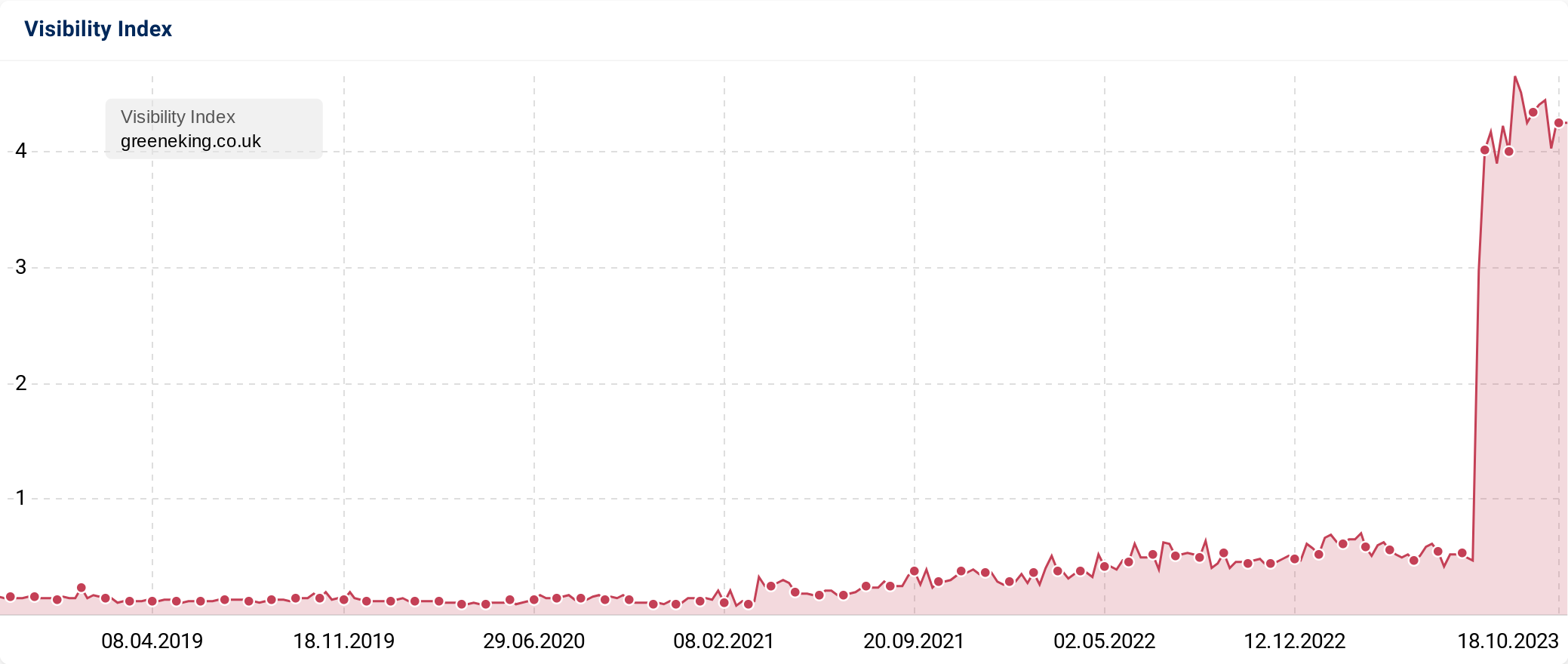 Despite having a website since 2000, it has struggled to gain Google SERP visibility until July 2023. Interestingly, the visibility uplift coincides with a recent website redesign carried out in June/July. While the website's surface-level architecture remains largely unchanged, significant enhancements to the user experience are evident through navigational improvements and the introduction of a more straightforward yet more sophisticated aesthetic.
Upon further exploration of the website's architecture, it is clear that content reworks have taken place. Notably, changes to their "Pubs" section, which have seemingly benefited them from a Google visibility perspective.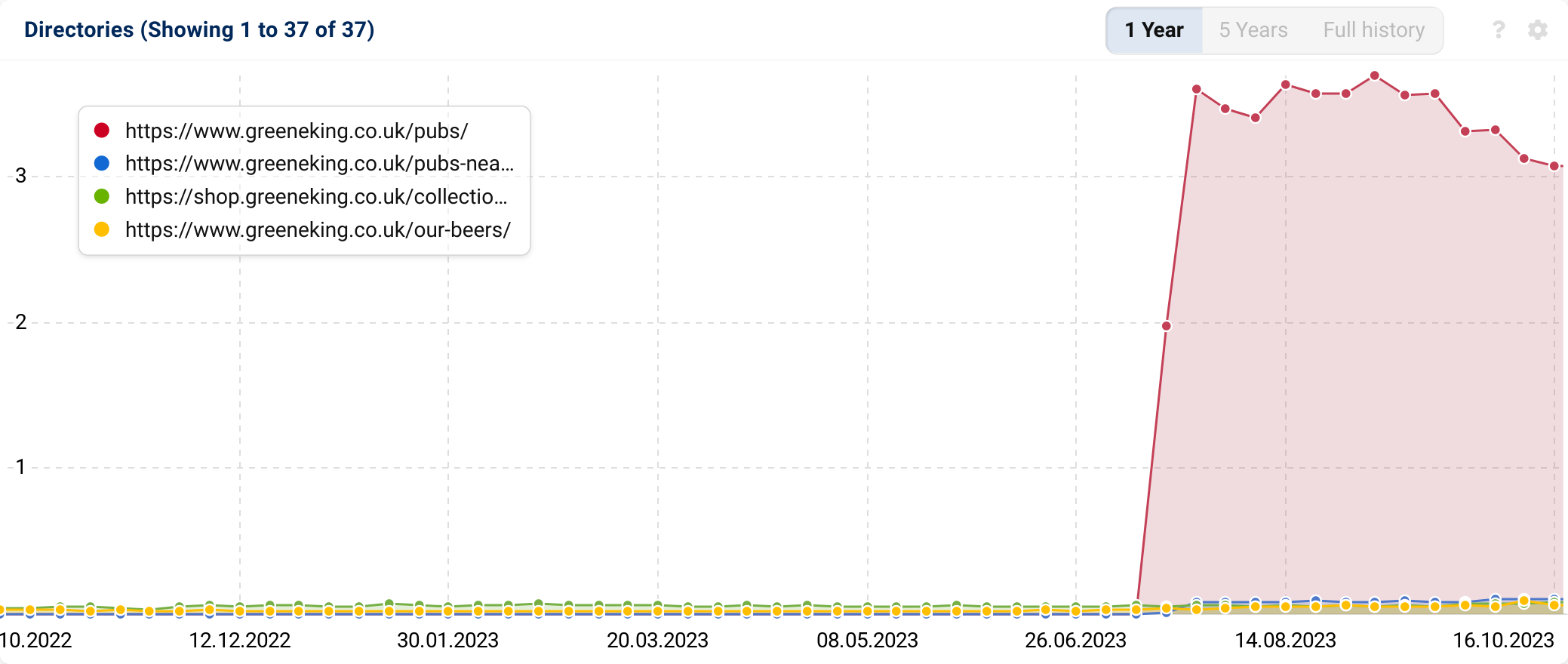 Before the introduction of the new website design, the "Find Your Local" button on the "Pubs, Restaurants & Hotels" page led users to a page titled "/map." This page provided users with the choice to search for pubs in either map view or list view.
The new design confirms a significant structural alteration to this directory. Similarly to the previous experience, the "Find Your Local" button now directs users to a page named "Pubs Near Me," where they can enter their postcode or activate their location to filter a pre-populated list of Greene King properties with a map view option. However, within these views, users can now go to either "View Menu" or "Visit Website"; with both CTAs sending users to a specific section within the "pub" subfolder for that specific pub.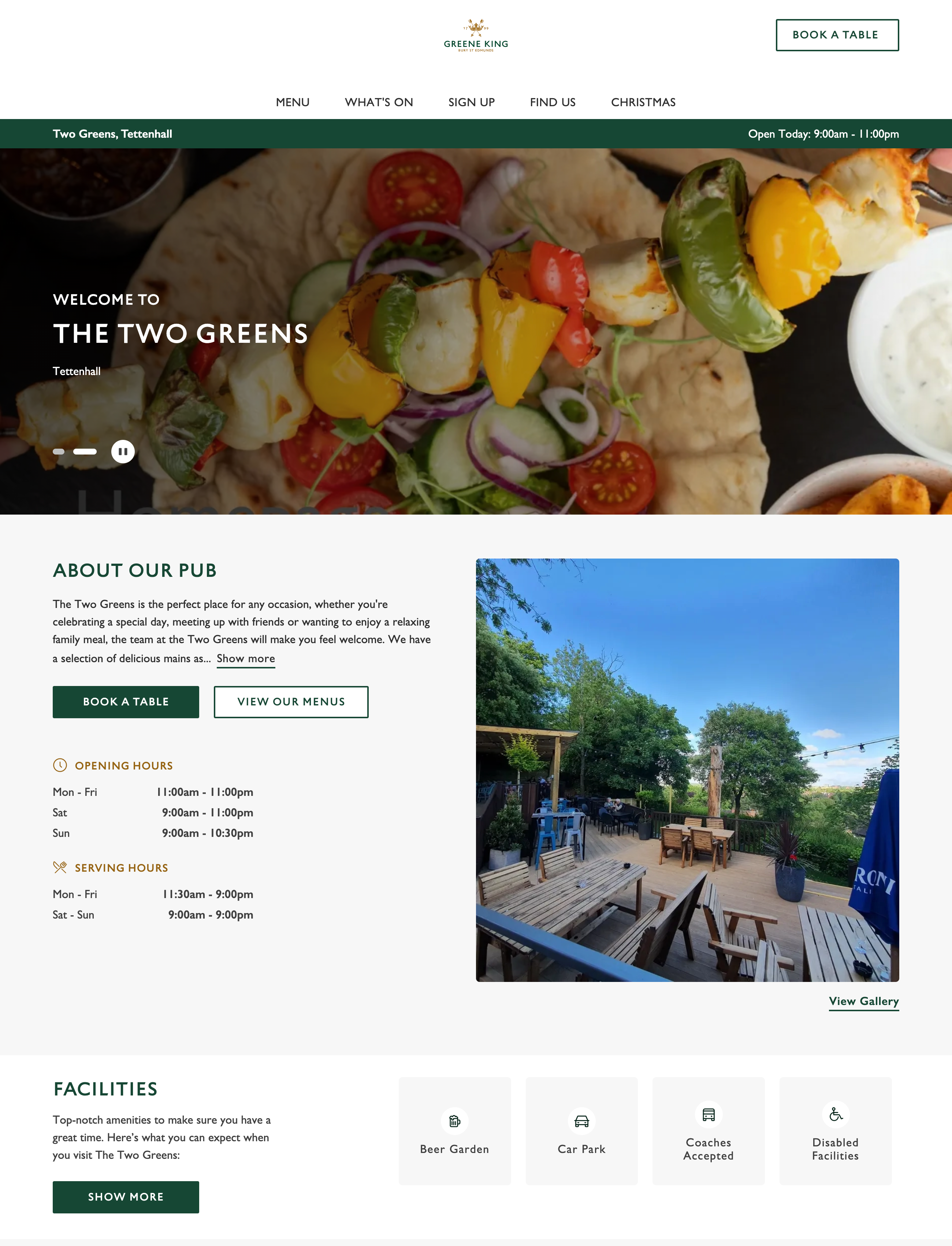 The URL for the above page follows this format to maximise location relevance: https://www.greeneking.co.uk/pubs/[county-name]/[pub-name]. These pages are essentially homepages for a pub microsite and when landed on, the navigation colour changes from green to white and the options change to include "Menus", "What's On" & "Christmas".
Since the implementation of the new design, the "pub" subfolder has obtained 46,239 new keywords and seen an increase in SERP positions for 5,186 existing ones.
Cambridge Press & Assessment
Cambridge.org, the home of the University of Cambridge's Press & Assessment division, has experienced a 123.16 VI point increase since 26th July 2023.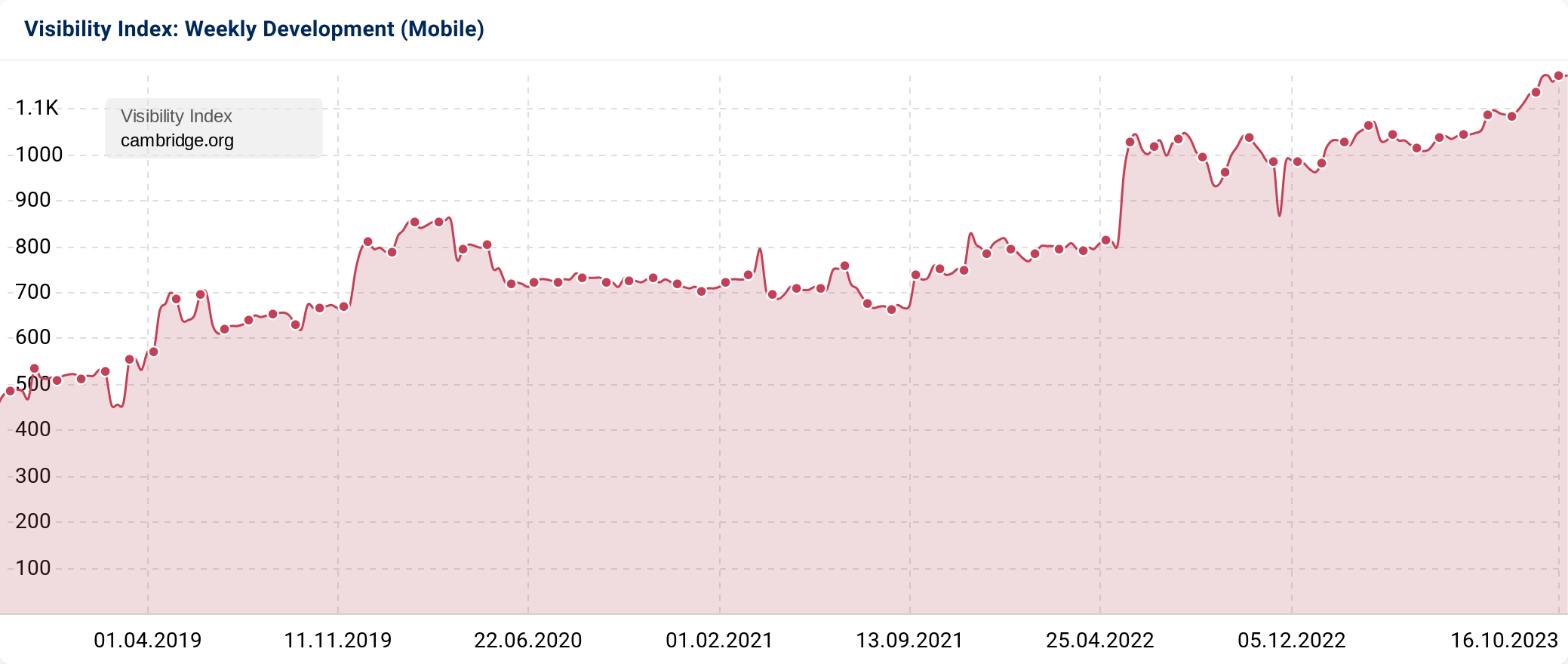 Since the beginning of the quarter, the website has acquired 321,682 new keyword rankings. Additionally, an existing 555,591 search queries have seen a position increase.
Delving deeper into the domain, we can see that the directory contributing most to this visibility uplift is their "Dictionary" subdomain; which has continued to significantly increase since December 2021.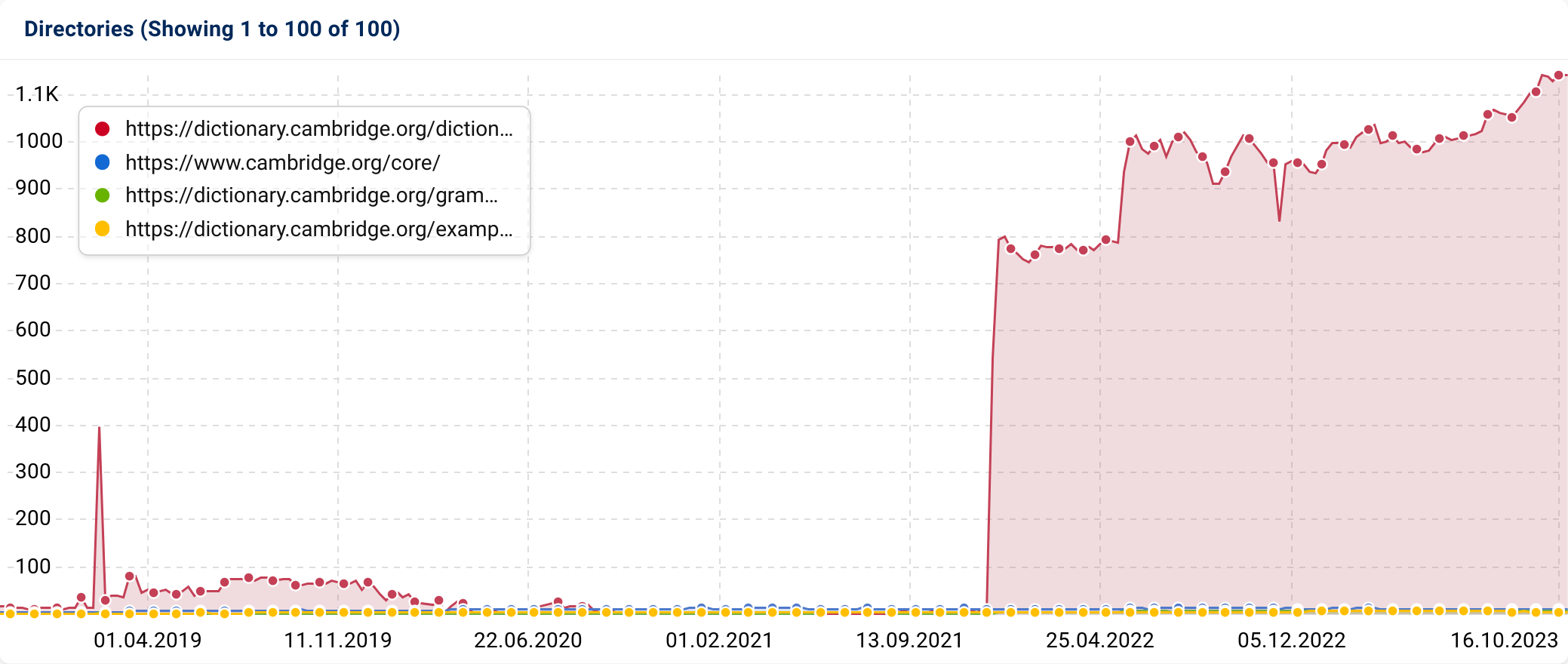 Over the quarter, the number of featured snippets that cambridge.org ranks for increased from 34,329 to 40,315 (+17.43%). Examining the associated URLs confirms that many of these are from the "dictionary" section.
As Google transitions towards the SGE, the SERP landscape and content prioritisation will continue to shift. Undoubtedly, there will be more alterations that will impact the content displayed in the main results, as well as rich and featured snippets, some of which will benefit information-based websites like cambridge.org.
100 winning domains
Below are the 50 winners by absolute change:
IndexWatch UK Q3 2023 Winners - absolute SISTRIX VI gains
And the top 50 by percent change:
IndexWatch UK Q3 2023 Winners - percentage SISTRIX VI gains
Losing Domains – Q3 2023
Beatport
Beatport.com is a music streaming site specifically for DJ mixes & Electronic Dance tracks from artists at all stages of their craft. During Q3, the domain's visibility dropped by a staggering 79.74%.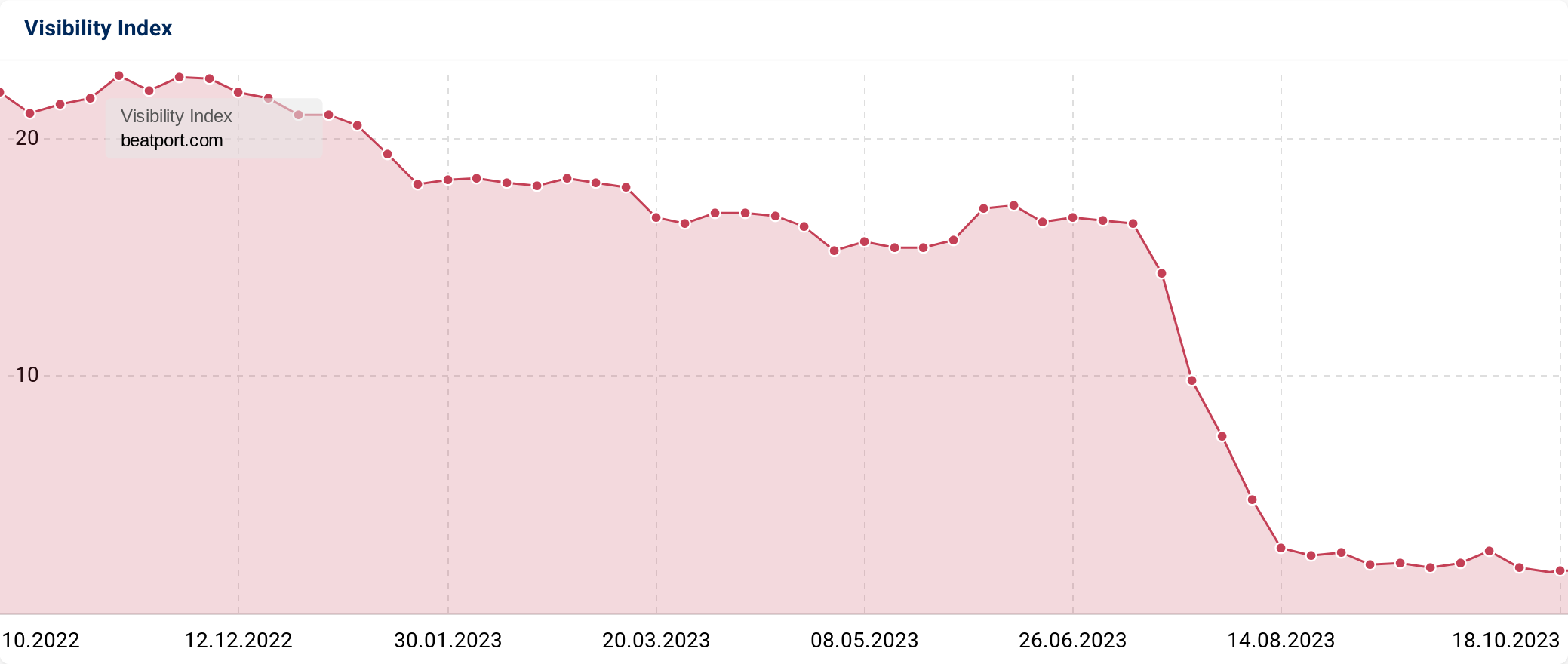 Investigating the site's directories confirms that the organic decline affected pages across all subfolders, indicating an overall issue with its technical setup, authority or relevance.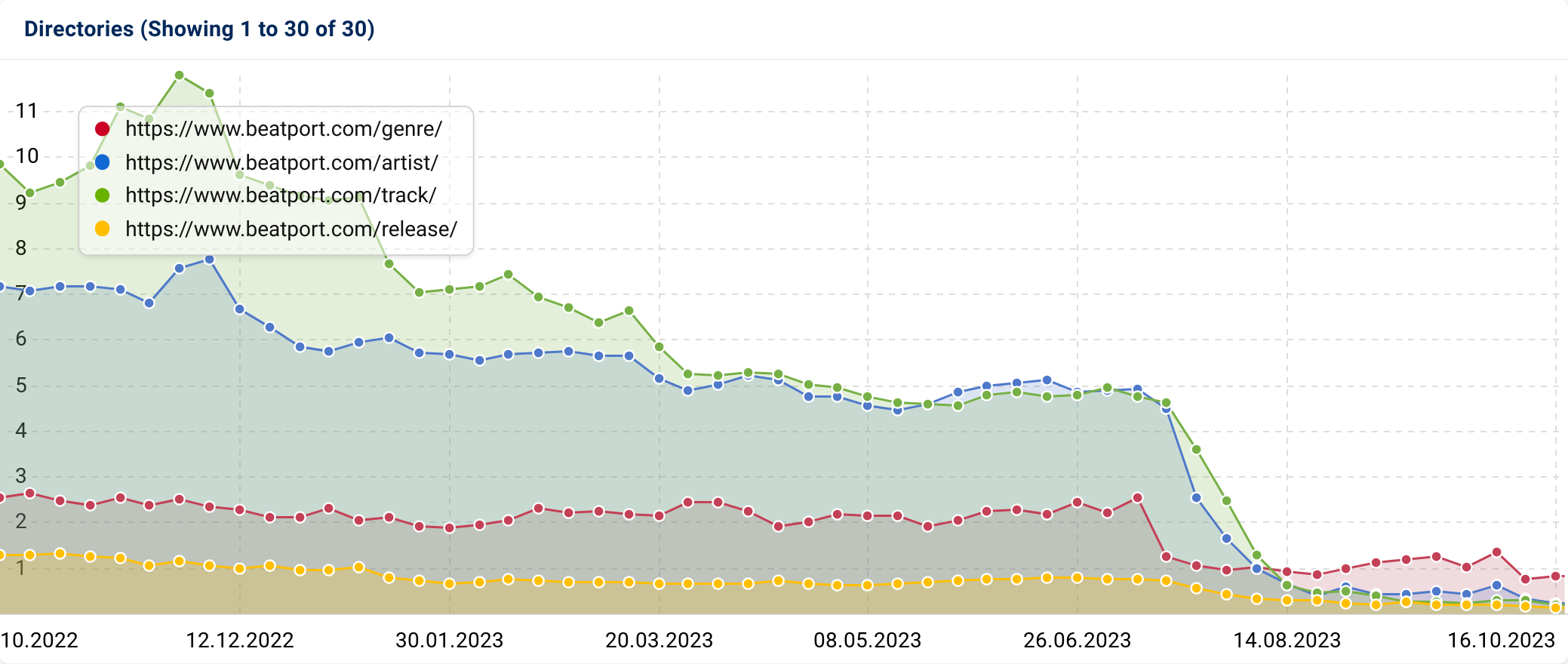 Since 26th June, the domain has lost rankings for a staggering 110,793 search queries and seen declines for a further 10,898. Reviewing this data also revealed that many existing keywords that have seen a ranking drop-off have done so due to changes in associated ranking URLs. This implies that Google has either reassessed the most pertinent content for those queries or encountered difficulties in determining the hierarchy of pages within the website.
Wayfair
Wayfair.co.uk, a haven for interior design enthusiasts, has fallen victim to the algorithmic shifts of 2023. Its Google visibility has been on a steady decline since Q4 of 2022, with the domain's Visibility Index score dropping by a further 30.69 points since 26th July.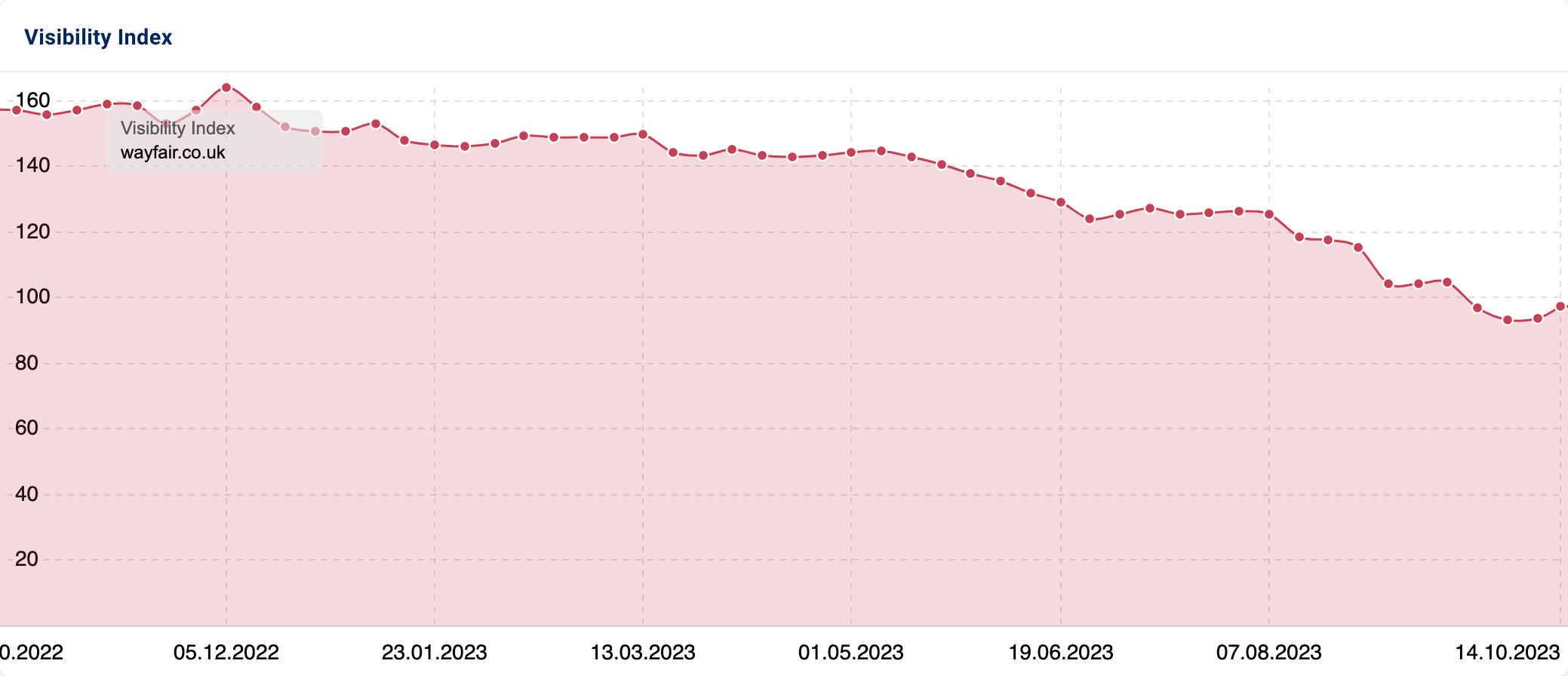 The sections which have seen the most notable drops are "Furniture", "Home Decor", "Kitchenware & Tableware" & "Garden".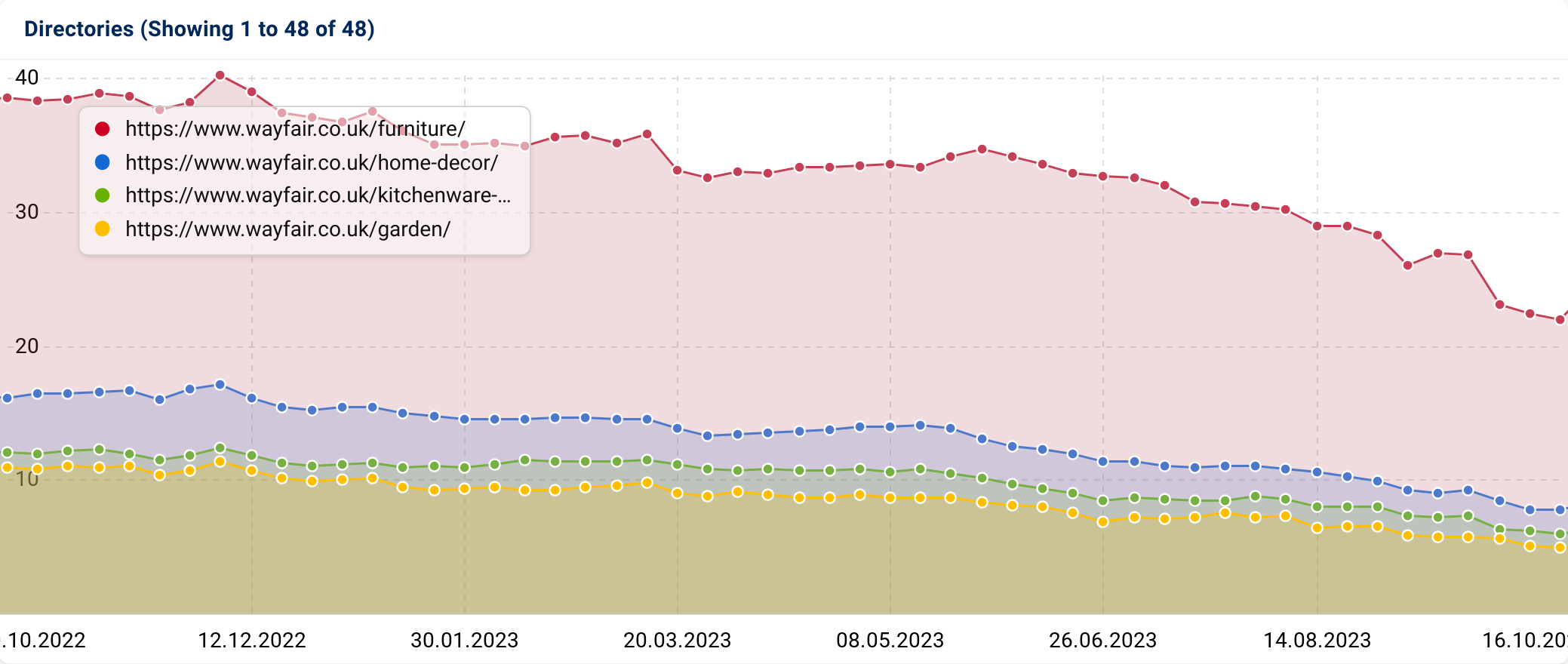 For the "Furniture" directory alone, there's been a decline in rankings for 21,863 keywords, with 43,705 experiencing drops. Similar to Beatport, some ranking decreases can be attributed to shifts in keyword allocation between similar pages. However, in cases where this isn't relevant, it appears to be a matter of product categories lacking in some way.
An initial observation when comparing Wayfair categories to those of competitors reveals a notable absence of product category content both above and below the product listings. Is this where their strategy may be falling short? It is certainly a way to differentiate categories and target a more diverse range of keywords outside of the core page elements.
Wayfair recently revealed its Q2 performance, highlighting a year-on-year increase in orders but a decline in revenue. When asked about this during a conversation with the company's CEO, Niraj Shah, he unveiled their ongoing strategy for achieving "sustainable and growing profitability." This strategy involves cost reduction, a renewed focus on foundational principles and the implementation of measures aimed at enhancing both customer and supplier loyalty.
As we know, SEO is a long-term endeavour that can ultimately lead to sustainable website traffic. This begs the question, is this part of their master plan? If so, do they have the right support in place to get the most out of organic search? It appears that the recent algorithm updates have not been particularly favourable to them over the past 10 months or so.
CopperKnob
Copperknob.co.uk is a website devoted to providing line dancing stepsheets, video tutorials and articles.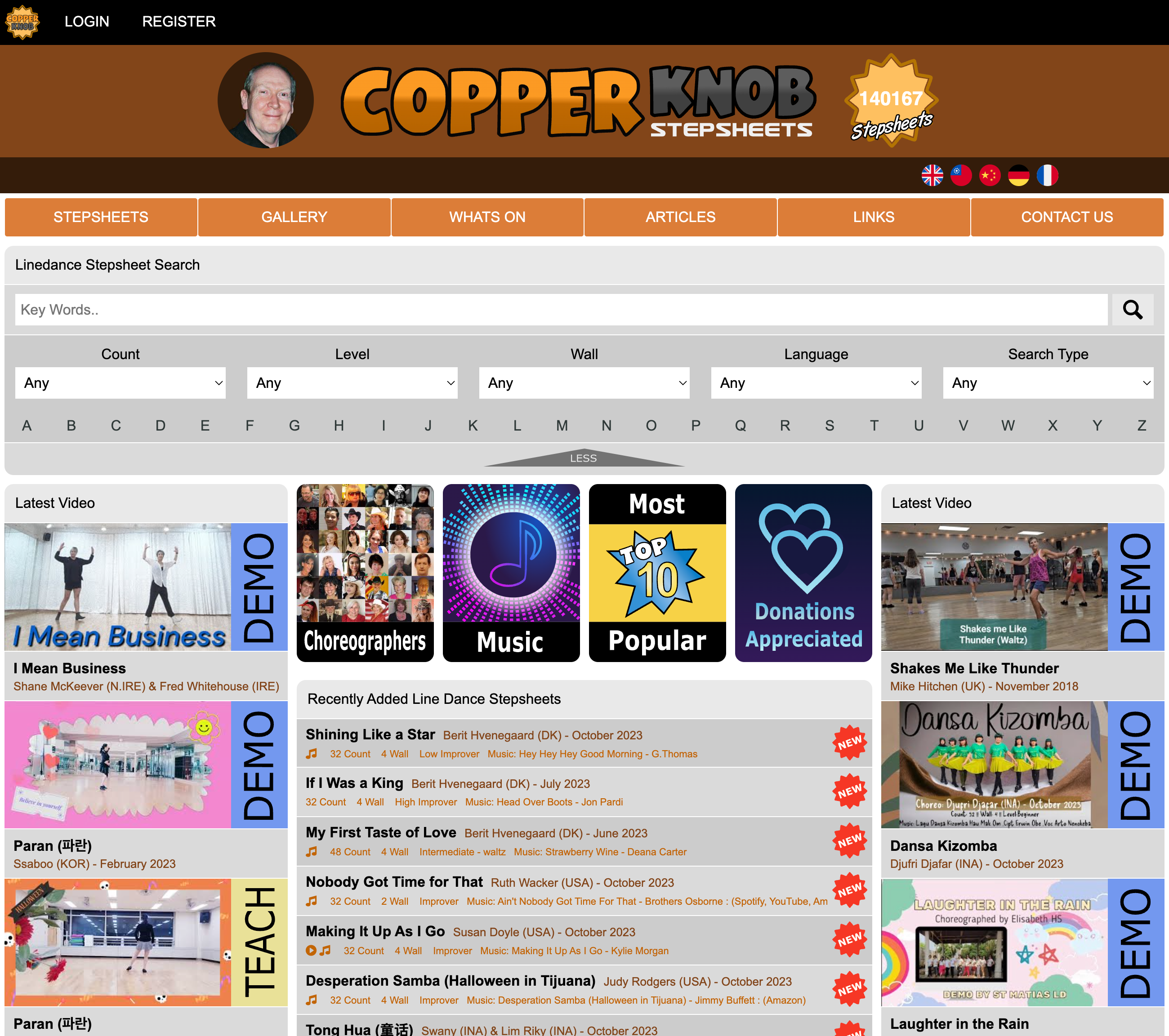 This quarter, its Google SERP visibility witnessed a substantial decrease of 69.32%. The drop-off occurred before the August Core & Helpful Content Updates.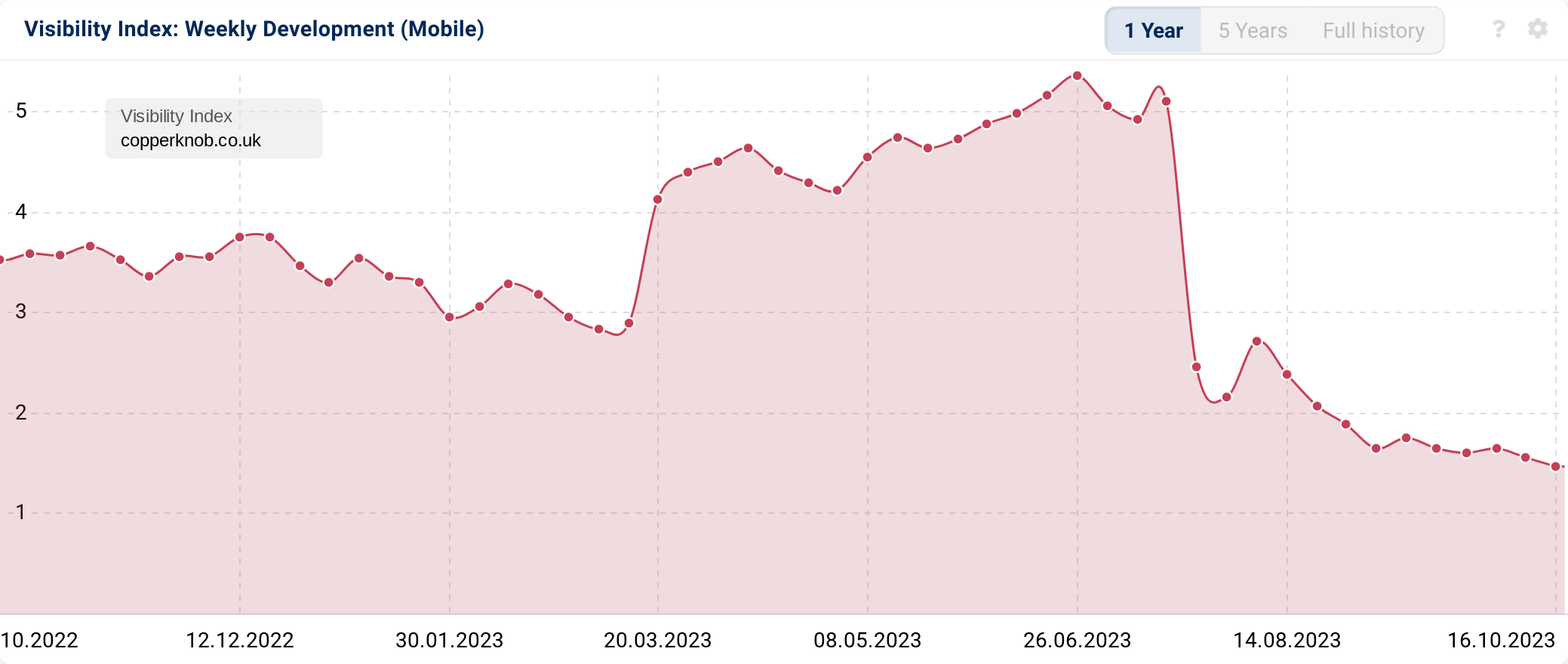 Checking directory performance shows that the sections that have suffered the most are "Stepsheets" and "Music". As the name implies, the "Stepsheets" section serves as a comprehensive library of stepsheets for various songs. Users can filter these stepsheets by count, level, wall, stepsheet language and search type, which includes criteria such as title, song or choreographer.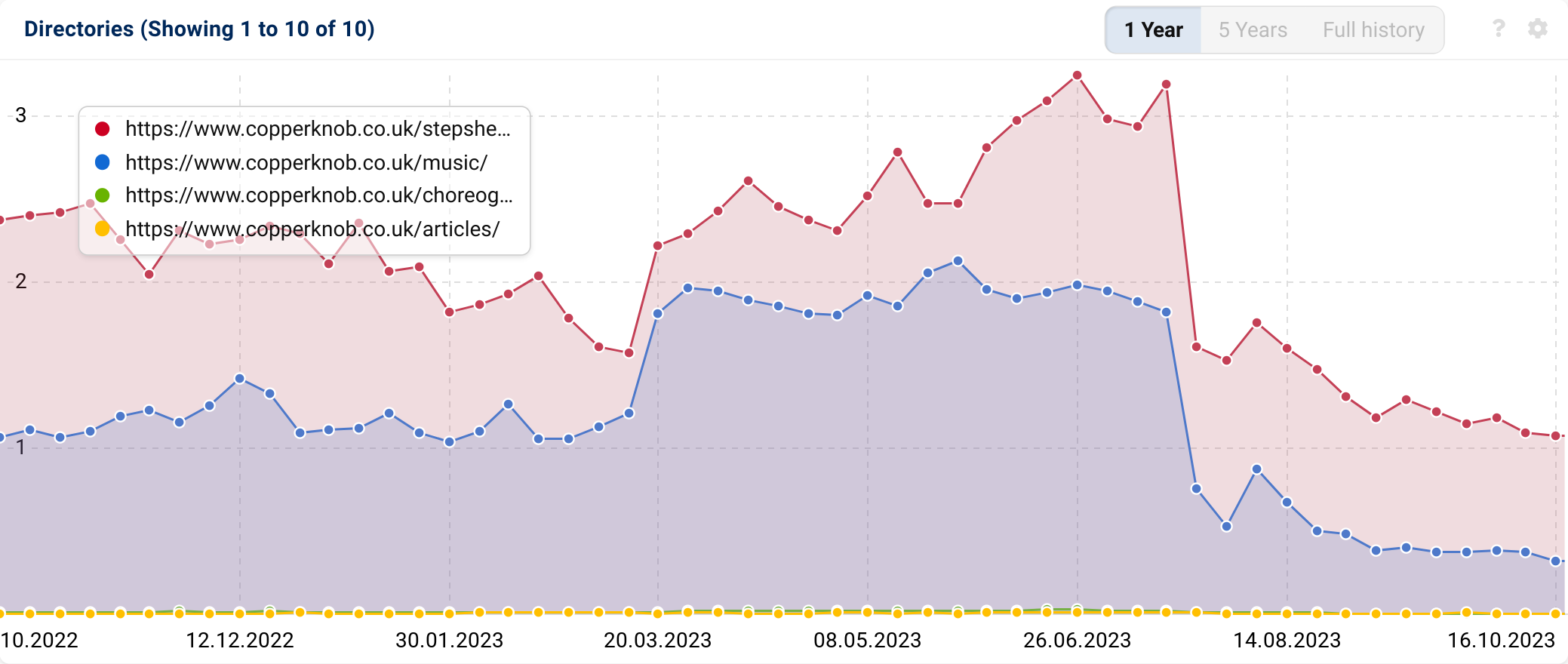 The entire CopperKnob site has witnessed a decline in 23,818 keyword rankings, with an additional 14,310 search terms experiencing drops.
​​A significant portion of these declines can be attributed to URL fluctuations for keywords related to well-known songs that face intense competition across various databases, music platforms and other dance-related websites. Examples include queries like "1 2 step ciara," "2 steps forward 3 steps back," and "22 taylor swift." Given the relatively smaller and less authoritative stature of the website compared to giants like Wikipedia, IMDB, Spotify and Apple Music, maintaining robust rankings for such highly competitive queries was always going to be challenging.
TV Guide
True to its domain name, tvguide.com serves as an online TV guide, offering program schedules and details for both live channels and streaming platforms, alongside show-specific news and recommendations.
During Q3, TV Guide's Google visibility in the UK saw a decline of 23.30 VI points. This decline commenced prior to the Core and Helpful Content Updates, but the persistence of these drops during these updates suggests that they may have worsened the situation.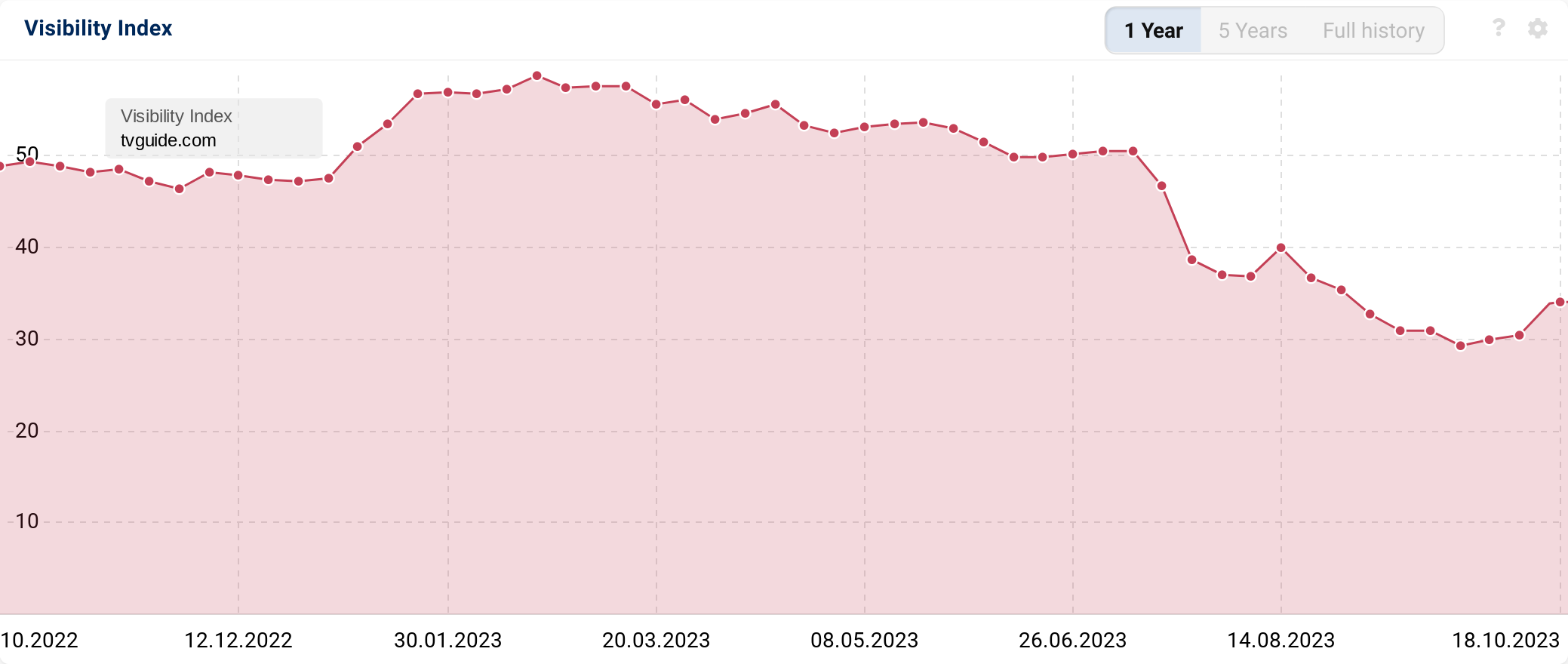 Further analysis of the keyword ranking distribution across tvguide.com indicates that due to the visibility fluctuations both before and during the algorithm updates, Page 1 keyword rankings have declined by 7.32%, while Page 2 rankings have dipped by 1.3%. In tandem with these changes, Page 3 rankings have seen a boost of 5.56%, with other rankings sliding further down the SERP results.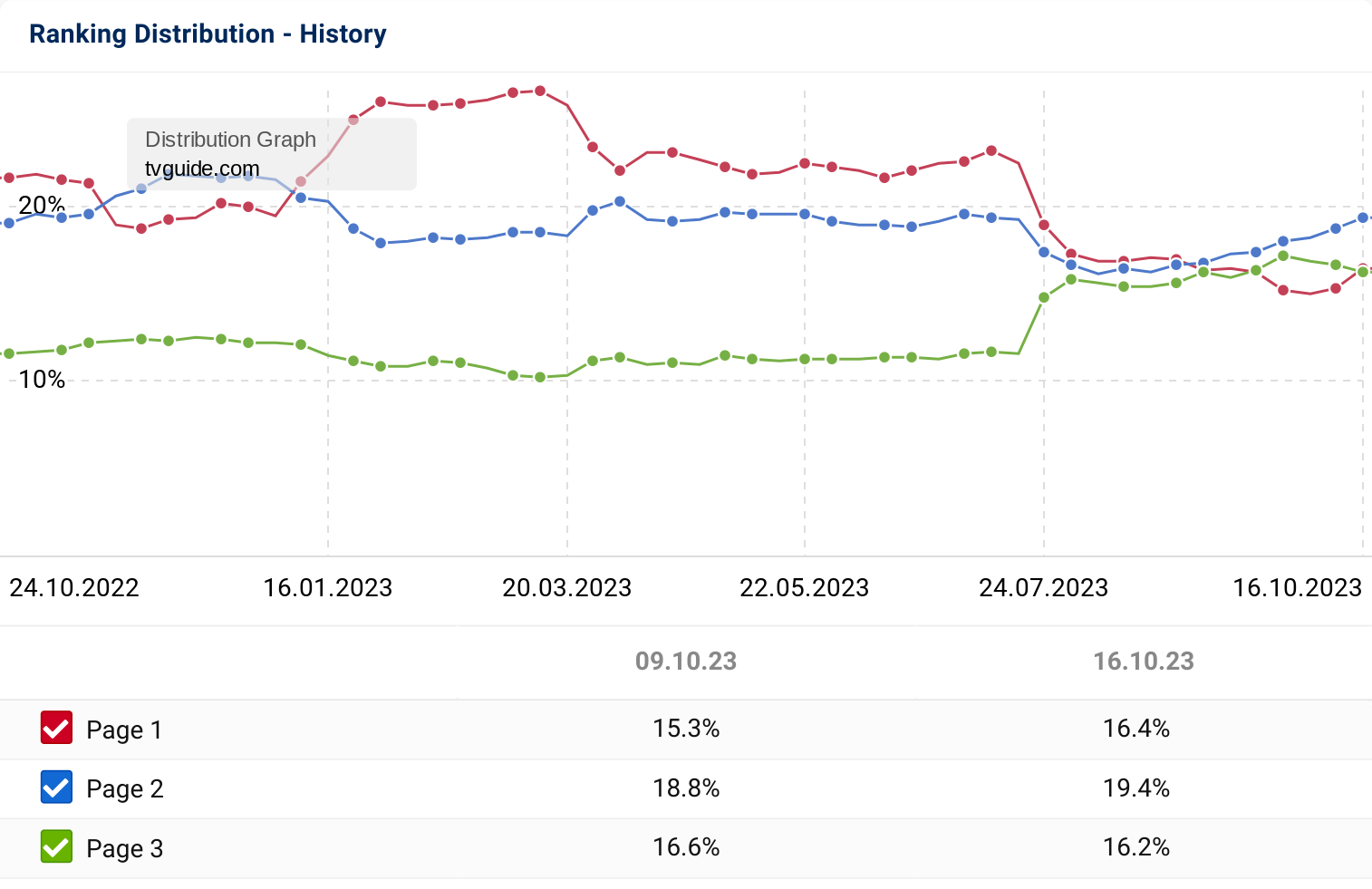 When making a comparison between the website design in January and its current state, a notable addition is the mega menu. Previously, users needed to click into navigation items to access subfolders for further exploration. It's unlikely that this change has had a negative impact on visibility, as implementing such a feature can be beneficial for PageRank distribution and establishing page hierarchy.
Nevertheless, delving into keyword-level data provides deeper insights. The website has experienced declines in rankings for 178,223 keywords, with decreases observed for 218,686 in total. These declines and losses span across various subsections. The breadth of these negative shifts implies that the changes in position are likely the result of a combination of factors, including intense competition for certain queries, a technical issue, concerns related to content quality or perhaps a broader issue related to E-E-A-T (Experience, Expertise, Authoritativeness & Trustworthiness).
100 losing domains
Below are the top 50 losers by absolute change:
IndexWatch UK Q3 2023 Winners - absolute SISTRIX VI gains
Top 50 losing domains by percent change:
IndexWatch UK Q3 2023 Winners - absolute SISTRIX VI gains
Conclusion
That wraps up our Q3 2023 winners and losers. Now, what valuable insights can we apply to enhance our SEO strategies for Q4 and beyond?
The process of merging and migrating content to a new website, especially when it involves consolidating content from various existing sources, can pose challenges. Yet, when executed effectively and accompanied by the proper implementation of 301 redirects, the new domain can reap remarkable rewards, just like westnorthants.gov.uk.
Several elements play a part in building organic authority & traffic, including the impact of positive or negative brand exposure leading to citations and backlinks. This has likely contributed to Temu's recent SEO success.
The simplest of website redesigns, restructures and enhancements can significantly boost organic search performance when approached with a user-centric strategy rather than a Google-centric one.
Google continues to refine the Search Generative Experience, leading to frequent changes to the SERP landscape that impact the presentation of primary results and the emphasis placed on various snippets. During Q3, cambridge.org appeared to benefit from these developments.
Visibility declines don't always result from low-quality content. Sharing highly competitive search queries with many authoritative and trusted websites often leads to keyword losses and drops. The key is to evaluate if there are ways to enhance your pages for better visibility in these queries.
Certain websites commonly experience keyword overlaps and frequent URL adjustments. However, establishing clear categories to accommodate popular themes, where possible, can enhance page relevance and promote URL consistency.
Methodology
We've analysed the top raising and falling domains in UK Google Search using the SISTRIX Visibility Index. These domains experienced substantial changes in visibility between 26th July and 2nd October 2023. 

Please note: Visibility Index (VI) values are free of external influences like seasonality.