SISTRIX has been analysing the visibility of all domains with rankings on Google.co.uk, since 2010. The SISTRIX Visibility Index (VI) is well suited to easily comparing domains with each other and viewing changes over time. In this article we show you the top 100 most visible domains and analyse some of the changes seen. This update, 7th March 2023.
Since 2022 we have presented the VI Rank of every domain in the database (currently 4.5 million domains for the UK.) Here, and fully updated, we present the Top-100 most-visible websites on Google Search in the UK. The values are based on mobile search. Some analysis is provided below.
The Top 100 domains in the UK by Visibility Index March 2023. Changes since August 2022
VI = Visibility Index – a measurement of organic search visibility.
A history of ranking domains: 11 years in 60 seconds
Latest UK domain analysis
Since August 2022 there are 10 new entries in the top 100:
last.fm (VI Rank 69)
nhsinform.scot (VI Rank 79)
oxfordlearnersdictionaries.com (VI Rank 86)
hopkinsmedicine.org (VI Rank 91)
sportsdirect.com (VI Rank 93)
mirror.co.uk (VI Rank 94)
europa.eu (VI Rank 96)
very.co.uk (VI Rank 98)
nationalgeographic.com (VI Rank 99)
moneysupermarket.com (VI Rank 100)
The 10 domains that have fallen out of the Top 100 since August 2022 are:
lexico.com (VI Rank 60)
yourdictionary.com (VI Rank 61)
pinterest.co.uk (VI Rank 69)
gumtree.com (VI Rank 82)
houseoffraser.co.uk (VI Rank 91)
tiktok.com (VI Rank 92)
nytimes.com (VI Rank 94)
techradar.com (VI Rank 95)
history.com (VI Rank 97)
techtarget.com (VI Rank 99)
One of the more interesting losses of the last 6 months is amazon.com. The US version of the retailer has dropped 20 places and given up over 100 VI points. On the other Amazon hand, however, the .co.uk site gained 573 VI points making it a net gain for Amazon in UK search.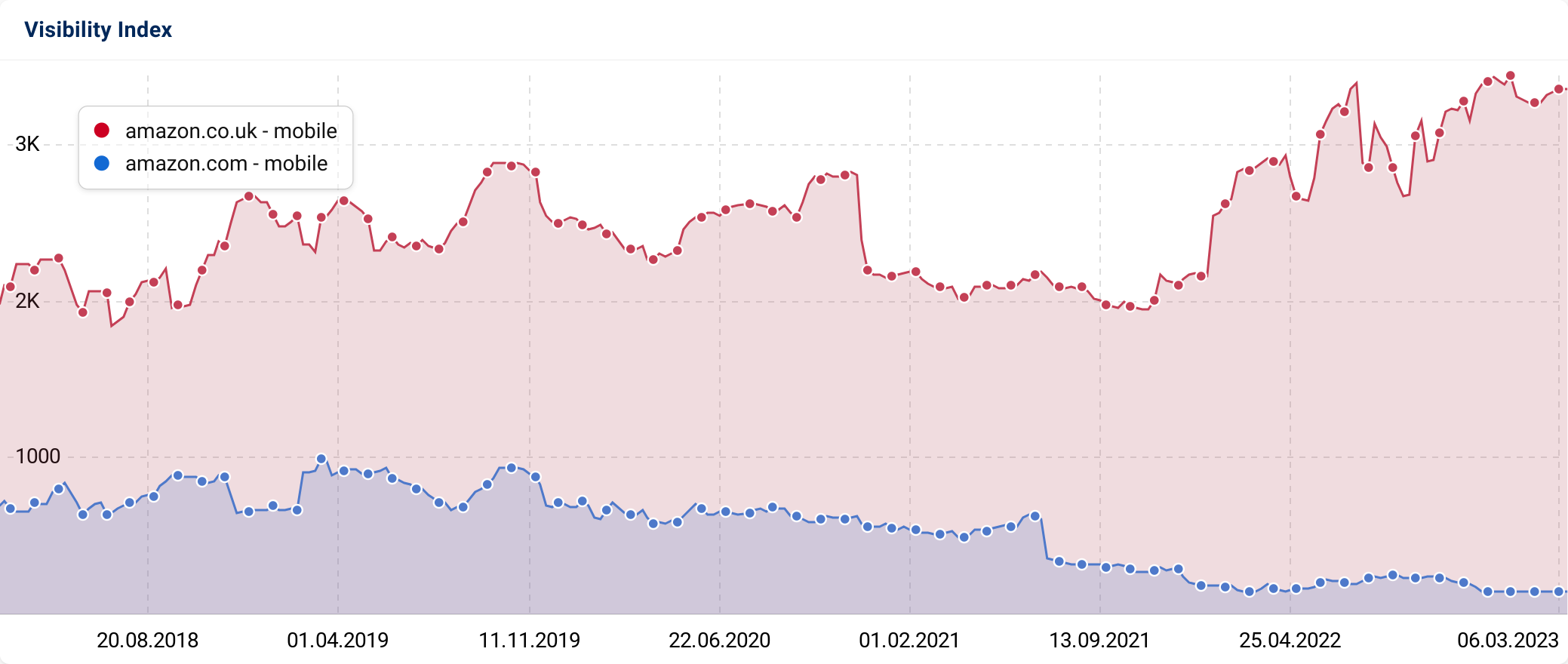 In August 2022 we saw TikTok entering at position 92. This month it's gone again and sits with a VI Rank of 108. Sharp rises were followed by a sharp fall in Q4 2022: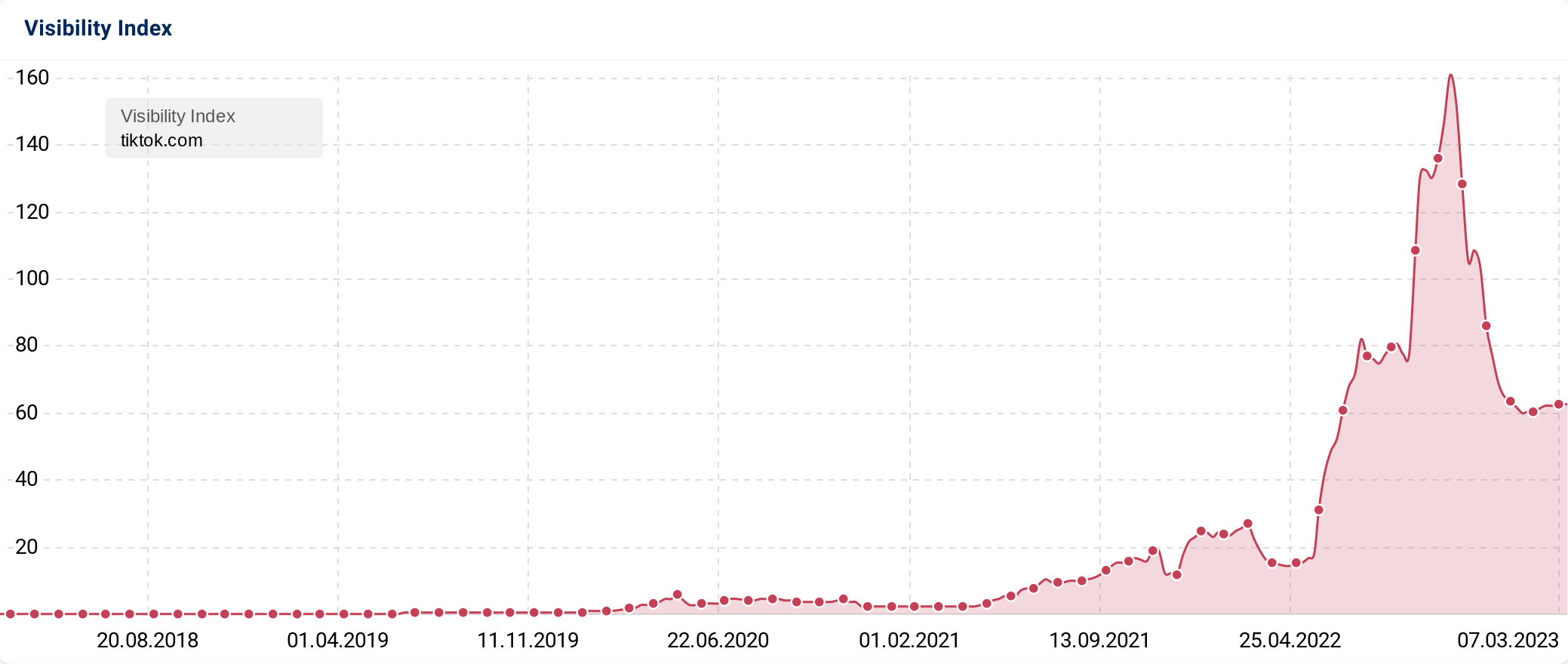 Retail (Marketplaces)
There are 18 retail brands in the UK top 100 although some must now be considered multi-marketplaces like Amazon and Ebay. Domains such as diy.com, therange.co.uk and others are no longer sourcing and fulfilling their exclusively own products with The Range declaring that 30% of the products sold last summer, were from the marketplace.

Here's the list of UK retailers appearing in the top 100 in March 2023.
argos.co.uk VI: 524.283
johnlewis.com VI: 274.505
screwfix.com VI: 190.001
currys.co.uk VI: 163.409
next.co.uk VI: 163.340
wayfair.co.uk VI: 149.380
diy.com VI: 140.858
asos.com VI: 129.318
boots.com VI: 111.584
tesco.com VI: 111.073
therange.co.uk VI: 109.433
ikea.com VI: 101.891
marksandspencer.com VI: 99.160
halfords.com VI: 82.231
dunelm.com VI: 78.152
sportsdirect.com VI: 75.027
asda.com VI: 71.589
very.co.uk VI: 70.209
Non-profit domains (org.uk) top 100
The top 100 org.uk domains are (mostly) non-profit organisations. We've done some case-study analysis but below you can find the most recent Top 100 list.
Top 100 org.uk domains by VI, Jan 2023
Top News Media Domains in Google Search
The image and chart below shows the market share of the 20 most visible news media domains in Google UK organic search results as of 23rd Jan 2023. It's important to remember that this is based on organic search results and doesn't include the Top Stories box.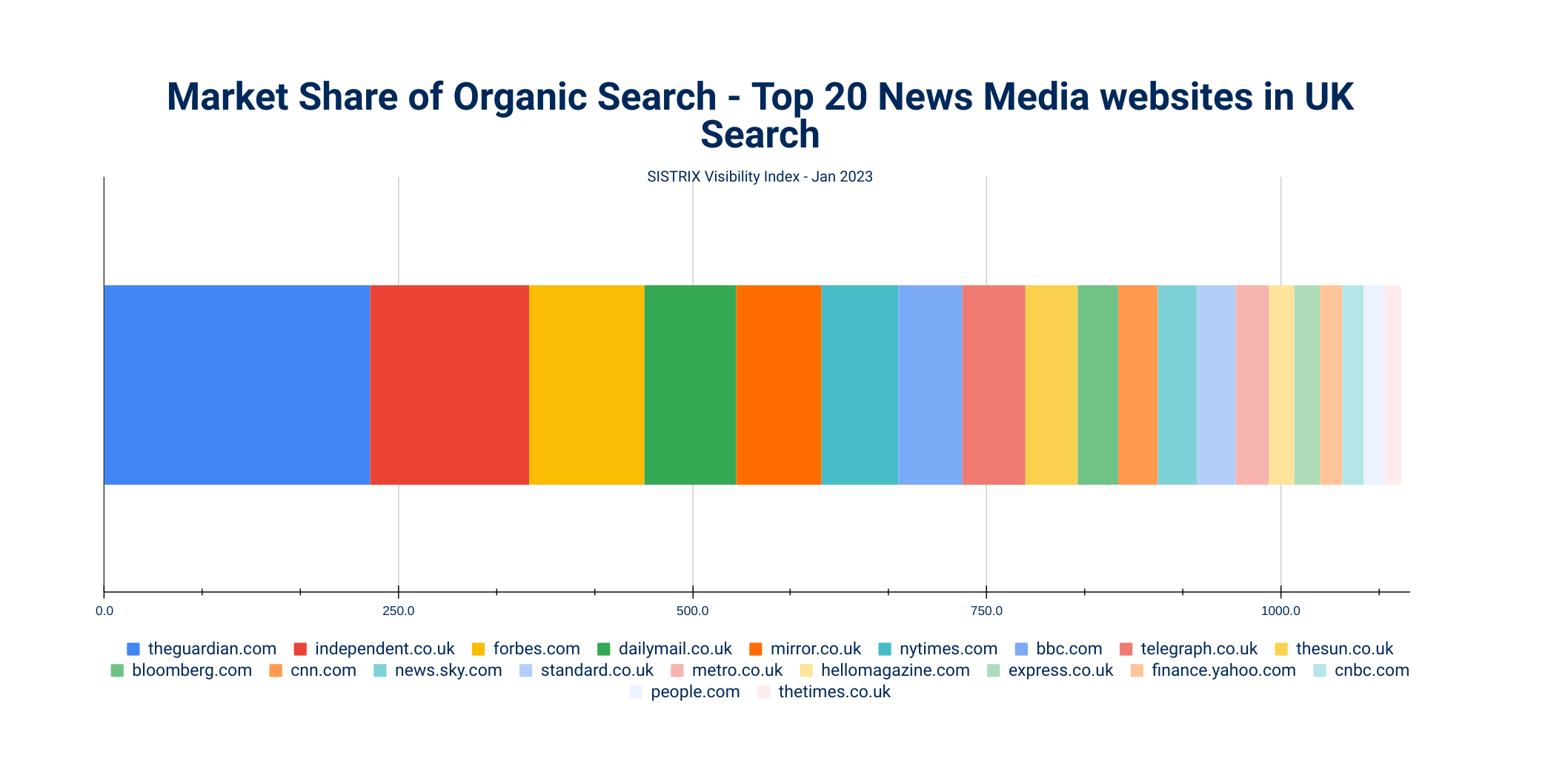 The Top 20 most visible news domains in UK search, Jan 23 2023.
| Domain | VI 25th Jan 2023 |
| --- | --- |
| theguardian.com | 226.0 |
| independent.co.uk | 134.9 |
| forbes.com | 98.2 |
| dailymail.co.uk | 77.6 |
| mirror.co.uk | 72.6 |
| nytimes.com | 66.1 |
| bbc.com | 54.0 |
| telegraph.co.uk | 53.2 |
| thesun.co.uk | 44.6 |
| bloomberg.com | 34.6 |
| cnn.com | 33.7 |
| news.sky.com | 33.2 |
| standard.co.uk | 32.6 |
| metro.co.uk | 28.6 |
| hellomagazine.com | 21.7 |
| express.co.uk | 21.3 |
| finance.yahoo.com | 19.1 |
| cnbc.com | 18.3 |
| people.com | 18.1 |
| thetimes.co.uk | 13.8 |
How can I grow a top-100 VI domain?
You're not in the Top 100? Don't worry! These domains represent an extremely small number of domains that rank. They are generally very mature, have a strong brand and usually cover an extremely wide range of topics. Be inspired by domains like therange.co.uk. 10 years ago it had a Visibility Index of just 0.56, representing 1/125th of the visibility it has today. The next.co.uk and goodhousekeeping.com domains are also good examples of ever-stable domains in the UK that one can take inspiration and ideas from. Look for good examples in your industry sector and learn from them.
IndexWatch
In our annual IndexWatch analysis, you'll find a detailed list and analysis of the biggest winners and losers of the year. View all IndexWatch articles here.
What is the SISTRIX Visibility Index?
We use a stable keyword set of 1.000.000 keywords (search phrases) and evaluate the first 100 search results on Google.co.uk to create a daily Visibility Index (VI) for desktop and mobile search. The keywords are chosen in such a way that they reflect the average search behaviour for the UK.
The results are then weighed by position and search volume for each keyword. Finally, we accumulate all the values for all the rankings found for a domain, which results in the SISTRIX Visibility Index.
SISTRIX has been calculating the Visibility Index scores with great accuracy and reliability since 2008. The VI is calculated for 30 different coutnries. On this page you'll find more detailed information on the Visibility Index.