The .org.uk domain registry has 440,642 registered domains and nearly all are owned by non-profit organisations. The aim of the non-profit websites in this domain space is to be visible, valuable, trustworthy and transparent, within a defined, sometimes sensitive topic remit – which sounds like a good starting point for Google rankings. 95% of the top 200 org.uk domains gained visibility in 2022. In this article we take a closer look within the Top 100 and learn from the websites that performed so well, in a year in which helpful content was under scrutiny.
One of the core tasks of a charity is to be visible, and that includes being visible in search. The aim must always be the first page of results, for their focus topic, for all types of user intent. Trust is absolutely critical too so that makes non-profit websites a very interesting category to look at, especially when they are dealing with sensitive topics.
In total we have 1498 org.uk domains in the SISTRIX database that have a Visibility Index of over 0.1. There are around 9000 domains that have a Visibility Index of over 0.01. A very high percentage of the domains that have been active in this space, however, have little-to-no visibility at all. The domains could be dealing with extremely niche topics, or they could be projects that have been closed down. Some of these will also have SEO issues.
Let's take a look at the Top 100 first, and then we'll look at some case studies and content projects from within them.
Top 100 org.uk domains by VI, Jan 2023
The first thing to note is that none of these domains are huge in comparison to some of the commercial websites out there where all the top 100 UK domains have a Visibility Index of over 73. That's no surprise though, because all of these sites focus on a single topic, and their remit may include being available for some topics that, thankfully, have very few searches per month.
You can find out more about the Visibility Index, and check any domain's VI for free across 40 countries, using our tools and content.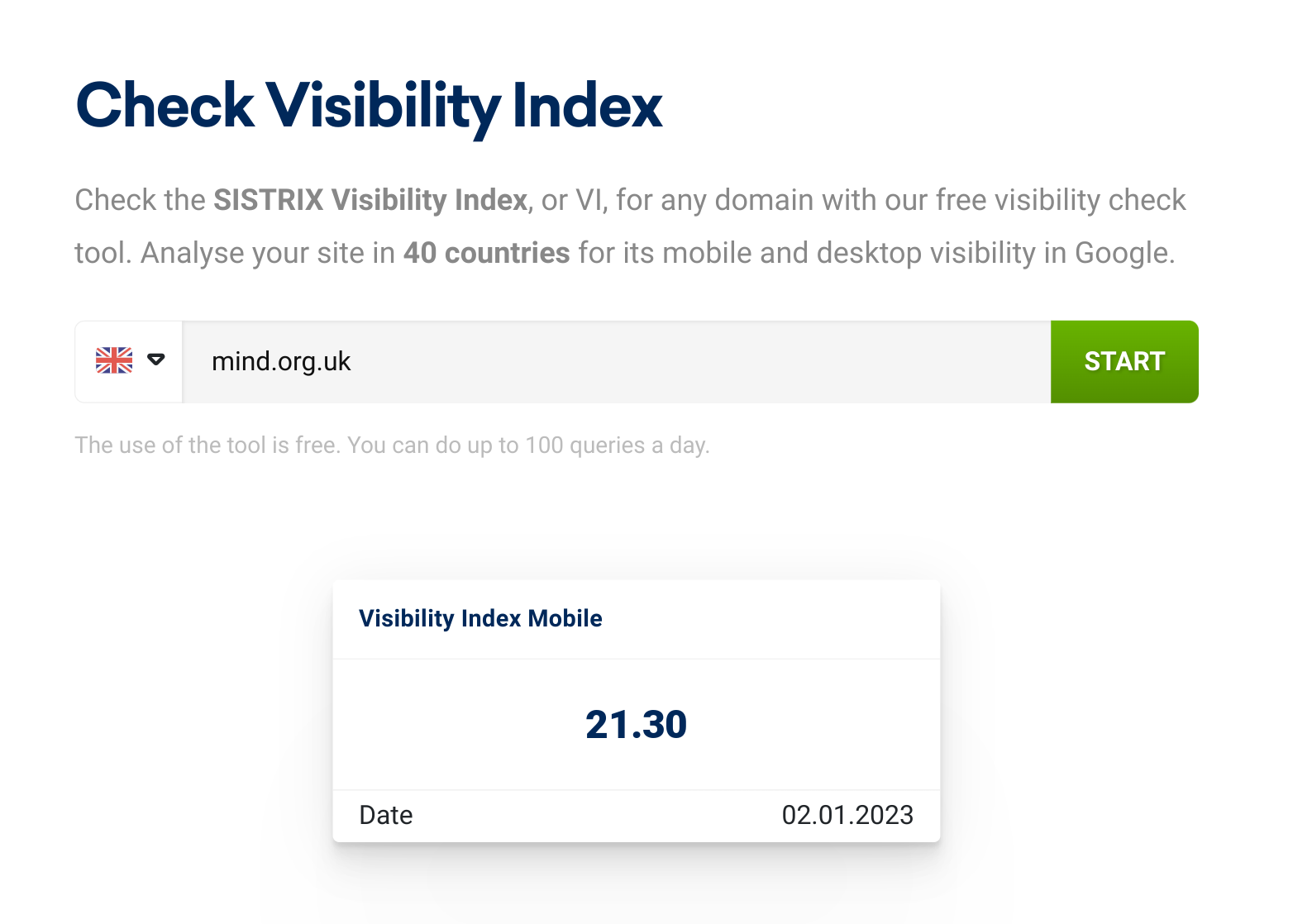 org.uk Segment growth
There's a very, very clear picture of growth across these domains. One must be careful not to make wild assumptions but what we can say is that the top 100 domains have gained over 800 visibility points in the last year, with only 7 of the domains losing. In comparison with the wider domain space, that's much more than average.
Domain types
Putting domains into sectors can be interesting, but misleading. While the domains all offer information, many are focused on raising money and getting support. There are shops, forums and contact forms too, across a huge range of topics; some sensitive, some not.
Many of the non-profits have a leisure element. tate.org.uk (VI 19.8 – museum) nationaltrust.or.uk (VI 11.8 – publicly accessible homes, gardens and walkways), woodlandtrust.org.uk (VI 8.53 – woodland preservation and accessibility) and nationalgallery.org.uk (6.49 – museum).
There are also domains for which local-search must be large part of their target audience.
Health and finance also features among the content, which brings us to…
Experience, Expertise, Authority and Trust
The org.uk domain no longer guarantee's authority or expertise (since 2019 the registry has been open to anyone) and there are clear examples of commercial domains in this list. One should not expect Google to treat domains in this in-country TLD differently to any other domains so all the same rules apply.
With rising visibility there are obviously signals here that Google is rewarding. A look across the headers footers of these websites gives some early clues as to how the domains are creating the right signals. Here's a list of some of the common pages we've seen across the top 100. None of them are classic content pages, and there's no evidence that they're written for Google.
Extensive about us / who-we-are pages
(Real) mission statements
Careers pages
Contact numbers and addresses
Membership pages
Strategy statements
Accessibility statements
Legal information
HONcode and other regulator links
Modern slavery statements
Privacy policies
Press enquiries pages
Salary statements
Corporate responsibility statements
Complaints processes
Annual reports
Gender reports
In many cases, a registered charity number.
If you're creating an informative content website, think about some of these types of pages and how they could apply to your site.
Types of content
At least 50% of the domains in the top 100 relate to the important Your Money Your Life content category. This type of content is monitored carefully by Google Quality Raters
75% of the domains have at least one high-performance content directory (based on data from August 2022 – learn more) and we'll look at some of those later in this document.
There's an overwhelming majority of 'know' informative content but commercial content exists. Many shops appear on subdomains, possibly for business reasons as a host is easier to outsource than a directory.
https://shop.bfi.org.uk/dvd-blu-ray/
https://shop.sciencemuseum.org.uk/collections/
https://shop.scouts.org.uk/uniforms/
https://shop.tate.org.uk/prints/
https://shop.wwf.org.uk/products/
https://shopping.rspb.org.uk/bird-food/
Competition
With 10 organic positions in every page of a Google search result, there are 9 competitors, advertisers and Google itself.
moneyhelper.org.uk is one of the domains working in an extremely competitive environment, and one that includes other non-profit domains. citizensadvice.org.uk, ageuk.org.uk, litrg.org.uk, and many government websites overlap with their keyword rankings.
One could argue that multiple non-profit organisations compete in the SERPs, but one can also argue that more non-profit organisations in the SERP are better than more commercial operations.
oxfam.org.uk lost 25% of visibility
One of the few domains to lose, is one of the most well-known brands in UK charity. Oxfam have a number of websites but oxfam.org.uk is the focus for the UK market, and it's a great example of the swan effect. The domain gracefully lost visibility over the year while, underneath at the host level, there was a lot of wild movement.
Oxfam.org.uk has hosted a number of projects over the years, from tag-your-bag, to what could be festivals and an SMS donation site. The two biggest hosts today are www.oxfam.org.uk and, the one with the most visibility, the online shop. It's the development of the shop that has been the problem.
Of course we never know the reasons why organisations migrate but it's often a question of management. Perhaps the shop was licensed out to another company.
The change starts in September 2020 where is seems that major changes were made. The image below shows the migration of the shop http to http directory and then to host.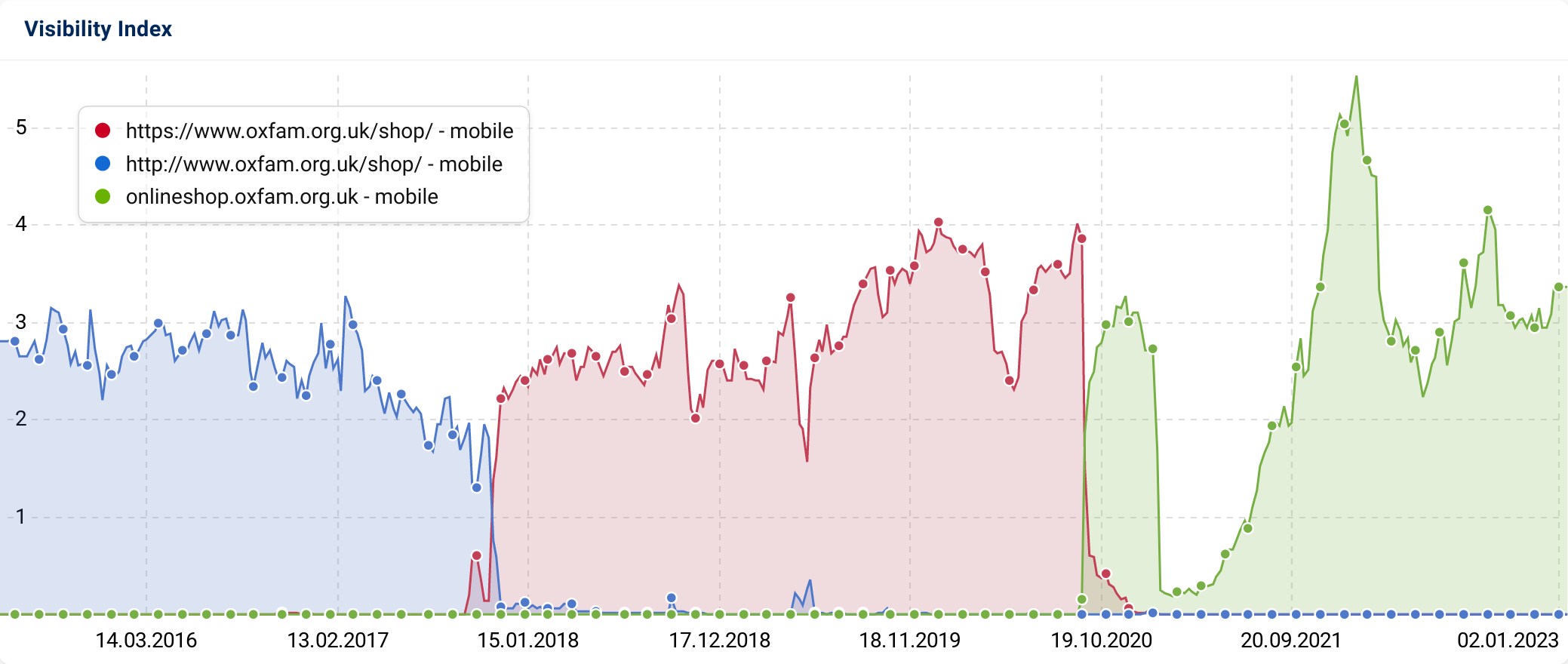 In January 2021 the shop almost completely disappears (there's no evidence of it appearing elsewhere on the same domain) and then starts a climb over 12 months to the peak seen in the early part of Jan 2022. Over the long-term the shop is currently as visible as it ever was – it's simply off the peak seen earlier in the year.
In terms of the informational website, www.oxfam.org.uk, there has been growth, which is mainly attributable to the /donate directory.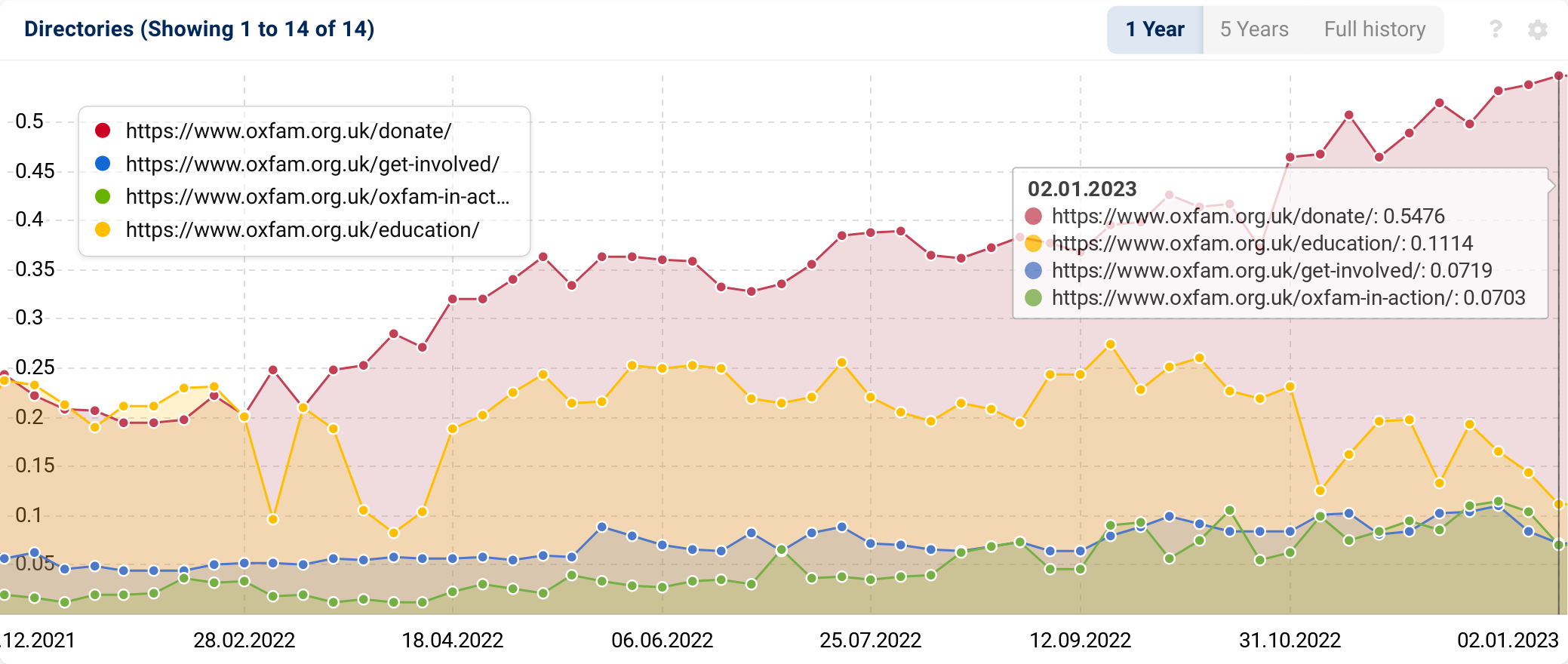 With two big website operations on the same domain, it's important to dive down to host, or even directory level to see what's happening below the surface.
nutrition.org.uk Site re-org not yet complete
Nutrition. It's exactly the sort of information Google is targeting when it talks about Your Money, Your Life. If you get it wrong here, Google can take action that can easily shutter a business. When you get it right, the number of searchers is potentially huge. Healthline's nutrition directory is, in itself, as big as a top 100 domain. Healthline was a Visibility Leader Winner in 2021. Listen to Anthony Machi talk about the process they use at Healthline Nutrition.
The domain nutrition.org.uk has almost the inverse story to that of oxfam.org.uk as it rises out of serious troubles in 2021, which appear to have been caused by a complex migration.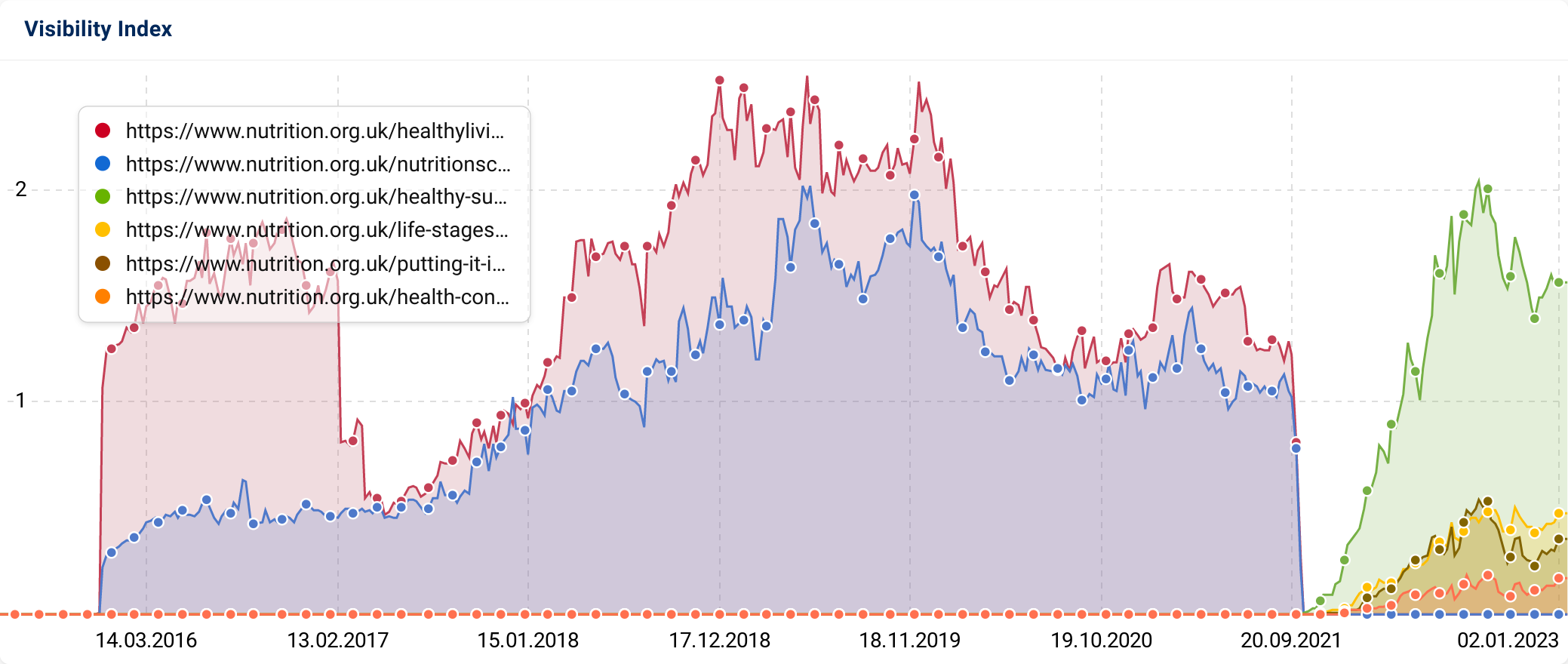 Complex migrations are never easy for Google but that slow climb is indicative of Google re-learning a website from scratch. Were the URLs re-directed, or did the project manager just leave Google to do all the hard work? A quick check of some of the external links coming into the old /healthyliving/ directory shows many thousands that end in a 404. There's a project there for nutrition.org.uk, and it's going to bring lots of benefits.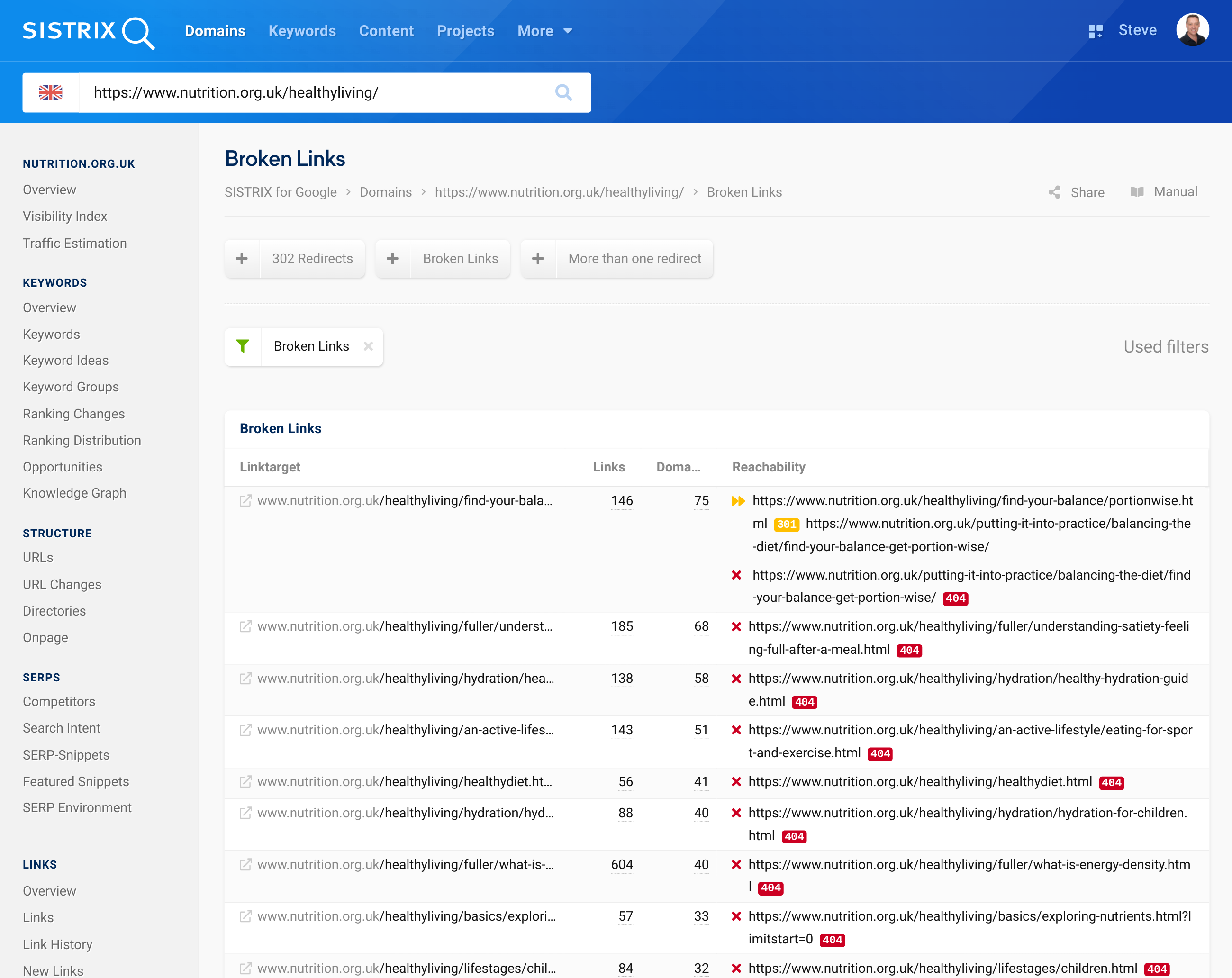 exchangerates.org.uk – commercial gains in YMYL
This finance-focused website stands out from most as it's clearly a for-profit organisation. Owned, it appears, by a UK limited company, there's a range of contributors offering news, along with a lot of data-led Information about the money markets. There are plenty of ads across the site.
Most of the SEO strength, is coming from currency conversion pages.
www.exchangerates.org.uk/Pounds-to-Euros-currency-conversion-page.html
www.exchangerates.org.uk/Dollars-to-Pounds-currency-conversion-page.html
www.exchangerates.org.uk/Pounds-to-Dollars-currency-conversion-page.html
www.exchangerates.org.uk/Pounds-to-Rupees-currency-conversion-page.html
www.exchangerates.org.uk/Euros-to-Pounds-currency-conversion-page.html
These five URLs account for over 27% of the site's visibility and nearly all the significant URLs on the site are either conversion or tables pages.
exchangerates.org.uk competes with some big-hitters in the sector. xe.com, wise.com, travelex.co.uk, bloomberg.com and forbes.com among them. One of the biggest competitors, however, is Google itself.
High performing content directories
Information websites contain a lot of information that simply won't rank well unless it's well-structured and internally linked together. We can find content projects across directories by comparing SISTRIX performance figures and it's this process we use to find and expose high performance content in or Visibility Leaders research. We can do the same here, and it will allow us to learn more about what works in the sector.
This content can be both educational and inspiring for content project managers. Be it writing style, user experience, media types, brand voice or even technical SEO characteristics and software stack, there's always something for SEOs to learn from.
While some domains simply 'own' their keywords (scout uniforms on scouts.org.uk is a good example) others are providing general content that competes with other, sometimes commercial domains. In the table below we've listed and linked examples of top performing content within the top 100 org.uk domains. We've selected informational content, shops and other types of content. Take a look at the content and see what you can learn. Sharing your findings in the comments below will help everyone learn even more.
Example high performance directories - org.uk
Note that some of these directories are not active URLs. Content may appear underneath these directories.
Summary
Domains in .org.uk performed very well during 2022, despite many Google updates.
Sites in org.uk are generally smaller than commercial sites. They have a tighter content focus than some commercial content marketing projects.
The websites build trust using a wide range of informative pages (listed above.)
Content includes informative, and eCommerce projects
Some org.uk domains are very much for-profit. There are examples of success here too.
Do not assume that success is because of the .org.uk TLD. It may help users understand the aim of the website, but the same SEO rules apply for all domains.
SISTRIX can be used for 7 days without charge. If you're looking to do an SEO audit, take a look at our free SEO strategy guides , or free tools and our free Academy. Our next free workshop is always listed here.