Mercola.com is an alternative health website run by Joseph Mercola, a doctor that has turned away from medical science to pursue alternative theories. Mercola's medical claims have been widely criticised by business, regulatory, medical, and scientific communities. In June 2019, Google's Core Update removed most of the domain from its search results. It was one of the biggest victims of the update and yet, the story had started long before that.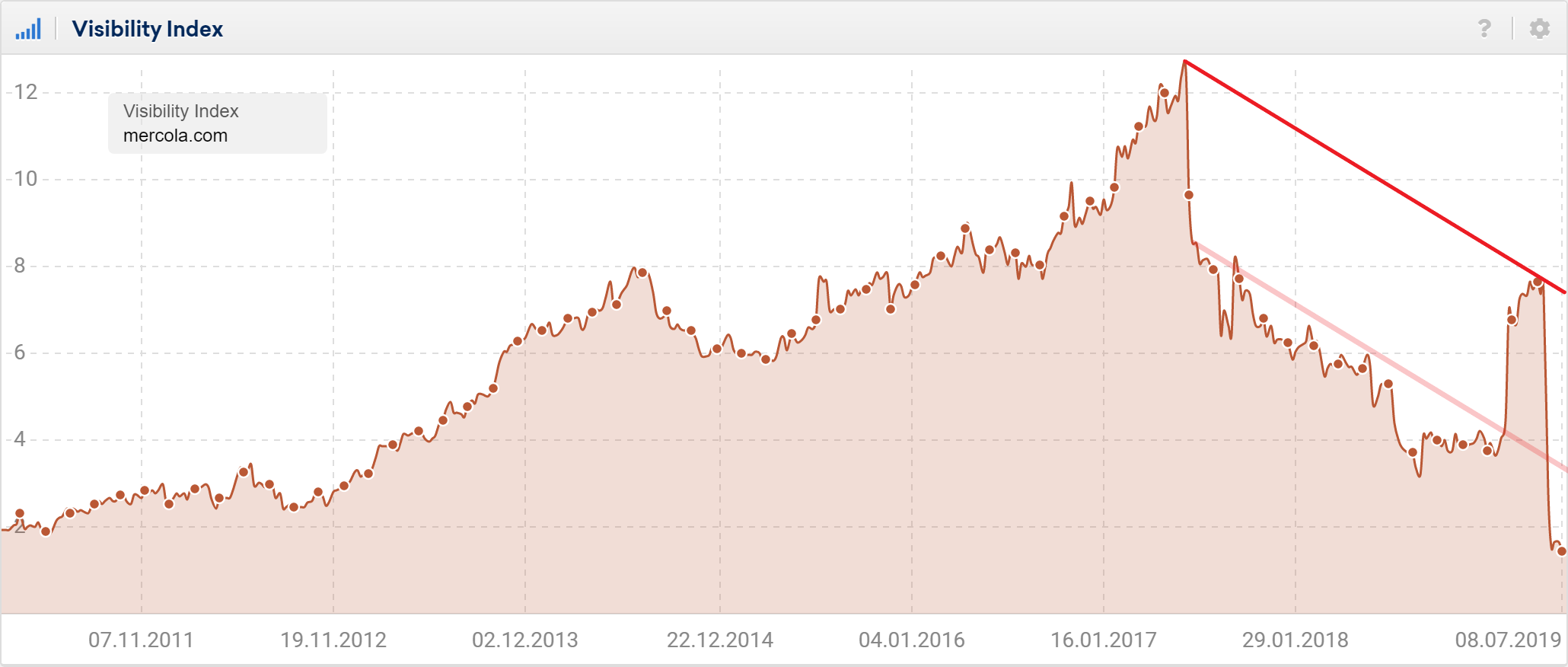 Chronicle of a Death Foretold
Until 2017, the website had grown impressively but in the last week of June 2017, it was hit by an undocumented Google update, it lost 22% of its visibility and this is where the story starts.
What followed was a tell-tale year of continuous visibility losses. After a brief gain from the March 2019 core update, the June Core update hit and put the domain back towards its previous trajectory, and a total loss of 85% visibility over 24 months.
The steady decay was the confirmation that something within Mercola was failing. The site remained indexed and URL numbers didn't change, which indicated a stable content structure. The only thing that was changing was keyword rankings.
Activated charcoal, alfalfa, calcium chloride, chlorophyll, cucumbers and earl grey tea are just a few of the valuable keywords lost from high-ranking positions. Our analysis has shown that around 75% of these searches had knowledge boxes in the results, which indicates an informational search intent.
Competitor analysis
Before the June update, the list of competitors were a mix of informational and commercial intent around the topic of medicine. In the UK, the National Health Service (NHS) was the strongest competitor.
An analysis of the competitor landscape after the Core Update reveals something interesting. The Mercola brand has shifted to a new home in Google search. After the June update, the competitor environment changed dramatically. Today, Dr Mercola finds himself surrounded by pets.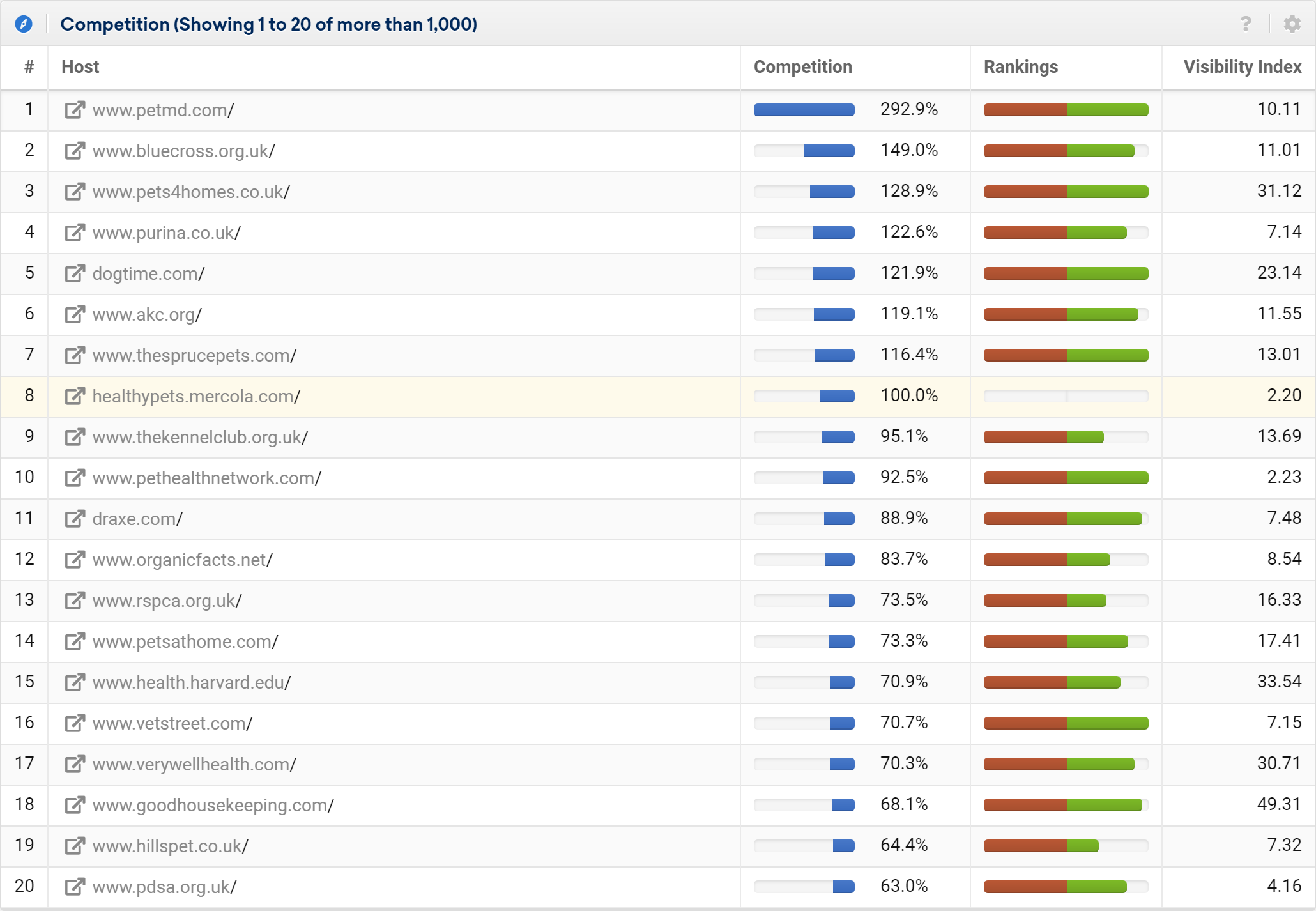 An analysis of the structure reveals the reason. Compare what happened with the articles.mercola.com (the core business) and healthypets.mercola.com hosts. The Voyage of Doctor Dolittle starts here.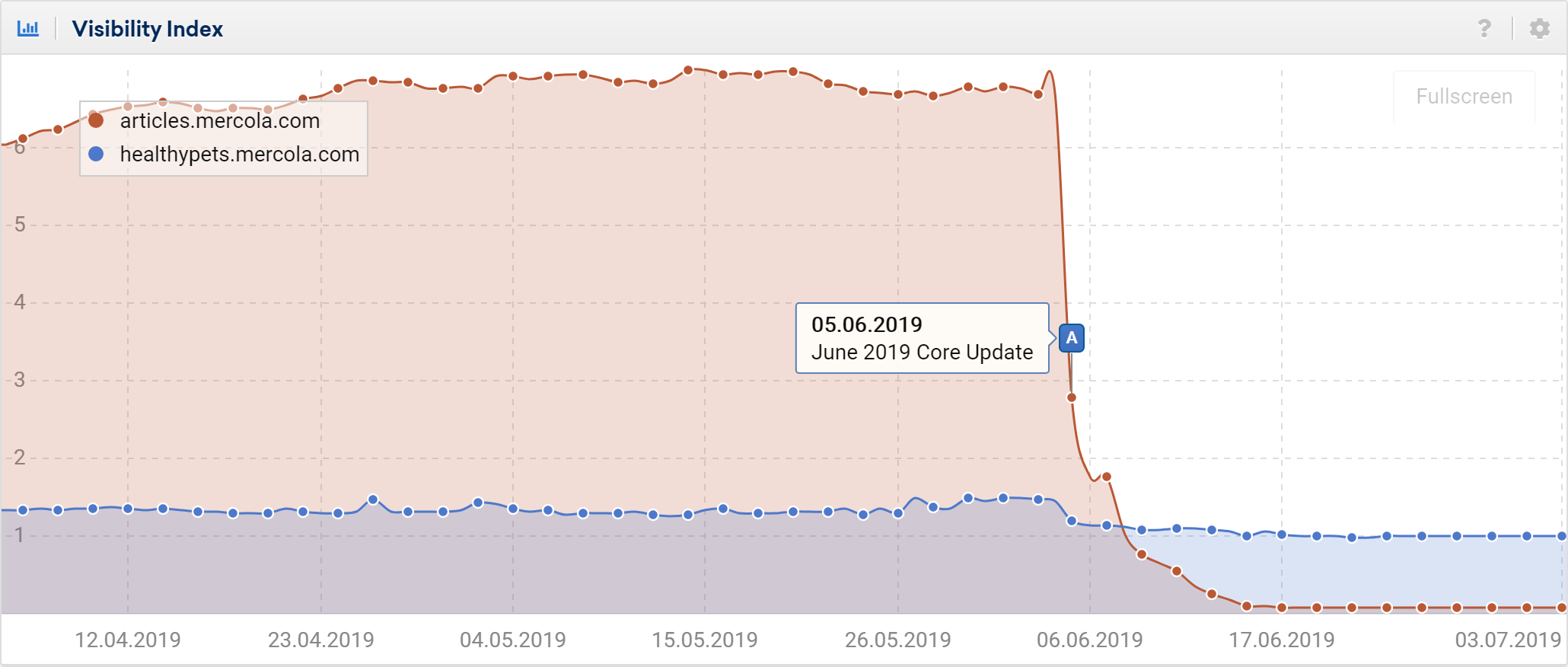 Summary
For mercola.com there are three main points to consider.
Warning signs. After the core update in 2017, there was a significant tail-off in the mercola.com visibility. It is important for businesses to be aware of the importance of these long-term trends which could indicate brand problems.

Core Update Analysis. The June 2019 Core algorithm had a big effect which must be analysed for losses and strengths at the URL, host, domain and, where relevant, the international level.

Analysing the competitor landscape shows us that mercola.com has been left in a waiting room full of pets, not patients.