The second Visibility Leaders study has been published and this time we look at the travel sector – one that's huge in scale and is dominated by big brands. Five detailed reports from five data journalists and SEO experts include detailed analyses of the winners, key findings, a searchable list of leaders, travel trend analyses and lots more.
According to various sources, between 35 and 50 percent of traffic to travel websites comes from organic search, making it one of the highest value sales channels across all online sectors. It's also one of the biggest in scale. Booking.com, for example, is nearing a half a million URLs ranking in Google UK search alone, and the value of the keyword rankings is around 30 million pounds, every month.
Travel industry reports
The aim of the Visibility Leaders project is to find and report on directories that over-perform in Google Search. It includes a look-up resource for SEOs that can be used to find blueprints for content project success. All data and all reports are available without sign-up or download.
Curated lists of directories
After curation, 60 examples were added to the searchable resource, with four being highlighted as leading examples in big and small content projects in the commercial (do intent) and informational (know intent) categories.
Key findings
Research on the successful directories revealed the following highlights:
Travel is a very bottom-of-funnel business. Most people are looking to find, or compare, a solution.
The successful directories are part of websites done on a huge scale.
Big brands appear across nearly all the leading domains, with very few independant operators.
There are search terms that SEOs can forget. Travel restrictions, passport requirements and inoculation searches are all going to official websites across the world.
In the top-of-funnel knowledge category we found three significant sub-sectors. Solo travel, packing tips. and sustainable travel. There are smaller sub-catorgories in hints and tips (and hacks) and budget world travel.
Two personal websites appeared in the results. https://www.nomadicmatt.com/ , started in 2008, has been developed into a huge business.
The other example in this category is https://thriftynomads.com/
In the detailed analysis of the leaders there were two other points raised by experts. The first…that dynamic content is a part of the delivery stack.
Finally, we identified some risk, which is perhaps natural for such a huge sector. Some content is not proven to be covering all of the E-E-A-T requirements. If experience is missing, why should the reader, or Google, trust the content?
10 trending topics in the travel industry
Free tickets to Hong Kong! Why? In the TrendWatch analysis we've curated a special travel-edition of our TrendWatch research for you.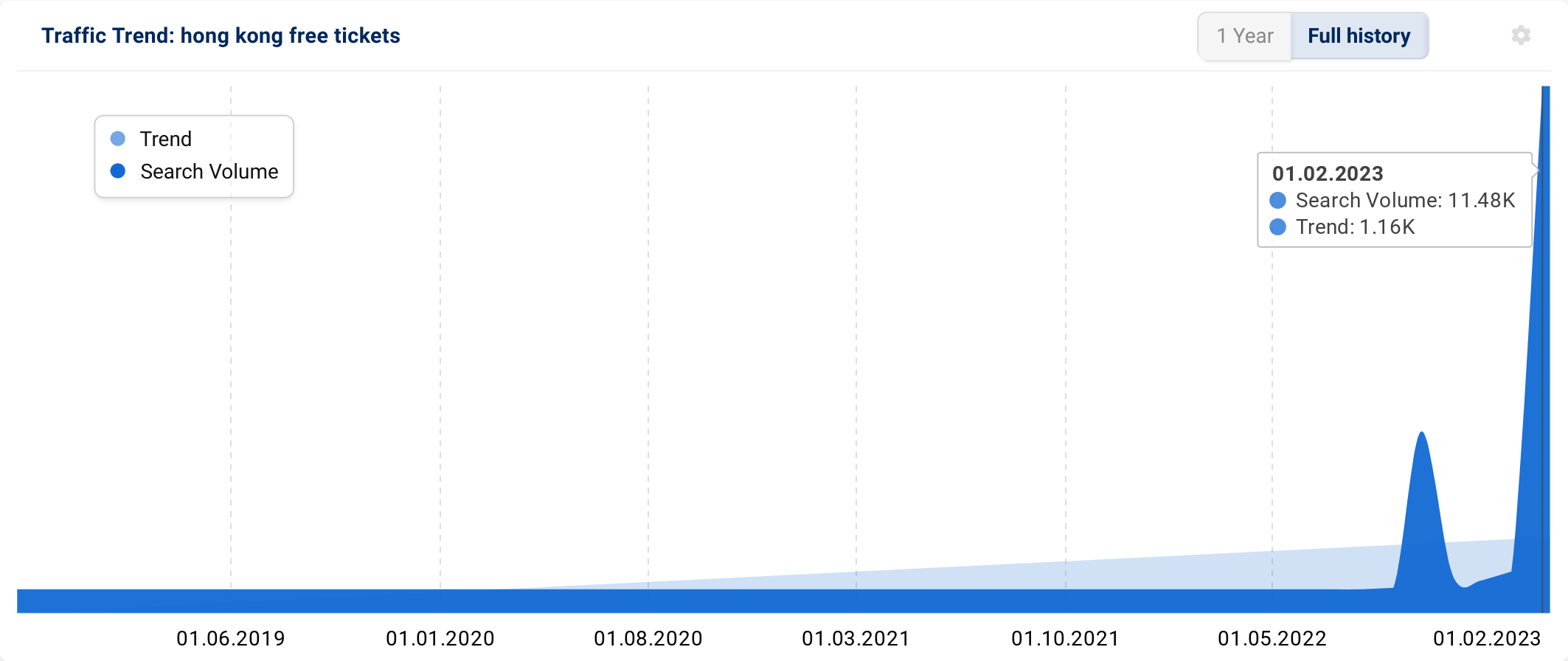 Four winning content hubs in the travel industry
Congratulations to kuoni.co.uk, booking.com, tourscanner.com and flighstfinder.com who host the leading content directories we've found. In one case, a directory has 86% of its keyword rankings on page one of Google Search results.
Visibility Leaders Travel reports available now
Searchable resource of high-performance content
Overview and key findings by Steve Paine
Winning directories. Four winning content directories analysed by Callum Lockwood
Rising Leaders. The best of the best travel directories reviewed by Luce Rawlings
Family Travel. A deep-dive into the sub-sector by Charlie Williams
Travel TrendWatch. Ten back-stories, to ten travel trends by Nicole Scott
Keyword sets for download. The curated 'do' and 'know' keyword sets used in this research. (Google Sheet)
Additional research and case studies from the SISTRIX data journalism team
Our previous Visibility Leaders report covered the retail industry. You can find more sub-sector analysis here, more trends here, a quarterly look at risers and fallers here, and our individual SEO case studies here.