High performance content formats are a trait of websites that do well in search, and as part of our Visibility Leaders work we've now identified, tagged and curated a list of over 400 examples that you can learn from. In this April 2023 issue we dive into the top sites in travel, and find out what they're doing, in order to achieve outstanding organic performance.
Travel is one of the industries that we all know was hit heavily by the pandemic for obvious reasons, however the British public no longer have this as their top concern, instead flight cancellations and airport waiting times are now what they worry about most when travelling.
As you would expect, the travel industry from a search perspective has a distinct user journey from inspiration and research to booking a holiday or activity. In certain verticals we see the varying search intent catered to by multiple different websites, however with travel it's more common to find inspiration and information on the sites with a more commercial focus. This is evident in our Visibility Leaders for travel, where you can see a variety of sites appearing for informational intent that aren't necessarily travel just blogs.
Our study used millions of domains and tens of thousands of keywords to surface leading content hubs for 2 different user intents. More information is available in the overview but here we are focusing on analyses of the 4 winning content hubs.
The Winners – 'Do'
The winners in this section are from directories where the majority of the keywords they rank for are of commercial intent and match the 'Do' intent within SISTRIX.
The full list of searchable and sortable directories is available on the Visibility Leaders overview page for Travel. As you would expect, this list contains quite a few Online Travel Agencies.
Booking.com – a leader in commercial content
The large high performance content format winner for 'do' keywords in travel is Booking.com with their /budget/ directory, they are an online travel agency that provides a platform for users to search and book accommodation, flights, rental cars, and a few other travel-related things.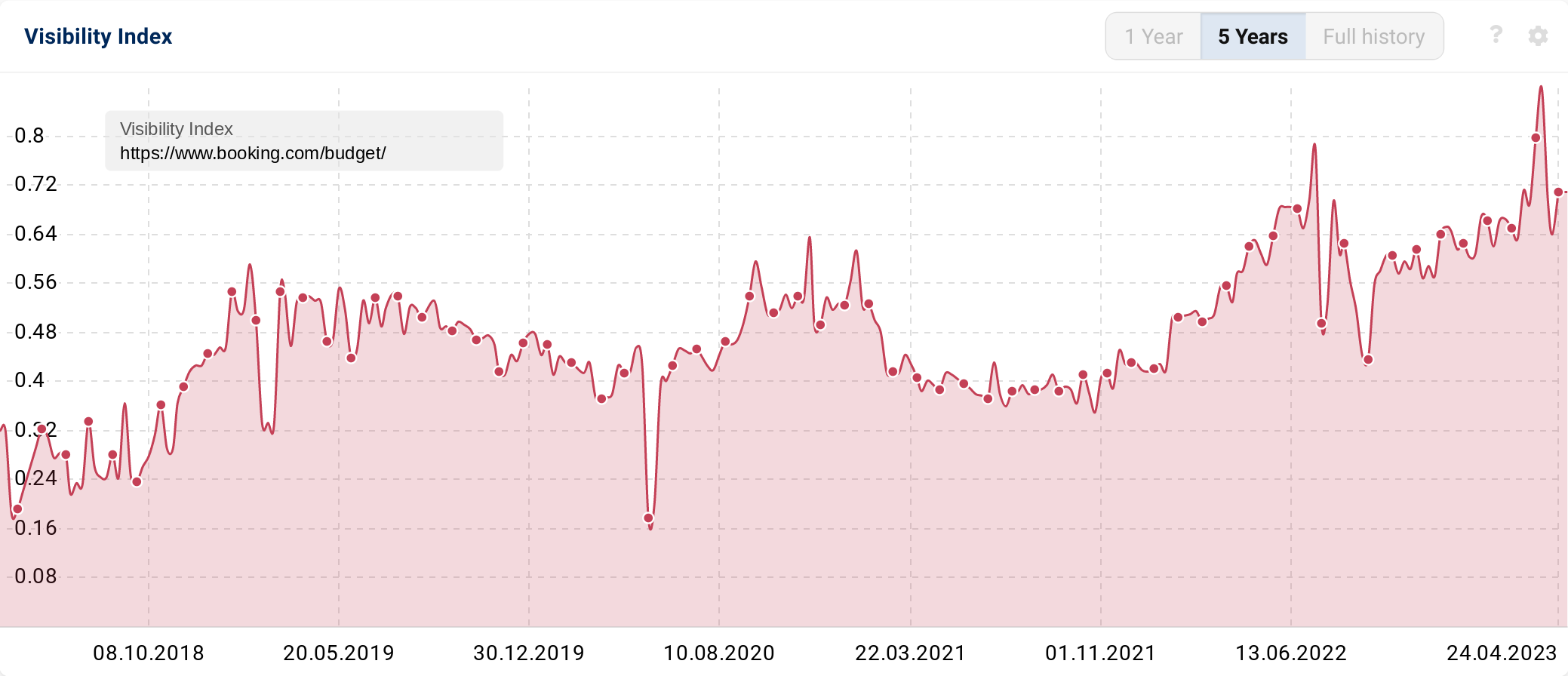 Impressively, the /budget/ directory ranks on the first page for over 85% of its 5,121 terms (as of April 2023).
As the directory name suggests, the keywords in this directory are predominantly budget & destination related searches such as "cheap hotels in York". Their high visibility for this directory comes in part from their coverage of multiple locations (914 in total) with the "budget" variation landing page.
The content format which Booking.com is using for their /budget/ directory isn't wholly unique to this area of the website. In fact, they even have a very similar one for /cheap/. But the formula for their landing pages works particularly well in this subset of search terms (that being said, their entire website does perform well off the back of their strategy).
So, what are they doing that's working so well:
Dynamic content at an impressive scale, plus all of the dynamic sections of the content are in relation to "budget" + "destination". Whereas some of their competitors that use a similar approach fail to provide dynamic content in the same way, resulting in recommendations for hotels or information that isn't "budget" related
Coverage of their landing pages plays a large role in Booking.com's visibility and impressive performance too. They take an almost Amazon-esque approach to category coverage and combine it with dynamic content to achieve a winning formula
Topically relevant content blocks (which are using the dynamic content) add even more context to these landing pages, with multiple H2's all relating to budget hotels in a specific destination
Structured data is also used extensively throughout the page mainly on the FAQs and hotel listings themselves
FlightsFinder – a leader in commercial content
FlightsFinder, as I'm sure you can imagine, is a website that helps you find… flights and they are our winner for the small website high performance content format for 'do' keywords.
Their winning directory is their country/language folder /en-gb/, this is actually something we saw quite a bit of whilst completing the analysis for Visibility Leaders: Travel. It stems from the fact that a lot of flight and hotel booking websites only have one content format based around a search engine.
FlightsFinder's /en-gb/ folder ranks for 4,406 keywords with over 30% of their keyword positions being on the first page. The majority of FlightFinder's visibility comes from landing pages that use the search box on the home page. or example, their most visible URL /multi-city-flights is a toggle on the search box. Not a lot of competitors are offering the same landing page experience for this group of terms, instead you are still left to change the search feature to include multiple cities.
FlightsFinder also use dynamic content to create multiple landing pages with the same layout. Although this is a trend of the travel vertical, with most sites using some form of dynamic content, why are FlightsFinder performing so well here?
Their service is satisfying users — by comparing results from other search engines, it's almost a one stop shop for flights. It's also pretty quick when compared to competitors so provides a much less frustrating experience
They create landing pages to match intent. In the case of "multi city flights", you would arguably want to land on a page that lets you easily enter multiple destinations, which FlightsFinder does (same goes for "flights and hotel" & class related searches too)
Dynamic content & FAQ's — again, it's a trait of this industry but FlightsFinder does it well for their landing pages
The Winners – 'Know'
To provide a complete view of the user journey within search for travel we have also analysed the winners for informational intent from our 'know' keyword list. In the travel industry it's more common to find informational content on websites with a commercial focus, especially when the company provides a specific service such as Kuoni with their tailor made luxury holidays. This is likely because there is a requirement to show expertise on the topic and also answer common questions that searchers may have.
It's possible that these sites perform well for informational intent because, in most cases, they have experience of the topic they are writing about. Which isn't the case for the vast majority of informational travel websites.
Kuoni – a leader in informational content
The large site winner for informational or 'know' content is Kuoni. hey provide luxury, tailor-made holidays to various destinations around the world. Their winning content format is the /safari-holidays/ directory which is an expansive content hub containing everything you would ever need to know about safari holidays.
Out of a total of 616 keywords, over 50% rank on the first page of Google search results with their visibility split between a variety of pages from family-friendly safaris to best safari locations.
There are a variety of intents covered by the content under /safari-holidays/ within the context of the informational intent. For example, there are questions around "the big 5" which might not necessarily lead to direct conversions, but it's still topically relevant. But there are also questions around "the best time to go on safari" and, in Kuoni's case, their pages contain call-to-actions based on specific locations to visit at each time of the year for the best safari experience.
The content format that Kuoni uses for /safari-holidays/ seems to be unique to this area of the site. Perhaps the reason it performs so well is because they have created a topically relevant cluster of content. They also still match search intent whilst maintaining commercially driven call-to-actions within the content. Some of the key things they are doing well with this format are:
They showcase their expertise in Africa and South Africa, more specifically Safaris in these locations, to answer questions that searchers have to an impressive degree of detail. On their site they have a tagline that says "…your holiday begins with a conversation with someone who's been there." now I'm not going to call their bluff, but after reading the content you get the idea that they know what they're talking about
They utilise a sub-menu under their /safari-holidays/ directory to create a topically relevant content hub. This has allowed Kuoni to create a hub dedicated to answering any potential questions about Safari Holidays
Kuoni also has topically relevant content for Africa in general outside of this content hub (directory) which supports the safari holidays content through internal linking and increasing their topical authority in the space
TourScanner – a leader in informational content
The final winner, our small website high performance content format for 'know' keywords, is TourScanner with their /blog/ directory. TourScanner is a website that helps users search and compare prices for tours, activities, and attractions around the world, while also providing helpful travel information and guides via the /blog/ directory.
Their blog directory ranks for over 25,000 keywords with 26% of their positions appearing on the first page of the search results.
The visibility in this directory is quite split across a variety of articles from "the best places to visit in the UK" the "the best theme parks in the world". There does seem to be a key theme with this blog content and that is that it's heavily focused on things to do in certain destinations, which nicely links into TourScanners core service.
The highest visibility content on TourScanner isn't necessarily unique as there are multiple listicles out there titled "things to do in…". But one noticeable thing is that TourScanner doesn't use as many intrusive ads on these pages as their competitors, this is probably because they rely on revenue from their service itself. Now this doesn't necessarily affect SEO but it does impact user behaviour (it certainly affected my behaviour when looking at some of their competitor sites).
So if it isn't the unique content angles, then what is driving this performance for TourScanner?
Internal linking through tags at a location level creates clusters of blog articles which are relevant to once specific country and then narrows down into regions, provinces, cities etc. This is a fairly common practice for blogs of this nature, but TourScanner also have supporting pages for activities in the locations which they write about and these are all internally linked
They also cover a large amount of locations and activities in a lot of detail, which isn't necessarily related to their content format but this approach allows for the coverage of multiple SERPs
Having a simple user experience and giving searchers what they want definitely goes in TourScanners favour here. Most of their competitors bombard users with ads that slow the page down or try to get you to sign up for their newsletter with pop ups. TourScanner is one of the only results on the first page for a lot of these terms that doesn't have an overwhelming on-page experience.
Additional interesting observations
As always, completing analysis like this allows us to spot some common trends and interesting observations which don't always fit into the winners analysis. Here are some of the things we spotted whilst reviewing these visibility leaders:
The "Experience" in E-E-A-T is sometimes missed
It's clear when looking at the search results, especially for informational content, that better content is written when the writer has real world experience of what they're writing about. Google knows this too, and I think in time we will see more listicle style articles such as "40 best things to do in London" not perform unless some element of experience is shown.
This semi-recent change by Google doesn't seem to have had a huge impact on this space yet but it definitely feels needed.
Using dynamic content to scale
The winners (and a lot of other sites) that appeared for the 'do' intent seem to utilise dynamic content to scale their category coverage. I'm aware this isn't something that all sites have the resources to produce but it should definitely be explored if you aren't doing this already.
This approach essentially started with building a knowledge graph of the hotels, flights, activities etc then looking at which combinations of attributes have search demand. Using this data then to create a set of static URLs based on a set of attributes, to provide an example if there is search demand for "lodges with hot tubs in Wales" then you could create a landing page populated with the data from your database.