From millions of domains and directories, we've curated and categorised over 130 content projects that Google loves across the B2C retail sector. This list of visibility leaders will help you identify and optimise your own content opportunities, and answer important questions like "can I put informational content on my commercial website?"
This article gives you a quick overview of our research. We'll start by celebrating four winners, and then we'll move on to more data and expert analysis. The more-detailed reports from our data journalists and interviewees are linked below.
Ratio – the percentage of ranking keywords that are on page 1 of the SERP as measured in July 2022.
Monthly clicks – as estimated using SISTRIX CTR model. (22/08/2022)
Content VI – the Visibility Index, or footprint size, of the content directory. (22/08/2022)
The complete set of 130+ successful content directories, sortable and searchable, has been published here.
Retail Websites don't have The Knowledge: Third-Party Sites are Taking The Clicks
High performance content is essential for an efficient, scaleable and lasting footprint in search, and knowing the intent of the potential customer's search is one of the key factors in achieving that.
The key finding from our research is that retail websites seem to be missing the opportunity to serve informational searches, and it is costing them millions of clicks. Here's an example:
On average, "tefal air fryer" is searched for 17500 times every month in the UK. and, online shops such as Argos and Currys are shown in the result, along with the multiple marketplaces like Amazon and Ebay.
However, "best air fryer" (search volume 16700) is a search for information, not a product, and it's not being served by online shops. Good Housekeeping, BBC Good Food and other informative content URLs are shown in the SERPs.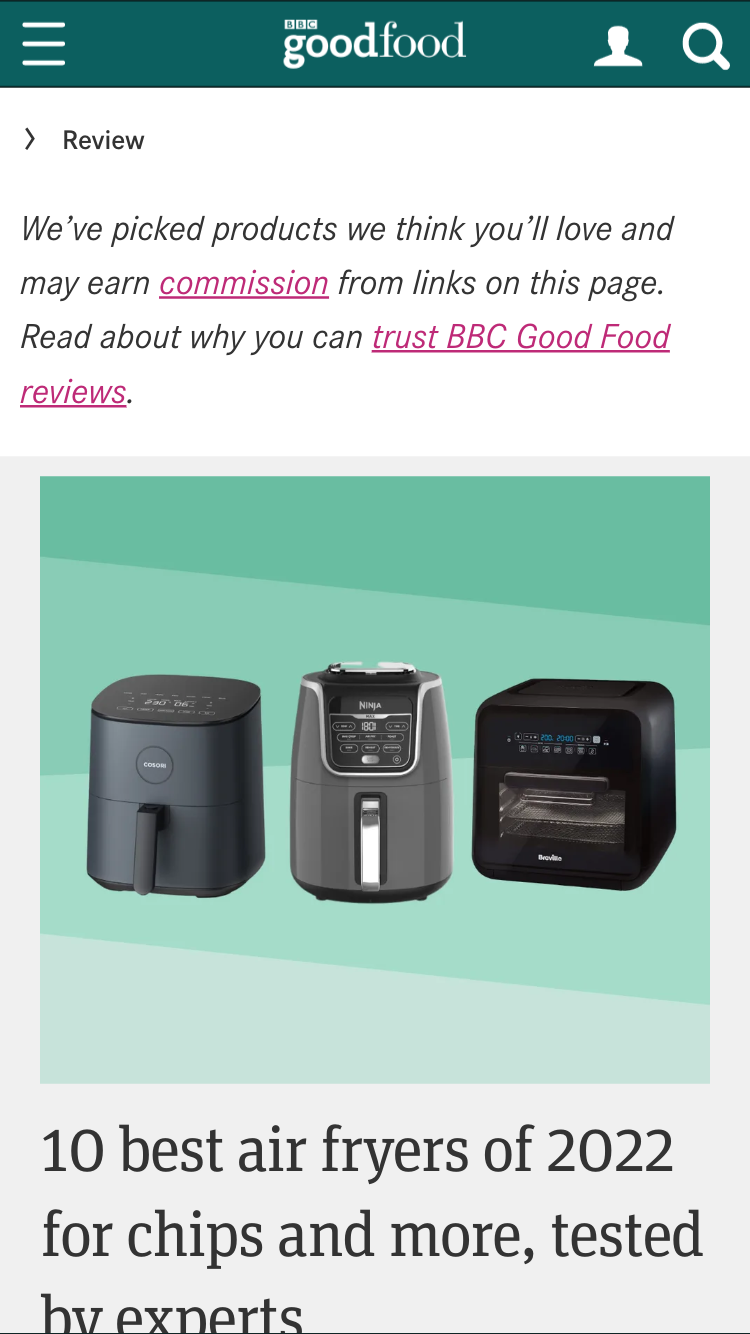 Our data shows that few retail websites have content that can serve these knowledge-seeking users but that there is proof that it works. The retail sites diy.com and tesco.com are two examples. You'll find more in our list of visibility leaders.
Well over half of informative searches in our study show the user going to a non-retail website. That's 1 million organic clicks per month, just from our test keyword set of around 8000 keywords – a very small proportion of the total every month.
Opportunities listed
The Visibility Leaders project is about creating a resource for SEOs. Final, curated data can be found in the free, searchable resource and in this issue, covering retail, we've added over 130 examples to the list.
For retailers, it's a chance to see domains that Google is rewarding for their knowledge content and to spend time on those sites to find out why it might be working. It also shows highly successful commercial content too. Boots, for example, are extremely successful in ranking for many many brand terms. The examples can be used to optimise product pages.
For informative websites there's an opportunity here to see what's working, and how it can be done better. An example: B&Q rank extremely well for their knowledge-base content, but there are no authors listed on the pages and very few video tutorials. Is there an opportunity here for the future?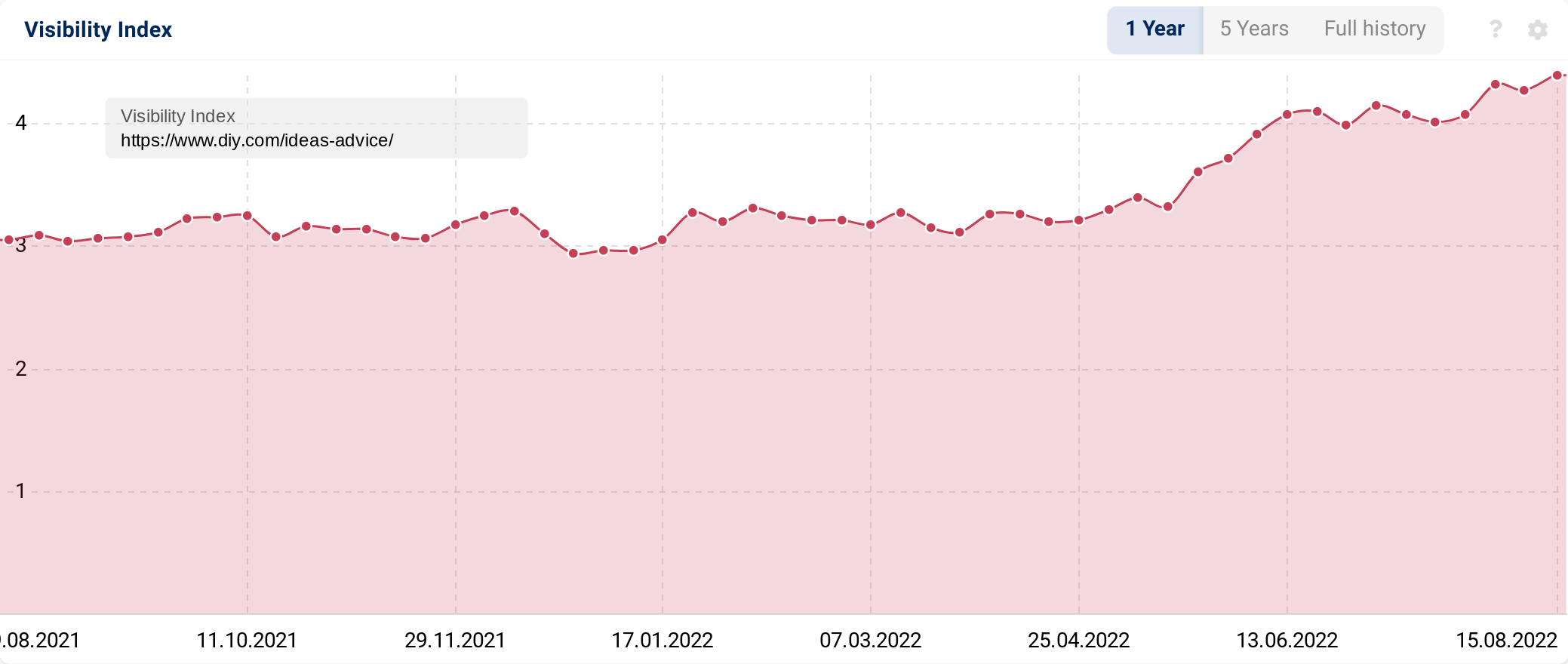 Further reports and analysis
In addition to the list of leading content, we've done further analysis. 4 experts (and many others in the background) have put months of work into analysing and surfacing additional data. Those detailed reports are linked below.
We've also extracted the retail trends that have been appearing in our TrendWatch series. Those are shown below.
Searchers intent: Know
Google lays out the search results, as much as it can, according to the searchers intent. Search results, and the format of the search result and features allow us to identify the dominant intent. For example, videos feature in 96% of search results in this category.
Top keywords and top domains
To find leading domains offering 'know' content, we analyse all the SERPs for a list of around 500 curated 'know' intent keywords and list the domains in order of their 'share-of-voice.' Lists of keywords and domains are available below.
Top 20 domains for informational 'know' keywords
We use the list of top domains to pick high performance content directories from a list of over 52000 directories that we've found. Two data journalists check and curate the list. Here's a list of 20 domains leading in visibility for the 'know' keyword bucket:
20 leading domains for 'know' keywords. Study: SISTRIX Visibiltiy Leaders Retail 2022
| | Domain | Market share | | Domain | Market share |
| --- | --- | --- | --- | --- | --- |
| 1 | goodhousekeeping.com | 2.13% | 11 | tomsguide.com | 0.62% |
| 2 | argos.co.uk | 1.22% | 12 | notonthehighstreet.com | 0.61% |
| 3 | techradar.com | 1.17% | 13 | pcmag.com | 0.51% |
| 4 | expertreviews.co.uk | 1.10% | 14 | cosmopolitan.com | 0.51% |
| 5 | johnlewis.com | 0.97% | 15 | countryliving.com | 0.50% |
| 6 | which.co.uk | 0.86% | 16 | harpersbazaar.com | 0.50% |
| 7 | glamourmagazine.co.uk | 0.81% | 17 | boots.com | 0.46% |
| 8 | bbcgoodfood.com | 0.77% | 18 | byrdie.com | 0.44% |
| 9 | gq-magazine.co.uk | 0.71% | 19 | wikihow.com | 0.37% |
| 10 | t3.com | 0.71% | 20 | currys.co.uk | 0.37% |
Searchers intent: Do
The buyers, downloaders and subscribers that search on Google also use specifi terms, and get target results back, based on the likely intent of the searcher. The format of the search results differs and Google shopping appears across all the keywords. Images and videos also appear.
Top keywords and top domains
To find leading domains offering 'do' content, we analyse all the SERPs for a list of around 500 curated 'do' intent keywords and list the domains in order of their 'share-of-voice.' Lists of keywords and domains are available below.
Top 20 domains for commercial 'do' keywords
We use this list of top domains to pick high performance content directories from a list of over 52000 directories that we've found. Two data journalists check and curate the list.
20 leading domains for 'do' keywords. Study: SISTRIX Visibiltiy Leaders Retail 2022
| | Domain | Market Share | | Domain | Market Share |
| --- | --- | --- | --- | --- | --- |
| 1 | argos.co.uk | 0.62% | 11 | asos.com | 0.11% |
| 2 | johnlewis.com | 0.25% | 12 | dunelm.com | 0.10% |
| 3 | currys.co.uk | 0.24% | 13 | smythstoys.com | 0.09% |
| 4 | therange.co.uk | 0.14% | 14 | screwfix.com | 0.08% |
| 5 | very.co.uk | 0.13% | 15 | ao.com | 0.08% |
| 6 | next.co.uk | 0.12% | 16 | houseoffraser.co.uk | 0.07% |
| 7 | ikea.com | 0.12% | 17 | apple.com | 0.07% |
| 8 | boots.com | 0.11% | 18 | asda.com | 0.07% |
| 9 | diy.com | 0.11% | 19 | sportsdirect.com | 0.07% |
| 10 | wayfair.co.uk | 0.11% | 20 | etsy.com | 0.06% |
Retail Sector Keyword Trends
Our TrendWatch journalist, Nicole Scott, has been busy with TrendWatch since December last year. Our data shows the following search terms of interest, and Nicole has the back-story.
Trend analysis is available every month via newsletter. See the previews and sign-up for more on the Trendwatch page.
Squishmallow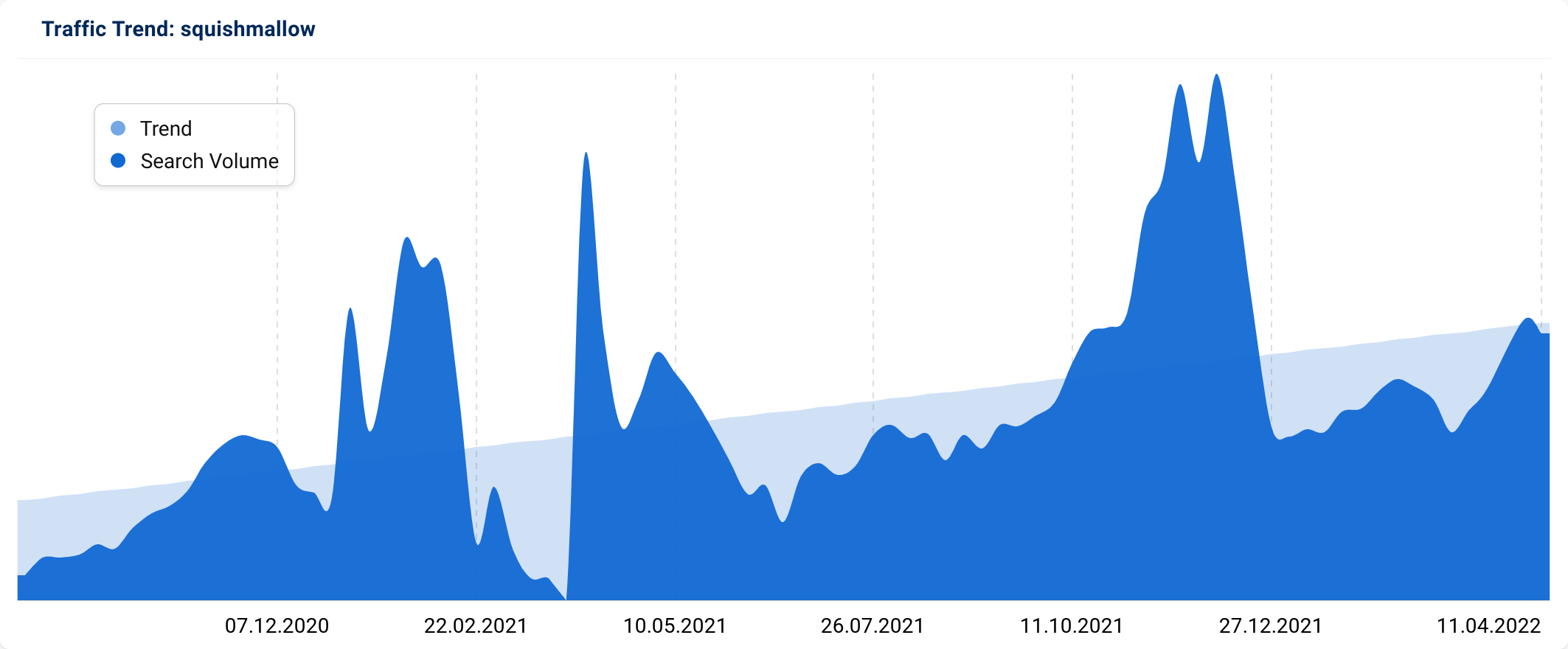 Squishmallows were launched in 2017, and gained more popularity during pandemic lockdowns as hunting for rare editions became a popular pastime.The plush toy which exudes cute garnered its stardom through social media outlets like Tiktok where Squishmallow collectors would post about their cute and cuddly plush collection. "SquishTok" as it's affectionately referred to has seen the #Squishmallows hashtag got over 1.3B views!
In the New York Times article "Squishmallows Are Taking Over", Kelly Deen, senior vice president of marketing at Jazwares, the parent company of Kellytoy, which created Squishmallows said "Even though the craze was coming before the pandemic, it certainly hit a fever pitch in the past year, and this craving for comfort is a big part of it," AvidPlush provides further provides social context by saying "Not owning a Squishmallow is like social suicide waiting to happen."
Rolex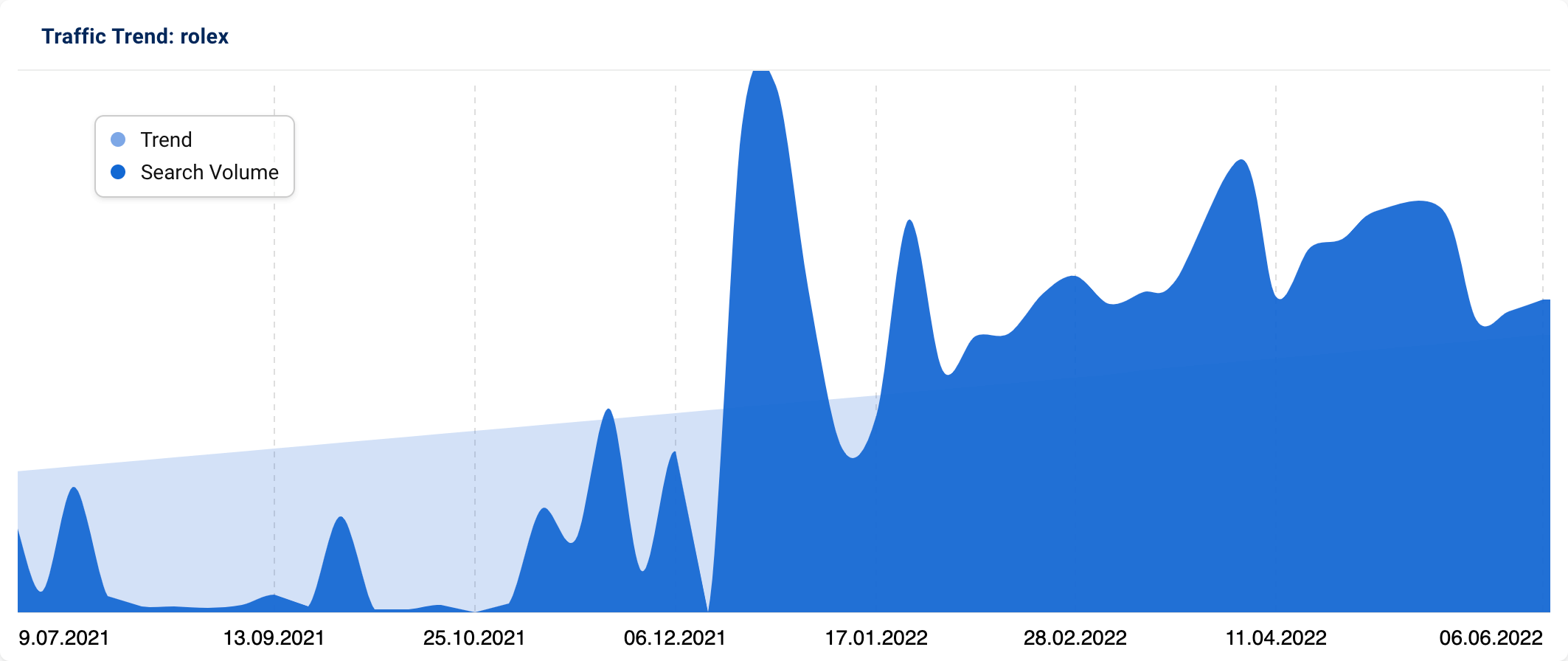 And it's bad news if you're thinking of investing in a luxury watch – there's currently a global shortage of Rolexs, leading to long waiting lists and inflated prices.
This was caused by the perfect storm of the Rolex factory having to close during the pandemic, leading to fewer goods being produced; a boom in the sales of luxury items, due people being stuck at home but still wanting to spend money; and watch collecting having been made more accessible due to platforms such as Instagram.
There was a rumour that Rolex was artificially restricting supply, which Rolex has categorically rejected. "The scarcity of our products is not a strategy on our part," Rolex said to Yahoo Finance. "Our current production cannot meet the existing demand in an exhaustive way, at least not without reducing the quality of our watches – something we refuse to do."
Whether supply will pick up remains to be seen – although it is reassuring to know that news stories about product shortages have moved on from how difficult it is to buy toilet paper.
Air Fryer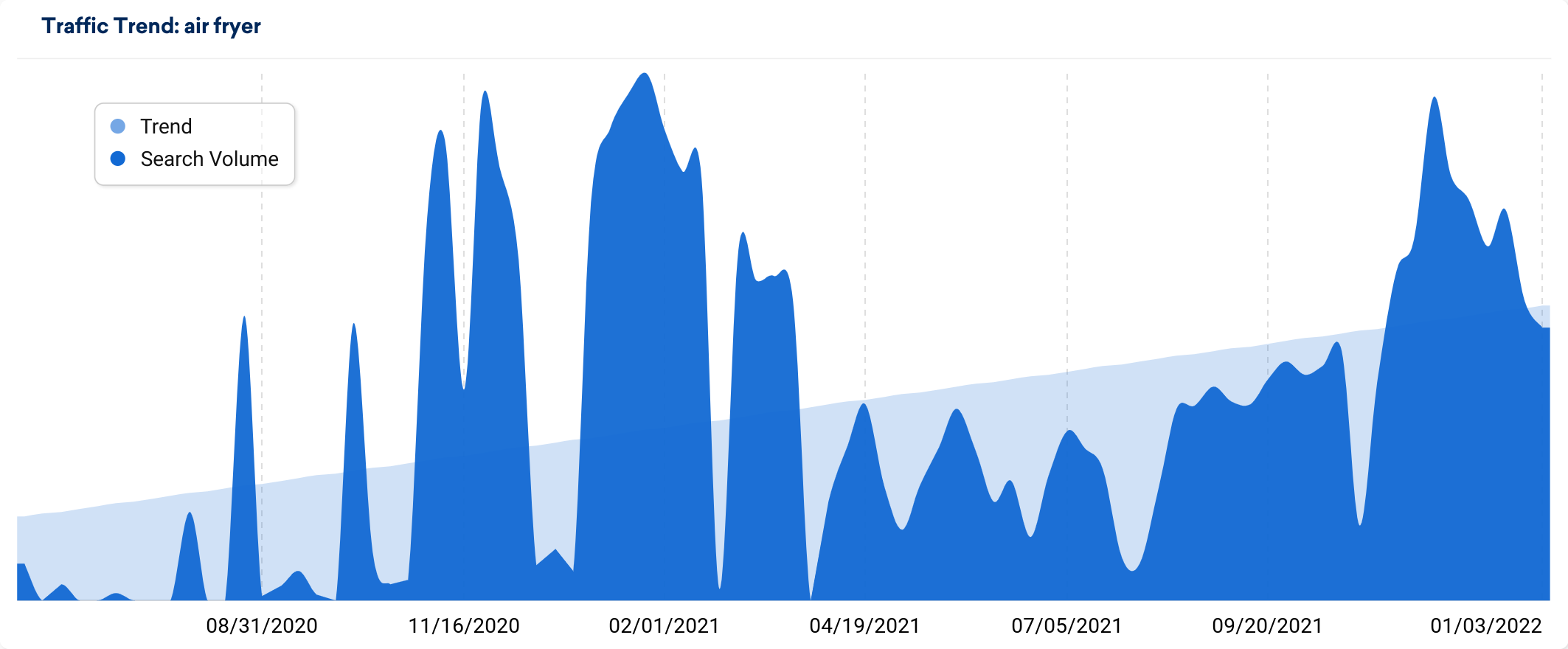 It's taken some time for people to realise that marketers were in charge of naming this device. Patented by Philips Electronics Company in 2010, the air fryer claims to mimic the results of deep-frying with nothing more than hot air and little or no oil. In reality, an air fryer is basically just an amped-up countertop convection oven, with no frying involved.
Leading the products is the Ninja Air Fryer which has been highlighted in the August issue of TrendWatch:
…analysis shows that this product is being searched for over 100,000 times per month in the UK on Google and over 750,000 times in the last month on Amazon.

TrendWatch – Nicole Scott. August issue.
Additional products highlighted in TrendWatch include Crocs, New Balance 500 and Prime drink. TrendWatch goes out by email once per month. Sign up for the monthly search newsletter here.
Expert Interview – Kevin Indig talks about Retail SEO
We sat down with retail SEO expert SEO Kevin Indig to talk about the retail sector. What are the latest trends? How does the search channel feature at board level? Informational content – is expertise important?
Presentation of Visibility Leaders at BrightonSEO
Do your own analysis. Find leading competitors
Our data engineers have processed billions of data points to bring you the leading content directories, but that doesn't mean you can't do some research for your own sector. Our SISTRIX Academy for Competitor Research shows exactly how to create lists of keywords, find leading domains and then analyse them for visibility leaders.
Methodology and source data
We're always transparent about where our data comes from. We don't synthesise anything, we just take 'what Google says' and present it in ways that help SEOs, for all domains. Our data has been through critical review for two Phd thesis at Goethe University in Frankfurt and we asked one of the students to run our keyword list through their own tool.
In this research we used our core SEO data archives and searched many millions of site directories for those which perform well in search. We call these content directories High Performance Content Formats (HPCF) and you can read more about HPCF here.
After analysing the directories we ended up with 52,000 candidates, across all domains, all content types and all sectors. (UK.) In order to filter those down to relevant B2C examples, we used two 'baskets' of keywords. The 'Do' and 'Know' baskets, each of 2000 keywords, were taken from SISTRIX databases using our Intent data. The two lists were also curated by hand to remove any obvious errors and outliers.
Through the SISTRIX list competitors feature the SERPs were analysed for top 100 domains. These domains were then used as a match list for the 52000 HPCF candidates. One HPCF directory was picked for each of the domains.
The final list of 200 directories was tagged with intent and sector and, once again, hand curated to remove errors and sites which are not relevant as 'blueprints.' For example, marketplaces driven by user-generated content, wikis (also UGC), support pages from brand owners and sites where there's really only one 'owner' of the content, such as government citizens advice sites and government law sites. We've also removed newspapers. While many have informational content directories like Sun Select and Indy Best, they are part of a special category of sites that have more visibility in Top Stories and Google News than in organic results.
The result is a set of over 100 fantastic examples of high-performance content that you can use to learn from, and to improve your own content hubs for Google search.
All data is available in Google Sheets. Feel free to take a copy for your own use.