Its already established that high performance content formats (HPCFs) are a trait of websites that do well in search, and as part of our Visibility Leaders project we've found and curated a list of 130+ examples. In this article, we dive into the top sites in retail, and find out what they're doing, in order to achieve outstanding organic performance.
Sainsburys recently reported that 18% of its grocery sales are now made online. Tesco's annual report stats that online sales grew to £6.3bn, or around around 12.5% of the group's total sales last year. Digital sales funnels lead to very significant numbers.
There's no question, too, that organic search is a major source of that traffic, with many sites reporting that organic traffic forms over one-third of total traffic. In our video interview with Kevin Indig he speaks of a 25% average, but more potential in many cases. This well-targeted traffic that can be answered with carefully crafted content, on well-organised sites, cannot be ignored.
Our study used millions of domains and tens of thousands of keywords to surface leading content hubs for 2 different user intents. More information is available in the overview but here we are focusing on the 4 winning content hubs.
We'll show you how and why they perform, allowing you to learn and to build your own well-targeted content hubs.
The Winners – 'Do'
Firstly, the winners from directories where the majority of the keywords they rank for match the 'do' or commercial intent within SISTRIX. As to be expected there are a lot of eCommerce sites displaying in our full list of high performance content within retail.
The full list, sortable and searchable, is available on the Visibility Leaders overview page.
Not On The High Street – a leader in commercial content
The large high performance content format winner for 'do' keywords is NotontheHighStreet, they are a marketplace store which sells gifts and personalised trinkets from authorised, hand picked partners. Their /gifts/ directory is heavily weighted towards the first page with 64.7% of their keywords appearing on page 1 for pages within this sub-folder. This content format is mainly product listing pages.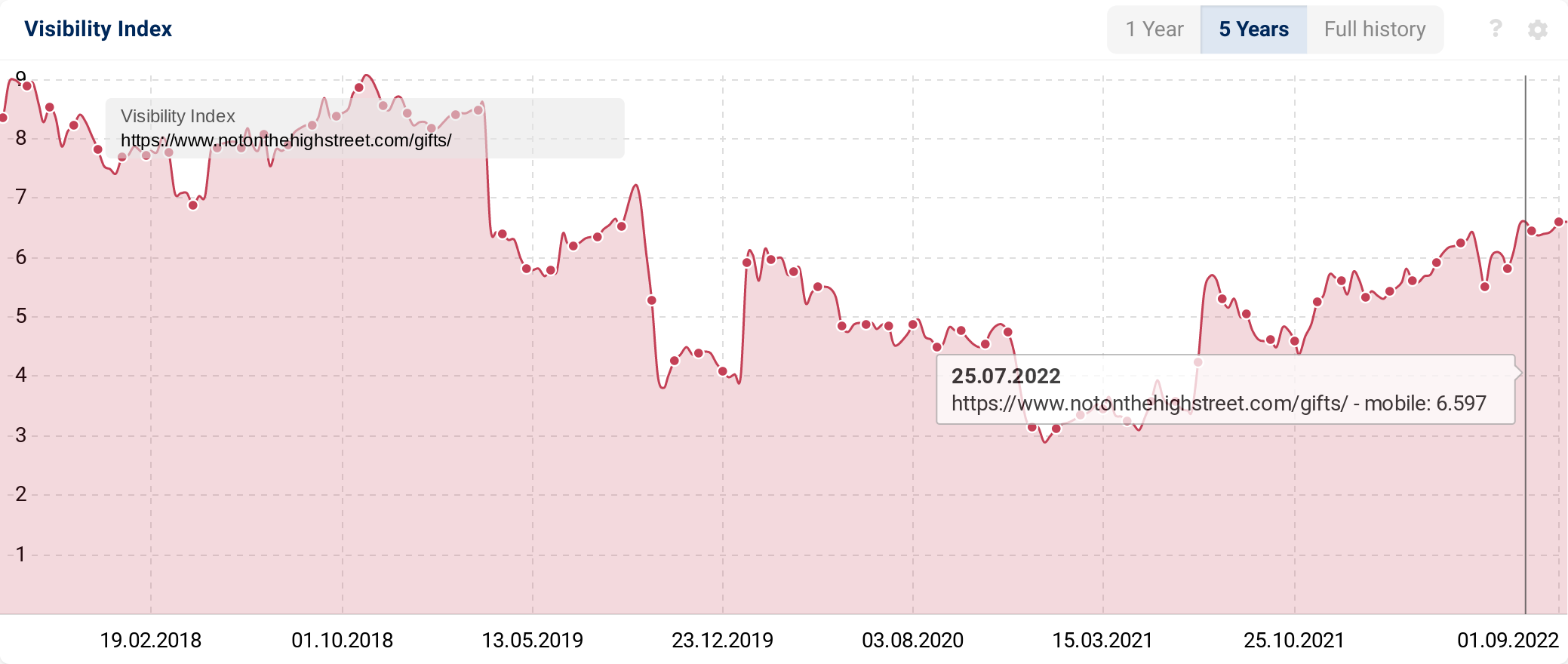 The /gifts/ directory has 289 ranking URLs and ranks for a whopping 33,091 keywords (within the UK), which is even more impressive noting that over 64% of those rankings are on page 1.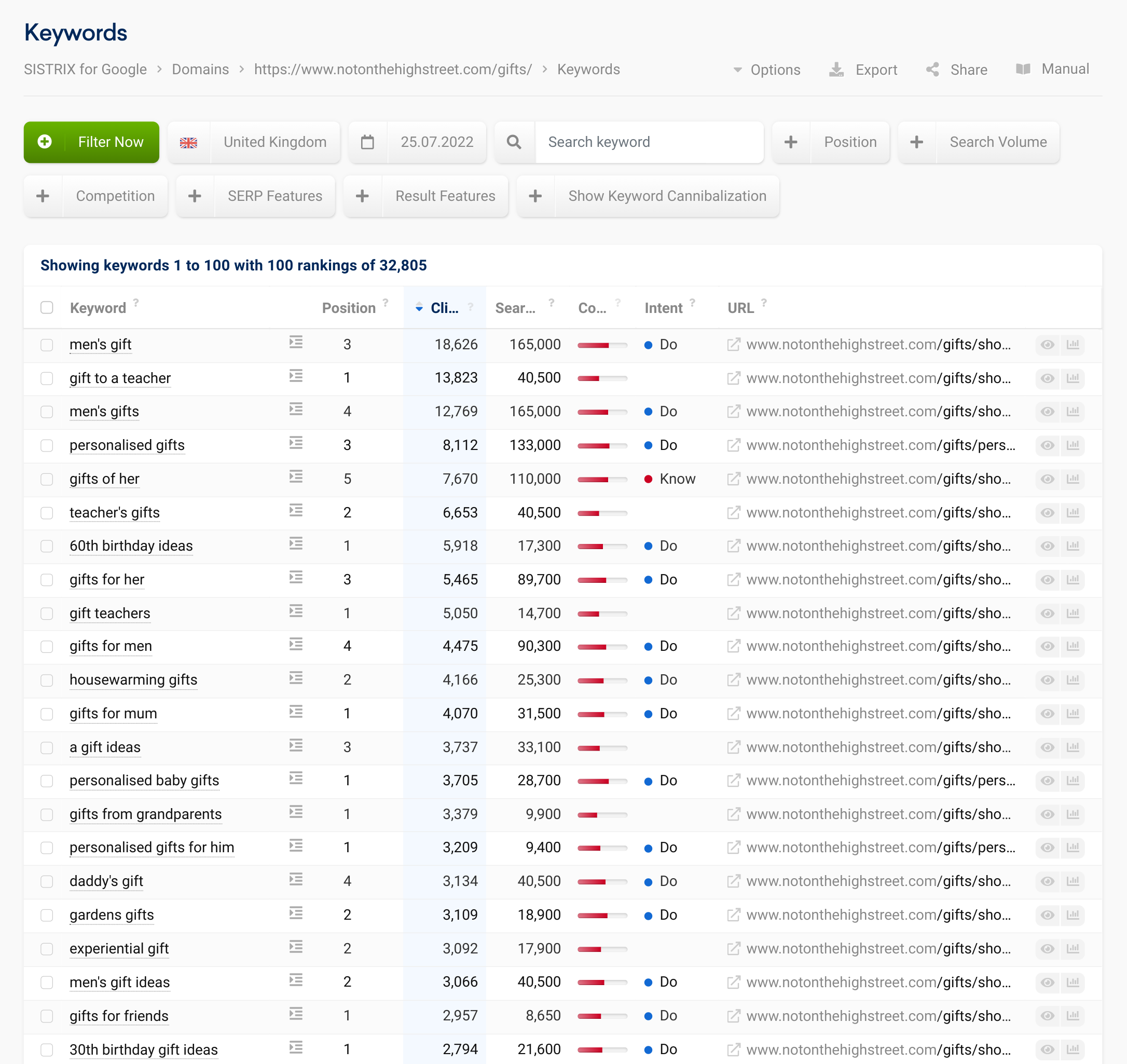 The majority of keywords that /gifts/ ranks for are variants of "gifts for…" which isn't surprising. However, their coverage of multiple permutations with search volume has allowed them to combine their effective content format with powerful internal linking to create a structure that serves a landing page (often on the first page) for anything from gifts for mum to new house presents and even gifts for aspiring chefs.
The highest performing category groups within /gifts/ are shop by occasion and shop by recipient which are both featured on the top navigation — these categories contain the landing pages that map with the highest demand terms. Hence the larger visibility.
So, why are Not on the High Street performing so well with this content format? On top of understanding what their potential customers are searching for, and creating a structure that reflects that, they are following most best practices within eCommerce:
Created landing pages to match search demand and intent, for example having a landing page for Gifts for 18th Birthdays as well as 21st birthdays and so on. This allows greater coverage as compared to a generic birthday gifts landing page
High volume categories such as gifts for mothers feature directly on the main navigation, providing site-wide linking to these important landing pages
Internal linking on a product category page level is handled through both breadcrumbs and quick links at the bottom of the introductory copy, contributing towards the creation of topical clusters
Introductory copy on the product listing page templates is concise, clear and helpful where it needs to be without muddying the intent of the overall page. Although, it seems in most cases internal linking is left to the module under the copy
The Perfume Shop – a leader in commercial content
The small high performance content format winner for 'do' keywords is The Perfume Shop, which, believe it or not, is an eCommerce store selling perfumes, aftershaves and personal care products. The directory which has the highest ratio of first page rankings is their /armani/ folder, with 81.9% of their rankings sitting on page 1 (as of July 2022).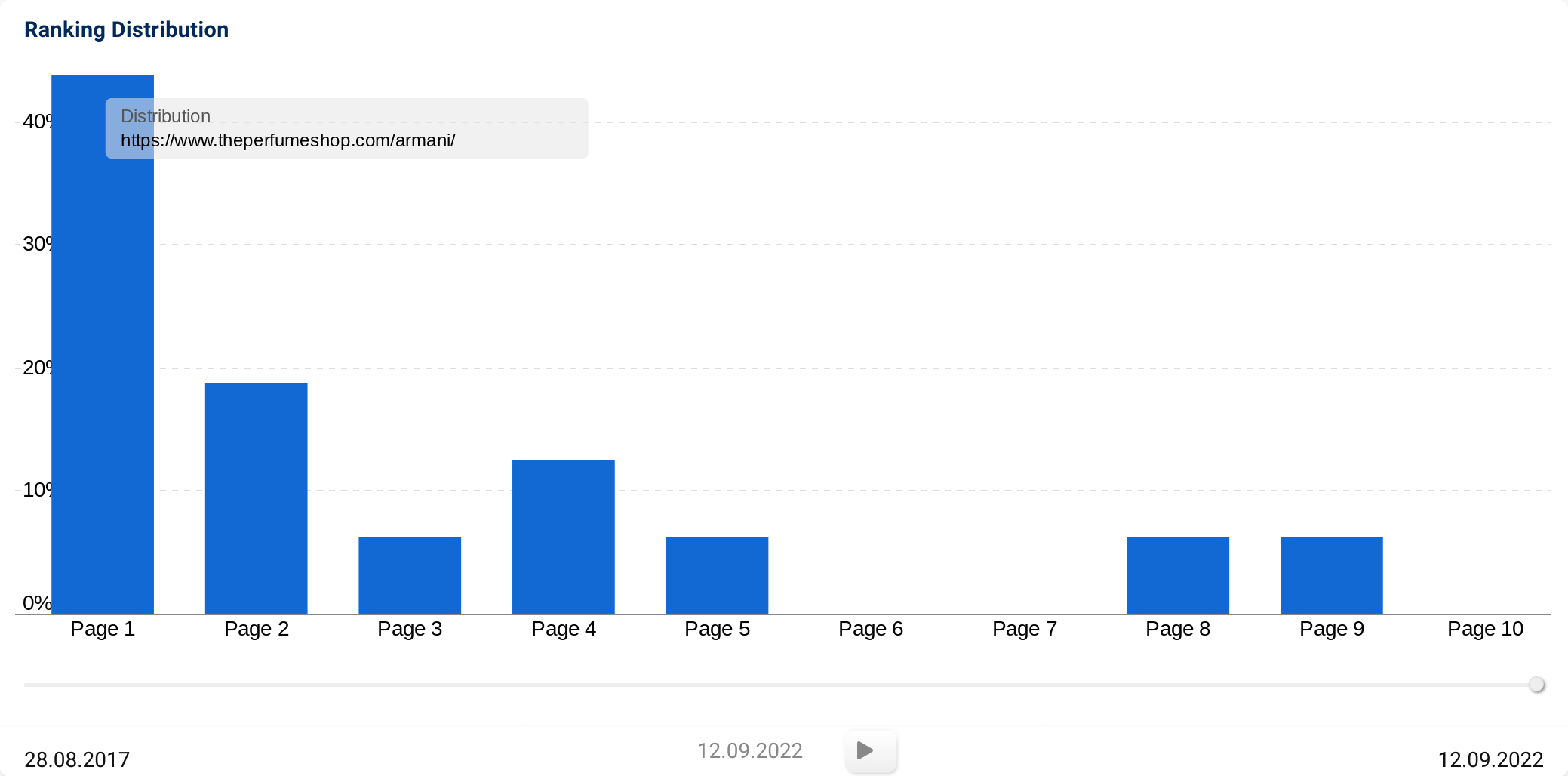 Their /armani/ directory ranks for 1,939 keywords in the UK search results across 48 URLs. The content format that The Perfume Shop is using for brands, like Armani, consists of a main "brand category page" which effectively links out to product listing pages for sub categories like "Women's Armani Fragrances" and then subsequently product detail pages.
Most of the high-volume keywords that this directory ranks for are product level terms and, as a result, the most visible URLs are generally product detail pages. However there are some large category specific terms such as "armani perfume" which returns their rather well internally linked Armani category page /armani/b/31
The content format used for brands works particularly well for The Perfume Shop, with 3 of their top 5 directories using the same content format. We would also classify all 3 of these directories as HPCFs — this is a theme we have found with multiple websites that have high performing content formats.
When we look at why this content format is performing so well for The Perfume Shop, it's clear that they have established a structure that:
Makes great use of internal linking from the main Armani category page, which links out to individual product lines through the side menu and page tiles. Internal links are also present in the breadcrumbs as you navigate through the category. We did spot that the links for Men's and Women's Armani fragrances have 2 links from the main category, one linking to a dedicated category and one linking to a filtered view of all products which is canonicalised to the non filtered PLP
Product detail pages (PDPs) contain all of the information a user would need at a glance such as prices for each size and bundle options from the same fragrance range (something that does have a considerable amount of search volume). However, product descriptions used are the ones provided by the brand, which is not uncommon with eCommerce retailers.
Authoritativeness for this content format is provided via an "Opinions from Social Media" section at a product level, as well as including a reviews section from Feefo. On top of this they also have an "Our Experts Say" video present on most PDPs which could very well be contributing to E-A-T signals
The Winners – 'Know'
As mentioned above, we wanted to provide a more complete view of high performing content in retail, that means covering multiple stages of the user journey from an organic search perspective. This resulted in some interesting outcomes, none of which are typical eCommerce websites.
Yet, a lot of the directories have surfaced because they're competing with eCommerce sites at a domain level. To provide an example, Men's Health displays in our Visibility Leaders table with their /fitness/ directory — this is made up of fitness advice, workouts and some product reviews.
Their main competition for this directory in the SERPs are other informational sites. However, there are some eCommerce sites like MyProtein that are trying to attract potential customers by having this style of content on their site. The question is: could eCommerce sites benefit from being more visible at this stage of the searchers journey? And are there lessons to be learned from the likes of Men's Health?
Healthline – a leader in informational content
The large site winner for informational 'know' intent HPCFs is Healthline with their /nutrition/ directory. This section of their site covers everything Nutrition from vitamins and supplements to recipe ideas.
It ranks for a very impressive 464,878 keywords, with 47.3% of those keywords returning a first page result containing one of Healthline's 5,612 ranking URLs within their /nutrition/ content format.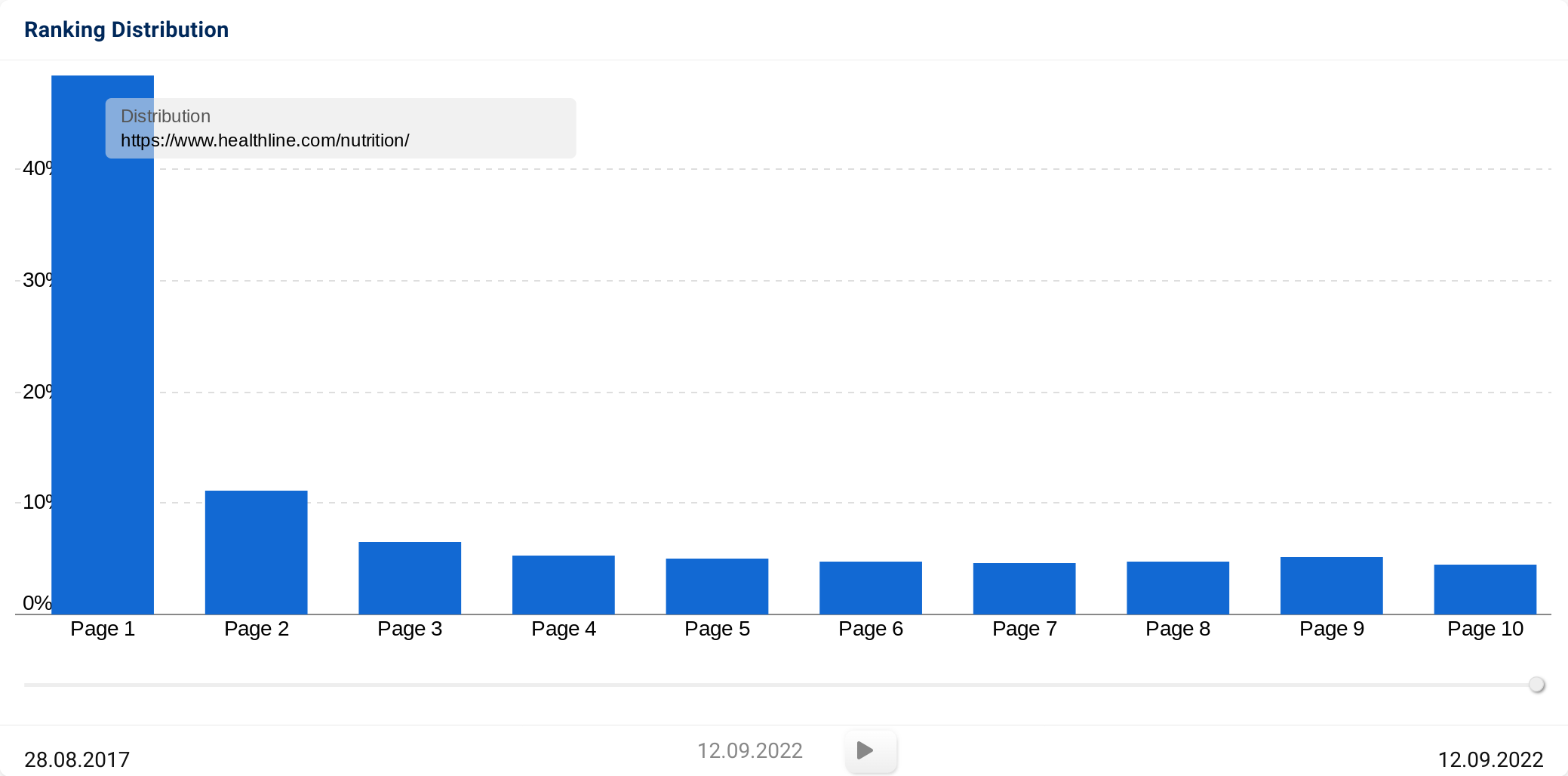 The majority of their ranking URLs within this content format are articles, as to be expected from a publication like Healthline. However, these articles are all supported by a range of category style pages such as "Healthy Eating" or "Vitamins & Supplements" which then link out to related articles — creating clusters of related information within nutrition.
Content within this directory contains a mix of intents (all within informational). If we were to expand on the 'know' intent and ask the question "what do searchers want to 'know' when visiting Healthline?" we would discover that some users are searching for information around diets and meal plans, which may not directly contribute to a purchase decision. Yet we would also find that articles like "The 5 Best Vitamins for Hair Growth" (for all my fellow bald friends out there) are quite commercial in their focus and feature multiple affiliate links. Would this content be out of place on a website selling supplements? Probably not, but E-A-T would be a large consideration for the content creators.
So, why is Healthline performing so well with this content format?
The first and most obvious reason is that their content is genuinely helpful, well-researched and structured in a very user centric way
Where applicable, they also display videos to enhance certain articles. These videos are marked up with the correct structured data enabling them to feature in rich results, increasing their visibility even further
They create content in topical clusters, for example they have 139 URLs within /nutrition/ ranking for ketogenic diet related terms. The most visible article within this group The Ketogenic Diet: A Detailed Beginner's Guide to Keto is essentially the "hub" and the other 138 URLs make up the spokes
E-A-T signals are incredibly strong on Healthline, it's not unique to this content format but it certainly benefits from it. To name a few, they have:

A written by experts tooltip on most articles
Authors assigned to each article that are experts in their respective fields — each backed up by a profile page detailing their experience
Links to trusted sources (PubMed in most cases) for citations around health and nutrition statistics and facts
Hitched – a leader in informational content
The small website winner for 'know' intent high performance content is Hitched with their /wedding-speeches/ directory. Hitched is essentially a one-stop shop for all your wedding planning needs, from the venue to dresses and even rings. It acts like an intermediary or affiliate where you can't purchase directly on the website but instead contact venues via the site or visit suppliers through affiliate links.
Their wedding speeches directory ranks for 1,004 keywords across 266 URLs with 62.4% of their positions appearing on the first page of the results.
Most of the visibility within this content format is driven by category style pages such as grooms speech examples where you can browse multiple speech examples for inspiration – this particular landing page is responsible for just over 42% of the total visibility within /wedding-speeches/
There are some fairly visible landing pages which are in an article format, containing the speech itself, for more specific queries such as "toasts to absent friends". Oddly, most of these pages are titled "Speech by …" as is the H1 tag and any internal links. So the relevance to the search term is being picked up largely by the body copy and signals from elsewhere on the site.
They have certainly created a unique method to satisfy the user intent for terms like "groom's speech" and "best man's speech" – there are no other websites displaying similar content on the first page in the way that Hitched does. Most present speech examples as a snippet alongside the do's and don'ts of wedding speeches.
Breaking down the well-optimised elements for the wedding speeches content format on Hitched we can see:
One of the largest databases of wedding speech examples on the internet, all of which are actual wedding speeches and, from the sample set that we tested, are unique and don't exist elsewhere in Google's index
Topical clustering via internal linking is very strong and handled nicely by a scrolling quick links section beneath the introductory copy as well as a sub-menu to browse all content
Hitched in general is a well-optimised website which is entirely focused on the wedding industry and supports this content format's performance by having great topical authority
Additional interesting observations
As we went through the data and put together this report, we had a number of interesting observations which are worth calling out as in some cases they could highlight an opportunity for your own site.
Mixed intent SERPs
As you see with head terms such as "Running Shoes" the SERPs will often be mixed between informational and commercial results – this is because of the ambiguity around the actual intent of the term. Maybe the searcher wants to browse running shoes on a retailers site or perhaps they want more information about what running shoes are right for them. So why not serve them both results in the same SERP?
Where we have seen a retailer possibly winning here is Argos with their /features/ content format. They are mixing informational content with commercial to provide answers to potential questions as well as related products.
For example, searching "​​Home Gym Equipment" returns the landing page https://www.argos.co.uk/features/gym-equipment on page 1. This SERP is the definition of mixed with equal parts retailer and content sites. However Argos appears to be serving both intents in one landing page. Is this great SEO or is it potentially cannibalising their product listing pages?
There are also some informational domains, mainly review sites like the BikeRadar /reviews/ directory, ranking for typically commercial intent terms. Despite the domain being informational in nature, their product reviews are frequently present in commercially focused SERPs. In BikeRadar's case there are two reasons this happens:
Many of the products they review are from DTC brands so there is only one ranking domain that actually sells the product (e.g. "Propain Tyee" a full suspension mountain bike)
Users searching at a product level for bikes such as the B'Twin Ultra 920 AF road bike could be looking for more information than brands provide on their website, like climbing ability or how the geometry feels, as bikes tend to be a considered purchase
Informational content on eCommerce websites
There is no doubt that informational content serves a very important purpose within the retail sector and there will always be a place for sites serving this informational intent in the SERPs.
However, there are definitely opportunities for most eCommerce sites to leverage informational content on their own websites and appear in the SERPs alongside sites that are purely informational in nature.
During our analysis we noticed a couple of examples where this is working extremely well for eCommerce sites. One of the largest retailers is B&Q (diy.com) with their /ideas-advice/ directory.
To provide one specific example, the SERPs for the term "how to repair plaster ceiling" display multiple informational websites and how-to guides as well as videos. Yet, B&Q have the top spot with a very helpful guide from their /ideas-advice/ directory (this is the case for lots of similar search terms). It's very likely that B&Q also sell all of the products required to carry out these repairs (despite not linking to them from the article). There are other DIY stores with similar content on their sites, so this idea isn't unique to B&Q but the optimisation of this content seems to be overlooked by the others.
Background information and glossary
To represent a more complete picture of a typical eCommerce user journey we curated two lists of keywords covering both 'know' and 'do' intent, which totalled around 3,700 individual phrases.
The 'know' keyword list was used to highlight terms where searchers are looking for more information about a product prior to purchase or asking a question that would identify them as being a potential customer for a certain product. These keywords typically sit within the awareness and consideration phases of a user journey. Whereas the 'do' keyword list covers terms with a more commercial intent.
We used these keyword buckets to generate a list of 400 relevant domains which we cross referenced with our database of 52,000 HPCF directories, this resulted in a list of the most visible content formats used by retail and consumer information websites as of July 2022
The keyword set used for Ranking Distribution analysis is the full 55 million keyword database used in the UK. This may differ to the ranking distributions seen in the Toolbox, which currently show data based on a core 1 million keywords.
Glossary
Ratio – the percentage of ranking keywords that are on page 1 of the SERP as measured in July 2022
Monthly clicks – as estimated using SISTRIX per-SERP CTR curves (22/08/2022)
Content VI – the Visibility Index, or footprint size, of the content (22/08/2022)
'Large' and 'Small' content hubs are categorised on their Visibility Index. (Less than 0.1 is categorised as 'small.')