In the last issue of Visibility Leaders we brought you a selection of trends. This time we're bringing you a special edition edition of our TrendWatch research. See our TrendWatch newsletter for a monthly trend update after you've had a look at these interesting upward movements in search trends.
Hong Kong Free Tickets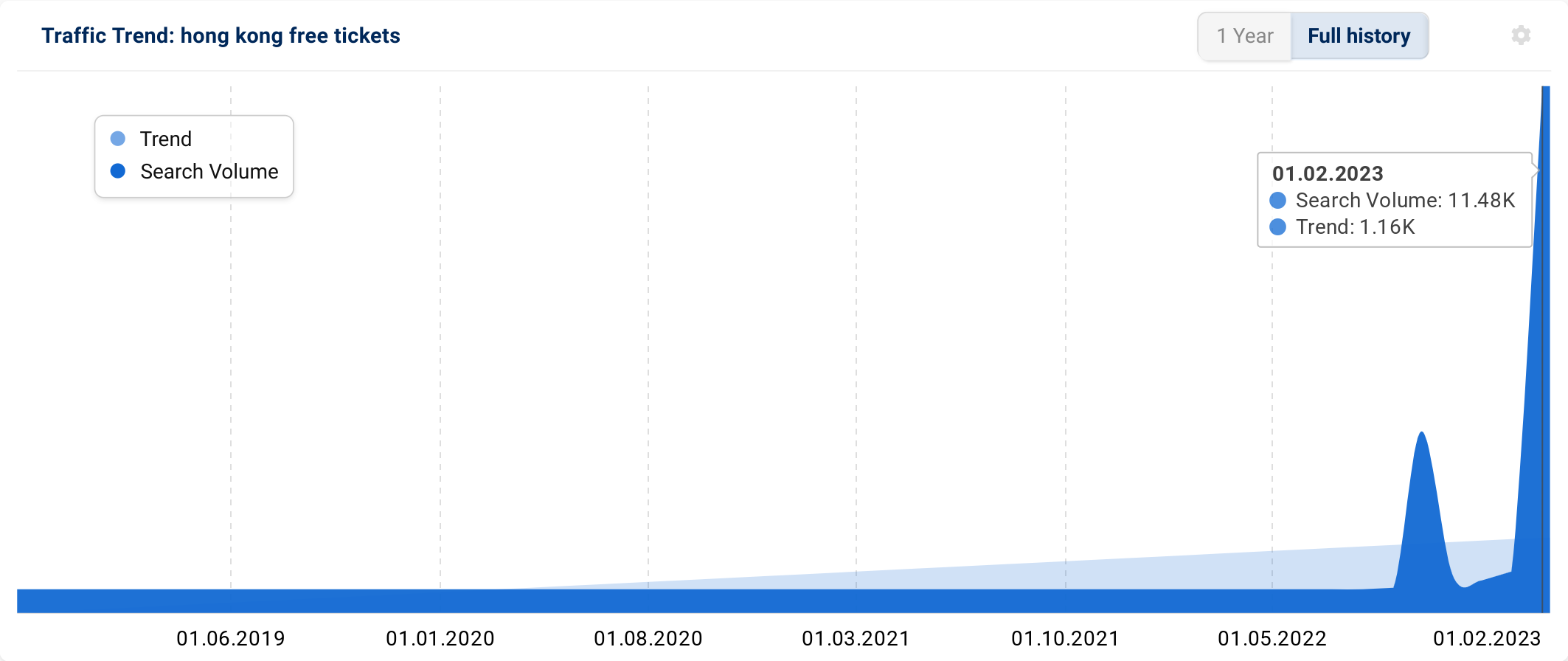 Anyone fancy a trip to Hong Kong? The city has unveiled a new initiative aimed at reviving its ailing tourism industry post-pandemic – by giving away 500,000 airline tickets.
The free tickets will be released in stages from March and made available to Europeans from May. The city has already eased its travel restrictions, including mandatory testing and isolation on arrival, and will end its mask mandate on 1 March. The free tickets, worth over €250 million, will be distributed by Cathay Pacific, HK Express, Hong Kong Airlines and Greater Bay Airlines through various channels. The giveaway will last for about six months, with tickets released in phases through lucky draws, first-come-first-served and buy one, get one free promotions. And it seems like word is getting out, with searches for these free tickets starting to skyrocket. If you're tempted, and get lucky with one of these golden tickets, don't forget to check out this list of things to do in Hong Kong here.
But it's not just Hong Kong with innovative travel schemes – Taiwan recently launched its own campaign to boost visitor numbers. It is offering to pay tourists just over €150 to holiday there this year. The East Asian country is seeking to welcome six million tourists in 2023, and hopes lining their wallets with NT$5,000 (€158) will help win them over.
Premier Inn Near Me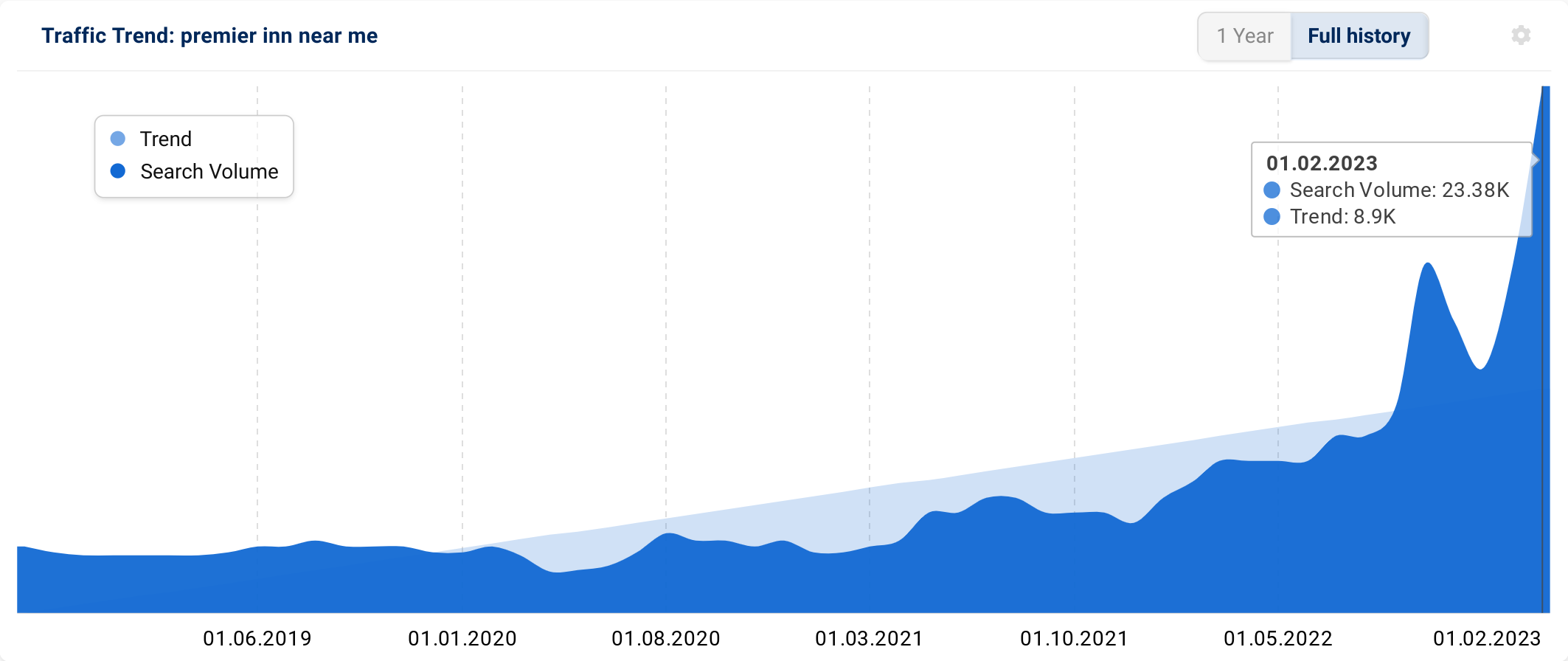 If you've ever found yourself in a situation where you needed to book a hotel on the spot without any prior planning…you're not alone. Searches for "hotel near me" are increasing at an exponential rate. Possible reasons could include deciding to embark on a spontaneous trip, where you don't have a fixed itinerary in mind. Or maybe you experienced a delay in your original travel plans, or had a change of heart and needed to find a nearby hotel at the last minute. Then there are those of us who are simply not the best at planning ahead. Searching for a hotel near our current location is much easier than booking in advance.
Given the explosion in popularity for the term, it would be smart to talk about how hotels can cater to travellers who search for "hotel near me" without any prior planning. Firstly, offering special deals or promotions for last-minute bookings can be a game-changer. Who doesn't love a good discount? And secondly, having a mobile-friendly website can make the booking process a lot smoother for those who need to book on-the-go.
There is one hotel chain that has got this down pat – Premier Inn. They're the UK's favourite hotel brand, according to a survey by Which? For starters, they offer affordable pricing for their rooms, making them accessible to a wide range of travellers. Plus, Premier Inn has a reputation for offering consistent quality across all their hotels, ensuring that guests can expect a comfortable and enjoyable experience no matter which location they stay in. They also have hotels located in convenient and desirable locations throughout the UK, including city centres, airports, and tourist destinations. So if you find yourself in a pinch and need to search for a hotel, googling "Premier Inn near me" is likely a good option – and something that these search results can attest to.
London to Amsterdam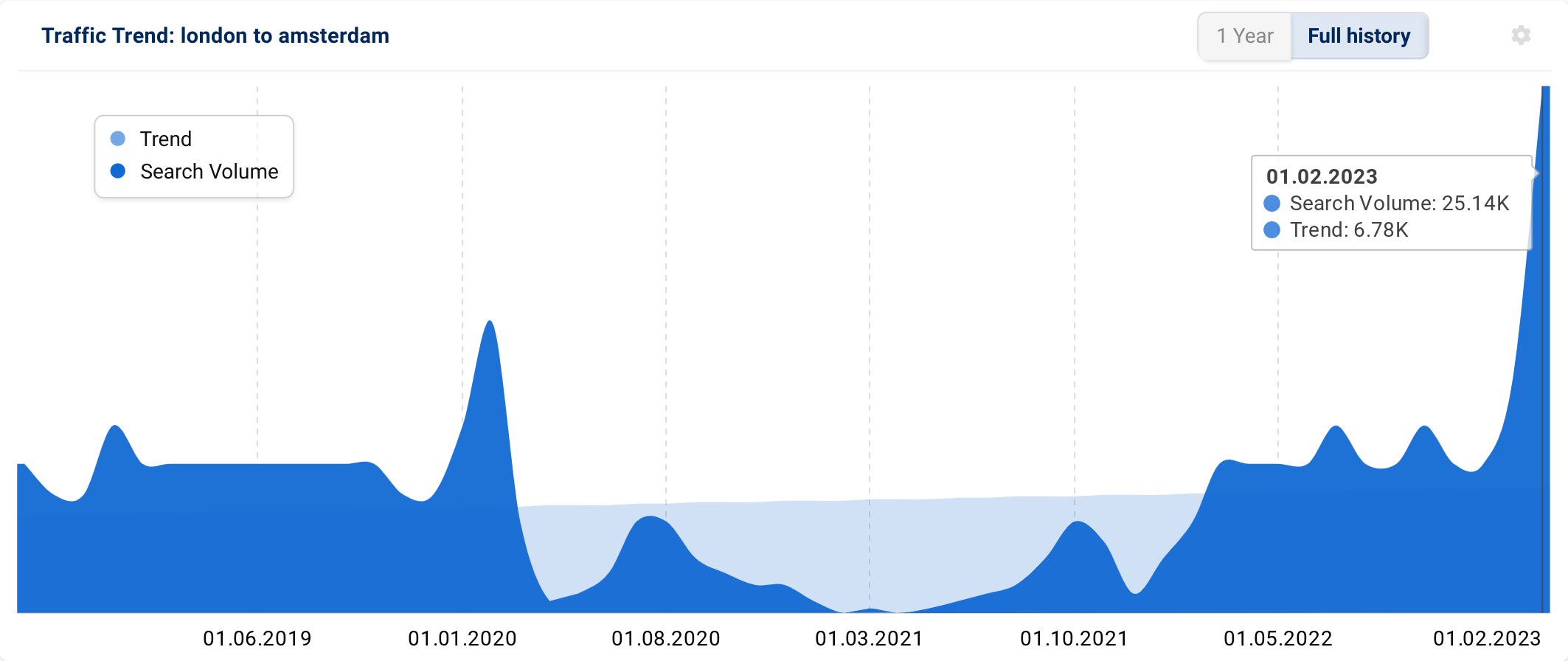 As air travel prices continue to rise, many people are finding it harder to justify the expense of flying. But there's good news for those looking for affordable alternatives – the train is becoming an increasingly popular way to travel, particularly for journeys within Europe.
One of the main advantages of taking the train is the avoidance of airport hassles. With no long security lines or hours of waiting in the departure lounge, passengers can board the train just a few minutes before it leaves. The Eurostar, which runs trains between London and Amsterdam, has recently increased the frequency of its services between the two cities, making it easier than ever to travel between them.
One advantage of taking this route via the train is that the two stations are located in the city centres, making it easy to get to and from the station and connect to other modes of transportation. This is in contrast to budget flights, which often require an hour or more of travel time just to get to the airport. And that's before factoring in the time spent waiting in line to check in and pass through security.
But it's not just the convenience that's making train travel an attractive option. There are also environmental benefits to consider. The carbon emissions associated with air travel are well-known, and taking the train can be a more eco-friendly option. With a journey time of just over four hours between London and Amsterdam, passengers can significantly reduce their carbon footprint by choosing to travel by train instead of flying.
American Express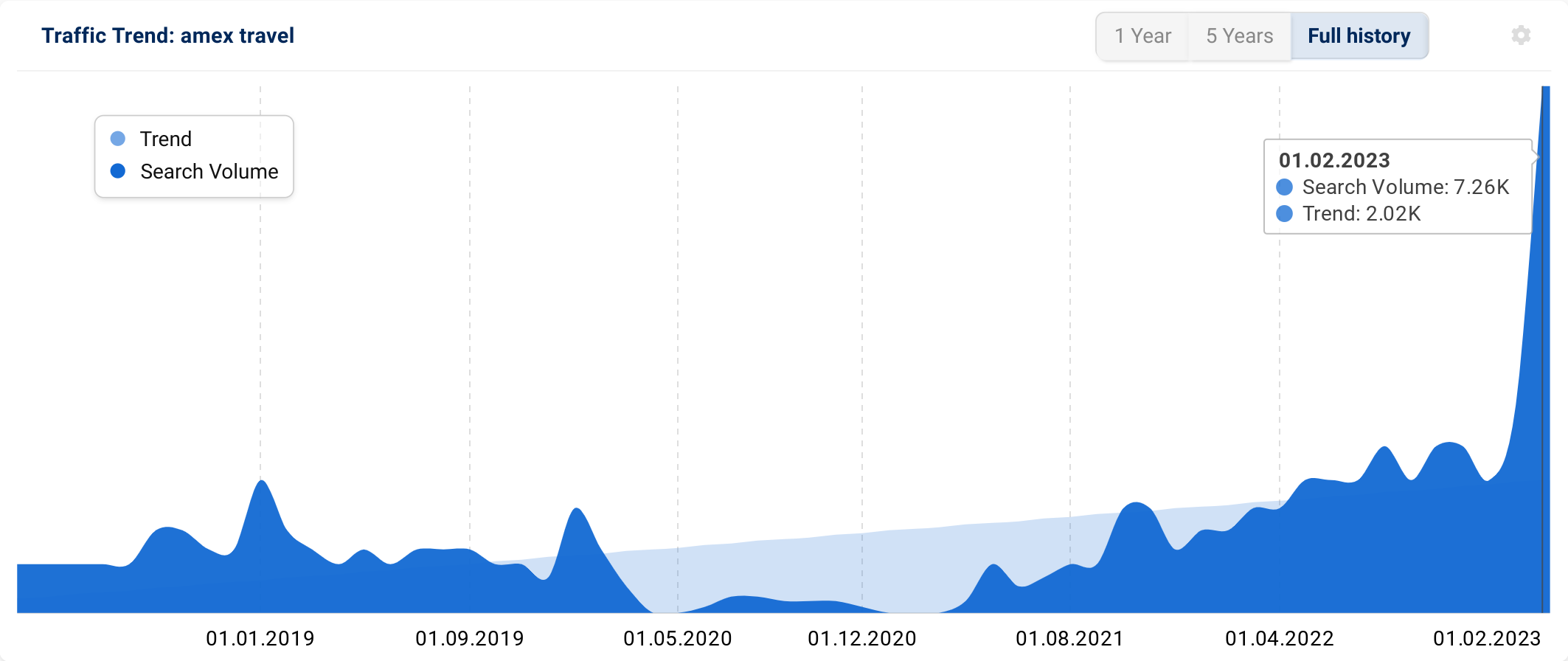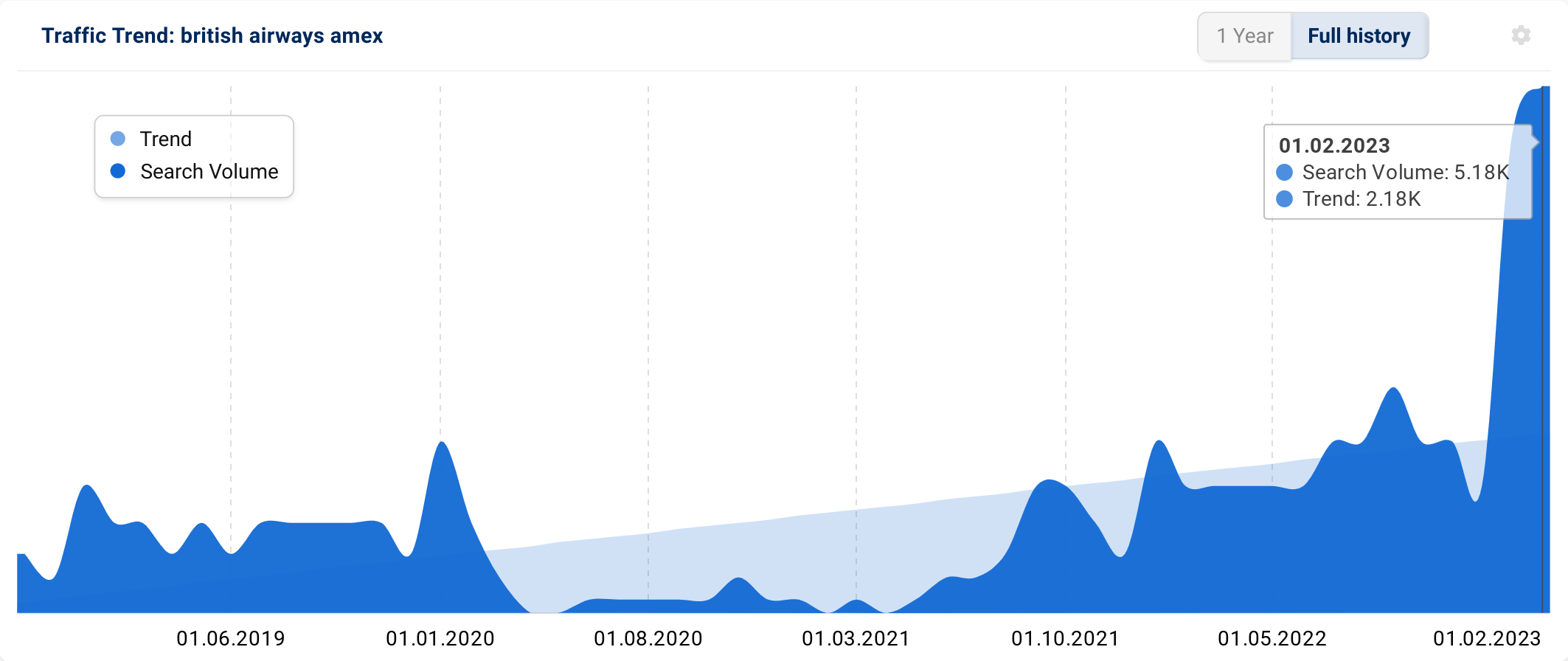 The American Express card has long been considered a good choice for frequent travellers because of the travel perks: access to airport lounges, travel insurance, and hotel room upgrades are just some of them.
Recently, a promotional campaign offered new cardholders eight free British Airways flights if they spend a particular amount within the first year of opening their account, causing searches for terms such as "amex travel" and "british airways amex" to go through the roof. Additionally, cardholders can earn points for every pound spent, which can be redeemed for travel and other rewards.
To qualify for the bonus, new customers must have signed up before February 21 and spent £3,000 within the first three months of opening their account.
This is all part of the Amex Platinum experience, which for a long time was the only premium rewards card available. Even now, it remains one of the top travel credit cards on the market. Families can benefit from the up-to-$200 annual airline fee statement credit to cover additional luggage expenses, as well as in-flight food and entertainment purchases to keep kids occupied while flying. Similarly, lounge access with hot food, free Wi-Fi, and clean showers can make a significant difference after a long trip!
Travel Insurance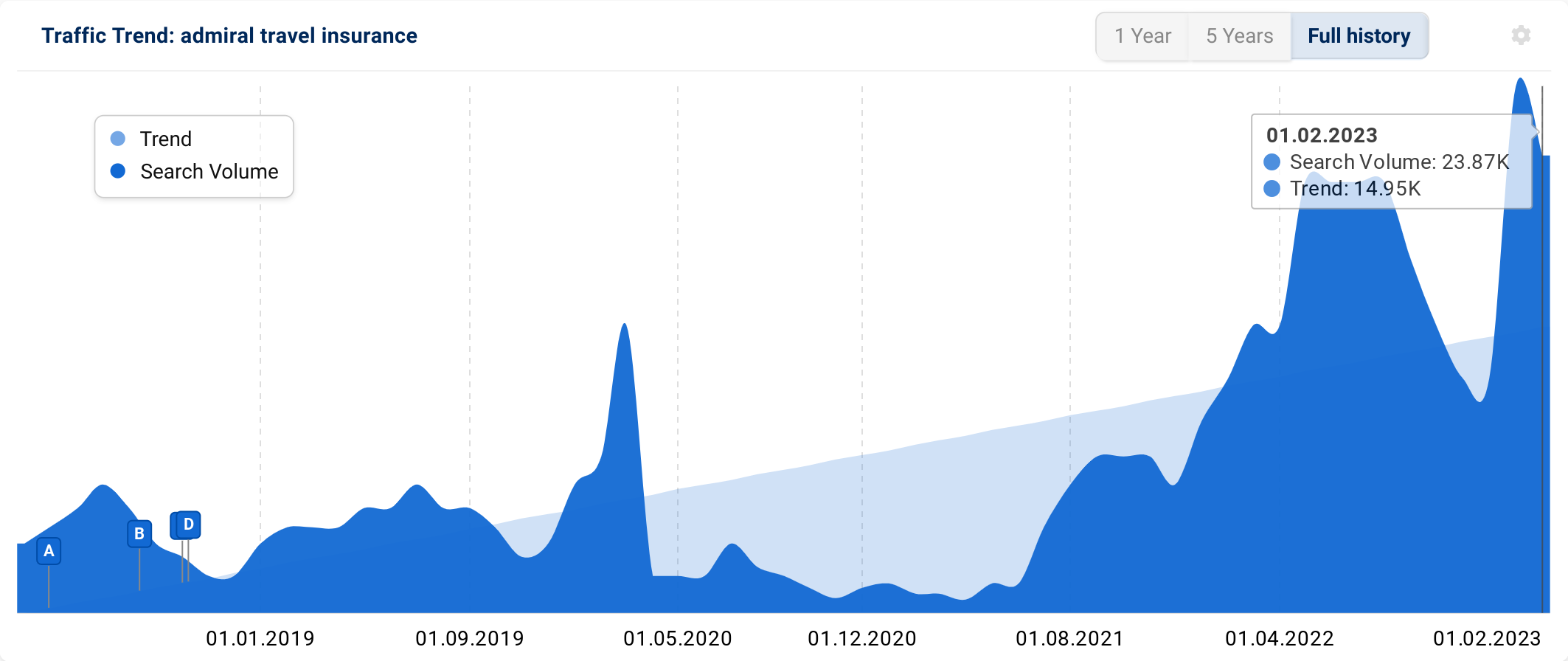 Travel insurance has become more popular in recent years as people become increasingly aware of the risks associated with travelling without it. Horror stories of lost luggage, cancelled flights, and unexpected medical emergencies are easily accessible online, and as a result, more people are taking proactive steps to protect themselves and their travel investment by purchasing travel insurance.
The COVID-19 pandemic caused widespread uncertainty and disruption in the travel industry, with many travellers having to cancel or reschedule their trips due to unexpected travel restrictions, illness, or other disruptions. This has led many people to prioritise travel insurance as a way to protect themselves against unexpected events related to the pandemic. Many travel insurance companies have also created new policies to specifically address COVID-19-related issues, such as trip cancellations due to illness or travel restrictions.
As more people seek unique and adventurous travel experiences, the need for comprehensive travel insurance has increased to cover activities such as extreme sports, adventure travel, and remote destinations. These types of activities come with higher risk factors, and traditional travel insurance policies may not provide adequate coverage. As a result, travellers are seeking out specialised insurance policies to cover these types of activities.
While travel insurance can provide peace of mind, sometimes unexpected mishaps can turn into funny stories to tell later. Who can forget the story of a family in New Mexico who booked a vacation rental through Airbnb in 2019, only to discover upon arrival that their rental was actually a meth lab? And in the UK in the same year, a woman enjoying a day at the beach on an inflatable unicorn float was stranded for two hours when strong winds and ocean currents caused the float to drift out to sea. Moral of the story: go out and explore the world, but make sure you're protected with travel insurance!
Booking.com deals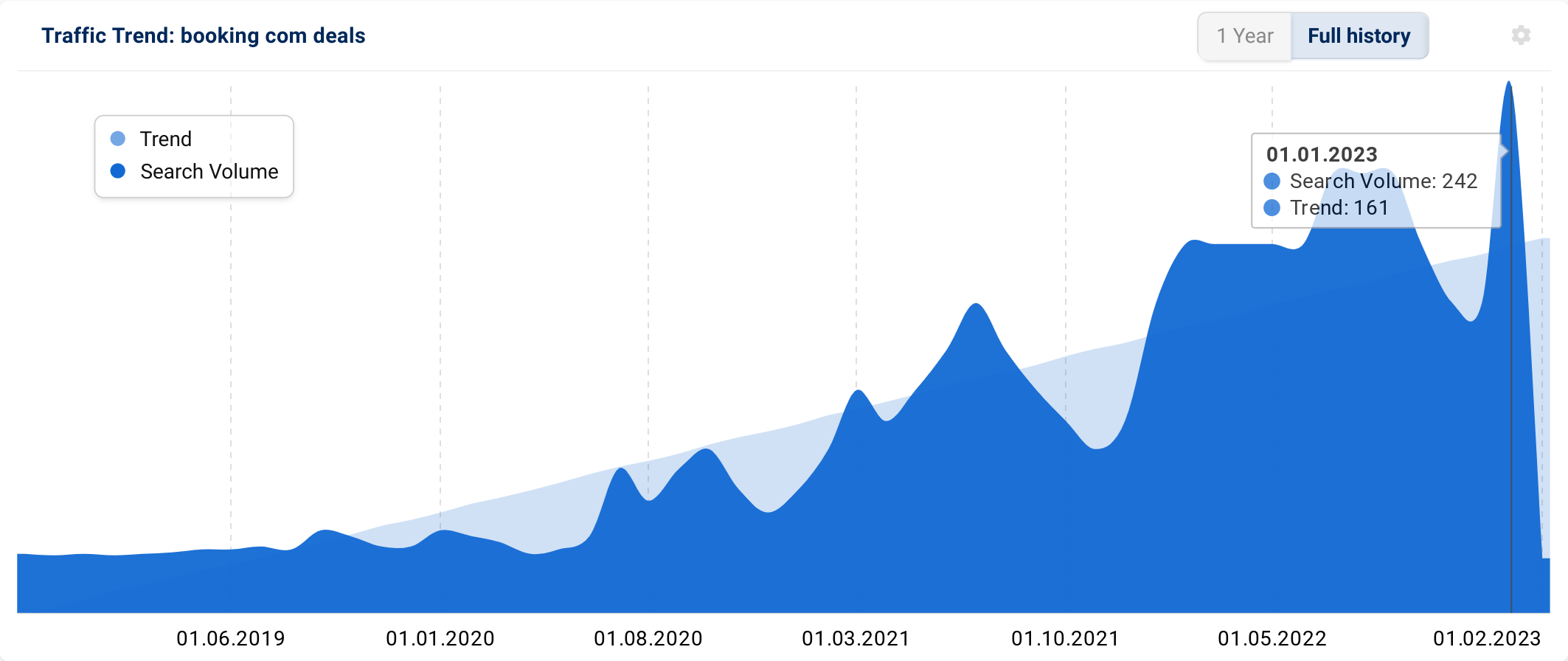 No surprises here that people are looking for deals on travel. With so many different booking websites out there, it can be tough to know which one to choose. One option worth considering is Booking.com, a popular platform that offers a wide range of travel options and deals all in one place.
One of the things that sets Booking.com apart from other travel booking sites is its reputation for offering competitive prices and a user-friendly booking experience. With a few clicks, you can easily find and book accommodations, flights, car rentals, and more for your next trip.
Another benefit of Booking.com is its frequent sales and promotions, which can help you save even more money on your travel expenses. For example, they may offer discounts on specific destinations or types of accommodations. You can often find these deals by visiting their "Deals" page or signing up for their email newsletter.
Of course, like any travel booking site, there are pros and cons to using Booking.com. Some users have reported issues with customer service or hidden fees. The best advice I can give is do the research before deciding where and how to book. Happy travelling!
Riviera Travel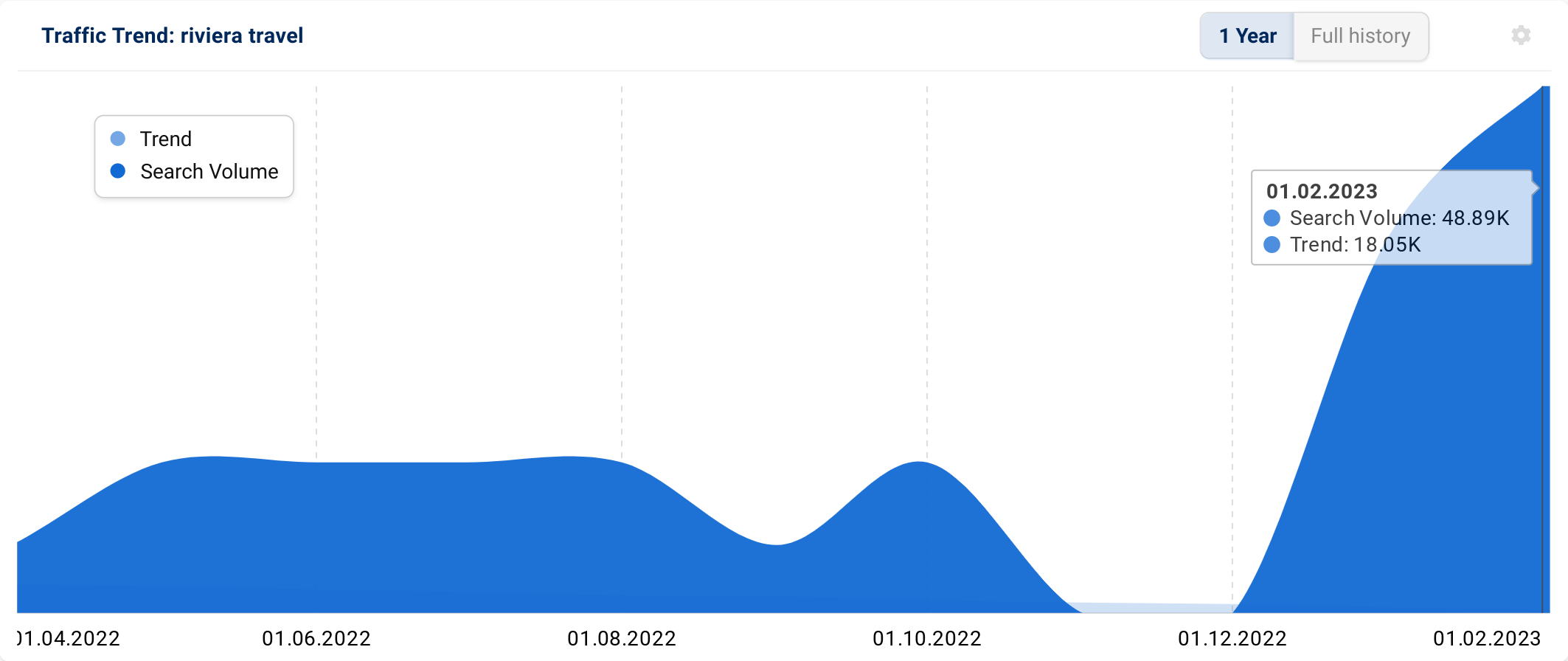 Thanks to this bold new campaign, Riviera Travel has seen a significant increase in search traffic recently. The company has invested over £3.7m in the Forever Curious campaign, which will be running across multiple platforms, including print, digital, radio, TV, and various trade marketing platforms until November. The ads were shot in France, Germany, and Switzerland, around the Seine and Rhine rivers, using two of Riviera's ships: MS Jane Austen and MS George Eliot.
The focus of the ads is on the opportunities to explore ashore, which can lead the inquisitive traveller into a late-night jazz club or local beer tasting, as well as the more traditional benefits of cruising (sunbathing on deck, anyone?) Riviera Travel is also launching partnership trade activities, including e-shots, social media posts, direct mail, and print and digital advertising – and to reach a wider audience, complementary consumer television, radio, and digital advertising will run on ITV, Channel 4, and Sky TV channels, as well as Classic FM. No wonder searches for the company are going up!
Athens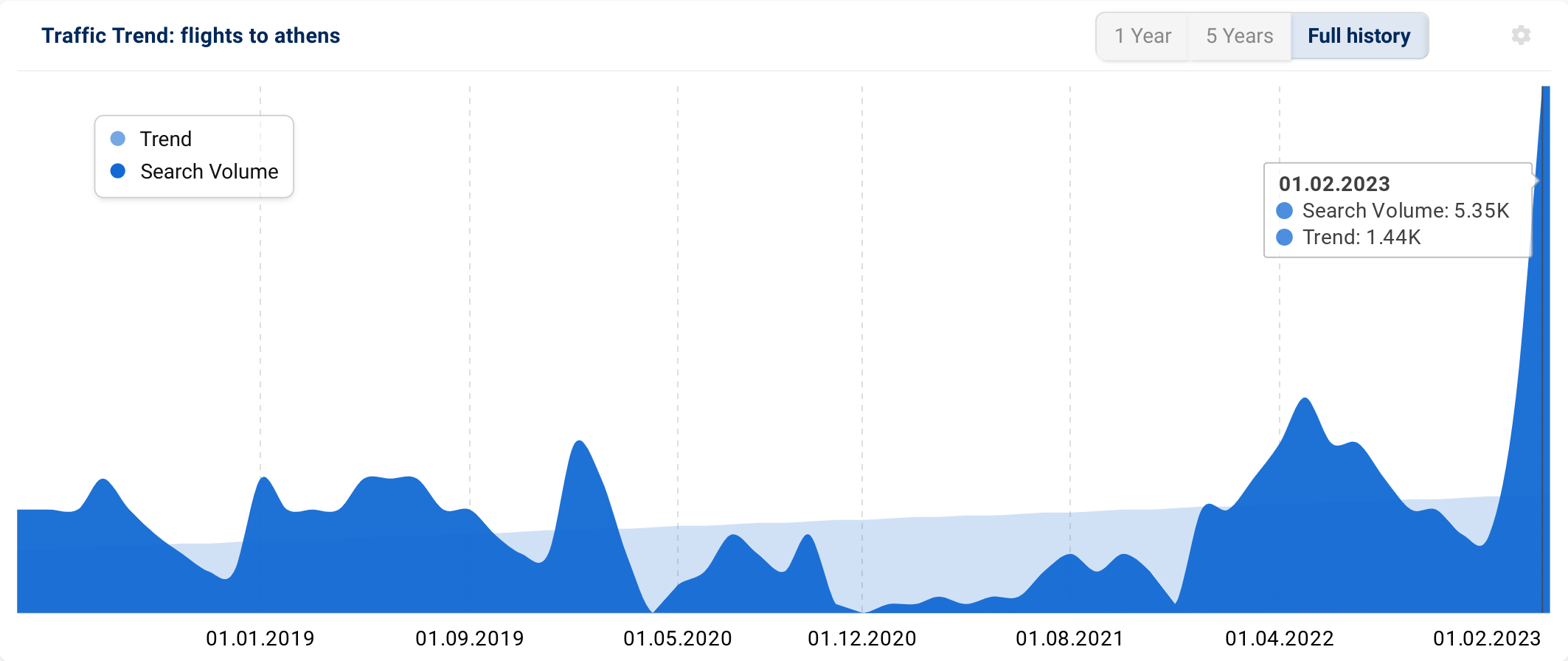 You probably don't need me to sell Greece to you. With its blue seas, incredible food, and gorgeous landscapes, the country speaks for itself. Still, it's interesting to look at the various tourism campaigns that have been launched for the global market. "All-time classic" was launched in 2018, "All you want is Greece" in 2021, and "Wanna feel 20 again?" is the slogan for winter 2022-23. Greece aims to extend its tourist season by attracting retirees to the country.
The country's economy grew by 5.6% in 2022, thanks to an influx of visitors. For the first time ever, British tourists edged out the Germans to become the largest group of visitors in Greece. Some people are calling it "revenge" tourism, with Brits making up for lost time and travel opportunities due to the pandemic. They generated over €3bn in tourism revenue – more than twice the amount they spent the previous year. Despite challenges such as high inflation and a war in Europe, British travellers are still prioritising their summer holidays. It just goes to show the power of travel and how it can boost an entire economy.
It's interesting to see how the search terms relate to the tourism campaigns. People are wondering about the weather, planning for spring instead of summer, as seen by the searches for April and May instead of July or August. The Greek islands are also a focus, with Naxos and Milos being of particular interest. Having visited Naxos myself last summer, I can see why people are looking for more information about it! I found a slice of deserted heaven! However, I won't share where on the island in the hope of keeping it that way! 😛
Ireland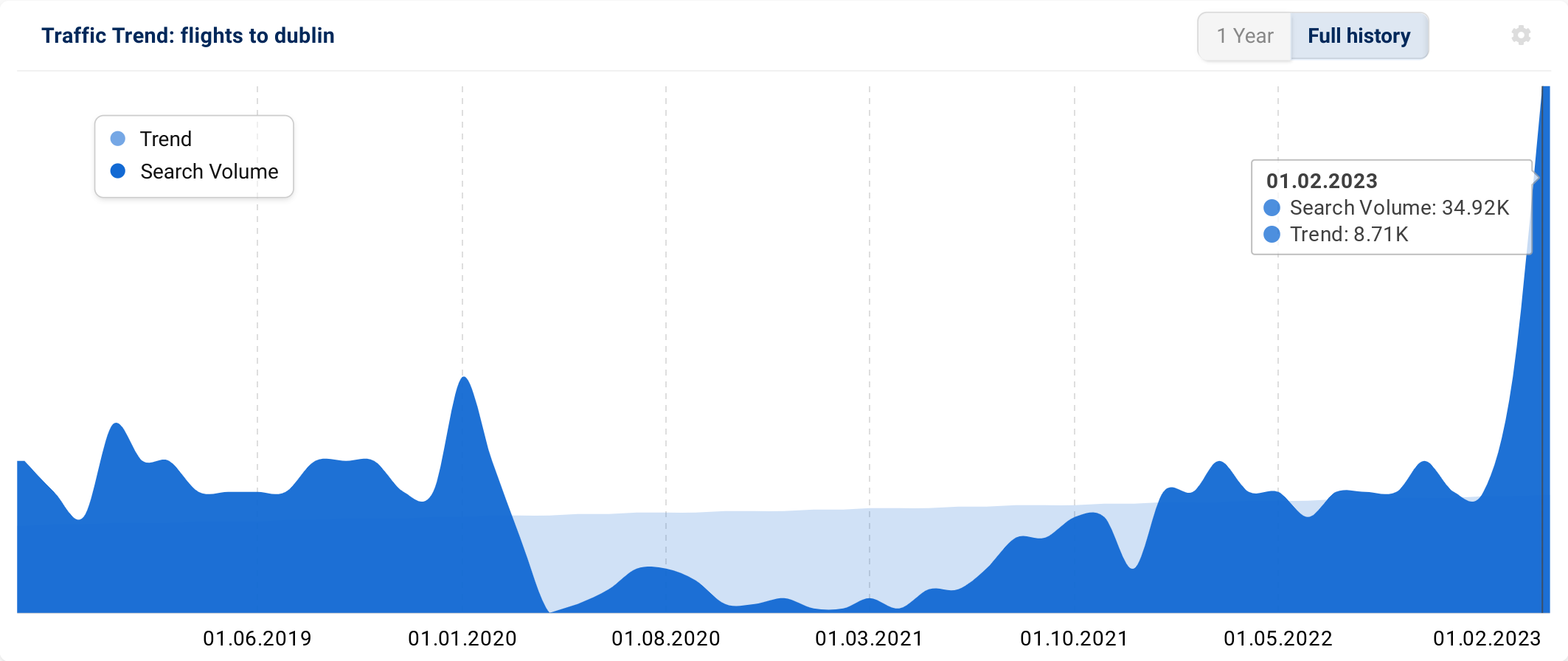 You can see in the US search trends that flights to Dublin increased when Tourism Ireland launched its US campaign in 2022. Tourism Ireland is the organisation responsible for promoting travel to Ireland, and the campaign was launched at an event in New York. It was attended by tour operators, travel agents, and journalists, and featured the premiere of a documentary film called "Ireland," narrated by Liam Neeson. The film celebrated the history, culture, arts, music, and scenery of Ireland.
The "Green Button" campaign, which cost $8.5 million, is running in key gateway cities and priority areas across the United States, including New York and Boston. It aims to reach and engage audiences with the highest potential to travel to Ireland, and includes ads on air and online, as well as on television networks such as ABC, NBC, CBS, and Fox. They urge visitors to experience the power of nature along the Wild Atlantic Way, connect with the past in Ireland's Ancient East, and enjoy epic landscapes and the warm spirit of the locals in Northern Ireland. Incidentally, if you're looking for more unusual experiences in Ireland, don't miss swimming with Ireland's wild-but-friendly dolphin, Fungie, and stopping by the Cork Butter Museum. You can check out this alternative list here.
Prior to the pandemic, Ireland welcomed 1.7 million American visitors in 2019, generating revenue of €1.6 billion (approximately $1.75 billion) for the economy. However, two years of COVID-19 was devastating for the tourism and travel sector. With searches for "flights to Dublin" still spiking, it's a sign that this ambitious effort by Tourism Ireland seems to be paying off, and the Emerald Isle's tourism sector is starting to recover.
An interesting aside, I thought that there was a travel and tourism link to the Dublin zoo as an activity that travellers might be interested in. It turns out the zoo might be closing and is in urgent need of funds.
Qantas Flights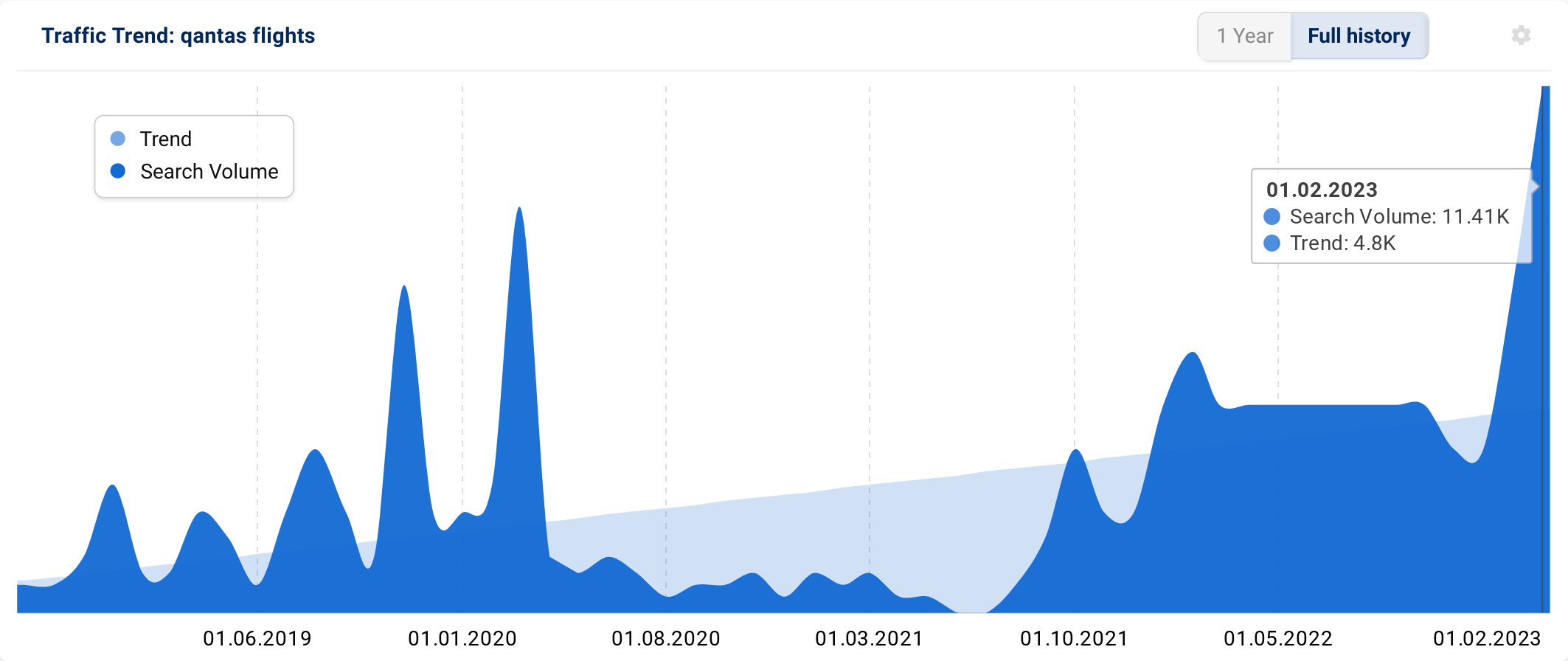 Tourism Australia has teamed up with Qantas to launch a new ad campaign called "Come Say G'day" – targeted at key international tourism markets around the world, including the UK!
The campaign aims to encourage people to book holidays to Australia and experience everything the Land Down Under has to offer. This is the first campaign that Qantas has launched since 2016, and it was kicked off in October last year. Interestingly, there was a noticeable dip and then a spike in searches after the launch. So, it looks like the campaign really caught people's attention!
The "Come Say G'day" campaign is all about showcasing the best of Australia to potential visitors. It includes digital advertising, social media activity, and a dedicated website packed with information on Australia's top destinations and experiences.
The timing of a campaign now is key – it's all about so-called "revenge travel." With Covid-19 restrictions easing, there's an expected surge in demand for international travel. Qantas and Tourism Australia are hoping to capitalise on this by tempting people with all the beauty, excitement, and "G'days" that await them in Australia.