Since 2006, Google Trends has been collecting, organizing and making accessible trillions of searches for SEOs, journalists and the passionately curious. It appears to be a simple platform, but how can you use Google Trends for SEO?
Before you get bogged down by information overload, read this article. We'll give you step-by-step instructions so you can use Google Trends to get an edge over your competition.
What is Google Trends?
Google Trends is a free tool provided by Google that allows users to find the most popular searches in real time and as a historical archive.
With Google Trends, you can break down data by location, discover topics that your audience is currently interested in, observe seasonal search trends, and take a deep dive into related queries that peak your potential customers' interests.
How does Google Trends work?
It's about as complicated as the rest of this data-mining giant's algorithms, but we'll tell you what you need to know to produce better content and improve your SEO.
You'll notice that Google Trends' "Interest over time" graphs are on a scale from 0-100. Unfortunately, that means you can't rely on them for search volume.
Instead, Google Trends displays the relative popularity of search terms and topics. Google does this by dividing the total number of searches by searches in a given location and time range in order to make comparing topics easier.
What does this mean for you? It means that to get the full picture of your search terms, you'll need to combine the data from Trends with search volume and keyword difficulty data from another platform, like SISTRIX or Google Keyword Planner.
It also means that you no longer need to guess what search terms are interesting to your audience.
6 Ways to Use Google Trends for Content Marketing
It might take a little practice to refine your use of Google Trends. You'll want to adjust categories, locations and date ranges depending on your goals.
Thankfully, we're here to help with a few ideas on how content marketers can use Google Trends for SEO.
1. What's the news? Capture traffic based on what's happening right now
Are you up-to-date on the happenings in your industry? Have you considered that current events may affect your business?
Even if you feel hip and trendy, it's a good idea to see what's on the minds of the rest of the world.
Use Trending Searches to identify search terms and topics that have spiked in interest over the last 24 hours in any location.
Of course, if you're in the business of covering sports in the US, you don't need to know that Kim Kardashian is trending in California.
Dial in your research using location and category, like this:
Now you should have an idea of what to cover.
This method isn't helpful for creating evergreen content, but it's exceptionally helpful for crafting relevant and timely social media posts and news articles. It will also inform your decision to focus on SEO vs PPC.
2. Hyper-target your content to your ideal audience with comparisons
Let's say you run a dating and relationships advice site. Through Google Keyword Planner, you discover that "gifts for her" and "gifts for him" are two high volume searches, so you decide to look at Google Trends for help.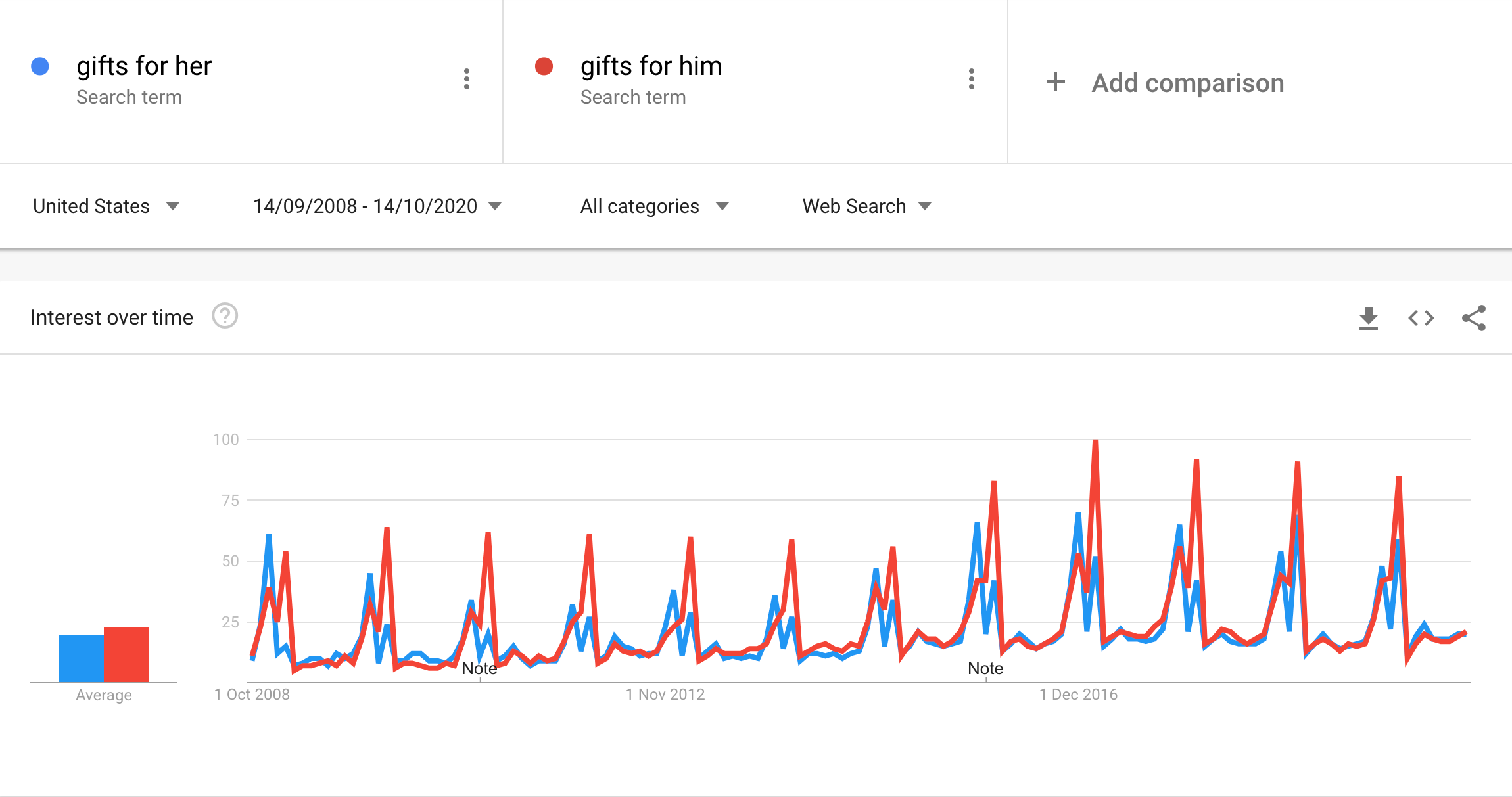 Here, it appears that "gifts for her" is a less popular search term than "gifts for him," but it's actually adjusted, or "normalized," to show relative popularity. We know from the search volume that "gifts for her" is actually searched 25,000 more times yearly than "gifts for him."
Based on this data, you can see that more partners are concerned about finding the perfect "gift for him" around Valentine's Day than Christmas. On the flip side, people with female partners are looking for "gifts for her" more frequently around Christmas.
This can help you target your content in a more helpful way for the end user. In fact, you might consider running some gender-targeted ads around those two holidays.
3. Tell the difference between a fad and a trend
Look, there's nothing wrong with chasing the next fad. In fact, some business people are professional fad chasers, starting and dissolving companies as fads come and go (sorry shutter shades!).
But for most business owners, you're in it for the long haul. You don't want to waste your time creating content for a topic that will go as quickly as it came.
Let's check out an example.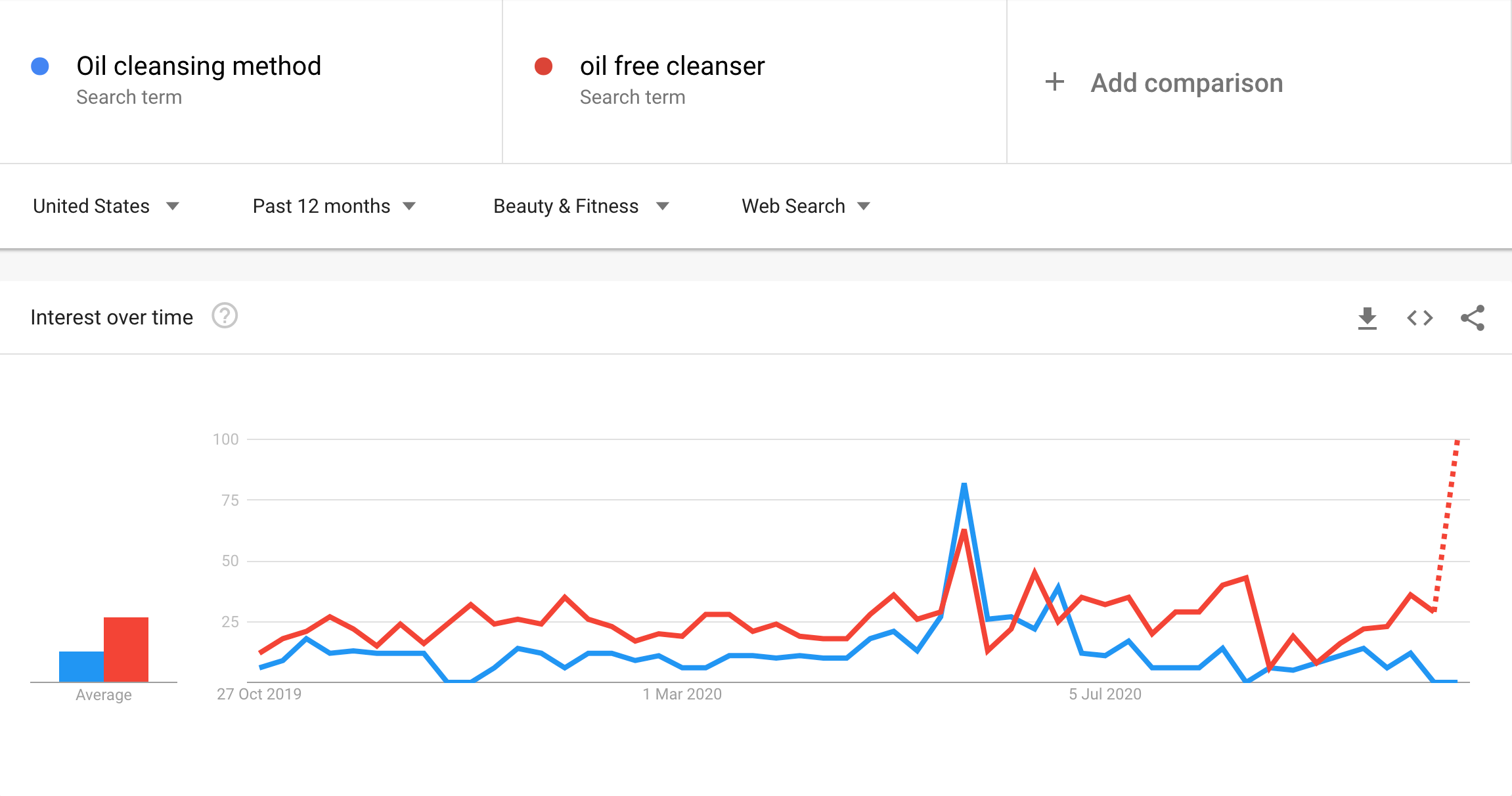 The beauty industry loves testing out new ideas for the perfect face wash. Typically, facial cleansers remove oil and debris. However, thanks to K-pop and K-beauty, another cleansing method briefly made a rise: the oil cleansing method.
While still searched for today, the oil cleansing method already had its peak. It turns out putting oil on your face in an attempt to remove oil from your face isn't as effective as the hype made it sound.
The takeaway? Put more effort into creating content for oil-free cleansers, a search term that is more likely to stand the test of time.
4. Find seasonal trends to reach your audience at the perfect time
This is especially important if your business sells seasonal products, but can be used by anyone.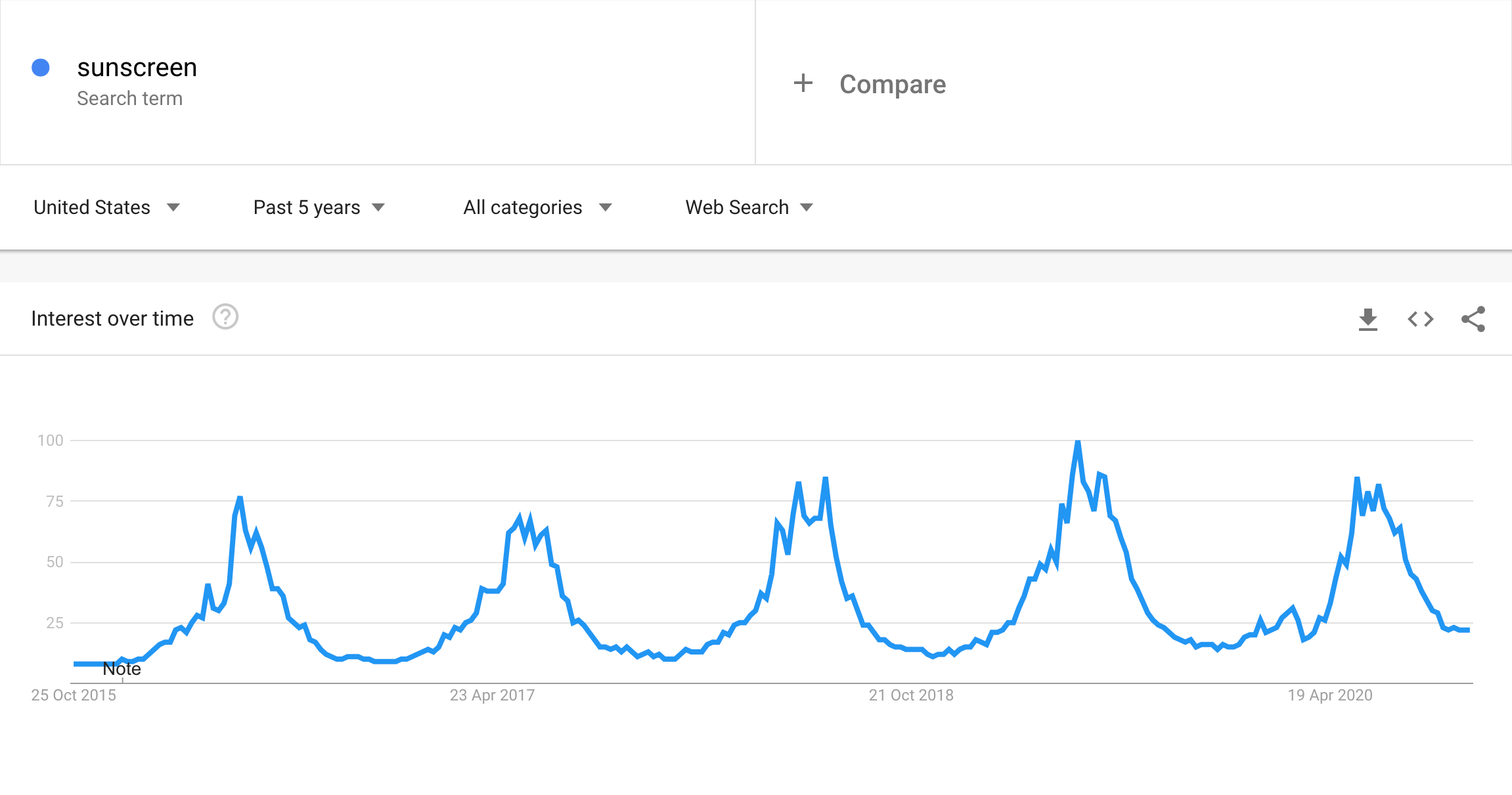 Let's say you sell sunscreen in the US. Over the past 5 years, searches for "sunscreen" peak around early June and again in early July. Odds are this pattern will continue.

It's also clear that coastal locations like Hawaii, California and Florida need your services the most.
You can use this information to:
Create content that attracts readers, such as a comparison guide between chemical and physical blocking sunscreen.
Target ads and save money by using the location and time of year sunscreen is most searched to drive your ad spending.
Relocate your business to a location with a higher need for your product. Hawaii, anyone?
Now that you know when these searches peak, you can anticipate exactly the time of year to gear up for bigger sales.
And be sure to record this information when…
5. Making a content calendar
Many annual events affect your business to some degree. Missing one could cost you potential customers.
Never miss a beat by keeping your editorial calendar – and your posts – up-to-date.
In the last example, you may have noticed that there's a yearly dip in interest between early June and early July. Our guess is that interest spikes again in July due to the 4th of July holiday and the vacations that come with it.
It might seem like a simple schedule: start advertising and creating content in March, April and May to prepare for the peak. But there are two peaks.
Don't miss the opportunity to ramp up your content creation and advertising efforts to boost sales for the 4th of July peak! You can do this by creating 4th of July-specific sunscreen content on social media, PPC and on your website.
The best way not to miss this opportunity? Mark it on your editorial calendar! After all, it happens every year.
6. Update old content with more recent and relevant information
You can use Related Topics and Related Queries to keep your content fresh and up-to-date (even if it's years old).
People always want the latest and greatest. Google Trends helps you deliver the freshest content.
Let's say your target keyword is "best sunscreen 2020." You already have a listicle comparing the best sunscreens of 2019, but the searchers want to know what's new this year.

In Google Trends, scroll down to Related Topics and Related Queries. Drill down into these two categories to find popular search terms.
We see "unseen sunscreen" and "purito sunscreen" as related queries. These are smart additions to your listicle since they're already being searched.
It also appears your target audience cares about the effects sunscreen has on the coral reef. Consider creating content promoting reef-safe sunscreen.
Note: The word "Breakout" means that this search term is up over 5,000%.
The Takeaway
Google Trends allows you to keep up with the fads and fashions of your industry. It's up to you to make the best use of the data provided.
From content creation to social media marketing, Google Trends gives SEOs an idea of what will work and what won't work without having to A/B test it. Simply check out the historical data and go from there.