If your struggle to top the SERPs for your head keywords has left you feeling battle weary, if may be time to take a step back and consider integrating long-tail keywords into your SEO strategy. In this article, we explain what long-tail keywords are, how you can benefit from them, how to find good keyword phrases, and how to use long tails to increase site visibility.
What are long-tail keywords?
Any keyword phrase that is longer and more specific than the top (most popular) to medium keywords in your niche is considered a long-tail keyword.
Other than this, there are no other hard and fast rules: what may be a long-tail in a broad market sector, could well be a short-head keyword in a very specific one.
Long-tail keywords are typically lengthy phrases
The term long-tail itself describes one of the main characteristics of long-tail keywords—they're typically long, and much longer than what usually comes to mind when you think of keywords.
Here are a few examples that compare possible long-tail keyword phrases to top keywords.
Example long tail keywords
| Focus keyword | Long tail keyword examples |
| --- | --- |
| insurance over 50 | car insurance over 50 compare quoteslife insurance over 50 no medical exambest over 50 life insurance with free giftover 50 life insurance calculator uk |
| car insurance UK | car insurance comparison quotes uk car insurance uk covid 19 reductioncar insurance for senior citizens ukbuy car insurance london uk bmw m3 |
If you're thinking that nobody would actually search for such obscure strings, think again. Surprisingly, each was constructed using the standard Google Search box, meaning that
these phrases have been used before. More about this later.
Why are they called long-tail keywords?
The origin of the word long-tail lies in business and statistics terminology. A long-tail distribution is one that has many occurrences far from the head or central part of the distribution.
A long-tail distribution looks very much like it sounds and is far easier to understand in graphical terms. As you can see from the graph (moving from top left to bottom right):
Keywords at the head of the distribution curve account for only a small percentage of available search traffic, even though on an individual basis they have the highest potential traffic volume.
Keywords in the tail of the distribution curve⁠—known as long-tail keywords⁠—individually have the lowest potential traffic volume, but when accumulated together they can account for the largest percentage of the total available traffic volume.
The benefits of long-tail keywords
This SEO strategy is not a quick-win; Integrating long-tail keywords won't bring in huge volumes of traffic overnight.
On a keyword-for-keyword basis, long-tail keywords draw less search traffic than more popular terms, but the visitors who use them are highly focused and more likely to want what you are offering.
Long tails are a long-term solution that will pay off for years to come.
A lot of search traffic comes from long-tail keywords
While every niche is different, top (head) keywords may not comprise the bulk of the traffic. Studies have shown that up to 70% of traffic can come from the long tail when it is added together.
Less competition means easier rankings
Long-tail keywords are less competitive because fewer marketers target them. For many, writing an optimised article that has the potential to only add 10-20 monthly page views, is just not worth the effort. For this reason, they present a golden opportunity for those who are willing to go the extra mile. Why? Because 10+10+10+10……= lots of traffic.
Highly motivated visitors use long-tail keywords
The conversion rates of long-tail keywords are far higher than the more popular keywords. Consider this hypothetical scenario:
Keyword
Visitor motivation
Conversion probability
running shoes
General enquiry about running shoes.
Could be browsing for a thousand different reasons.

Minimal
running shoes for women over 50
A more specific enquiry from a female in a specific age group who likes running.
This visitor knows what she wants and is far more likely to be looking for a solution.

Possible to likely
buy best nike running shoes for women over 50 under £150 2020
A highly specific enquiry.
This visitor knows exactly what she wants and there is a good chance she intends to make a purchase.

Highly likely
It is generally agreed that conversion rates for long tail keywords can reach higher levels than for head keywords.
Answering the specific questions of your target audience
A spin-off of the highly-specific nature of long-tail keywords is that they also bring you much closer to your target audience. Most users would be impressed to find a quick answer targeted to the long-tail keyword: how long does it take to grow carrots in a greenhouse. With Google's new highlighter tool, answers are lightning fast, even when the content page targets broader keywords.
It's easier to rank for long-tail keywords
The more popular the keyword, the more sites that target them. This makes it far easier to rank in the SERPs for long-tail keywords because there is less competition.
This logic holds true even among long-tail keywords themselves—the longer and more specific the term, the easier it is to rank.
Long keywords are integral to semantic search
Longer, natural-language phrases (a.k.a. long-tail keywords) are critical for semantic search optimization.
With more and more users adopting voice search, the use of long-tail keywords as search terms is set to increase. This should result in a higher demand for these terms and a related increase in potential search volumes.
Long tail keyword SERPs have less Google integrations.
You'll find less Google features and integrations in long tail keywords which means that Shopping, Video boxes and other distractions don't get in the way of the click. You can find out more about the CTR for various SERP formats in this CTR study.
How to find long-tail keywords for your niche
Finding good long-tail keywords requires more common sense than anything else. When you couple this with a good research tool you can cut down on the time it takes to compile a substantial list of long-tail keywords.
Good preparation makes all the difference
You know your niche better than anyone. Before you start researching long-tail keywords, spend some time listing all the long-tail phrases you can think of.
Try to predict natural language questions that indicate user intent, like what is the best <your main keyword> in <your location>. You can use these long-tail keywords (and variations) to provide content that answers questions your target audience is likely to ask.
How to use free Google search tools to construct long-tail keywords
Open Google Search in your browser and enter a top to medium-length keyword.
Google Suggest (autocomplete) is a treasure trove of good long-tail keywords. You can see potential keyword phrases at a glance—anything in bold represents a phrase that has been used in the past. Play around, while Google Suggest does the heavy lifting for you:
Explore the initial suggestions one-by-one to drill down for even longer-tail phrases.
Type the letters of the alphabet after the initial phrase for new a -z suggestions.
This brief animation shows you how quickly you can build a substantial list.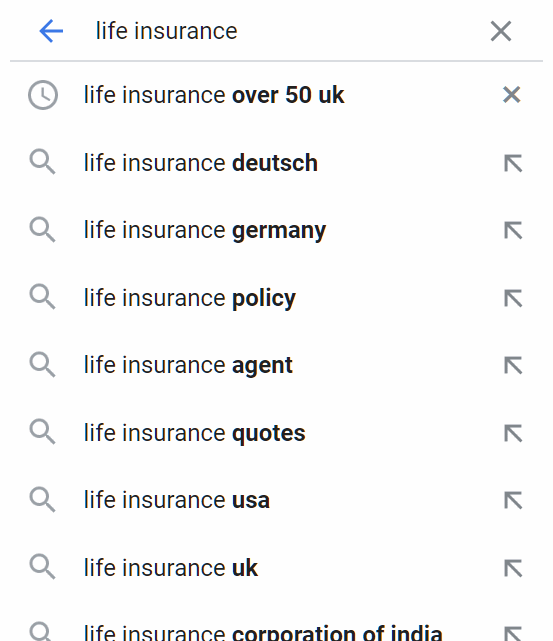 Next scroll down to the People also ask box where you will find even more possible phrases to explore. As you open each drop-down tab, more suggestions appear automatically at the end. They won't all work for your site, but they will at least get your creative juices flowing.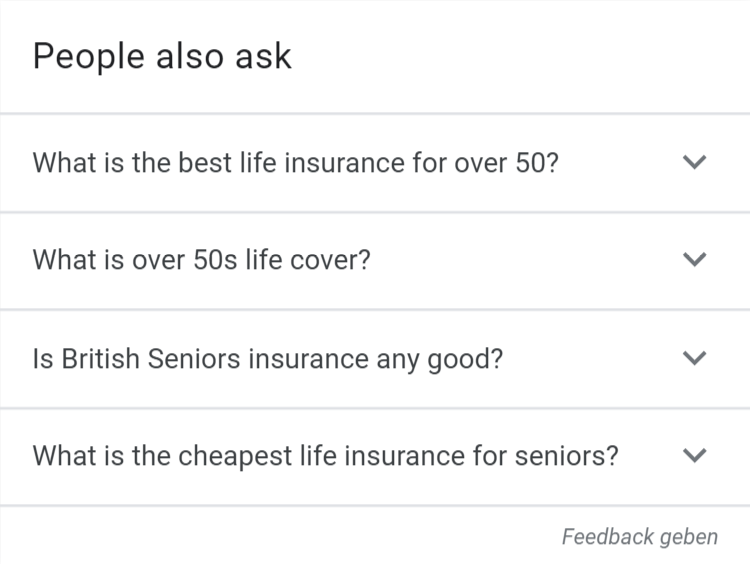 Checking the viability of your long-tail phrases
The last step is to check the potential traffic for the long-tail phrases on your list. This is not a "must", nor is it an exact science by any stretch of the imagination, because the search volumes here are very low, but it is worth doing to ensure you don't target completely worthless phrases. Don't discard a longer phrase, simply because the numbers don't work. Using long-tail keywords is a cumulative strategy—the more you consider, the better.
You can check the viability of your long keyword phrases for free in your Google Ads account using the Get search volume and forecasts or Discover new keywords tool. Google can be a little tricky these days, but there are a number of free and paid alternatives that make this step easier.
What you are looking for is phrases that do have search traffic, albeit very low, for which there is also low competition, because this makes it easier to rank.
This example, tells us that the first keyword is unlikely to attract any traffic, but the alternative, suggested automatically by the tool, may be a better option. However, because competition is high, it may time to move on to greener pastures and relegate these to the bottom of your list, but this depends on your niche and other longer-phrase options.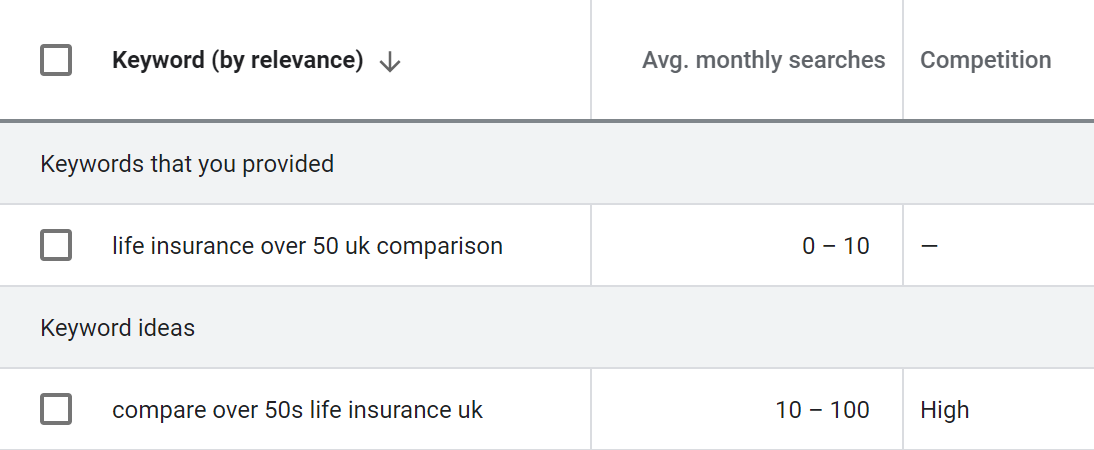 How to use long-tail keywords in your site
There are many ways to integrate long-tail keywords into your content. For the best overall results, use as many long keywords as you can—either within your top and medium-keyword pages or as the focus of individual pages.
Think of long-tail keywords as building blocks: each one has its place, but only together do they achieve their ultimate goal, which of course, is attracting a large amount of traffic.
Great things are not done by impulse, but by a series of small things brought together.

Vincent van Gogh
Use long tails to boost your main pages
You can boost your main pages by linking strategically from your long-tail pages.
As a golden rule, always link up from a lesser to a more important page. For example, in a long-tail keyword page about the history of cross-country trainers, links leading to a main or money page about buying cross-country trainers, will boost the rankings of the main page.
The more you link up from you long-tail content, the bigger the potential SEO boost for your main content page.
Sustain your long-tail SEO efforts for continued success
We hope you're now excited about long-tail keywords and ready to start integrating them into your SEO strategy.
This is only the beginning! One long-tail keyword theme inevitably leads to the next, and the next, and the next.