After a good four months of waiting, the time has come again – another Google Core Update. The search engine is making major changes to the organisation of search results. You can find all data, analyses and help in this blog post.
If you haven't had got a lot of time right now, here is a summary of the most important points about the Google Core Update November 2021.
Since Wednesday (November 17th, 2021), Google has been rolling out a major core update . Core updates affect the rankings of many websites.
It usually takes a week or two to see the full effects of a core update.
The first changes can be seen in the daily Visibility Index data from SISTRIX on Friday (November 19th, 2021). Log in now or try it for free .
If you want to find out all the details, continue reading here. We will update this post regularly over the coming days as soon as new data and analyses are available. If you would like to be notified of future updates by email, subscribe to our newsletter.
Core update announced by Google in November 2021
As is now customary, Google announced the rollout of the update via Twitter. On Wednesday afternoon (Central European Time) the official Twitter account of the Google Search Central wrote that the update will be rolled out later that day: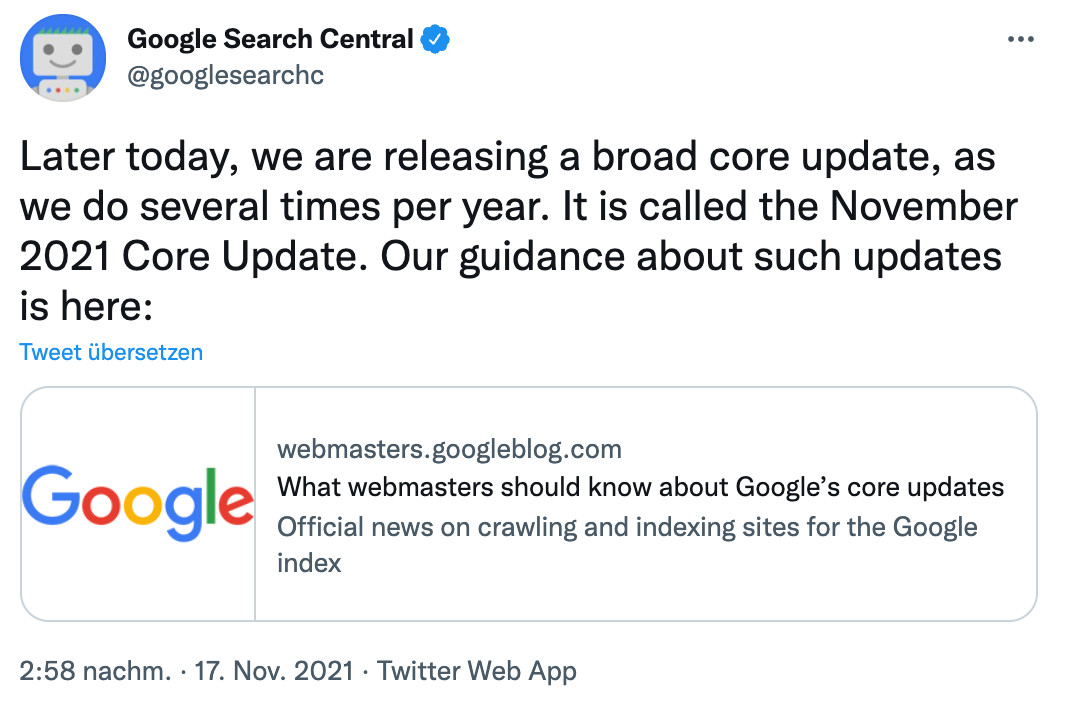 It usually takes a few days for the effects to be fully measurable in global search results. Google has also confirmed the completion of the update via Twitter in the past.
How can I identify domains affected by the core update?
The daily visibility index of SISTRIX helps you to identify affected domains at a glance. While you can always see relatively small changes from one day to the next with most domains, core updates lead to big jumps. See the lists of winners and losers below.
These major core updates are a zero-sum game for Google: visibility lost by some domains is always gained by others; There are both winners and losers in core updates.
We set notification pins in the visibility index history in SISTRIX where the visibility of a domain changes significantly on the date of the update. In retrospect, you can see at a glance whether domains regularly react to these updates.
Update 21 Nov 2011
Among the biggest risers in terms of absolute gains are a clear set of reference websites. Other reference sites showing gains for the 21 Nov are wikipedia.org (+109), imdb.com (+72.6) brittanica.com (+34), thesaurus.com (+34) and dictionary.com (`+31). The top 10 list of gains is shown below.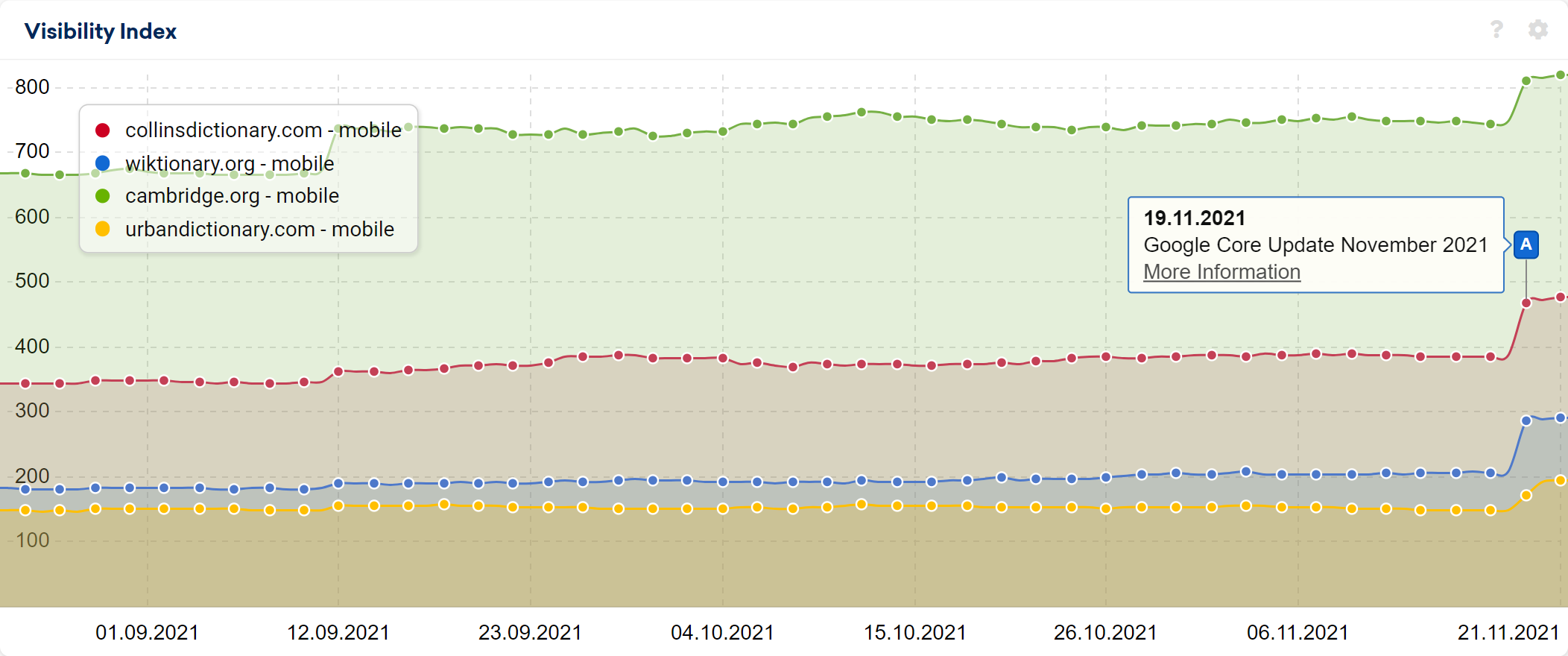 Winners and Losers. Updated 25th Nov 2021
Top 20 domains gaining VI n the Nov2021 Core Update. (Absolute gains. Updated 25 Nov 2021)
Based on the gains, one might expect the other reference sites to have lost. Or perhaps news media sites, that have lost visibility to reference sites in the past. Here's the current top 10 losing domains.
Top 20 domains losing VI n the Nov2021 Core Update. (Absolute losses. Updated 25 Nov 2021)
There are some reference and news media sites losing but this doesn't necessarily mean there's a connection. The social sites Pinterest, Instagram, LinkedIn and Twitter have all lost. Overall the absolute losses in the Top 10 are not as big as the gains so there will be a wider distribution of losses.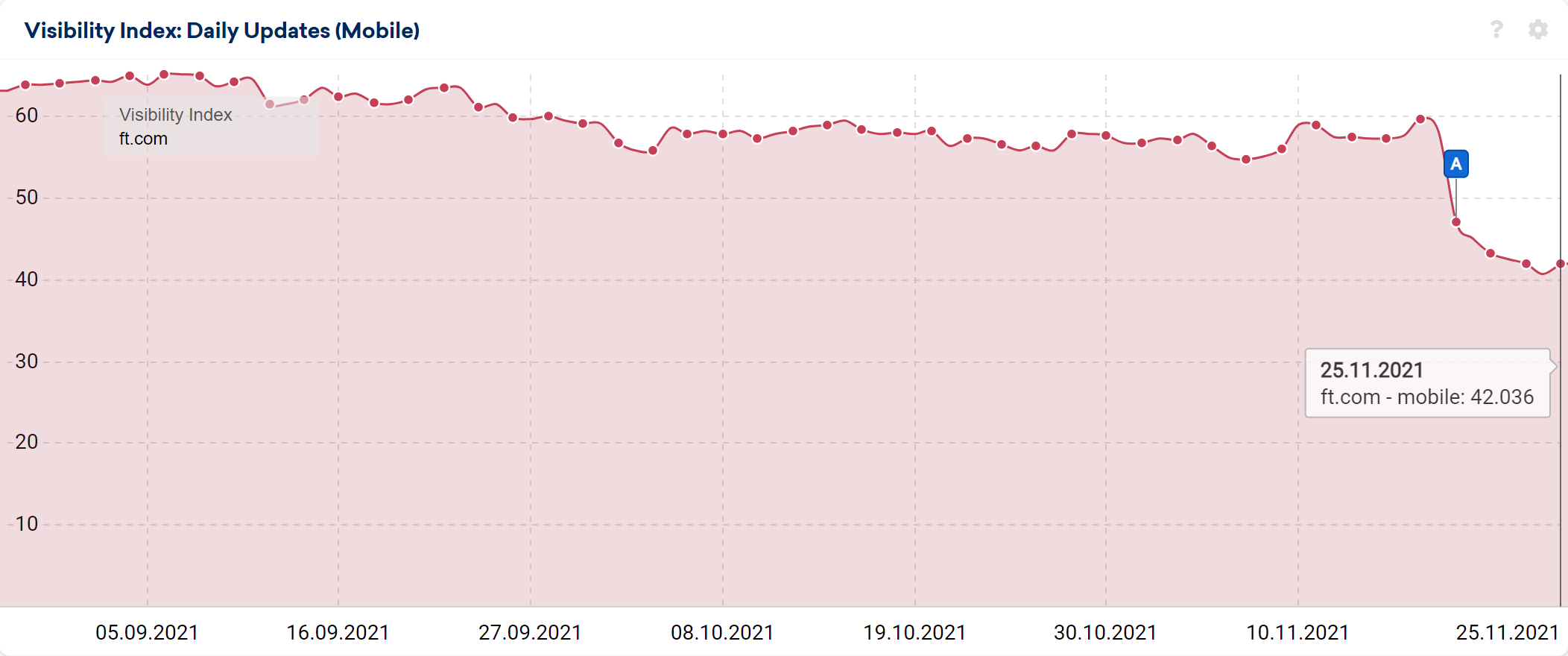 Analysis: thesun.co.uk, ft.com, republica.it
Before considering any relationship here, remember that even if two domains operate in the same business sector, they may be unrelated.
These two news media publication domains, thesun.co.uk and ft.com, work in different topic areas. Today only 10% of top 100 ranking keywords at thesun.co.uk also rank at ft.com in the Top 100. If you look at the Top 20, across millions of search terms, it's a few tenths of a percent overlap. There's also no obvious relationship between the lost (ft.com) and gained (thsun.co.uk) keywords either.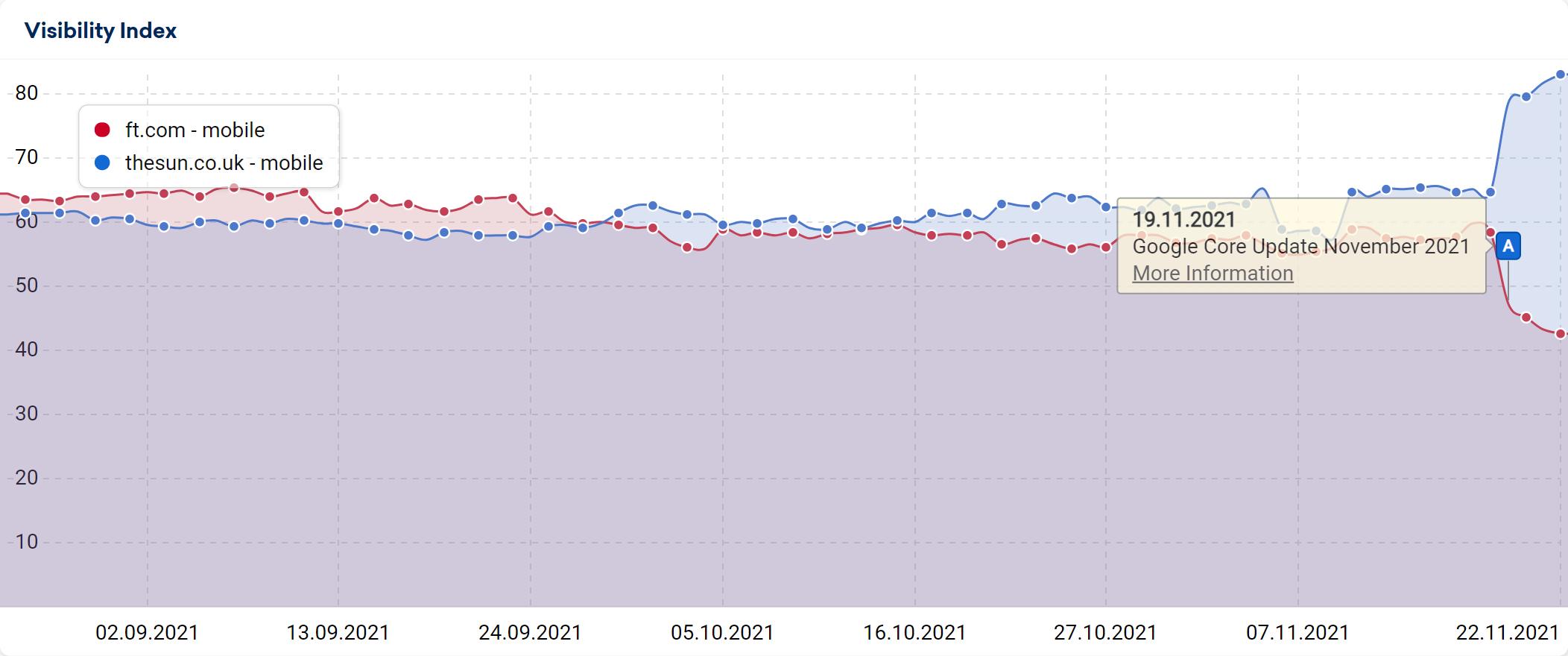 One area of interest for SEOs in thesun.co.uk, is the organisation of famous people under a single directory. https:/www.thesun.co.uk/who has built a visibility of 7.29 VI since it started in mid 2016 and has gained well this week, recovering recent losses and bring the project back on trend.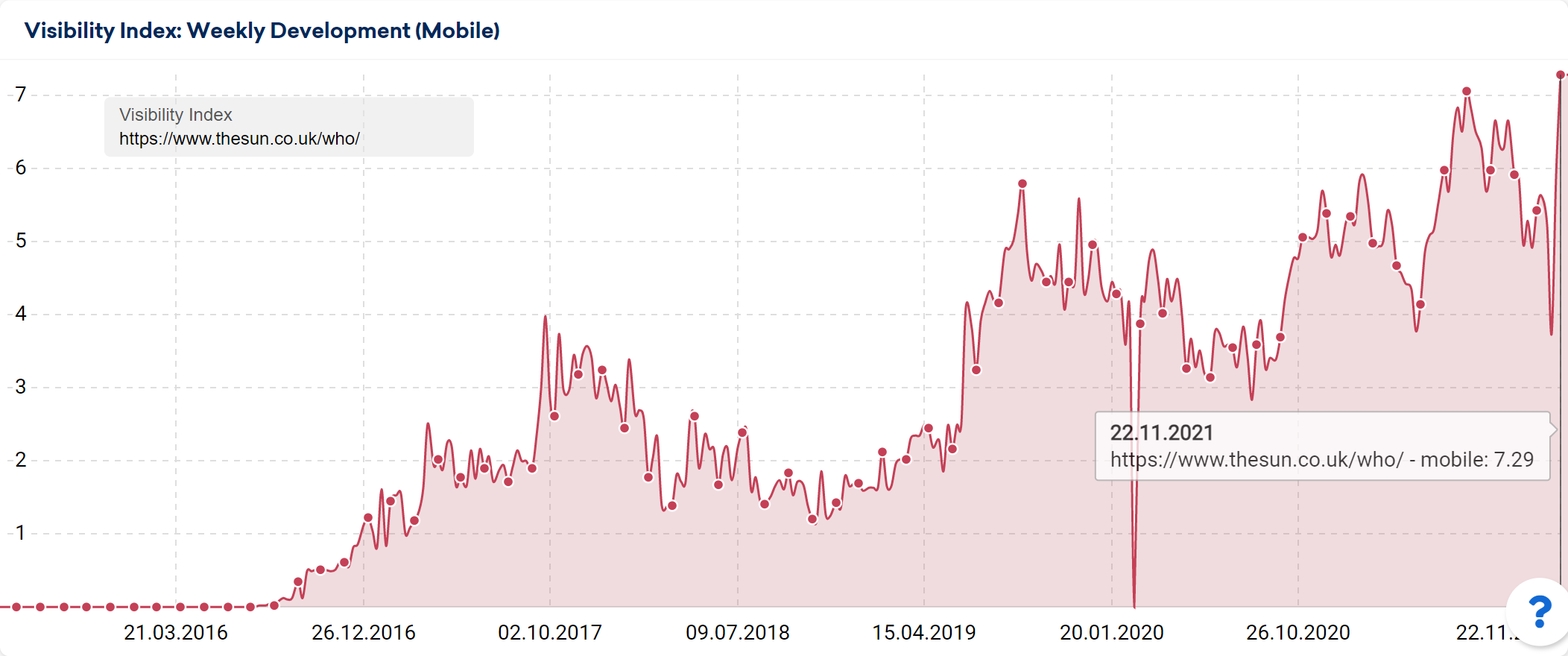 A look at ft.com reveals losses in its news hosting (including the amp content host, not shown below) and its stream content which looks like an automated tag tracker page. ft.com also operates other web hosts such as markets.ft.com which have not been affected. A paywall is also implemented on some pages.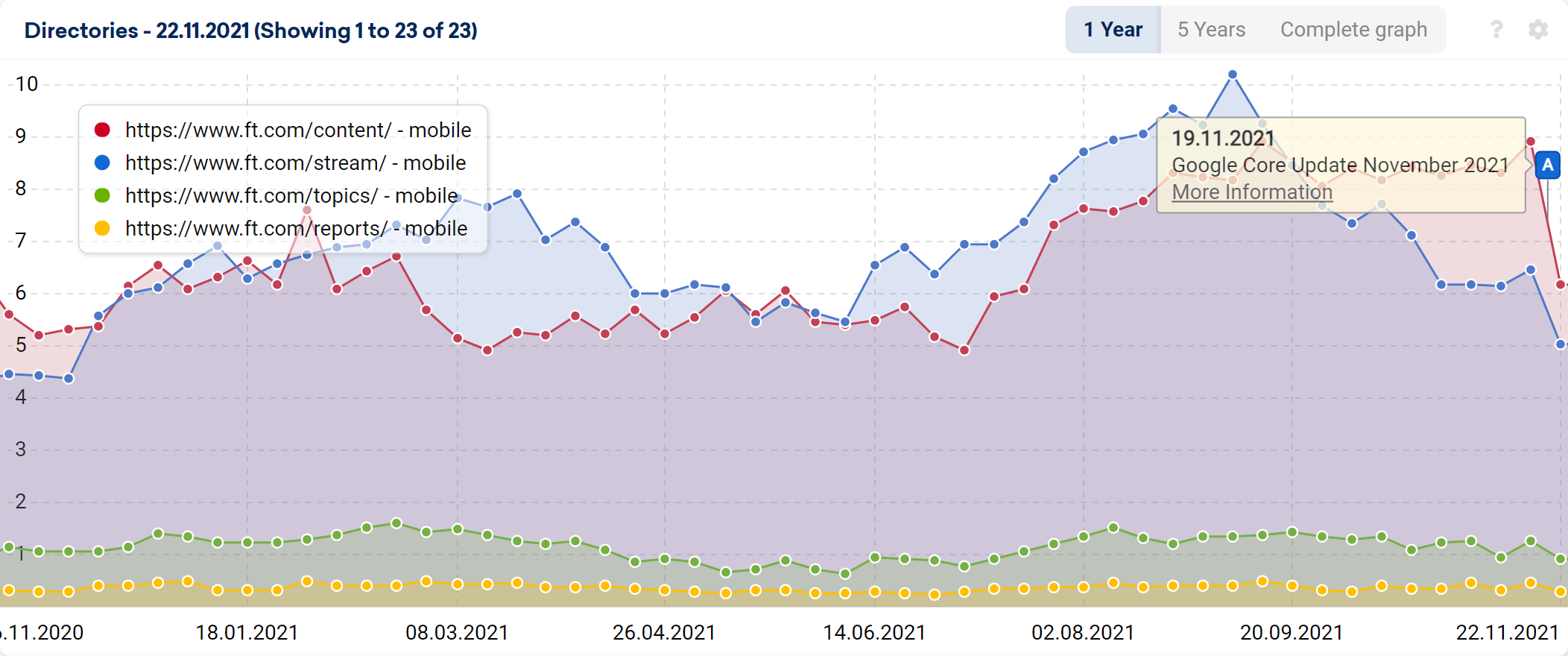 The point here is not to identify the good and bad SEO on these sites, but to highlight some of the many different site architecture strategies used.
An extremely interesting case has been found by our Italian colleagues. This news company has a news host and a dictionary host. These changes might even cancel out, leaving the appearance of a graceful swan on the domain-level surface.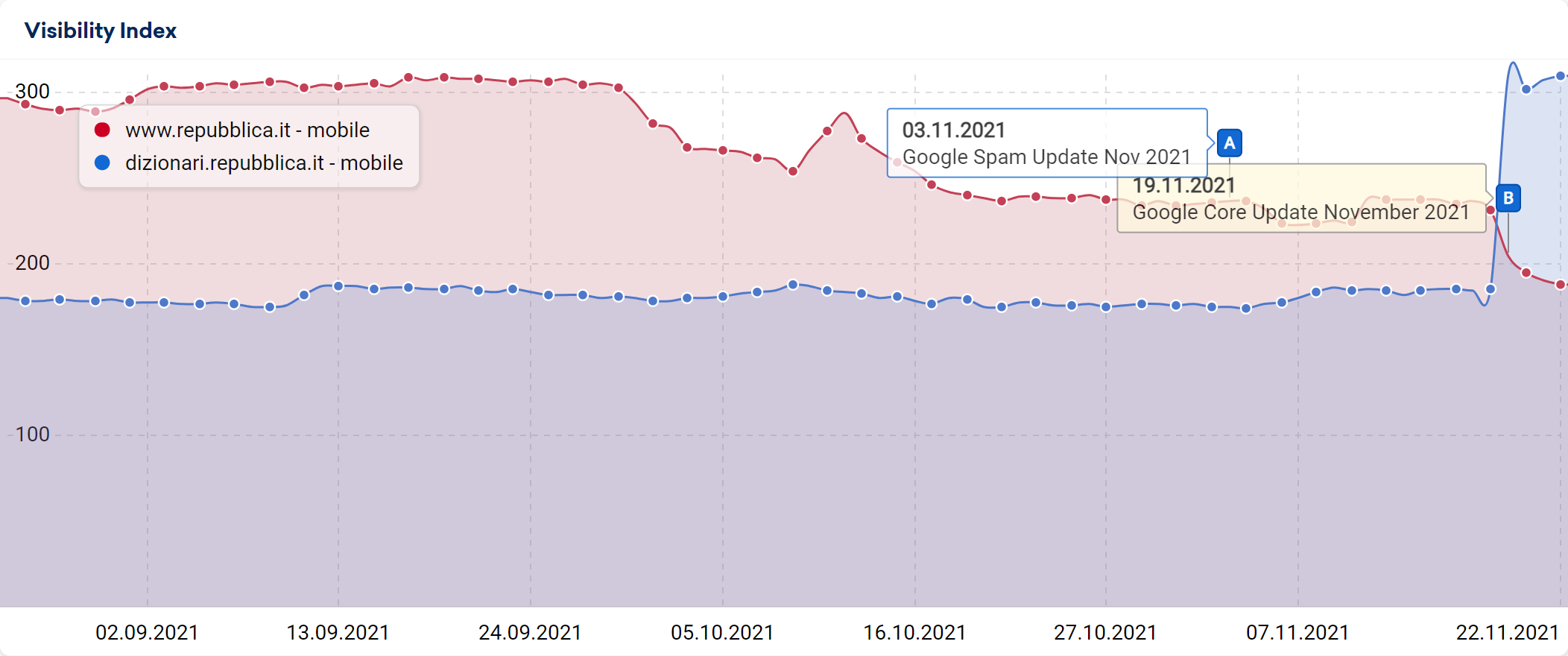 Additional Core Update analysis for Italy (Italian)
Additional Core Update analysis for Germany (German)
Additional research: S. Paine