Google calls it a "broad core algorithm update" and a few times a year it rolls through the search results leaving changes in its path. Updates from September 2019 are now visible in the SERPs. Examples winning and losing domains are shown below.
As is now becoming common, Google notified everyone via the @GoogleSearchLiason Twitter account:
As usual, Google doesn't comment on specific targets or areas that the update will focus on, preferring to continue to hide behind statements that have limited substance.
What is a Google Core Update?
While Google makes small adjustments to the ranking algorithm almost every day which cause movements in the search results, the so-called "Broad Core Algorithm Update" is a major change that is only executed a few times a year. Domains affected by this update typically lose or gain significant visibility in the Google SERPs. The last update was in early June 2019, about 4 months ago.
How can I recognise an affected domain?
While it's taken a little while since the announcement, we can now measure the first changes in affected domains. Affected domains are showing clear movement in the daily Visibility Index graph from 25.09.2019 , as seen here with dailymail.co.uk :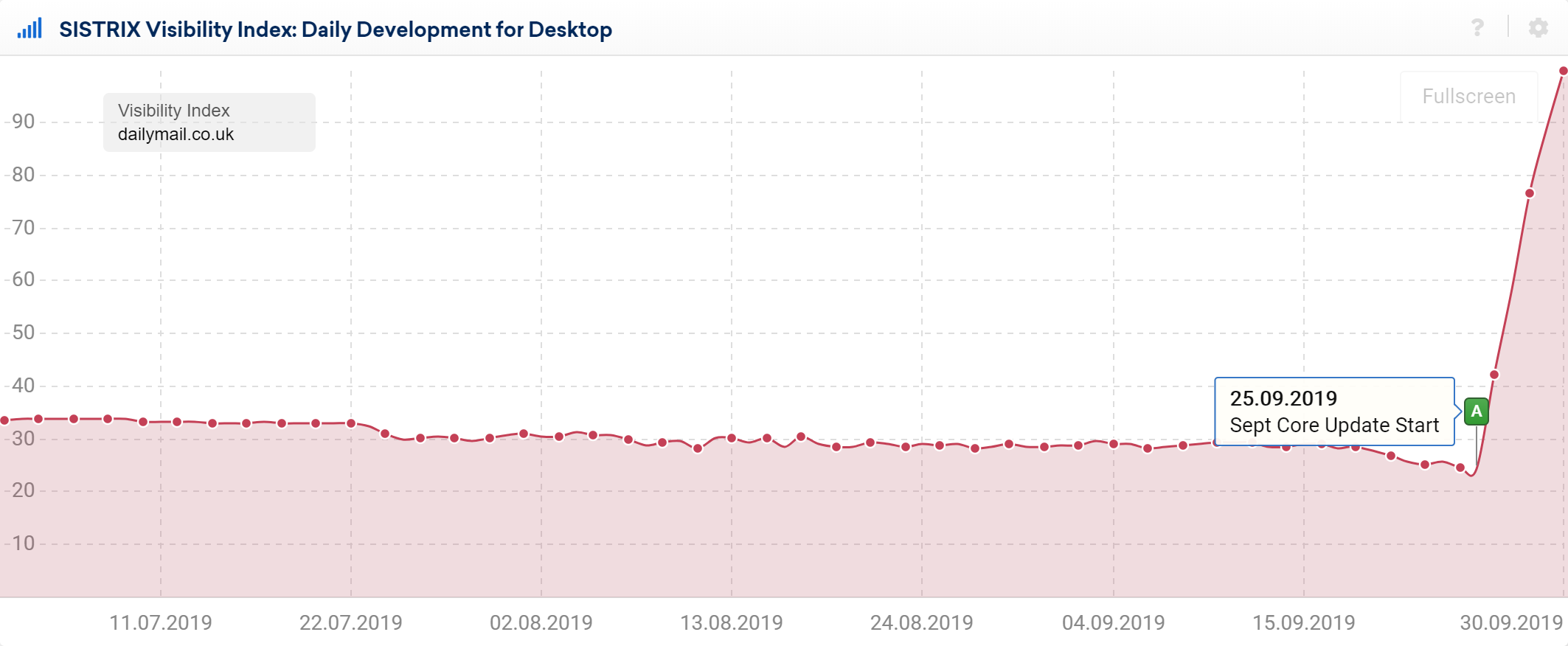 Core Update Winners
Even though Google remains less than forthcoming about the exact causes and reasons for the Core Update, it can be assumed that the trust that Google has in the content on domains is being re-evaluated. As a result, there will be winners and losers. More data will be available in the coming days but here are already examples that are showing noticeable movement from 25.09.2019
Selected domains with a significant percentage visibility gain Sept 25 - 30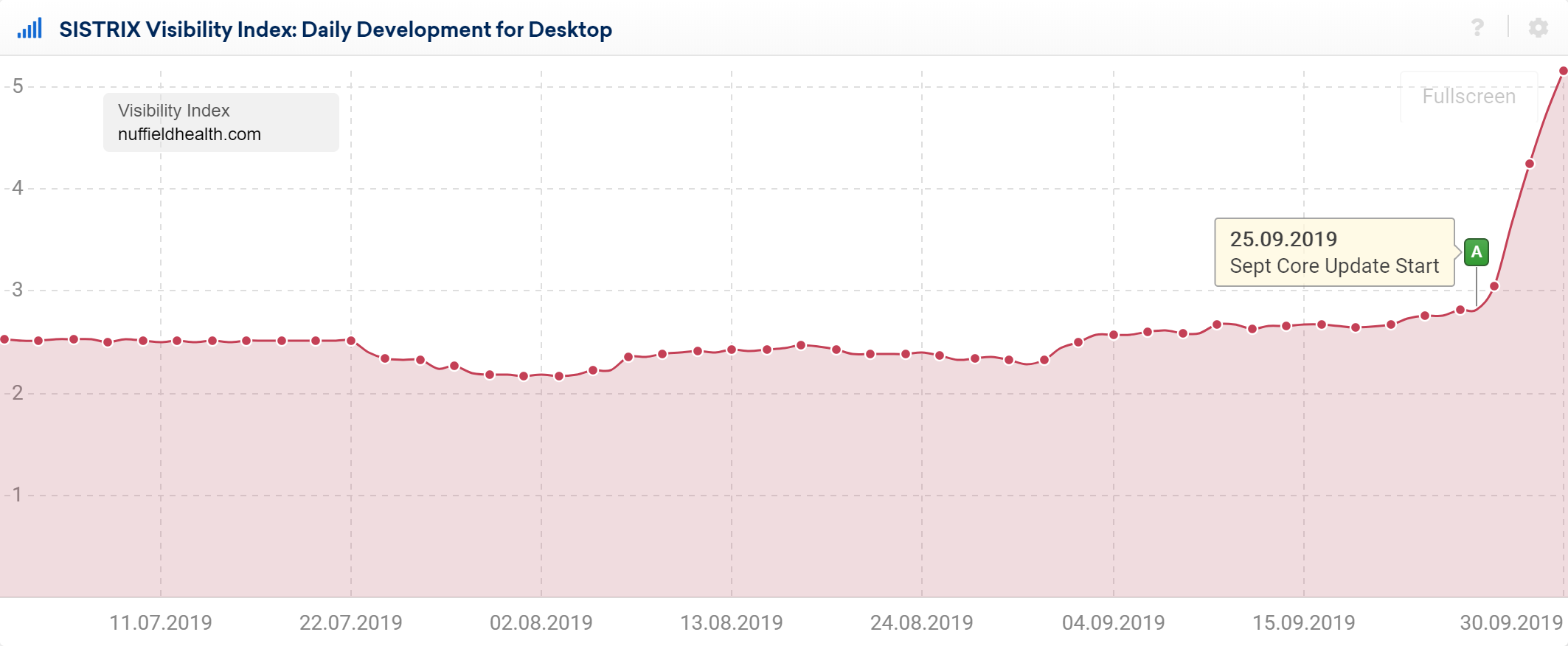 We're also seeing some movement in the travel sector but due to the closure of thomascook.com this week, we'll have to wait for more data from that sector.
Core Update Losers
Where there are winners, there have to be losers in Visibility. Early examples of losers are shown below.
Selected domains with a significant percentage visibility loss Sept 25 - 30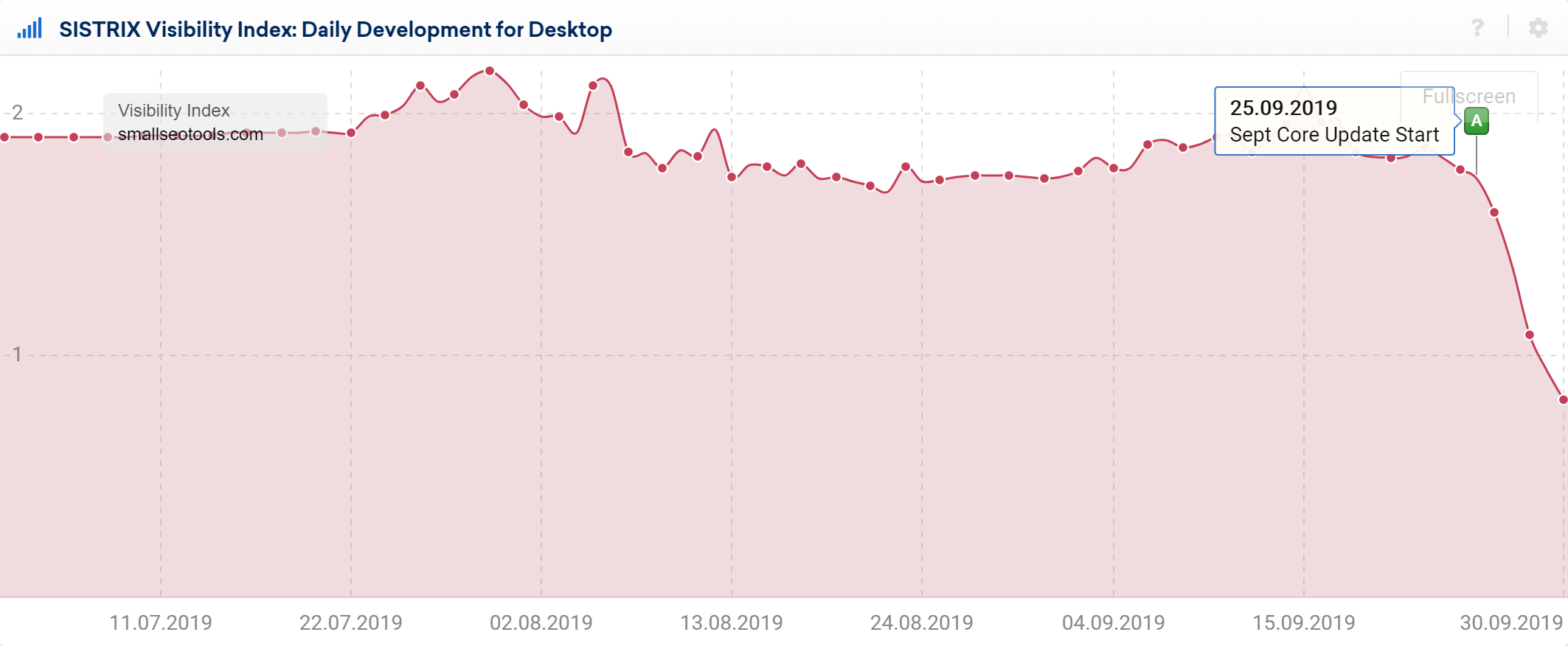 Summary
The examples shown above make it clear that the core update is rolling-out and that it is, once again, affecting health sites. There are also examples of media sites being affected. In Germany and Spain we've seen some examples from the travel industry.
The data here is from our latest data-set – 30th Sept 2019. Changes are still being seen in our data and we'll update if there are major changes. The daily updates and Winners / Losers lists are always available in the Toolbox.