8 and half years ago, Dave Peiris (described by other British SEO as one of the best human beings on the planet), wrote a blog post by the name of "Unlocking Google's Vince Update". In it, Dave looked at different plausible theories related to Google's brand promotion. At the end of the blogpost he wrote, "It'd be incredibly difficult to prove for sure either of those ideas because it involves user data that we don't have access to …".
Well, 8 years onwards, I would like to support Dave with the help of data from that time and explain why Google artificially ranks brands simply because they are brands.
Getting back to the Vince Update in 2009
Google's Vince Update affected the US results in early 2009, with the UK getting their turn in July and Germany in December. The namesake for this algorithm change is a Google engineer named "Vince". What makes the Vince Update special is that well-known (Offline) brands, for no apparent reason, suddenly ranked much better for keywords with a lot of traffic. Brand domains had their rankings severely boosted.
After the algorithm change, brand websites profited on highly competitive search requests, like mobile phones, printers, wifi, and so on. We started our ranking monitoring for the UK 7 years ago (1 year after the Vince Upadate), so allow me to show you a German example for a keyword that I like pretty much in both languages, German and English: Waschmaschine (washing machine).
After the Vince Update, Mediamarkt – the leading consumer electronics retailer in Europe – started to suddenly rank, for the keyword "washing machine" at position 5, and remained to rank afterwards, as you can see here: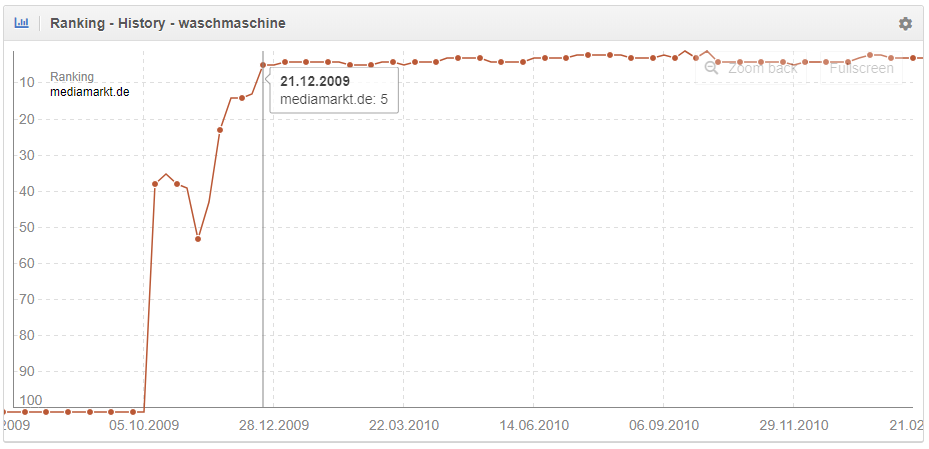 The funny thing is that Mediamarkt had no landingpage for washing machines, whatsoever. At the time, the Mediamarkt website was not even an online shop! The URL ranking for this keyword on Google Germany was "http://www.mediamarkt.de/haushalt-wellness/" (household-wellness). In this case, Google decided to "artificially" rank Mediamarkt for this keyword using this URL as well as another, related URL:

The Title-tag for this URL was "Media Markt Haushalt & Wellness" (Media Markt Household & Wellness) and the only place that keyword was to be found, was on the navigation menu on the left hand side (Siemens Waschmaschine and Waschmaschinen- Kaufberater):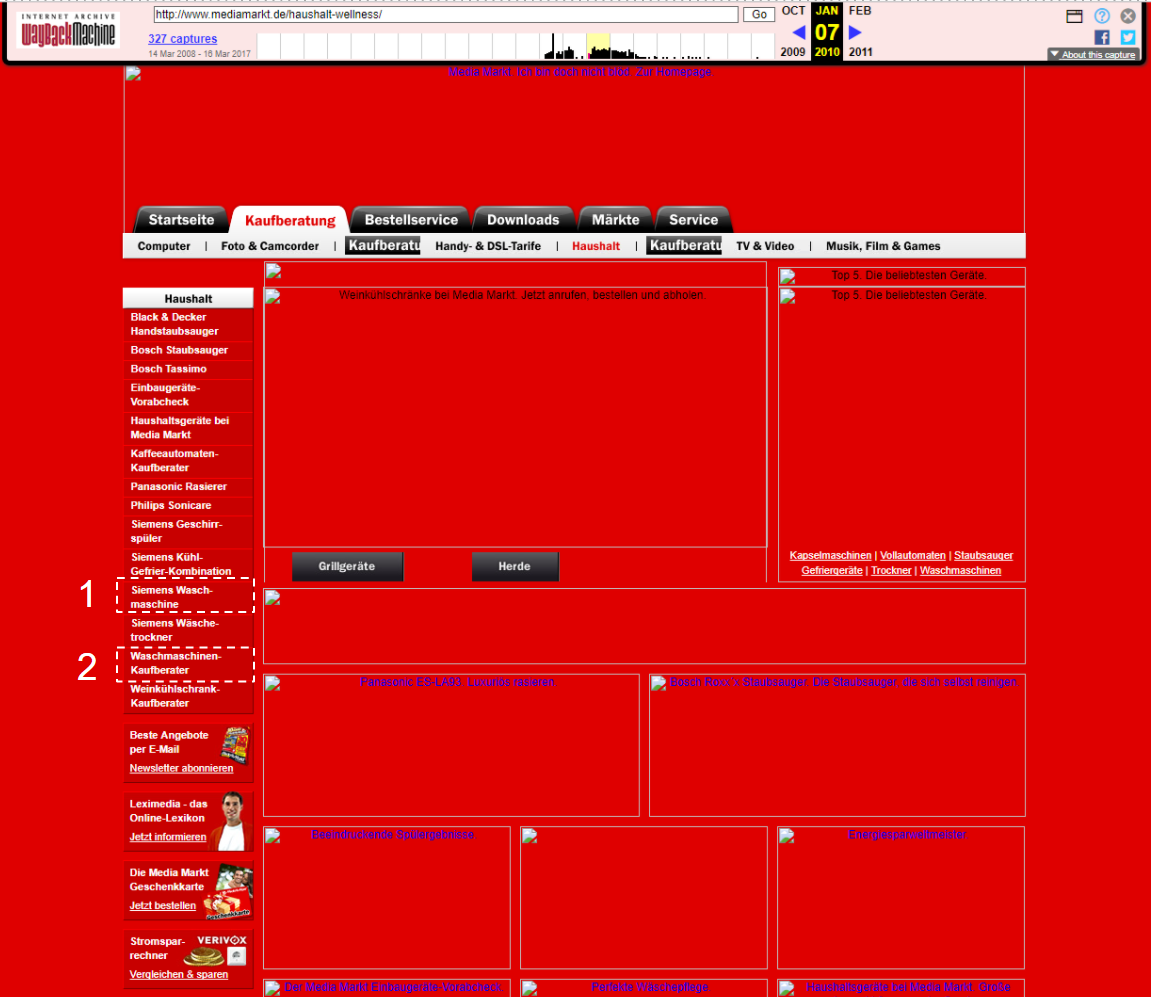 This is just one example of more than 1.000 keywords, which started to rank for this brand. Before the Vince Update, Mediamarkt was ranking for 1,681 keywords, while just one week later, the number of keywords increased to 3,932. As a result, Mediamarkt increased their Visibility by 94%: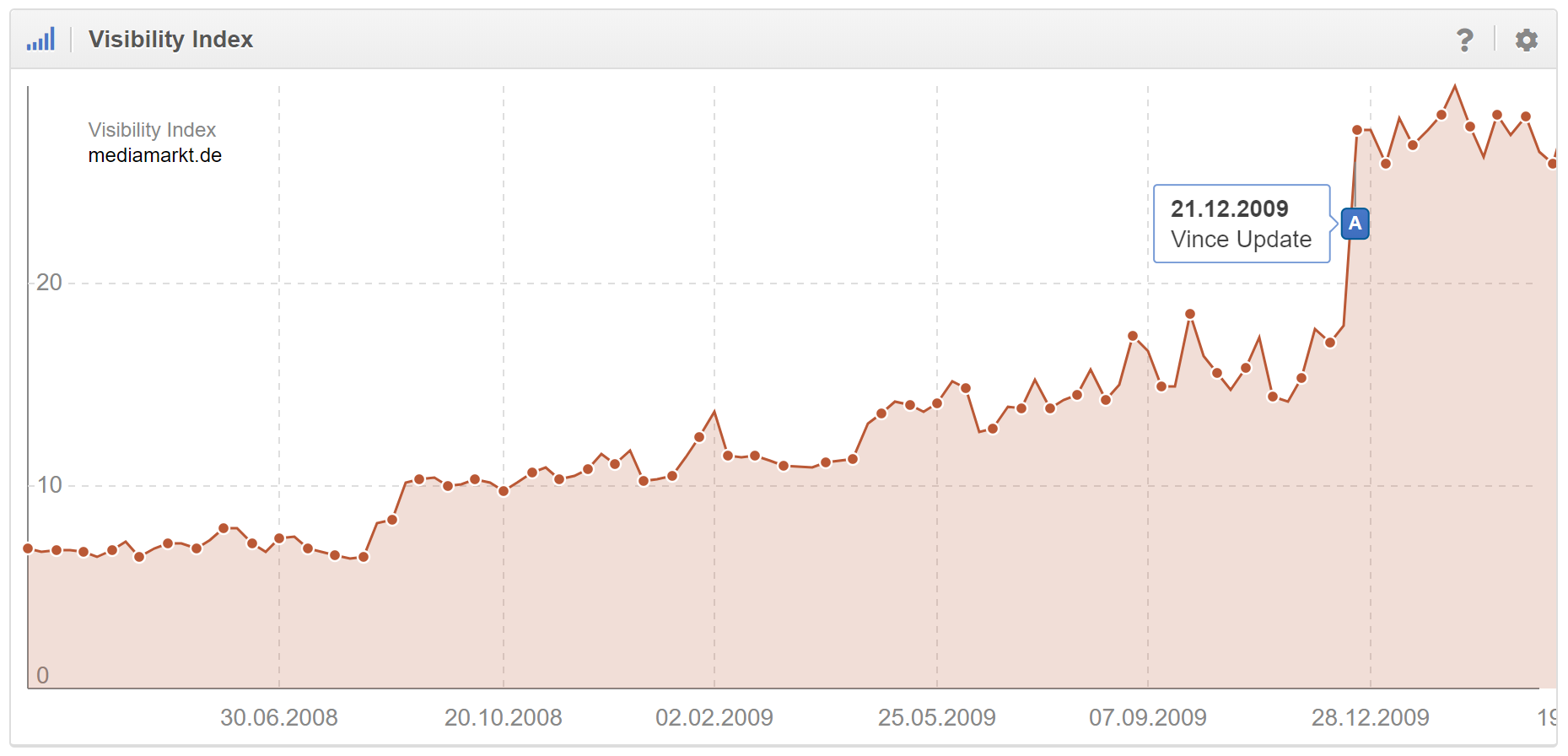 Let me give you a number of additional examples for different keywords and different brands. All these sites that gained rankings or started to show-up out of the blue have one thing in common: they were not optimized by SEO-standards. The title-tag often did not even contain the keyword, as well as other attributes that speak against a "natural" ranking decision:
| Keyword | Domain who started ranking in the Top 10 for this keyowrd |
| --- | --- |
| jobs | arbeitsagentur.de (German official employment agency) |
| computer | alternate.de (electronics retailer), acer.de |
| mobile phone | t-mobile.de, vodafone.de, nokia.de, sonyericsson.com |
| nappies | pampers.de |
| printer | canon.de, brother.de, lexmark.de |
| dsl | alice-dsl.de, 1und1.de |
Why does Google artificially boost brands?
Take a look at the following marketplace:
This shop might work well, at a local level, for this specific need, and it would work brilliantly if they were the only shoe shop around a 200 kilometer perimeter. Next, take a look at this marketplace:
Founded on September 12, 1974, Foot Locker operates in 28 countries worldwide. Their main source of products are brand-names. Why is Foot Locker so successful?
Every day when you go shopping or when you go buy shoes or a watch, book a flight, buy a car or a bicycle, when you go looking for information, you have to choose between different options, and the brands are a very reliable shortcut to make a decision.
Our behaviour on Google is not much different. Brands are just as powerful in the search results and the users get a better, faster and more reailable experience. As result, the user will keep coming back to Google (Google itself is a non physical marketplace!).
The big challenge for a marketplace like Google is that brands are not the answer for everything. Both of the kind of markets we showed examples of above do exist, because there is demand for them. Google has to discover all sources and needs them on their search results, so that they can deliver fitting search results, depending on the culture of the user and to the search intent of the search query (brand, transactional, informational or navigational).
While this topic may be quite old, it is, once again, being discussed, today. If we had to place products at Tesco, ALDI, Mercadona or Wallmarkt, instead of Google, we would never have a discussion on the importance of being a brand.
Google's Executive Chairman, Eric Schmidt, said in 2008 (in his position as CEO of Google) that the Internet is a cesspool where false information thrives. "Brands are the solution, not the problem. Brands are how you sort out the cesspool" (-Eric Schmidt). In other words, brands are the best way on how real supply can satisfy a big part of the real demand.
Please don't be naive! Even if you are a brand, you have to do SEO, too. You don't automatically rank well today, if there are equally well or better options out there than your brand. On Google, your costumers are just a click away from your competitors, some of whom you might not even know about, yet.
I hope you like it and have a nice and successful day!
Sources:
– Google's Eric Schmidt: Brands to clean up Internet cesspool: https://www.cnet.com/news/googles-schmidt-brands-to-clean-up-internet-cesspool/
– Case study: how non-SEO campaigns can influence keyword rankings: https://www.branded3.com/blog/how-non-seo-campaigns-influence-keyword-rankings/
– The True Power of Brand: https://www.fastcompany.com/3004657/true-power-brand
– Mediamarkt: https://en.wikipedia.org/wiki/MediaMarktSaturn_Retail_Group
– Google Vince Update: https://www.sistrix.com/ask-sistrix/google-updates-and-algorithm-changes/google-vince-update/
– Die Marken kommen: https://www.sistrix.de/news/die-marken-kommen/