In order to help you be more successful in SEO and sidestep all those things that do not work, I want to show you which domains are doing a good SEO job and why their SEO strategy is working so well. I will explain the top-5 cases only, but you will find a list of 100 domains that managed to grow consistently throughout the entire year of 2017.
There is a little difference this year from previous IndexWatch articles, I am going to use our mobile visibility for the IndexWatch 2017. Our mobile visibility is 2 and half years old, so there is enough historic data that we can use. We took all domains into account who had at least 3 points in the Visibility Index at the start of 2017. The increases are shown as percentages. If you prefer to go further back in time, you can change to the desktop visibility, which is 8 years old.

Top 5 – What do they have in common?
So, what is the best way to rank for a lot of high traffic keywords that, at the same time, can cover the long tail? A few years ago, I wrote a blog post called "Want to slowly kill your content on Google? Simply use a directory structure with dates", where I explain what a bad SEO strategy looks like and it looks like this:

Well, the reason is simple, this kind of information architecture would work very well at a library but not on the internet. People use search queries on search engines and that is the way how things work today. In general, people think in categories because people don't know exactly what they are looking for or what they want. Even a successful company like Amazon recognises that people do not know what they want – and they have a lot of data. For this reason the categories (better known as hub pages) are just the best holistic answer you can deliver.
All URLs that deal with the same topics should be viewed as a whole, not as a collection of parts. Using categories, you are telling Google which part of your domain should rank for a particular topic and this is the best way to rank for a lot of high traffic keywords that, at the same time, can cover the long tail. Take a look!
Top1 Indiamart.com +664%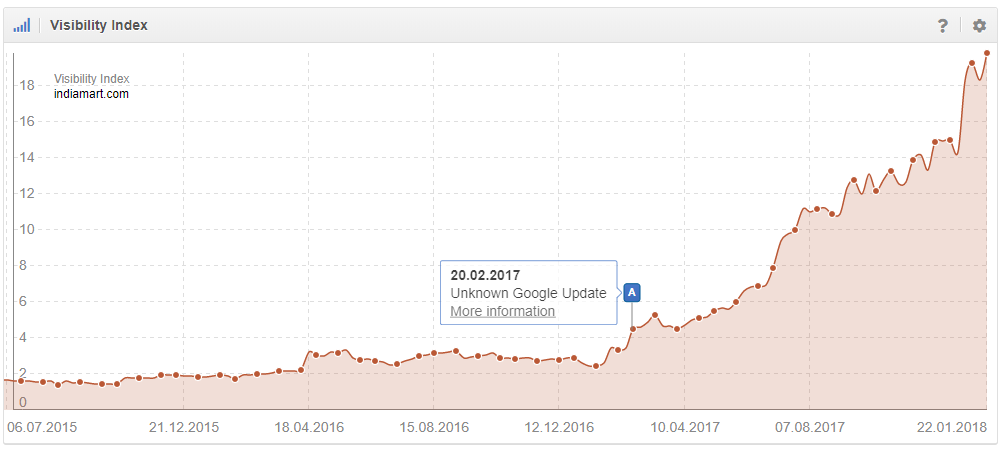 IndiaMART is India's largest online marketplace. That is what they say about themselves and you will find this information in Wikipedia too, but nowhere else – which reinforces my scepticism over Wikipedia – However, making up just 2,6% of the population, British Indians contribute 10% of Great Britains economic performance – according to a 2007 study by the "Joseph Rowntree Foundation" (a 114 year old British Fundation which I would trust more).
Guess what Indiamart's secret is: If we take a look at the host https://dir.indiamart.com/, which makes up 76% of their entire visibility on Google.co.uk, what do we find on this host? The directory categories! The directory, /impcat/, makes up 68% of the domain's visibility. Take a look at this comparison of domain vs. directory: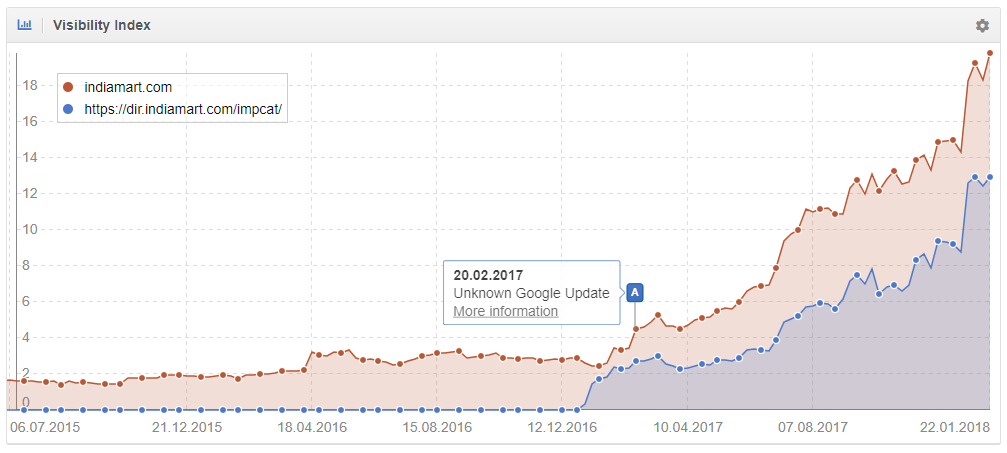 The blue line is responsible for the entire domain growth as of January 2nd, 2017. Not only do they manage to get good rankings on Google, they are staying at the top. If these British Indians or other users who know IndiaMart, use Google.co.uk for searches related to business there or in the UK, they would generate enough user signals, so that Google could be thinking this domain delivers the best answer to cover their needs.
We now know categories work well, so let's take a look at the second winner which offer good examples of why.
Top 2 Oup.com +613%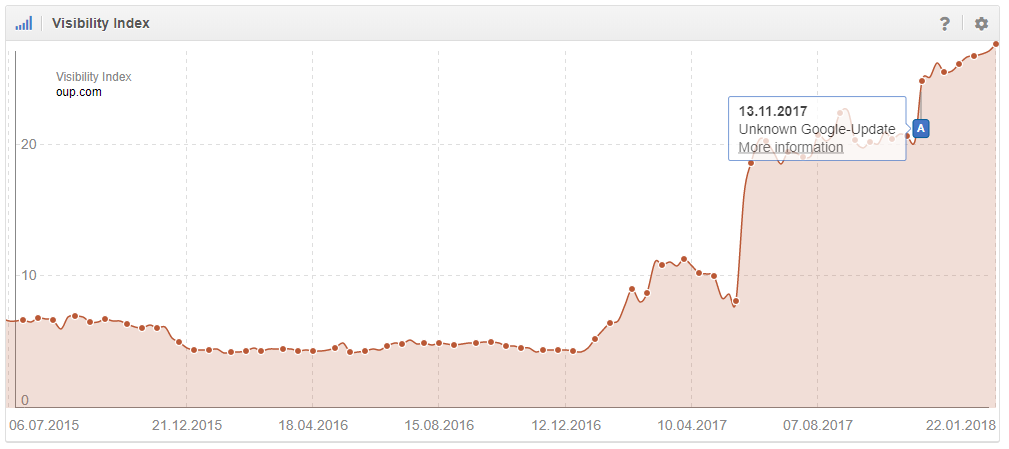 If you don't entirely trust Wikipedia for excellence in research, don't worry. As of now, 94% of the keywords for the Oxford University Press are competing against the Wikipedia. Academics vs. novices. And guess what they did? Exactly, categories! Take a look at academic.oup.com, the navigation menu even has a list of keywords they would like to rank for, from A to Z. 80% of the entire domain visibility lies here. Let's compare their categories landing page to the entire domain: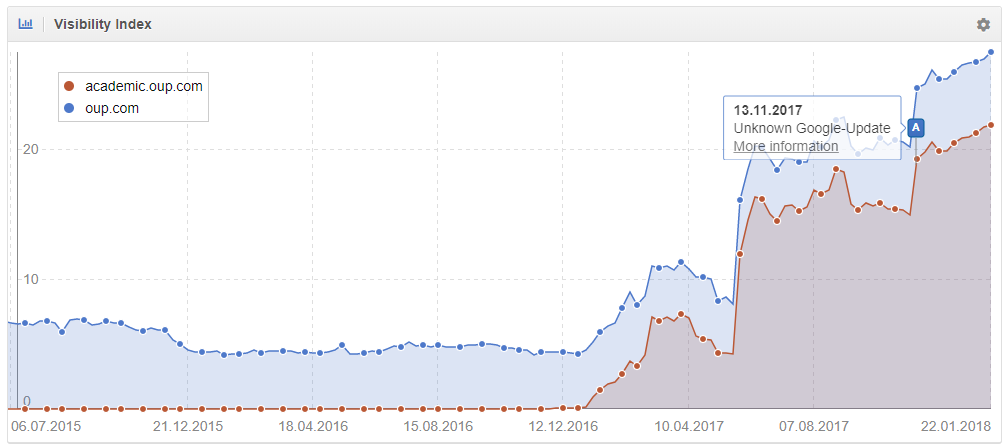 This host even won more visibility during the last Google Unknown Update, which we believe was focused all around user signals. Please keep in mind that Google will test if you are a suitable search result, the more fitting a URL is for the search request, the more Google will trust this source. This is how they managed to rank for "brain" on position 1 ahead of Wikipedia from July to September, 2017.
But today, the domain ranks at 3rd position. Why? The URL https://academic.oup.com/brain/ does not deliver a good article for the search intent. They are covering the topic "brain", but it is not perfect. A tiny article by one of its experts about "human brain" with good internal links to this high quality articles on OUP.com would massively improve the rankings. Just as the domain at position number one is doing: https://en.wikipedia.org/wiki/Human_brain
We learnt to focus on only one keyword per page, right? The category for Clinical Infectious Diseases is ranking on Google with 6,647 different URLs. This content generates 21,368 different keywords or keyword combinations. 3.3 times more keywords than URLs. They are ranking on position 1 for the following long tail keyword, that they did not optimise for: "Do vaccines cause autism?". Well, the title alone is the answer, which just fits for the search request (You will find an even better example for this at our Top 5 domain).
The OUP.com has a lot of opportunities for improvement and they are not doing everything right. The have to use a consistent internal linking structure, like the Wikipedia does, for example, and they need better URLs, a better navigation menu, etc, etc. However, good job!
Top 3 Netflix.com +499%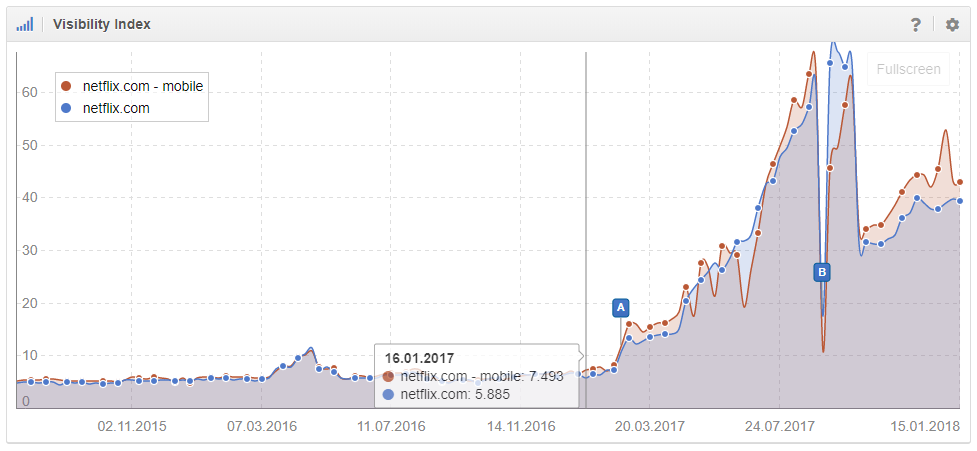 This is not a passionate SEO case. It is just a huge brand which started offering well known products – most of them exclusively – and that's all (this is like selling water in the desert, it must just work). But the good news is that it seems like Netflix has discovered the relevance of SEO. They started with 7.5 visibility points for mobile into 2017 and today, they have 43!
Netflix has quintupled the number of keywords on the first page of Google's search results. Going from 474 keywords to 2,340. However, this is only 5.4% of the entire potential that Netflix has. A big part of Netflix' content on Google is ranking between the second and tenth page of Google's search results: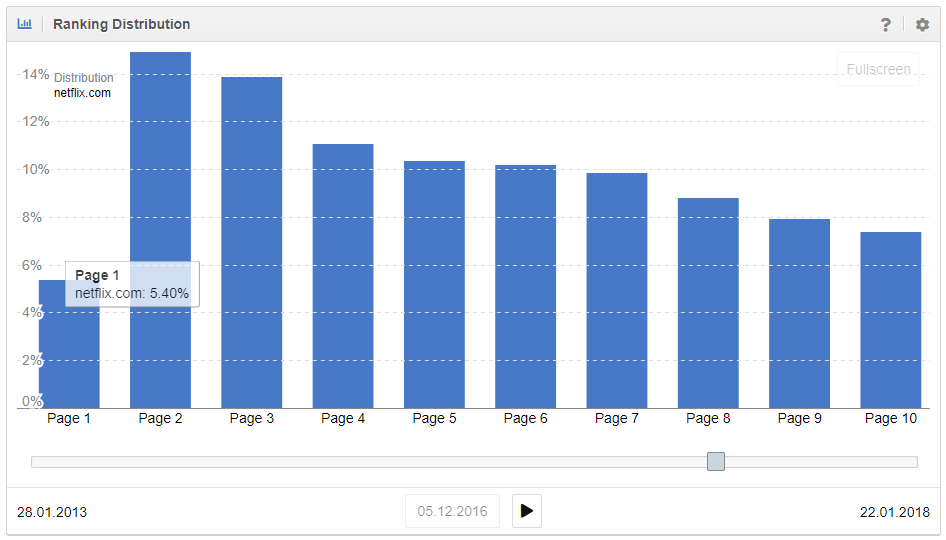 Compare this chart to the next Top 4, it shows you what it should look like.
Something you have to know: in the visibility chart, we show the visibility index for both mobile and desktop, together, and their rankings are 10% better for mobile than for desktop. This can only mean that some competitors are not mobile friendly and Netflix is thereby ranking ahead of them.
If you are wondering what the drops mean, they were using a bad system for dynamic serving, so they were cloaking involuntarily. In addition to that, they did not know that Google crawls from the USA. We reported in the past about Netflix' SEO Problems on Google.
Top 4 Collinsdictionary.com +440%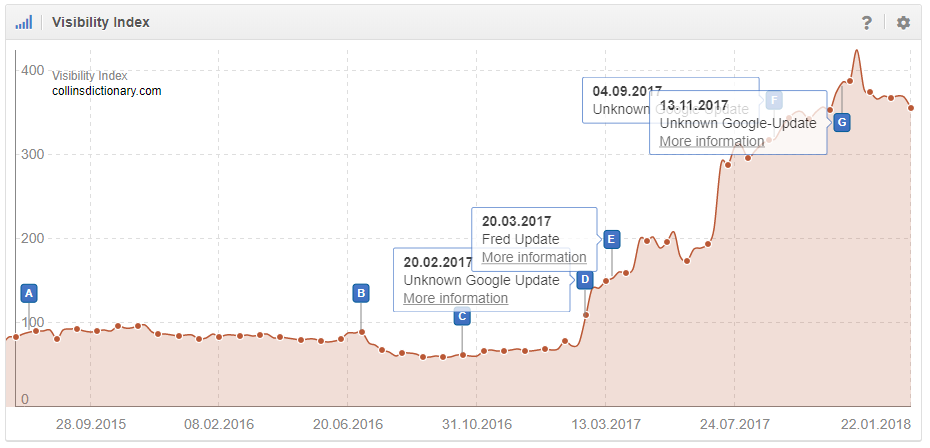 They did a good job last year, creating new content like "Word of the year", "Word list", "Scrabble", as well as the "English and American Thesaurus" and Google rewarded them for it. Also, this domain benefited from every Google Update over the last year.
They rank for more than 400,000 keywords, ten times more than one year ago, and 42% of keywords are ranking on the first page of Google's search results! The first chart is the ranking distribution, showing how many keywords the have ranking on Google's first results page, on the second, the third and so on: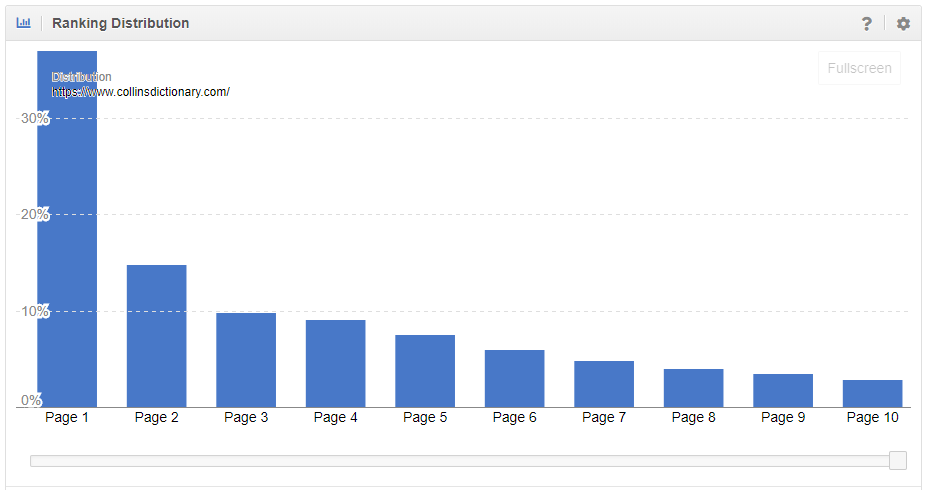 Take a look at the second chart, do you see how the number of keywords on the first page of Google's search results – the red line – is growing amazingly and is decreasing on the second page of Google's search results – the blue line? They are passing their content from the second page to the first page, the place where 99% of clicks take place: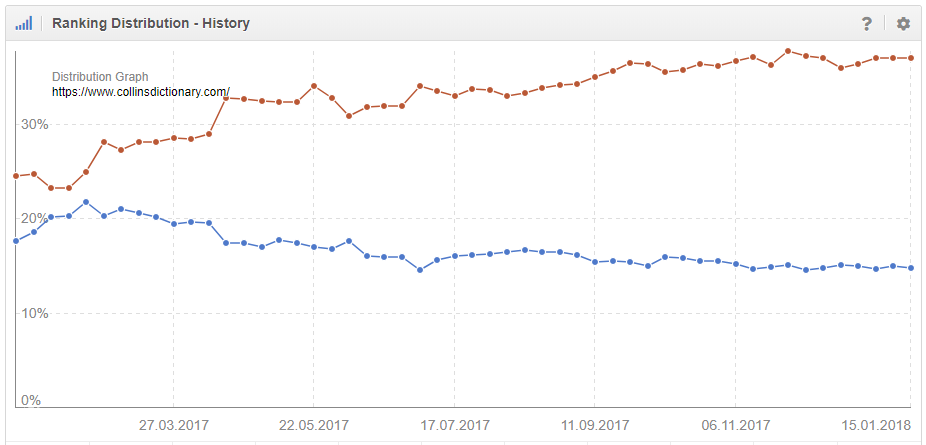 Because this domain also benefited from every Google Update over the last year, I cannot dig deeper in the analysis, everything is possible. But I can tell you that they have a very good strategy for internal links on almost every URL, they are also a known brand, they are offering more ad value compare to Thefreedictionary.com and Yourdictionary.com, and they have a better mobile version of the website (Collinsdictionary.com is even testing AMP).
Top 5 Crazygames.com 392%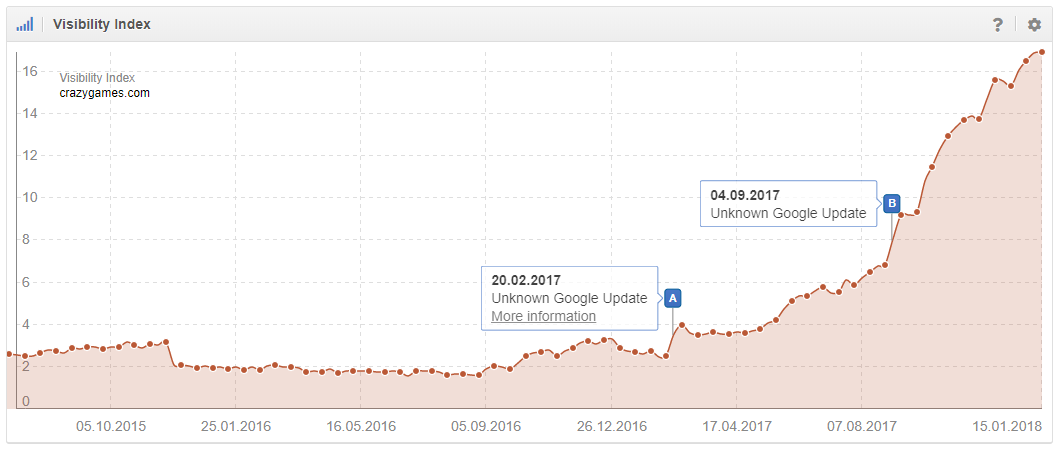 As you can see on the visibility index chart of Crazygames.com, this domain was boosted by two of Google's Unknown Updates. Like Collinsdictionary.com, I cannot dig deeper in the analysis. But, take a look at the following URL, ranking at first position for the Keyword "shooting games": https://www.crazygames.com/c/shooting (I suppose /c/ means category).
As I asked before, we learnt to focus on only one keyword per page, right? Today, this URL is ranking for 576 different keywords. They are Keywords like this: "cool gun games for free". How did they manage to rank for a keyword that is not contained within the page's HTML?
Simple, you don't need to optimise for 576 different keywords. Many different URLs for one and the same product, without any new value (price, size, weight, colour, etc.), make life really hard for Google. Google cannot decide which URL should show up in the rankings and which one of them is the most relevant (better known as keyword cannibalisation). For one topic Google will test your domain and then, if you are good for the keyword "shooting games", you are probably also good for the keyword "cool gun games for free", "best shooting games online" or "online shooter games". All of them ranking on first position.
You would not create individual pages anymore for different wordings, filler words, synonyms or keywords with a very low search volume, that have a topical overlap with other pages. Instead, you would bundle those on one category page (one URL, like shooting games, brain or doing business in India). When doing this, it is very important to stay focussed and not include different topics on the same page, as this might cost the page its relevancy for the one topic.
Your content on a specific topic should have the appropriate length for that topic. Sometimes the best answer will be a list of "shooting games", "the latest research articles for brain", a photo, a video, a list, a landing page with nice filters, long text, sometimes it will be short.
The basis for a successful strategy are not universal rules but a great analysis of the user intent paired with common sense. If the result satisfies the user's search intent and the user is happy, Google is happy.
The SEO Winners 2017
Top 20 in absolute numbers
Some good SEO strategies from big domains are not represented in the list above. A domain like Theguardian.com managed to increase their visibility by 33%, so they are not on the list, but in absolute numbers, we are talking about an amazing increase of 202 visibility points! If we consider that only 100 domains in the UK have more than 70 points, this is an amazing increase (The entire domain Tesco.com has 221 points!).
To all the winners: Good job!
Next week we are going to talk about the losers. There, we will learn what we should not to do and how we do it better.