We have great news concerning our Link-module. SISTRIX and Majestic, one of the most reputable sources of link-data, have partnered up. Starting today, we will augment our own link-database with the link-data from Majestic, at no additional cost.
If you have activated the LinkPlus feature for a domain within the SISTRIX Toolbox, we will combine the data from both the SISTRIX- and Majestic-crawlers and display it in our familiar interface. This way, users will now have access to more than 300 billion links through the SISTRIX-data as well as another 150 billion crawled URLs from Majestic. This will enable a greatly improved coverage of a site's link-profile, especially for smaller domains.
This new feature is available to all Link-module subscribers at no additional cost.
The additional Majestic data will go live today for all domains where LinkPlus has been activated. The combined data will then become the regular basis for link evaluations. Additionally, we will also use this augmented database for SISTRIX LinkRating.
With this partnership we will enable our users to greatly increase the quality of their link-evaluations. The internet is changing at break-neck speeds and no link database will have each and every new link. Even Google needs month at a time to finish crawling the net for new links. By combining the SISTRIX and Majestic data, will therefore give our users a great advantage.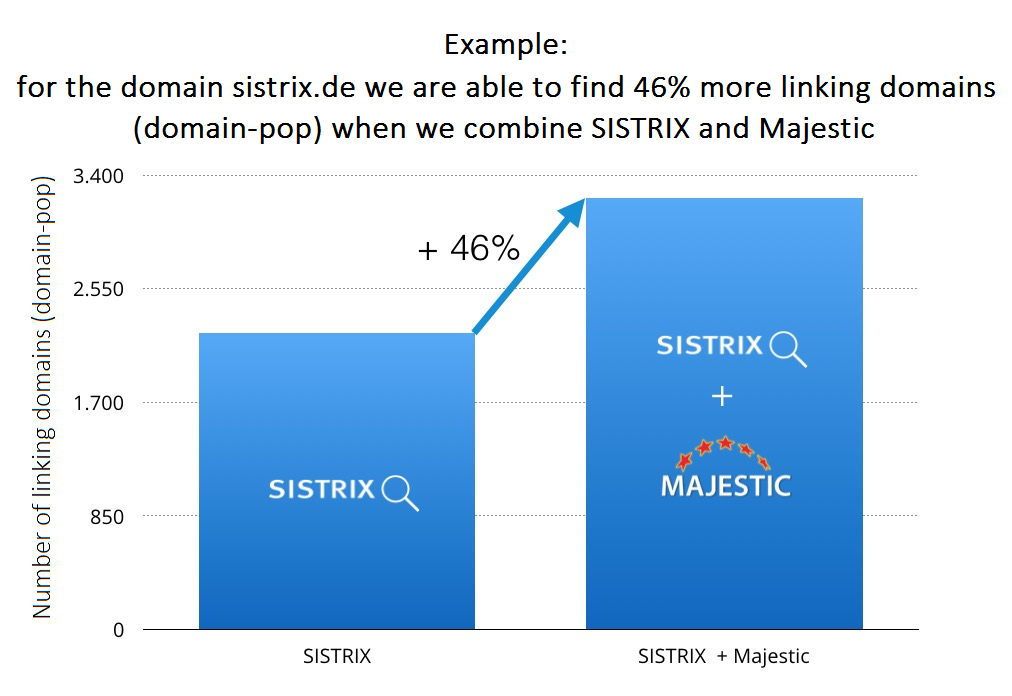 Markus Hövener came to the following conclusion about our link database in his Suchradar test (PDF in German), back in 2011:
The test easily shows that no one link-database is able to offer full coverage of external links. Therefore, if you want to evaluate link-data, you will need to use multiple sources – or make the deliberate choice to live with said limitation.
We listened to Markus and are very proud to announce that the SISTRIX Toolbox now combines the two best link-databases, which managed to show the largest amount of exclusive links in the Suchradar-test.
Another one who is very happy about the partnership is Dixon Jones, Marketing Director at Majestic and Receptional Founding Director, who sees the enormous advantages in our cooperation.
Working with Sistrix is a really exciting development for Majestic. We have always known that Sistrix has the power to make a real difference to opinions in Germany. We know we have great link data – the best in the world – and together Sistrix and Majestic can be a world beating product