This month, SectorWatch is getting horticultural as we take a look at the search market for garden tools. We'll show you the growing domains and some examples of content that is sprouting results. Which sites are ready for the spring, and what can we learn from them?
As we head towards the end of winter, thoughts naturally turn to warmer weather and heading out into our gardens and in the UK, we especially love taking care of our gardens. Especially at this time of year.
According to one study, the most popular months for gardeners in the UK to start a new project are March and April.
Sales for home and garden tools and equipment rose to £8.21 billion in 2021. While the country spent another £7.6 billion on plants, flowers and other garden items.
So as a perennial and growing sector, it's no wonder the search market for garden tools is highly competitive. Competing for our attention are:
Some of the UK's most popular retailers including the giants of DIY – B&Q, Screwfix, Toolstation, Wickes and Homebase
Gardening publishers such as Gardeners' World and Gardens Illustrated
Gardening specialists turning their knowledge into online content, such as Garden Tool Box and DIY Garden
Newspapers and other publications that publish product reviews and roundups
And online giants such as Amazon, eBay and Argos
Who's got green fingers when it comes to content? And who's dug up their lawn? Let's find out.
To find who is the most visible within this sector, we've curated two lists of keywords, split across different search intents.
We've chosen these intents to represent searchers looking to complete different jobs.
The first is for a selection of 'know' keywords. These are keywords with an informational goal around garden tools. For example, there are searches for those looking for the best secateurs (2,000 searches a month in the UK), to understand garden tool names (700 searches a month) and how to hang garden tools in shed (400 searches a month).
These searches are broken down into shopping guidance ('best' queries), those looking to know which garden tools are foundational items to get and how to use various tools.
Our second set of keywords is a representative sample of 'do' intent keywords. These are transactional searches representing potential customers looking to buy some garden tools right now. Within this list, we have generic keywords such as gardener's tools (40,500 searches a month on average in the UK). But we also more defined searches for some of the most popular tools in the UK, such as hose pipe (23,300 searches a month), secateurs (14,200), fork garden (8,100), garden shears (7,600), watering can (6,350), garden rake (6,250), spade (5,450) and shovel (3,400).
For this analysis, we didn't include lawnmowers. This is a huge topic – enough for a SectorWatch in its own right!
The keywords used in this analysis are available for download at the end of the article.
Domain analysis: The top competitors in the online market for garden tools
So, who are our winning sites? Here are those at the head of the pack:
Top 3 domains for 'do' (transactional intent) searches (based on 690 keywords):
amazon.co.uk
ebay.co.uk
screwfix.com
Top 3 domains for 'know' (informational or research intent) searches (based on 272 keywords):
gardenersworld.com
gardentoolbox.co.uk
gardensillustrated.com
Leading 25 domains: 'Do' intent
Leading domains for garden tools (690 do intent keywords)
| Domain | Market Share |
| --- | --- |
| amazon.co.uk | 17.50% |
| ebay.co.uk | 8.85% |
| screwfix.com | 8.27% |
| diy.com | 6.33% |
| argos.co.uk | 5.44% |
| gardenersworld.com | 3.62% |
| therange.co.uk | 3.18% |
| wilko.com | 3.04% |
| toolstation.com | 2.73% |
| homebase.co.uk | 1.96% |
| wickes.co.uk | 1.93% |
| burgonandball.com | 1.80% |
| universal-search-box.com | 1.65% |
| gardentoolbox.co.uk | 1.35% |
| etsy.com | 1.13% |
| manomano.co.uk | 1.05% |
| gardensillustrated.com | 0.88% |
| wilkinsonsword-tools.co.uk | 0.80% |
| fiskars.com | 0.71% |
| haws.co.uk | 0.66% |
| gardenhealth.com | 0.52% |
| diygardening.co.uk | 0.49% |
| waterirrigation.co.uk | 0.47% |
| robertdyas.co.uk | 0.45% |
| tooled-up.com | 0.44% |
Leading 25 domains: 'Know' intent
Leading domains for garden tools (272 know intent keywords)
| Domain | Market Share |
| --- | --- |
| gardenersworld.com | 11.90% |
| gardentoolbox.co.uk | 5.76% |
| gardensillustrated.com | 4.84% |
| amazon.co.uk | 4.13% |
| gardeningetc.com | 3.55% |
| expertreviews.co.uk | 2.65% |
| universal-search-box.com | 2.47% |
| moderngardensmagazine.co.uk | 2.35% |
| diygarden.co.uk | 2.32% |
| grasstrimmerreviews.co.uk | 2.26% |
| gardengatemagazine.com | 1.95% |
| independent.co.uk | 1.88% |
| telegraph.co.uk | 1.74% |
| pyracantha.co.uk | 1.62% |
| which.co.uk | 1.56% |
| thespruce.com | 1.47% |
| gardeningknowhow.com | 1.32% |
| youtube.com | 1.30% |
| thejollygardener.co.uk | 1.28% |
| t3.com | 1.26% |
| gardeningproductsreview.com | 1.16% |
| diygardening.co.uk | 1.08% |
| screwfix.com | 0.81% |
| goodhousekeeping.com | 0.81% |
| epicgardening.com | 0.80% |
Content examples: What type of content is performing?
A look at the winners for the garden tools search market offers some immediate takeaways for us to dig into:
Offline reputation carries over into the search market, with many of the UK's biggest retail brands doing well. In particular, DIY retailers take 6 of the top 12 places for our transactional 'do' keywords

And other strong retailers such as Argos and discount 'home goods' retailers (The Range, and Wilko) also get in the top 10

Specialist gardening sites such as Gardeners' World, Garden Toolbox and Gardens Illustrated appear in the top 25 on both intent lists. This is where their buyer's guides for a range of garden tools do well. As pieces of commercial research content, Google shows them for strictly commercial queries and informational queries around finding the best option
Our informational 'know' list is dominated by those gardening brands. Those that offer a range of different article types to build a comprehensive footprint around a topic are at the top

For example, Gardeners' World and Garden Illustrated have those buying guides rounding up the top products for each type of garden tool, but also have articles giving tips and advice on how to design, improve and maintain your garden, including the best ways to use those various tools

Some of the top article review publications, such as The Independent, Telegraph, Which and T3 enjoy success for 'know' keywords, but not as much as we've seen for other sectors. Only Expert Reviews breaks into the top 10

Is this because they don't enjoy as much authority or expertise in this market? Or that the specialist sites do a better job?
High-performance guidance ('know') content
The stand-out takeaway for our 'know' keywords is the runaway success of the gardening speciality publications.
Gardners' World has an 11.9% share of the search market for our sample keyword set, over double the second-place site, Garden Tool Box.
Is this just due to our choice of keywords or part of a wider success story?
For the various 'best of' queries in our keyword set, Gardners' World's roundup articles, such as their guide to the best garden hoses, live in the /reviews/tools/ directory.
<screen video/gif of https://www.gardenersworld.com/reviews/tools/watering/best-garden-hoses/ or https://www.gardenersworld.com/reviews/tools/pruning/best-secateurs/>
The roundup of the hoses ranks for 1,035 keywords in the UK, 237 of those on page one of the search results. And this pattern continues across the directory, highlighting a section of high-performance content.
Together, all the tool reviews rank for 9,719 keywords, 24.9% of those on the first page. This brings an estimated 79,872 organic visits per month.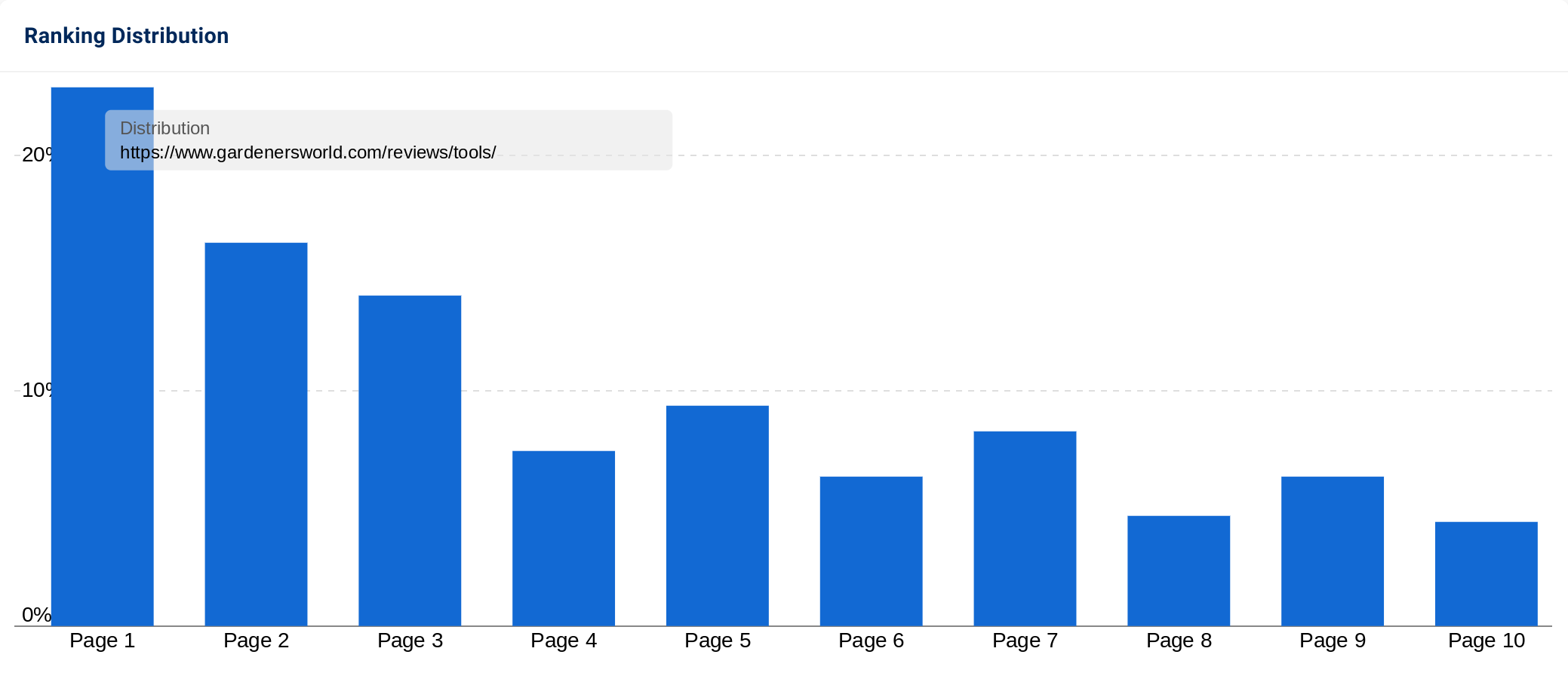 The directory has steadily grown since its introduction in mid-2020, with some small bursts of visibility growth during Googe Product Review Updates.
It isn't just the buying guides performing well for Gardners' World though.
Some of the 'how to' guidance also ranked well for some of our sample keywords. And a look at the /how-to/ directory's success shows this is part of a wider selection of high-performance content.
Overall, the section – which the site says is home to their "easy-to-follow projects, practical videos and problem-solving advice" – ranks for 111k keywords in the UK. That's impressive, but even better an incredible 51.4% of the most important keywords rank on page one!

Over 1,800 articles in this directory rank for at least one keyword in the UK and together they generate an estimated 1,975,721 organic clicks every month. That's a hugely successful content collection!
We can also learn from some of the other site types among the top competitors.
The Independent ranks well with some of its article review roundups which live in its Home & Garden reviews. This section is another example of high-performance content.
Despite not ranking for as big a spread of keywords as it used to (something shared by most sections of most newspaper sites), it has rankings for 202,269 keywords in the UK. Of the most important keywords, 18.7% rank on page one, helping deliver over a million organic visits each month.

Similarly, the Telegraph's selection of reviews for home products ranks for 68,860 keywords, with over 20.1% of those ranking on page one and another 14.7% ranking on page two.
The Telegraph's roundup of the best secateurs is a great example of this success and content we can learn from. It ranks for 727 keywords alone, with over 30% of those rankings on page one.
<screen video of https://www.telegraph.co.uk/recommended/home/best-secateurs/>
One key pattern among this high-performing content is the depth it goes into. Many of the top-performing pages go into great detail, either explaining a topic in full or offering a veritable flower bed of options to choose from.
For example, Gardners' World's roundup of the best secateurs to buy includes:
A shortlist ('at a glance') of 12 of the best options, each with a reason it is recommended (best all round, best for large stems, best for left hands, plus best of these options for bypass, anvil and ratchet secateurs). This helps the article ranks for all kinds of longer-tail variants such as best anvl secateurs without the need for a separate article
RRP and rating details for each model listed
A link to the full review of all the recommended models
Different sections, with grouped roundups of the best options for bypass, anvil and ratchet secateurs, all marked with internal anchors letting reader jump to the section they want
A host of further options in a 'best of the rest' section
Some useful background information on how the magazine tested the products plus a highlighted note on their expertise
A 5-and-a-half-minute video showing some of the key information from the buying guide, including the different types of secateurs, key features to look for and even how to use the tool
And a named author linking to an author page including a bio, and a clear publication date
The Telegraph's guide on the same subject includes only six recommendations, but good depth of information on each, including aspects they like and don't like. Each recommedation fulflls a specific need – similar to potntial search queries – such as 'Best Japanese secateurs', 'Best secateurs for small hands' and 'Best value'.
Similarly, the article looks to answer FAQS, such as 'What makes a good pair of secateurs?' and 'What are the different types?'. This content decisions boost the article's relevancy for a wider set of queries and helps establish it as more comprehensive on the core subject.
The article with the widest keyword footprint in Gardners' World's hugely successful How To section takes this to another interesting level. Their article on how to grow tomatoes is a complete guide. It has sections on every aspect form sowing tomato seeds (indoors, outdoor or in a greenhouse) through to the best options to grow and how to harvest your crops.
The article's success is based on it being the pillar page for a hub of related information on the subject:
There are links to related articles, such as on the different types of tomato plant and how to grow the tastiest tomatoes, plus in-copy links to relevant further information throughout
You'll even find links for recipes to cook with your tomatoes, courtesy of a partnership with BBC Good Food
A simply yet handy graphic shows the right time of year for each stage
And there are guidance videos dotted through the article, including some presented by Monty Don and Alan Titchmarsh – that's some famous experts to satisfy the 'expertise' requirements of E-E-A-T
The article itself is very detailed, but its the fact it brings all the key stages into one place, and then offers all the further reading you could need to master each step, that makes it such a useful article. A great example of a pillar or curation page in action.
High-performance 'do' content examples
Our 'do' keywords – all with a shopping intent – bring up retailers the majority of the time. Only one non-retailer (Gardners' World) breaks into our top 10.
After the online giants of Amazon and eBay, our biggest success story is Screwfix. The building supplier serves both the B2C and B2B markets, both of whom want to order online and then quickly pick up their goods from a local store.
Screwfix's section listing their garden tools is another example of strong content. It ranks for 76,884 keywords in the UK, with over 53% of the rankings for the biggest terms on page one.
Together, these rankings generate an estimated 1,276,442 organic visits per month in the UK. That's a lot of potential garden tool sales!


Another success story is B&Q, whose Outdoor & Garden section ranks for 65,425 keywords, with 36.9% of the top keywords ranking on page one.
So, what makes these garden tool sections so successful?
Screwfix and B&Q have strong backlink profiles and no doubt benefit from strong trust and authority signals as well-established retailers in the UK (such as clear customer service policies, details of local stores and head office contact details, customer reviews on the product (PDP) pages and so on).
But just as with the publications needing to prove their worth for 'know' keywords, here Screwfix and B&Q do an excellent job with their ecommerce experience.
Both B&Q and Screwfix have CLPs (category listing pages) – or department pages – that bring together important categories into a landing page where users can quickly select the type of tool they are after. These CLPs can appear in the main navigation, or at least high up in the site structure, bringing the individual PLPs (product listing pages) with them and providing useful internal links

See B&Qs and Screwfix's pages on hand tools for inspiration on how to do this well

Both sites put their most important PLPs in the main navigation, giving them site-wide internal links. This shows off their importance to search engines
They also use breadcrumbs, linking up to the relevant PLPs and CLPs. The garden spray guns PLP on Screwfix links up to garden hoses > watering > outdoor and gardening
The PLPs feature some intro copy – in Screwfix's case in the top left corner on the desktop version and at the top of the product listings on mobile. Only the first few words are visible with the rest hidden behind a 'read more' option, but it is enough to give some context to the page
Both sites do a good job with a sub-navigation (both using the sub-heading 'categories' so PLPs with a wider scope link to related child subcategories. For example, B&Q's page on cutting and pruning links to child subcategory PLPs such as loppers, secateurs and pruning saws
Meanwhile, Screwfix's category PLP for Garden hoses links to popular subcategories like garden spray guns, hose reels and six more option
Screwfix has a nice extra sub-menu which highlights similar pages that could be what the visitor was looking for.

In the case of garden hoses, it suggests people also search for flexible hoses, shower hoses, air hoses, fire hoses and so on

The PLPs have plenty of filtering options, with options for specifications like brand, weight, price, star rating and even availability in B&Q's case
And you can sort the results by top sellers, price, average star rating and alphabetically by brand
Both load relatively quickly on mobile
And finally, both have a good number of product options available for important categories
Summary
Building a complete picture of how your target audience will look for help and building resources you know will help them achieve their goals is still a fantastic way to build a content plan. Publishers in the gardening sector have developed clear strategies to answer their audience's questions, whether it's on the right tools to buy, how to use those tools and what projects they might like to use them for
If you have enough topical expertise, you can beat the big-name publishers. Garden Tool Box and DIY Garden show how smaller operations can do very well (and get that affiliate commission) through creating great content and checking those E-E-A-T boxes
In popular ecommerce sectors, big-name retailers continue to dominate (a trend we don't see changing soon), with slick user experiences as well as product variety the norm
As we've seen before, going into depth in your 'best of' product roundups is a baseline requirement to compete. Proving first-hand experience, showing your credentials and finding ways to cover common questions or sub-topics (such as different use cases or subcategories) are building blocks you can use to build articles that meet Google's desire for 'high-quality product reviews'
For this SectorWatch, we used relevant keywords from a selection of garden tools keyword discovery tables.
We chose a selection of highly targeted keywords with a 'do' or 'know' intent. From these, we harvest all the ranking keywords for the URLs in the SERPs. We call this the Keyword Environment. Most SERPs will have some mixed intent so we re-filter the list for the correct intents and sanitise it by hand to leave a smaller, highly-relevant set of searches made by the UK public broken down by searcher journey. The results are based only on organic result rankings.
Keyword Set: Garden tools
Core keywords: garden tools, hose pipe, garden spade, garden shears, secateurs, garden trowel, shovel, garden rake, garden fork, watering can, garden tools names, best garden tools.
The full keyword set is available for download and further analysis can be done in the SISTRIX keyword lists feature, including competitor analysis, SERP feature analysis, questions, keyword clusters and the traffic forecast shown below.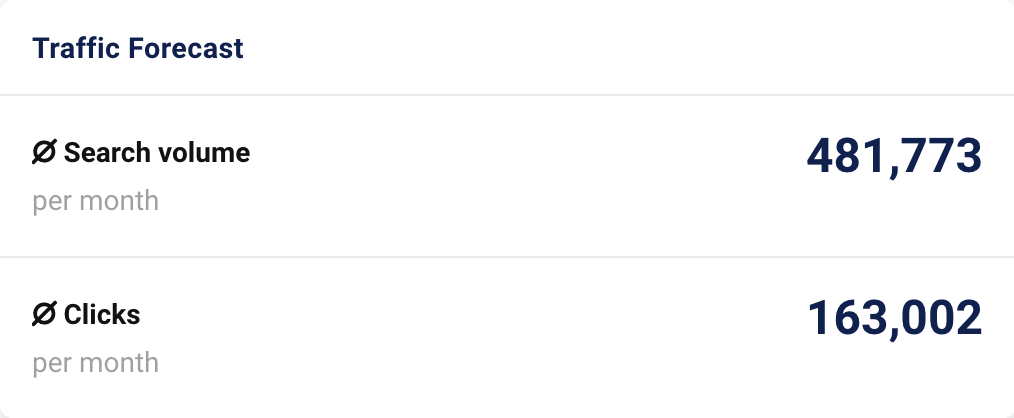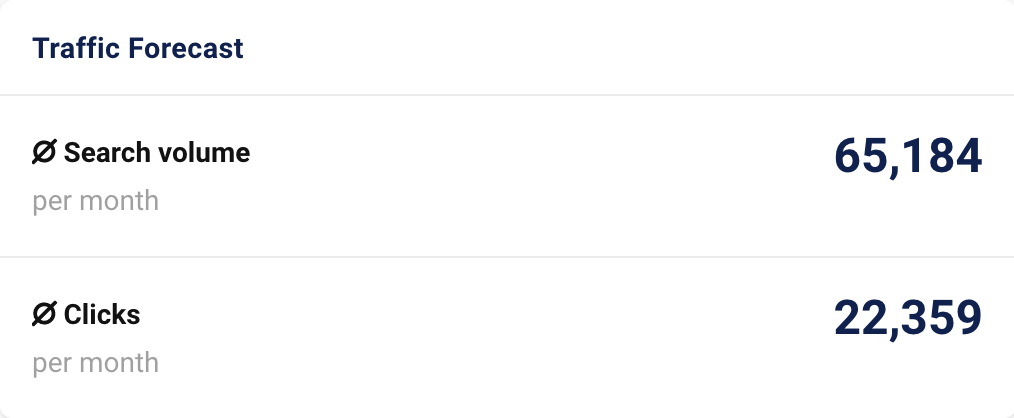 SectorWatch is a monthly publication from the SISTRIX data journalism team. All SectorWatch articles can be found here.
Related analyses can be found in the TrendWatch newsletter, IndexWatch analysis along with specific case studies in our blog. New article notifications are available through Twitter and Facebook.