To kick off 2023, SectorWatch is looking to cook up a (healthy) feast as we look at who's winning the search market for air fryers. We'll show you the leading domains and some examples of the tastiest content. Which sites are doing well for one of the hottest culinary trends, and what can we learn from them?
The leading brands and domains for air fryers
Air fryers were everywhere in 2022.
In Google's Holiday 100 – listing the products that did well in 2022 – they noted "Searches for air fryers are at an all-time high this year." The trend appeared in our December TrendWatch report and the graphic of search volume speaks for itself:

Thanks to their healthy cooking credentials and the potential cost savings compared to a conventional electric oven, the market for air fryers grew to over $897 million in 2022.
According to one study, 30% of UK households own an air fryer, with over half of the households with three or more children using them.
As you might expect, this has led to a very competitive search landscape. Online you'll find a range of big names competing for air fryer traffic:
Some of the most popular recipe sites, such as BBC Good Food, Delish & Allrecipes
Publications such as Good Housekeeping, Ideal Home, The Independent and Tech Radar
And – of course – home and white goods retailers such as Amazon, Currys, Argos, Wayfair and John Lewis
But who has found the recipe for success and whose dish is getting sent back to the kitchen? Let's take a look.
To find who is the most visible within this sector, we've curated two lists of keywords, split across different search intents.
We've chosen these intents to represent searchers looking to complete different jobs.
The first is for 'do' keywords. These represent searchers who are looking to buy an air fryer. Within this list, we have transactional keywords where someone is looking to buy right now. This includes keywords such as cheap air fryer (2,550 searches a month on average in the UK), air fryer sale (5,000) and air fryer (a remarkable 246,000 searches a month in the UK – we told you they are popular right now!)
We also included commercial research intent queries, where the searcher is looking for advice on what to buy. Keywords here include best air fryer (17,800 searches a month) and air fryer reviews (1,900).
Our second list is for keywords with a 'know' intent. These are keywords with an informational goal, such as looking for air fryer recipes (28,300 searches a month in the UK) and what can you cook in an air fryer (4,450 searches). We also found many variants of searches around how does an air fryer work (2,750) and are air fryers healthier (1,450).
For this analysis, we removed any 'do' keywords with retailer brand names as these indicate a more navigational intent and most manufacturer brand searches except for the most generic where many retailers rank.
We also focussed our 'know' keywords, excluding any recipe for specific food types and instead looking at generic recipe queries, searches for popular diets (vegetarian, vegan, low fat, low carb etc) and specific meal times (best air fryer lunch recipes).
The keywords used in this analysis are listed at the end of the article.
The top website competitors for air fryers
So, who are our winners? Here are the sites leading the way. A more detailed list is provided below.
Top 3 domains for 'do' (transactional intent) searches (based on 374 keywords):
amazon.co.uk
bbcgoodfood.com
argos.co.uk
Top 3 domains for 'know' (informational or research intent) searches (based on 491 keywords):
bbcgoodfood.com
delish.com
goodhousekeeping.com
Leading 25 domains for Air fryers (do intent)
Leading domains for air fryers (374 do intent keywords)
| Domain | Market Share |
| --- | --- |
| amazon.co.uk | 11.37% |
| bbcgoodfood.com | 8.33% |
| argos.co.uk | 6.40% |
| goodhousekeeping.com | 5.70% |
| currys.co.uk | 5.47% |
| idealhome.co.uk | 4.22% |
| independent.co.uk | 3.08% |
| ebay.co.uk | 3.01% |
| universal-search-box.com | 2.64% |
| techradar.com | 2.13% |
| expertreviews.co.uk | 2.10% |
| ninjakitchen.co.uk | 1.89% |
| wayfair.co.uk | 1.82% |
| telegraph.co.uk | 1.49% |
| johnlewis.com | 1.45% |
| realhomes.com | 1.16% |
| which.co.uk | 1.15% |
| pricerunner.com | 1.07% |
| towerhousewares.co.uk | 0.99% |
| standard.co.uk | 0.97% |
| robertdyas.co.uk | 0.94% |
| homesandgardens.com | 0.92% |
| asda.com | 0.89% |
| bmstores.co.uk | 0.88% |
| hotukdeals.com | 0.87% |
Leading 25 domains for Air fryers (know intent)
Leading domains for air fryers (491 know intent keywords)
| Domain | Market Share |
| --- | --- |
| bbcgoodfood.com | 9.87% |
| delish.com | 7.02% |
| goodhousekeeping.com | 6.49% |
| tasteofhome.com | 5.29% |
| homesandgardens.com | 3.09% |
| universal-search-box.com | 2.49% |
| robertdyas.co.uk | 2.48% |
| lianaskitchen.co.uk | 2.38% |
| insider.com | 2.25% |
| idealhome.co.uk | 2.21% |
| allrecipes.com | 1.89% |
| taste.com.au | 1.83% |
| expertreviews.co.uk | 1.79% |
| everydayfamilycooking.com | 1.75% |
| thekitchn.com | 1.70% |
| which.co.uk | 1.53% |
| techradar.com | 1.52% |
| buzzfeed.com | 1.50% |
| realhomes.com | 1.46% |
| insanelygoodrecipes.com | 1.34% |
| simplyrecipes.com | 1.11% |
| eatingwell.com | 1.01% |
| youtube.com | 0.96% |
| independent.co.uk | 0.87% |
| gearpatrol.com | 0.83% |
Content examples: What type of content is performing?
As we look at who is winning the search market for air fryers, there are some immediate takeaways:
Some sites have done very well for both the 'do' and 'know' keyword sets. BBC Good Food, Good Housekeeping and Ideal Home are all in the top ten for both lists.

They achieve this through a comprehensive range of content across the topic. For example, Good Housekeeping has guides to buying the best air fryer that do very well for commercial research searches.
They combine this with a series of informational articles potential buyers might ask. For example, the differences between an air fryer and a convection oven.
And they also have a wide selection of air fryer-specific recipes & curated lists that gather those and a selection of recipes that you can cook in an air fryer as well as a conventional oven. This creates relevant pages with a wide range of options.

High street retailers do well for the classic transactional keywords. We see Amazon, Argos, Currys, eBay & Wayfair in the top fifteen for 'do' keywords.

Amazon ranks well for the hugely popular keyword 'air fryer', helping it reach 11.3% of the search market share for our entire keyword list.

But there is also great interest in 'best' and 'review' keywords, which helps lead to six publication sites in our top ten for 'do' keywords.

However, these sites also rank well for transactional searches. A look a the top ten for air fryer finds Google showing four buying guides, one manufacturer (Ninja) and four retailers in the top ten results, along with a new stories panel. There is even a ranking (at 11) for Delish's recipe round-up page.
Together this shows that the intent for the keyword is slightly mixed according to Google – some searches for this generic, top-level query want to see retailers, some want advice on the best option and others still might be looking for information (recipes) when you already own an air fryer

Our 'know' keywords divide between information about air fryers & how to use them and searches for recipes and inspiration for what to cook.
While some sites have a strong presence tackling one of these (such as Allrecipes and ExpertReviews), the sites that have information on both, such as our top three of BBC Good Food, Delish and Good Housekeeping dominate.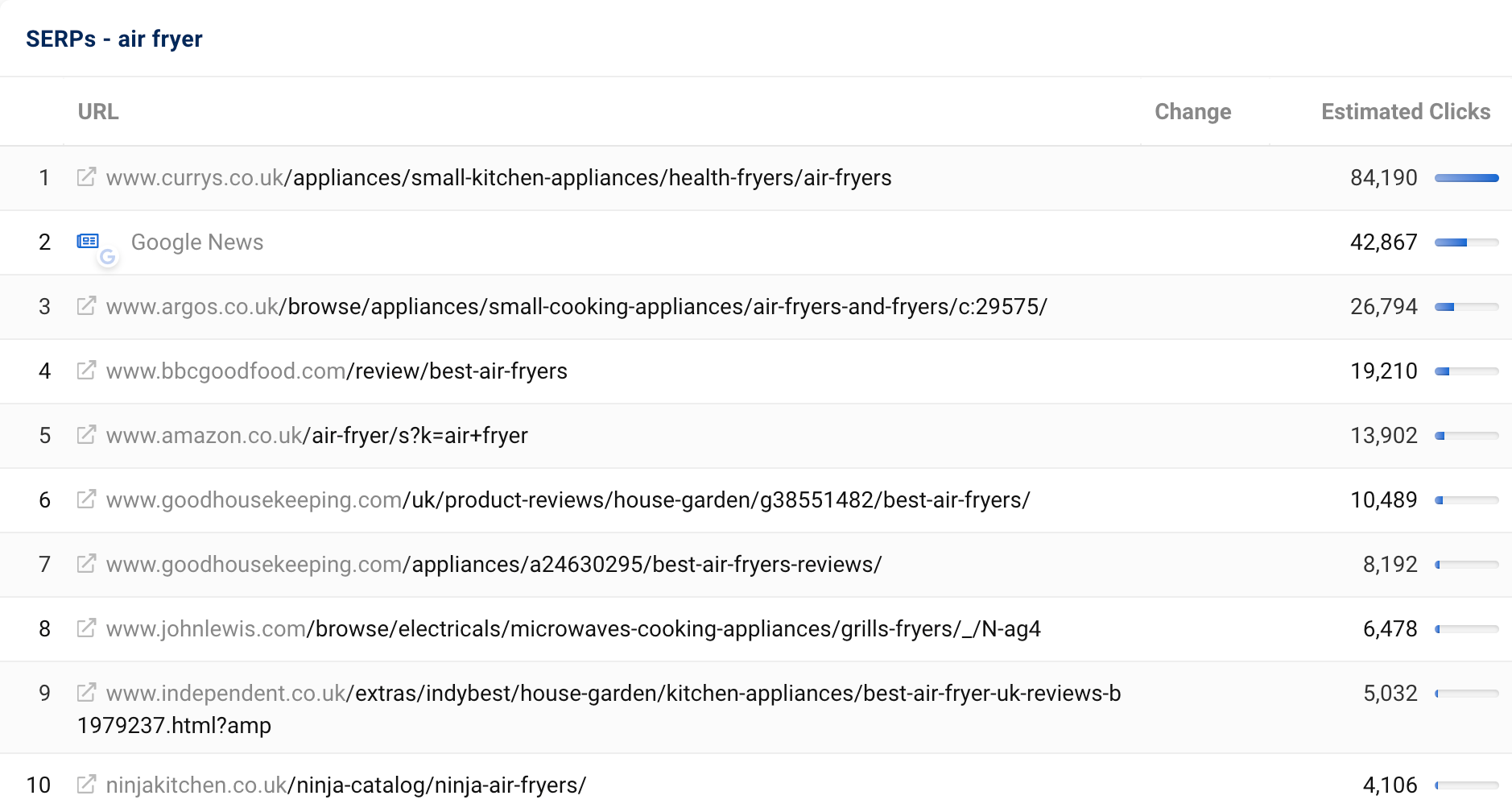 To understand what content Google is looking to reward, we can take a deeper look at the domains. What pieces of content, and which formats, are doing well?
High-performance content is generally easy to spot. We classify it as a set of content for which keyword rankings are weighted towards the first page of Google search results. Let's look at some examples by finding the sites whose content consistently performs.
High-performance 'do' content examples
One of the most notable aspects of our 'do' keyword list rankings is the success of publications. They are performing well for transactional terms with content designed for a commercial research intent – finding the best air fryer option.
Leading this pack are BBC Good Food and Good Housekeeping.
BBC Good Food ranks for 168 of our 374 'do' keywords, with 115 of those rankings in the top ten.
BBC Good Food has a range of air fryer articles, but their roundup of the best air fryers stands out. It ranks for 5,790 keywords in the UK at the time of writing. Among those are high rankings for commercial research keywords such as best air fryers (ranking at 1) and air fryer reviews (1).
But it also ranks in the top five for more transactional searches such as air fryer (ranking at 4), large air fryer (3), small air fryer (4) and air fryer oven (3). Overall it ranks in the top five for 265 keywords, including dozens of different 'best' and 'review' search queries. This helps power the site's success in our sample data.
A quick side note: the top ranking sites for 'best small air fryer uk' (500 searches a month) contains nine such 'best air fryer' articles, including BBC Good Food, and only one specific article listing the best small air fryers. Most of these wider-scope articles mention their favourite small air fryer, but it isn't the focus.
This shows how wider articles can earn lots of long-tail traffic by being thorough and providing insight into different use cases for the products they are reviewing. And it shows that checking how specific Google needs articles to be is a vital step in your content planning!
The article lives in BBC Good Food's review directory, home to their shopping guidance content. This directory is a stunning example of high-performance content.
Overall, 1,328 pages from the directory rank for over 138,000 keywords in the UK. The air fryer roundup is arguably the most successful of all. Over 33.4% of those rankings are on page one with another 14% on page two.

You can see that the directory has seen impressive growth over the past five years, rewarded with increases in organic visibility by many of Google's updates, including recent Product Review updates.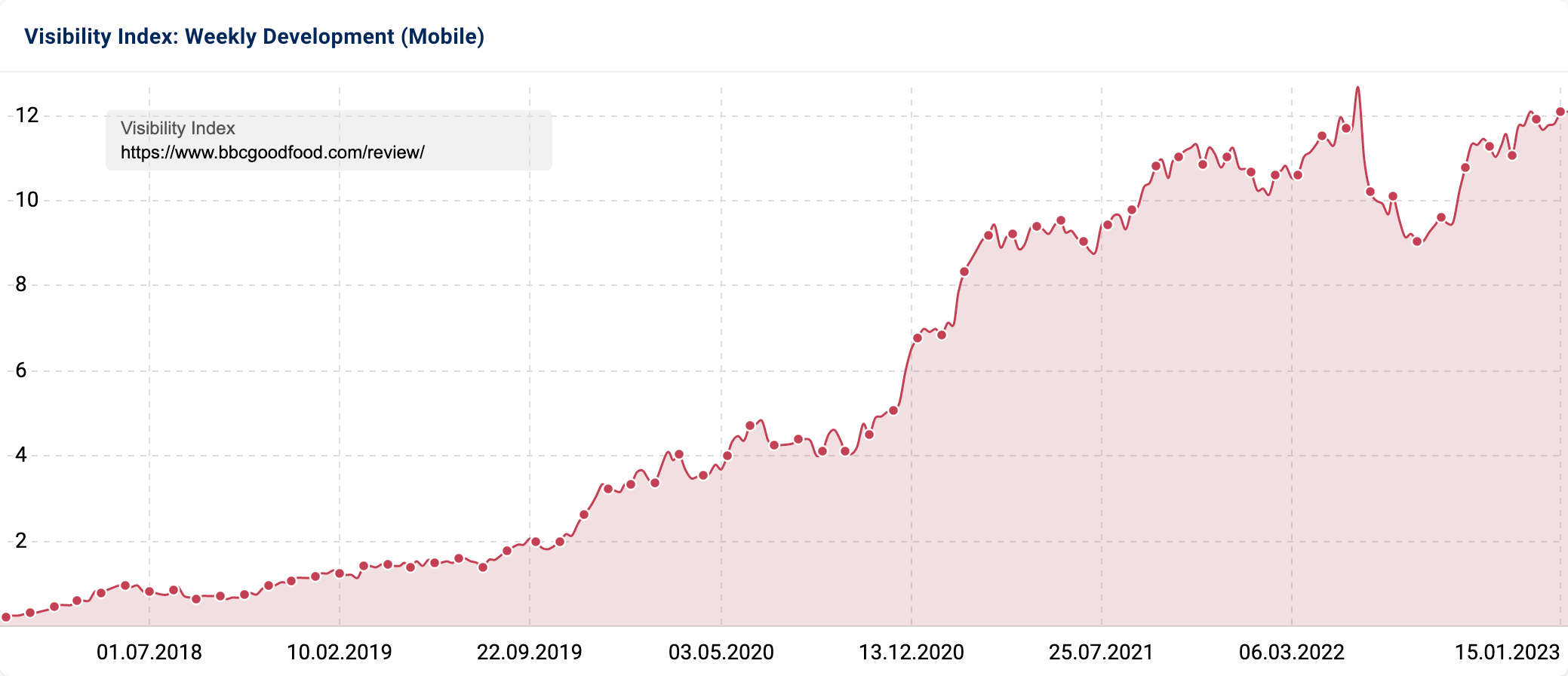 This directory can continue to grow as it expands the products covered. There are roundups of the best options for all the major kitchen appliances and even foods.
You can find guidance on the best coffee machine, juicer, hand mixer or freezer to buy, plus advice on the best whisky to give as a gift or comparing restaurant meal kits. With the site's reputation for quality in this sector, any new articles are likely to be seen as a good bet by search engines.
So, what makes the content so useful?
It ticks many of the boxes Google is looking to reward:
The roundup brings together many options, with thirteen models summarised. The article delivers on its promise of showing plenty of choices in one place.
Each of those summaries also links through a full review, which has more detail, pros and cons, and a rating score out of five stars (no sitting on the fence here)
Similarly, the roundup introduces the best air fryers and the best of the rest the article contains. Each has a positive 'best for' attribute which helps the reader decide the best option for them.
The article is broken down into sections, each with a subheading and an index towards the beginning helping you navigate to them via internal links. These headings help search engines understand the article's contents & demonstrate the comprehensive content.
Some of these sections answer common air fryer questions, helping the article potentially rank for longer-tail queries, featured snippets or in People Also Ask panels.
There is a clear author, with a link to their author page where you find a bio that explains their pedigree in this sector.
The article is updated regularly with new prices and the latest models tested.
With almost 6,000 words, the guide is comprehensive signposting it as helpful, expert information.
And, of course, the page has excellent on-page SEO such as optimised title and meta description tags
BBC Good Food also has a section on How we tested air fryers, making it clear what they based their results on and providing more evidence of first-hand experience with the fryers. With Google recently adding an E for "experience" to their EEAT acronym, we know this is more important than ever.
There are links to other helpful content, such as their entire collection of air fryer recipes (which means this article's success helps different parts of the site also rank well).
BBC Good Food notes in their air fryer roundup that their reviews section has "more than 600 practical buyer's guides offering unbiased advice on what equipment is worth investing in". They repeat this recipe throughout this hugely successful part of their site.
They aren't the only publication doing well in this way. Good Housekeeping is fourth on our list of most visible domains and has some guides that rank for a wide variety of research & transactional intent keywords.
In fact, for the top-level keyword 'air fryer', they rank not once, but twice in the top ten.
They have their UK article, which ranks the fifteen best products in a similar style to BBC Good Food, with a couple of notable exceptions. They don't put any focus on the secondary FAQs, so don't have the expanded content. Second, they don't link through to full reviews of each product – that extra depth of available information might be helping BBC Good Food's ranking.
They do have the benefit of being home to the famous Good Housekeeping Institute, which has a well-earned reputation for expertise in household product testing. Interestingly, like BBC Good Food they lack original images (or video) of them testing the kit, which could help show readers their first-hand experience.
The second guide is the US article, curating the best air fryers 'according to kitchen pros'. Although US-based, the quality of the article is forcing Google to show the same brand twice onpage one.
In this article, Good Housekeeping puts on more of a feast of useful content. As well as the review scores and specifications for each product, here there are also pros and cons for each model, the occasional link to a full review, a video and copy detailing how the GHI tests air fryers and further reading on what to look for in an air fryer.
They add an extra section on why you can trust Good Housekeeping, there's a good author bio with expertise listed and even reader comments for user-generated content to add yet more depth. There are also answers to FAQs such as 'are air fryers worth it?', 'how do air fryers work?' and 'are air fryers healthy?'.
If Good Housekeeping added this level of detail to its UK roundup, it could do even better.
High-performance guidance ('know') content
BBC Good Food also tops the most visible domains for our list of 491 'know' keywords. They are a great example of a site finding great success in a sector by producing a variety of article types that expand their organic footprint and develop wide topical authority.
As well as buying guides, BBC Good Food has articles on:
The recipes, news & guides combine to make BBC Good Food visible for 98 of our 491 'know' keywords, 71 of those top ten rankings.
BBC Good Food's /recipe/collections/ directory is home to pages that curate their best recipes (found in the recipes directory) across a chosen topic. These pages group content from around the site by topic, satisfying audience search intent by putting all the content that solves a particular problem together.
As well as their favourite air fryer recipes, you can find collections listing their best family dinner recipes, birthday cake recipes, chicken curry recipes, frozen spinach recipes, Scandinavian recipes, and new year's eve party recipes – they have a collection for just about any meal you might want to cook.
How many? Thousands.
The directory currently has over 3,600 URLs that rank for at least one keyword in the UK. Together they rank for over 153,000 keywords, over 70% of which rank on page one. These rankings cook up an estimated 7.8 million organic visits each month.

The success of these recipe collections is based on their usefulness. Each collection has a basic introduction, and then lists the relevant recipes, complete with an optimised title tag, meta description and main heading. There are also breadcrumbs and internal links to relevant content, such as the air fryer recipe collections page linking to the best air fryer buying guide we looked at above.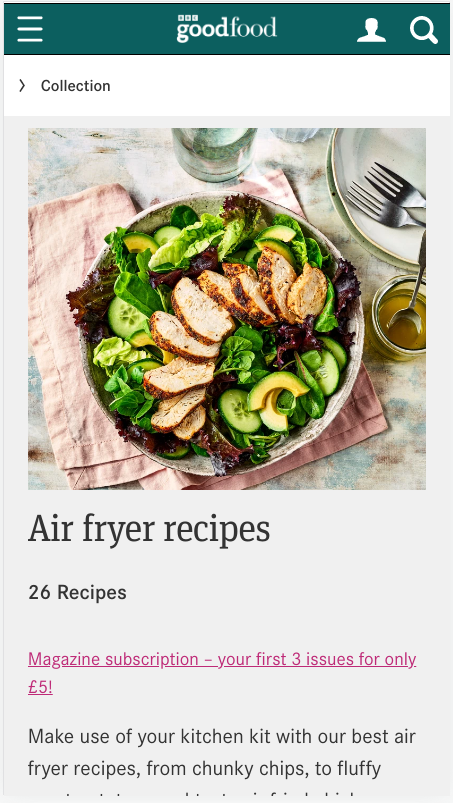 A few of the most important collections are in the site's main menu, and BBC Good Food also has a few topic pages, such as on cooking inspiration, budget cooking and family cooking that link to various collection pages. Otherwise, it is the breadth of coverage that BBC Good Food's collections have – both the number of collections and the number of recipes many of those collections list – that provides their quality.
Interestingly, the survey of UK households with an air fryer found that half of the adults in the UK with an air fryer struggle with knowing how long is needed to cook food in it. The popularity of recipe searches and various 'how-to' search queries such as how to use an air fryer or how to cook [food type] in an air fryer backs this up.
In fact, our trend data for the keyword 'air fryer cookbook' shows a huge increase in interest from autumn 2022. And BBC Good Food and some of our other winning 'know' content sites are tapping into this.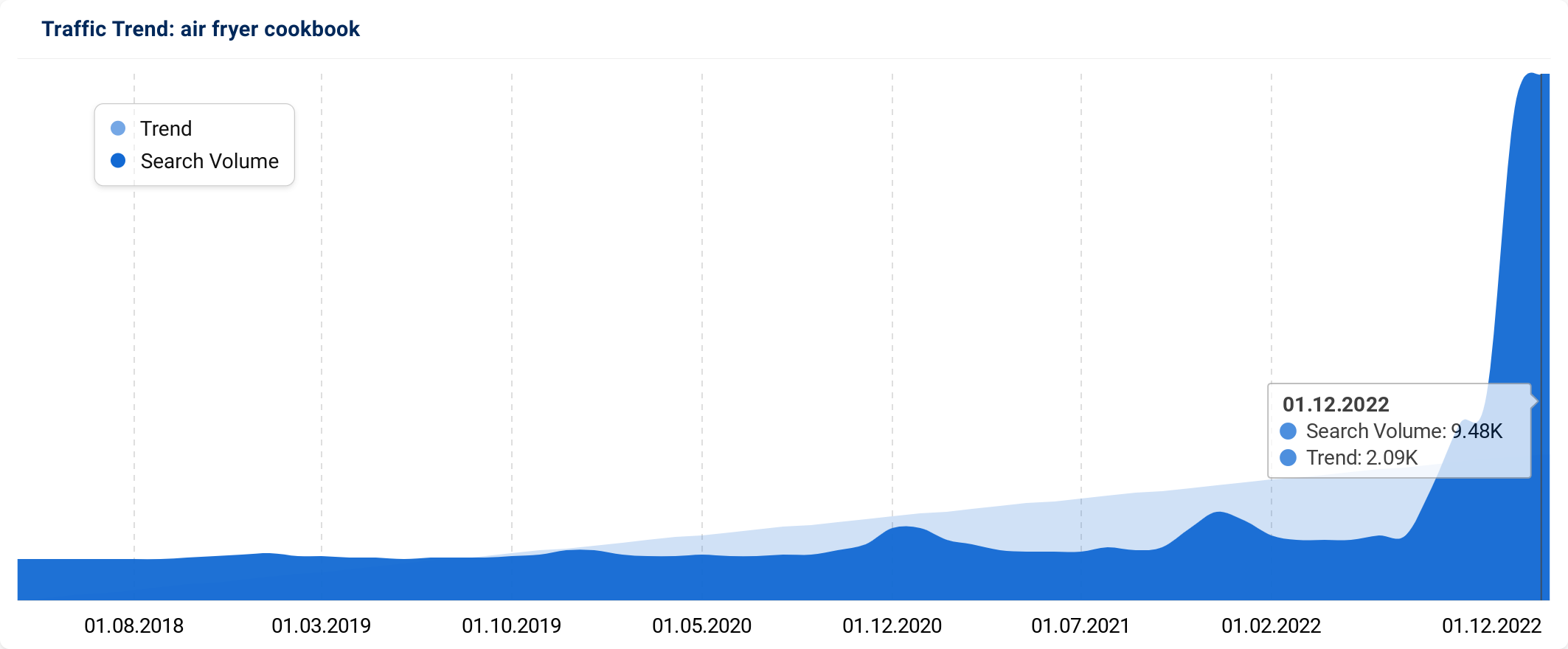 BBC Good Food also has a huge selection of guides in their /howto/ directory. These answer a lot of common cooking questions, such as 'Are air fryers healthy?'
The How-to guides rank for 166,000 keywords, with 35% of the most important keywords ranking on page one. With over 3,500 guides ranking for at least one keyword, BBC Good Food has created another huge organic footprint.

Summary
If you work in a sector with a wide range of touchpoints around a topic, you can find great success by understanding the different needs of each stage.
Many publications that have done very well on air fryers have developed strategies to build content that focuses on the specific jobs their audience wants to complete.
We've seen in previous SectorWatch articles that sites can have great success by creating many sub-sub-category PLPs to target longer-tail commercial searches by fulfilling a specific search goal. The same can apply to some informational sectors, where creating 'collection' pages curating information on a common topic can be very successful.
Even though such pages don't contain original content, collating all your information (such as recipes) around a given topic can create a useful content experience. They are almost mini content hubs.
For a popular, broad subject such as cooking, the opportunity to create many landing pages that each target a specific search need allows you to leverage your site's inventory to scale SEO success.
Such strategies allow publications to optimise their content production. And when done well, it creates a superior content experience for searchers. This type of aggregation puts content into a format that suits how users want to experience it.
Going into depth on your 'best of' product roundups is a requirement to prove usefulness in any competitive sector. Answering FAQs, proving first-hand experience, showing off expertise credentials and more is needed to satisfy Google's requirements for 'high-quality product reviews'.
As always, the challenge for such content is how to make it better than anything else available, especially with a constantly-raising bar.
This is a sector where many 'do' keywords bring back a mix of retail and review content. Commercial research content can target traditional 'transactional' keywords when it's clear that the audience benefits from the option of learning more before choosing what to buy.
Methodology and data
SectorWatch follows a fixed process which you can also learn in our free competitor analysis Academy class.
For this SectorWatch, we used relevant keywords from a selection of air fryer keyword discovery tables.
We chose a selection of highly targeted keywords with a 'do' or 'know' intent. From these, we harvest all the ranking keywords for the URLs in the SERPs. We call this the Keyword Environment. Most SERPs will have some mixed intent so we re-filter the list for the correct intents and sanitise it by hand to leave a smaller, highly-relevant set of searches made by the UK public broken down by searcher journey. The results are based only on organic result rankings.
Keyword Set: Air fryers
Core keywords: air fryer, air fryer sale, cheap air fryer, large air fryer, small air fryer, dual air fryer, best air fryer, air fryer recipes, what can you cook in an air fryer, what is an air fryer, how to use an air fryer.
The full keyword set is available for download and further analysis can be done in the SISTRIX keyword lists feature, including competitor analysis, SERP feature analysis, questions, keyword clusters and the traffic forecast shown below.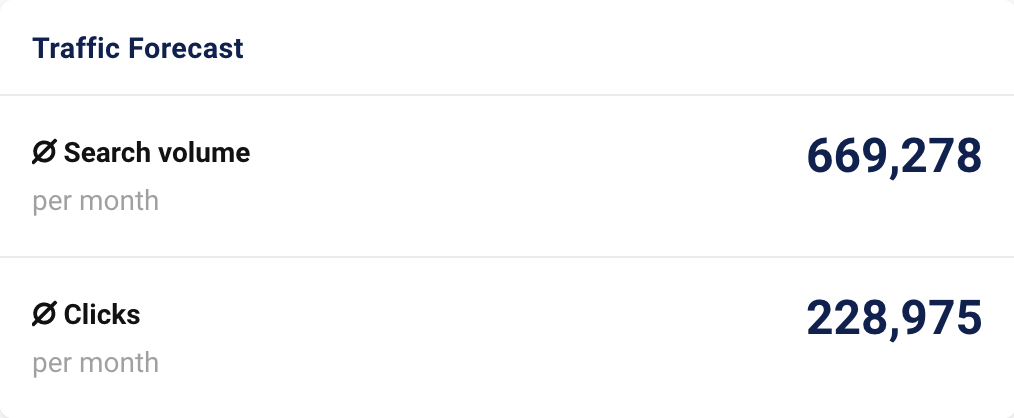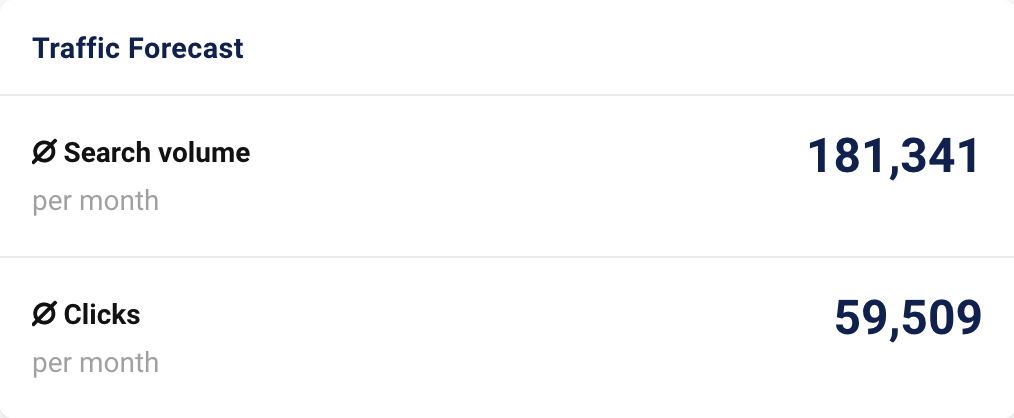 SectorWatch is a monthly publication from the SISTRIX data journalism team. All SectorWatch articles can be found here.
Related analyses can be found in the TrendWatch newsletter, IndexWatch analysis along with specific case studies in our blog. New article notifications are available through Twitter and Facebook.