To that end we regularly invite important experts to our SEO Talks series in Bonn where we discuss the current issues around search engine optimisation. Below you'll find all of our articles and videos.
International SEO
International SEO requires careful planning. 4 experts give you information about important things to consider when implementing the move to international SEO.
With Charlie Williams, Izzi Smith, CHris Green and Barry Adams.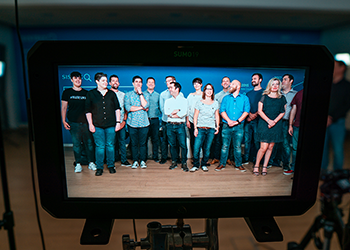 DIY or outsourcing – SEO agencies, freelancers or in-house experts?
Search machine optimisation can bring frustration to start-ups, small businesses and even big companies alike. Our expert visitors will help you get a better overview.
With Nick Wildson, Dawn Anderson, Eoghan Henn, Jon Myers and Natalie Mott.
SEO for Extensive Websites
When it comes to SEO, it is often the large, extensive websites who do a lot of things right. In this SEO Talk, four UK SEO experts with extensive experience in working on large websites share their insights with you.
With Kirsty Hulse, Patrick Langridge, Alex Moss and Stephen Kenwright.
Study: Mobile-SEO
In a large-scale study on mobile search behavior, we evaluated over 100,000 domains and 250 million clicks in 12 countries. One thing is certain: only a third of the websites examined win market share in mobile search rankings.