What is Google's definition of SEO? "By making sure search engines can find and automatically understand your content, you are improving the visibility of your site for relevant searches. This is called SEO". 1 [13-Nov 2018]
Taking that into account, wouldn't it be a big advantage if you could find and analyse a website that's reached strong visibility through above-average growth? HomeToGo is a leading example and by using this, we can work out what's truly important, and what can be ignored in 2019.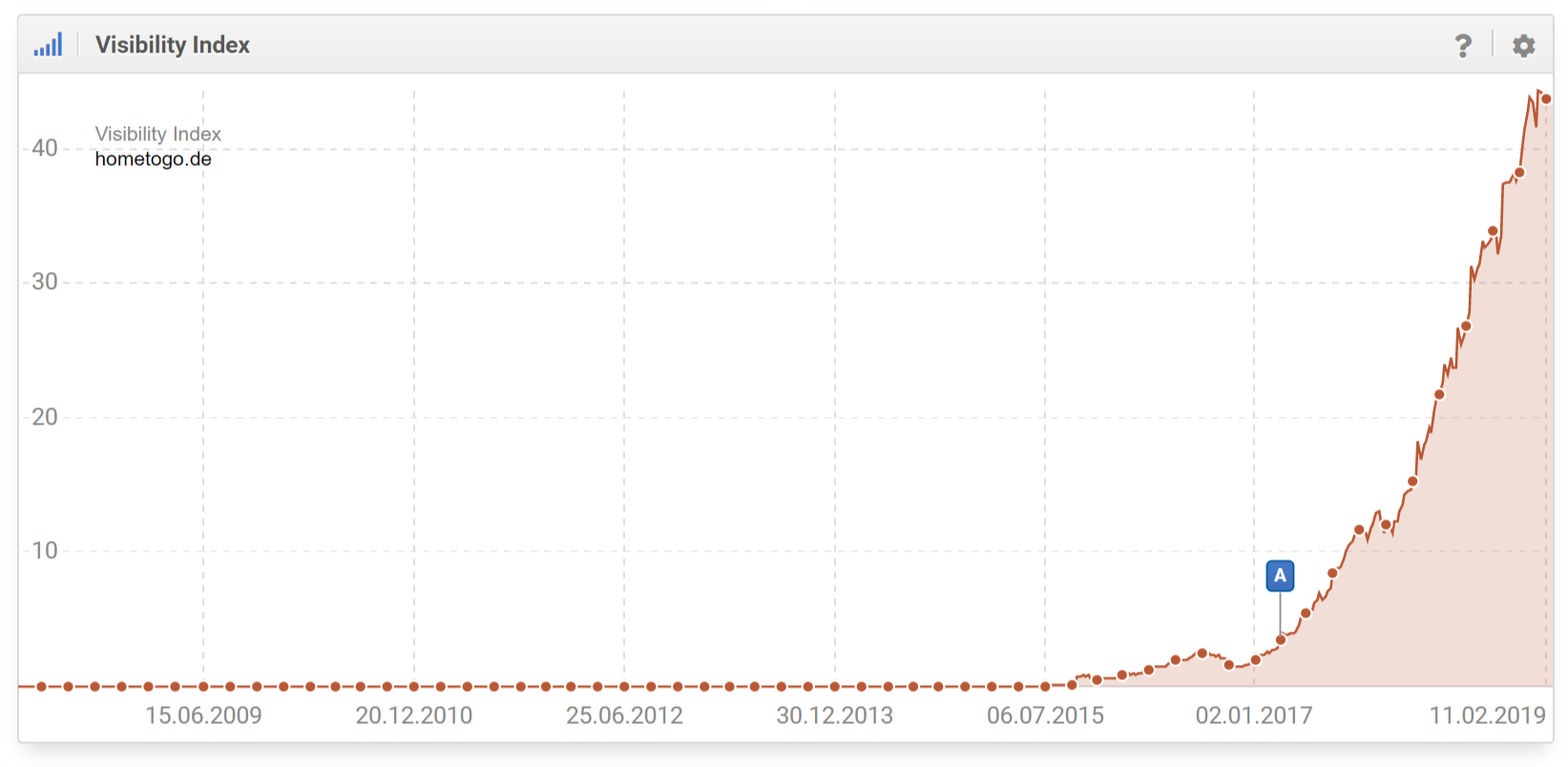 An efficient start in a 1340 US$ billion industry 2
The story of this completely new German brand began 3 years ago. Important to note is that they started in a very difficult and highly competitive industry: Travel and Tourism. The most remarkable thing here is that they only have 5,200 URLs indexed on Google and they are beating big players like Airbnb with 1,3 Million indexed URLs or Trivago, each with about 900,000 URLs indexed.
HomeToGo describes itself as the world's largest search engine for vacation rentals. They have about 16,029,256 different offerings but they do this through just 5,200 URLs (0,03% of the entire offerings).
On the other hand, Airbnb has over 5 Million offerings and 1,3 Million URLs indexed (28% of the entire offerings), and nevertheless, HomeToGo is nearly 2 times more visible on Google than Airbnb.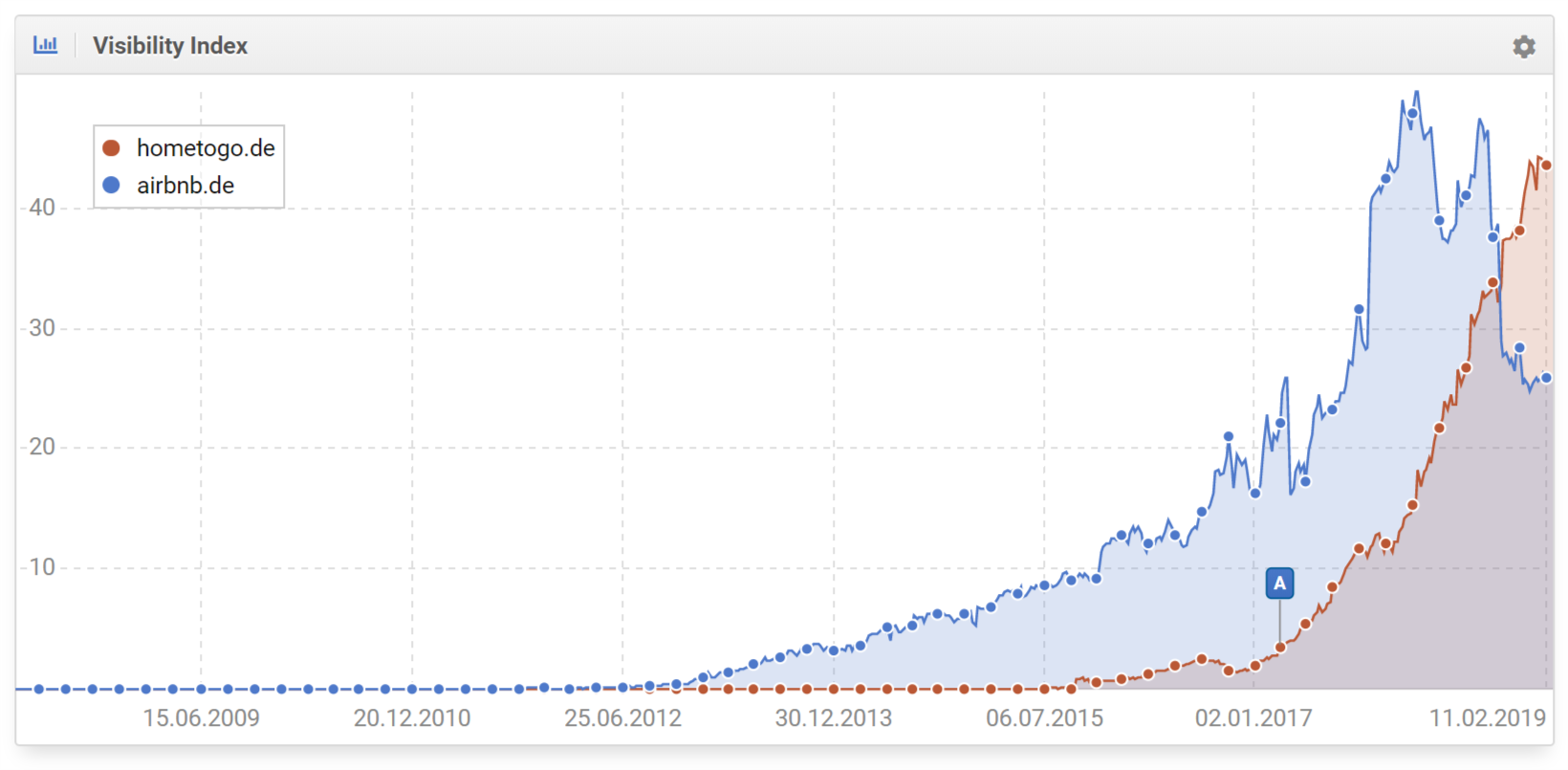 These 5,200 URL are ranking for 160,427 different search terms and 30% are already ranking on the first page of Google's results.
Airbnb is ranking for 677,020 Keywords, four times more Keywords than HomeToGo, but they are only about half as visible as HomeToGo.

Airbnb is practicing 2009-era SEO
To understand why HomeToGo is more visible than Airbnb on Google we have to take a look at their rankings on Google and then analyse, and understand, the differences. Let's look at the positions for all the search terms associated with "Ibiza", e.g: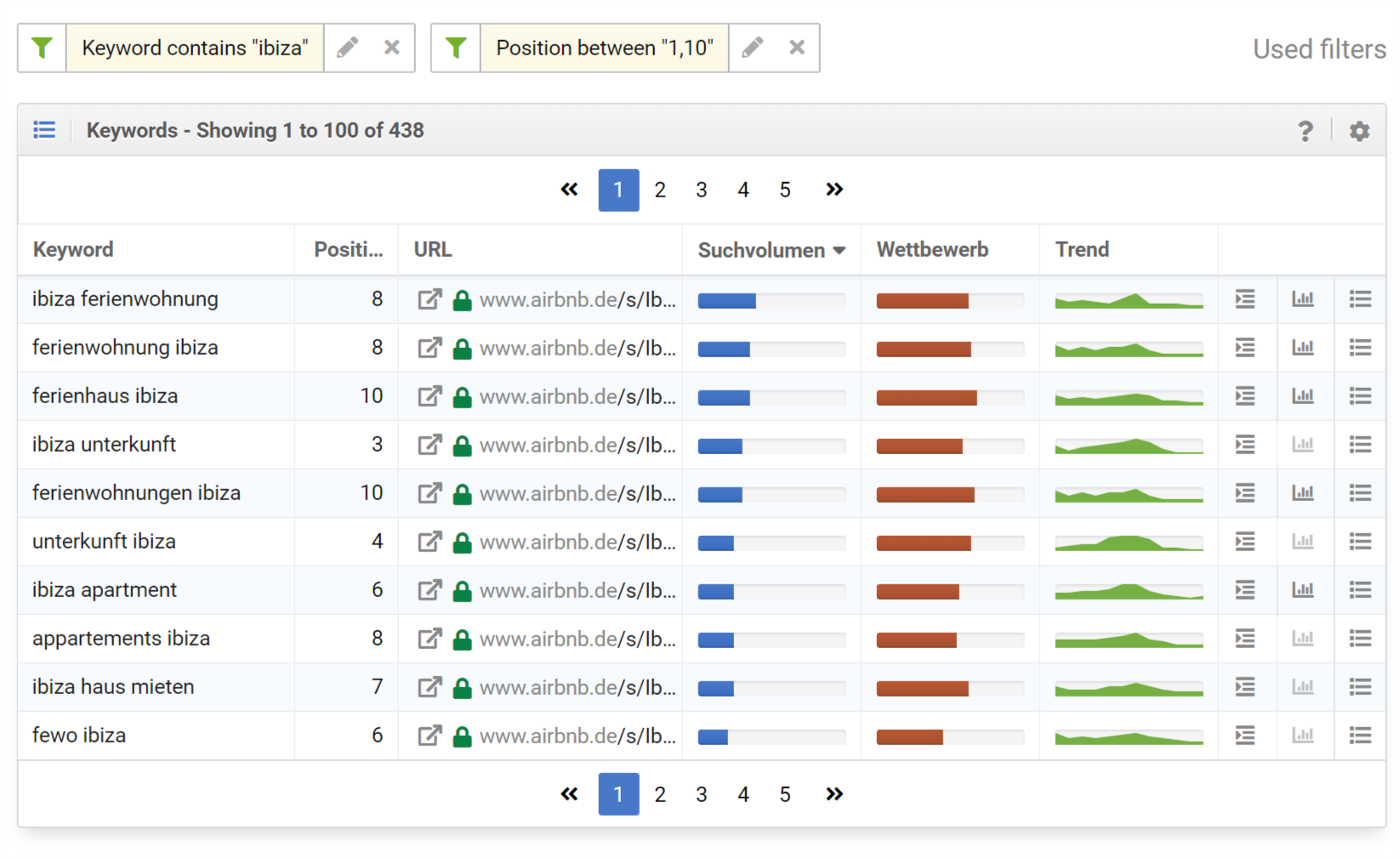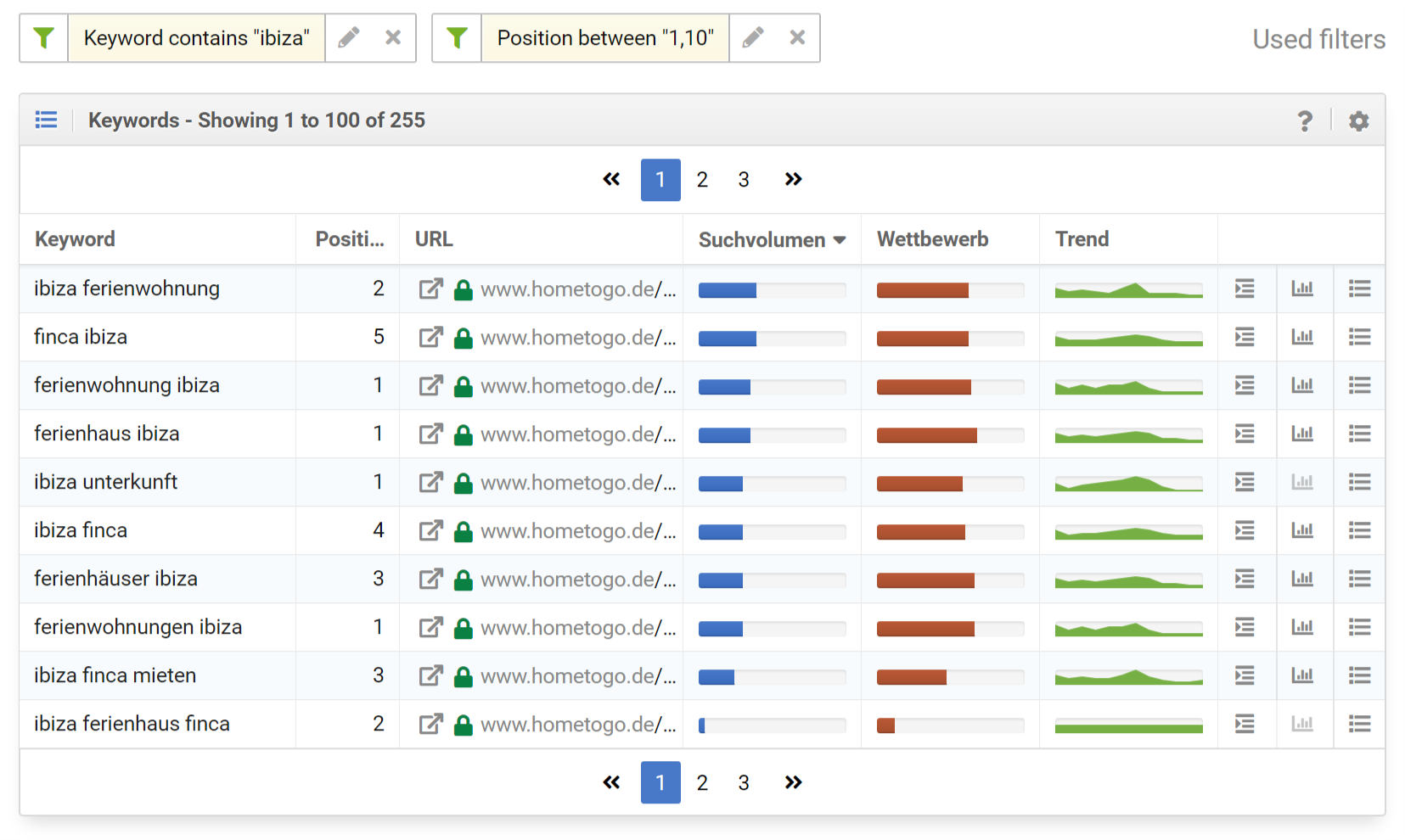 The reason why HomeToGo is more visible on Google, is that they are ranking for high traffic and high competition keywords on higher positions, for the entire year, compared to Airbnb.
Obviously it's not the same to be ranking for "apartment new york" on position number 1 compared to position number 8.
You don't need tons of URLs for every query users may type into Google. Google no-longer works on the basis of individual keywords because it continues to better understand the semantic relationship between keywords.
If you take a look at Airbnb URLs ranking on Google, the search folder, /s/, is everywhere and is responsible for 88% of Airbnb's visibility on Google: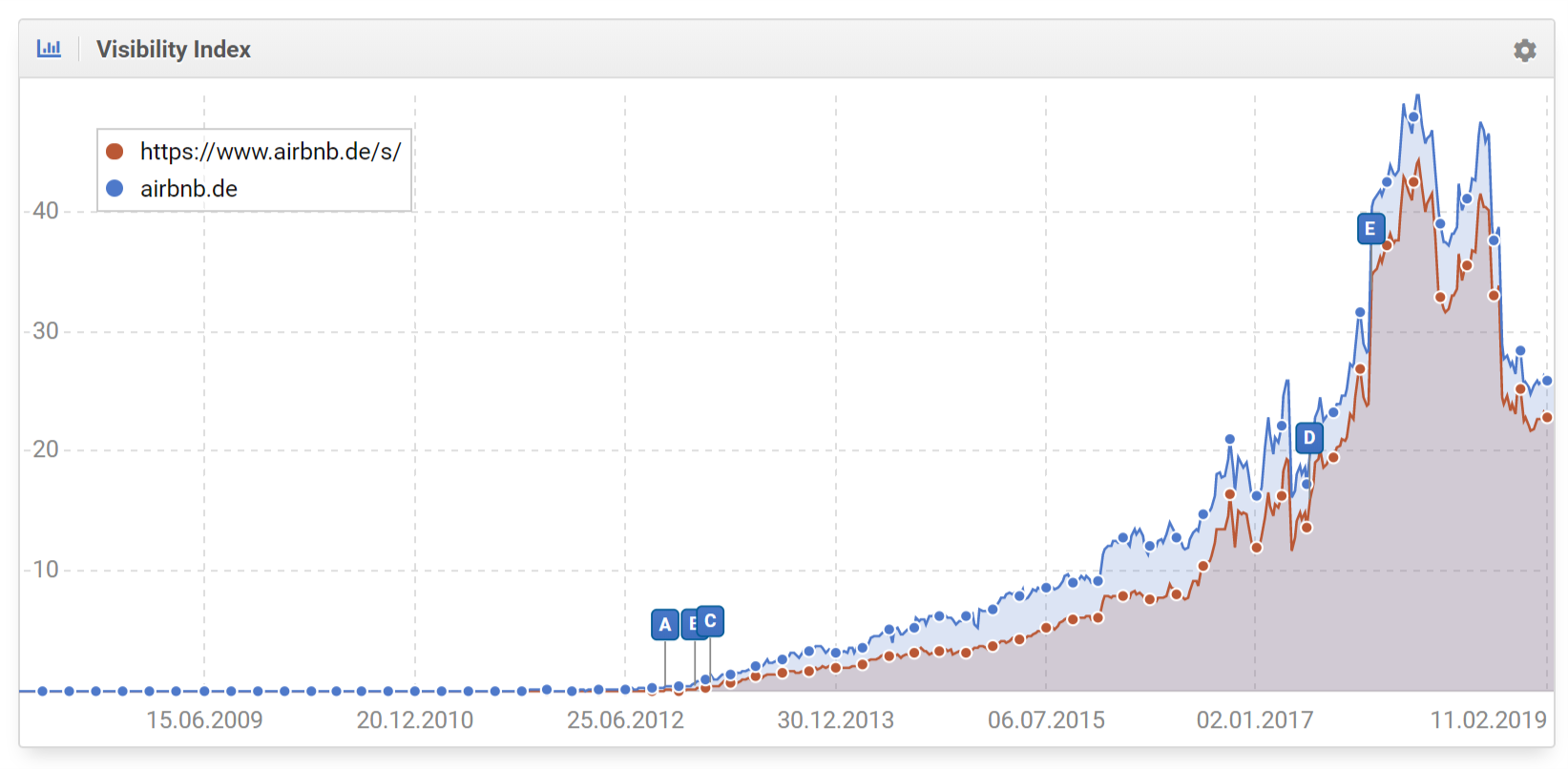 They allow Google to index the content of the /s/ folder, which means they are indexing a lot of their internal search results people might have just looked for just once. This is actually SEO from the 2007-era (The first domain I recalled being eliminated by Google for internal search rankings was YouTube in 2007 3)
We can see a number of search pages from airbnb.com that are indexed by looking at specific parameters from their search.


This strategy might work at the start but later this will end up a huge website full of irrelevant content or, worse, just being eliminated by Google7. See our reports on Giphy 4, Softonic 5, Cnet 6, Ask 7, eBay 8, etc. for more examples.
Let it be known that I'm not saying Airbnb is doing this on purpose. Maybe they started in 2008 with very little SEO strategy and this is the result.
HomeToGo is practicing 2019-era SEO…
…and that's a big part of the difference between Airbnb and HomeToGo. SEO was on the HomeToGo business plan from day 1 and it's an intrinsic part of the growth strategy.
Dominik Schwartz, Chief Inbound Officer at HomeToGo, explains the success of the project in his own words
"The user is at the center. No tricks, no shortcuts because we don't optimise for search machines, we optimise for people. Visibility is, so to speak, the side-effect of a great technical website and great content website."

Dominik Schwartz, Chief Inbound Officer
In the very first step there is customer and user-focus 9. An absolutely consistent orientation of the entire product to the needs of the customers is the secret of success of HomeToGo.
HomeToGo only create new URLs when they see that a relevant number of customers or potential customers have the specific need.
As part of this process, HomeToGo creates a list of customer needs. They then send this list to travel experts who are asked to write about these topics. Because they are experts, they know what they are talking about, so there's no need to send them a list of keywords. They don't even know what SEO means!
A URL like https://www.hometogo.de/ibiza/ is the result of a consistent orientation towards the user, also taking into account the SEO requirement. All the high performance content on Google have the same in common 10:
Focus on Intent: the content is focused on the search intention
Long-duration content: the content is timeless
Updates: the content is regularly being refreshed
Good scope: it satisfies the user
Quality content
Clarity: it has a good UX
Value-add
Further Links: allows the user go deeper with internal links
Less is more: Crawl budget
Did you know that the energy used by a single Google search is equivalent to turning on a 60W light bulb for 17 seconds? Google uses about 2,26 million megawatt hours per year to power its global data center operations, which is equivalent to the power necessary to sustain 200,000 homes. 11
It means that every useless second Google has to spend crawling and rendering a Website, costs money. Keep in mind that Google can save money by avoiding your website (or parts of it). The "Crawl Budget" is more an economical issue than a SEO one.
Google listed some factors that affect your crawl budget 12 and Airbnb is being affected by 3 of them (in bold):
Faceted navigation and session identifiers
On-site duplicate content
Soft error pages
Hacked pages
Infinite spaces and proxies
Low quality and spam content
On the other hand, HomeToGo, with 16,029,256 offerings (11 million more offerings than Airbnb has), is not affected by any of them.
Show Google the most relevant parts of your Website and block everything without any value through robots.txt. Take a look at the following charts that show us how HomeToGo is moving keywords from Google's second and third page to the first one: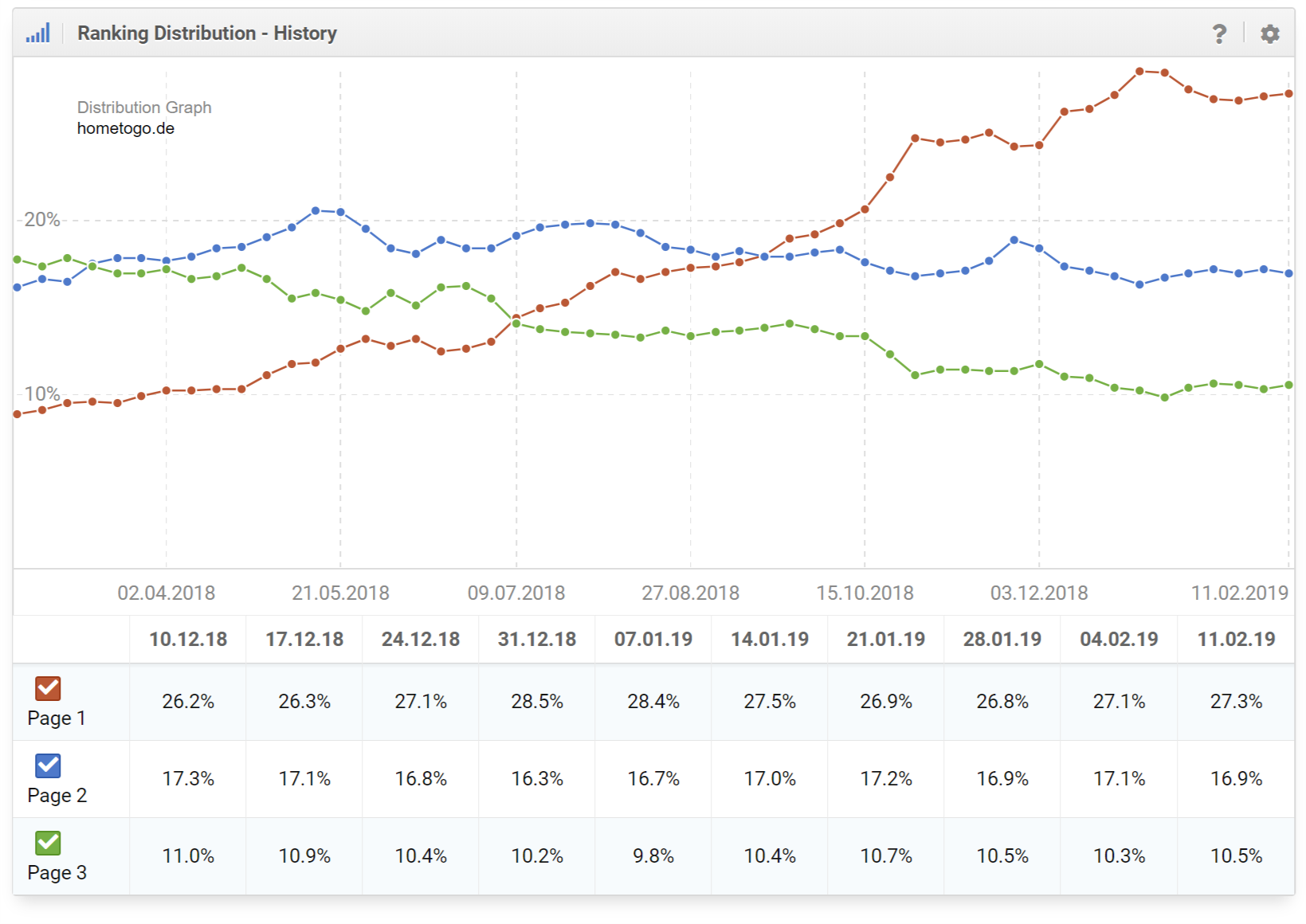 On the other hand, Airbnb is losing keywords on Google's first page results and the number of Keywords on the second and third page are increasing: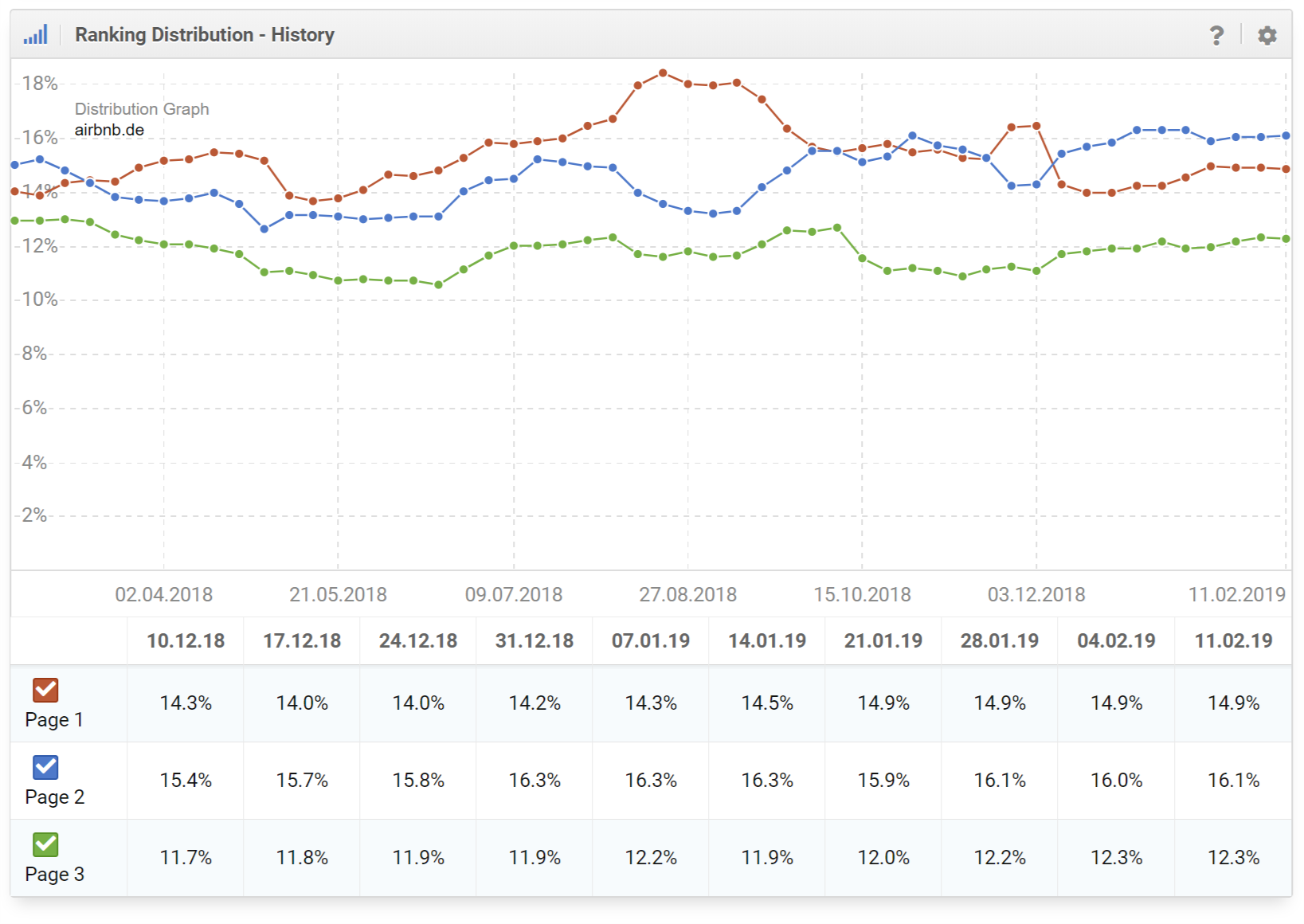 SEO is serious business
Hometogo is not the only company who incorporated SEO into the very core of their business. If you take a look at the annual reports from companies like eBay, Kajak, Expedia, Tripadvisor, you will realize how important SEO is:
"We rely heavily on internet search engines,such as Google,to generate traffic to our websites, principally through the purchase of travel-related keywords as well as through free – organic – search."

Tripadvisor Annual Report 2016
"Google has from time to time made changes to its search algorithms that reduced the amount of search traffic directed to us from searches on Google. If we are unable to use or adapt to operational changes in such services, we may face higher costs for such services, face integration or technological barriers or lose customers, which could cause our business to suffer"

eBay Annual Report 2017
With that said, let's continue with the topic at hand.
Getting the ball rolling
1. As soon as the people start looking for you on Google, match the search intent using the right SERP snippets. Do it yourself: Take a look at the keywords you are ranking on Google, improve your title and meta descriptions to match user intent and deliver the best content you have. You will see an Increase in your CTR.
2. Once the user lands on your Website, retain him! HomeToGo has the highest CTR and the lowest Bounce Rate that I have ever seen; A 6.63% bounce rate! The data from Google Analytics is publicly available on SimilarWeb.
3. Earn links. To decide whether they can trust you, Google does not hang around waiting for you to claim to be the best content on the subject. They makes it dependent on the recommendations of others. And Google explained recently that these recommendations are mainly links. 13 But don't overdo it, as Google's John Müller states:
You focus too much on backlinks :)

John Müller, Jan 2019 14
And he is right:

In 2019 it's no longer about huge numbers of EDU links from Universities as it was previously, and the PageRank doesn't play that much of a role any more 15. Having said that, Links are still an important indicator of trust in the Google algorithm.
The Dark Side of the Moon
Despite the SEO efforts of HomeToGo, Airbnb, Booking or Trivago, the biggest competitor they have is Google.
48% of all keywords HomeToGo have ranking on the first page results are competing with Ads, and 75% of them have a Map integration. And this does not even take into account the hotel and flight search boxes. However, almost all keywords with the "Do" user intent (ICYMI: Google doesn't use the term "transactional" anymore 16) are keywords that Google needs to monetize in order to keep their shareholders happy.
The "Do" queries represents 15% of the search volume on Google only but they are present in 30% of the search queries. 16
SMX Advanced – "Best In-house SEO Team of the Year 2018"
On June 13, 2018, HomeToGo was awarded the "Best In-house SEO Team of the Year" at SMX Advanced in Seattle by Search Engine Land.
"Focusing on its US breakthrough and fast transition from newcomer to industry leader, in the vacation rental metasearch space, HomeToGo's in-house SEO team won over the expert panel of judges with their impressive and measurable results, innovation and creativity, and a demonstration of expert strategy at the cutting edge of industry best practices."
In the USA, HomeToGo is on the right track: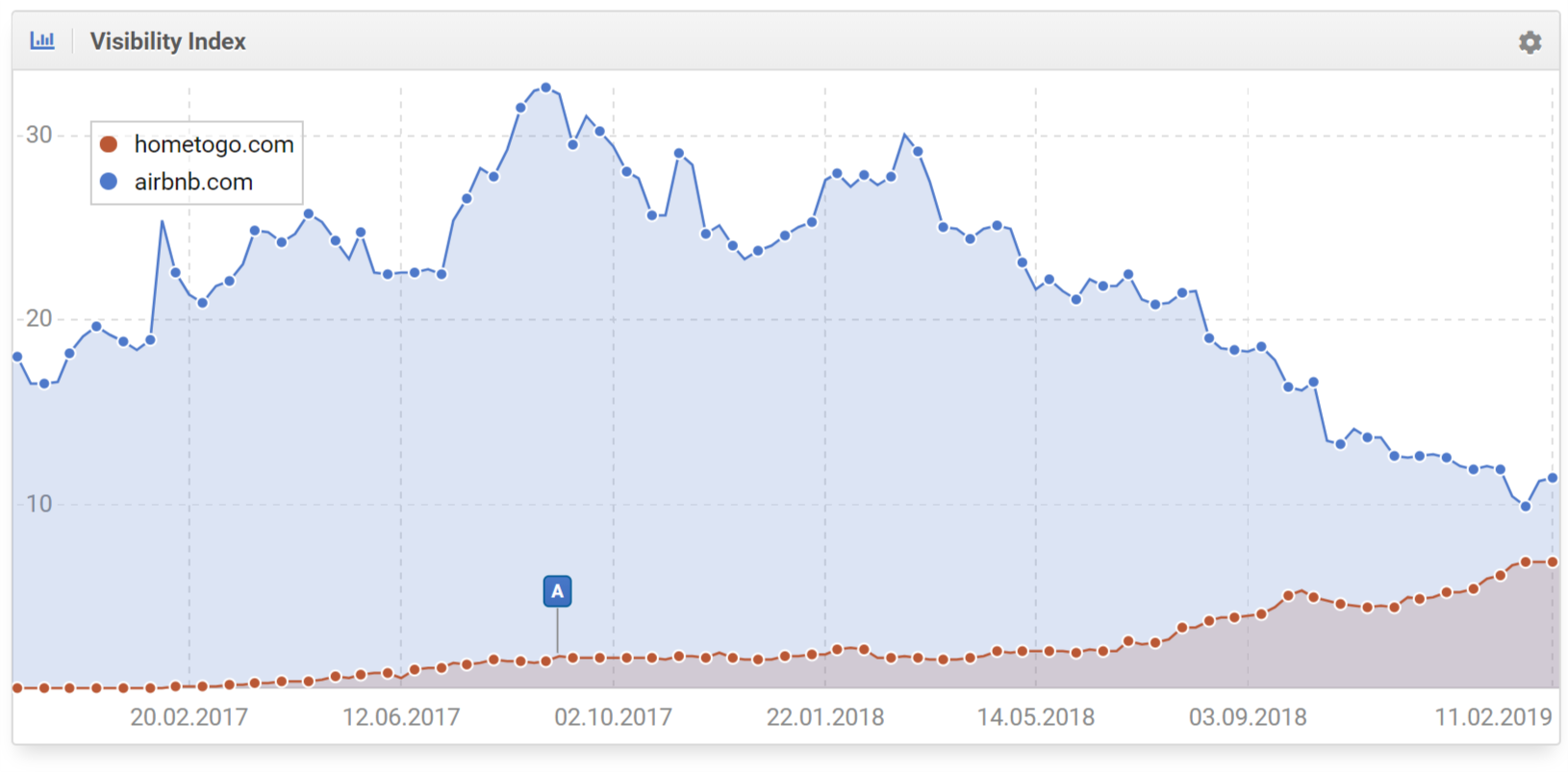 If you are wondering why I did not mention more technical topics, well, technical SEO has reached its limits. There's no great competitive advantage to be had, and technical SEO is mandatory in order to be tested for any page 1 ranking 17.
At the end of the day, HomeToGo shows us the most important ranking factor of all 18.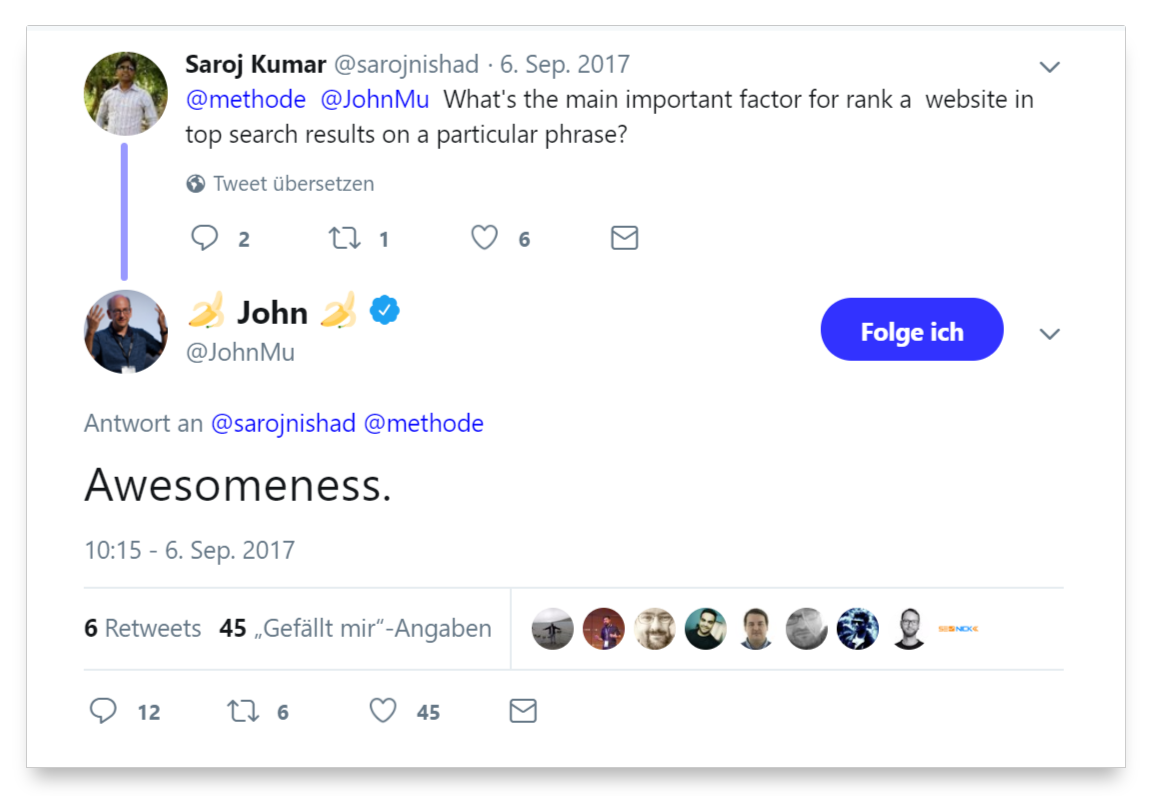 We hope you enjoyed the article.
Sources