Oxford Street is Europe's busiest shopping street, with around half a million daily visitors and approximately 300 shops. Every shopfront can be measured in order to evaluate the market share. The bigger the shopfront (the more visible it is), the more potential it has to attract footfall (traffic). But would you rely on traffic figures today in order to measure potential performance tomorrow? Think about COVID-19 lockdown.
In every business the only performance indicators that count are the key KPIs and money in the bank. In retail, for example, you might look at sales per square foot. In e-commerce, conversion rate is a key indicator but in both cases nothing is possible without traffic, and traffic is simply not possible without being visible first.
The SISTRIX Visibility Index is not, and will never be a traffic index
Foot traffic and search traffic are important and easy to understand indicators – more traffic means more opportunities for sales – but if you want to reliably measure your presence on the Google 'street', traffic is one of the worst metrics. It's a metric that relies on things that influence people.
Traffic indexes include the effects of temporary search volume changes. This can include brand value, season, weather, promotions, advertising, social media, national events, holidays, news and demographic changes – things that SEOs are not responsible for.
We've also recently learnt that public health can play a big role. COVID-19 radically changed the amount of people on Oxford Street but the 7,000 ft2 flagship store of Lush is still there and remains reliably visible. Its size is known and it will still competes with others based on that, whatever the traffic level.
How visible would the biggest 250 online retailers be, on a virtual Google Oxford Street?
The Visibility Index is measuring your rankings on Google, your visibility, without including the effects of traffic changes. This allows you to compare and visualise your SEO efforts alongside every competitor.
For example, we've taken 250 popular retail brands in the UK and placed their digital shopfront on Googles' street – GOxford Street. Using visibility points as shopfront meters.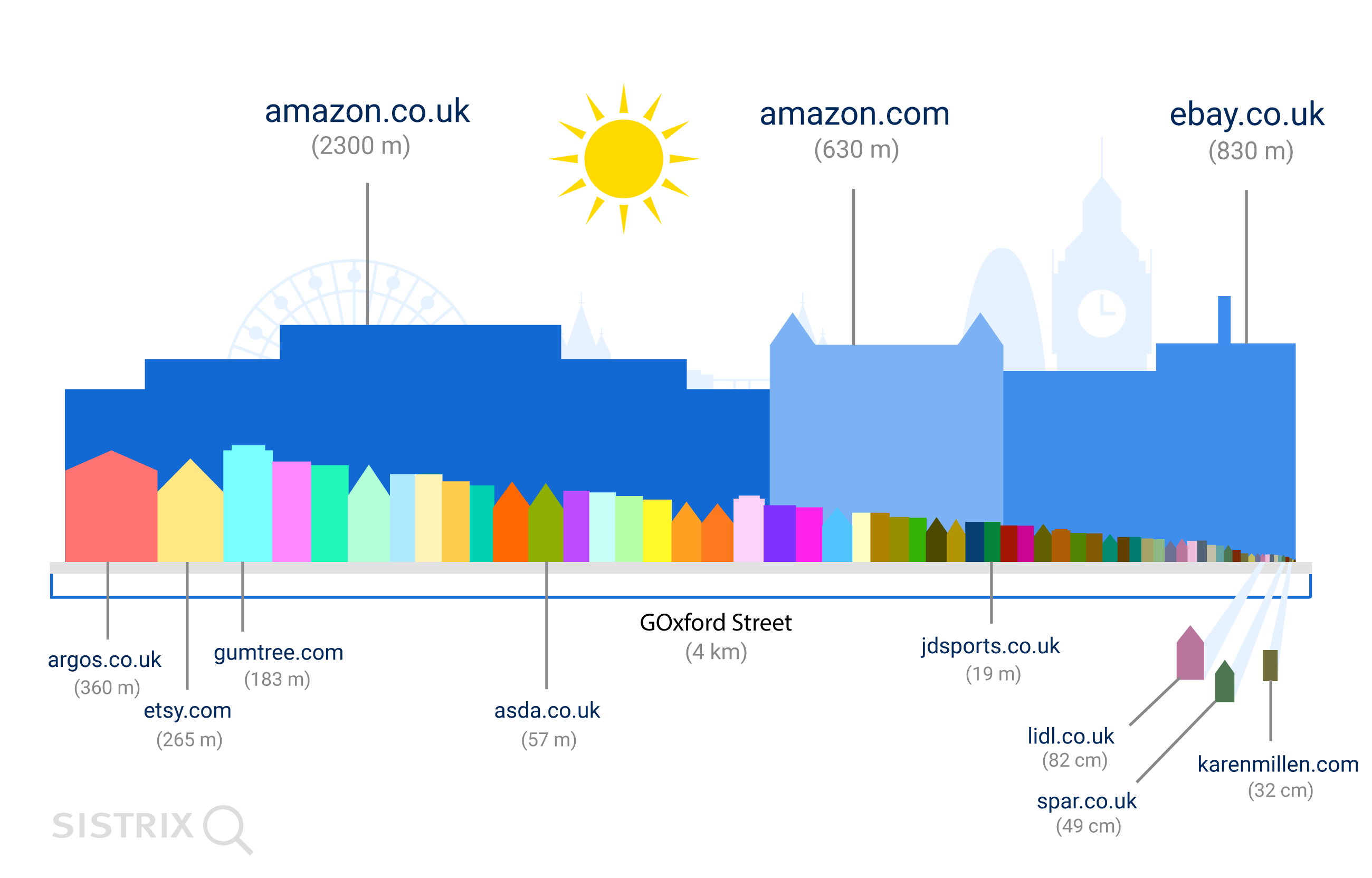 It's a vastly different layout than the real Oxford Street. In fact, the range of sizes is so extreme that we doubled the length of the street in order to fit in some well-known brands.
One side of the street is completely dominated by just two American businesses. Amazon and Ebay are omnipresent. Lidl, the low-cost supermarket seen as such a threat to the established UK supermarkets, is reduced to the length of a few courgettes. The Asda supermarket is 70 times bigger.
Primark will continue to compete with TopShop, Monsoon and Zara when they open after COVID-19 lockdown on Oxford Street, but right now Primark showcases its products online (you can't buy them) in the space of a market stall down the road from two hundred meters of well-known online fashion retailers.
Now you know who rules on GOxford Street
Visibility is shopfront, and building that space is what SEO is all about. Footfall, eyeballs and sales can only occur once a shopfront is built, and it's the same for digital marketing. Using SEO to create visibility is step number one. Measuring that progress is done using the Visibility Index, because traffic is a poor measurement of SEO performance.