Within the month of September the website Style.com took a sharp drop in their visibility index, to be more precise a decline of more than 90%. Therefore the domain lost almost all of their keyword rankings on Google.co.uk and Google.com. But for which reason?

A rapidly decreasing visibility means a loss of good keyword rankings for the given domain name. How big is the impact exactly? Let's find out by looking at the ranking changes in the given time frame where the domain visibility has decreased.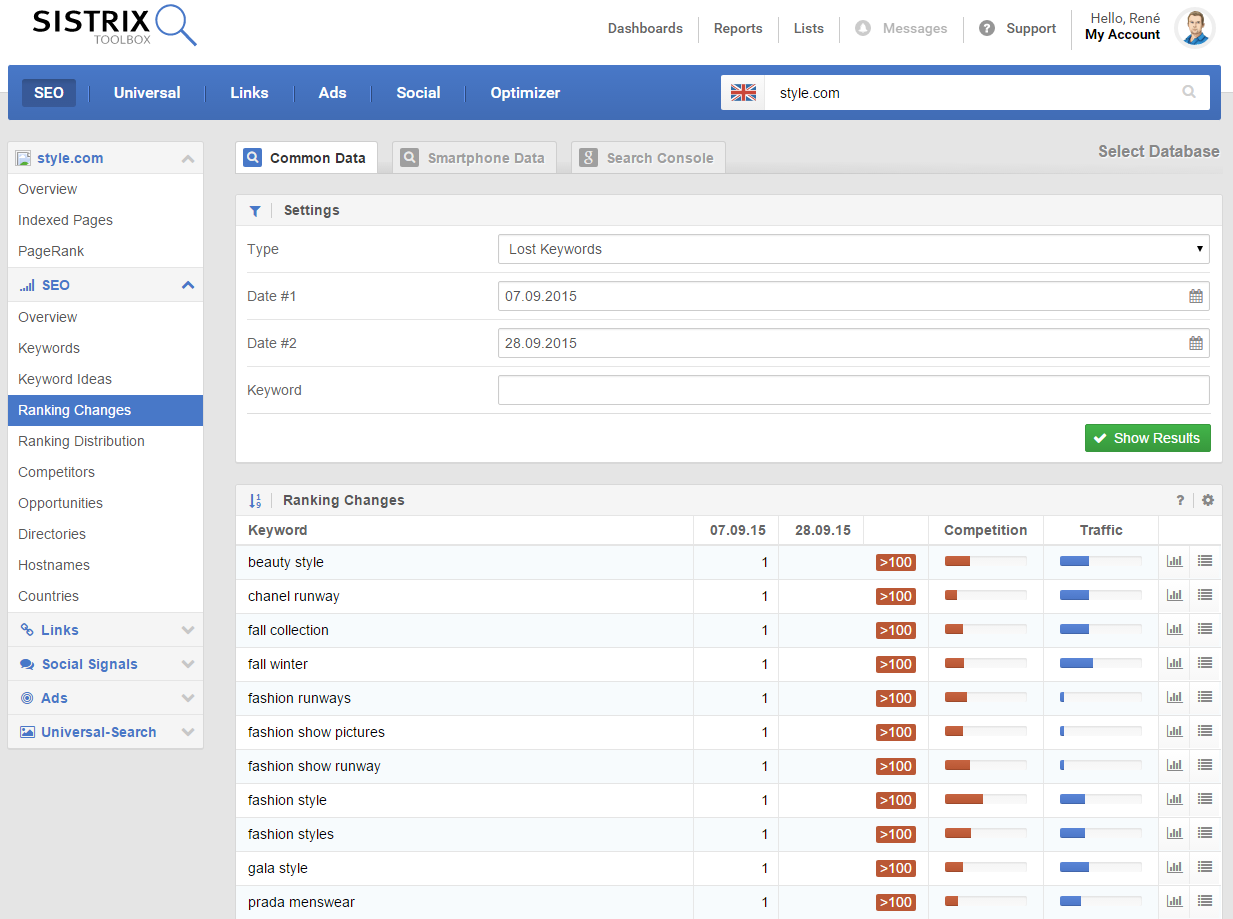 Using the SISTRIX Toolbox we can easily discover all the keywords and their organic ranking position before and shortly after the visibility drop. A lot of keywords have a decent search volume (traffic) too.
The history of Style.com
The website Style.com was a fashion's resource for runway photos and reviews since 1999. Valued by many users, the domain's impressive archives dating back to fall 1991 covering fashion news and runway reports from all over the world. People say that Style.com is the most relevant and influential fashion publication on the web.
Since Condè Nast has acquired Style.com they had plans to launch a new e-commerce platform under the exisiting brand Style.com and sell merchandise to consumers, including readers and users of its magazines and websites such as Vogue, Vanity Fair and GQ, targeting fashion brands as well as upmarket brands from other sectors such as beauty, travel services and technology.
Style.com folded into Vogue.com
All of its content of Style.com has been folded into Vogue.com. Therefore all content pages an their URL counterparts still exist under the domain name of Vogue.com. Take a look at the ranking history of the keyword [haute couture fashion]: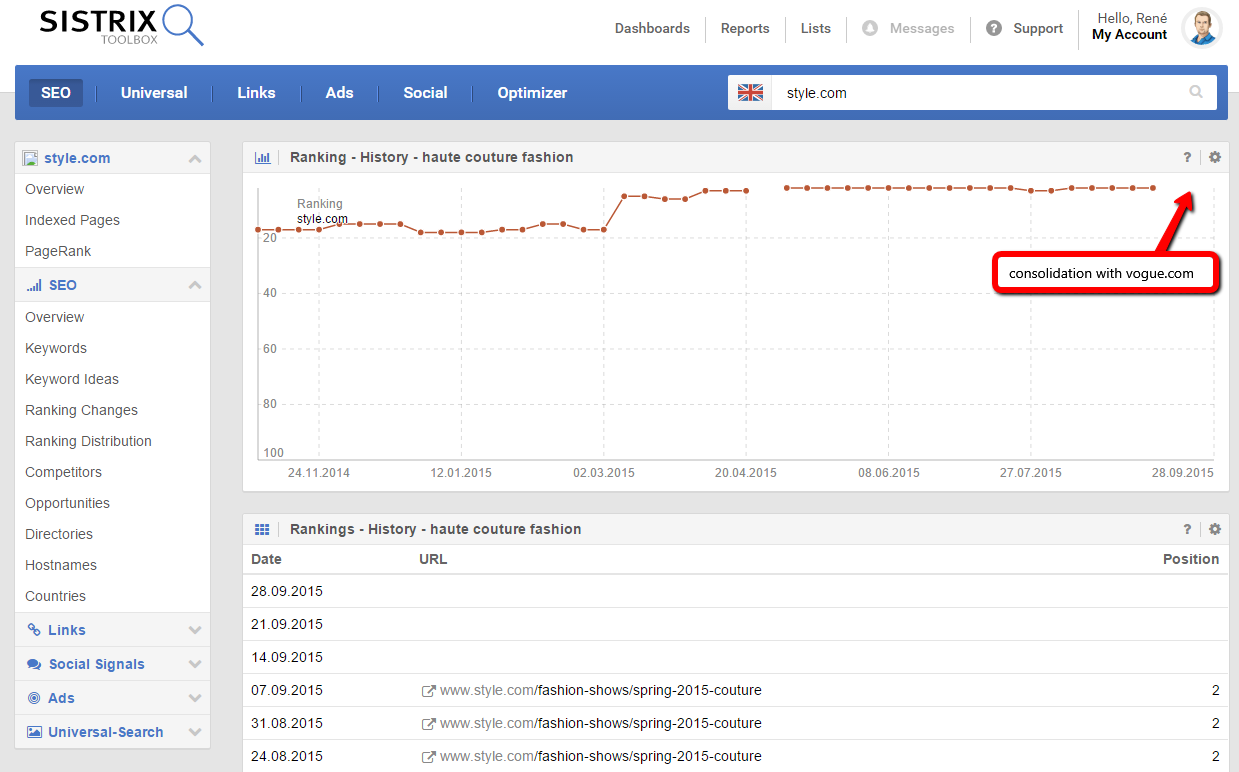 At the beginning of September you'll notice the missing ranking for that particular keyword. Visiting the old URL www.style.com/fashion-shows/spring-2015-couture will redirect you to vogue's counterpart URL http://www.vogue.com/fashion-shows/spring-2015-couture.
Using proper 301 redirects will help Googlebot to figure out what had happened to your site. Doing so will also pass along linkjuice and other signals from one URL to another. In our case it means that Vogue.com will rank in place of Style.com because they're redirecting all of their URLs, pages and directories.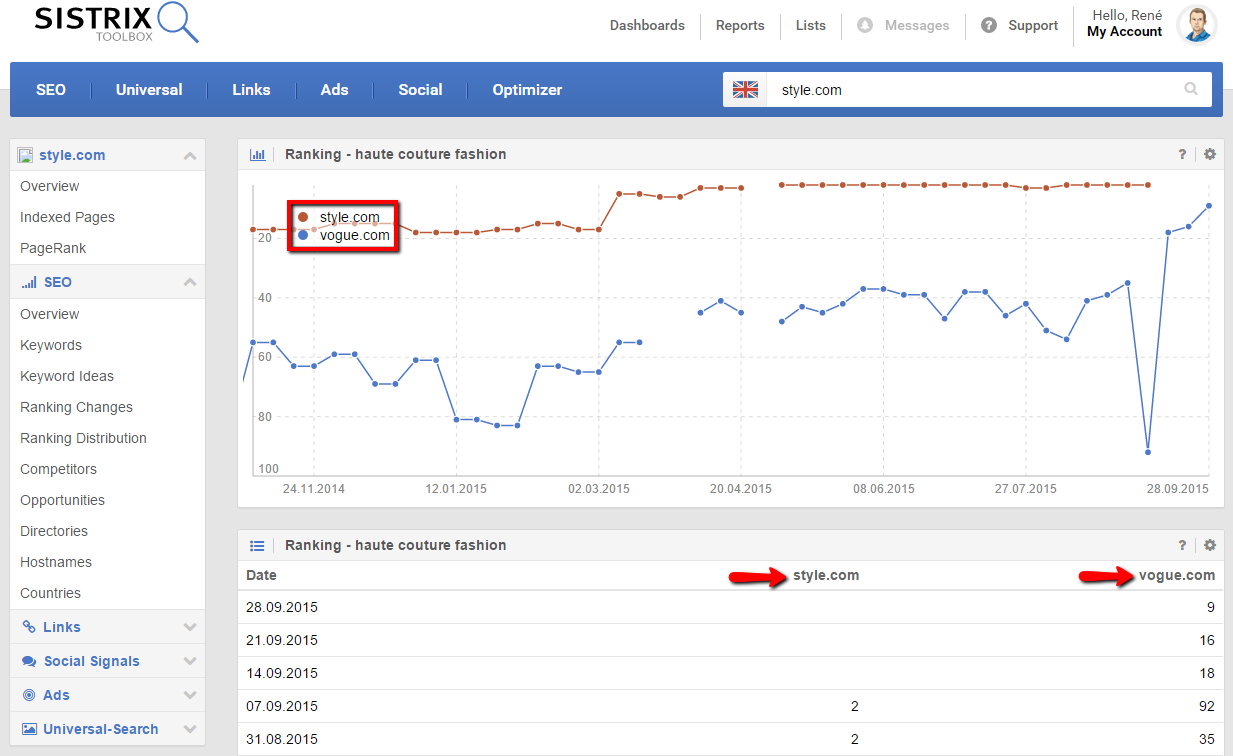 Redirecting a URL will boost the ranking of its counterpart as shown in the graph above. Style.com has done that multiple times for all of its pages. Moving content from one domain to another leads to a shift in the overall domain visibility.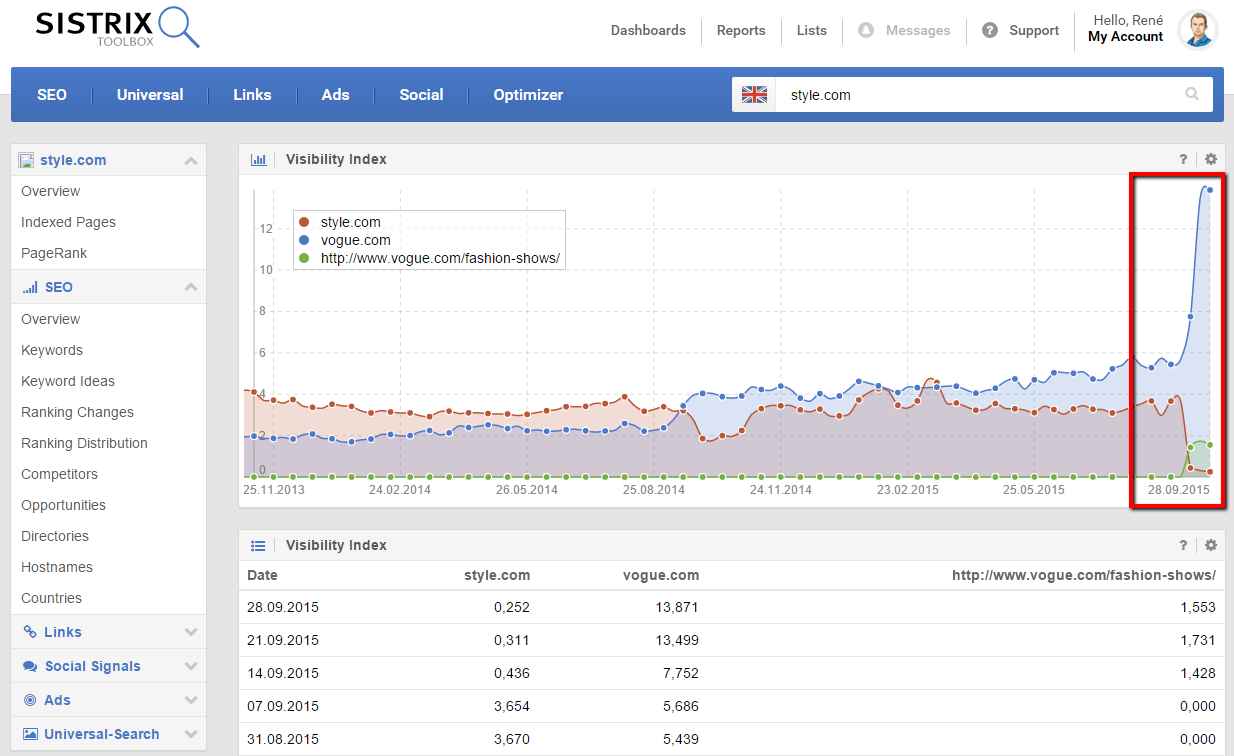 If we compare the SISTRIX visibility index of Style.com with the domain name Vogue.com we clearly see the benefit of this merger. Vogue.com is now the new home for all topics related to fashion news and runway reports. They even created a new directory called /fashion-shows/ as you can see in the graph above.
The all new e-commerce venture
The new e-commerce venture will be branded Style.com. It will launch first in the UK this fall and then roll out in the US in 2016, with other markets to follow. Condé Nast will invest over $100 million in the new site over the next two to three years.