As home delivery and fast-track grocery delivery services come-of-age, competition in the grocery retail sector increases. Understanding the true leaders becomes more important, but more difficult, and it's easy to make false assumptions. In this article we look at the leading players from various 'basket' perspectives. You'll see classic supermarket brands and some surprising new players.
Organic search traffic is by no means the only route for digital traffic, but it's very significant, and sits alongside social, apps, paid and direct traffic as a key funnel for online grocers.
Sainsburys recently reported that 18% of its grocery sales are now made online. Tesco's annual report stats that online sales grew to £6.3bn, or around around 12.5% of the group's total sales last year. Digital sales funnels lead to very significant numbers.
The Big Basket view
To be visible in Google search, to have a chance to benefit from search traffic, you need to be positioned with the best responses to the searchers queries, from opening times to product details, offers and experiences. The wider the selection of products you carry, the better the chances of having a big footprint. Hence, Sainsbury's, Asda and Tesco do very well with their wide range of product that extend far beyond groceries.
Here's the current state of the market, based on the SISTRIX Visibility Index, where we use what you might call a 'big basket' of 1 million search terms to calculate the overall presence that each domain has. We've taken the top supermarkets here, as often seen by the general public.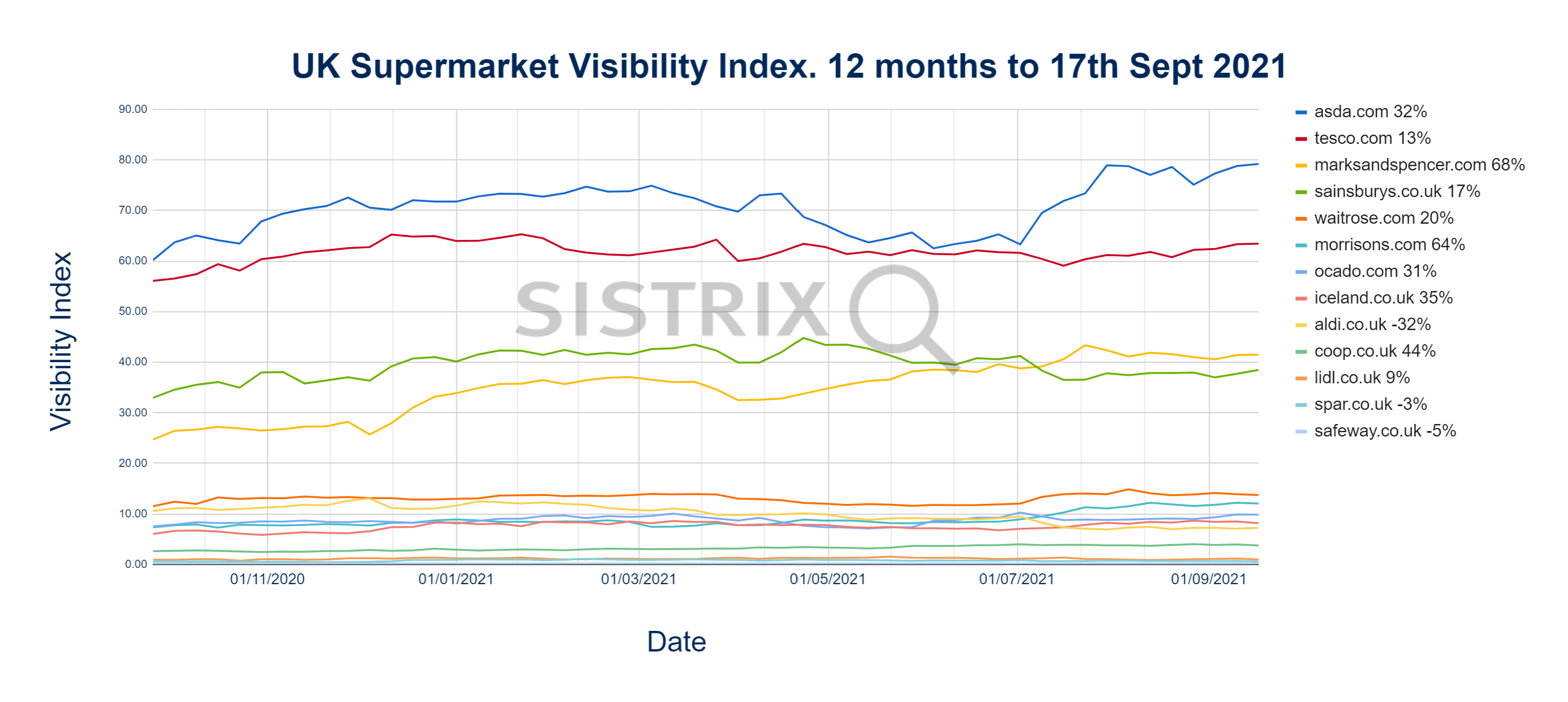 Asda leads Tesco in this simple case but it's not a true reflection of grocery competitors. With clothing, household, electrical and gardening added into the product ranges, one must be careful to compare like for like. Look at Marks and Spencer, for example: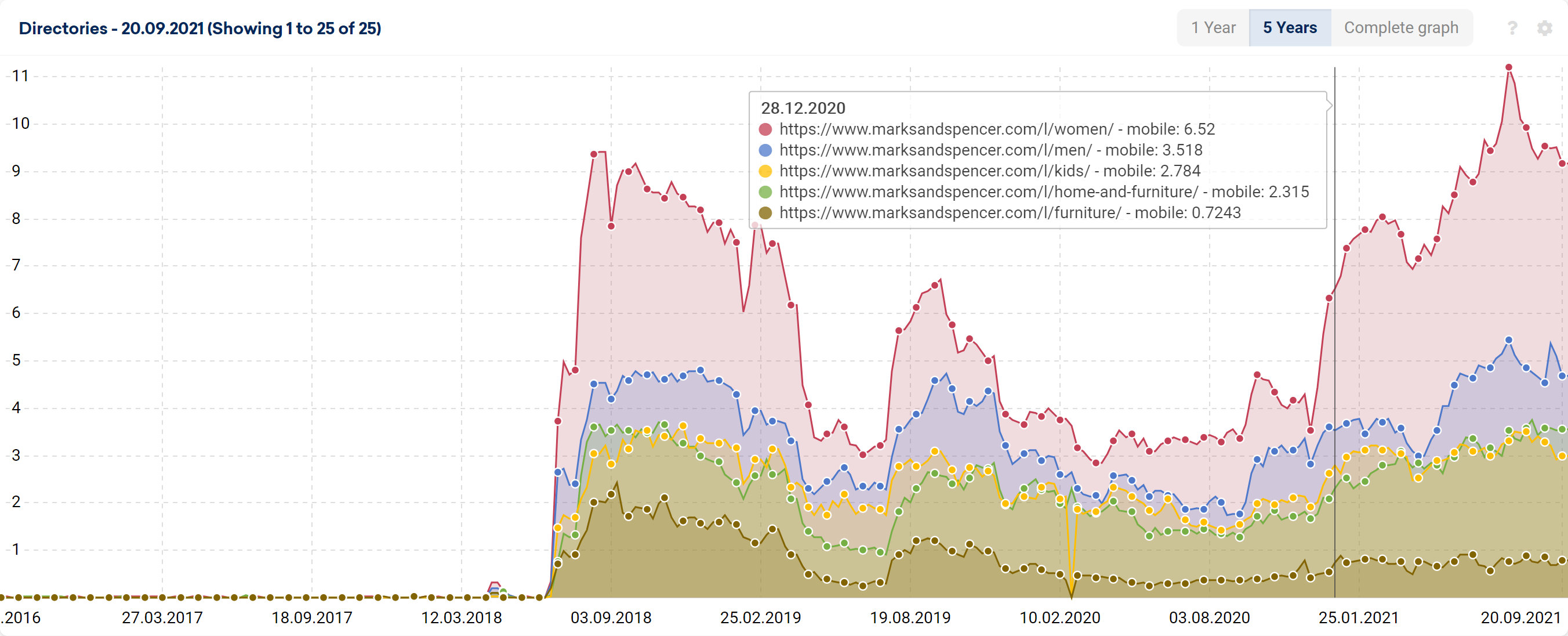 This is view of the five directories that provide nearly all of the market share for their search visibility shows that M&S don't have any significant presence when it comes to groceries. The domain ranks almost exclusively for clothing. There are hampers and alcohol sales on the site, and there's the famous Christmas selection too but you won't find a tin of Chunky Chicken for sale anywhere on this domain.
In order to help us compare the sites on a like-for-like basis, there are two methods we can use.
Locate the website directory on all domains in which all the grocery products are listed
Use a representative range of keywords
When Asda puts bottles of helium gas in the same directory as the baked beans, it becomes impossible to compare directories. The only way we can reliably measure these supermarkets is to use a representative set of keywords and to analyse the visibility, the share-of-search for all the domains ranking.
Fortunately, there's a a publicly available list of the common retail products used to calculate the Retail Price Index in the UK. The representative items within the Consumer Prices Index.
After cleaning this list, separating out the alcohol, removing some ambiguous search terms like liver and shoulder, we end up with just under 150 keywords that we can use for our analysis.
Basket Case 1: The generic 'no intent' basket
By taking these search terms, collecting the SERPs and calculating the domains are most visible, we end up with the following top 20.
Generic, no-intent basket of keywords
| Domain | Project Visibility Index |
| --- | --- |
| bbcgoodfood.com | 771.56 |
| tesco.com | 752.46 |
| wikipedia.org | 543.45 |
| asda.com | 292.05 |
| healthline.com | 259.05 |
| sainsburys.co.uk | 226.25 |
| waitrose.com | 190.55 |
| iceland.co.uk | 166.74 |
| medicalnewstoday.com | 162.62 |
| bbc.co.uk | 161.91 |
| amazon.co.uk | 143.77 |
| recipetineats.com | 111.73 |
| jamieoliver.com | 92.49 |
| morrisons.com | 87.08 |
| allrecipes.com | 82.29 |
| simplyrecipes.com | 79.11 |
| thespruceeats.com | 75.1 |
| webmd.com | 70.88 |
| ocado.com | 69.85 |
| greatbritishchefs.com | 49.27 |
One can immediately see that these keywords aren't necessarily the ones that always lead to 'buy' actions. With Wikipedia in the list there are hints of research and study. With bbcgoodfood.com, hints of recipes and medicalnewstoday.com tells us that maybe some of the searches are for health issues. The search results have a mix of user intents.
By modifying the generic search terms we can better reflect a buyer intent and get closer to the true competitor list for online grocery sales.
Basket case 2: The online basket
By adding the word 'online' after each search term we approach a more commercial intent. Our analysis reveals this list of top domains for these search terms:
Basket of 'online' keywords
| Domain | Project Visibility Index |
| --- | --- |
| tesco.com | 1950.83 |
| amazon.co.uk | 685.88 |
| waitrose.com | 338.51 |
| sainsburys.co.uk | 212.48 |
| iceland.co.uk | 152.42 |
| britsuperstore.com | 141.26 |
| finefoodspecialist.co.uk | 135.68 |
| bigbasket.com | 118.79 |
| asda.com | 101.21 |
| greatbritishmeat.com | 91.73 |
| bristolfarms.com | 91.25 |
| buywholefoodsonline.co.uk | 91.14 |
| ripe.london | 90.42 |
| donaldrussell.com | 86.05 |
| jjfoodservice.com | 85.1 |
| milkandmore.co.uk | 81.61 |
| deliaonline.com | 74.75 |
| onlinefruitandveg.com | 69.73 |
| lovewhatyoueat.co.uk | 68.38 |
| campbellsmeat.com | 68.1 |
The results are very different, and don't align with the generally accepted list of top UK supermarkets. The elephant in the street is exposed here and Asda falls way down the list. Competitors such as bigbasket.com and milkandmore.co.uk appear.
Basket case 3: The delivery basket
By analysing related search terms and their search volumes we identified a strong desire for "delivery", and this is where we come to some surprising results because delivery is something that the emerging fast-track delivery and dark-store companies has been heavily focusing on recently. You'll recognise some of the players in the list below:
Basket of 'delivery' keywords
| Domain | Project Visibility Index |
| --- | --- |
| tesco.com | 1121.29 |
| amazon.co.uk | 676.85 |
| ripe.london | 282.63 |
| fruitandveg.co.uk | 213.57 |
| freshdirect.com | 194.01 |
| deliveroo.co.uk | 183.5 |
| iceland.co.uk | 175.18 |
| milkandmore.co.uk | 173.44 |
| britsuperstore.com | 172.49 |
| britishcornershop.co.uk | 154.88 |
| ubereats.com | 145.66 |
| themeatboxcompany.co.uk | 136.73 |
| arthurdavid.co.uk | 131.26 |
| onlinefruitandveg.com | 125.84 |
| beelivery.com | 119.96 |
| ocado.com | 119.08 |
| kerrysfresh.co.uk | 116.96 |
| farmdrop.com | 93.8 |
| riverford.co.uk | 83.56 |
| waitrose.com | 75.71 |
| just-eat.co.uk | 72.95 |
It's interesting here to think about how brands are holding other brands in online search. Want Marks and Spencers Chunky Chicken delivered? You'll need Ocado for that. Deliveroo, Ubereats, Beelivery and Just Eat are also represented here. Ripe, the London-focused office fruit delivery company has a surprising amount of visibility for such a focused company.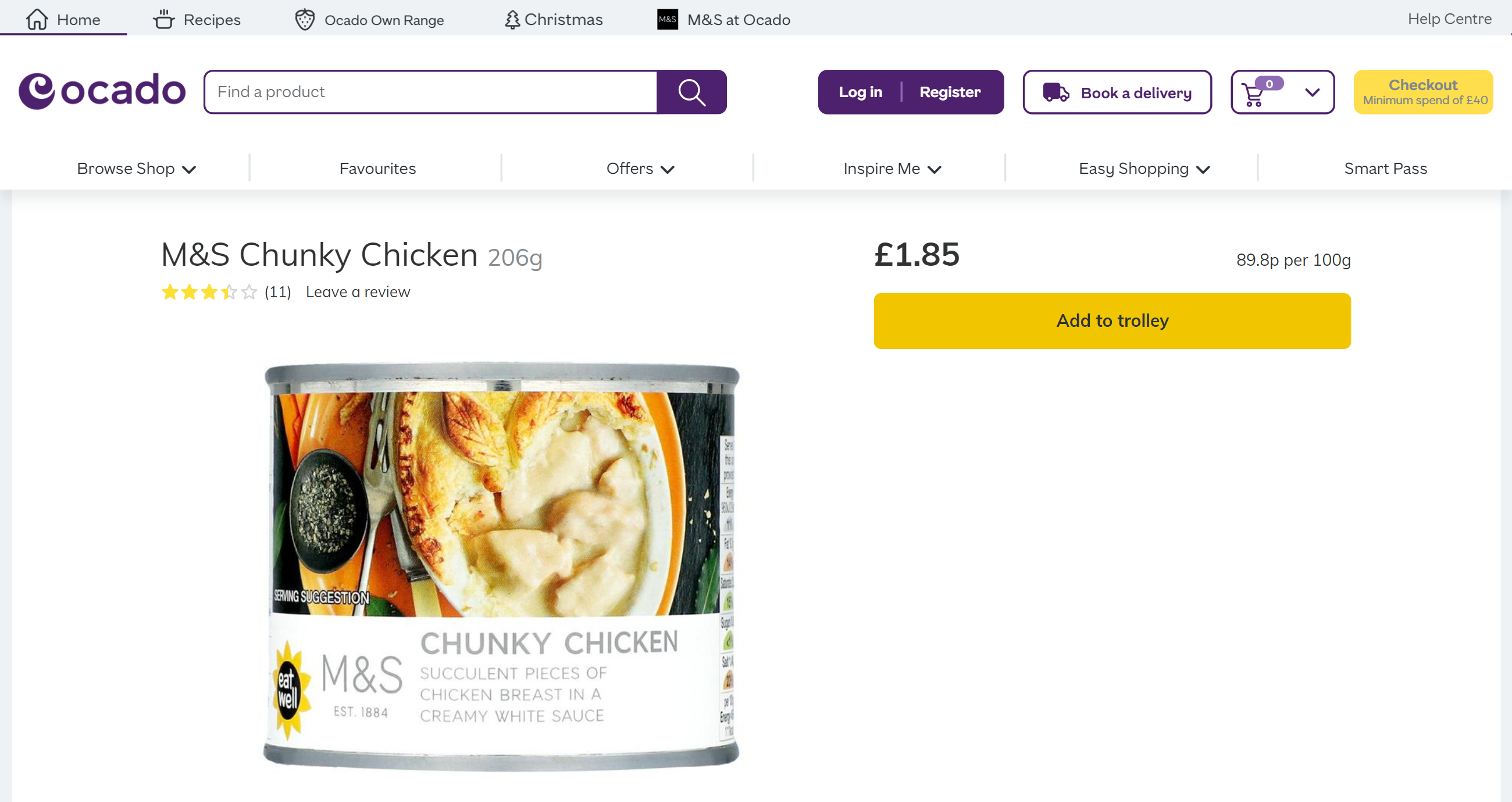 Brand searches have high search volumes
When compared with generic search terms for online delivery, the much higher volume branded search terms reveal a lot about the what brands people search, but what is the most searched-for brand in the basket?
Brand-strength, advertising, reviews, local availability, pricing, customer loyalty and customer lock-in fit into the discussion here but a quick and simple method is to use the search volumes for branded versions of typical search terms.
To do this, we analysed the "delivery" SERP by extracting all the search terms for which the top-10 URLs rank. [SISTRIX feature: Keyword environment.] From a list of over 2000 keywords, we chose 56 significant and generic search terms that we then added the brand to, and analysed for total search volumes.
The brands analysed:
Amazon
Asda
Iceland
Morrisons
Ocado
Sainsburys
Tesco
Waitrose
Note that Aldi. Lidl and Marks and Spencer currently have very little online grocery shopping visibility. The other smaller players have also been left out.
There are two data points that can be used in analysing current popularity. The first is the total average monthly search volume for the 56 keywords. The second is the average cost per click of an ad on the SERP, which can point to competition level, given that competitors are allowed to place ads on competitors branded SERPs.
Results: Most searched brands for online delivery
Most searched brands for online delivery related keywords
| Brand | Total ave. search volume per month | Average CPC |
| --- | --- | --- |
| asda | 695970 | 0.48 |
| sainsburys | 622660 | 0.19 |
| tesco | 586040 | 0.59 |
| waitrose | 218640 | 0.86 |
| morrisons | 115430 | 0.30 |
| iceland | 112160 | 0.31 |
| ocado | 67510 | 1.91 |
| amazon | 28960 | 0.85 |
The results show the classic supermarket brands with the most search volume in the UK, and the highest competition level in terms of ad space values.
Branded keywords, self-ownership
How dominant are the brand domains for their own branded keywords? DO they protect their own territory? While Google understands the 'website' intent, it still has to provide ten organic answers on a SERP, which leaves space for competitors, partners, comparison sites and news articles. These are the brands that have the best ownership of their branded SERPs.
Branded keywords: Ownership on main domain
| Domain | Branded keyword ownership |
| --- | --- |
| sainsburys.co.uk | 89.40% |
| waitrose.com | 80.60% |
| amazon.co.uk | 74.60% |
| morrisons.com | 47.70% |
| tesco.com | 46.30% |
| ocado.com | 40.80% |
| iceland.co.uk | 38.60% |
| asda.com | 32.60% |
Sainsburys, who appear to run all aspects of their business on one domain, take the lead. Their ChopChop app takes a small, sub-1% of visibility away from the main domain, as do a few competitors, but there's little that can be found outside the main domain.
Some brands have clear partnerships. Morrisons, for example, have a partnership with amazon.co.uk for same day delivery and 8.4% of the share of search goes there. There are two other Morrisons domains (jobs and corporate information) that take visibility away too. The other significant website is trustpilot.com taking 3.6% of the share. SEOs should keep this in mind – customer feedback sites can take share-of-visibility away.
A look at the Asda branded keywords points in this direction too. Oracle's custhelp.com domain, an outsourced customer service package, is responsible for a full 10% of the market share for the Asda branded keywords. News websites also account for over 10% of the share.
Iceland are not competing with the country of Iceland but there's a large spread of comparison (affiliate, perhaps), news and review websites taking visibility away.
Waitrose appear to have cut digital ties with Ocado completely in this view of the competitor landscape. Only news websites compete with any strength.
That leads us on to Ocado, who run the delivery services for Marks and Spencers food. Just under 10% of their visibility goes to marksandspencer.com. A very large percentage, over 20%, goes to online news media sites. The Corporate website also takes a large 7.8% share.
Some care is needed when comparing figures here but where the ecommerce-focused domain is not taking the lions share, questions must be asked about news, reviews, partners and affiliate schemes that may be relevant for customers.
Made for Know content
Finally in this detailed look at grocery brand search visibility, we look at content marketing. Which brands, from the list above, have an informative SEO content strategy?
Recipes, how-to and other evergreen content strategies are easy to find among the domains. In the bricks and mortar world it used to be the supermarket magazine containing seasonal information, recipes, trend information, vouchers and how-to's. In the digital world, it's much the same. An information content strategy can lead to large amounts of traffic which, over time, can have a positive effect for the brand.
Which of the top supermarket brands have high-performance content marketing projects? Here are the most successful projects we found in directory and host-level visibility in the main domain names.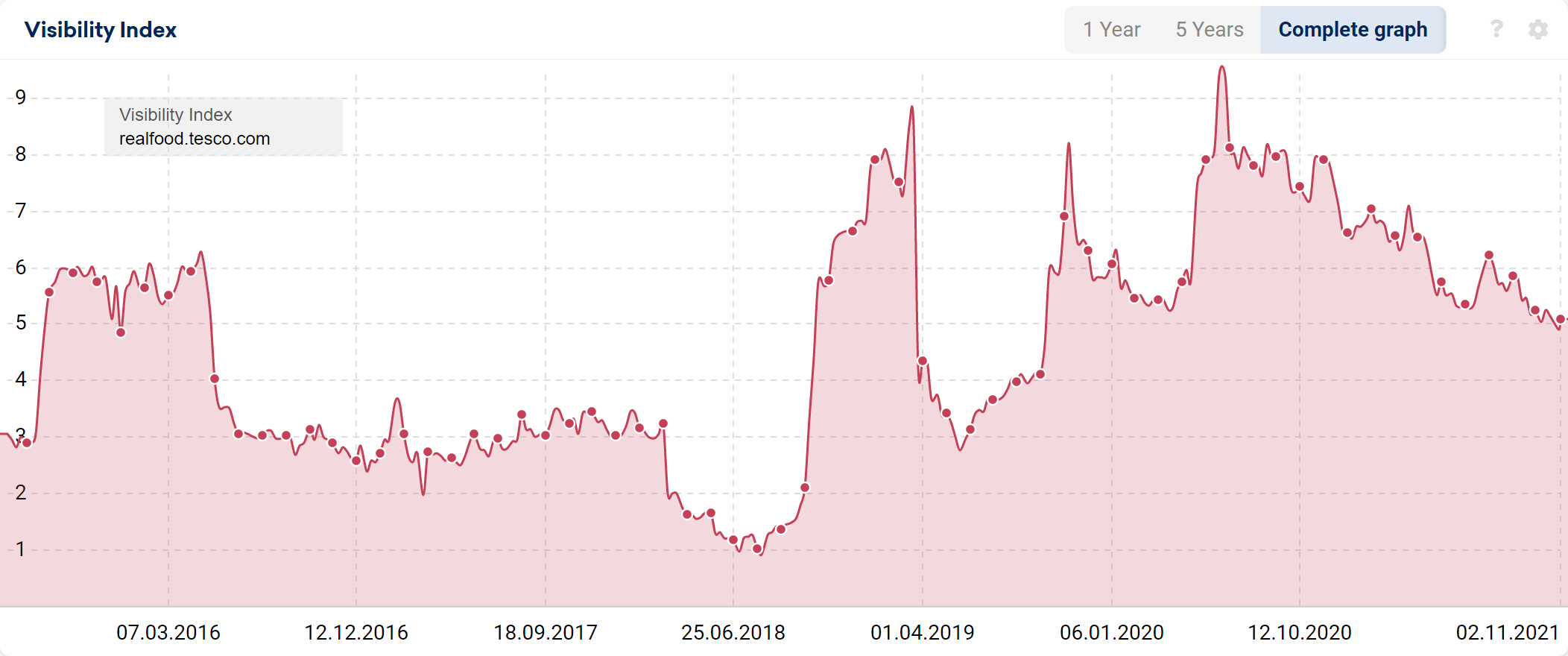 The most successful content marketing project we were able to identify is the Tesco Realfood project which has a VI of 5.08 with a falling trend. The second biggest is by Waitrose but Sainsburys have two projects and ends up with slightly more total visibility. The Sainsburys magazine has a significant VI of 1.33 in addition to recipe content that sits on the main domain name. Other content projects found are shown in the image below, along with the biggest informational source on food – BBC Good Food, sub-licensed by the BBC and run by Immediate Media. VI: 166. Monthly page views: 94.6 million (source: IM). Monthly organic traffic: 42 million clicks. (source SISTRIX).

Summary
There are many ways to look at retail grocery visibility, from domain level, to directories and keyword 'baskets.' Seemingly similar search modifiers can vastly change the landscape though so working with a list of the big high-street competitors, is a false strategy. M&S, for example, are currently irrelevant when looking at organic search competitors for groceries. Here's a summary of what we've looked at in this study:
Comparing domains can lead to false impressions. The real competition must be analysed on a like-for like basis, ignoring traffic which can easily be bought and influenced.
Some 'classic' brands simply don't compete at all in the grocery sector. Marks and Spencer is, effectively, an online clothes shop.
The fast-track delivery brands, focused on digital efficiency and increasingly operating out of dark stores, have significant visibility already.
Offering products through a third party might lead to confusion. (Ocado – Waitrose, or M&S?) but might also provide opportunity to defend search result positions from competitors.
There isn't one retail basket and user intent can be subtle. "Online" and "Delivery" are focused on action, but not the same action.
Brand searches are high-volume but some brands don't cover their 'territory' well, allowing news articles and review websites to appear in brand search results.
Competition is high for some brand-SERP ads. Advertising against Ocado branded search results is much more expensive than Asda, which has a lot more search volume.
Finally, content marketing projects are clear to see across the main grocery brands with Tesco leading the supermarkets. The tax-payers-brand website, BBC Good Food, is taking visibility away from others though with its very strong informational domain.