Google starts displaying information from the Ministry of Health in a special integration above organic search results. The Munich Regional Court considers this to be a cartel infringement and prohibits the procedure. Read more about this here.
Not got much time? Here's a short summary in three key points:
The Ministry of Health and Google agreed to display content from the state health portal gesund.bund.de above the organic search results for relevant searches.
Our data analysis based on one million keywords shows that this cooperation included 2,184 different keywords with a total search volume of 24 million monthly searches.
The Munich Regional Court has now prohibited this cooperation. This decision was right and important, as it prevented a precedent being set for state manipulation of search results.
Sound exciting? Read on to find all the data, details and background information:
The "National Health Portal" at gesund.bund.de was planned about four years ago and launched last year by the Federal Ministry of Health. 4.5 million euros were budgeted over a period of 4 years.
Independent, ad-free and objectively correct information on around 200 common diseases and other health-related information was provided there. The initial success can be seen in its organic visibility on Google: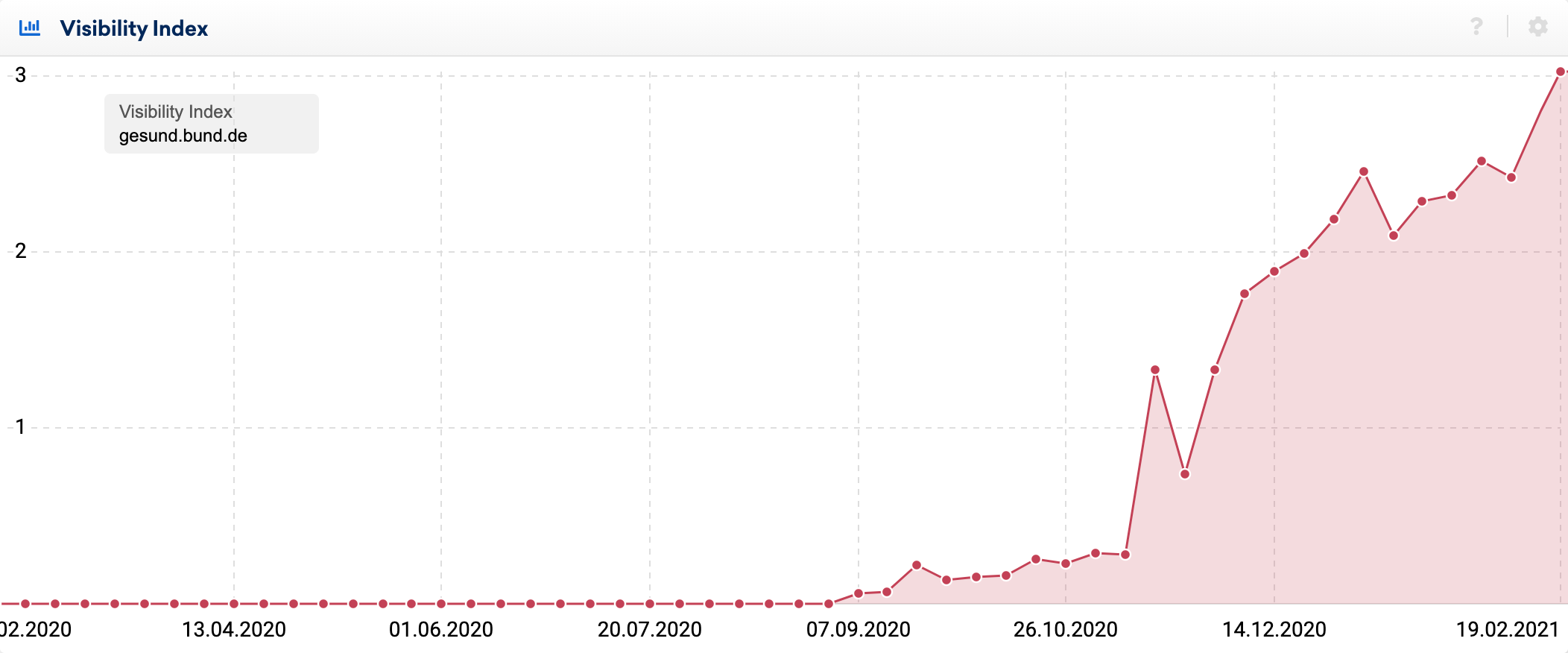 Considered on its own, a visibility of around 2.5 combined with developments in recent months is positive.
However, you can only properly classify development if you compare it with relevant competitors. Here are the graphs for two large health portals, netdoktor.de and apotheken-umschau.de: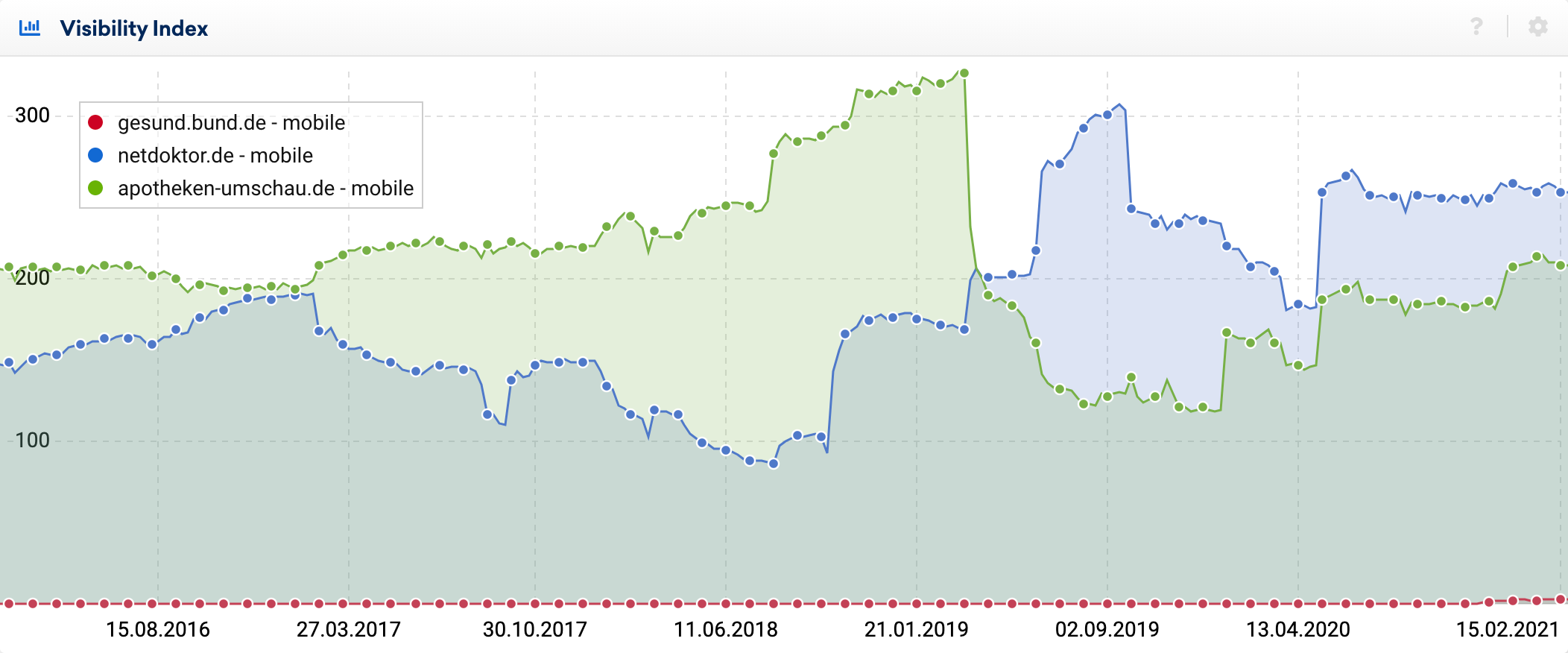 As you can see, there is hardly a ripple effect on the national health portal. The two private competitors rank much better for many more keywords than the Ministry of Health's offer currently does.
A look at other countries shows that this does not have to be the case. Both the UK's NHS and the NIH from the USA have massive visibility on Google in the organic search index in their respective countries: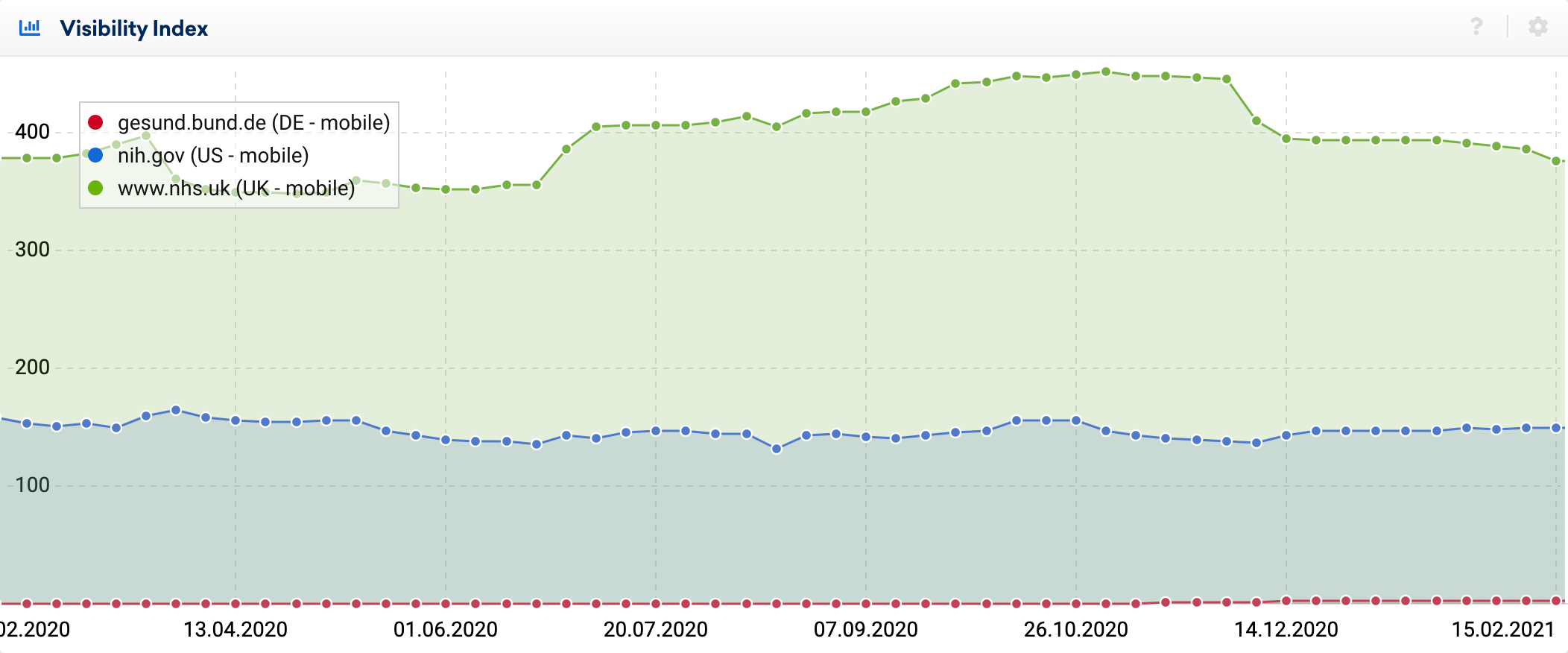 For any normal SEO expert, this means rolling up your sleeves, analysing competitors' strengths, improving your own offer and increasing visibility. As a federal health minister, however, there is a shortcut for this:
In November, the German Federal Minister of Health, Jens Spahn, together with Philipp Justus (Vice President of Google Central Europe) announced 1 their cooperation. When searching for more than 160 diseases, a special knowledge panel integration above the organic search results would point to content.
It looks like this in SERP reality. Visualised here for display on a mobile phone with the viewport of a standard iPhone:

Above the organic search results (NetDoktor.de ranks organically in position 1 for the keyword), there is now this new special integration due to their cooperation. As you can already guess from the viewport, there won't be much traffic left for NetDoktor.
Measured again, how relevant is the cooperation in the search results?
In order to better assess the scope of this particular cooperation, we no longer measure it merely as a "normal" knowledge panel, but show this box separately in SISTRIX.
There are 2,184 keywords that indicate special cooperation between Google and the Ministry of Health.
In our daily updated keyword set of one million keywords from Germany, we were able to find this integration yesterday for 2,184 different keywords. This means that significantly more search queries are affected than the mere 160 or so exact spellings of the diseases.
In addition to current popular keywords such as "corona" and "coronavirus", which have a very high search volume, these keywords also include the following selection:
Selection of search queries involving cooperation between Google and Federal Government:
Selection of search queries involving cooperation between Google and Federal Government
| Keyword | Monthly search volume |
| --- | --- |
| haemorrhoids | 190,269 |
| bladder infection | 136,308 |
| endometriosis | 126,601 |
| Lyme disease | 107,267 |
| hypothyroidism | 97,717 |
| conjunctivitis | 93.983 |
| herniated disc | 93,492 |
| arthrosis | 92,511 |
| fibromyalgia | 87,022 |
| tonsillitis | 78,823 |
| pneumonia | 78,433 |
| schizophrenia | 78,396 |
| nail fungus | 77,993 |
| influenza | 74,570 |
| depression | 70,356 |
| copd | 68,314 |
| gastritis | 67,723 |
| neurodermitis | 65,314 |
| psoriasis | 60,096 |
| white skin cancer | 58,596 |
| prostate | 57,268 |
| gout | 56,679 |
| gastritis | 55,275 |
| parkinson | 54,085 |
| athlete's foot | 53,597 |
707 of the keywords with this integration have a monthly search volume of more than 1,000 searches, with 164 having a search volume of over 10,000 per month.
The cooperation between Google and the Federal Government is displayed in 24,386,196 monthly searches.
In total, all keywords for which we have seen this integration have a combined search volume of ca. 24 million searches per month (24,386,196). However, the coronavirus keywords currently account for a large share of this.
Prohibited: Court prohibits cooperation between Federal Government and Google (for now)
Criticism arose just shortly after the cooperation between Google and the Federal Ministry of Health was announced. For example 2, NetDoktor said:
"As a state broadcaster, the Ministry is putting itself ahead of the journalistic services offered by the free press by supporting Google's search monopoly, regardless of the quality of the content."

Philipp Welte, Board of Hubert Burda Media (to which NetDoktor belongs)
Wort & Bild Verlag, as the owner of Apotheken Umschau, had similar 3 words to say. However, both NetDoktor and the Apotheken Umschau have not only publicly criticised the procedure, but are also taking legal action against the cooperation: NetDoktor in interim injunction proceedings in Munich, the Apotheken Umschau in Berlin.
The Munich Regional Court made a ruling yesterday and has provisionally prohibited 4 the cooperation between Google and the Federal Ministry of Health (judgement of 10.2.2021, reference 37O15721/20 and 37O17520/20). Its reasoning is worth reading:
"The best possible position on Google's search result page, namely the newly created, prominently highlighted position "0" in the info box, is not available to private providers of health portals. As an operator of a health portal, NetDoktor is particularly dependent on achieving good visibility on the Google search results page, as around 90% of users land on NetDoktor via a Google search. The visibility is severely restricted because the info boxes attract users' attention and divert them from the general search results."

Press release 06 of 10.02.2021, Munich Regional Court I
Google reacted promptly. The special cooperation can no longer be found in the search results. It is not yet clear whether Google or the Federal Republic of Germany will take action against this decision.
The following quote from Federal Health Minister Jens Spahn is also interesting in this whole complex. This clearly shows that many people are now cognisant of the importance of a good Google ranking:
"If we have an interest in getting objective, sound, evidence-based information across, it doesn't do me any good if we rank in 783,000th place on Google."

Jens Spahn, Federal Minister of Health
Assessment: To mean well is not always to do well
Both Google and the Ministry of Health certainly had the best intentions when they agreed to this cooperation. Especially in uncertain times, the Ministry of Health wanted to be able to guarantee that searchers had access to the best possible health information.
And Google, too, is in a situation where they can lose much more than they can gain when it comes to classic topics of "Your money, your life". The question as to whether hits from NetDoktor, the Apotheken Umschau or content produced due to cooperation with the Federal Government are better is a nuanced one. What is certain, however, is that incorrect hits can have devastating consequences.
For this reason, neither Google nor the Ministry of Health should be blamed. From their respective perspectives, they have chosen the subjectively best solution – which, however, is still wrong for the entire system. It is all the more important that the Munich Regional Court takes corrective action.
If a precedent had been set here, it's not hard to imagine that the next demands would not have been long in coming. Someone looking for unhealthy food? Let's show them state-provided salad recipes instead. Someone wants to reduce their tax bill? The Ministry of Finance would surely have "helpful" information on that. This would open the door to manipulation and the politicisation of neutral search results.
Fortunately, the Munich Regional Court made the right decision. Let's hope that the relevance of a fair and transparent order of search results will thus become more public and that future attempts at manipulation (whether by state actors or Google itself) will be quickly suppressed.
Sources