A case-study in buying and migrating digital assets is unfolding in the UK this week. ASOS is merging multi-channel Topshop into its fashion empire as a digital-only offering. This isn't a simple domain move, but it's one we can all learn from.
ASOS has bought digital assets from Arcadia recently after the company went into administration. UK high-street brand Topshop, once an Oxford Street mecca for young fashion fans, was one of them and the extremely difficult task of re-locating the 'shop' has now begun. The bricks are being left behind in this digital-only buy-out, but let's not fool ourselves that this is just a simple domain migration.
ASOS has already begun to build the Topshop brand within their existing shop at asos.com, alongside many other brands.
Ranking Topshop URLs can be seen in the /womens and /mens brands subdirectory's that rank in Google search.
Shutting-down a healthy brand's domain name is potentially a bad choice given that there are only 10 organic shop-fronts in a Google search result and that Google's push for search result diversity means you can't expect to own much of a search result with just one domain.
Take this comparison for example. 4 weeks ago, ASOS and Topshop held 20% of the top 10 positions (strong positions 2 and 4, no less) on a search for "mini dresses" in the UK. Today, shown on the right column in the image below, you can see they've lost 50% of that shop-front space, significant ranking space and, more importantly, the change has left space for competitors: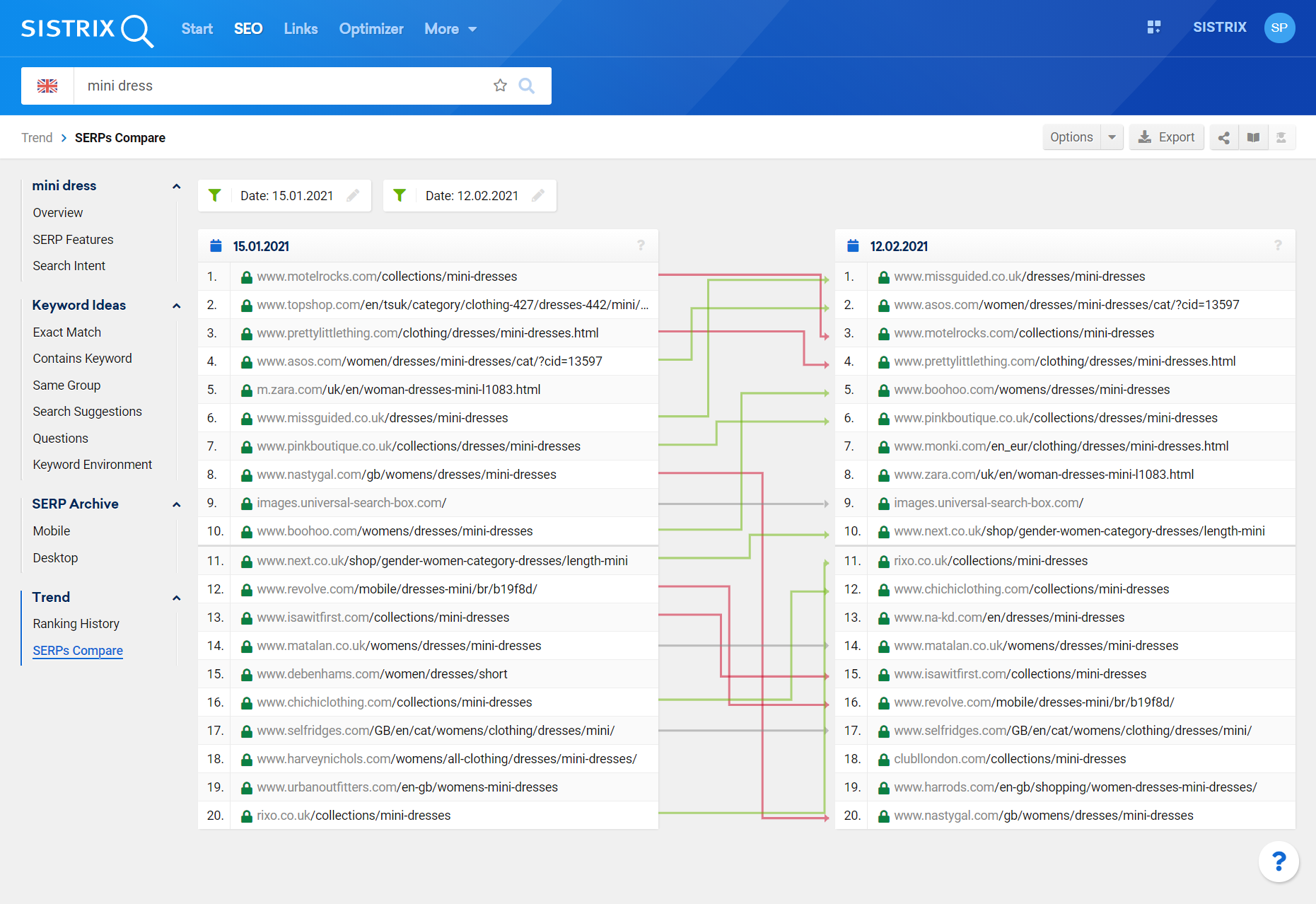 Domain and brand migration, value retention
Business strategy often cuts across ideal-case SEO. Chris Green, Head of Marketing Innovation at Footprint Digital, says it's tough "primarily because the decisions & decision-making process that impacts the migration and retention of value happen far away from the SEO/Search Expertise."
The domain topshop.com finds itself stuck between closedown and re-launch right now as those business decisions prevent the ideal SEO migration. As of today, wildcard redirects have caused topshop.com to lose almost 80% of its visibility.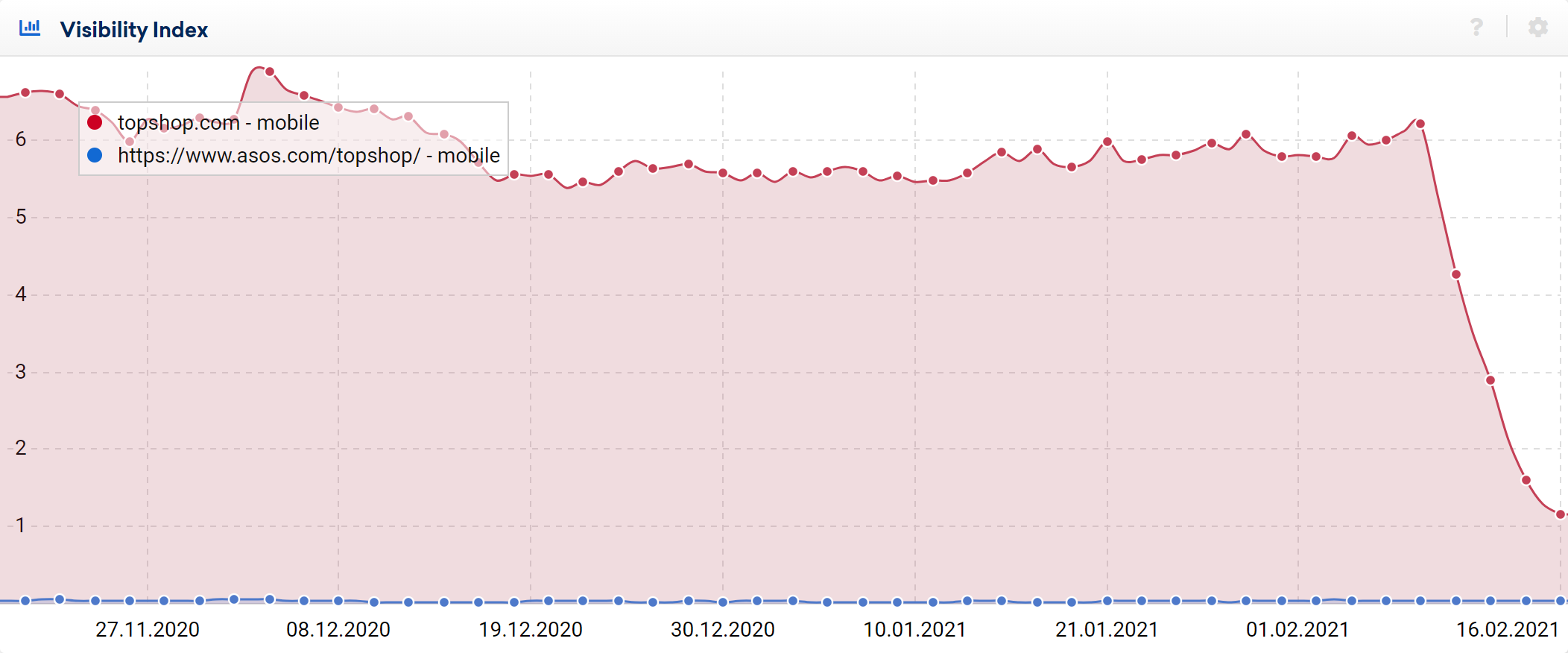 "For a casual observer in the industry it seems like a tragic waste of rankings & traffic, as it is relatively easy to ensure that it is maintained with some thorough research and application of 301 redirects. The greatest preservation of value in the long term is to redirect pages to a new version with the closest possible match of content and intent."
This half-hearted attempt to satisfy a user is like offering alternative products in home food delivery. Sometimes it just goes wrong. If you're searching for a particular brand, you're likely to be doing it for a reason.
There's a technical consideration here that might help ASOS though, the temporary redirect.
"The 302s (temporary) redirects to, what is effectively a holding page, could buy ASOS some time. We're currently watching this near-apocalyptic loss of visibility, but this may only be temporary whilst the hard work is done in the background." says Chris.
Indeed, when one takes a look at the Topshop products on asos.com, there are already perfect redirection candidates.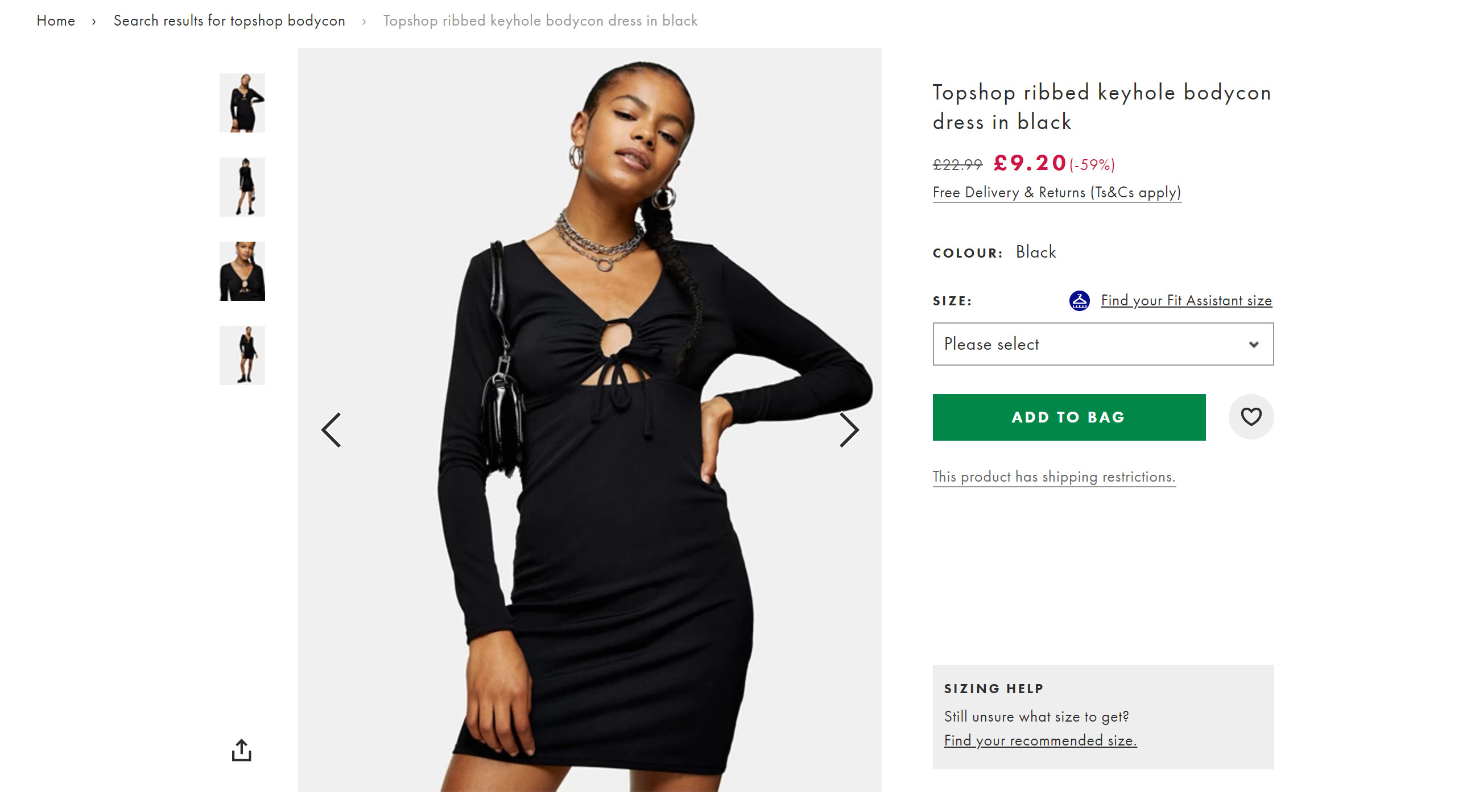 The above bodycon dress in the Topshop range on the ASOS website is the perfect redirect for relevant lost rankings at topshop.com this week:

Cannibalisation and brand searches
As mentioned, collapsing multiple brand domains into one domain would reduce the ability to dominate a generic search result. It also creates 'cannibalisation' where Google may be left to choose a result from many candidate results in the ASOS domain, using its own signals.
Consolidation brings efficiency though. A single back-end, focused SEO team and growth for the anchor brand are just a few advantages. In order to capitalise on the Topshop brand there are short-term and long-term considerations.
In the short term, people will still be searching for Topshop, and clicking on thousands of links to Topshop products. By retaining the value of the Topshop brand the searches will still continue, and the ASOS domain will benefit as Google picks authoritative Topshop results from ASOS. Retaining the brand desire comes with long-term costs though.
Could Topshop be dissolved into ASOS over a longer period, without any losses?
Will O' Hara, SEO Director at MediaCom North provided this thought on the future value of the project. "Domains of this strength can usually handle a few 'bumps in the road' and so it could easily be only a few weeks before the plan hatched within ASOS is completed. By keeping the topshop.com domains live, they would have had the ability to command multiple positions in the SERP, but the redirects into key areas of the site could have knock on impact which benefits them."
Conclusion
ASOS have lost 80% of the search visibility from the topshop.com domain and must work quickly and orderly to recover it. 302 temporary redirects have left them some scope to recover Google rankings. These questions remain:
How forgiving is Google? How long is Google going to remember the value of the old Topshop URLs and wait for the pages to be fully redirected.
Can ASOS implement the required 301 (permanent) redirects on the topshop.com domain. Do they have full control of the domain?
When the redirects are complete, how much coverage will ASOS lose in the SERP? Where there were two domains (asos.com and topshop.com) there will only be one in the future.
How many of the Topshop products overlap existing products in the ASOS range. This generic-search-term cannibalisation issue is a long-term challenge.
Can ASOS afford to continue marketing the Topshop brand in order benefit from targeted searches or will it eventually dissolve Topshop into ASOS?