The last 3 months have turned retail business-models on their heads. If CEOs had not already realised that online visibility is a key performance indicator before lockdown, they do now. In this article we look at the visibility of some of the top UK supermarkets and reveal some issues lurking behind the fresh, online-only competitor, Ocado.
Let us start with a recent Tweet from the CEO of online supermarket Ocado Solutions, Luke Jensen.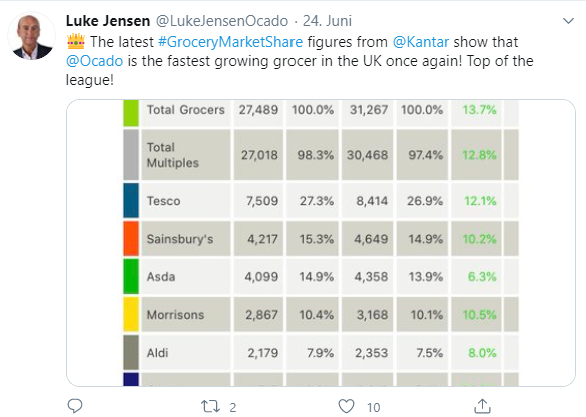 In addition to Kantar's audience figures, Ocado has also enjoyed positive publicity during the last 3 months and is clearly in a position where it could benefit from shifting shopping habits. However, Ocado's search visibility – its potential to attract customers from Google Search – tells a very different story. The Visibility Index is on a downward trend. Potential for Ocado to attract customers through the important 'Google high street', is falling.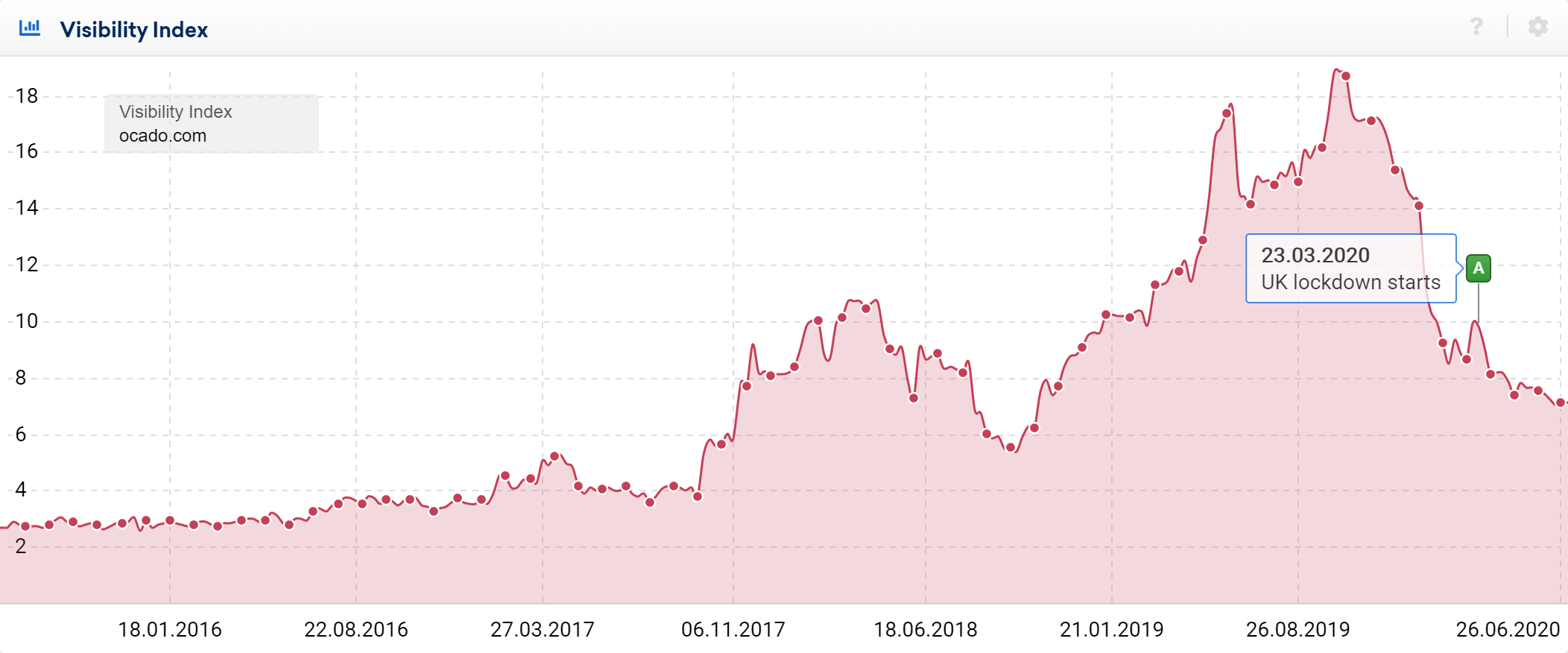 Since the start of lockdown in the UK, Ocado has lost 28.5% of its visibility across Google Search. Since the beginning of the year, 52%.
In the big picture, Ocado is falling further away from Tesco's online offering, for example, which is currently enjoying an increase in visibility. We've included some more sector analysis later on in this article.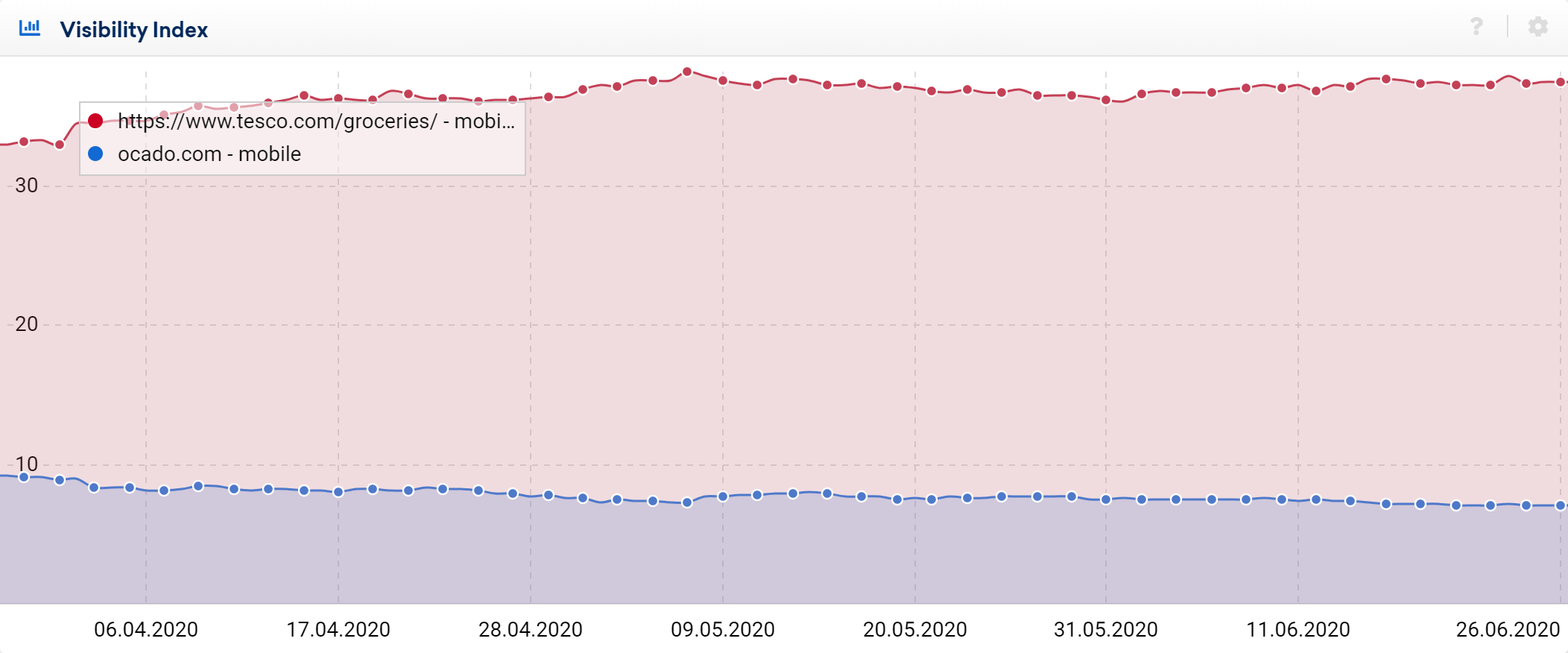 What happened to Ocado?
Ocado's recent losses are simple to explain. They have hidden their shop to anyone that's not logged in and not considered a priority customer. It's an attempt to provide to those in need during the Coronavirus pandemic that is damaging important search market share. The home page looks like this if you are not logged in.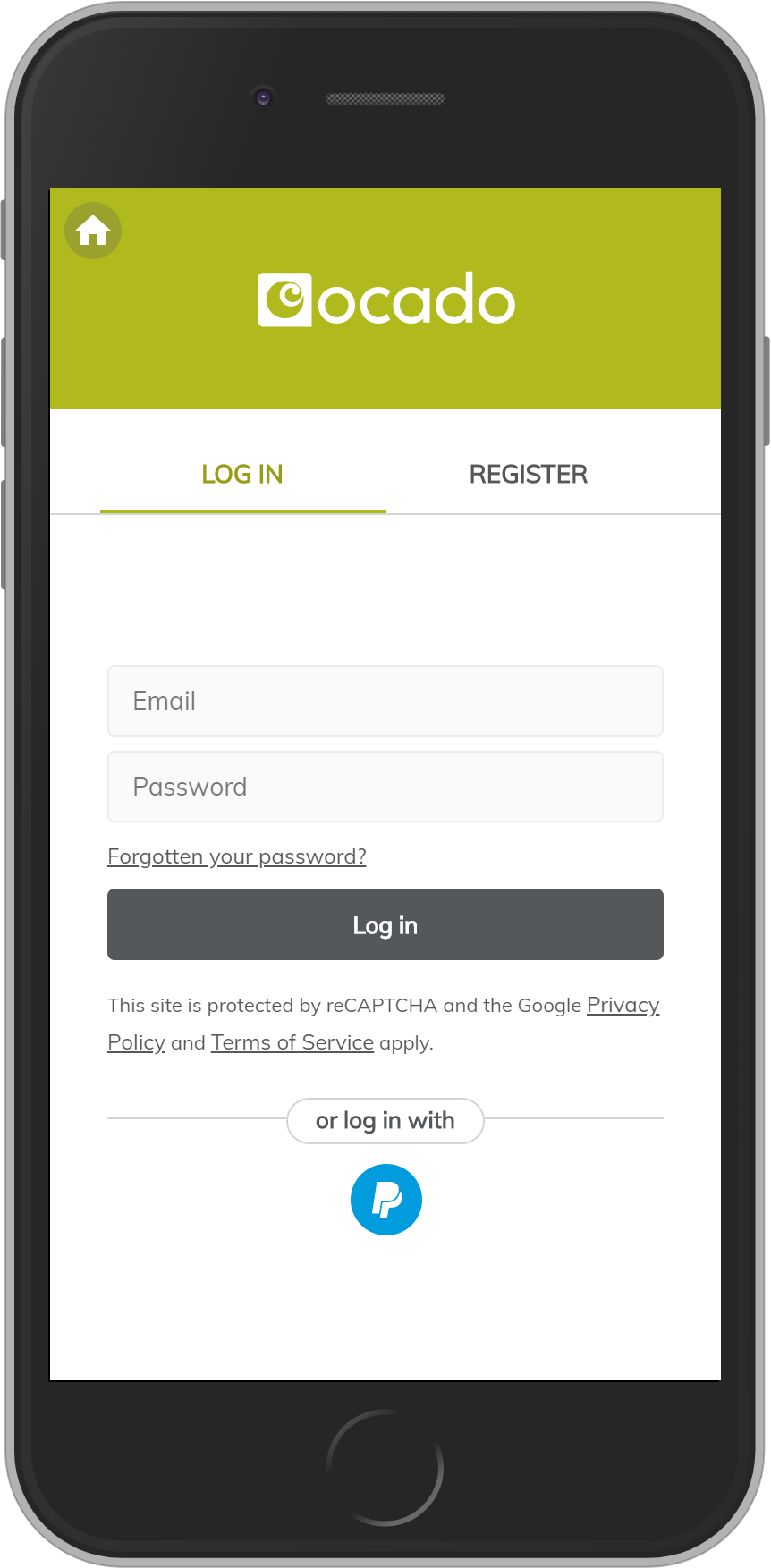 Here's what one of their ranking URLs looks like to a user that is not logged in and not in the priority list.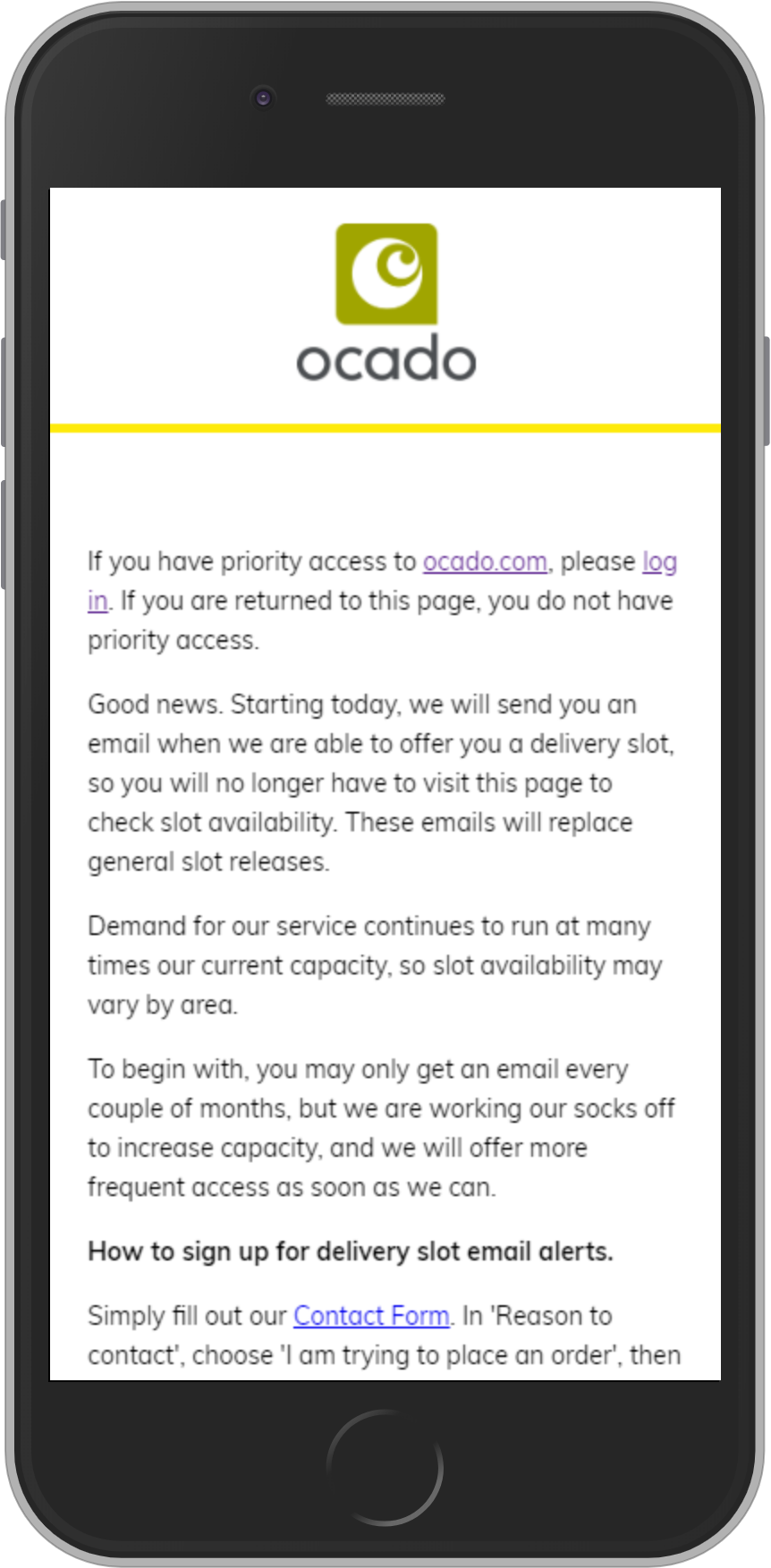 The message is effectively a dead-end for anyone arriving through search. Importantly, it contrasts with the treatment they give Google. Ocado is effectively cloaking their site, by providing the Google crawler bots with a a complete view of the page while hiding it from users. Here's what the Google Mobile Friendly tool returns: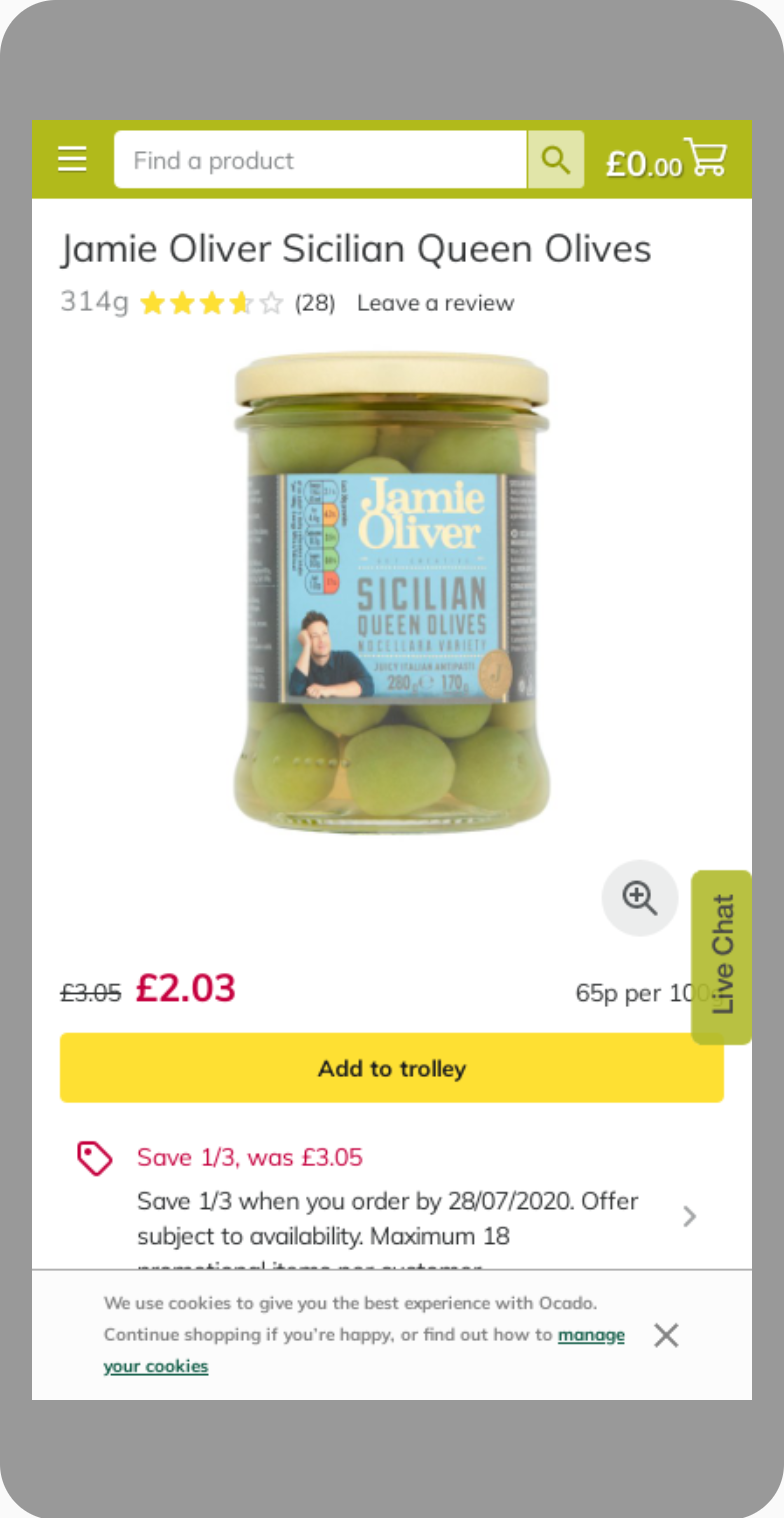 Cloaking is considered a violation of the Google Webmaster Guidelines although Ocado haven't restricted their open-door policy to Google. Anyone can view the full Ocado website by setting their browser to use the Googlebot user agent. Whether this counts as a real cloaking violation is debatable.
So why has Ocado lost visibility if it all looks the same to Google? While Google sees the page, the signals it gets from users in the search results are going to tell a different story.
Consider a typical search for, say, a "mini roll" by a user that currently prefers, or is inquisitive about the Ocado brand. Here is the current mobile SERP and its features: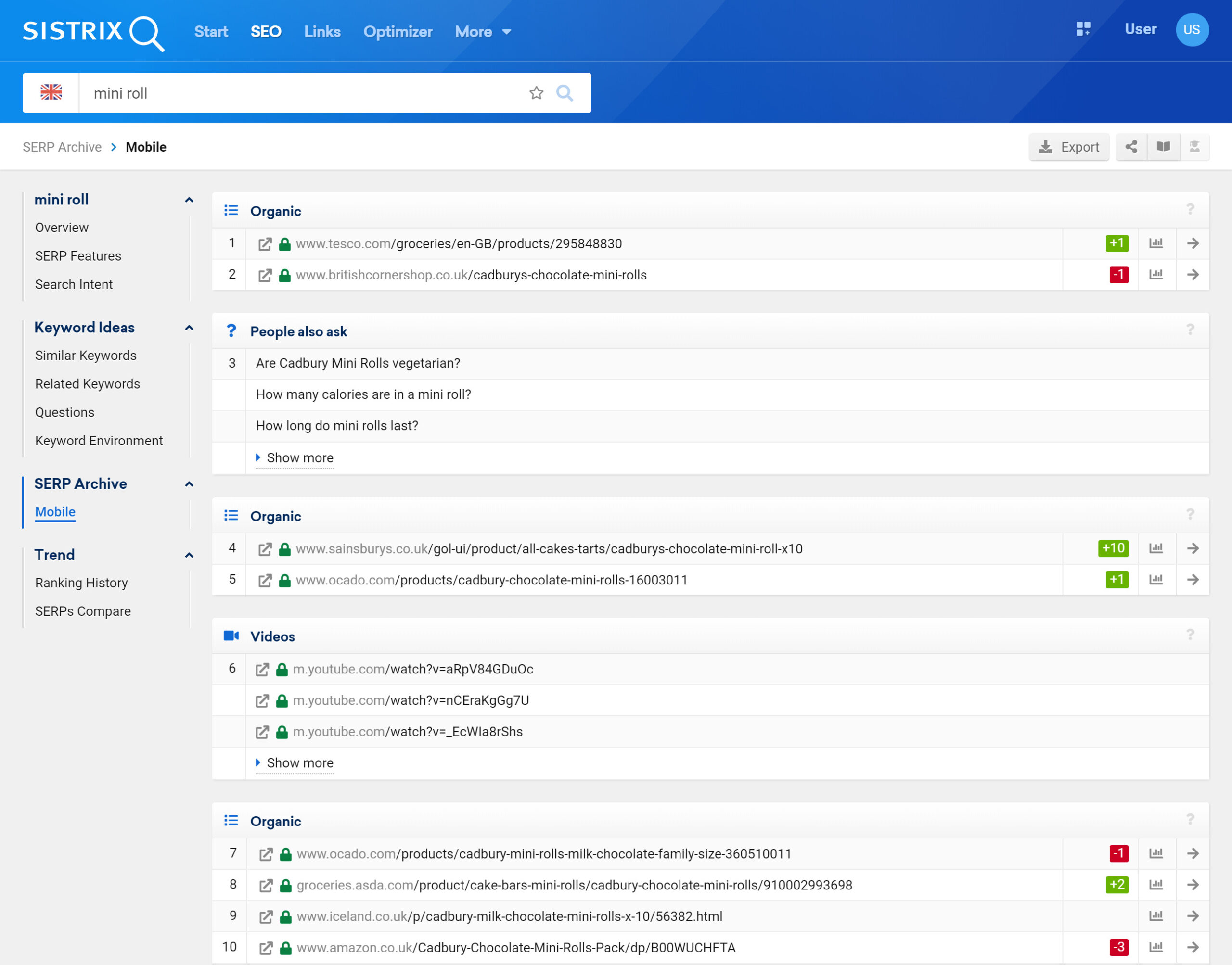 Ocado appears twice in this search result but both results take the user to the message about priority access.
The first thing that is likely to happen with this potential Ocado fan is that they are going to go back to the search results page. This quick 'return-to-SERP' action is easily detected by Google. If the user is specifically looking for an Ocado offering they might then add 'Ocado' to their search.
This, brand-specific search, incidentally, increases the amount of traffic to Ocado along with the trend and the search console statistics for Ocado – something that can easily be misinterpreted as a positive signal. "Brand traffic is up, trend is up, search console figures are up. The advertising is working." say the marketing department. Wrong!
The second click can may also result in a return-to-SERP signal for Google.
On a third attempt, the user may then skip the Ocado result in the SERP and go to a competitor, providing Google with another signal that the Ocado result might not be the best for the customer. Consider how Google might then incorporate that into future search results.
The slow decay in Visibility Index, and the ongoing removal of many significant keywords from the first page of Google search is typical of a site that is not meeting the users' requirements. Take a look at some of the very important keywords for which Ocado has lost Top 10 rankings in the last 3 months.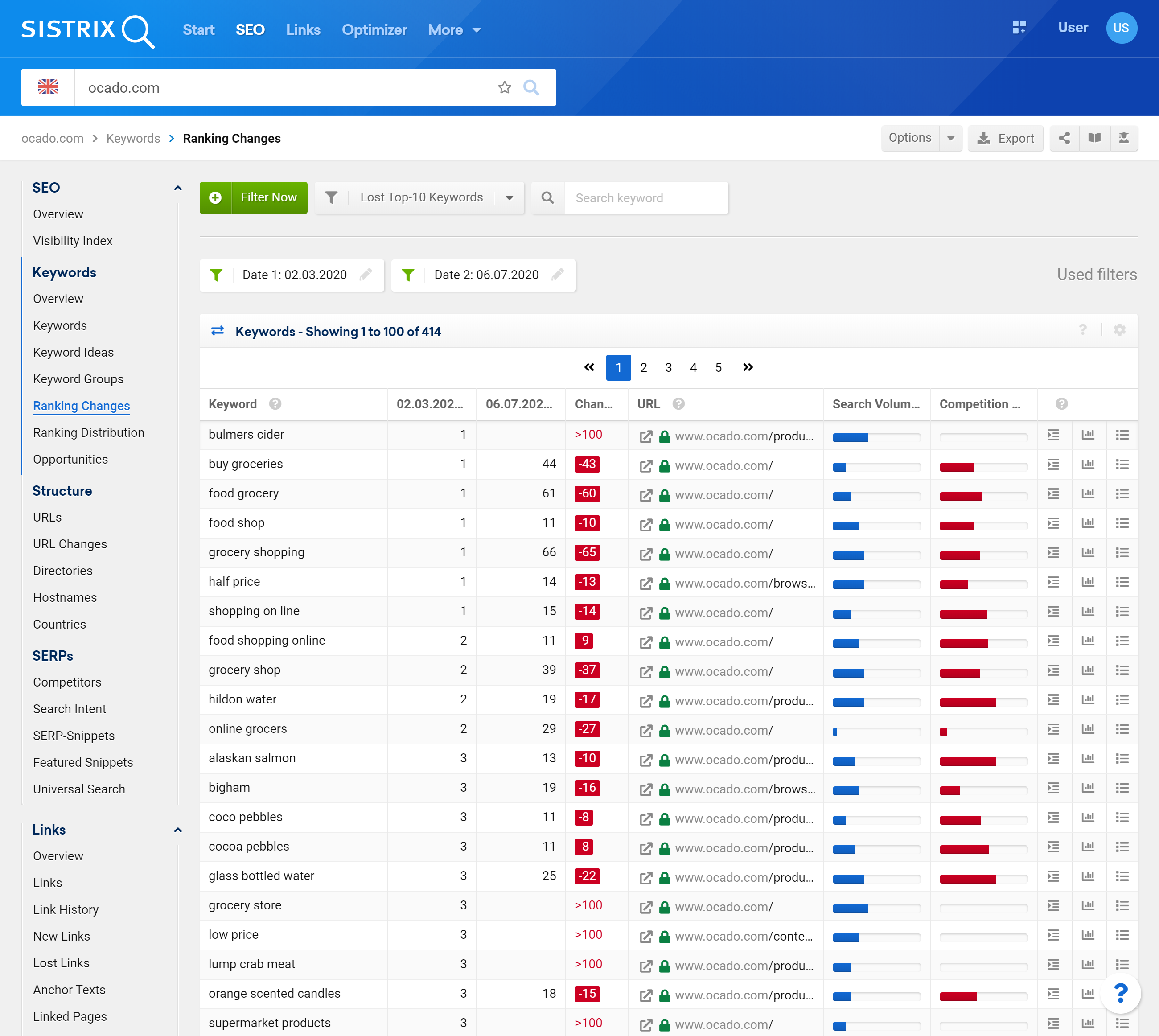 To conclude this report, let's go back to the original message from the Ocado solutions CEO. When we put all the UK supermarkets together in a single graph showing the Visibility Index over the first 6 months of 2020, we see the reality of their digital marketing positioning.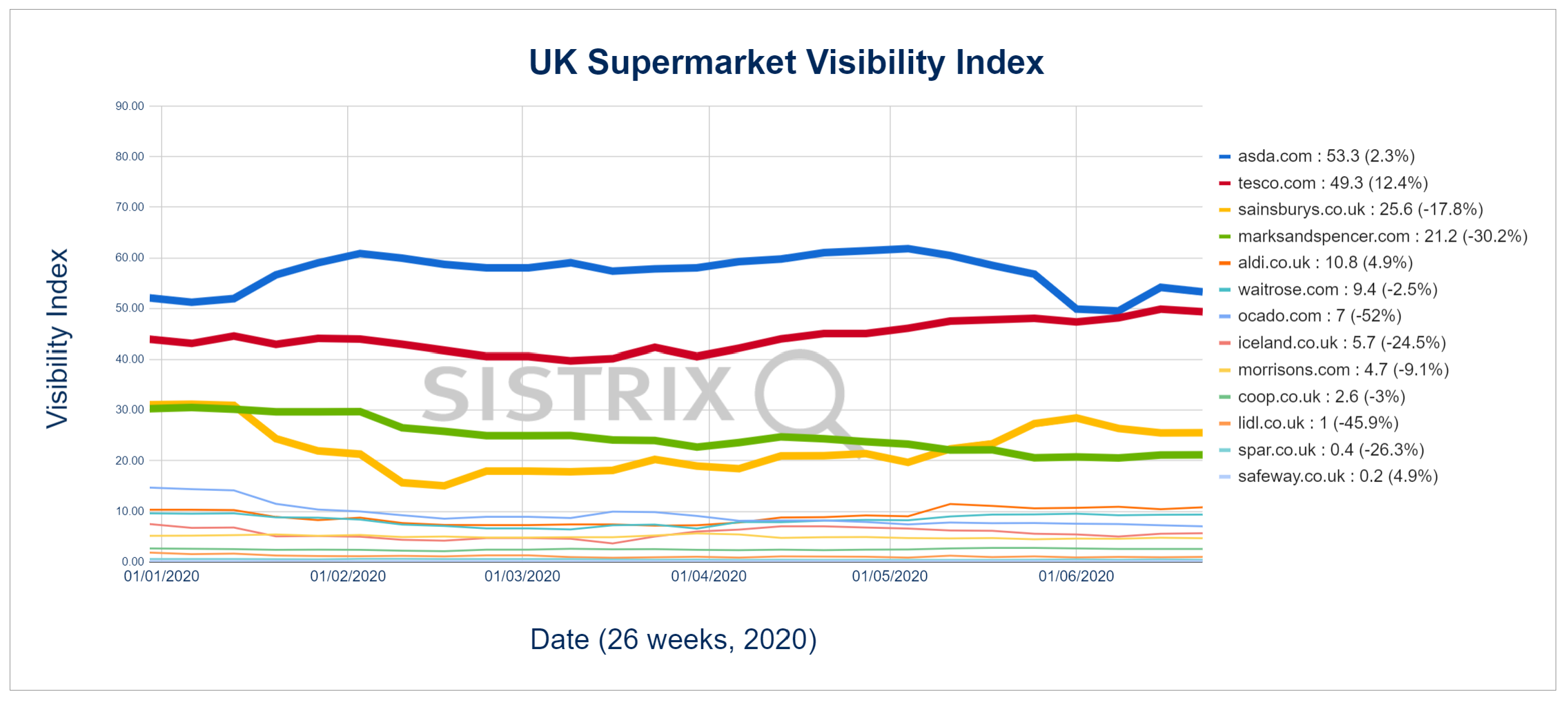 Asda and Tesco continue to battle it out at the top of the table and Sainsburys have just overtaken Marks and Spencer, who have lost 30% this year. Marks and Spencer are a 50% stakeholder in Ocado and they will place their products there later this year – an opportunity for Ocado to increase their search visibility and for Marks and Spencer products to dominate search results with two websites – if Ocado fixes the problem hiding behind the 'growth' figure they are currently promoting.
Digital visibility is not the full picture, as we learnt from the failure of Tesco Direct, but its an important performance indicator that can not be ignored.