In our daily Visibility Index it was easy to spot that something big was happening over at Tesco.com. A 60% loss in 2 days is a huge red flag for any SEO. Was it a Google algorithm change? Was it a web site problem? Or could it have been a manual penalty? If you're responsible for running SEO for a large company, this sort of graph brings your heart into your mouth.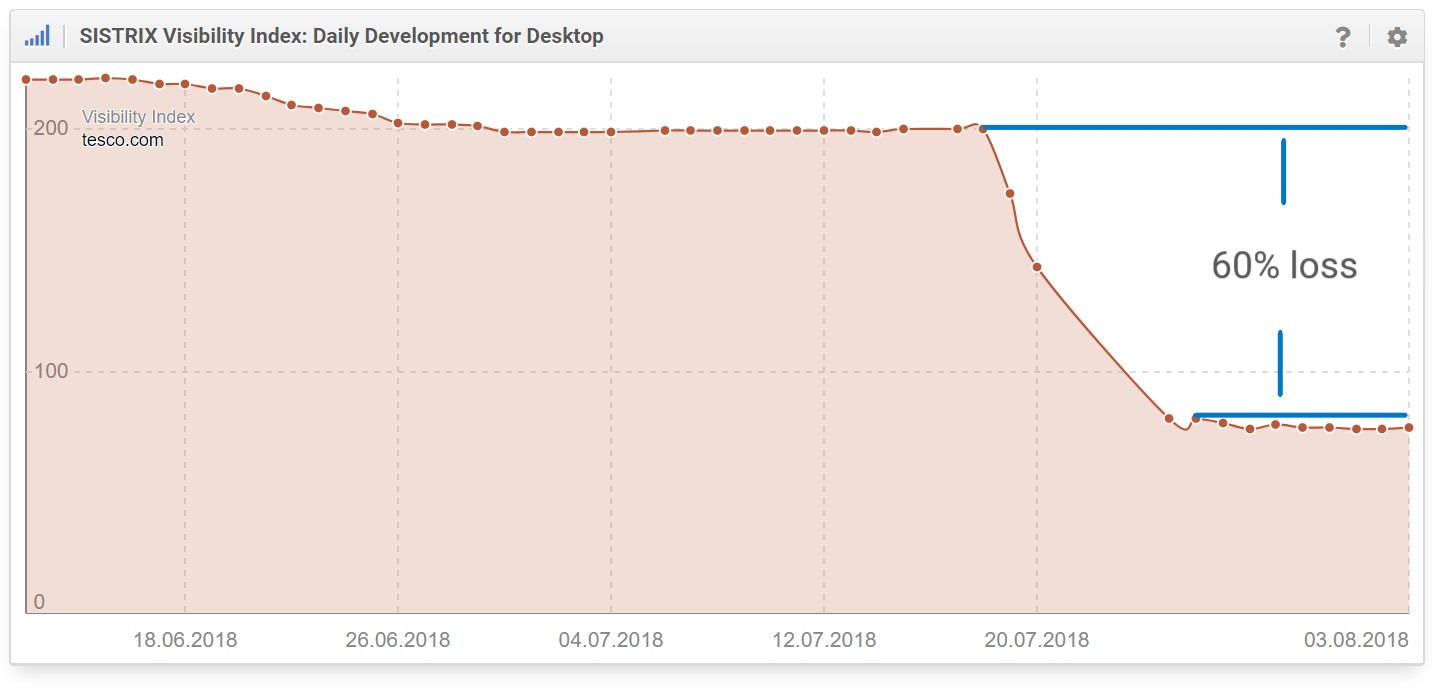 Tesco.com lost 70% of its 2018 peak visibility on Google search results.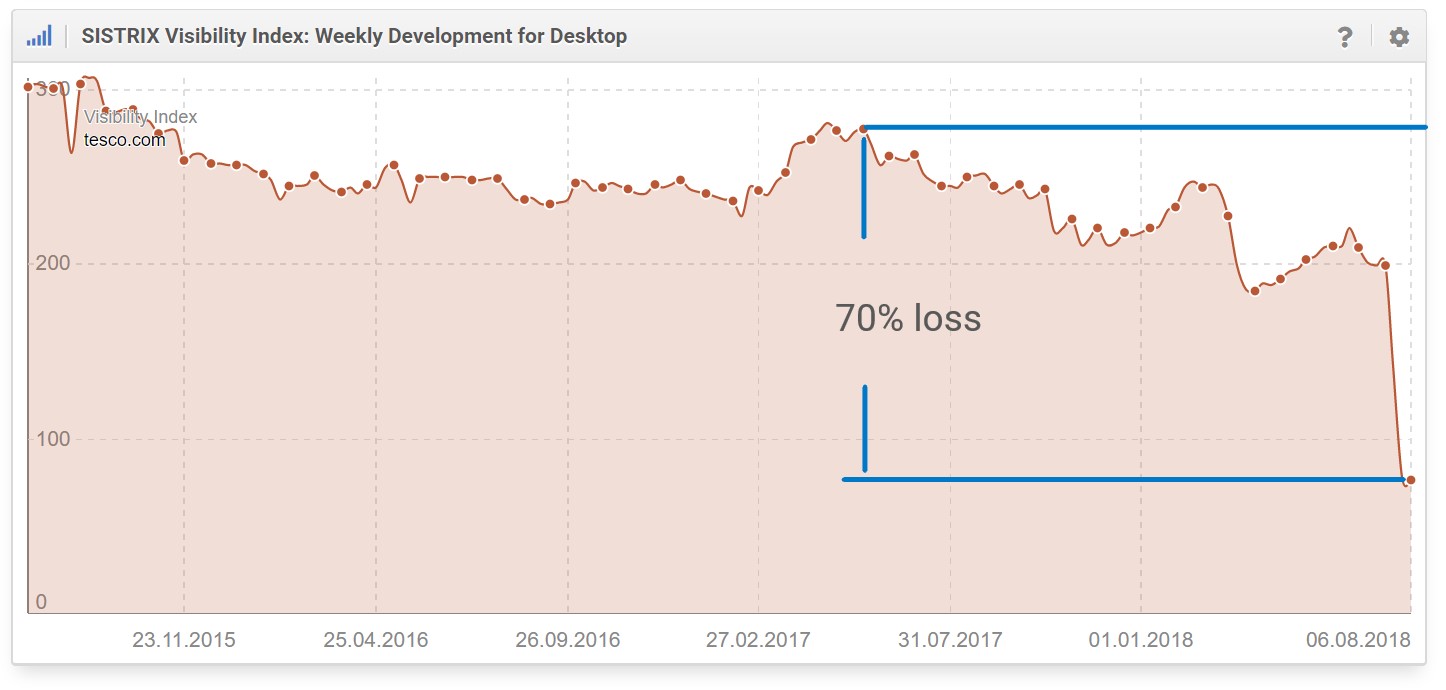 Using the SISTRIX Toolbox it became clearer as soon as we took a look at the directory structure on the website. Of the three most visible directories only one was showing a loss. It's a clear indicator that Google was not involved. This change was something related to structure and content.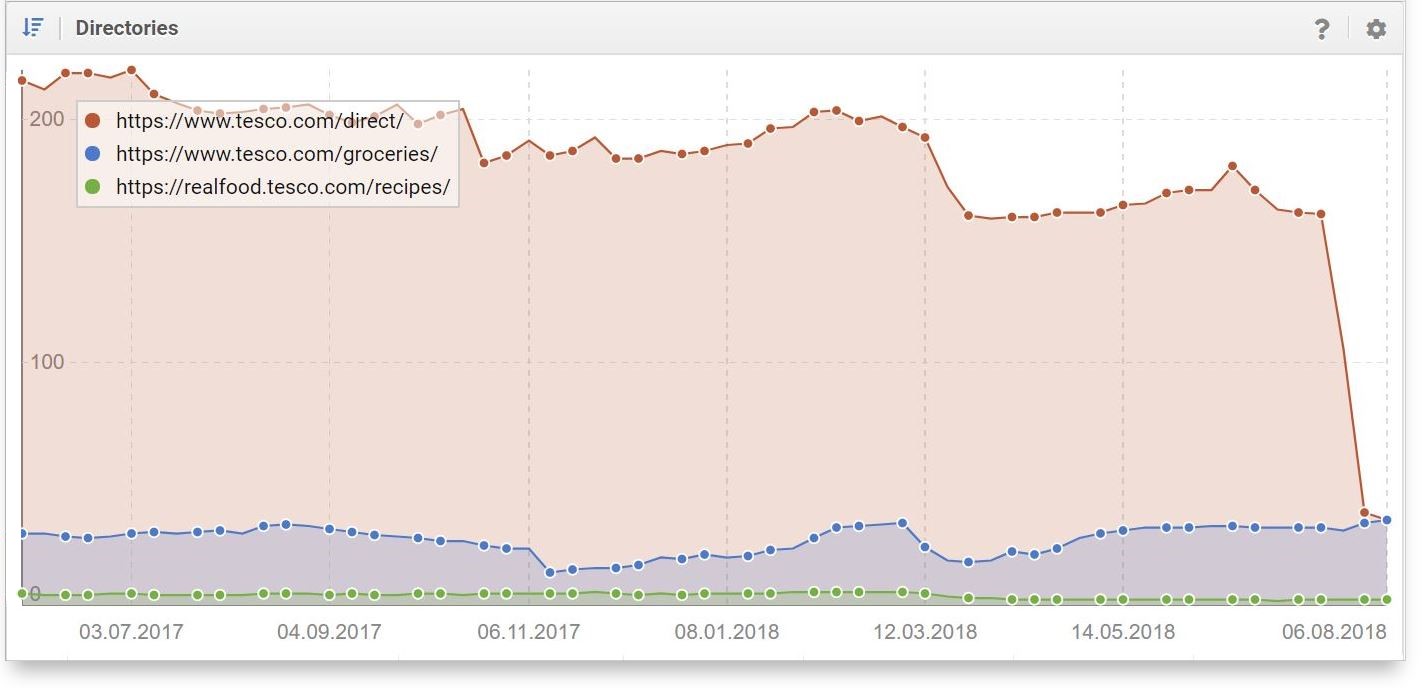 Analysing the losses brings up a sad story. URLs for thousands of keywords dropped out of the Top 10 search results. Bunk Beds, Fisher Price, Towel Set. Tesco have lost Page 1 visibility for many hundreds of keywords they they previously held the 1st position for.

Tesco Direct closes down.
Of course the changes are related to the closure of Tesco Direct who…
"…struggled with the high cost of fulfilling orders and online marketing."
In terms of Google SEO, Direct, or should we say tesco.com/direct, was a huge success. It peaked in 2015 with a search presence larger than that of John Lewis. It dwarfed Asda and Sainsburys but when an online business decides to restructure in such a major way, there's always a big risk involved.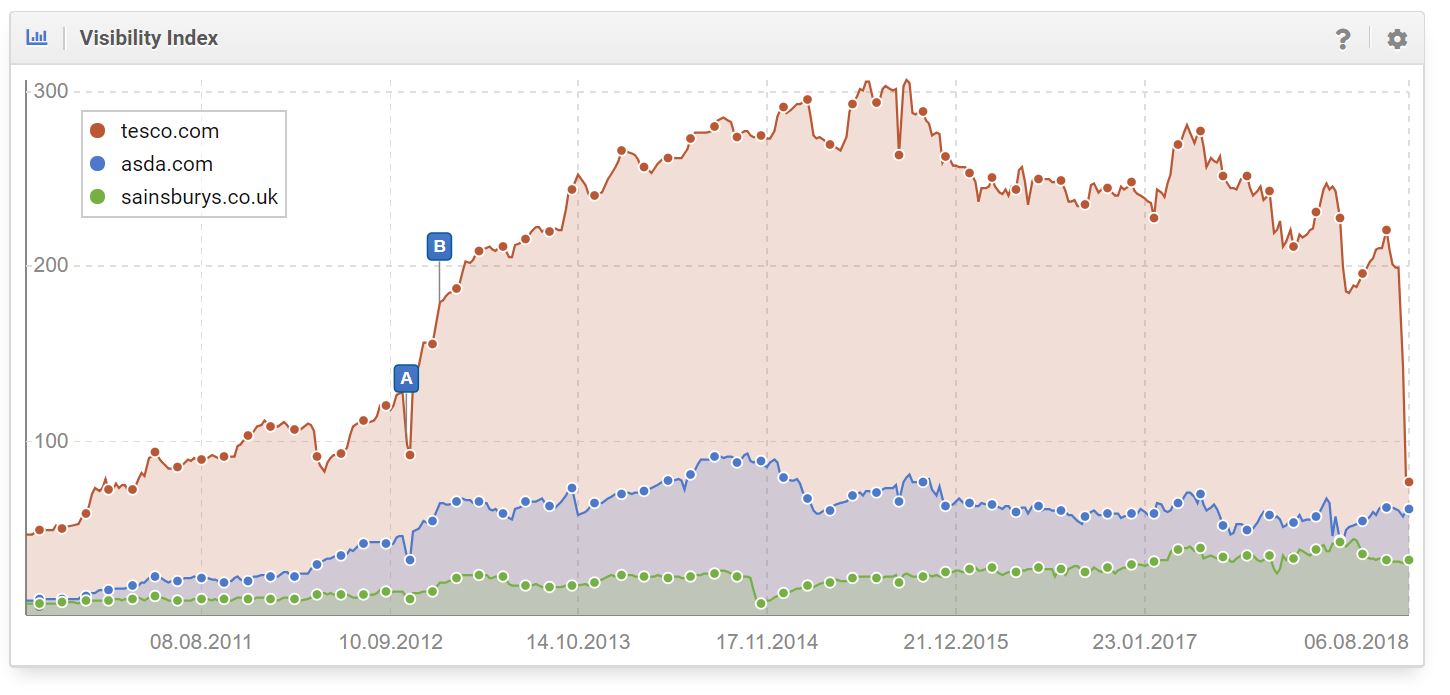 Direct Redirect
Rather than just deleting the content from the website, Tesco have chosen to implement a mix of redirects and content changes. Tesco brands such as F&F have had attention and Tesco's mobile phone business remains but there are still problems with many of the (valuable) incoming links. 'Hand Towels', for example, are redirecting to a page containing paper kitchen towels. technically close, but not matching the customers search query. A valuable 'buy' link from Microsoft for their Surface Pro product results in a page showing a casserole dish. Some links are returning thin content too.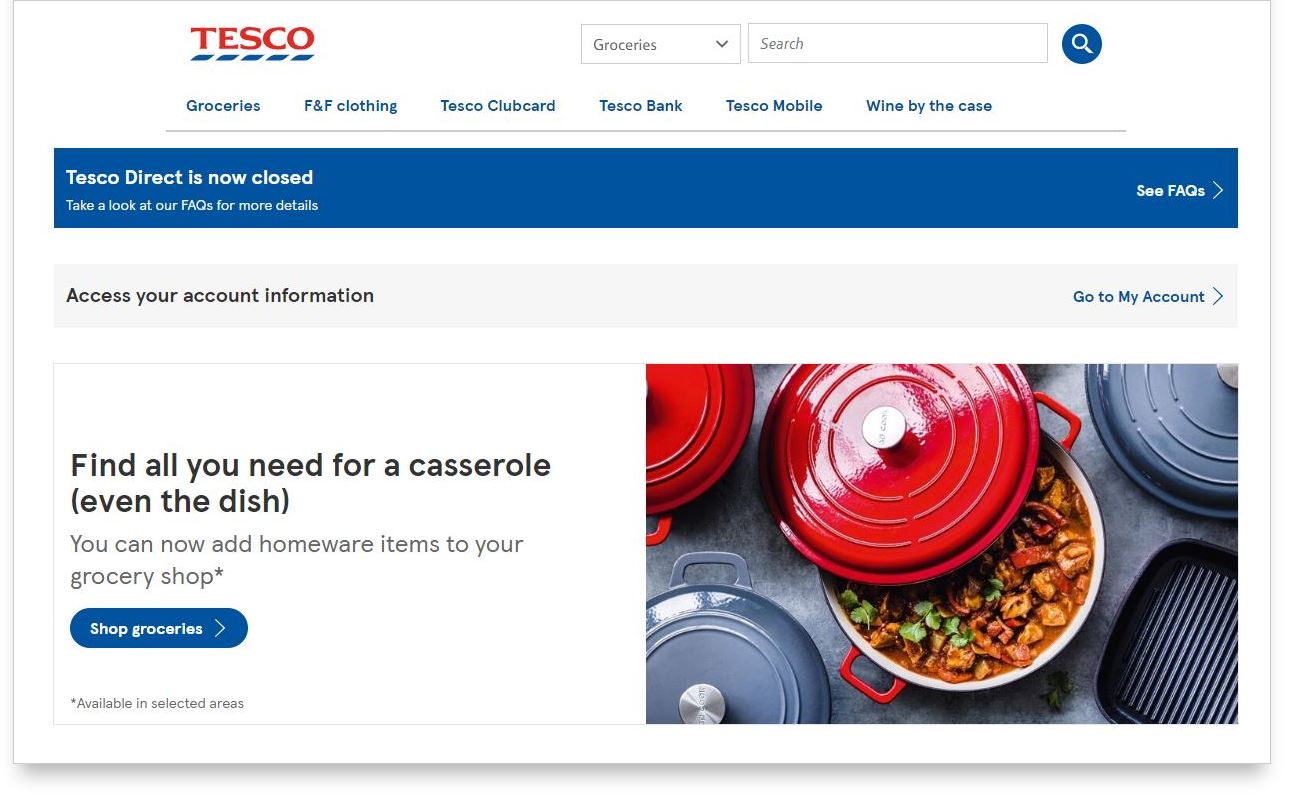 While traffic will still be flowing across external links, the customer experience is going to be extremely poor. If Google feels the same as it follows links, there could be more problems ahead for Tesco.com
Considering that Tesco.com doesn't offer any good internal redirect possibilities though, what else can it do?
Let's assume that Tesco doesn't want to redirect these links away to a third party partner site, despite there being huge value in them, because they plan to re-introduce some product ranges under a consolidated online shopping business.If they act quickly, the redirects could be adjusted to point to the new products. If Tesco are not planning on re-introducing the products quickly, however, there's another option.
Clear signals to Google
The alternative option would be to 'delete' the content from customers and Google with 404 or 410 codes and a well-designed landing page. Would the customer journey be any worse? The big advantage here is that it gives a clear signal to Google and Google could re-allocate crawl budget to analysis of as-yet un-indexed parts of the site; Or an increase in crawl frequency. If there are good quality parts of Tesco.com that haven't been indexed then there's an opportunity here. A more regular crawl frequency could help 'offer' pages rise quickly for their related keywords, too.
The reality today is that Tesco have left open a huge part of Google search results in the UK that competitors can now fill. Not only have they given away opportunities to competitors but they've created an awkward journey for both Google and the customer, and that's could lead to further problems down the road if not fixed quickly.
More information on our Visibility Index.