A Website migration is a systematic process. It only fails if someone makes a mistake in the chain of actions, if your client voluntarily decides to ignore ranking content, or if you lack resources. In simple words, in 99.8% of all cases it's not Google causing problems, it's the people sitting in front of the computer screens.
The fact is, you can split and move millions of indexed URLs from a subdomain to a completely new domain without suffering loses, and become one of the biggest domains on Google: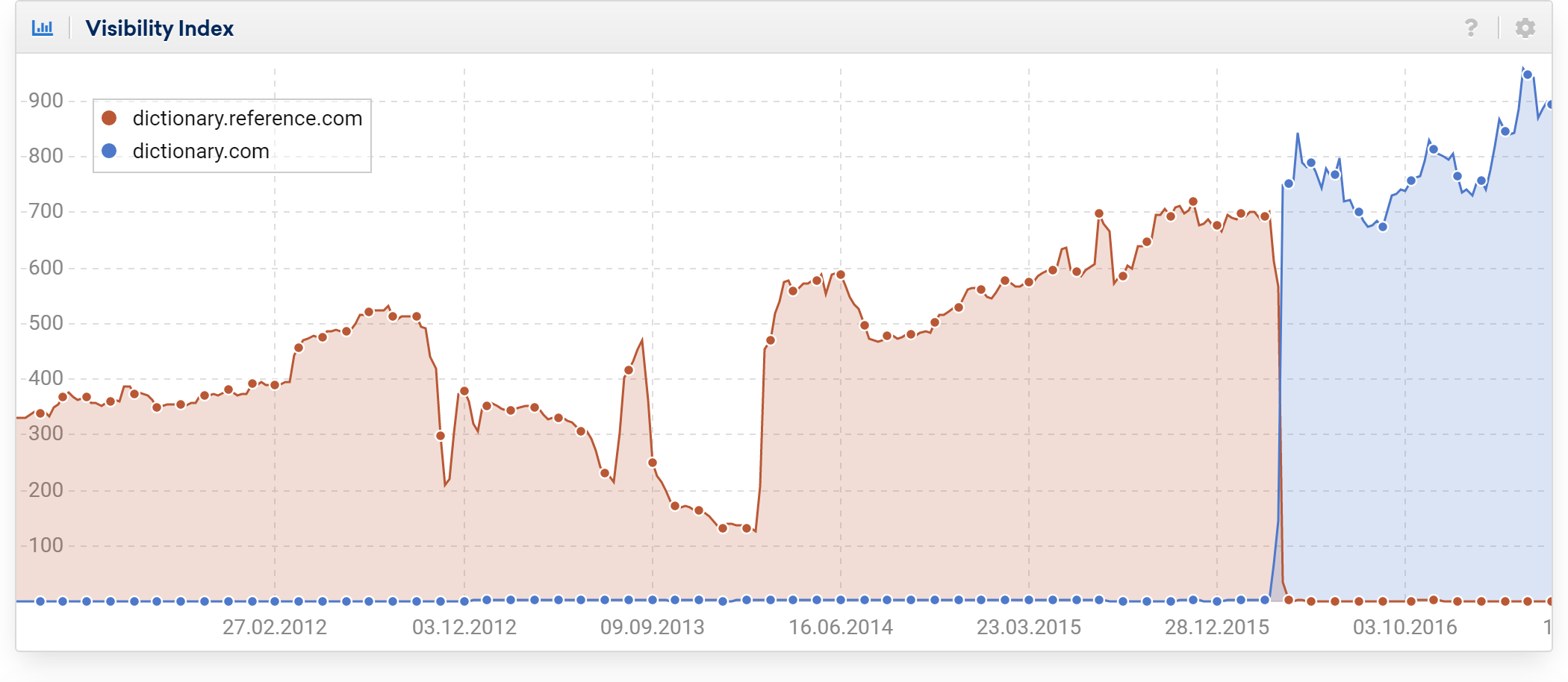 You can re-brand and redesign your "Advice Guide" (blue), and migrate it to a domain that has 1/10th of the visibility, like "Citizens Advice" (red) and be immediately successful: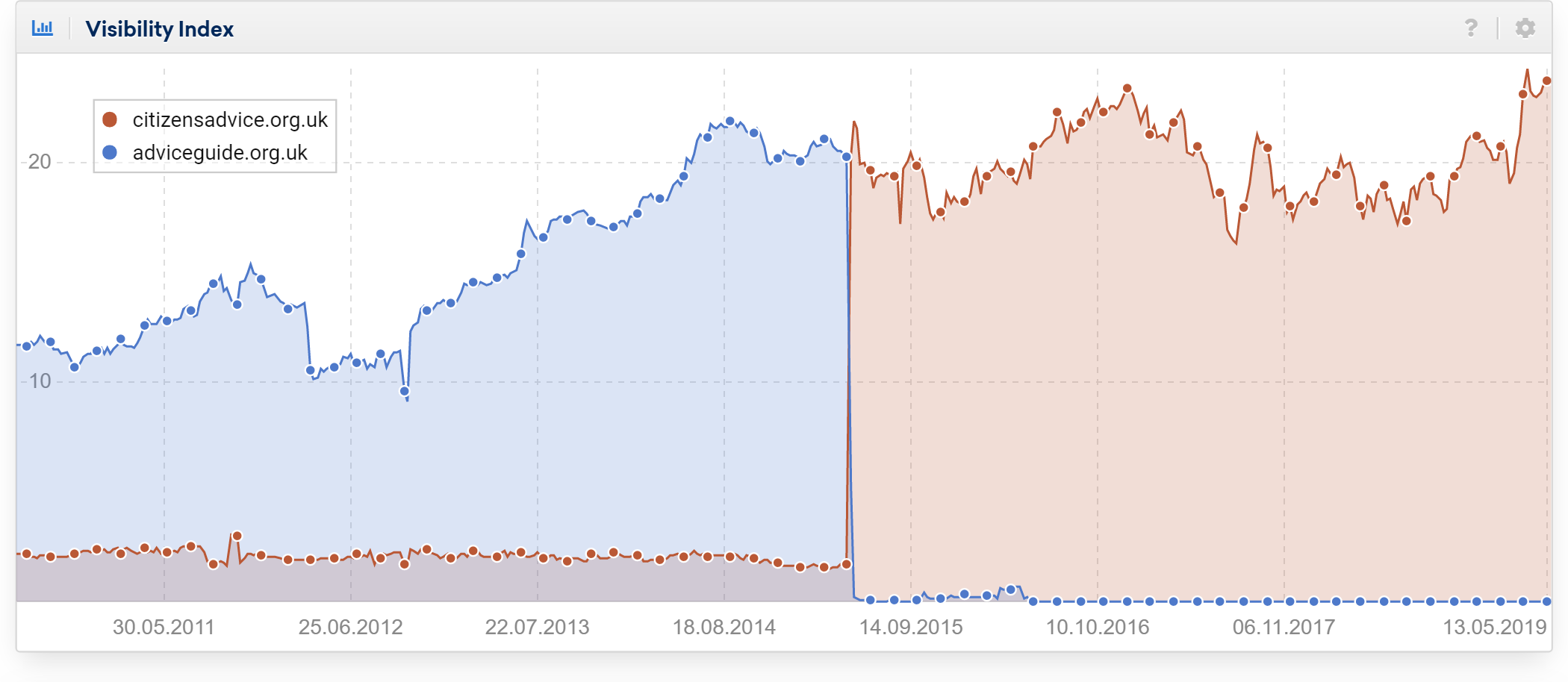 If, however, your domain move does not look like the 2 examples above, keep calm. Google could take up to 3 months to re-crawl all the URLs in order to return to the previous levels. Take a look at the gap between the 2 domains in the examples below: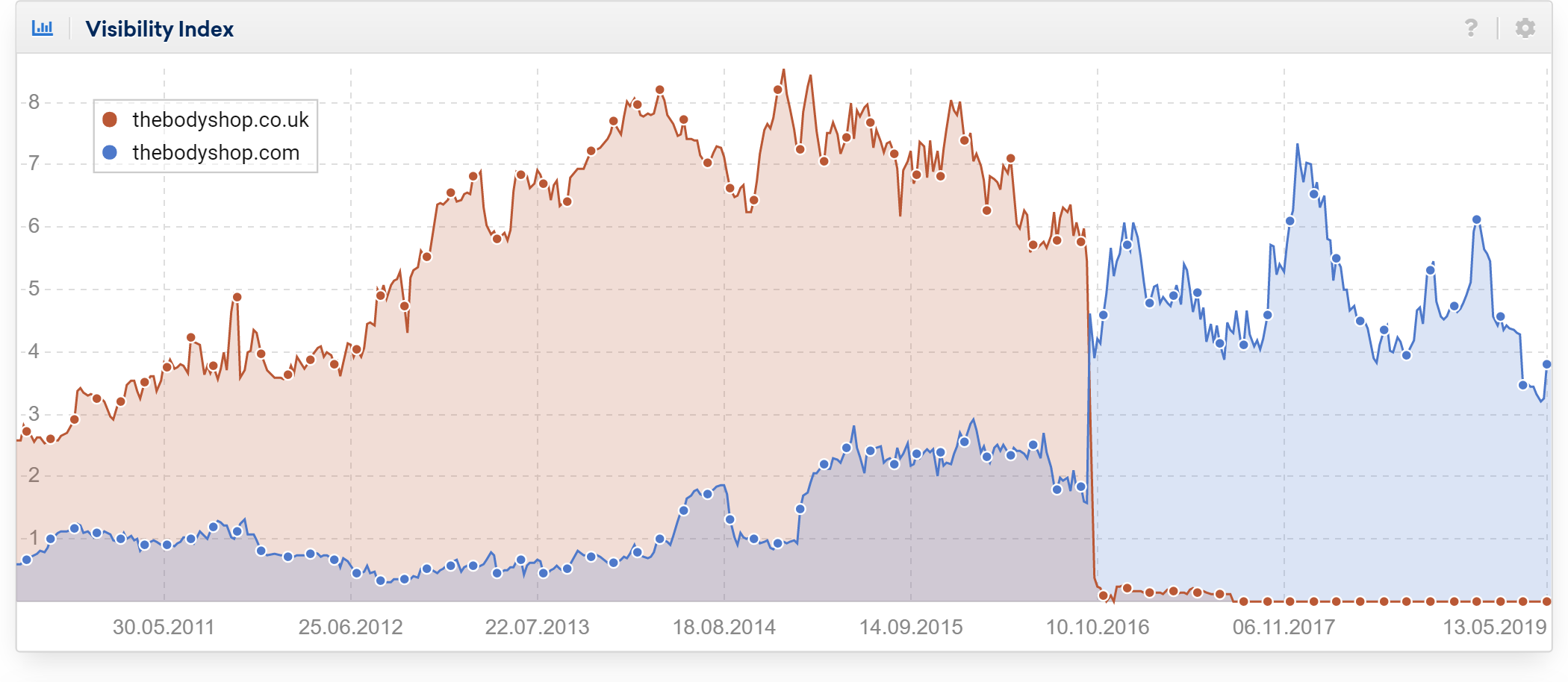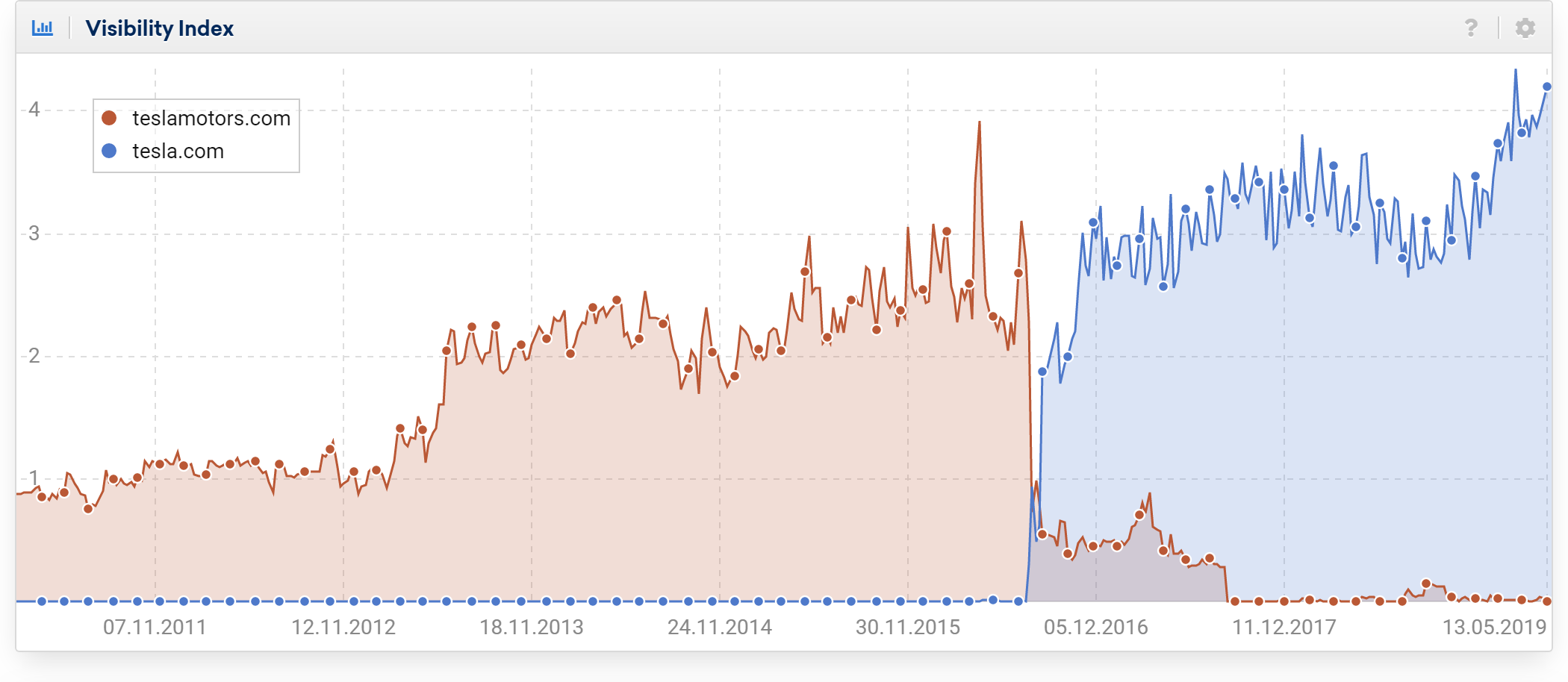 John Müller of Google describes the process: "Basically it always takes a while until all our signals are transferred. Most of those, we can transfer right away, especially after a redirect, but a few of them just take a while until they are completely transferred, until they obtain the same strength or are about as strong on the new domain as with the old one" (*1)
What it also means is that if, after 3 months, you're not seeing a full transfer, you can panic!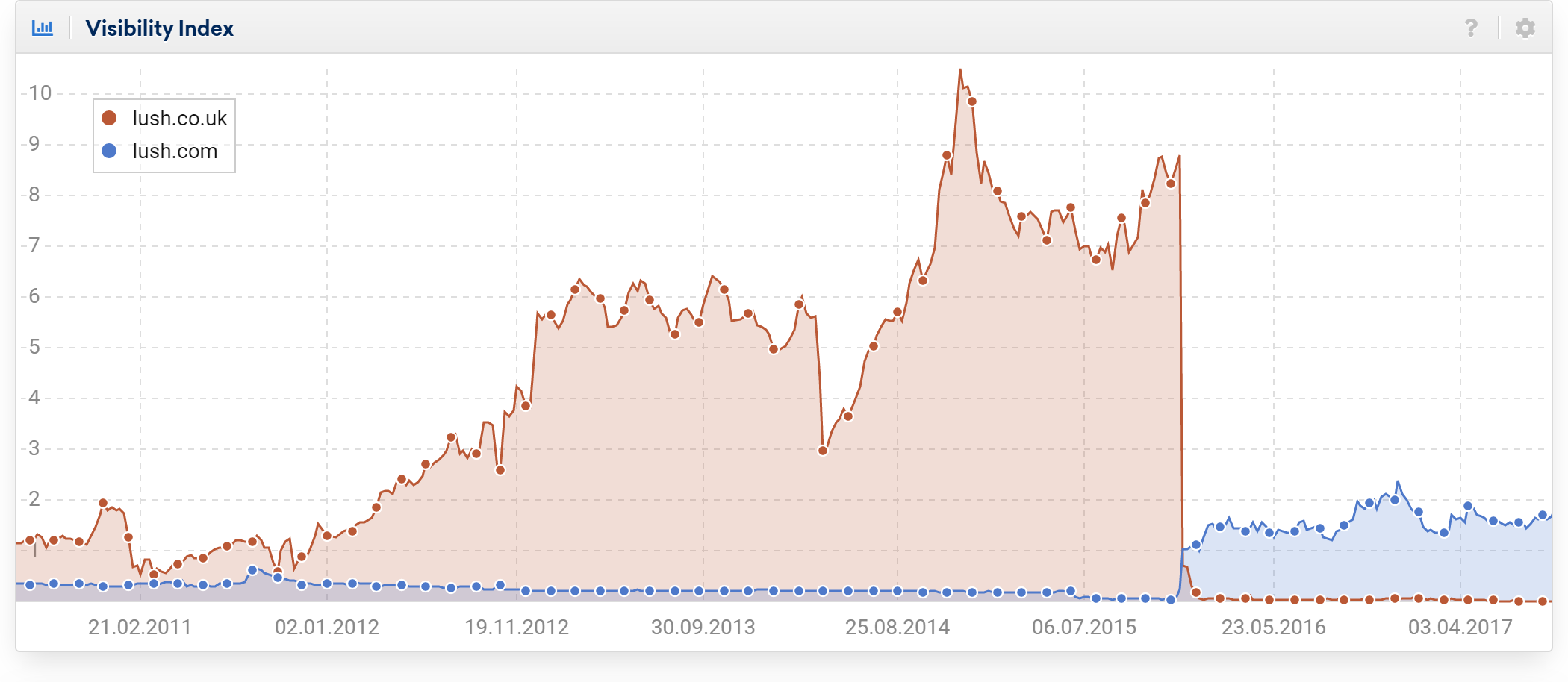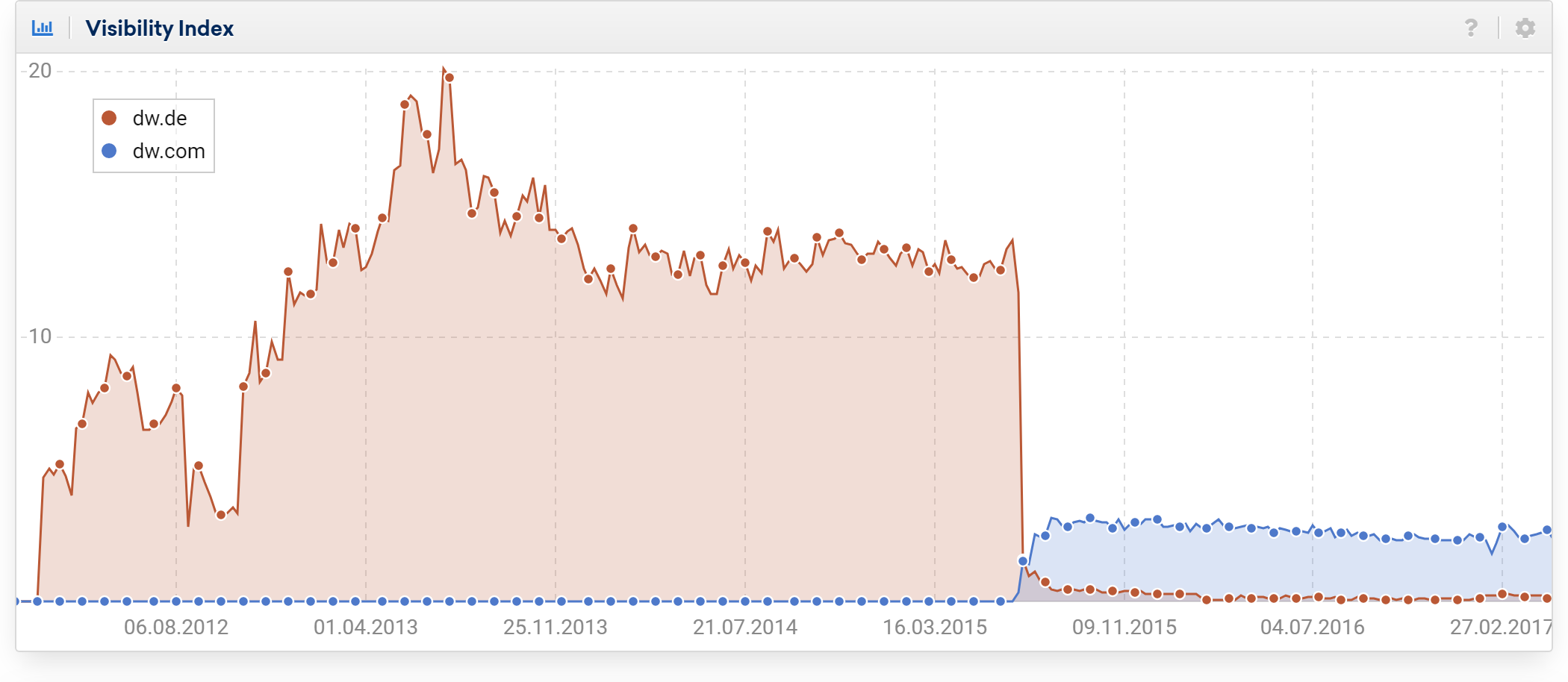 Why do domains lose traffic even after a 100% accurate migration?
In Germany, the words "Relaunch" and "Domain move" are used to define 2 different sorts of migrations. Migration is the general term in English, French, Spanish and Italian for all types of migrations. Actually, John Müller explained at the SMX Munich in 2016 that there are 6 different types of migrations: Redesign, Restructure, Secure, Move, Move & Restructure, Merge and Split.
Irrespective of the type of migration, there are 5 things that need to be explained. SEOs often look to Google for an answer when things go wrong, but in all these cases, it's not Google's fault.
1 – Too many changes at the same time
The project size, the brand, the Expertise, Authoritativeness and Trustworthiness do not matter, you will lose your rankings on Google for a long period of time if you migrate to a new domain, and at the same time, change the architecture/structure of the website.
After the 3rd month it will be very clear that it might take a while longer (maybe years) to return to previous levels.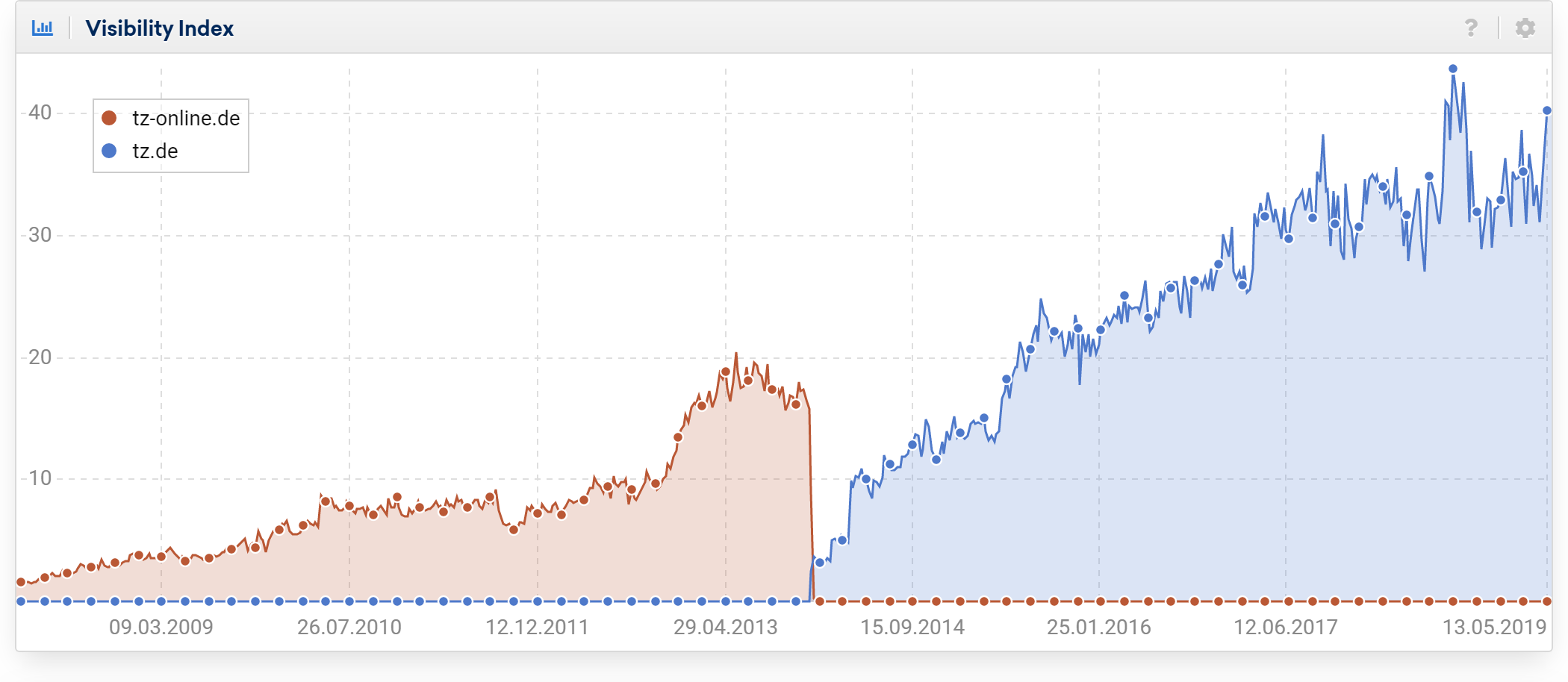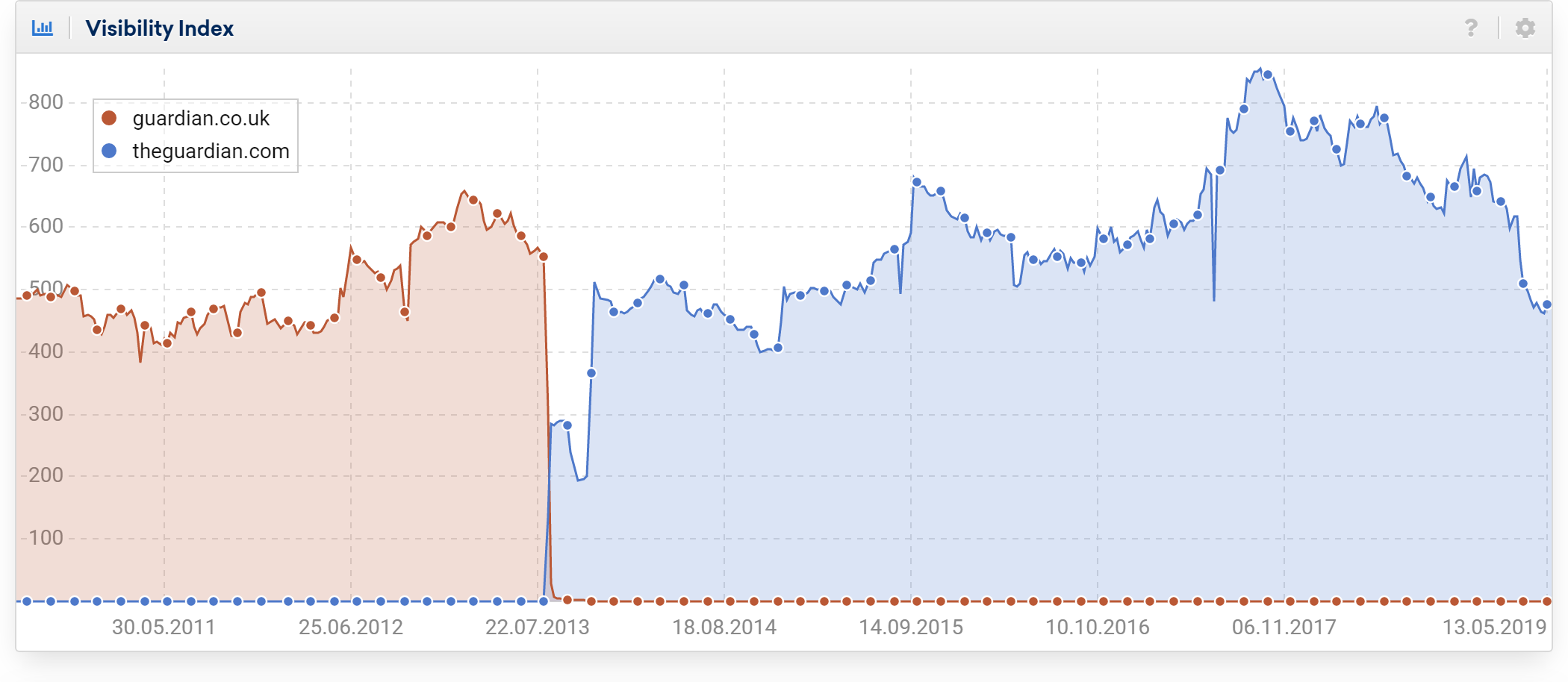 Our recommendation: Don't make the move too complicated for Google by adding site structure changes. First move to the new domain name and wait for a return to previous ranking levels, then, only after Google has passed all signals to the new domain, change your website structure.
2 – Domains can carry infections
In 2011 Google.com had a PageRank of 9 points; the same score as one of the biggest link-farms on the web. Mister Wong was on a domain that was 15 times bigger than Facebook at that time. This domain started in 2006 and had 500,000 regular users in Germany, France, USA, UK, Spain, China and Russia.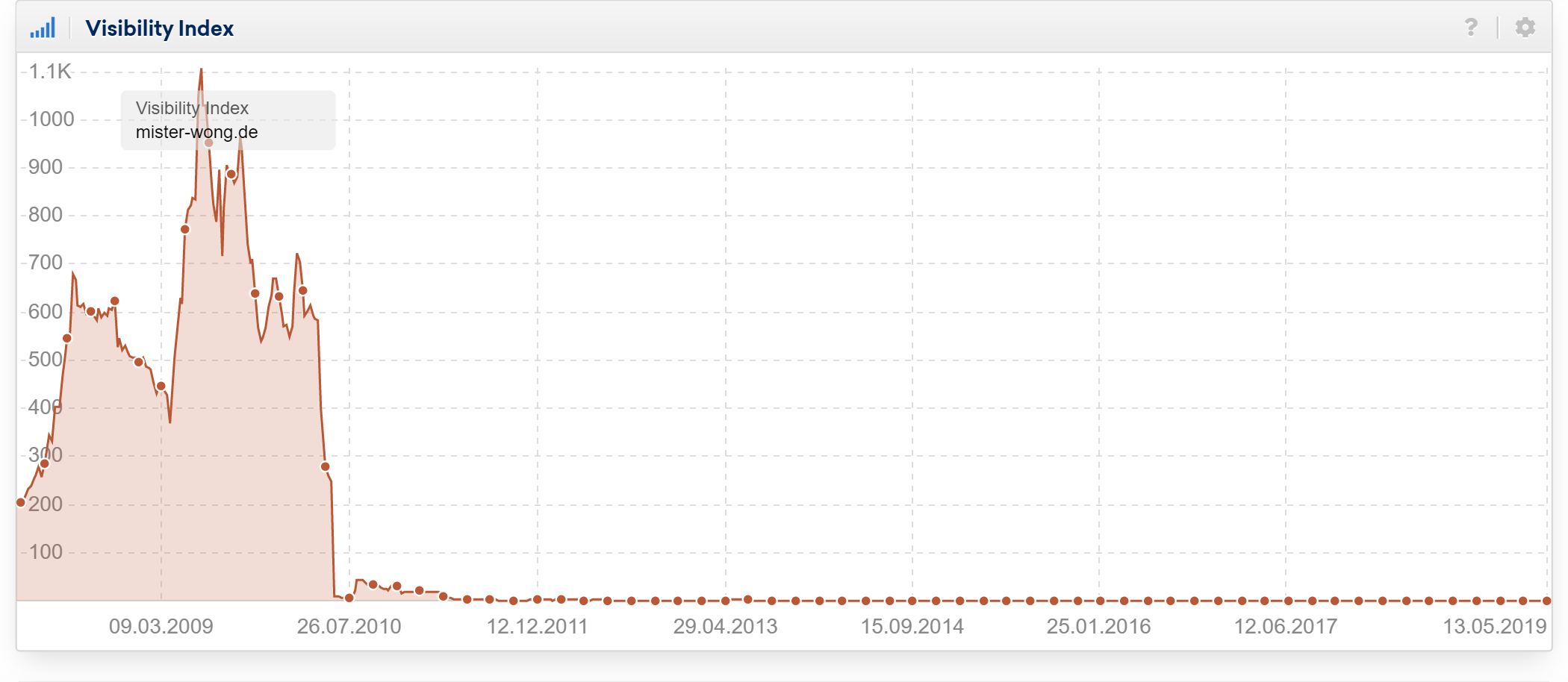 A lot of money was earned, until Google stopped the music in 2010 by taking several manual actions. Even up until 2016 there were unsuccessful attempts at new business models on this domain but nothing hosted on this domain was ever able to rank on Google.
After Mister Wong's bankruptcy in 2016, the domain was sold for 2,500€. Too much money, because nothing that can be migrated to it, will work.
No matter how many Reconsideration Requests you send to Google, after 3 or more manual actions you can consider the domain to be dead. You could migrate the entire Wikipedia to it and it wouldn't rank.
Despite this, there are a lot of recommendations for buying domains simply based on the number of incoming links, which brings us to Victoria Travel Service Ltd who spent 1 million USD buying a domain which had been penalised and filtered several times: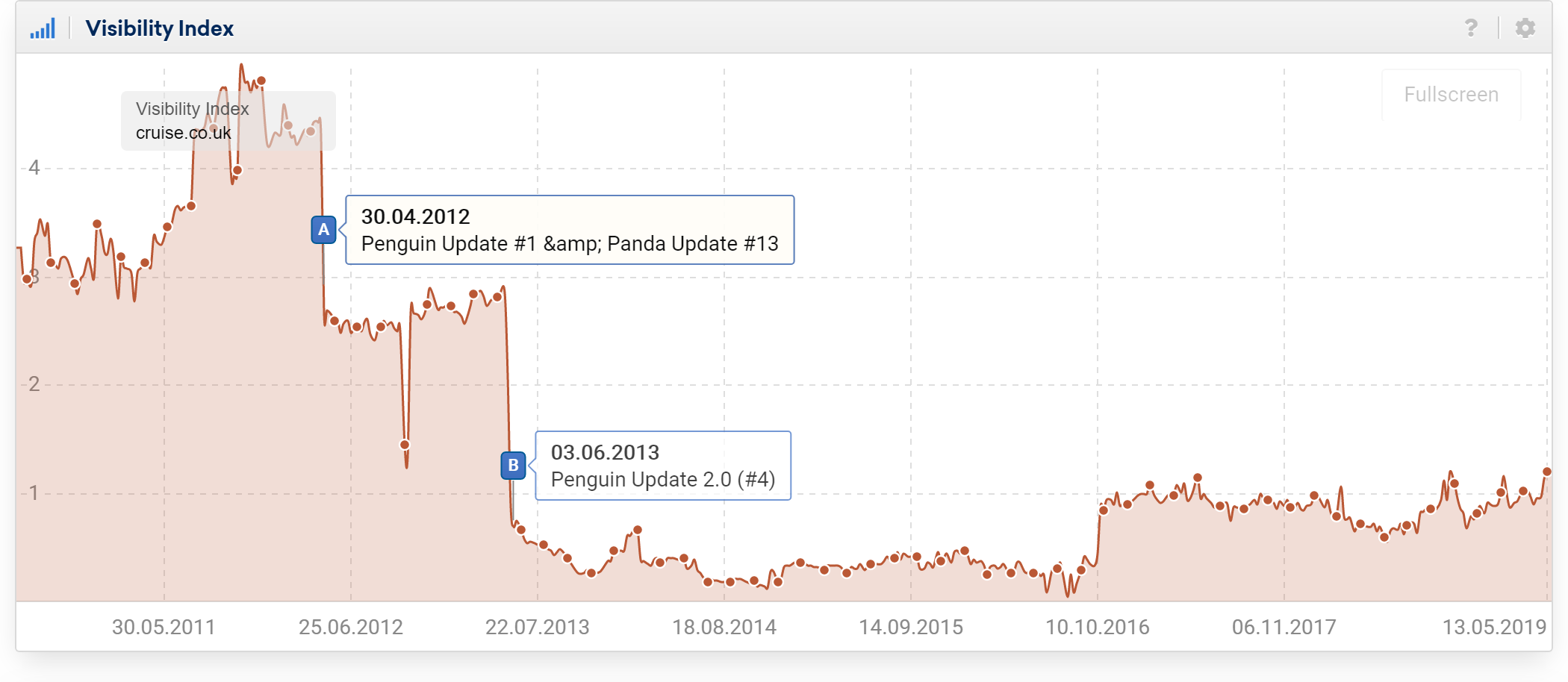 It gets worse! QuinStreet Inc. paid $49,700,000 for CarInsurance.com and $35,600,00 for Insurance.com (which included previously penalised content).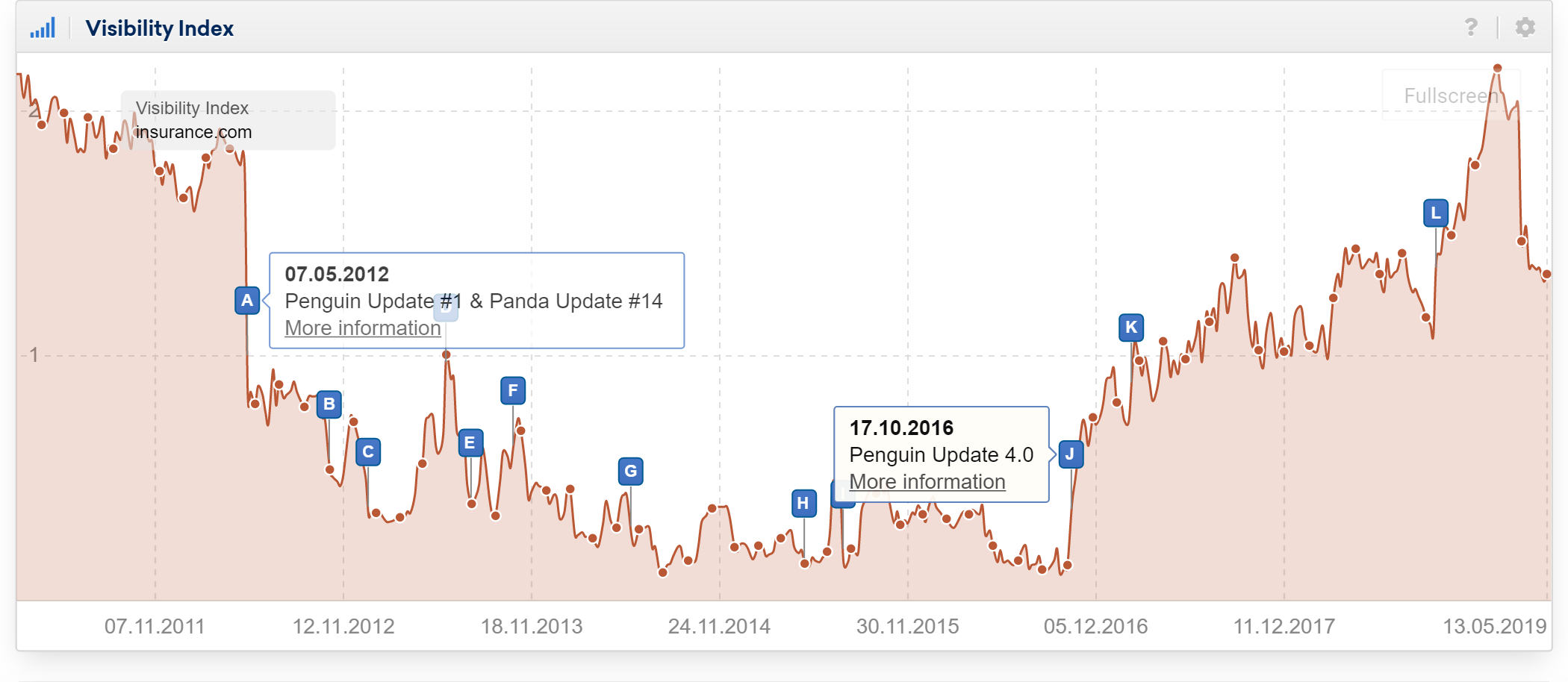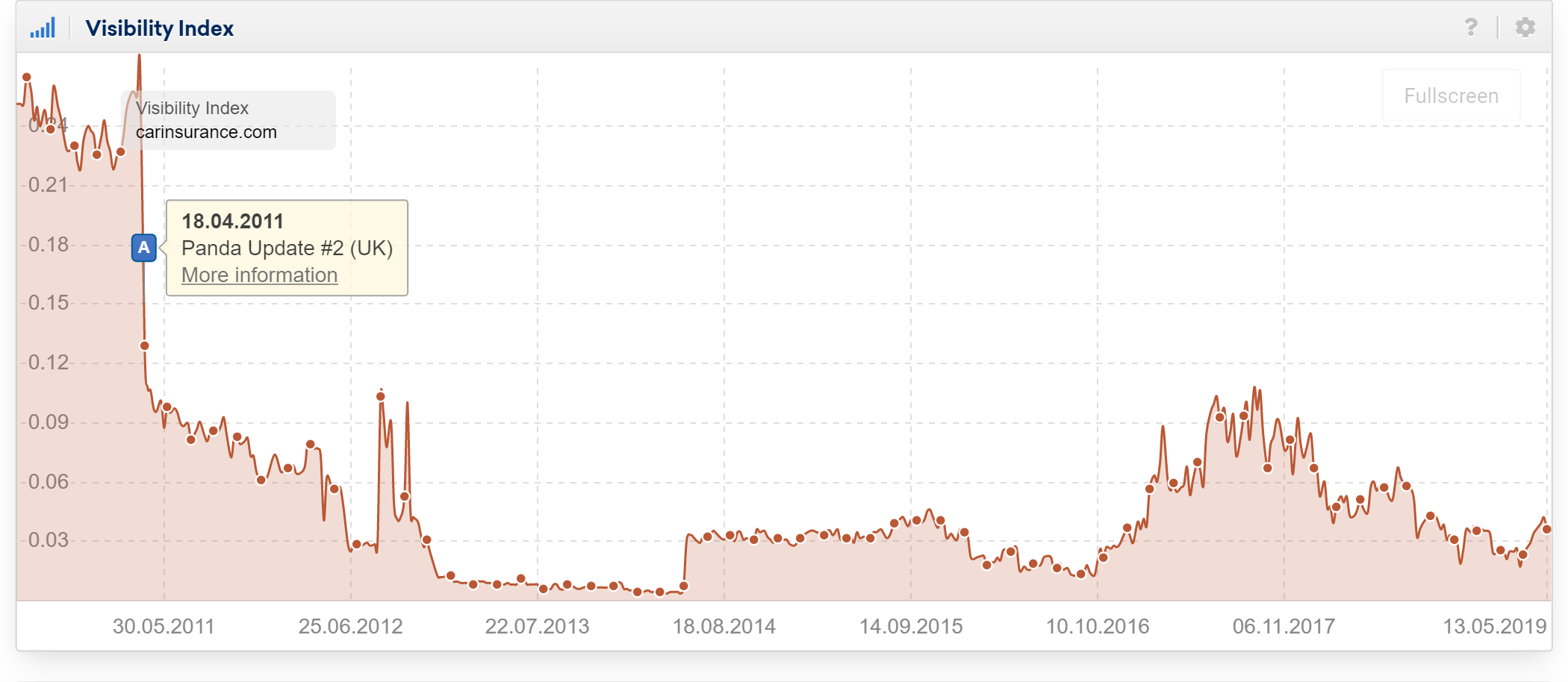 You are doomed to fail when you migrate to an infected domain.
3 – Branding Failures
In 2009. PepsiCo decided to re-brand a few of their product offerings, including their signature logo, Mountain Dew soda, and Tropicana orange juice.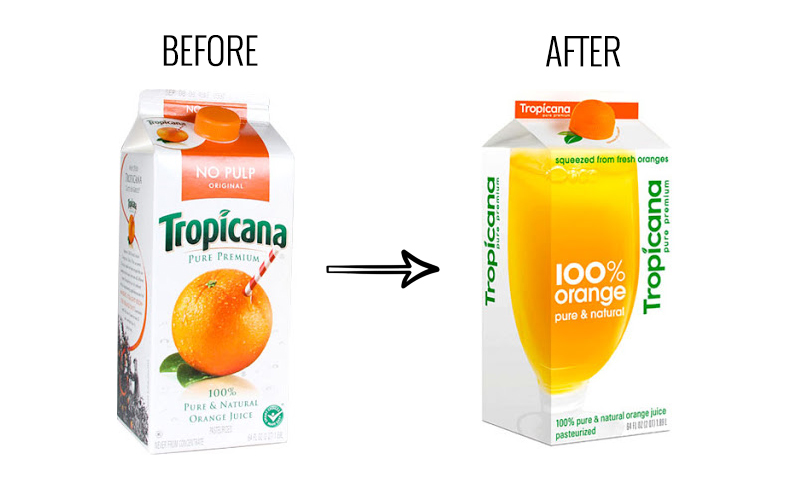 After sales plummeted 20% and $130 million was lost in sales, Tropicana's packaging was reverted back to the original. Think about this – the same consumers are using Google.
The Spanish Brand "SecondHand" (SegundaMano) was founded in 1978 and re-branded to "Vibbo" in 2016. The migration of one of the biggest Domains in Spain was technically good but "vibbo" is a nonsense word that's difficult to spell in Spanish. After 3 years it's not regaining traction.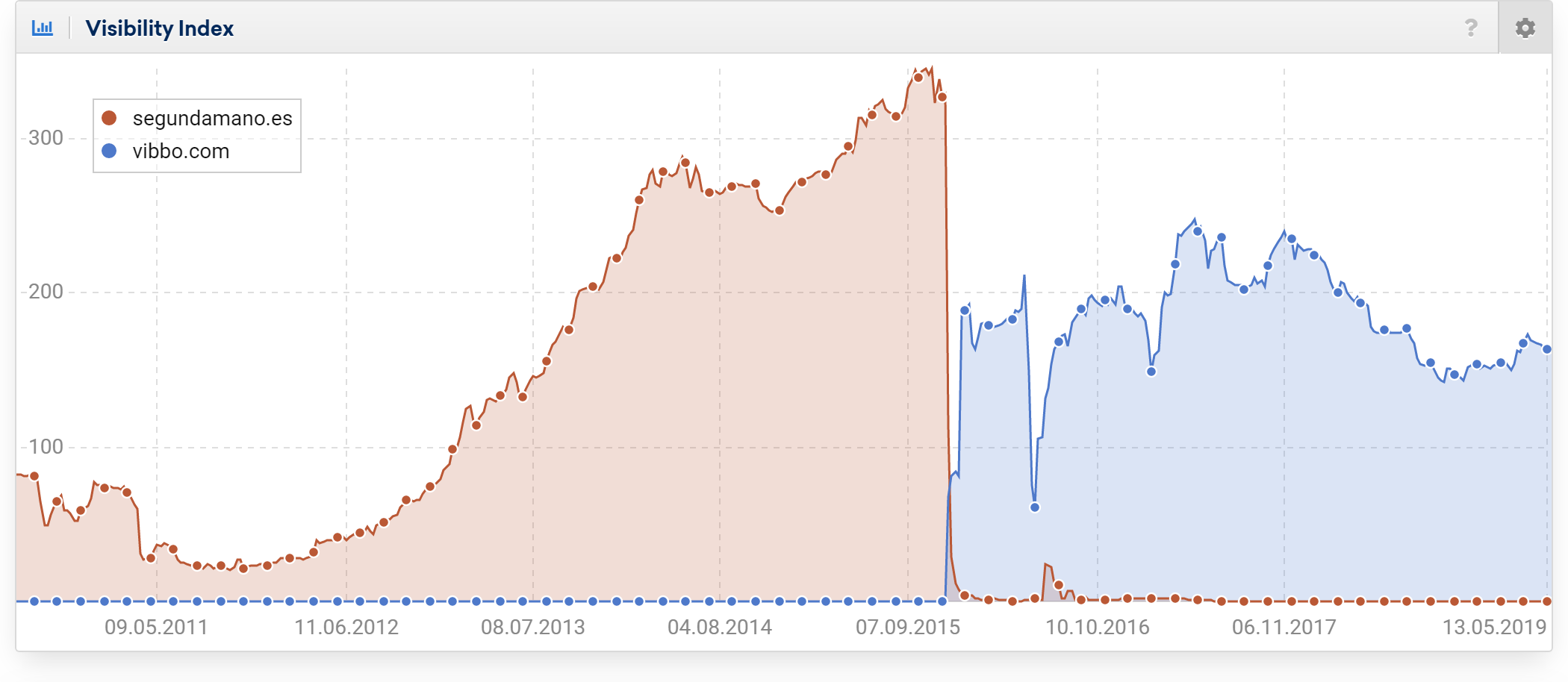 We've already covered the move from Patient.co.uk to Patient.net in detail. It was technically well implemented but, as with Tropicana, making something "modern" doesn't mean it will be well-received. There's something to be said about tradition!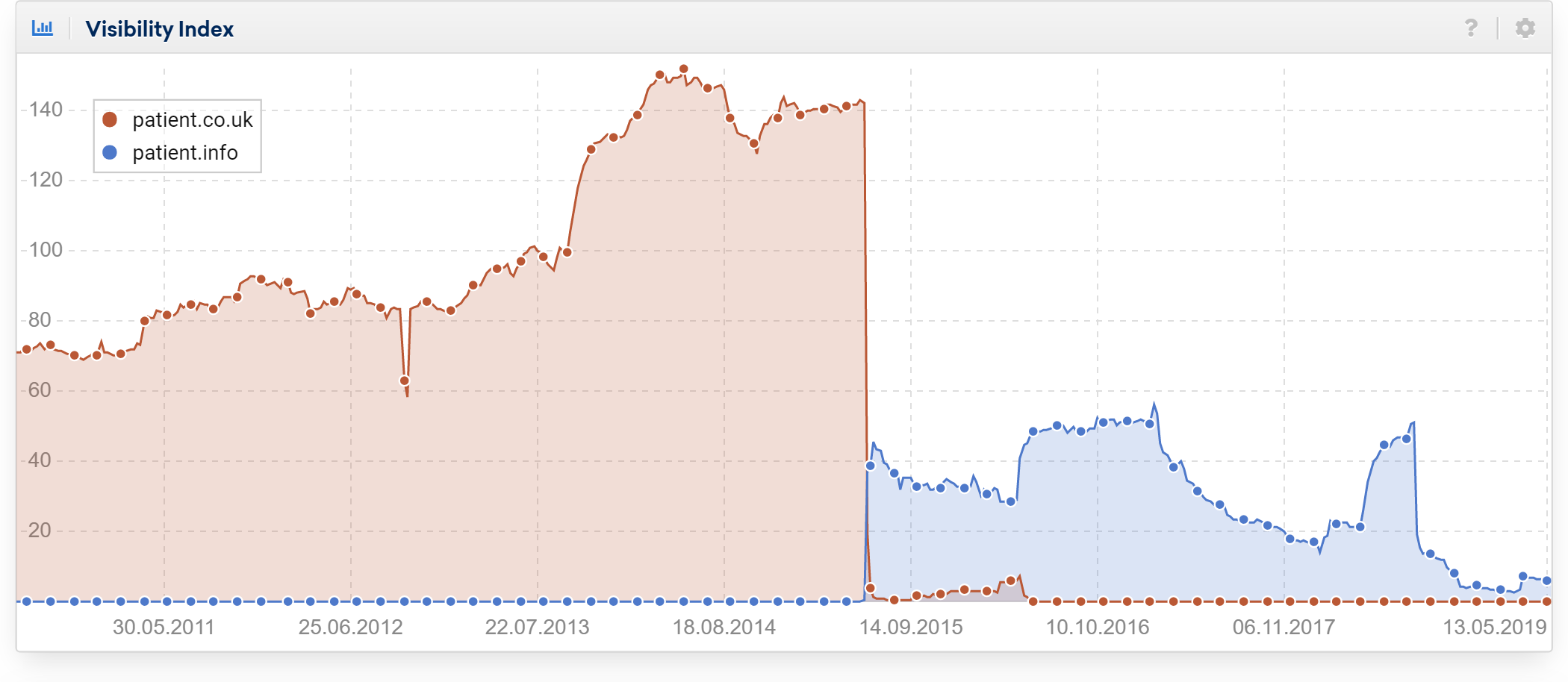 You can only hope they are as intelligent as PepsiCo. Reversing a change is always an option.
4 – The trend is your friend
Migration means hard work for something new, something better, something remarkable. Unfortunately, in many cases where the website has already had quality problems, migrations cannot save it. What follows after the migration is just the same trend.
In 2016, FC Bayern Munich migrated to the generic .com to rock the international web but the chart reveals that the new domain just followed the trend of the old domain after the 3 month migration period.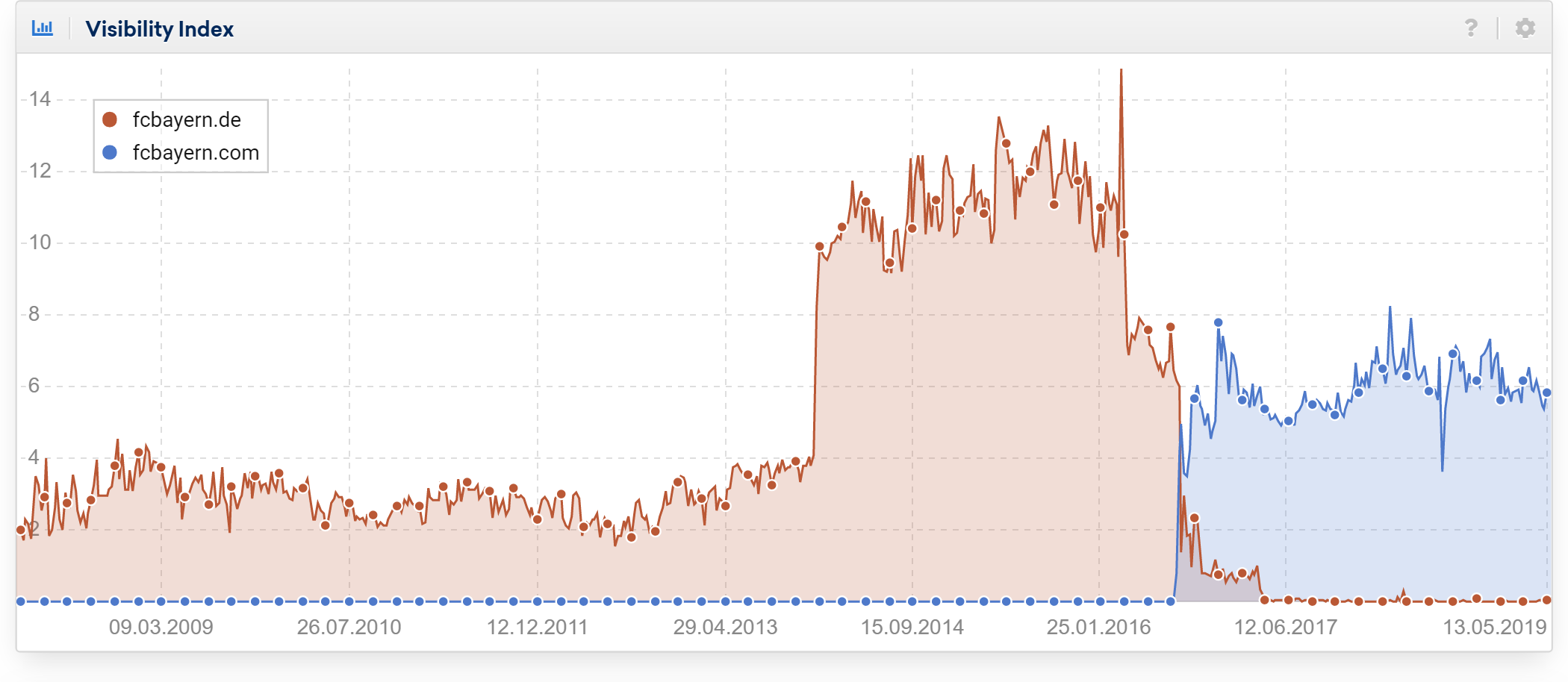 Here's another good example. The old domain looked healthy and strong but after the three month transition period, the new one follows the trend that developed before the migration.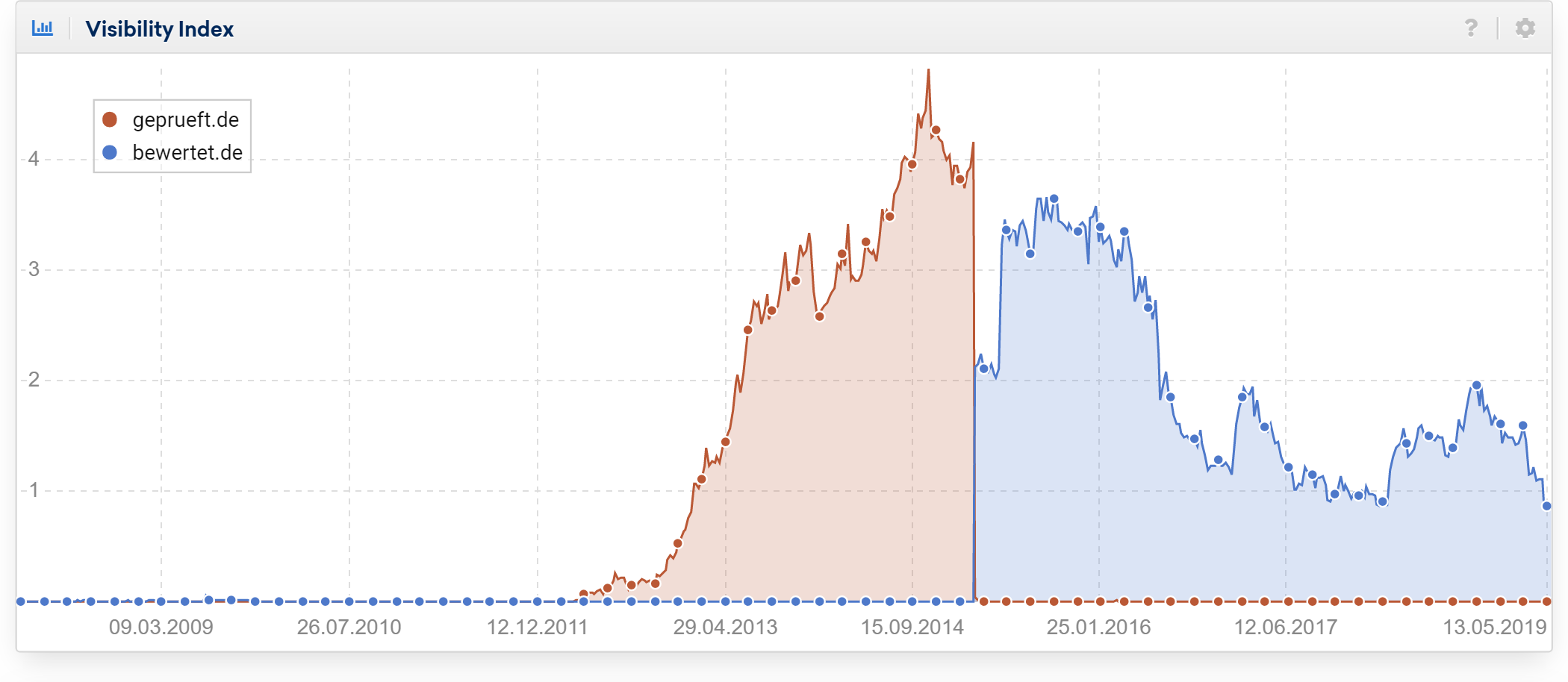 In late 2015, Paul Ingraham was looking for advice. He had migrated his domain SaveYourself.ca to PainScience.com. From a technical point of view everything was fine but the new domain was just following the previous trend:
The only solution you have is to improve the quality of your product or service. Take a look at Paul's domain today: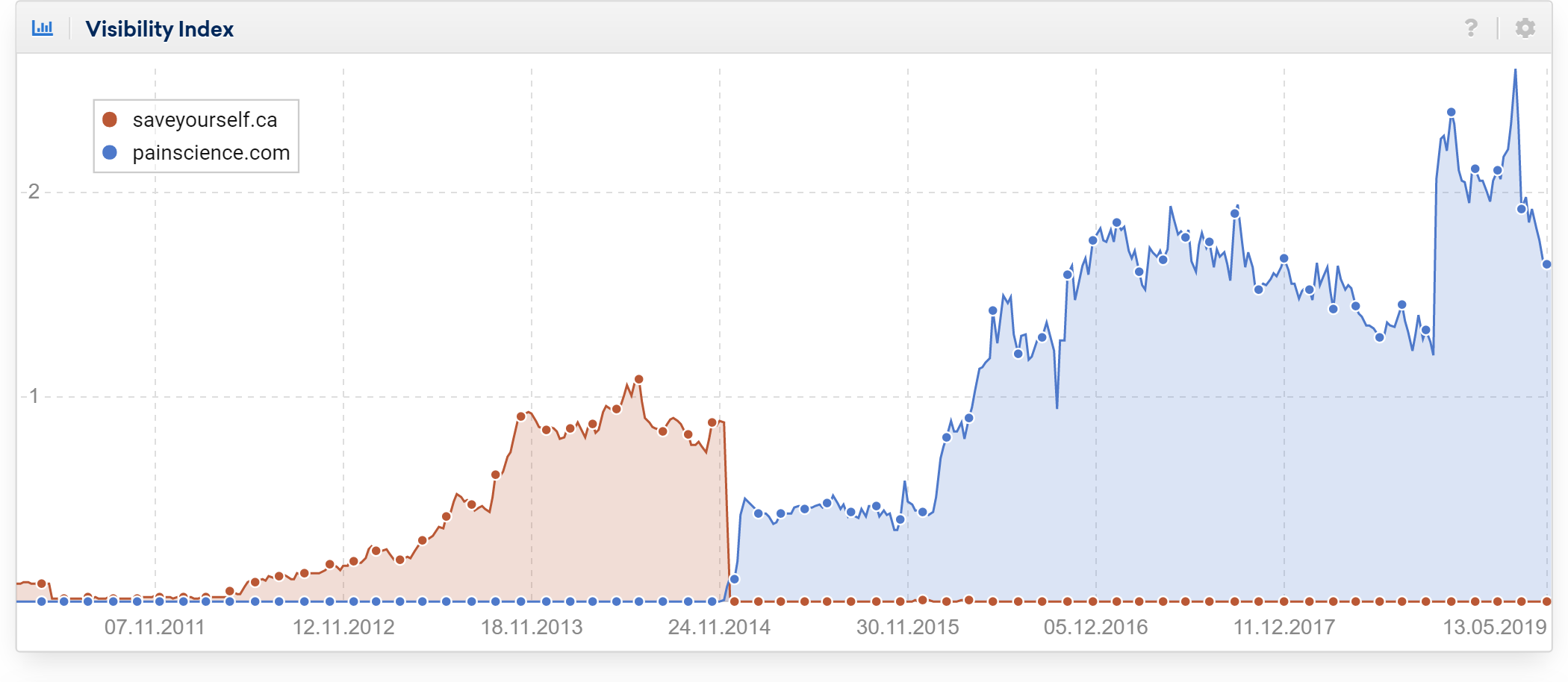 5 – The SEO Tool You Use
Friends, SEOs, companies, universities, etc., regularly send us emails asking why visibility charts look different on different SEO tools. Actually, the visibility charts of two of the most popular SEO Tools out there, show you everything but visibility. They are estimating traffic-levels and not measuring your position in Google.
On 22nd May, 2018, TheGuardian.com reported that Tesco was shutting down its dedicated retail website, Tesco Direct, in a surprise move that put 500 jobs at risk. In the second week of July 2018 it was clear, tesco.com/direct closed the doors.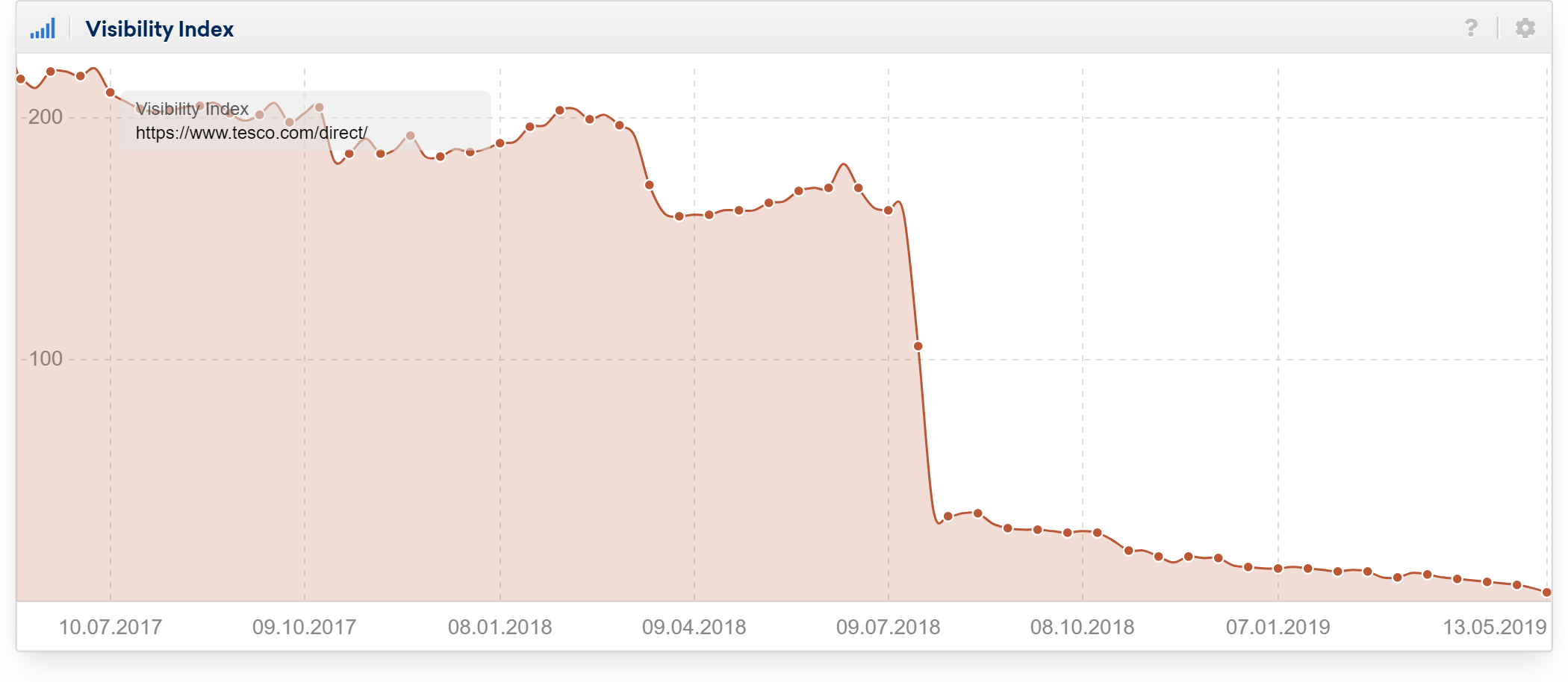 In just one week, Tesco.com lost 70% of its search-presence on Google. This important change, and business-decision, is still not being shown by two of the most popular SEO tools out there. Even today, 10 months later!
Another example: On the 21st March, 2019, Wikipedia, the biggest domain ever to exist in Google search, went offline in Germany in protest over EU copyright law: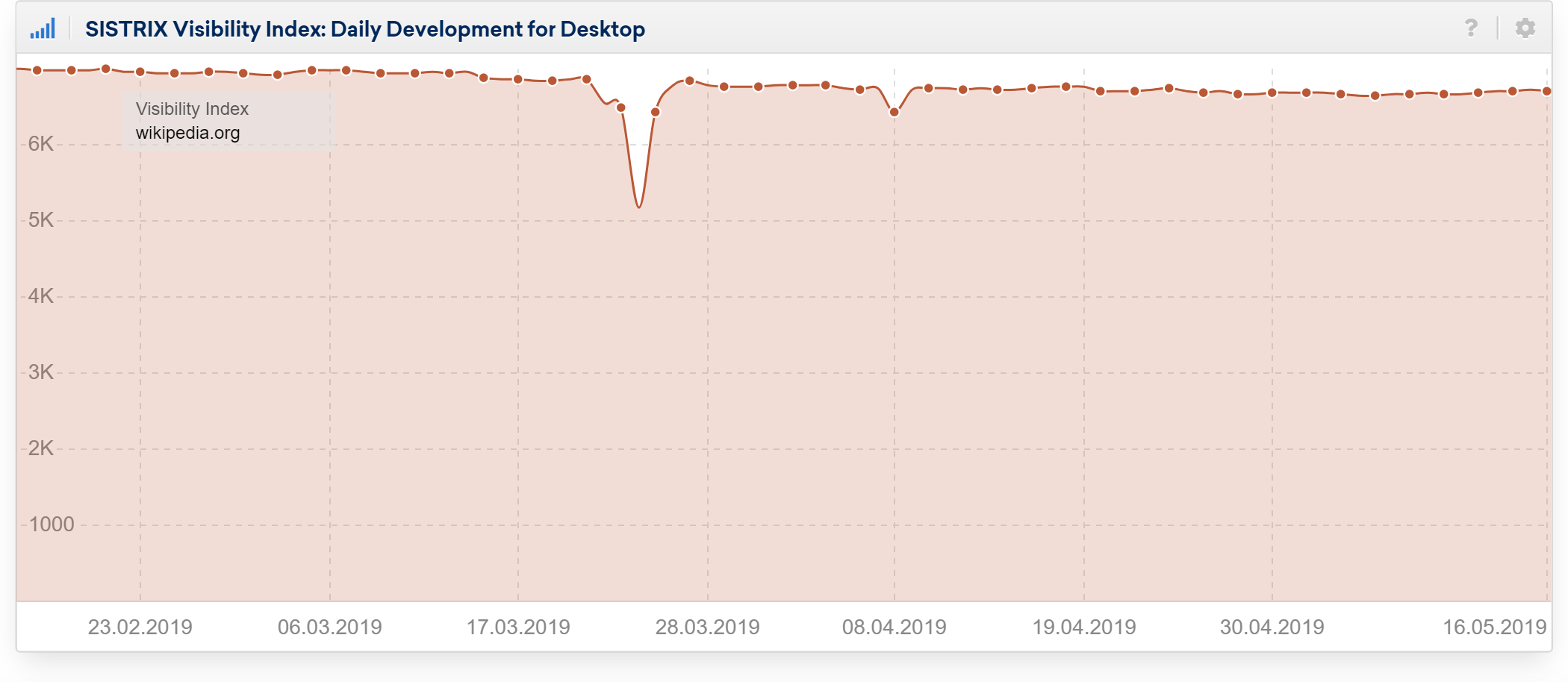 For such a huge domain, one day wasn't enough for it to disappear completely from Google, but 300,000 keywords and 1,680 visibility points were gone and no other tool measured it.
1,680 points is a lot. imagine if Walmart.com, Microsoft.com, Bestbuy.com, and ebay.com, all disappeared from Google at the same time, and no tool was able to show it.
SEO tools have to reflect these facts. If your migration goes wrong, you won't be able to see it, and fix it, using those tools. They might even lead you to make more mistakes.
Recalling a helpful quote: "Knowing what to measure and how to measure it makes a complicated world much less so"- Steven D. Levitt.
We hope you enjoyed the article.
PS: Summer is the time for Migrations, I would like to recommend the following articles:
(*1) https://www.youtube.com/watch?time_continue=231&v=TTTgOrq70kE