Executing a domain or content move can be difficult, but sometimes it's necessary. Internationalisation, brand changes, cost-reduction, domain purchases, whatever the reason, the one thing you want to be able to do once you've started the process, is to track the results. If you're planning a migration, here are 6 content moves happening right now, that will help you plan and track.
BBC Bitesize – Directory to domain
Let us start with a very British domain, and a simple content move. The BBC operates commercial and license-paid content and, in general, bbc.co.uk holds the license-payers content in the UK. The commercial domain is bbc.com.
Bitesize is a huge educational library that accounts for around 40% of bbc.com visibility in the UK and it appears that the BBC now want it under the co.uk domain. Maybe they'll hide it from other countries as they've already done with other content on bbc.co.uk
Here are the current results of the move in the UK.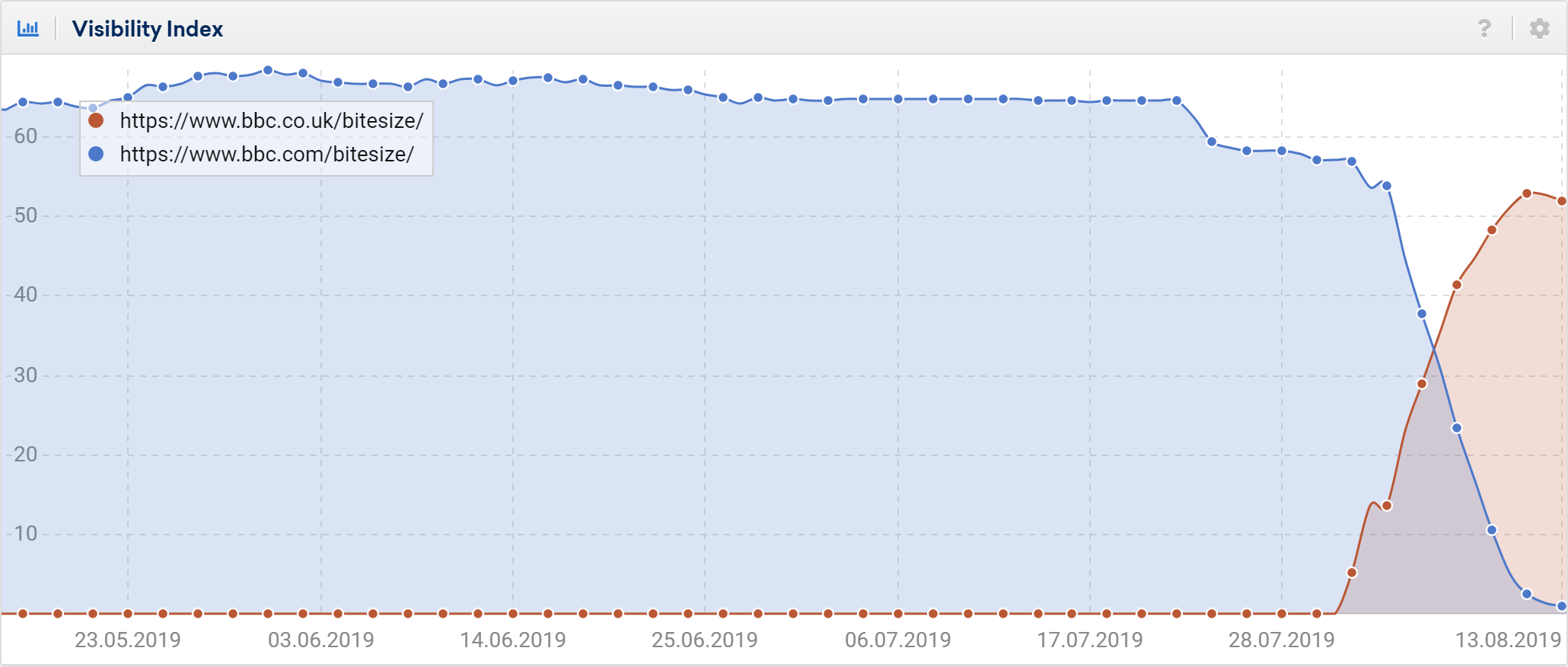 According to the daily Visibility Index, the move is largely completed in Google UK search but for any domain move, it's always good to check on important, previously ranking URLs.
Two weeks ago, these were the 10 URLs in this subdirectory with the most Top 10 ranking keywords.

As of Friday last week, we can see, below, that similar URL filenames are appearing within the top ranking URLs on the new site. Not all of them have found the same position though, and numbers of ranking keywords are slightly lower on the new location. Don't panic. A few weeks might be needed before a final picture is available.

Note that only the domain name has changed. The architecture and filenames have not changed at all.
Oyster – Internationalisation
No, this isn't the London Oyster card website, this is a travel site with highly commercial intentions, in a very competitive market across many different countries. The recent domain move looks relatively clean when viewed on a 90-day graph.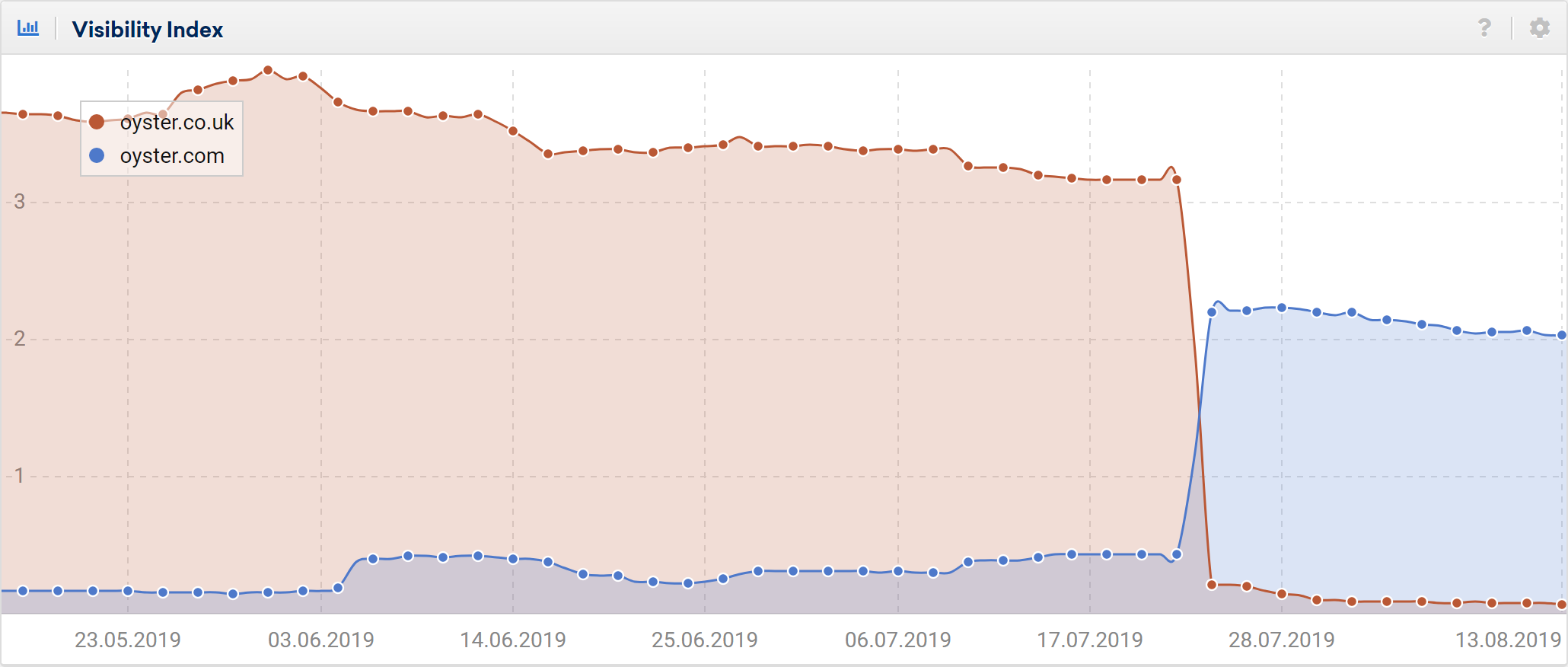 On a 10-year graph, however, it's clear that the two domains have both been ranking in the UK for many years. Given that the co.uk domain is permanently redirected and the HTML source includes hreflang code, it's likely that Oyster is now moving to single-domain internationalisation.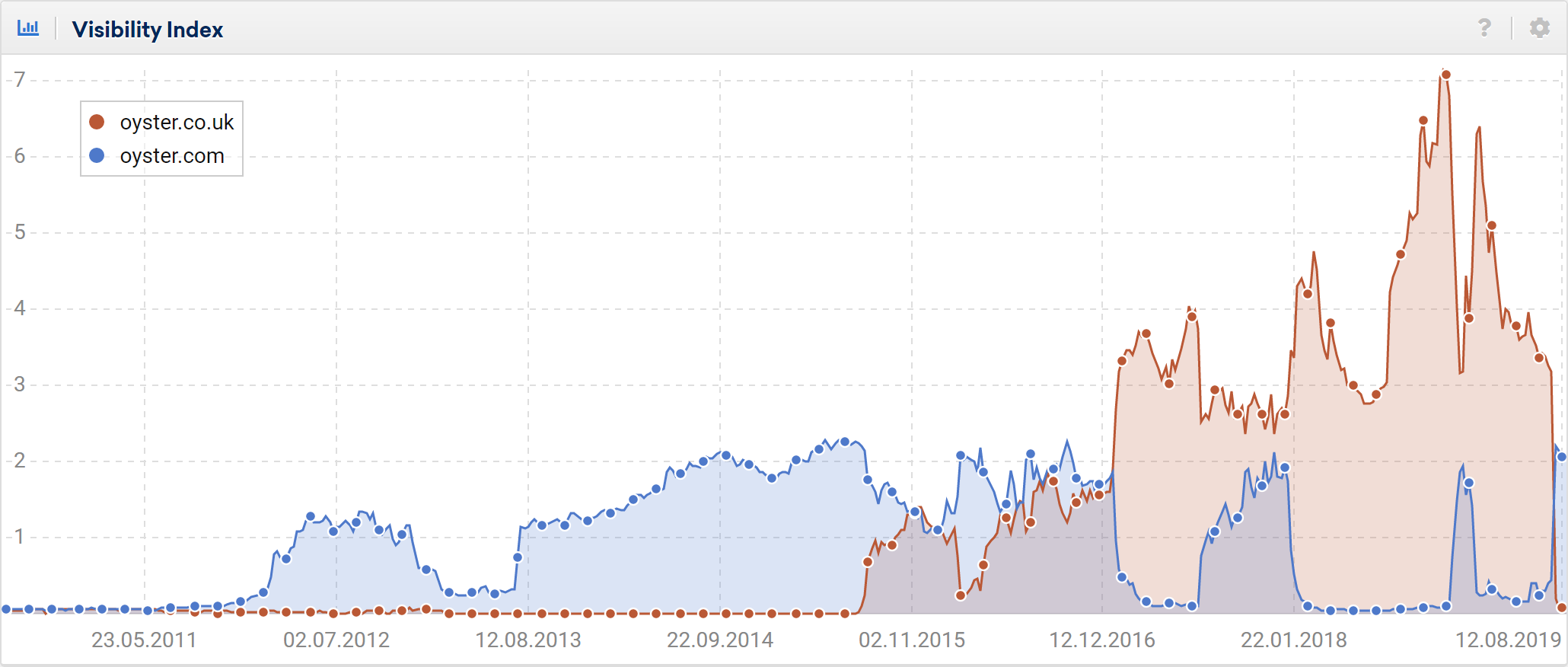 This complex change might be too much for Google to comprehend immediately and result in a lengthy re-evaluation of the domain. Stay tuned for progress!
Lovecrafts – Multi-domain consolidation
Loveknitting.com and lovecrochet.com had grown smoothly since 2013 and yet when both domains were redirected into lovecrafts.com, most of the visibility was lost. This 2-into-new relaunch is an example of a multi-domain move that includes a change in architecture and, due to the nature of this ever-changing marketplace, a largely new set of content.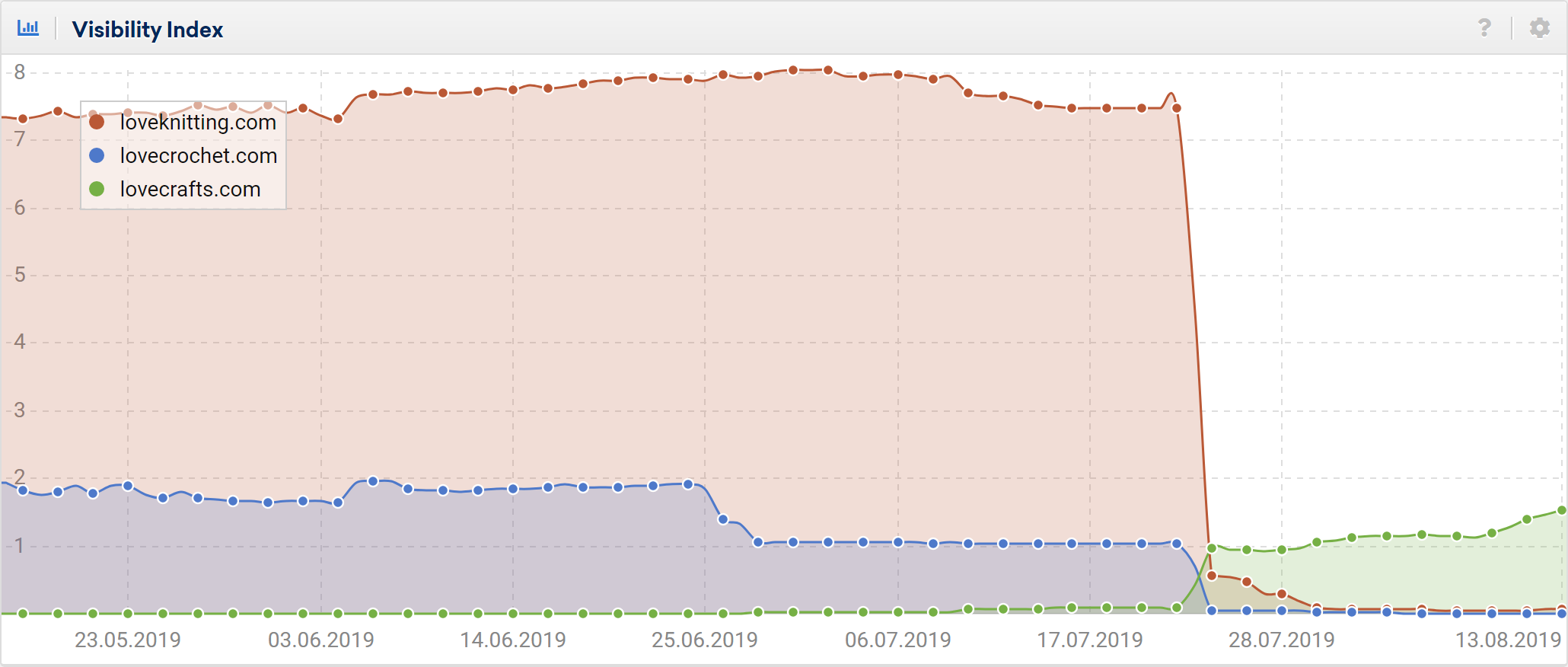 It's possible, and we've seen it before, that too much has been changed in one go and again, this might result in a complete re-evaluation of the new domain.
Currys PC World – Brand consolidation
There's a long history of brand changes with Currys PC World. Parent company Dixons Carphone PLC now appears to be taking the PC World domain away and shifting everything over to currys.co.uk. The two domains had a combined visibility of 127 points before the move. After the move, currys.co.uk [VI: 113.11] have picked up most of the visibility of PC World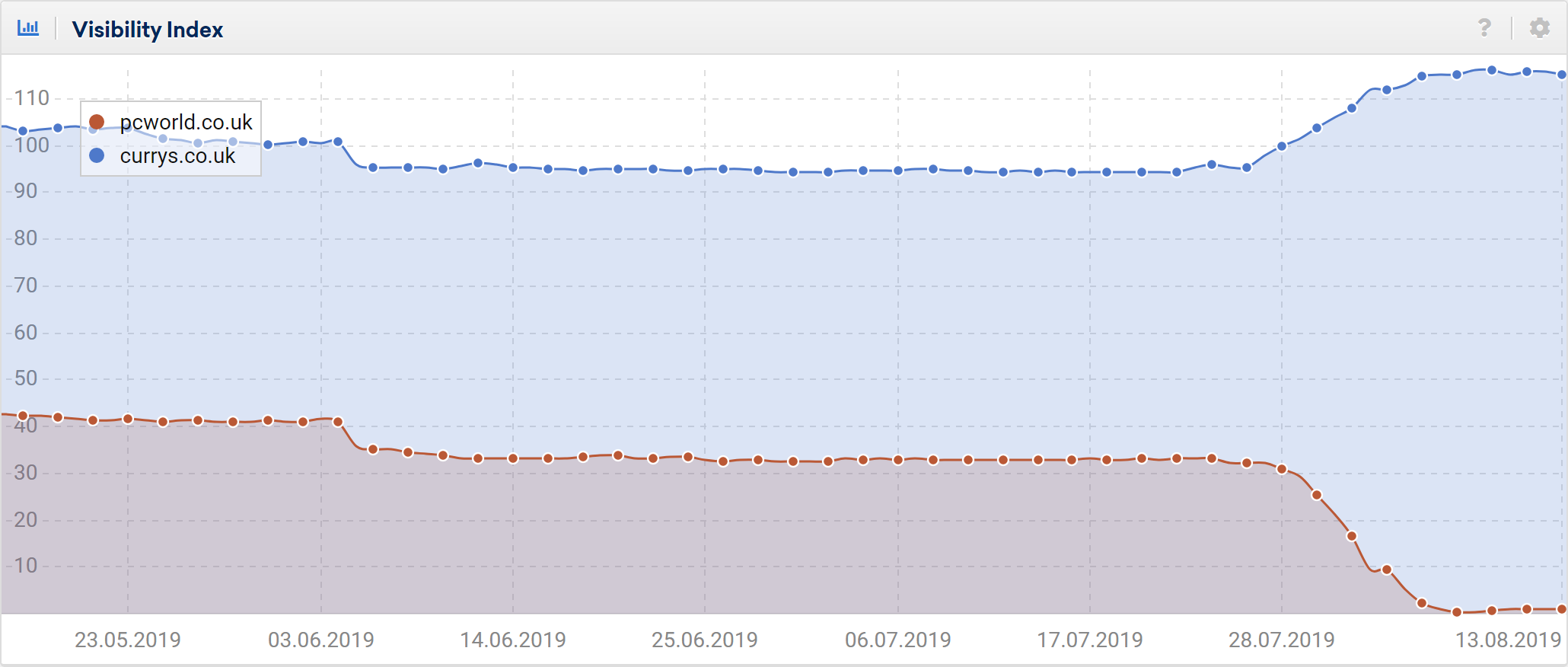 However, brand consolidation comes with other issues. Not least is the issue of communicating the change to your customers. Despite the domain move, the brand is still called Currys PCWorld.
Two important points need to be considered here.
Redirects from one URL to another, existing URL, can transfer visibility. This case is a good example.
There could be some brand name confusion for customers if the brand change hasn't been communicated. It will be interesting to see if currys.co.uk retains PC World brand searches too.
It's too early to call this a success but with currys.co.uk now having a visibility of 116 points, it's currently the 61st most visible domain in Google UK search and the most-visible electricals-only retail domain in UK search.
Radisson Hotel Group – Multi-year rebranding project.
Remember the Carlson Rezidor Hotel Group? Me neither, which might explain why they've been re-branding their hotel properties under the Radisson brand.
Radissonhotels.com's new content was first available in our Toolbox on the 10th July, one week before the press release announcing the "future of digital hospitality."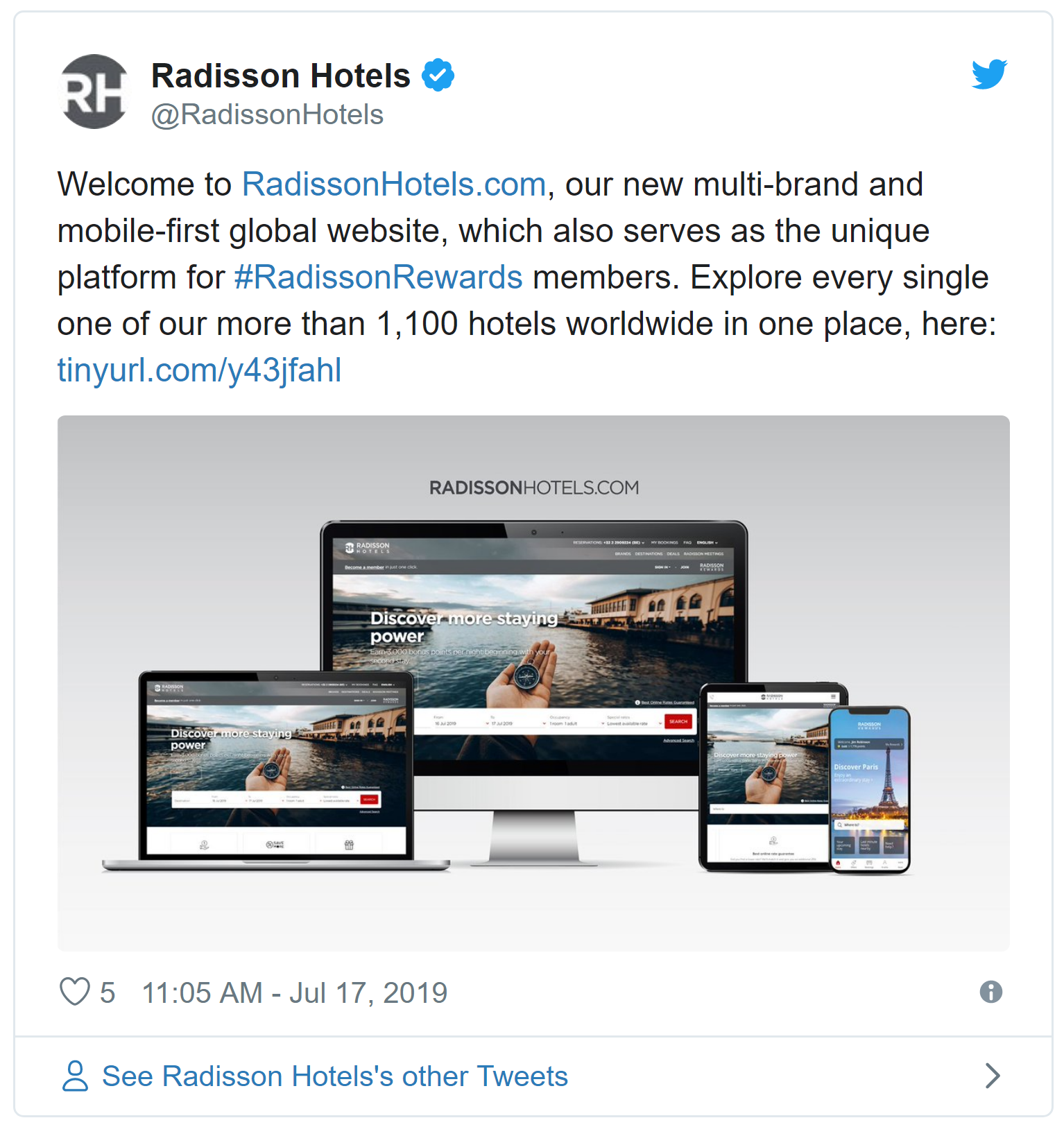 Seven brands are being changed and 13 languages are supported on the new website. The new domain is already visible in all 28 countries that we track in our Toolbox. Here's the current progress with the radissonblu.com redirection.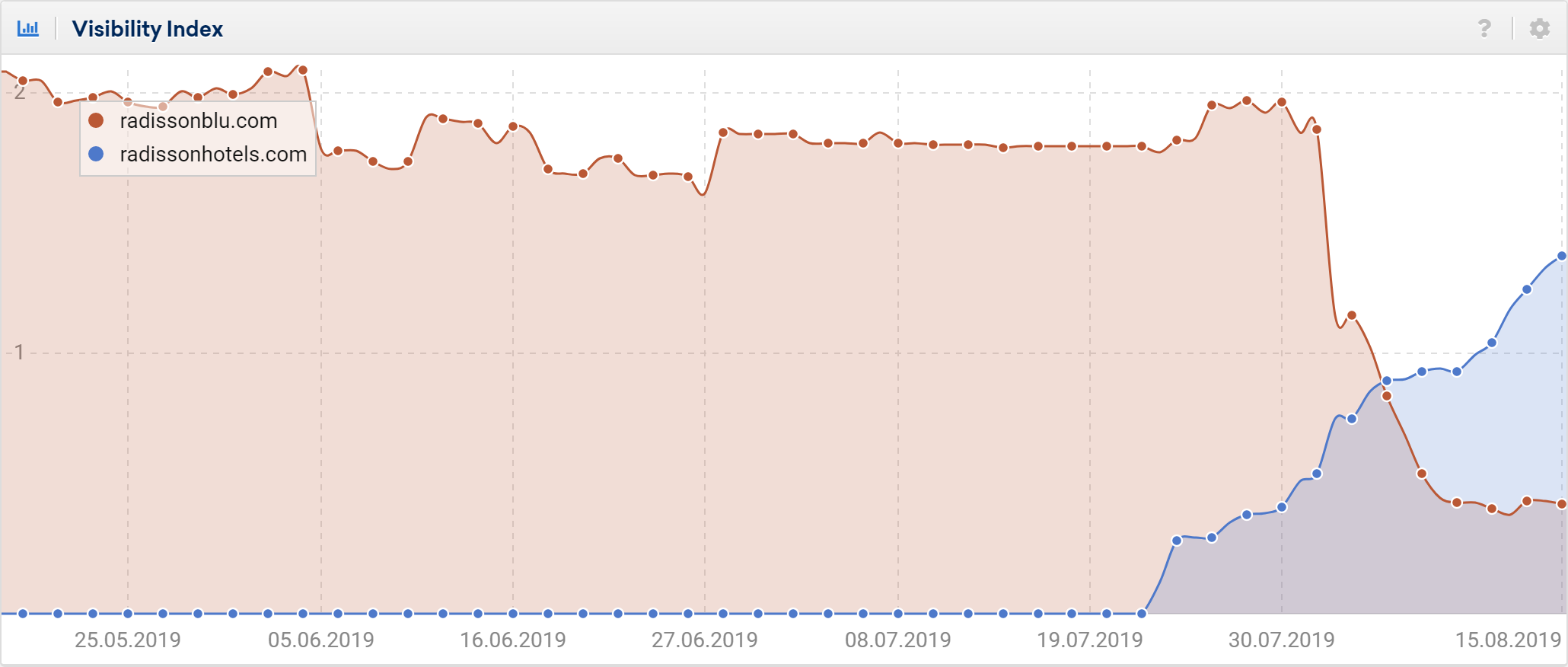 This is not a simple 1:1 move to the new reservations site though. New architecture and new content is included so Radisson can't expect a quick migration. Looking at the referring domains that link to radissonhotels.com also reveals at least 30 different domains from Park Inn, Radissonblu, Club Carlson, Radisson Red and other hotel properties across many ccTLDs, that all need careful redirection management.

The rebranding project has already been running for 18 months and is part of a five year plan to become one of the top three hotel brands in the world. This is one to watch over the coming months.
RAC – Domain to directory
We end this article with the opposite of what we started with. The Royal Automobile Club is mostly known as a company that provides breakdown cover in the UK, but that's not all they do. A look at the domain directory structure reveals exactly in which business sectors they are operating.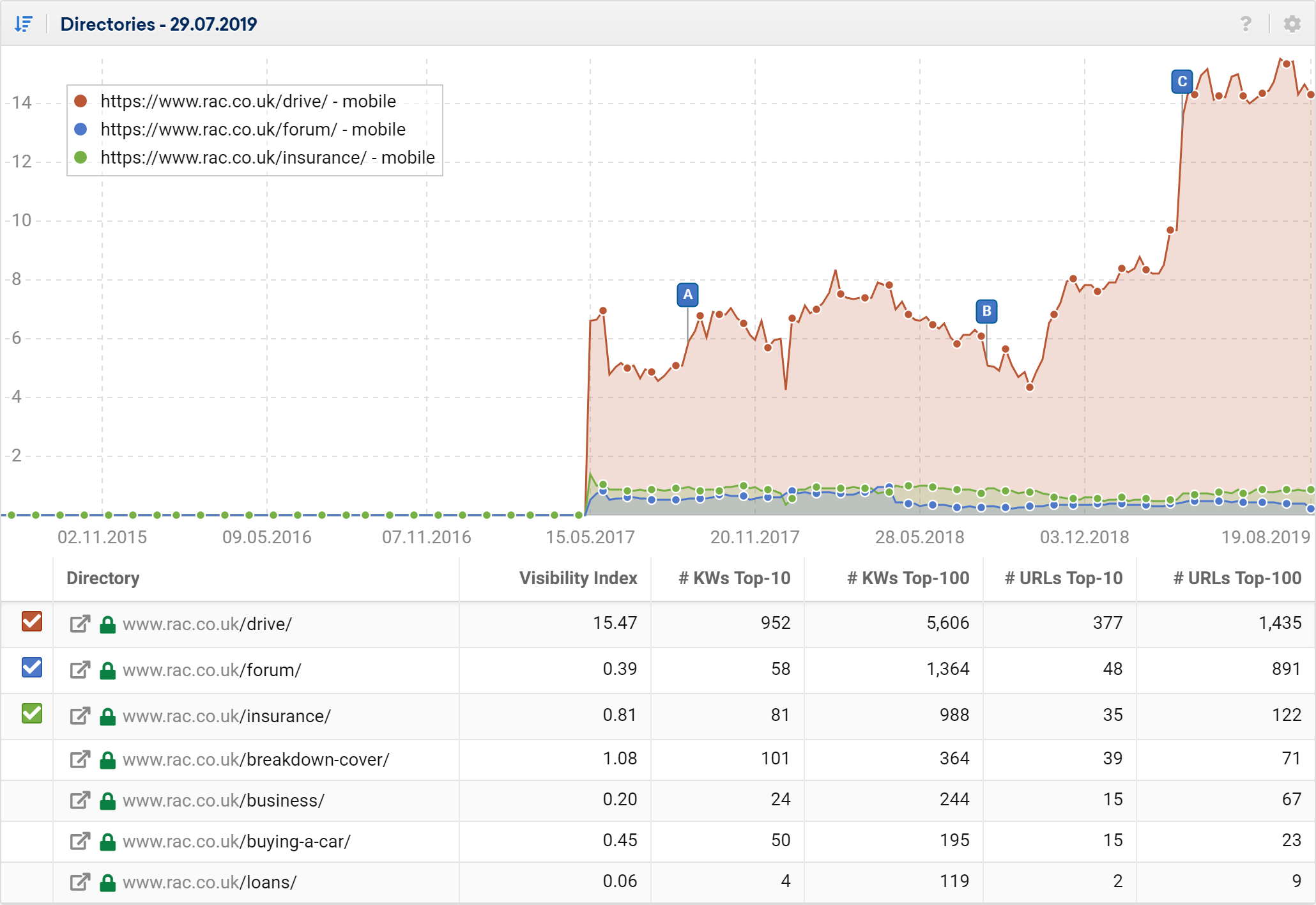 Since mid 2015, the RAC has also been operating a new and used car sales business under a separate website. Raccars.co.uk grew to a Visibility Index of 24.7 and had been competing well against competitors such as autotrader [VI: 67], Parkers [VI: 29.6], Motors [VI: 18.5], CarWow [VI: 17.19] and ArnoldClark [VI: 16.5]
Today, that dedicated, and very commercial site has been redirected perfectly over to the rac.co.uk/car directory. There have been no architecture changes and no content changes along the way.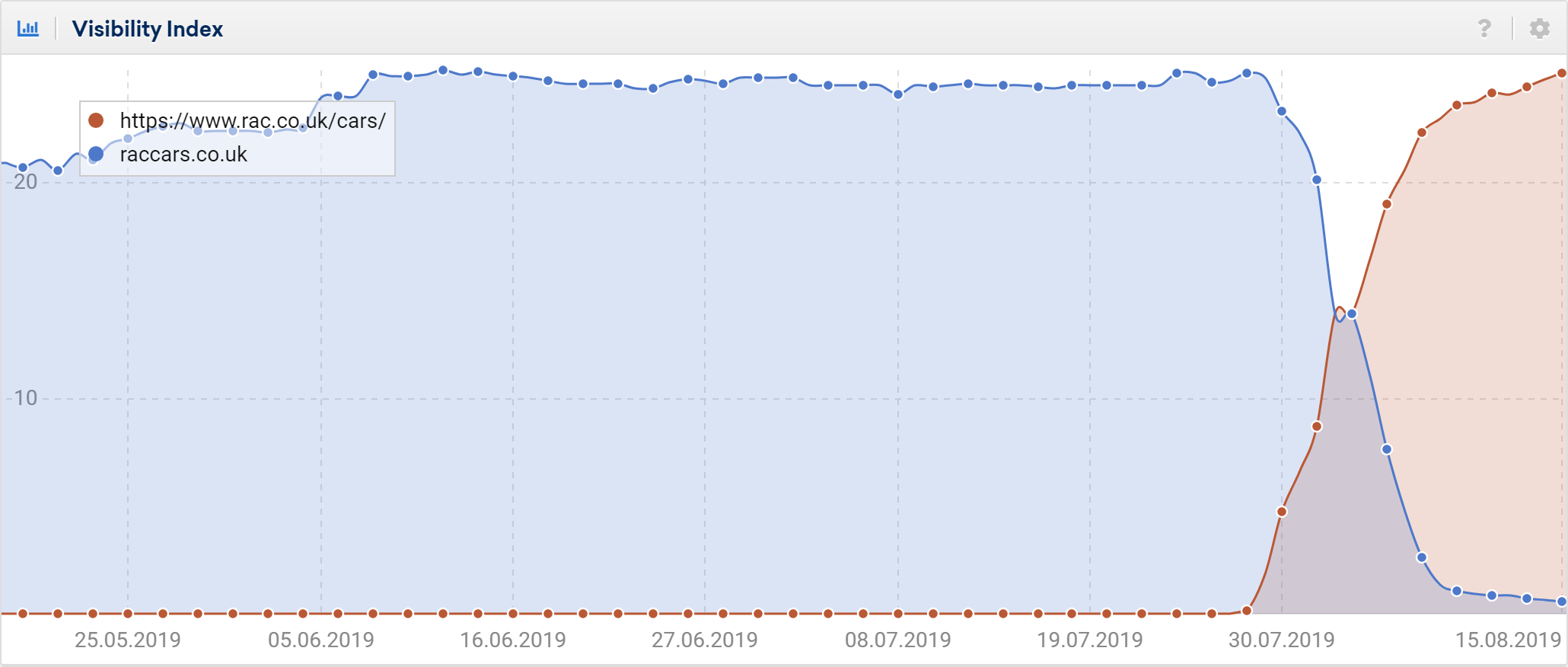 Summary
Of the six domains we've looked at here, only three have been immediately successful. BBC Bitesize, RAC Cars and PCWorld were all simple re-directions that have preserved most of the previous visibility.
The three domains that haven't been successful to date are all complex transfers including multiple domains, content and architecture changes and they could take many many months to resolve. For commercial websites, this is Visibility that isn't just lost, it's immediately filled by competitors.
In our previous look at a wide range of migrations, we had one thing to say about multiple concurrent changes:
…you will lose your rankings on Google for a long period of time if you migrate to a new domain, and at the same time, change the architecture/structure of the website.

Migration, migrations, migraine.
If you have your own domain and content migration stories, feel free to comment below.