Google has re-organised the way it presents videos in search results. This major change now puts videos in a carousel rather than in the organic results.
It appears Google has realised that SERPs are getting a little chaotic. Over the last week it's cleaned-up with a series of changes. One of the biggest changes is in the way that videos are presented.
Until now the video results had been competing with the organic search results and were shown with a preview image as below.

Since last weekend, however, Google has moved away from this format and will now show video result in the already-familiar carousel format.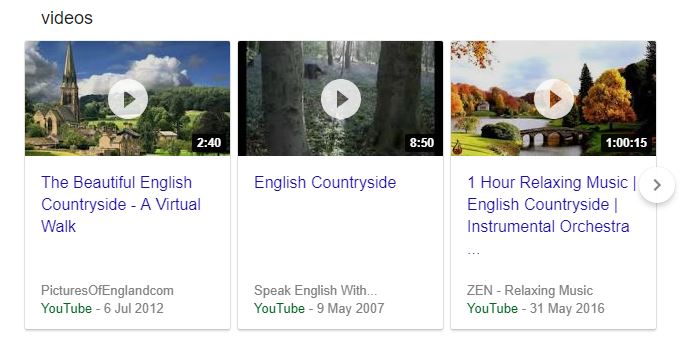 The change brings together previously organic video results ranking in the Top-100 into this single 10-item carousel. Along with the preview image, you can also directly see the platform that the video result is hosted on along with other information.
The result of this change has greatly reduced the organic visibility of domains that concentrate mainly on videos. One of the most interesting to look at is YouTube but there are a number of other examples such as BBC and other media companies.
But there's an opportunity here too. Videos that were lower down in the organic search results could now get a front-page position and could be easier to find.
There's also a change in the way that the URL is shown. We've seen many cases where the hosting website URL is shown and linked and not the 'platform' URL. For example, YouTube.
70371 – The total number of domains found in the new carousel.
The number of video domains shown leads us to believe that the video carousel is no longer an exclusive club for a few big platforms. It contains a huge array of domains. In our current data for the UK we've found 70371 different domains in the new carousel.
Naturally YouTube dominates the contents but many, many other domains are getting a chance here. Here's our table of the top 25 domains listed in the video carousel.
The Top 25 domains in the video carousel
| 1 | youtube.com | 4098727 |
| --- | --- | --- |
| 2 | dailymotion.com | 84220 |
| 3 | alibaba.com | 44022 |
| 4 | msn.com | 31075 |
| 5 | coursera.org | 30375 |
| 6 | cbslocal.com | 23845 |
| 7 | cnbc.com | 14984 |
| 8 | cnn.com | 14596 |
| 9 | twitch.tv | 12240 |
| 10 | pbs.org | 8383 |
| 11 | nbcnews.com | 8341 |
| 12 | marthastewart.com | 6875 |
| 13 | theguardian.com | 6564 |
| 14 | cbsnews.com | 5722 |
| 15 | allrecipes.com | 5597 |
| 16 | no-ads-youtube.com | 5567 |
| 17 | wsj.com | 5462 |
| 18 | sky.com | 5252 |
| 19 | bloomberg.com | 4734 |
| 20 | webmd.com | 4270 |
| 21 | c-span.org | 4189 |
| 22 | newsflare.com | 4104 |
| 23 | britishpathe.com | 3977 |
| 24 | today.com | 3961 |
| 25 | tenor.com | 3956 |