From an algorithmic perspective, the first three months of 2022 were quiet for SEO, giving us a rare chance to look at winning and losing domains without a Core Update rocking the boat. There have been big movements among the domains, both in gains and losses, that are worth looking into. Analyses and lists below.
Q1 2022 saw interesting announcements relating to some of our favourite SEO tools, with the deprecation of Google Search Console's URL Parameters Tool at the end of April 2022 and the sunsetting of Universal Analytics in July 2023. Aside from the March product review update though, there has been little in terms of major algorithmic changes.
However, there has been a lot going on outside of the realm of SEO that has significantly influenced user browsing behaviour, how users interact with the search results and the web more broadly, and how content is created. Lets take a look through the winners and losers of 2022.
Methodology
Using SISTRIX's Visibility Index, we have analysed the 250 winning and losing domains that have significant visibility on UK Google to understand which sites have seen the most notable changes over the last three months.
Winners
Wins for Wikipedia
Popular online encyclopaedia wikipedia.org has seen an impressive 1,010.1 Visibility Index increase from 1st January to 31st March 2022, cementing its position as the most visible domain in search.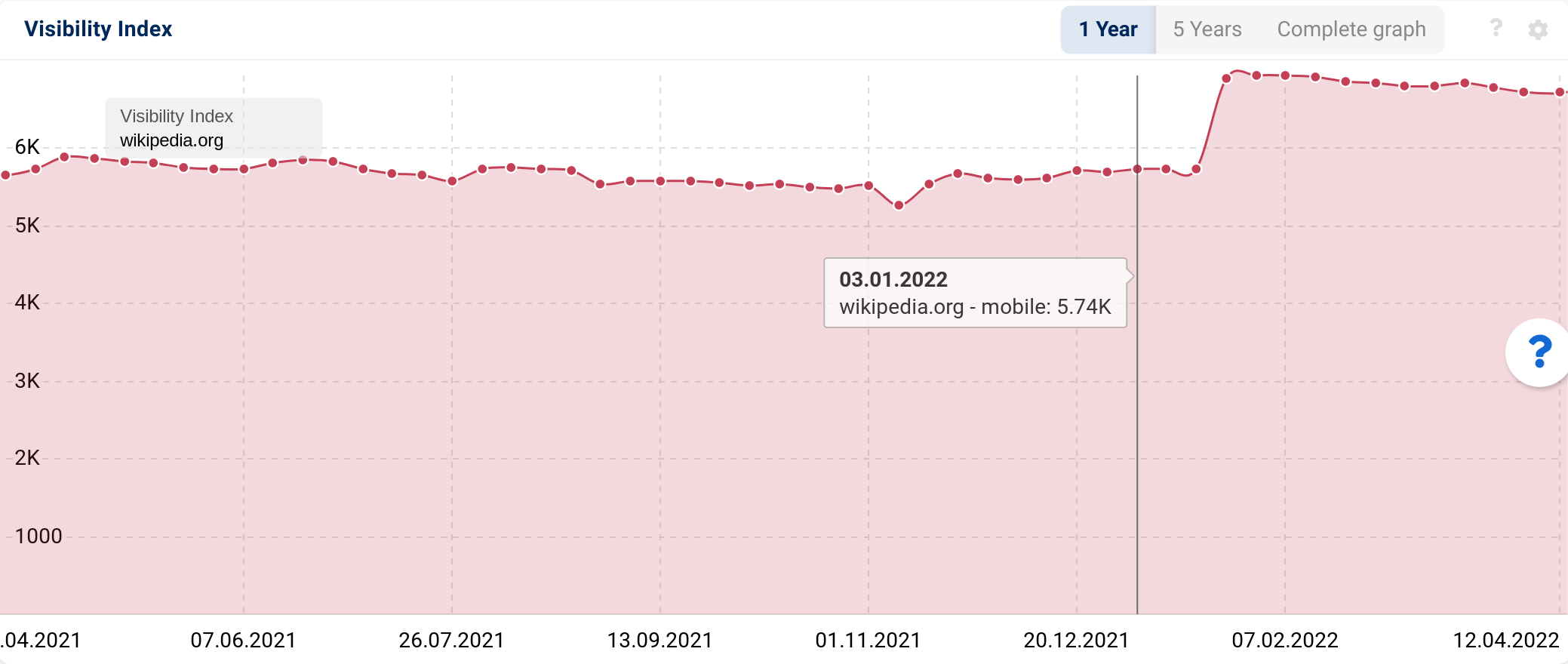 From analysing the domain's keyword data from 10th January to 28th March 2022, we can see that Wikipedia has started ranking for more keywords. In addition, existing keywords have also experienced an improvement in ranking position.
Given that there was no Google algorithm change and that other reference sites have not seen a major change, this could indicate a change in the way Google is using Wikipedia in the SERPs.
A wave of visibility for TIDAL
Tidal.com has seen a 157.3 point increase in Visibility Index from 1st January to 31st March. TIDAL is a global music, podcast and video streaming subscription service.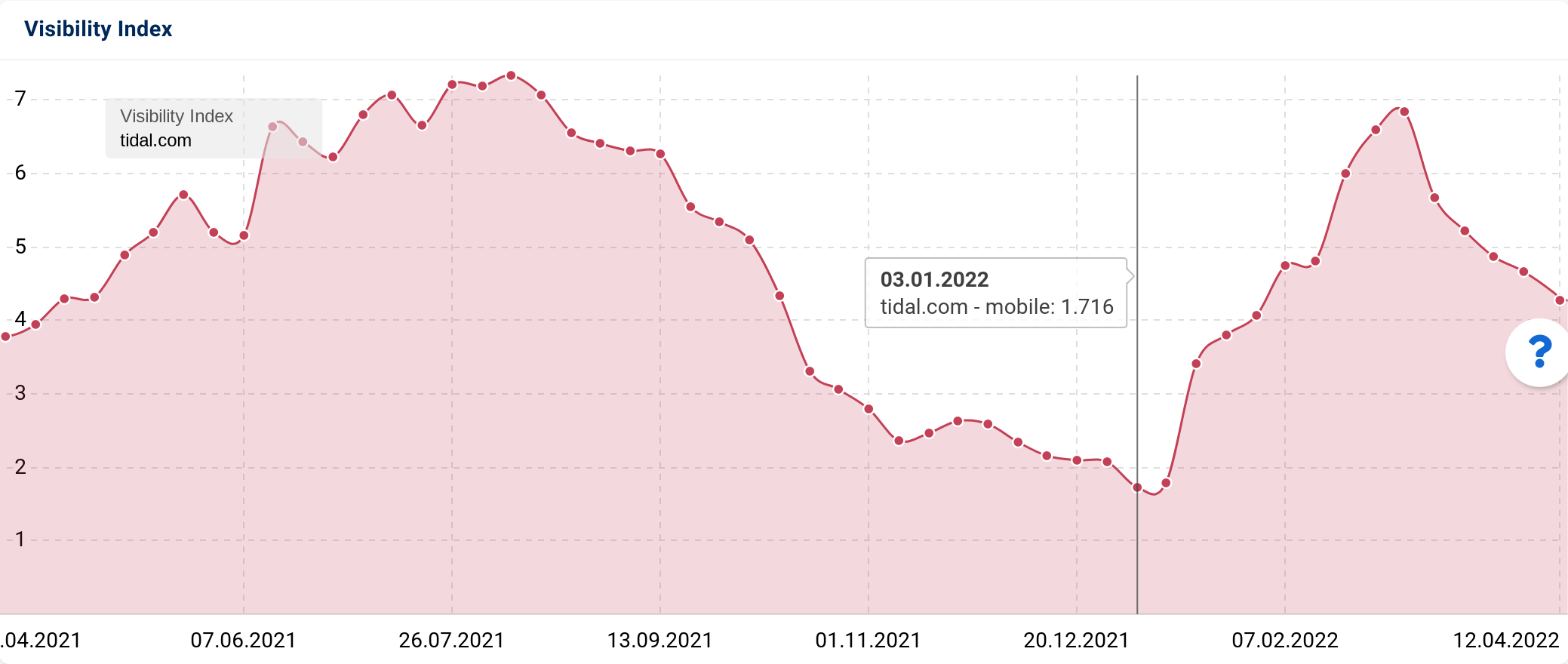 The URL count on the domain is very high, there is a history of large swings in VI. The poor ranking distribution shows that the site is not performing – only 1.3% of ranking keywords found are page 1 rankings. There are also some extremely large domains that TIDAL is competing with.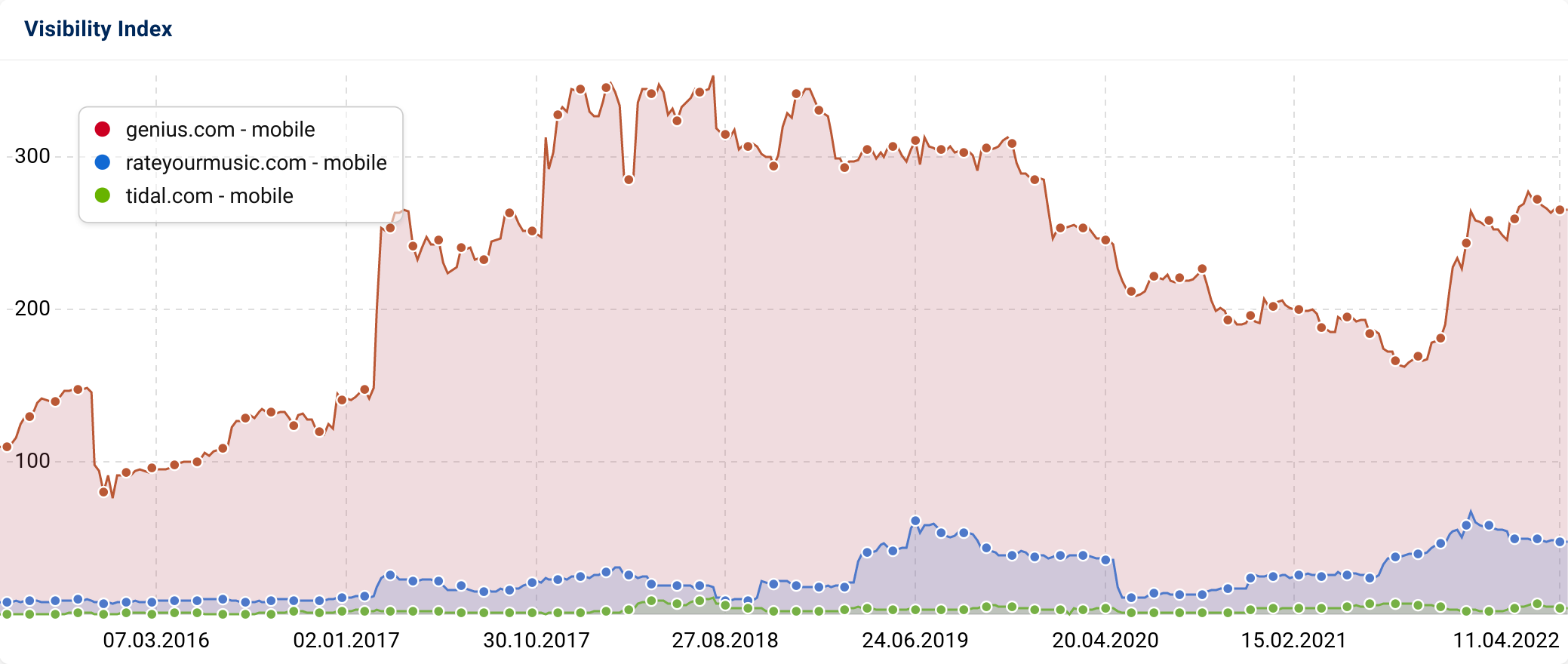 When comparing keyword data for 10th January & 28th March 2022, there was a notable increase in ranking positions for existing keywords. During this period, the number of keywords TIDAL rank for also increased to a total of 177,411 keywords, influencing overall and directory-specific Google visibility during this quarter.
Based on these keyword ranking increases and minimal changes in the website's design and structure over time, it is likely that either the improvements are a result of the addition of new musical content or a backfill of rankings due to a competitor loss.
AstroStyle reaching for the stars
Astrostyle.com has also seen a gain in its organic search visibility over the last three months (+121.2%). AstroStyle is a dedicated horoscopes website managed by ELLE Magazine's astrology duo, the AstroTwins.
Similarly to TIDAL, AstroStyle experienced a slump in Google visibility towards the end of 2021, with momentum gradually building up following the November 2021 Core Update before increasing to visibility levels similar to those experienced early in 2021.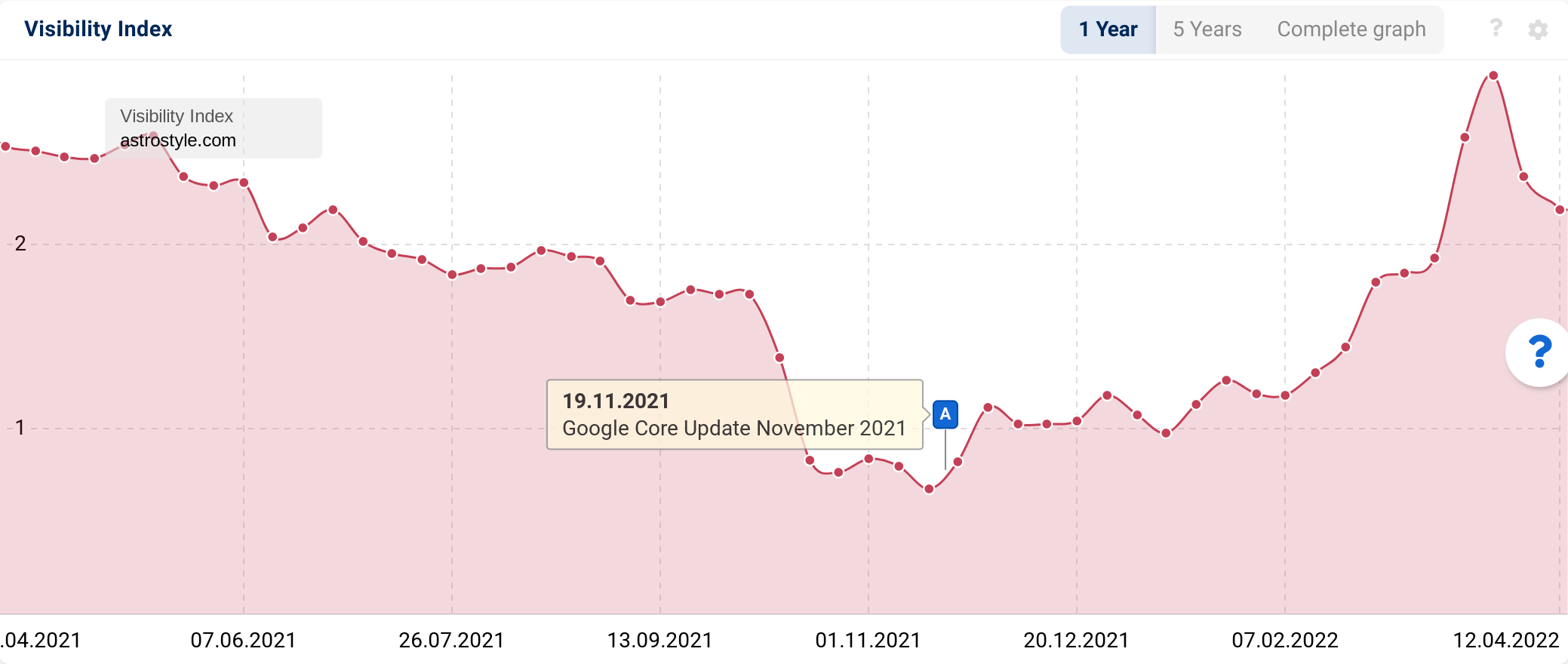 It is always interesting to analyse the SERP performance of domains like Astrostyle.com due to the interpretative nature of their topics. Websites that contain subjective content like horoscopes must be challenging for Google's algorithms to assess from a content quality perspective. The following overlay graphic of closely-related domains shows just how much movement there is in this topic area.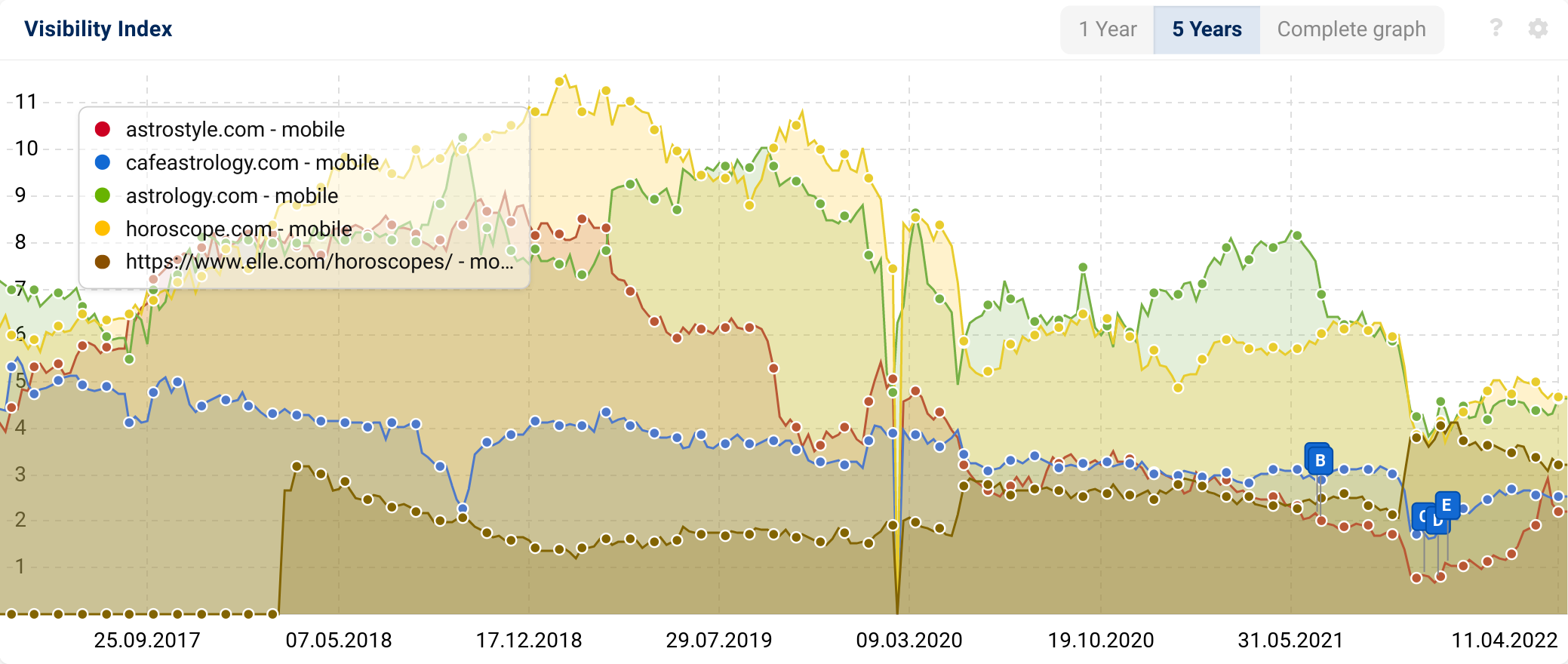 Large movements occurred across all these domains during the second week of November, before the cluster of algorithm updates that happened during the following weeks. It's indicative of a big change (or mistake) by one of the players or a potential tweak from Google's side.
Complete list of Q1 2022 winners
Below are the top 25 winners by absolute change:
Indexwatch Q1 2022 top 25 winners UK absolute
Below are the top 25 winners by percentage
Indexwatch Q1 2022 top 25 winners UK percentage
Losers
Where there are winners, there have to be losers. The top 25 lists are below but first a selection of analyses.
Shaking the Gumtree
The Gumtree has been shaken. The free and paid classified advertisement site experienced a visibility decline of 52.1 VI points.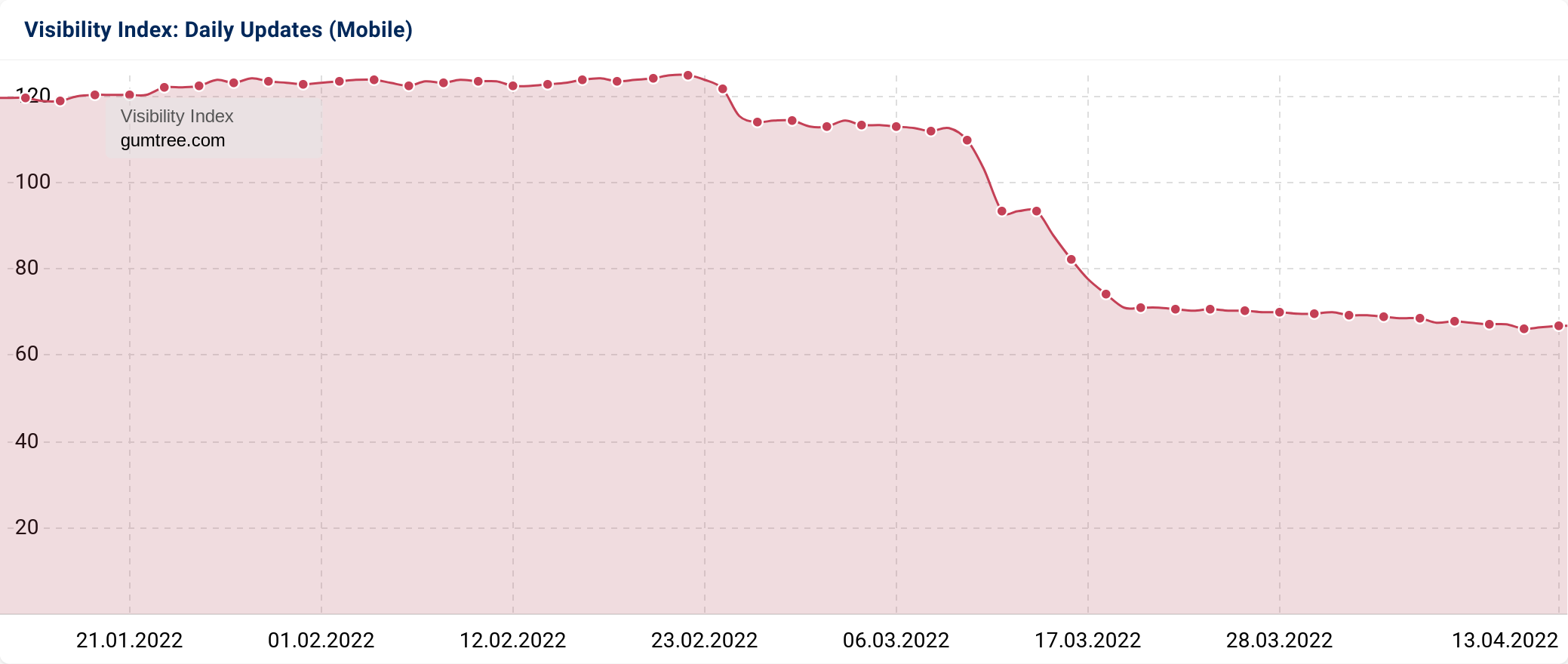 The directory which saw the biggest visibility loss during this period was /cars. From examining /cars in more depth, we can see that this particular directory saw a decrease or loss in ranking position for over 90,000 keywords.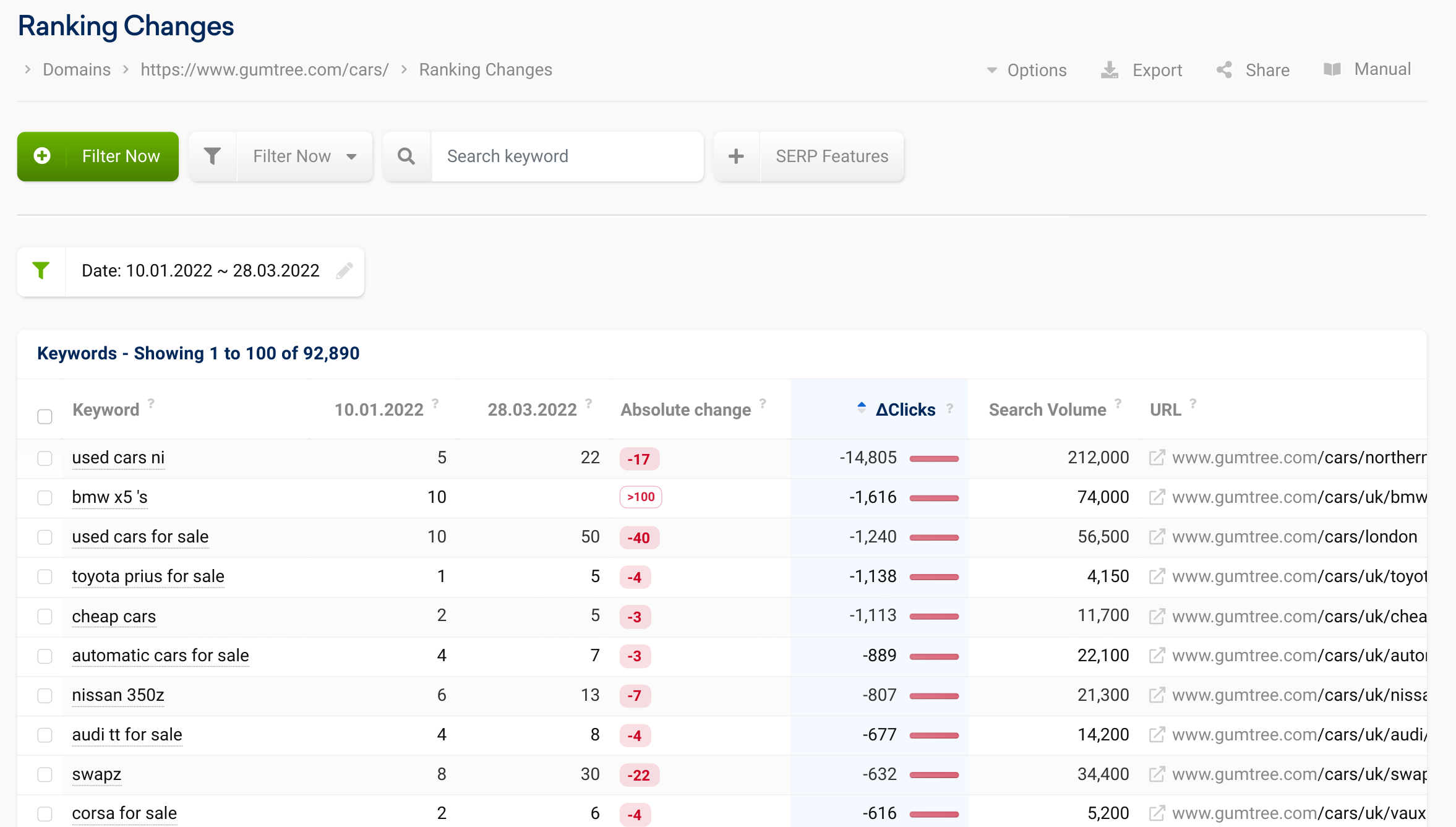 The top losses, in terms of potential click loss, are easy to see. A drop from position 2 to position 5 for "cheap cars" is a potential loss of 1,113 clicks on average every month.
Over the last six months, /dogs, /for-sale and /all followed the same visibility pattern as .cars, with visibility increasing in mid-December 2021 just before the December Product Review Update before dropping off again in mid-February 2022.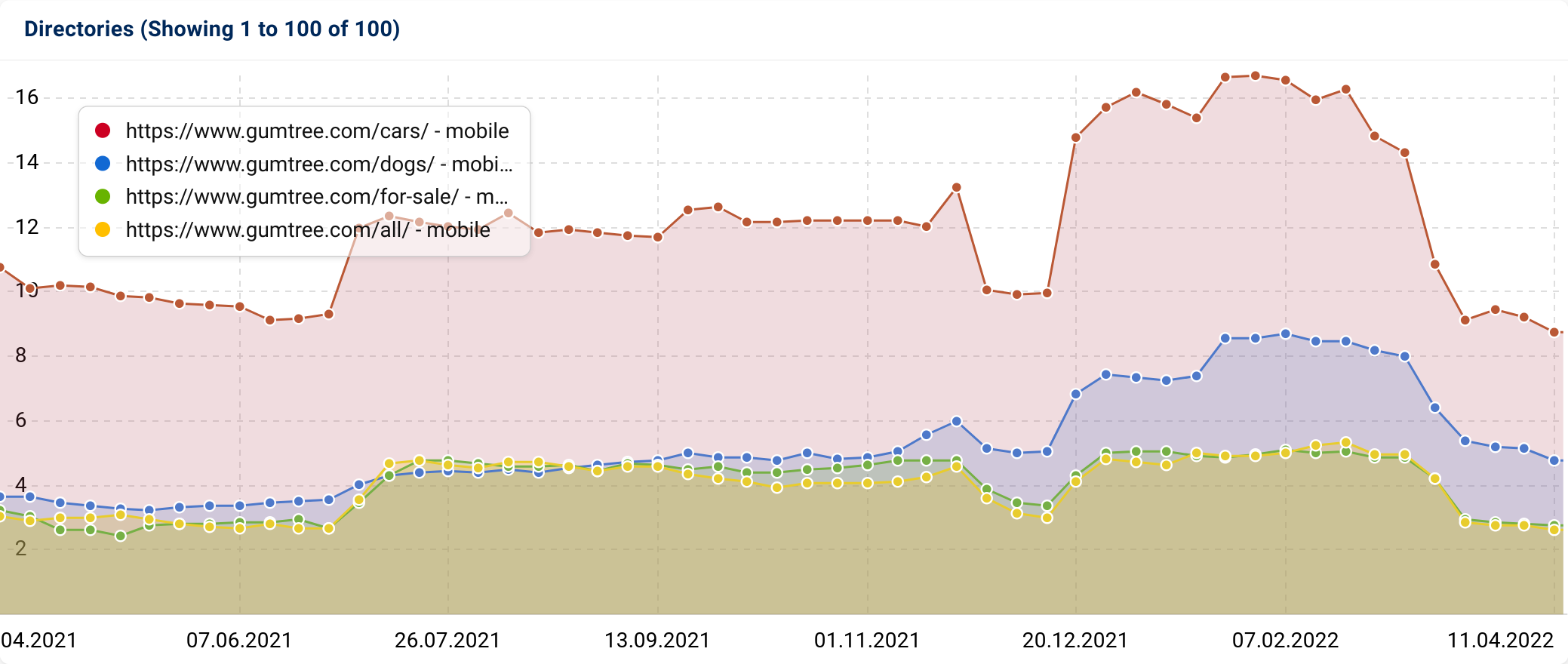 Although Gumtree does not include product reviews, it is a site where some people make relatively big purchases, and people rely particularly on seller trust.
Once again, this brings E-A-T back into the conversation about Google's Product Updates (which I questioned in the 2021 Winners IndexWatch article). Could the December 2021 Updates have contributed to visibility fluctuations and the eventual decrease we have observed for Gumtree and similar websites in Q1 2022?
The rise and fall of C21 Media's visibility
C21media.net is an international entertainment and publishing company that focuses specifically on 21st Century content. The domain has been live since 2001 and likely, due to its very niche content, has maintained low Visibility Index scores over time.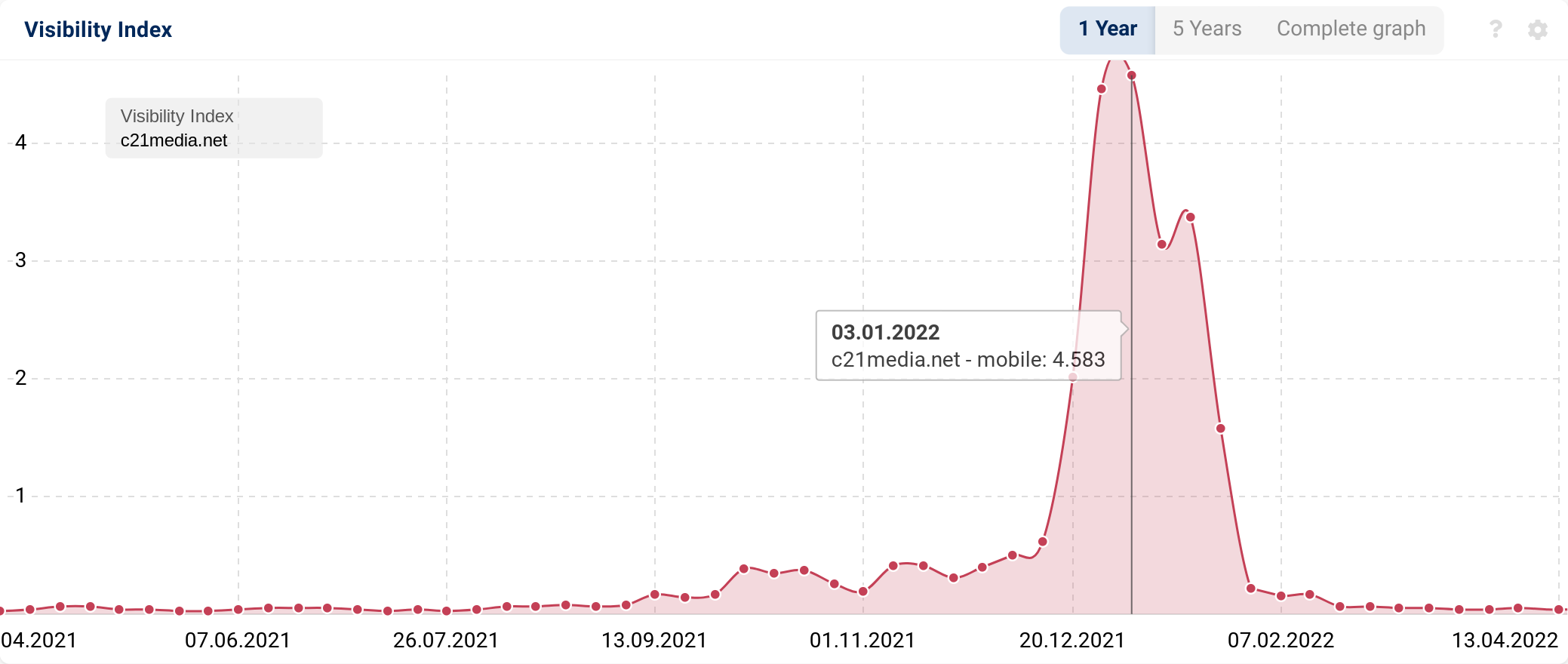 However, late 2021 marked the beginning of a dramatic increase in Google visibility on the UK SERPs shortly after the December 2021 Product Update.
C21 Media's organic visibility spiked on 3rd January (4.58 VI points) before taking a major tumble and dropping by 99.3%. What caused this unusual and out of character increase? One reason could be hacked content or a black hat tactic.
The keyword data for the directory on the 3rd January reveals C21media.net was ranking highly for many keywords related to "logins", "portal", and "sign ins" (e.g. "msn sign in", "btinternet login" and "land registry portal". However, towards the end of February, 1,076 of C21 Media's keyword rankings decreased or were lost altogether. The URLs no longer exist on the site.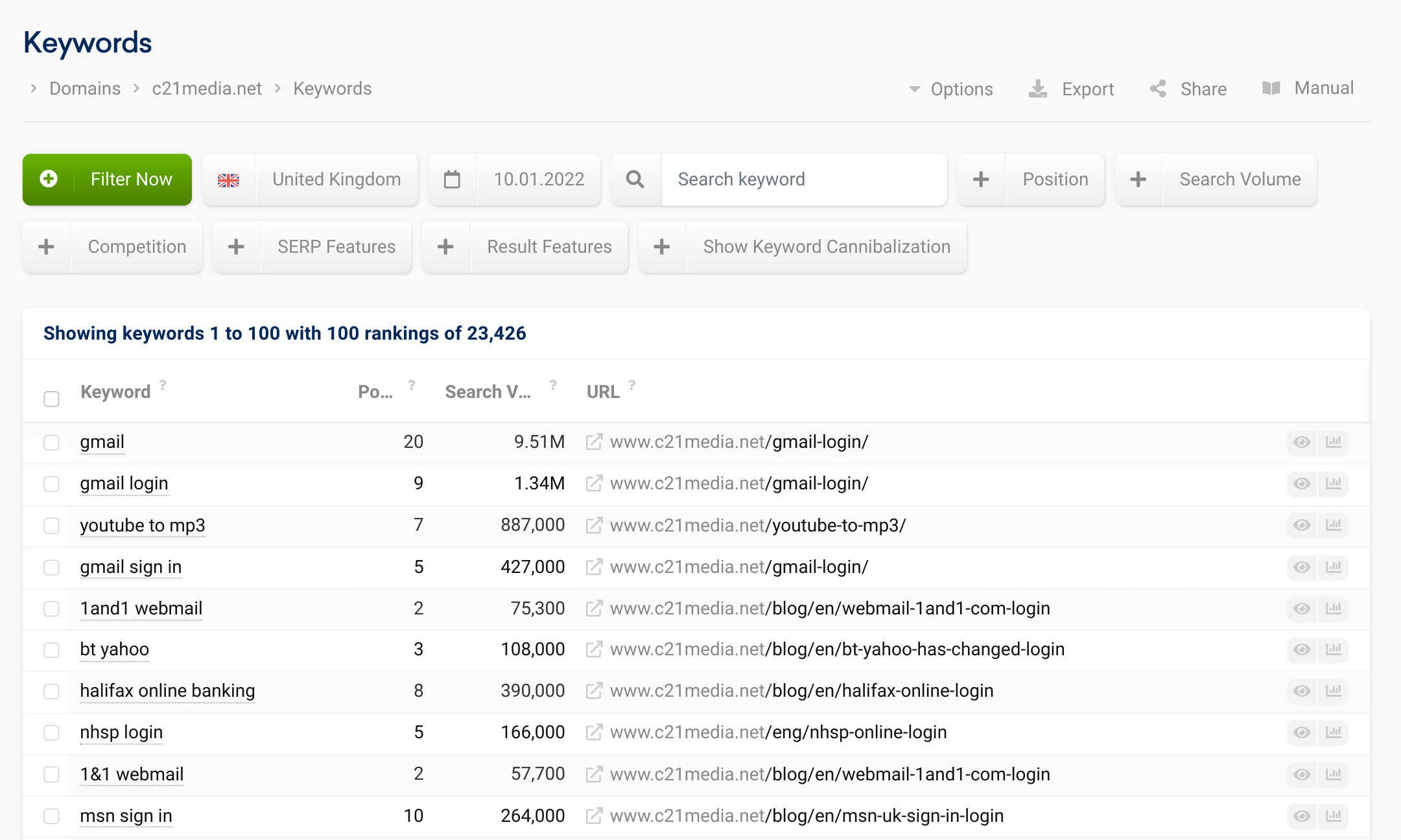 YouTube SERP Shift
Youtube.com saw the most significant decrease in Visibility Index score out of all websites examined in Q1 2022 (-140.8 VI points).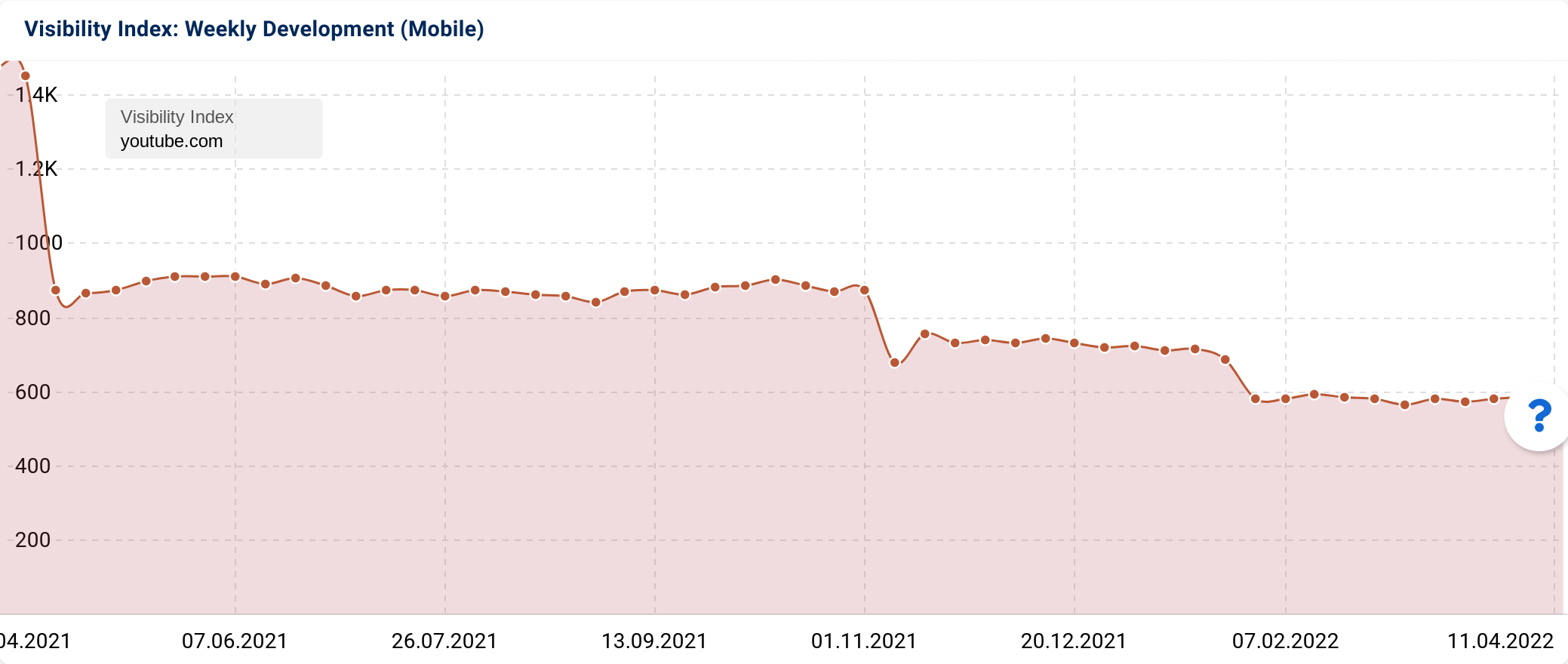 YouTube's Google SERP visibility has been on a downward trajectory since April 2021, with the domain's visibility dropping to levels similar to those seen in 2016.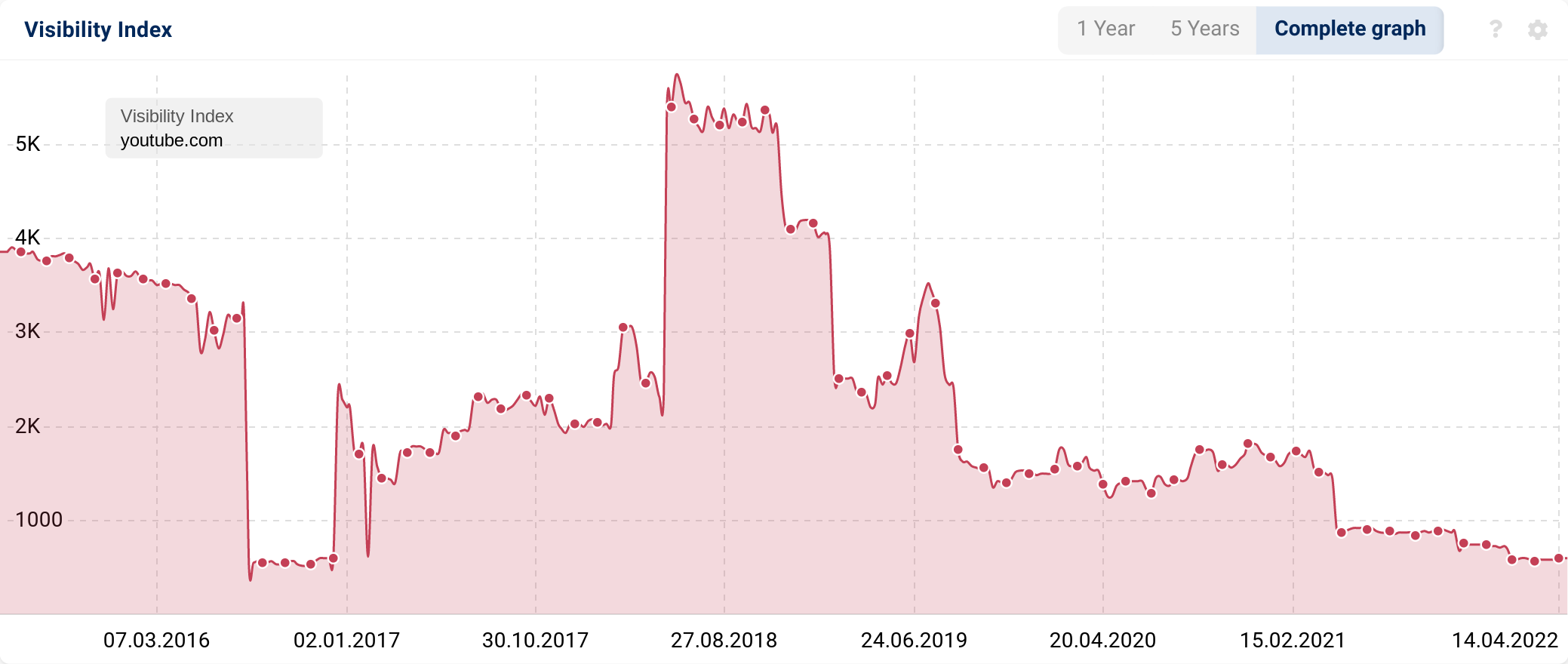 To establish the source of the decrease, I used the Hostnames data from SISTRIX's universal-search-box.com virtual domain to understand how the SERP landscape has changed for YouTube over recent months.
The Hostname visibility data confirmed that along with an increase in video placement on the SERPs, question, image and new placements have also increased.
With this in mind, there has likely been a decline in videos showing within the primary result listings. Equally, more videos may now be shown as SERP features instead, making search results for queries like these much more enjoyable to browse…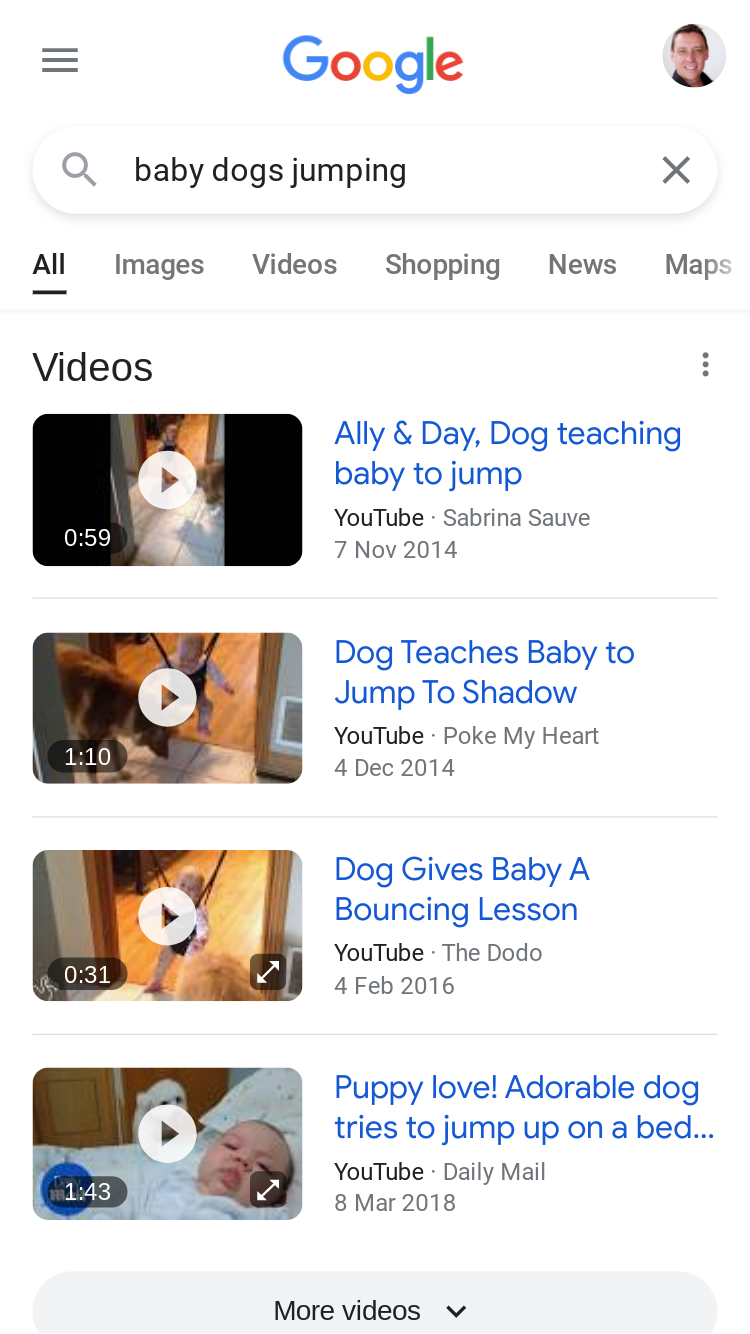 As part of the Alphabet family, it is possible that typical organic search criteria do not apply to youtube.com. Still, it is interesting to see a decrease in the prioritisation of YouTube content for highly searched keywords with "know" & "do" intent.
Complete list of Q1 2022 losers
Below are the 25 biggest losers by absolute change:
Indexwatch Q1 2022 top 25 losers UK absolute
Below are the 25 biggest losers by percentage change, not including domain migrations and closures.
Indexwatch Q1 2022 top 25 losers UK percentage
Conclusion
Despite there being only one notable algorithm update in Q1, and no core update, there have been a lot of exciting uplifts and downshifts for the websites on Google UK.
Following this quarterly analysis, we have concluded that:
Improved SERP visibility is not always down to optimisation work. For example, implementing new content, such as new artists being added to TIDAL, can naturally result in being found in organic search for more keywords.

Keyword relevance and intent remain critical for content optimisation, and targeting terms irrelevant to your niche can bring short-term wins but will not lead to sustainable organic visibility.

Even for Alphabet-owned businesses, Google SERP visibility can fluctuate dramatically. Although, YouTube and other domains may be given preferential treatment.
Google's Product Review Updates may be putting the magnifying glass on E-A-T more broadly rather than focusing purely on review content.