The time for SEO tricks and shortcuts has come to an end. Our Top 100 search visibility winners list shows that it takes time and expertise to gain Google's trust. Of course, there are always a few outliers and interesting results so let's take a close look at some of the SEO winners of 2018.
To create this list we've taken the mobile visibility index and looked at the big risers, in terms of percent, during 2018. We've removed all domains that started with a visibility of less than 5. In previous years of IndexWatch reports we've had to remove pornography domains and domain moves but this year there were none in the list.
Update: We've published the Top 100 SEO losers of 2018 too.
The top 3 winners of 2018 in the UK were somewhat of a surprise but despite 2 almost text-free domains, there's still the factor of user-intent to consider. GIFs and Images drive huge search volumes and Google is tailoring the SERPs with results from these domains due to user intent and good signals. An example: Google's search results for "happy birthday cake" return GIFs and images rather than links to cake sales or birthday cards. The digital cake wins in 2018, not the physical one.
1 – Tenor.com +544%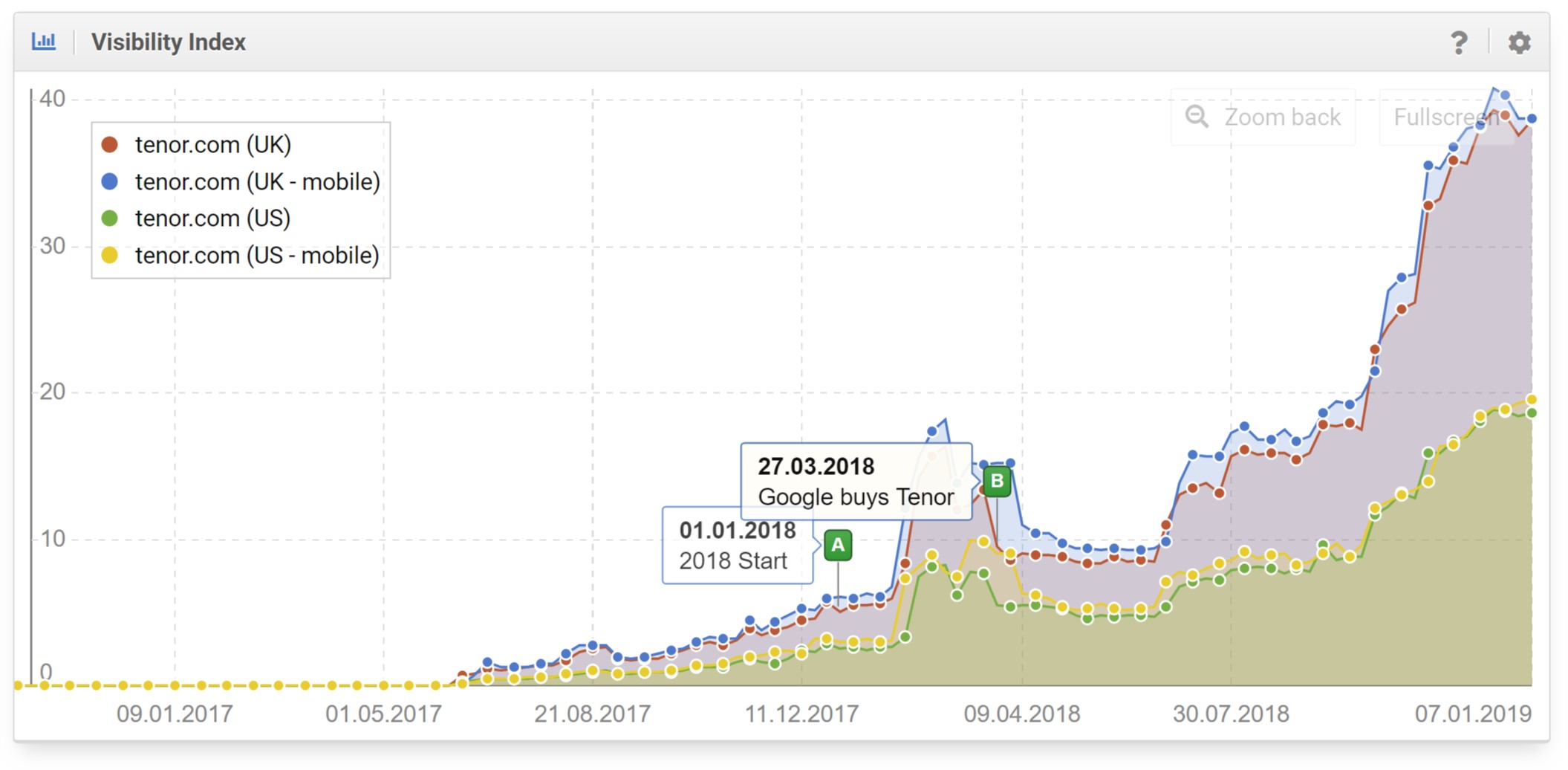 From zero to 40 in 18 months, with most of that happening in 2018; That's a huge growth rate. Take a look at the growth of Page 1 keyword rankings. The decreasing numbers of page 9 and 10 rankings are also an indication that the domain is moving in the right direction.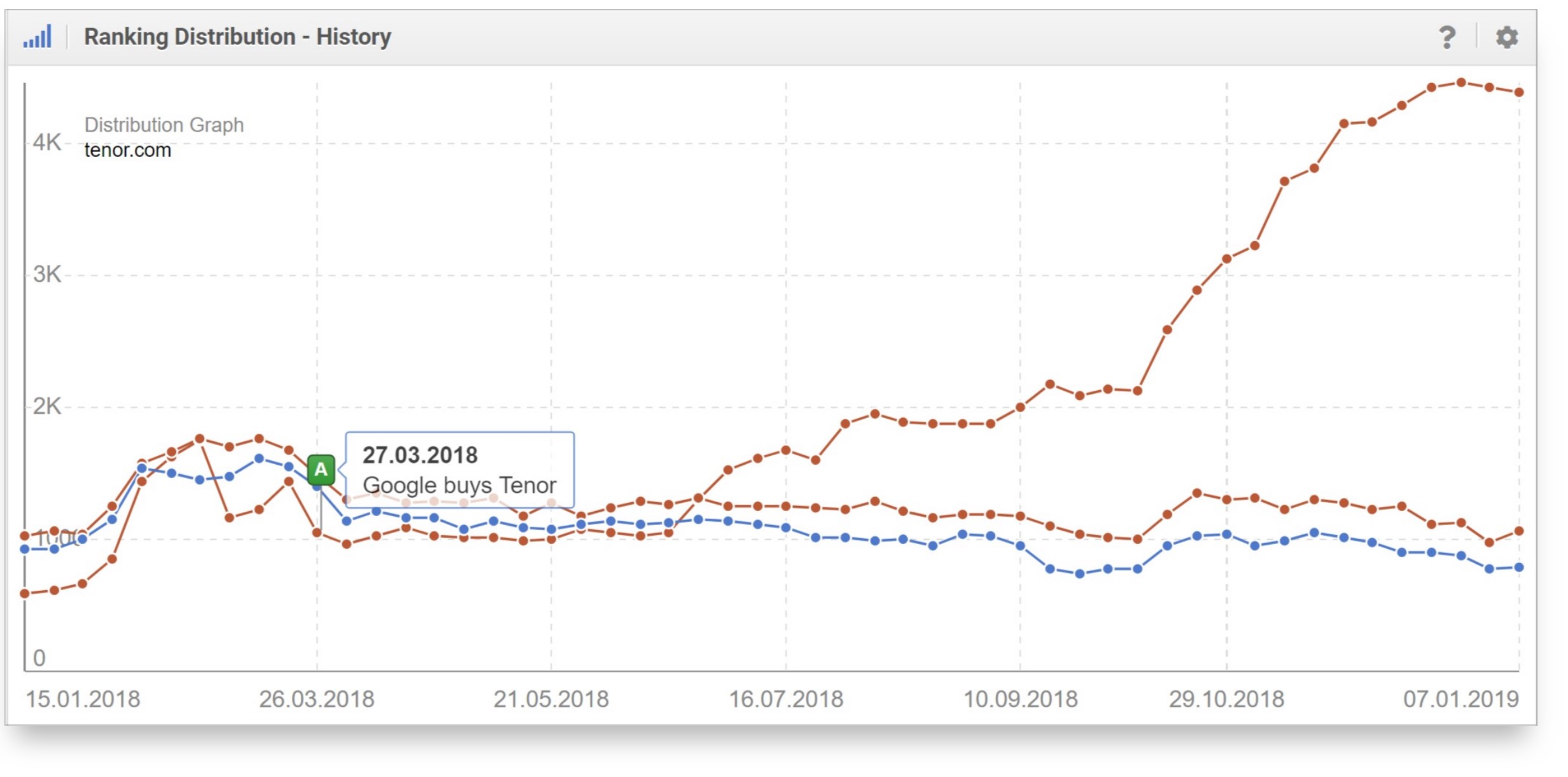 Tenor is a GIF supplier competing with Giphy. They originally offered GIFs through a keyboard app (under a different brand) but today they have partnerships with WhatsApp and, oh look!, they're owned by Google. Since Google bought Tenor, the tenor.com website has grown about 150% in mobile search. On the desktop, the domain now has 4 times more visibility than it did before being taken over by Google.
There are other interesting aspects to this website too. The first is that it's almost devoid of text. The average page has an H1 title, some tags, GIF sizing details and a bunch of links and URLs for sharing. That's it!
The second important aspect to this site is that it's effectively a search engine. Have a look at the URL that gets returned for the "happy birthday cake" example.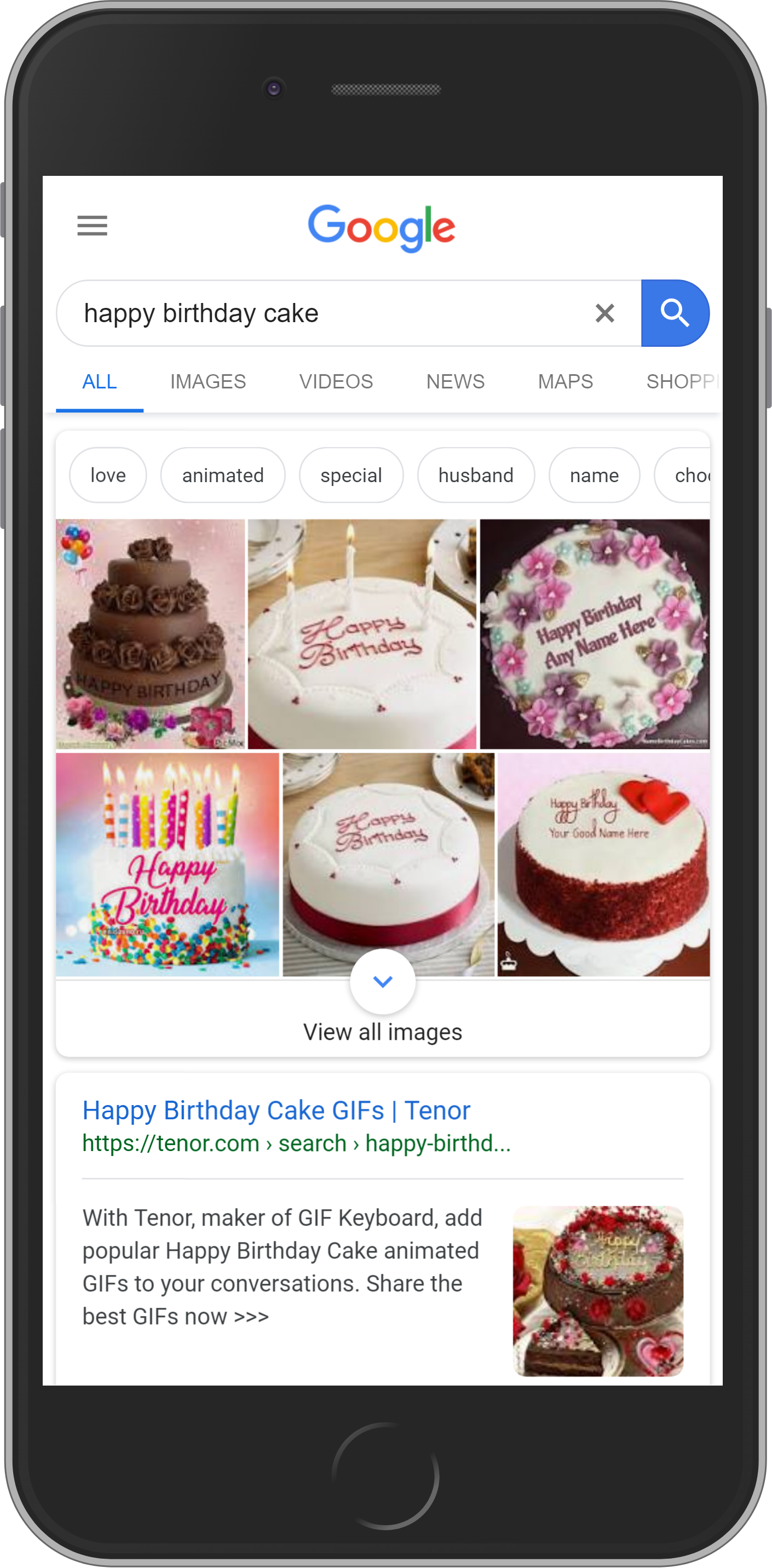 And finally, is this domain hosting legal content? The UK has very restrictive fair-use regulations and even the European Court is trying to officially lock that down in the EU Copyright Directive. Google, on the other hand, are fighting the directive. 2019 could be a tough year for the Tenor domain.
2 – BBC.com +440%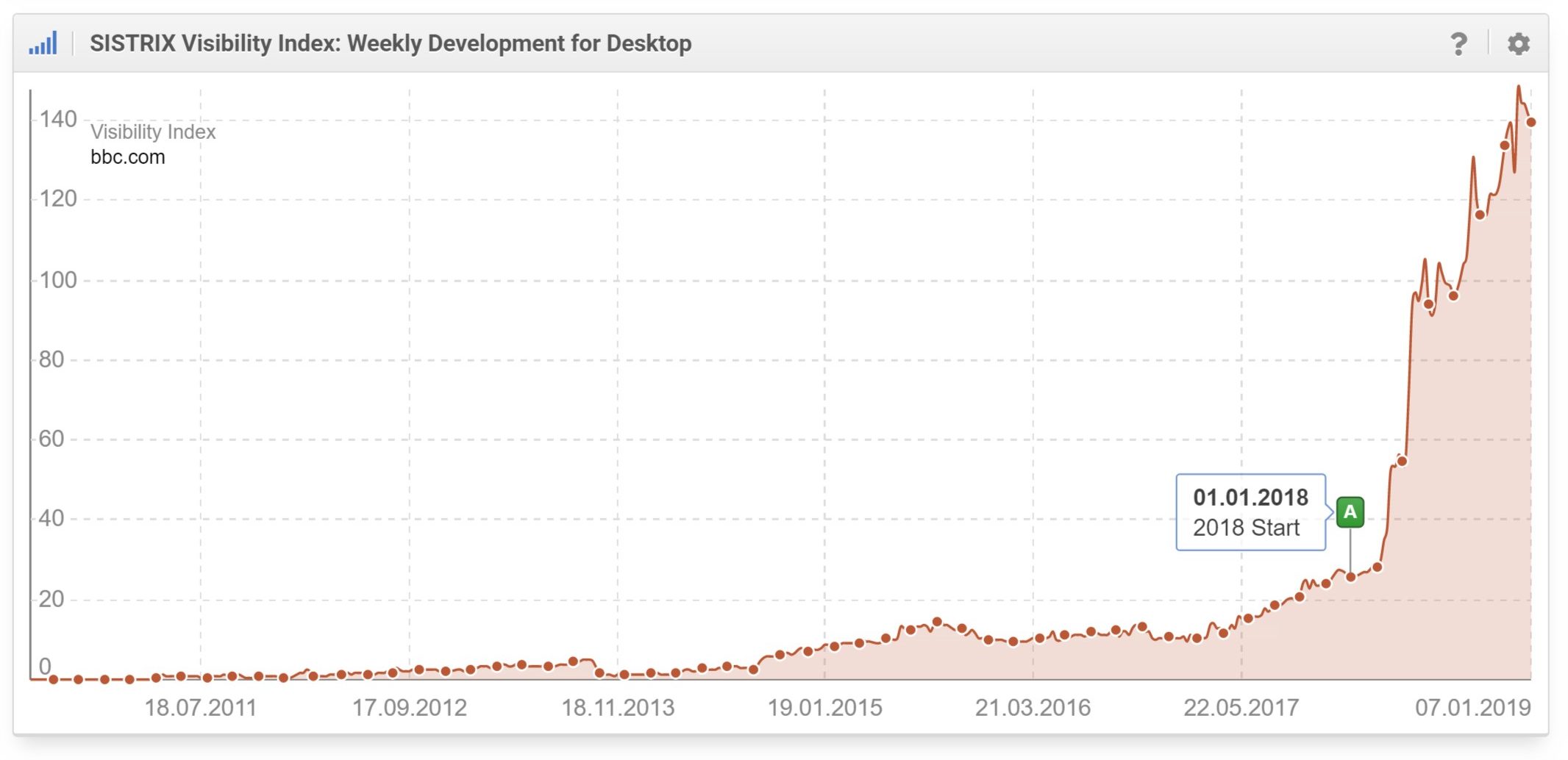 The British Broadcasting Company is a huge and successful media concern, and it follows strict rules. Part of the BBC is funded by the UK television license and part of it is run as a commercial entity. Some content is restricted to UK viewers (iPlayer, for example) and other content is open to international viewers. At the very least, a hat-tip should be given to the web developers and SEO specialists that run this most complex international web setup.
BBC.com has done well during 2018 mainly as a result of the move of its educational content (Bitesize) from the .co.uk to the .com domain. The food section is also doing well while the third biggest directory, news, is churning along nicely. Weather, culture, travel and future, which aims to be "Making you smarter every day." also exist. There are 41 directories which rank in the UK, despite many being configured for non-English languages.
There's one major issue here though. Let's imagine you're Eye to Eye Media running food-focused Delicious Magazine. Or perhaps you're Gordon Ramsay. How would you feel about the competition created by the BBC here. Is it fair? The brand built though compulsory license fees that generate £3.8bn, has covered 30% of the search space in the SERPs example below. There are many, many other examples so, given that SERPs, especially the top 10, are important commercial marketplaces, what exactly is the public value in this case?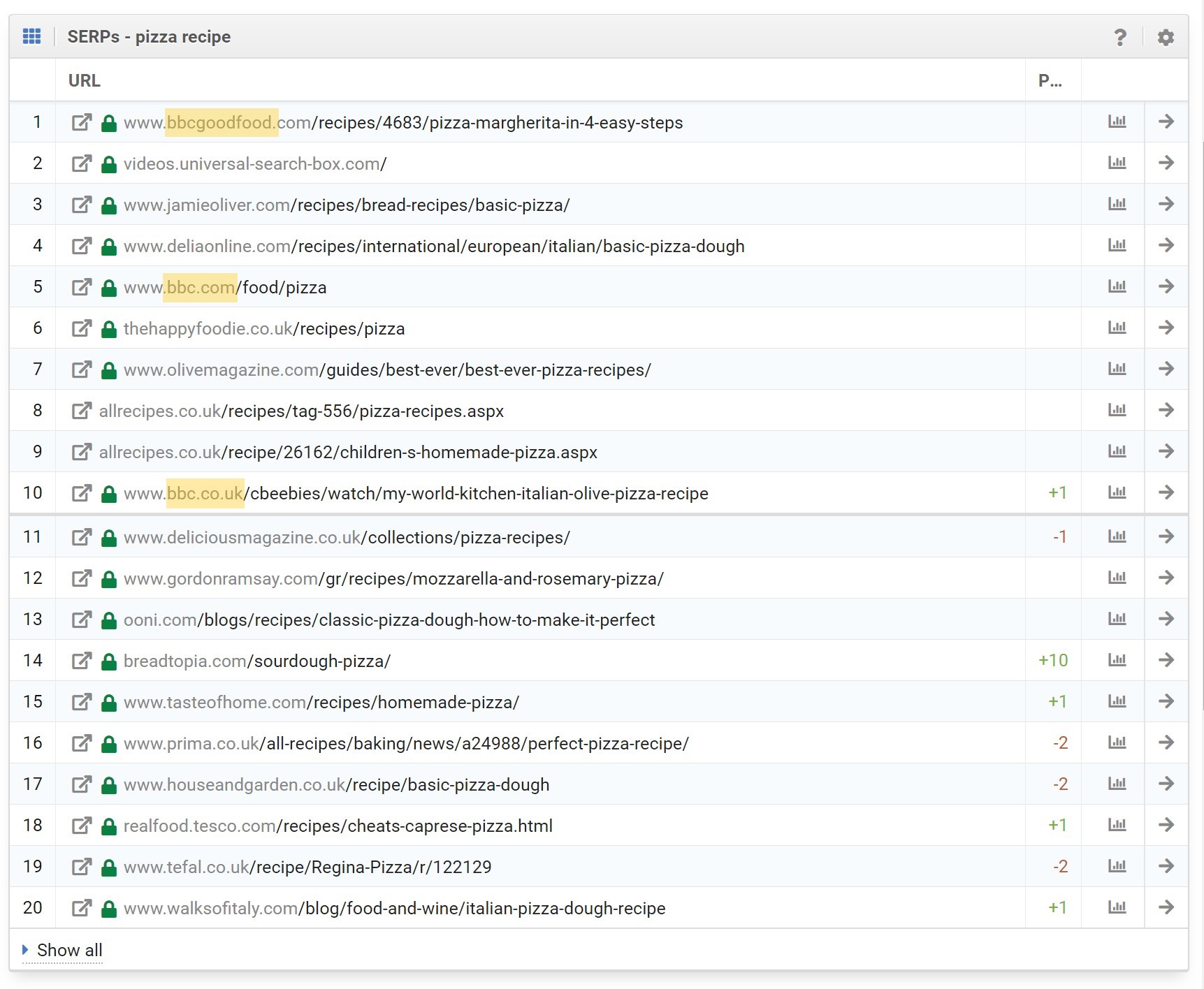 3 – Unsplash.com +390%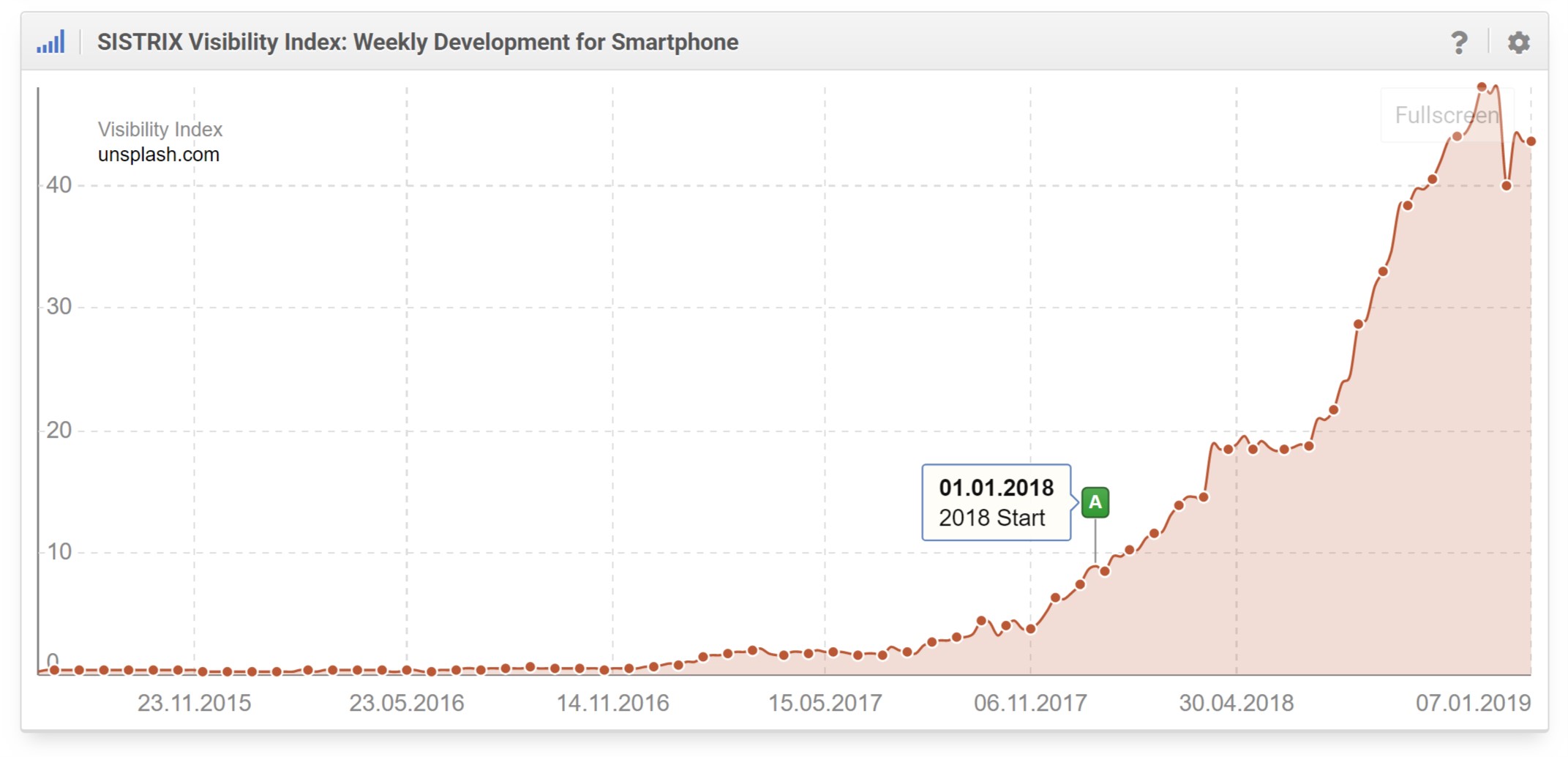 If you were expecting a health company, insurance or retail domain to appear in the top 3 then, I apologise. Unsplash is, in a very similar way to Tenor, a successful image website. In this case, however, there's no issue of copyright. The site content has been built up over years by contributors and it now ranks as the number one image website. 9 billion photo views per month are performed within this domain and during 2018 the visibility exploded from 8 to a peak of 47 points. The domain first ranked in the UK in July 2013 at position 30 for "high resolution images" so despite the recent exponential growth, there's a long history of work behind this domain.
Unsplash is not without competitors as the subject coverage stretches from water to trains and our competitor list doesn't just show shutterstock.com. You'll find Pinterest and Tripadvisor competing for the same space. Despite the growth, strong competition must be expected for this domain.
Other stories from the Top 100
Your Money, Your Life was a big topic in 2018 and we saw many changes related to the Medic update. The Top 100 includes 8 health domains, 2 finance domains and 6 reference / dictionary sites. The biggest percentage of the Top 100 is made up of retail websites though. 12 including Etsy, Wayfair and Waitrose are included. There are 2 Brazilian websites offering music streaming (which don't appear to be 100% legal) and 3 car sales sites.
Of important note to anyone writing news media is the influx of 'foreign' news media sites in the UK SERPs. Free global movement within the SERPs is something that can't be stopped with Brexit so UK media companies, take note of Times Now News (India) and the New Yorker (USA) that have grown strongly in 2018. There are other media sites to note too. The Conversation has content that is sourced by academics and edited by journalists. Medium is another strong platform that grew well this year. Tip: The losers post, following this, will also cover a some news media sites.
Top 100 SEO Winners 2018
Absolute winners: Top 10
For the sake of completeness, and a good reference point for growing domains, is the list of absolute winners who, while the percentage gain wasn't big, grew a large amount of search visibility during 2018.
Amazon.co.uk grew an incredible 778 points during 2018 which, taken on its own, would represent a Top 10 website in the UK. Amazon.co.uk seems to have turned a corner during 2018 with a growth rate that's 10 times that of the previous 7 years. Only a small percentage of that growth can be attributed to the Tesco Direct shutdown so if this SEO-led growth continues, UK-targeted online retailers need to watch closely.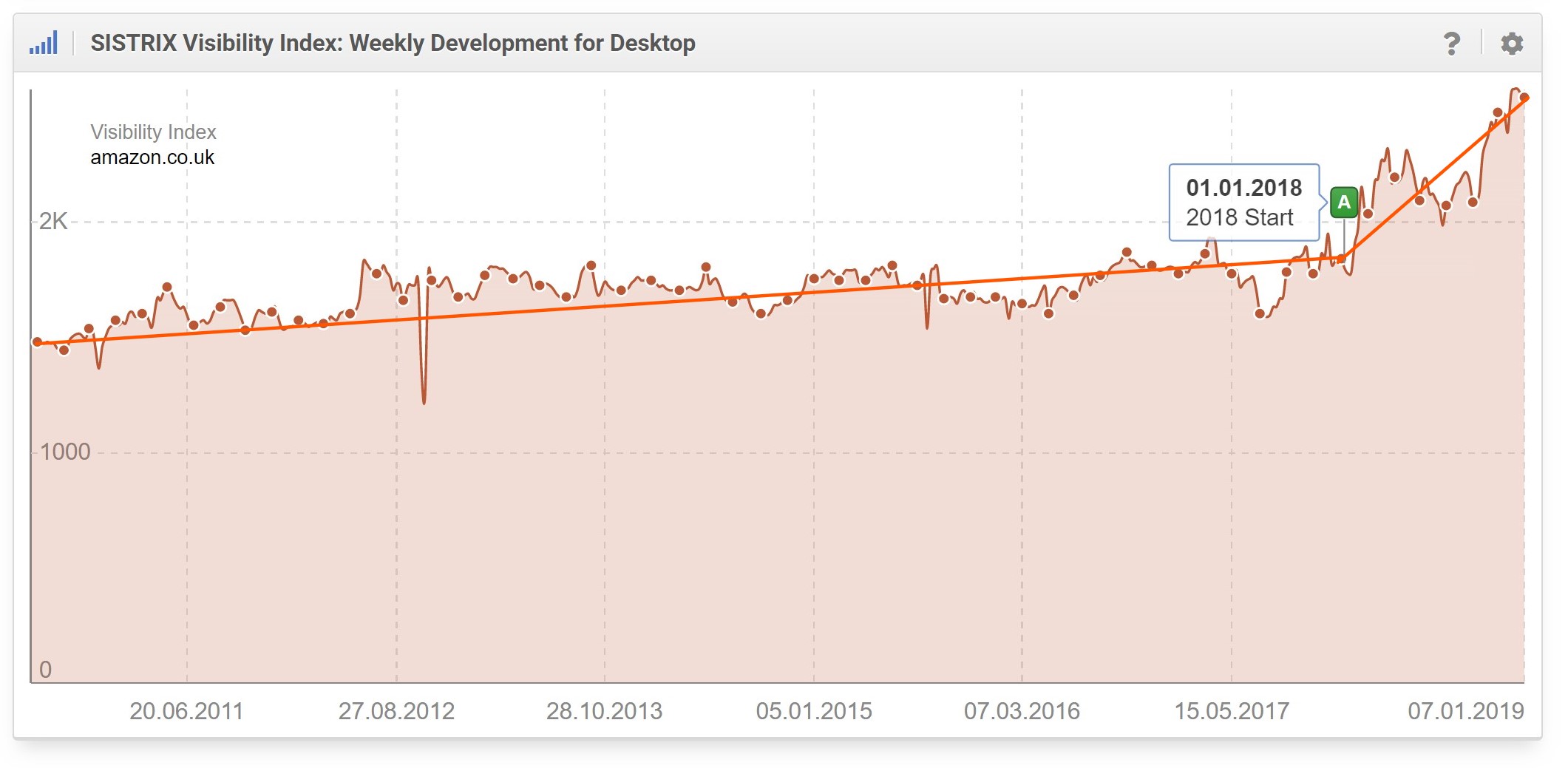 Our old friend bbc.com makes another appearance in this list. The domain is currently the 49th most visible in our current Top 100 list and, when combined with bbc.co.uk (position 10) and bbcgoodfood.com (position 58) has a total of 880.89 visibility points, putting the brand at position 8, just above theguardian.com.
If there's a common thread in the list of top 100 winners it has to be 'maturity.' Many of these domains have reached high-growth periods after long-term stability. There isn't a single 'quick win' story here and that's something to remember for 2019.
The biggest algorithm changes of 2018
Update Google Core Algorithm (19.03.2018),
Update Google Core Algorithm (23.04.2018),
Medic Update (01.10.2018),
Update Google Core Algorithm (13.08.2018) und
Medic Update #2 (09.10.2018).
70% of all domains in the top-100 were impacted noticeably by the big algorithm changes of the year. Some domains recovered through subsequent updates leaving a hole where visibility, and revenue, should have been, others weren't so lucky. We'll take a look at some of those in the following post: SEO losers of 2018.
Congratulations to the owners of the winning domains and all that have worked on them. Feel free to comment with thoughts, ideas and feedback below.